A brief introduction to concours at Porsche Parade
Above: 2014 Porsche Parade concours in Monterey. Photo by Damon Lowney
Article by Patrick Yanahan
Porsche owners love to wash and shine their prized possession, but they are also very competitive. Each year Porsche Parade has the ideal event to indulge both of these inclinations, in the form of a concours d'elegance. Originating in France over a century ago, the definition of concours, according to Merriam-Webster, is "a public competition," and the term has come to be closely associated with competitive vintage or classic car shows in which prizes are awarded for those in the best original condition. Cars start with 300 points, which are deducted for each flaw a judge finds. A "perfect" Porsche will retain all 300 points, though this is an extremely rare occurrence.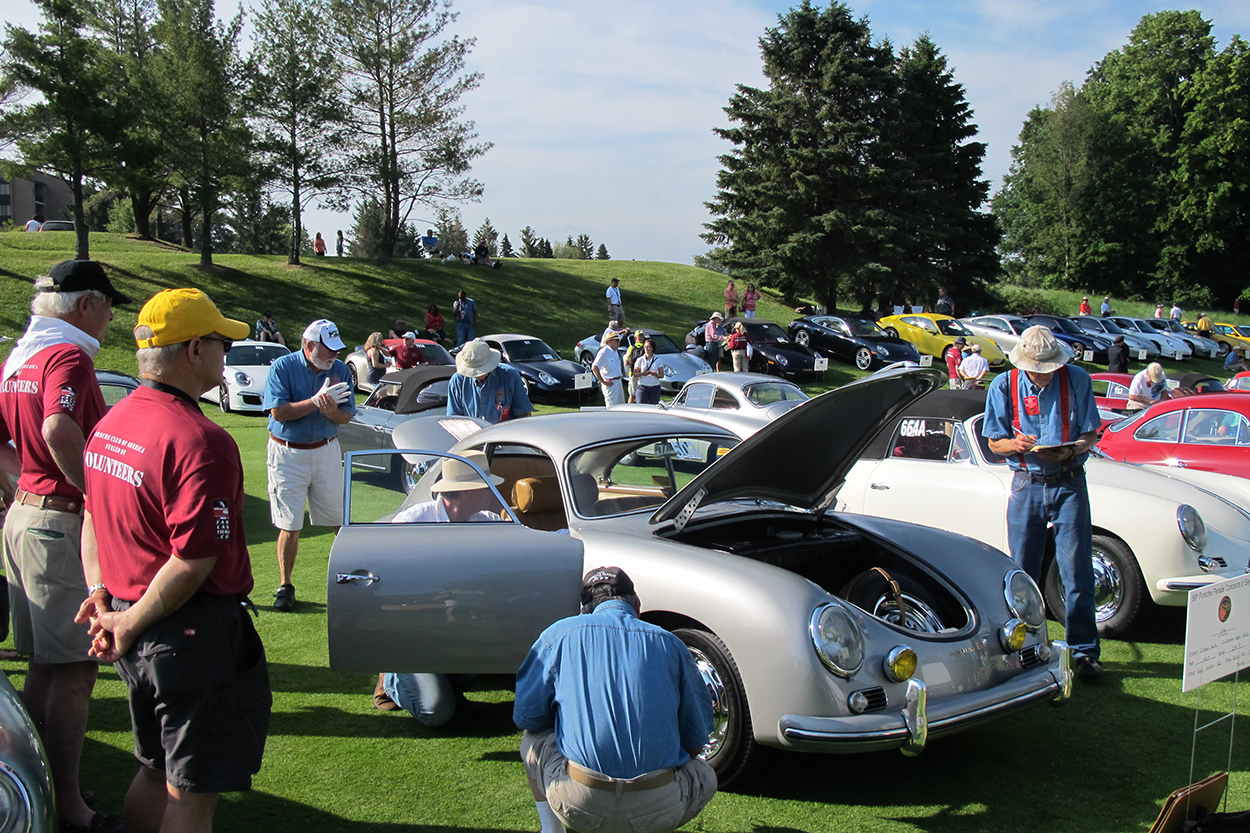 Above: A swarm of judges inspects a Porsche 356. Photo by Patrick Yanahan.
The annual Porsche Club of America concours at Parade brings out new and classic Porsches from all over North America to be displayed and judged by experienced, qualified judges who realize that even a brand-new Porsche from the factory has hidden dust and dirt. One will see a breathtaking display of Porsche history, with all types of models in different colors from most, if not all, years. Some may have received just a simple cleaning while others have been restored or fanatically cleaned to as-new condition — sometimes even better. Rare and classic Porsches are guaranteed to delight the most jaded enthusiast, yet new and modern Porsches and race cars make for an exciting display as well. Even some of the newest four-door Porsches are entered into the competition.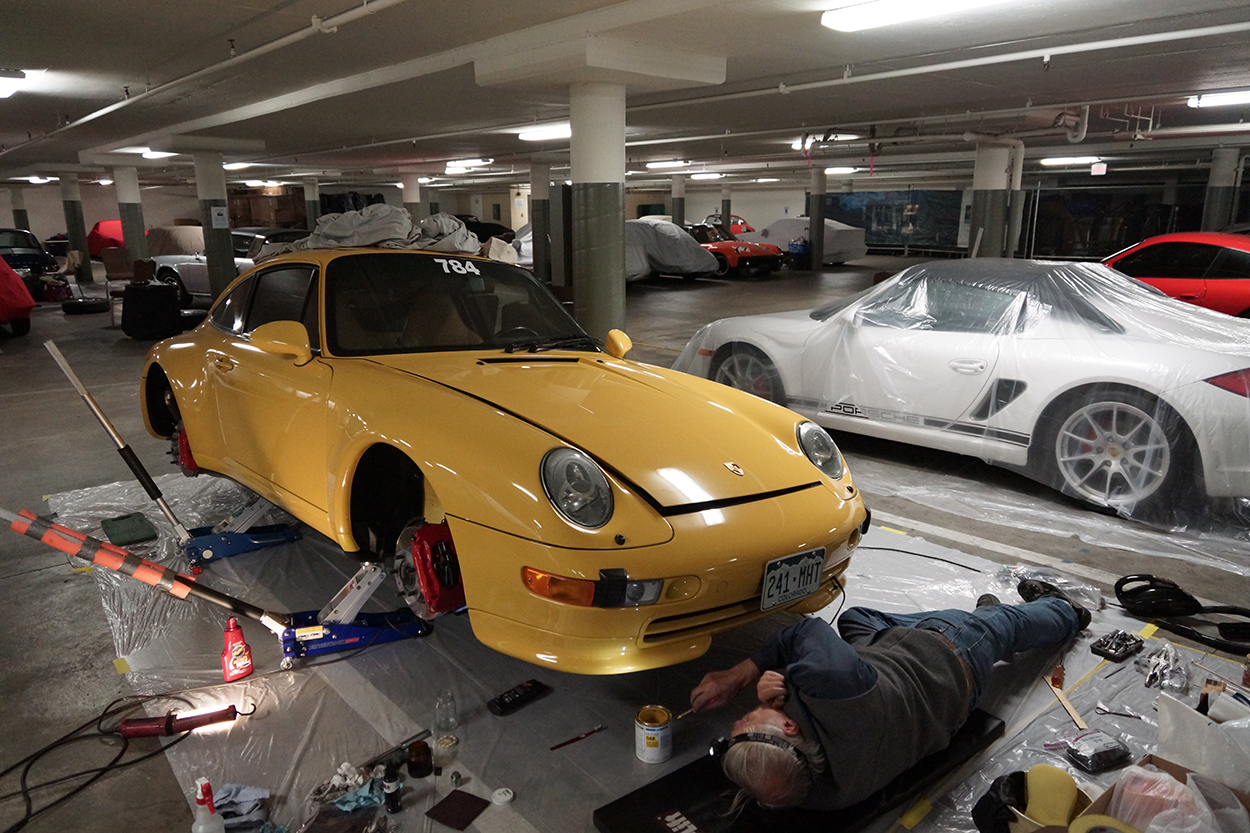 Above: A concours participant applies touch-up paint to his 911 after midnight, the morning of the conours. Top contenders fanatically clean their cars right up until the event. Photo by Damon Lowney.
As a spectator, the best place to talk with the owners is in the concours preparation area on Saturday and Sunday prior to the formal judging on Monday. For this year's Parade, this is located in the Tan-Tar-A Resort's parking garage, Level 4 of Building A. Here one can see the extensive preparation and final attention to detail these owners have put into their entry, and they enjoy sharing this experience with others.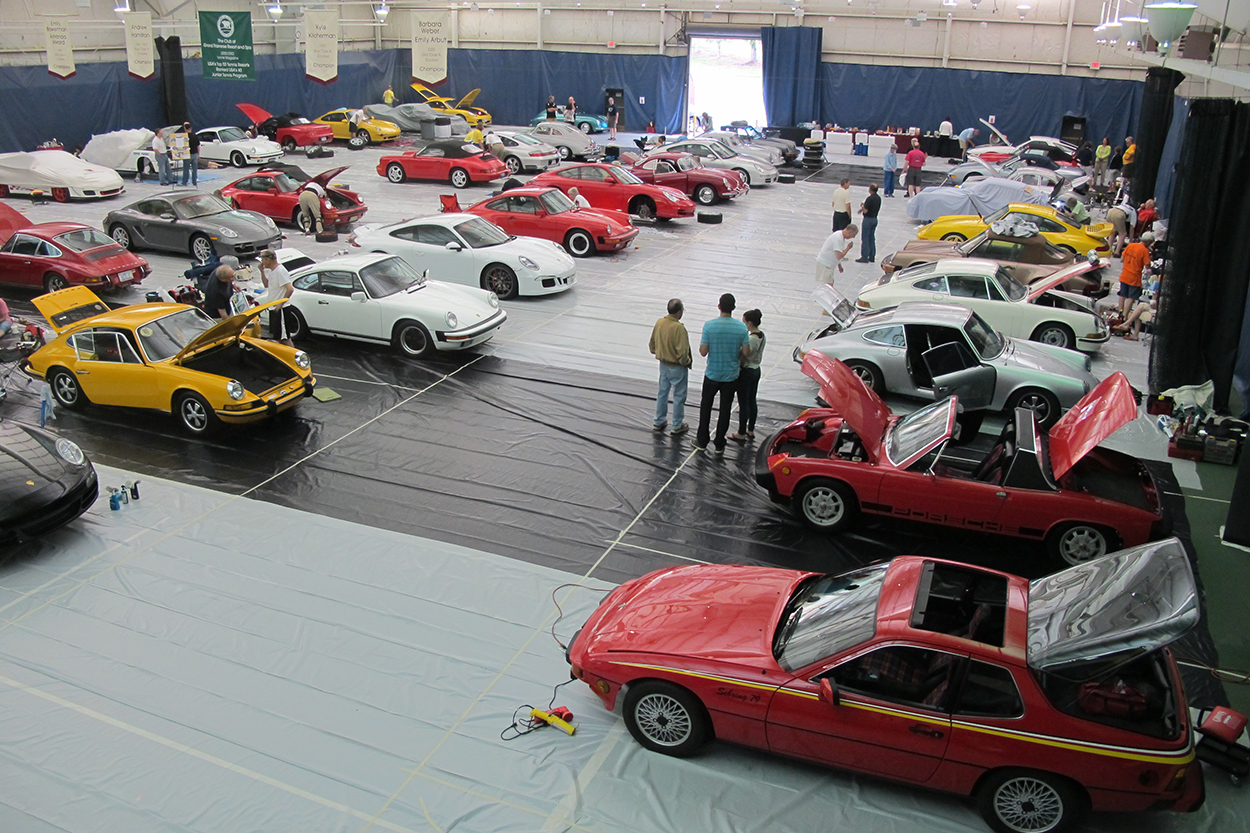 Above: The concours prep area is a great place to speak to owners in the days leading up to the concours. Photo by Patrick Yanahan.
Parade has several classes for beginners, which judge just the outside and interior, as well as classes for over-the-top world-class competitors, in which a fraction of a point deducted in the engine compartment means life or death (at least it may seem like that…). To compete in the concours at a high level requires weeks of cleaning in a garage. The removal of all dust, dirt, coins and other debris from the interior is key since the judges will look in every seam and nook. Even aftermarket floor mats are not allowed — everything about the car must be original, as it would have come from the factory, or else points are deducted. Maps, toll transponders, insurance cards all must come out.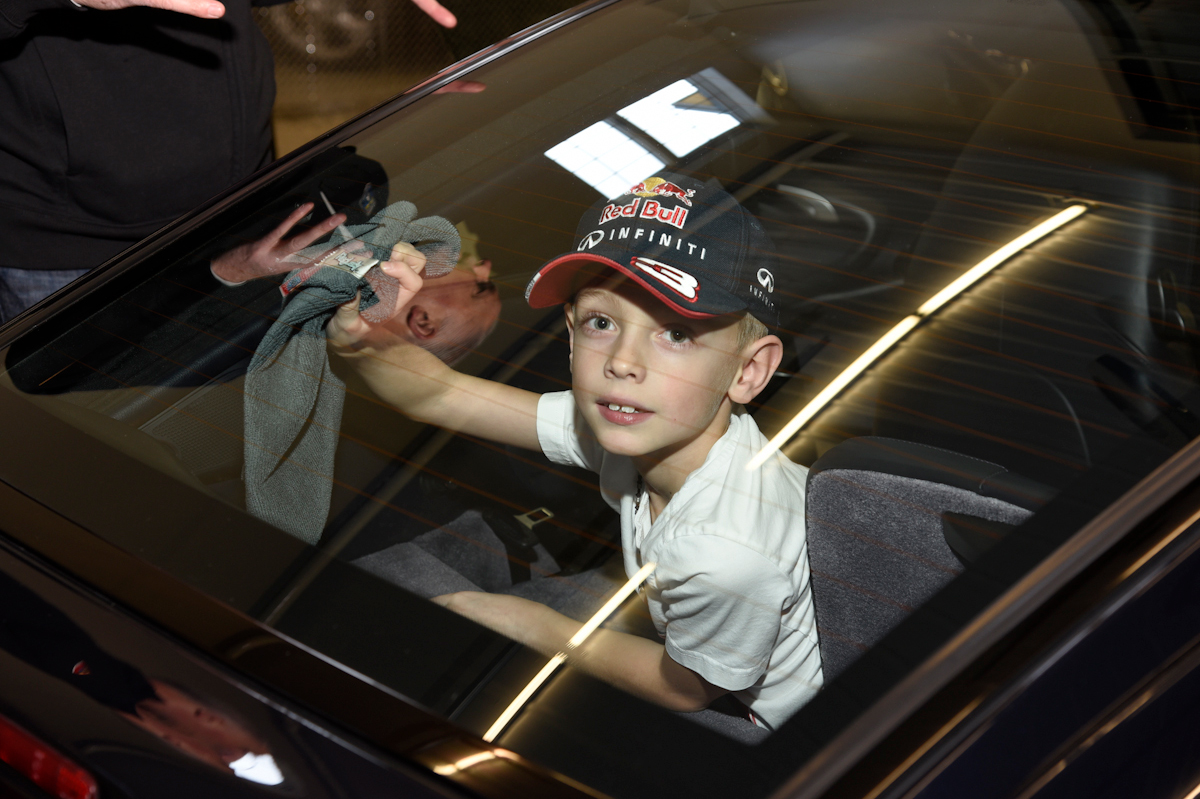 Above: Concours preparation is a great way to involve children in the hobby — and their small hands are great for cleaning tight spaces. Photo by Patrick Yanahan.
The exterior cleaning, polishing, and detailing required to be competitive includes the wheels and their air stems, chrome, rubber — everything that you can and can't see could be examined by a judge. The best guide for a concours-level cleaning or restoration can be found in the Parade Competition Rules (PCR) and scoresheets (click here to download the 2018 PCRs) so you know what the judges will be looking for. Of course, entrants may join in on the fun and display their Porsche in whatever state of cleanliness they desire.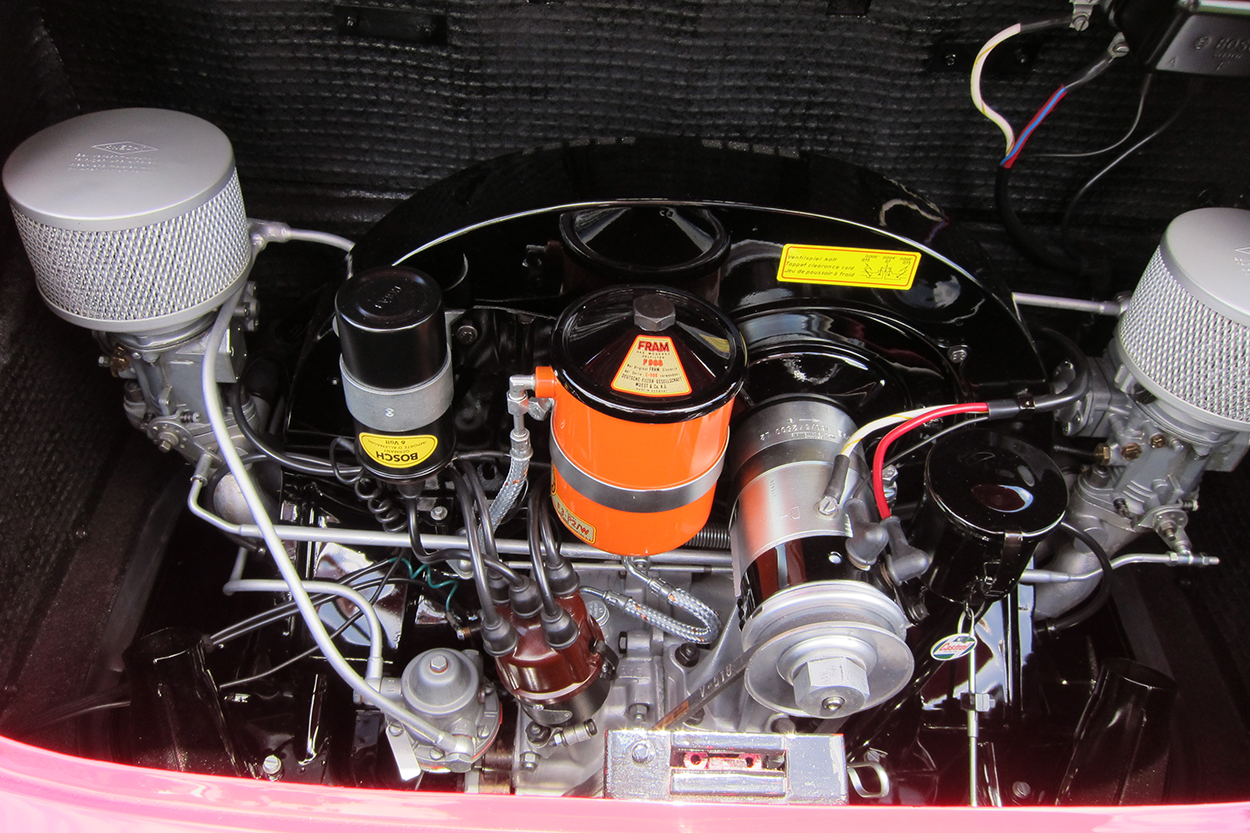 Above: 50+year-old engine compartment looks brand new. Photo by Patrick Yanahan.
If you are going to compete, it's best to spread the work out over many weeks, cleaning a little bit each time instead of all at once. You can even make it into a family affair. Another set of eyes and little ones with small hands and fingers can get into those tiny places we adults can't.
Some simple tips: 
Don't use those products you see on TV at 2 o'clock in the morning
Polishing makes the car shine, not the wax. An over-waxed car will usually have a white residue that shows in the seams or on the rubber, which results in point deductions.
A fluorescent trouble light inside allows you to see and clean streaks in the glass.
There is a confusing number of commercial cleaning and preparation products on the market but a simple guide is to standardize on one brand. Manufacturers have designed the chemistry of products to work together at the molecular level. Stay with better-branded products to start.
This year Parade is offering an expanded program to concours beginners. The Concours 101 Seminars are being offered on both Saturday and Sunday in the Tan-Tar-A Resort. Additionally, several previous national winners from the Chicago Region will be available for both phone and email conference at no charge. And they are willing to share their secrets!
Click here to register for Porsche Parade, and be sure to enter your Porsche into the concours!