Plug-in hybrid model announced for the all-new 2019 Porsche Cayenne
Photos courtesy Porsche
It won't come as a surprise to many that Porsche is adding a plug-in hybrid powertrain to the previously announced, re-designed 2019 Cayenne, which is expected in dealerships at the end of this summer. The typically Porsche-like execution of the new plug-in isn't terribly surprising either. Like the new model itself, the Cayenne E-Hybrid represents an evolution, with incremental yet still significant improvements over the outgoing model.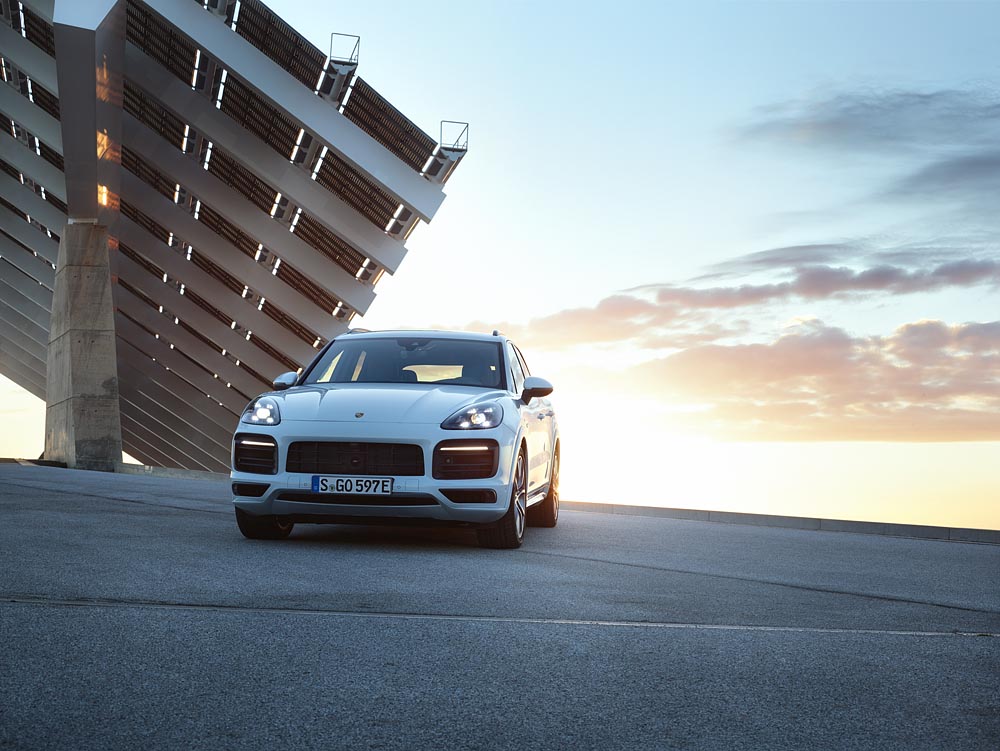 The new Cayenne's plug-in powertrain combines a 3.0-liter single-turbo V6 engine with 335 horsepower and 332 pound-feet of torque with an electric motor that creates 134 hp and 295 lb-ft. The result is a total system output of 455 hp. Peak power comes between 5250 to 6400 rpm. The combined torque is an impressive 516 lb-ft., on tap from just a hair over idle, at just 1,000 rpm. This astonishing factoid is why gasoline-only powertrains will be passé in the not-too-distant future, and why you won't miss them a single bit.
Porsche reports a zero to 60 miles per hour time of 4.7 seconds (-0.7 seconds vs. the current Cayenne S E-Hybrid), a quarter-mile time of 13.3 seconds (-0.9 seconds vs. the current Cayenne S E-Hybrid), and a top track speed of 157 mph (+6 mph vs. Cayenne S E-Hybrid).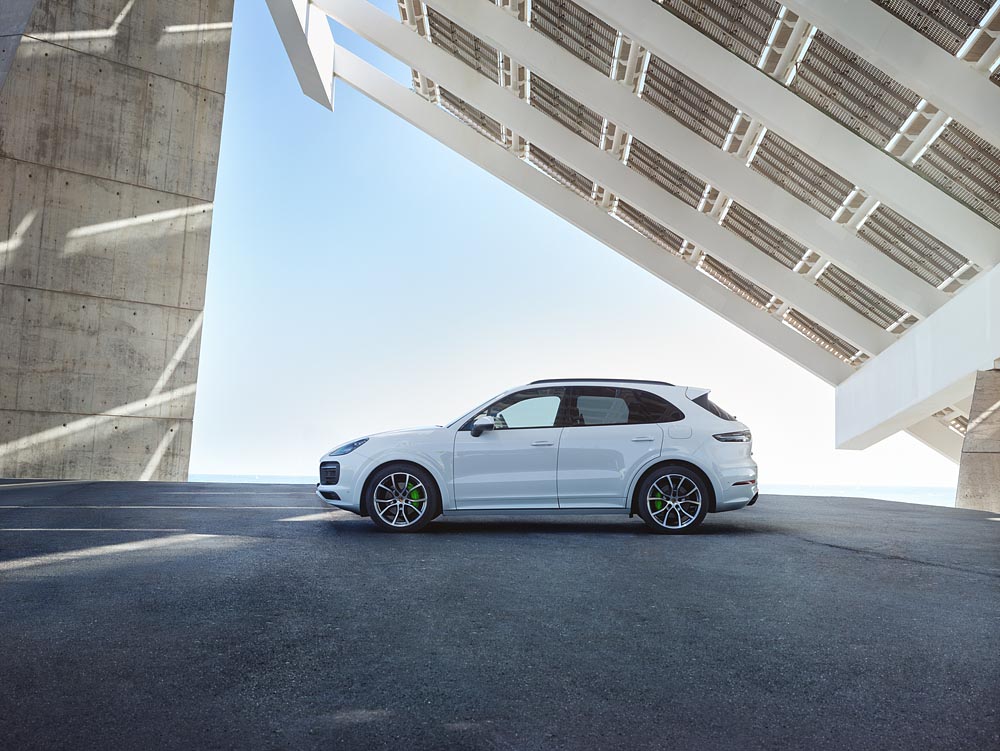 Regardless of powertrain selected, the new Cayenne's gearbox will be an eight-speed Tiptronic S, rather than a PDK double-clutch automatic, the use of which would severely impact the vehicle's tow rating. Happily, Porsche continues to develop the Tiptronic box, making significant improvements to speed, smoothness, and overall shift-quality. For the first time, the new Tiptronic S employs an electromechanical system operating a separating clutch as opposed to the previous electro-hydraulic system. In addition to making the Tip feel a bit more like the PDK, quicker shifting also means less interruption in tractive force while shifting gears.  Like the previous model, top speed is hit in sixth gear. The top two ratios are there solely for ultra-efficient cruising.
There are detail changes to the drive modes that reflect the fast-changing realities where internal combustion is concerned. Here are the highlights:
E-Power: In "E-Power" mode, the Cayenne E-Hybrid drives up to 27.3 miles, based on the New European Driving Cycle (NEDC), on electricity alone.
Hybrid Auto: The "Hybrid Auto" mode is a completely new development. When this mode is selected, the Cayenne changes and combines the drive sources automatically for ultimate efficiency.
E-Hold: The "E-Hold" mode allows drivers to conserve the current state of charge so they can later switch to electric (and therefore zero-emissions) mode in an environmental zone at their destination, for example.
E-Charge: In "E-Charge" mode, the gasoline engine generates more power than is needed to move the car. The excess energy is channeled into the battery for later use.
Sport and Sport Plus: The highest level of drive performance is made available in the "Sport" and "Sport Plus" modes.
The new 2019 Cayenne E-Hybrid also adds the Sport Chrono Package, Porsche Active Suspension Management (PASM), and Auxiliary Cabin Conditioning to its list of standard equipment. Porsche's step-beyond adaptive cruise, InnoDrive, will be available and function much as it does in the Panamera.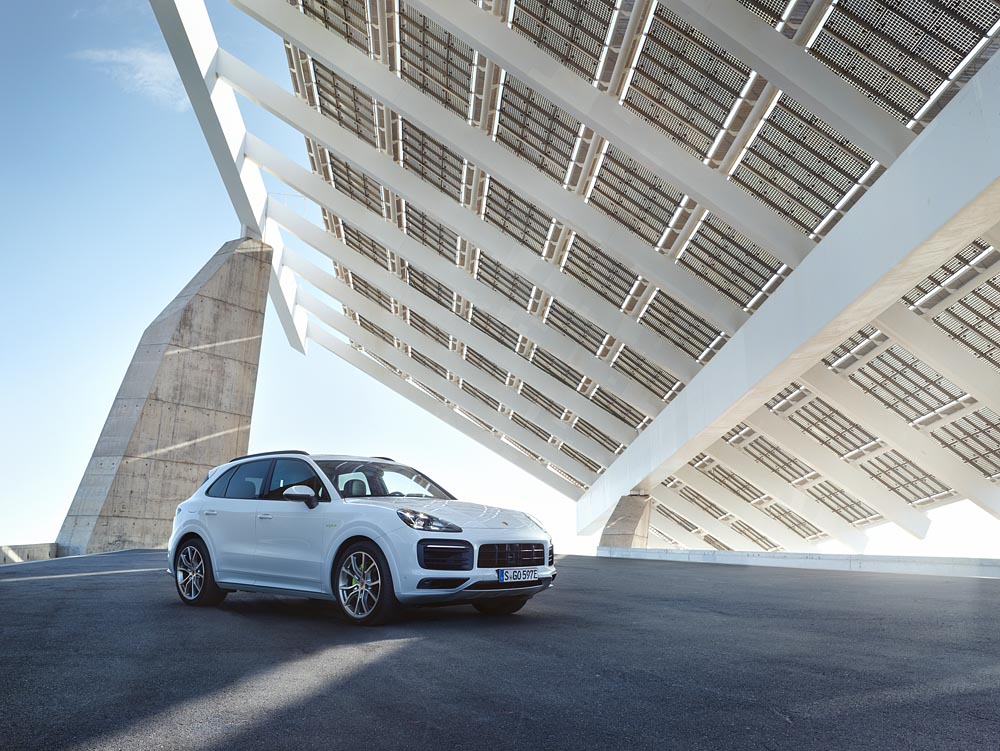 The new Cayenne E-Hybrid is expected to begin arriving at US dealers in early 2019 with a base MSRP of $79,900 excluding options and the $1,050 delivery, processing, and handling fee. And while it's frightening to say this, a hair under $80,000 doesn't seem remotely out of line for all of this technology and capability.