Video: Timo Bernhard sets blazing lap record at the Nürburgring in Porsche 919 Hybrid Evo
Article by Damon Lowney
Photos and video courtesy Porsche
The record Nürburgring lap time set by Stefan Bellof 35 years ago in a Porsche 956C fell today when Timo Bernhard blasted around the 12.9-mile track nearly 52 seconds faster in the Porsche 919 Hybrid Evo, with a time of 5:19.55. Watch the full in-car video above.
The incredible new lap record was achieved with Porsche's "unchained" (as the automaker calls it) version of the World Endurance Championship-winning 919 Hybrid. The Evo features 1,160 horsepower from a gasoline-electric hybrid powertrain and many aerodynamic upgrades — including active aero — that were not allowed in the WEC-compliant race car. Bernhard reached a maximum speed of 229.5 miles per hour and an average speed of 145.3 mph. Read more about the Evo and its first lap record at Spa-Francorchamps here.
Stefan Bellof, who died in a crash less than two years later at Spa, had long held the mystical lap record at the Nürburgring in part because prototype race cars (and Formula 1 cars) stopped racing at the dangerous track, allowing it to go uncontested for decades.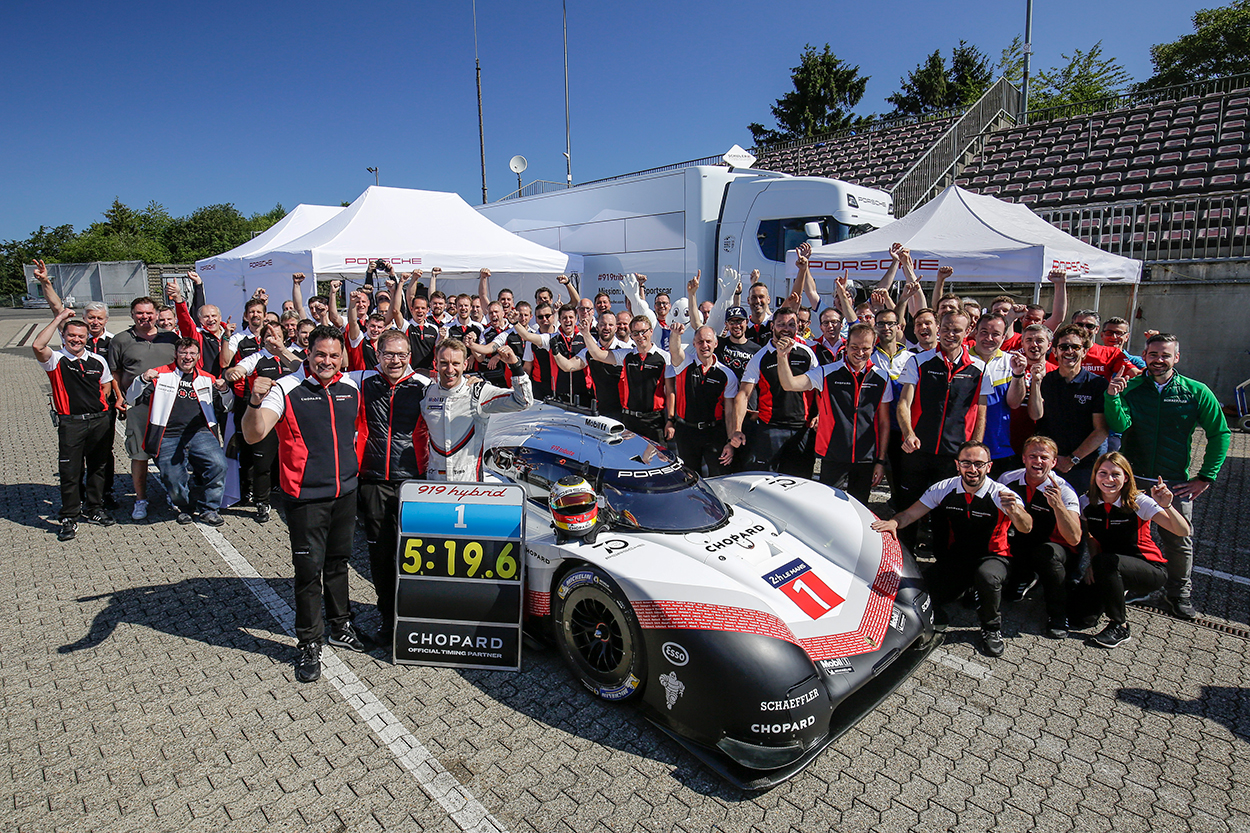 "This is a great moment for me and for the entire team – the 919 programme's icing on the cake. The Evo was perfectly prepared and I have done my best on this lap," Bernhard says. "Thanks to the aerodynamic downforce, at sections I never imagined you can stay on full throttle. I'm pretty familiar with the Nordschleife. But today I got to learn it in a new way."
"As a race team we constantly search for challenges that push a car, driver and team to operate on the limit," says LMP Team Principal Andreas Seidl. "Since last winter we were preparing for that task together with our tyre partner Michelin – painstakingly and with a great deal of respect for this track." He went on, saying Bernhard was the ideal choice to take on the lap record due to his experience at the Nürburgring — five-time overall winner of the Nürburgring 24 — and behind the wheel of the 919 Hybrid, in which he won overall at Le Mans and the 2016 WEC season.
Porsche says this lap record will be the 919 Hybrid Evo's last — for the time being. It will continue its tribute tour, the schedule of which is below.
July 6 and 7: VW Fun Cup Spa-Francorchamps (BE)
July 12-15: Goodwood Festival of Speed (GB)
September 2: Festival of Porsche Brands Hatch (GB)
September 26-29: Porsche Rennsport Reunion Laguna Seca (California, USA)
Source: Porsche