Why the 1983 944 is a Porsche we should all be shopping for
Article by Rob Sass
Photos courtesy Mart Fresh (July 25, 2017 and January 22, 2018)
The 944 is officially approaching middle-age. Hard to believe, but it's actually 36 years old. Introduced in North America in the fall of 1982 as a 1983 model, the car fixed the perceived faults of the 924. Styling a bit too understated? Check out those Hans and Franz-style bulging fender flares. Engine too rough? How about an aluminum half-a-928 powerplant with counter-rotating balance-shafts and "Porsche" stamped in humongous letters on the cam covers. Like most sports cars, the first example is often the purest. And so it is with the 944. Here's some of the skinny on why you want an '83:
Steering is Poetry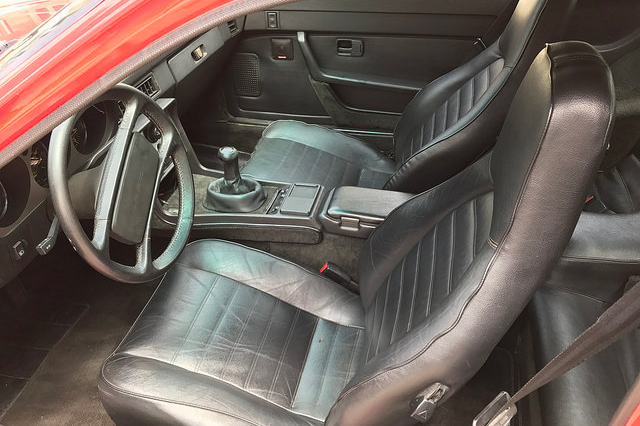 The '83 944 is the only one that came standard with a manual steering rack. (Please note: PCA 944 Tech Expert George Beuselinck says it's difficult to say when power steering became an option or was made standard. But in his experience, he's only come across 1983 models with manual steering, and 1984 models with power steering.) There are several reasons why you want this. Reason number one is that it's simply sublime to use. Carry too much speed into a corner and the steering smacks you upside the head by getting noticeably heavier, a suggestion to ease off the throttle (or, dare we say, tap the brakes) to instantly lighten things up and quell the understeer. The steering ratio is quick and the car is easy to maneuver; yet even without power-assist, it's not a huge chore to parallel-park unless a set of oversized wheels and tires are fitted. I suppose that the power-assisted rack fitted to later 944s made the car a more pleasant daily driver, but for pure driving pleasure, it's the manual rack that you want. Simplicity isn't a bad thing either. Power-steering pumps have a lifespan and racks leak when seals dry out. It's one less thing you'll have to attend to with your now-pushing-40 944.
It's Impressively Light
The first-year 944 weighed in at just under 2,800 pounds. Later versions of the car began to push 3,000 pounds. And while a 944 S2 or a Turbo might show a clean pair of taillights to an early car and have more absolute grip to cope with more power, the intangibles just weren't the same. There's nothing quite like throttle-steering a light, rear-wheel-drive sports car on skinny tires and experiencing the feeling of being simultaneously in and out of control at legal-ish speeds.
Fun Color and Design Choices

A few other first-year perks include some unique colors and trim choices. Moss Green Metallic and Sienna Red were 1983-only and welcome breaks from the ubiquitous Guards Red. There are even a few really early 944s running around with crazy 928-style Pasha interiors. Anecdotally speaking, it also seems like it's more common to find '83s with 7 and 8 x 15-inch Fuchs wheels as opposed to the more common ATS cookie cutters. And while not strictly a first-year thing, the yellow fonts on the gauges are cool too.
Still Reasonable to Buy
But perhaps the most wonderful thing about 1983 944s is the fact that, at the moment, they're still extremely inexpensive to buy — many shoppers prefer the 1985.5 and later cars due to the updated interior and don't even consider looking at an "inferior" early car. We still see nice, sub-100,000-mile cars with original paint for well under $10,000, and decent drivers in fair condition can be had for under $5,000 if you're patient and look hard enough. That situation is simply not sustainable for the long-term, and it's why we should all be looking for a nice first-year example of one of Porsche's greatest success stories, the car that finally delivered on the promise of the four-cylinder transaxle platform.