Model Guide: Porsche 911 Turbo — 1976-2013
Article by Damon Lowney
Buying tips and common problems by Luis Verdiales
Photos courtesy Porsche. Please note, all photos are of European cars.
Since it was first launched in the mid-1970s, the 911 Turbo has represented what Porsche considers the epitome of its road-car offerings in terms of performance and technology, and not much has changed with the exception of the odd supercar the manufacturer releases every decade or so. Porsche has had a Turbo for nearly every generation of 911, and today that means those in the market for one have many choices at various price points and performance levels. Before we delve into the different 911 Turbos in the used-Porsche market, a little history.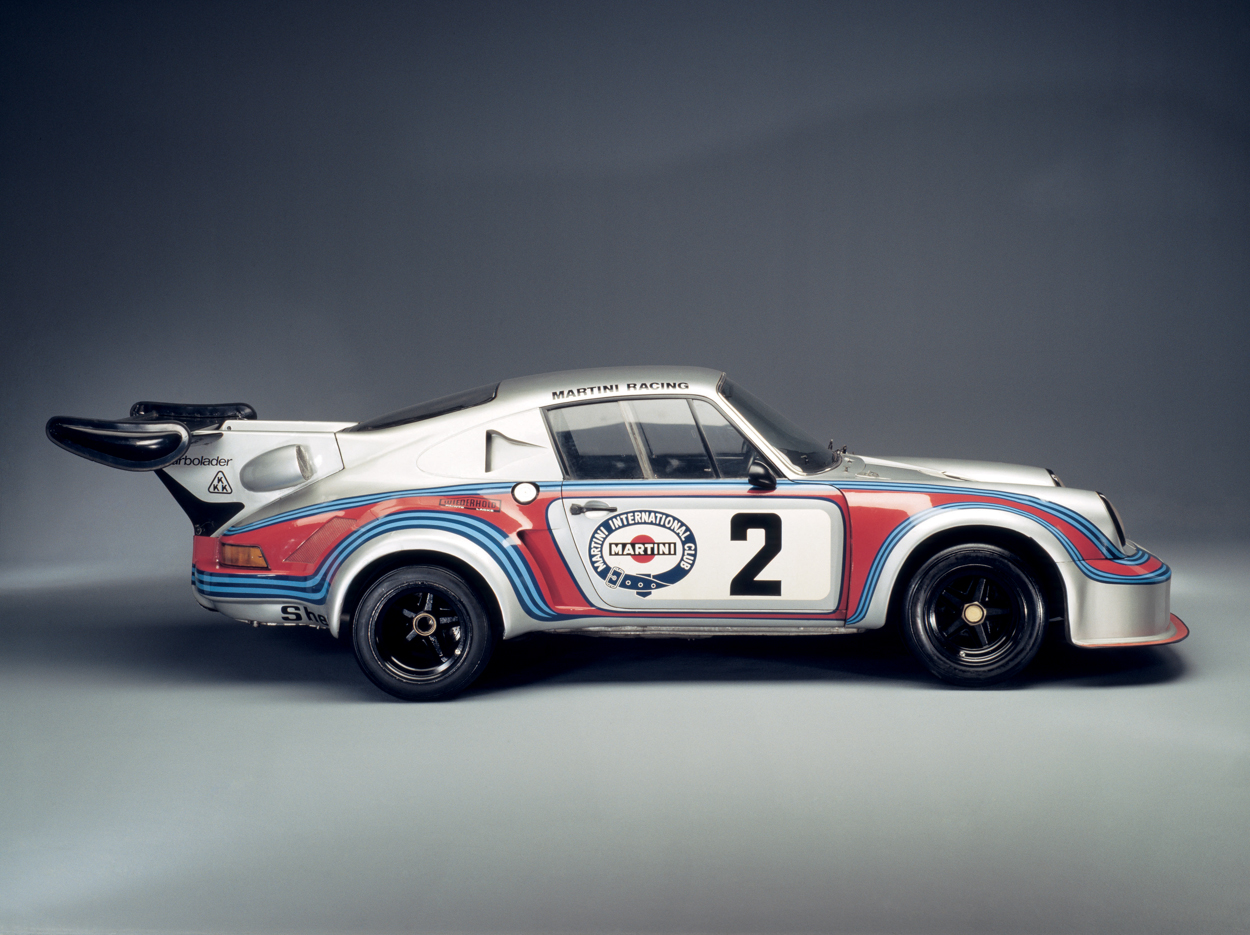 Above: 1974 911 Carrera Turbo RSR.
Porsche had much success in Can-Am racing its massively turbocharged 917/10 and 917/30 prototypes, and by 1972 it was clear to the automaker that turbocharging would play a significant role in its racing 911s. That year BMW unveiled a turbocharged concept car, and a couple years later it launched the 1974 2002 Turbo, the first turbocharged production road car. Porsche's response was to start exploring how forced induction might be applied to the 911. At the 1973 Frankfurt Motor Show, Porsche unveiled the 911 Turbo, and by 1974, it was racing a new 2.1-liter Carrera RSR Turbo on a regular basis, including at Le Mans where it placed second overall. It was a solid proof of concept that led to Porsche's first turbocharged sports car.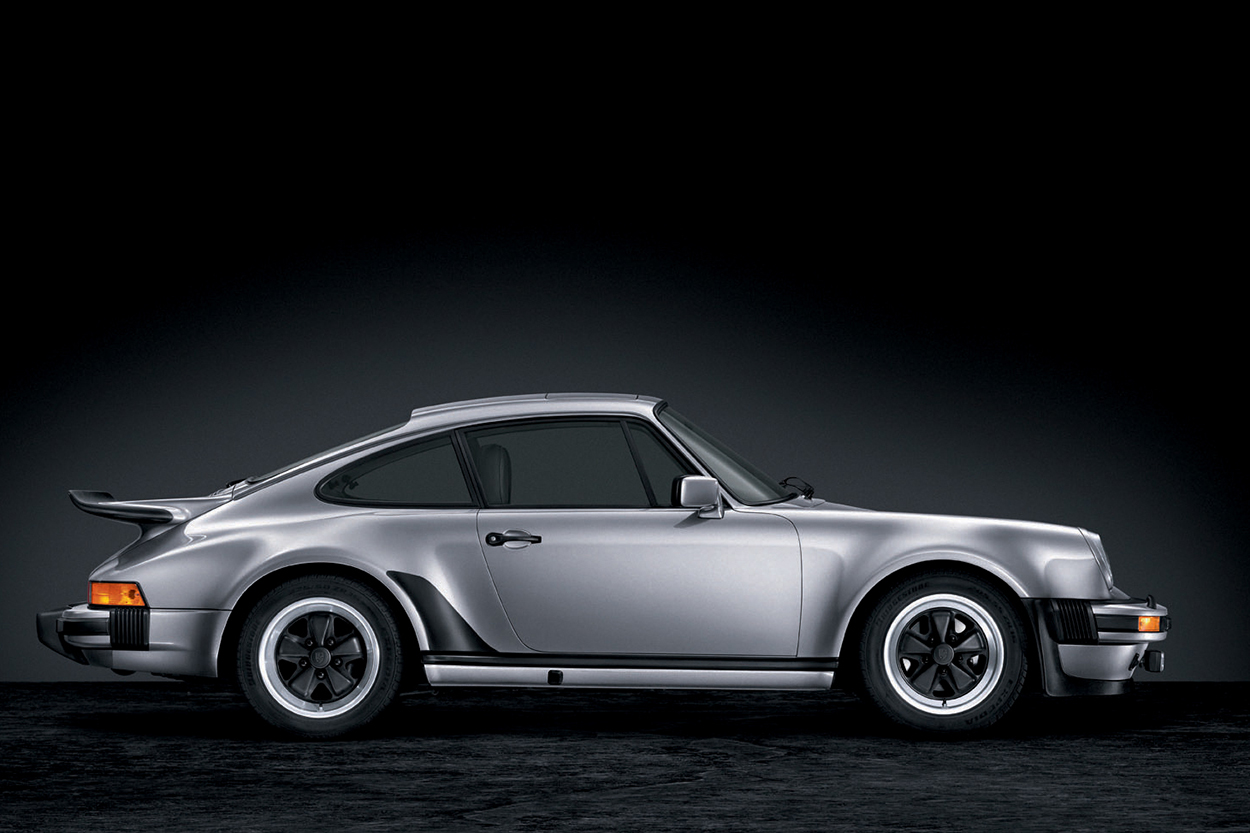 Above: 1976 911 Turbo Carrera.
Porsche launched the 1975 911 Turbo (aka, Type 930) for the European market in the midst of an oil crisis — North America would get the 911 Turbo Carrera a year later. The car had a 3.0-liter turbocharged flat-six with no intercooler, good for 245 horsepower during a time when engines with twice as much displacement struggled to reach 200 hp — and that was with emissions-cutting air pumps and thermal reactors. Due to its low 6.5:1 compression ratio, it made little power at low engine speeds, yet when drivers crossed the boost threshold around 4,000 rpm, a torrent of horsepower was unleashed. Many drivers caught off guard by this characteristic found themselves careening backward off the road — earning the Turbo its infamous nickname: The Widowmaker. But those who embraced the 930 and could manage its power delivery found a sports car that offered scintillating yet refined performance and supreme comfort.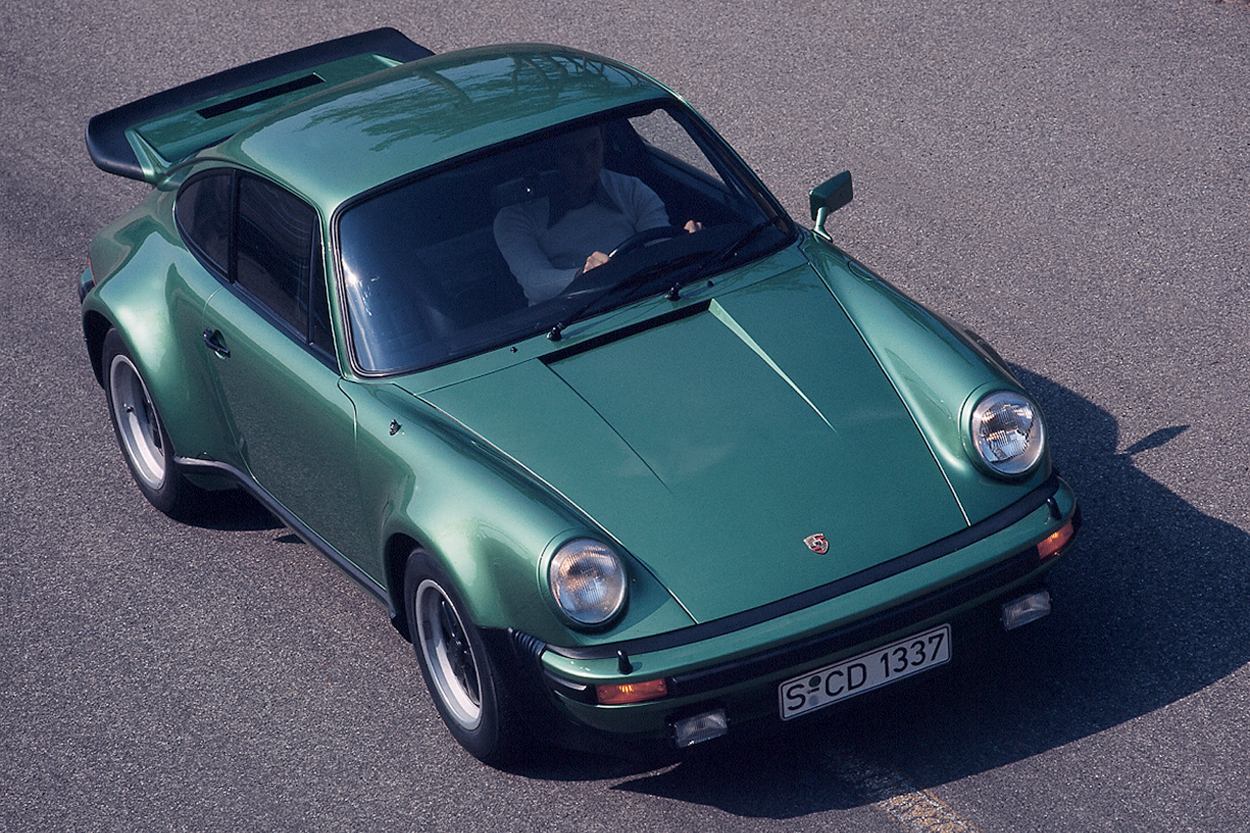 Above: 911 Turbo Carrera.
The Turbo was visually distinct from 911s that came before it. It was hard to miss the voluptuous fender flares, especially as wide as they were at the rear. A rear spoiler with a rubber edge was equipped to increase downforce, while the front used a plastic splitter that extended past either side of the bumper and sat flush with the wide front fenders.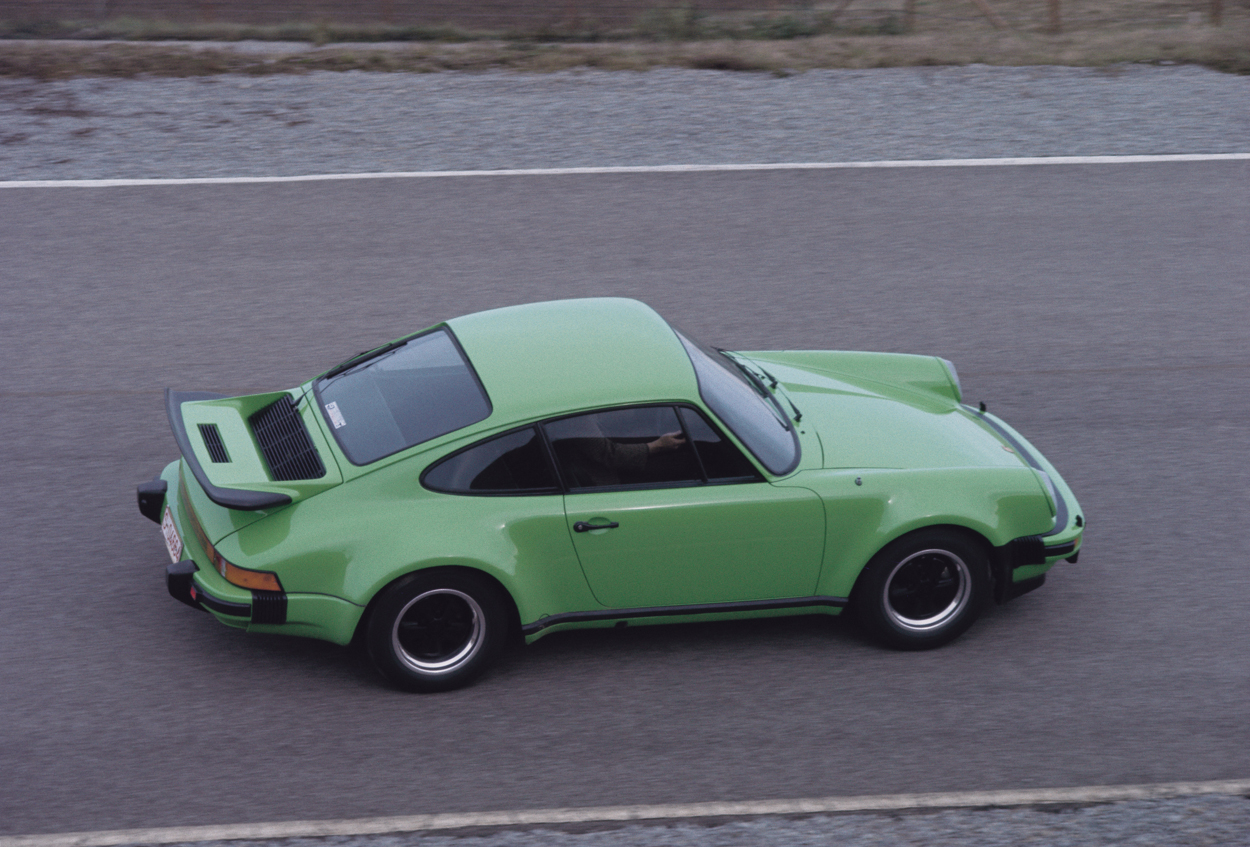 Above: 911 Turbo Carrera.
The Turbo used a four-speed manual gearbox instead of the five-speed found in cars such as the Carrera RS because it was stronger, a requirement to handle 253 lb-ft of torque. Wheels sized 15 x 7 inches at the front and 15 x 8 inches at the rear, wrapped in 205/55 and 225/50 section tires, respectively, put the power to the ground. Sixteen-inch wheels were optional. The 930 changed little for the 1977 model year, though the standard wheel diameter was increased to 16 inches.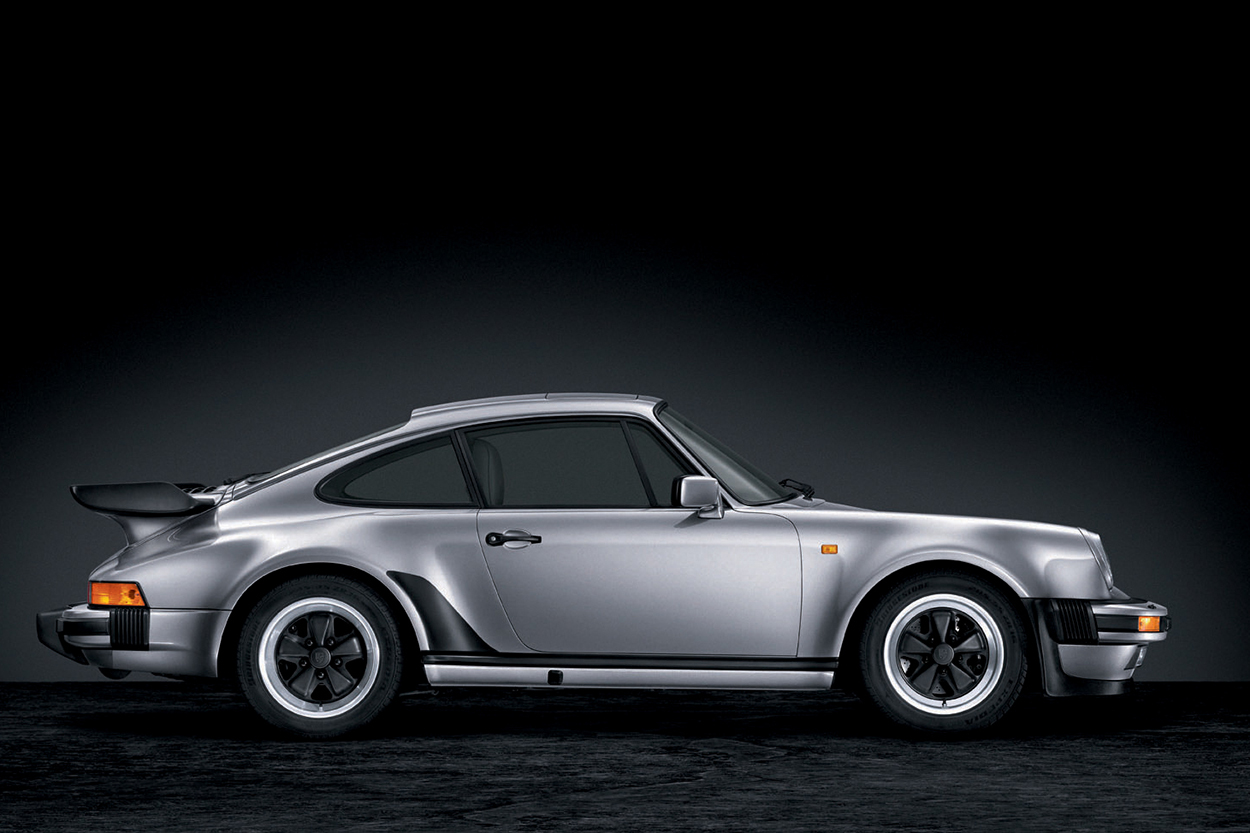 Above: 1978 911 Turbo.
The 1978 model year brought the first meaningful updates to the 911 Turbo (no longer called Turbo Carrera) with the introduction of an intercooler, which chilled the air pushed through the turbocharger before entering the combustion chamber. The cooled air was denser and allowed the compression ratio to be raised to 7.0:1. This, along with an increase in displacement to 3.3 liters, increased output to 265 hp. This was done in spite of a thermal reactor and an emissions-reducing, power-sucking exhaust gas recirculation (EGR) system. The easiest way to identify a post-1977 Turbo is by the "whale tail" or "tea tray" spoiler, which became bulkier to make room for the intercooler and gained upturned edges on all sides. Bigger brakes were implemented, the four-piston calipers of which were based on those from the 917. The brake rotors were cross-drilled to aid cooling, a first for a road-going Porsche. Little changed for 1979, the last year Porsche offered the 930 for sale in North America for several years. Porsche sent the last Turbo to America in late December 1979. Fifty of the last cars had dash plaques to commemorate them.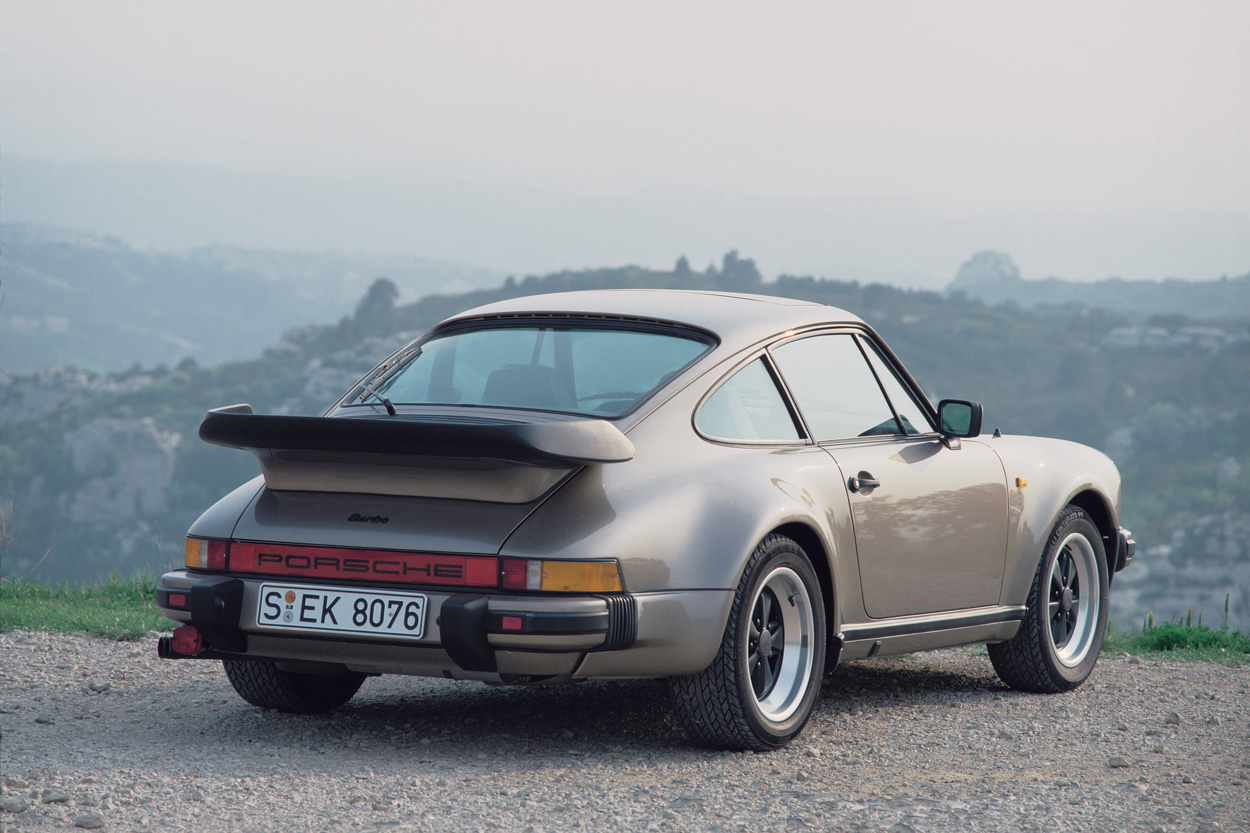 Above: 1982 911 Turbo.
Porsche stopped offering the Turbo on our shores because it thought the US government's strict, new emissions requirements that required a catalytic converter would rob the engine of meaningful power — unacceptable in the automaker's eyes. That didn't stop (un)scrupulous importers from bringing Rest of World (RoW) models into North America. Due to the presence of many gray-market cars on our shores, from model years 1980-1985, we'll briefly cover them in this guide. These 930s are old enough that they can legally be registered as historic vehicles in many states.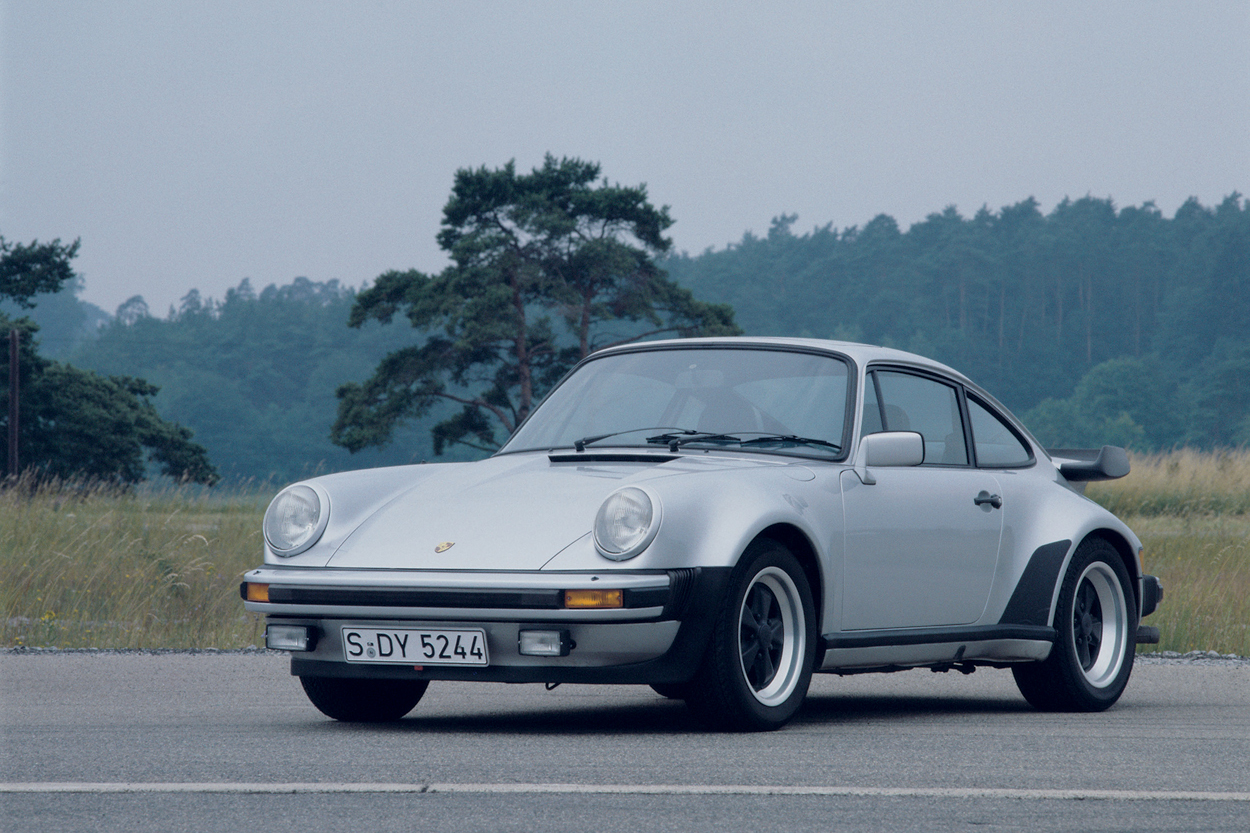 Above: 1980 911 Turbo.
The 1980 Turbo carried on with little change, though dual exhaust outlets were added. Keep in mind the RoW 3.3-liter Turbos had 300 hp and 304 lb-ft of torque with no catalytic converters. For 1981, Porsche's Special Wishes department, today known as Exclusive, started offering slantnose Turbos similar in design to the 935 race car. 1982 brought improvements to the fuel injection and ignition systems, a more powerful alternator was added, and headlight washers were made standard. For 1983, a revised turbo wastegate brought torque up to 321 lb-ft. New chain tensioners were added for 1984, as well as a new heater system and dash-mounted brake pad warning light. The 1985 Turbo gained larger antiroll bars front and rear, a more powerful brake servo to reduce pedal effort, and central locking and heated seats became standard equipment.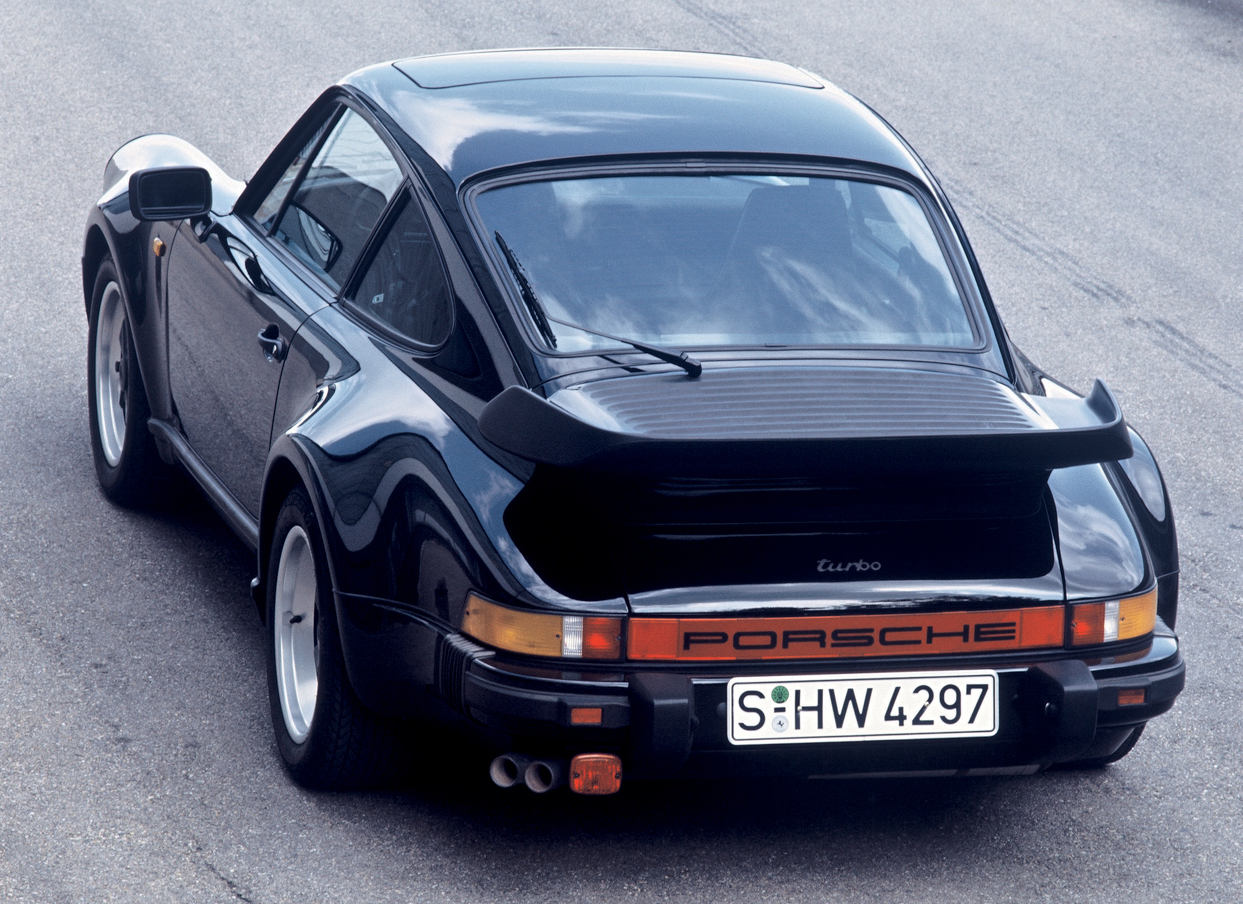 Above: 1986 911 Turbo.
The 1986 model year saw the return of the 911 Turbo to the US.  The engine management was a CIS/K-Jetronic system modified to accept feedback from an oxygen sensor. This allowed Porsche to achieve an acceptable power output and meet emissions standards with a new metallic substrate catalytic converter equipped. Rear wheels increased in size to 9 x 16 inches and were wrapped in 245/45 rubber.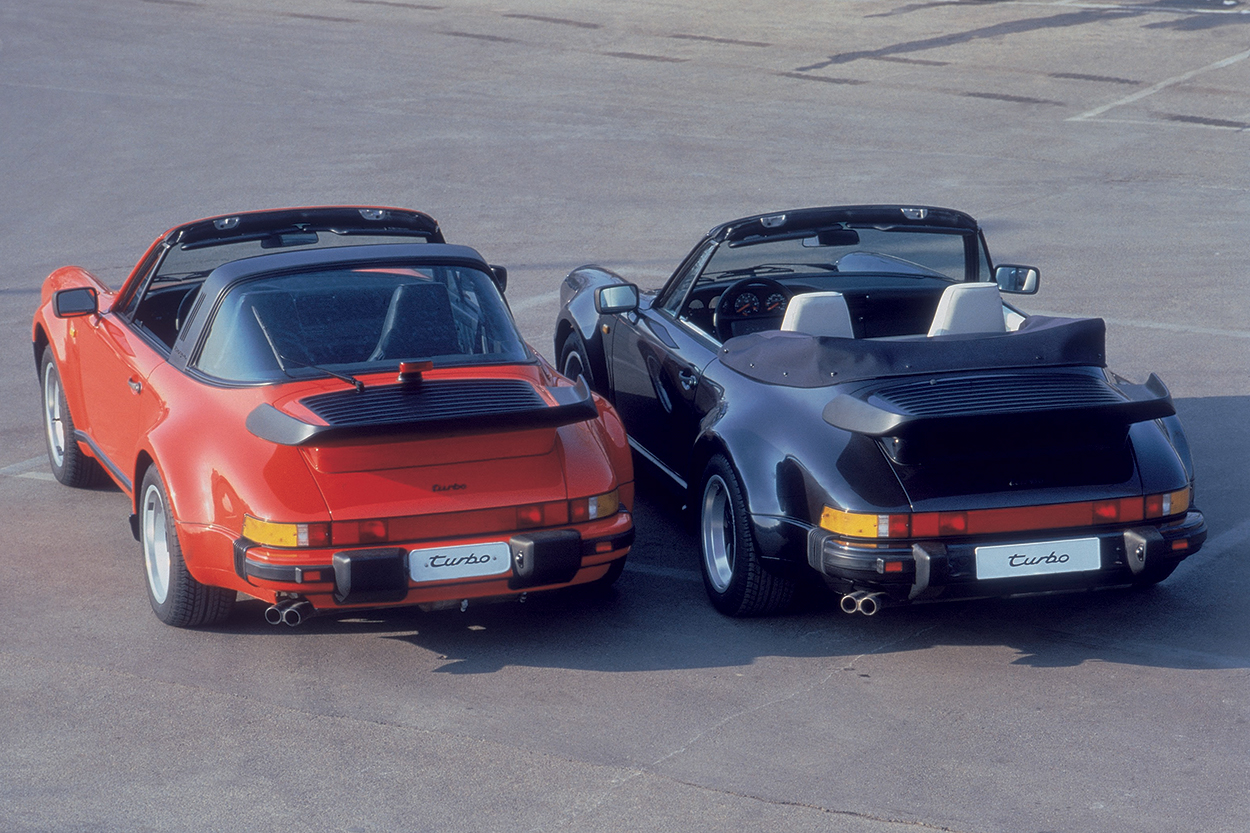 Above: 1987 911 Turbo Targa (left) and 911 Turbo Carbriolet.
The big news for the 1987 model year was the availability of Cabriolet and Targa versions of the Turbo for the first time. The slantnose bodywork also appeared on the regular options list, no longer requiring a request to the Special Wishes department.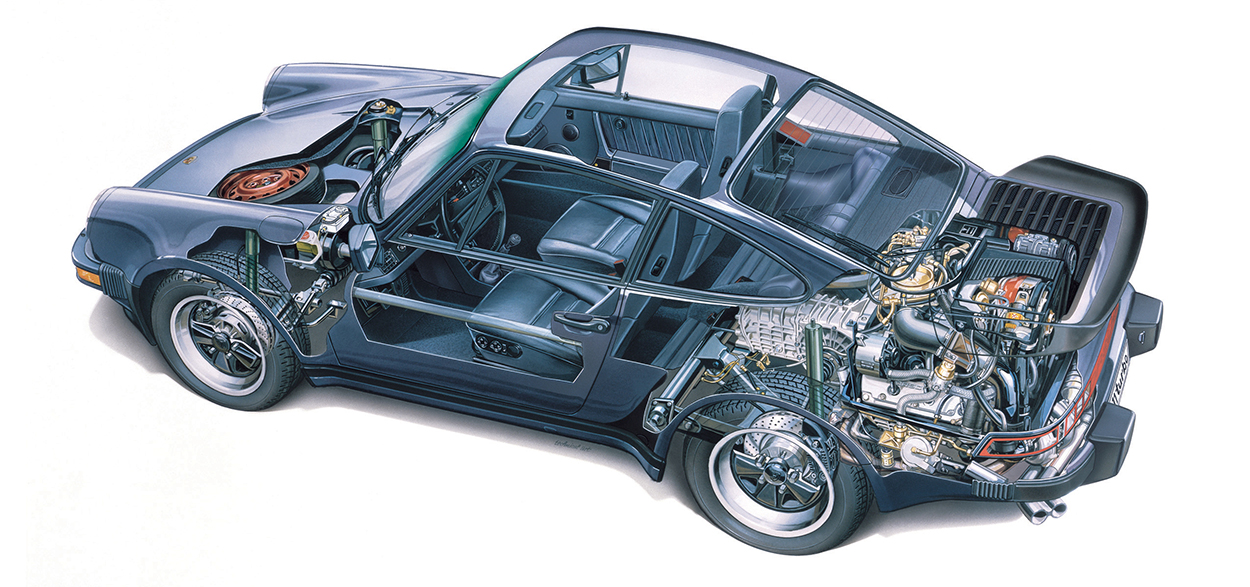 Above: 1988 911 Turbo cutaway drawing.
There were no meaningful updates for 1988, but for 1989 there was great news regarding the manual transmission: Porsche decided to equip the Turbo with the five-speed-manual G50 transmission and hydraulic clutch operation that first appeared on the 1987 911 Carrera. 1989 was the last year of the 930, so these five-speed equipped cars are sought after — and their prices reflect that.
The early 1990s were not kind to Porsche, and despite engineers' ambition to implement more radical updates to the 911 Turbo, relatively low cash reserves and a low point in Porsche's top leadership effectively put them on hold. So instead of following through on the 965/969, a concept with twin-turbos, twin-ignition, all-wheel drive, and a PDK double-clutch transmission to put 370 hp to the ground — just a year and a half away from launching — Porsche retreated. Instead, after skipping the 1990 model year, the 964-based 911 Turbo was launched with an updated version of the 3.3-liter flat six.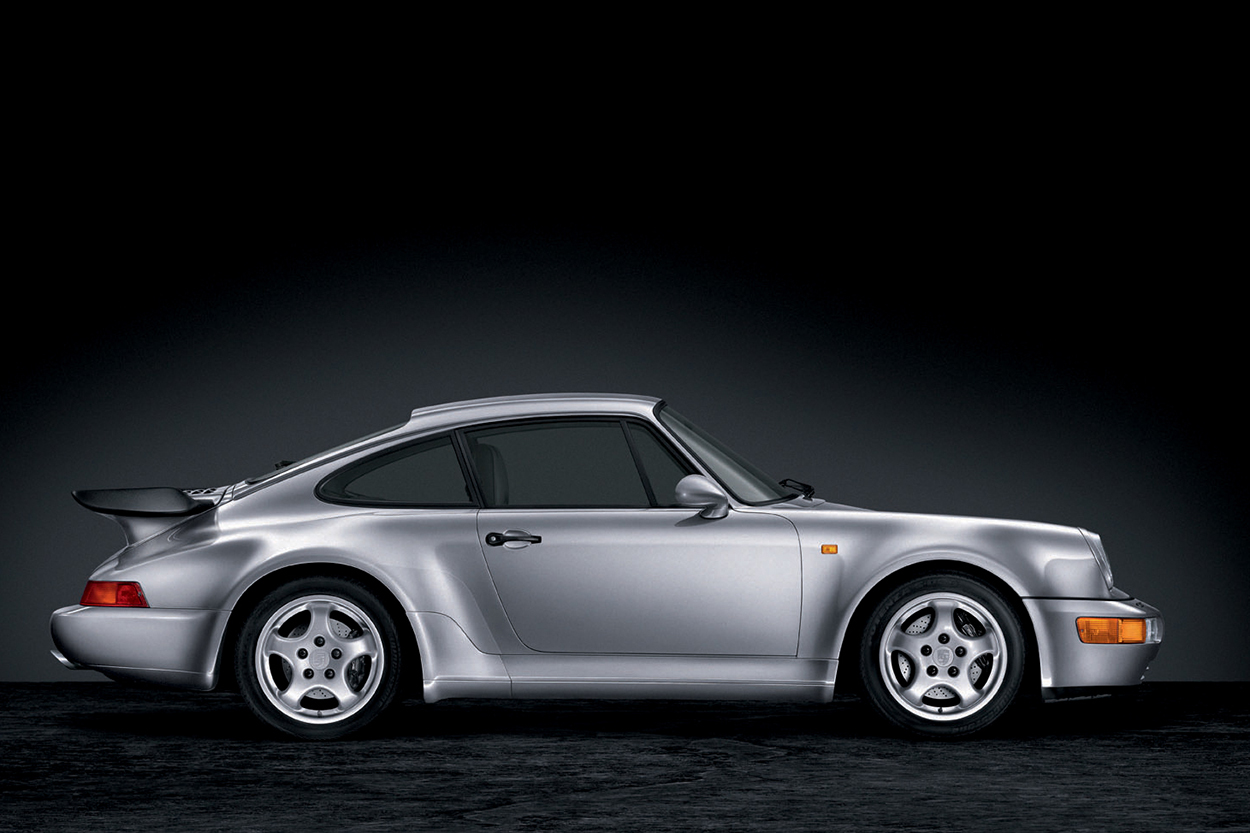 Above: 1991 911 Turbo.
In spite of the turmoil that resulted in the Turbo we actually received, the North American car still had a potent 320 hp at 5750 rpm with emissions equipment, which was made possible by the use of the sport kit previously available as an option on earlier 3.3-liter 930s. The kit included a larger turbocharger and intercooler. Torque was rated at 332 lb-ft at 4500 rpm. Redline was 6900 rpm. CIS/K-Jetronic was retained because it was a known quantity and cheaper to implement than developing a modern, computerized engine management system. However, the system was modified to run with an electronic control unit (ECU), which allowed more precise changes in ignition timing.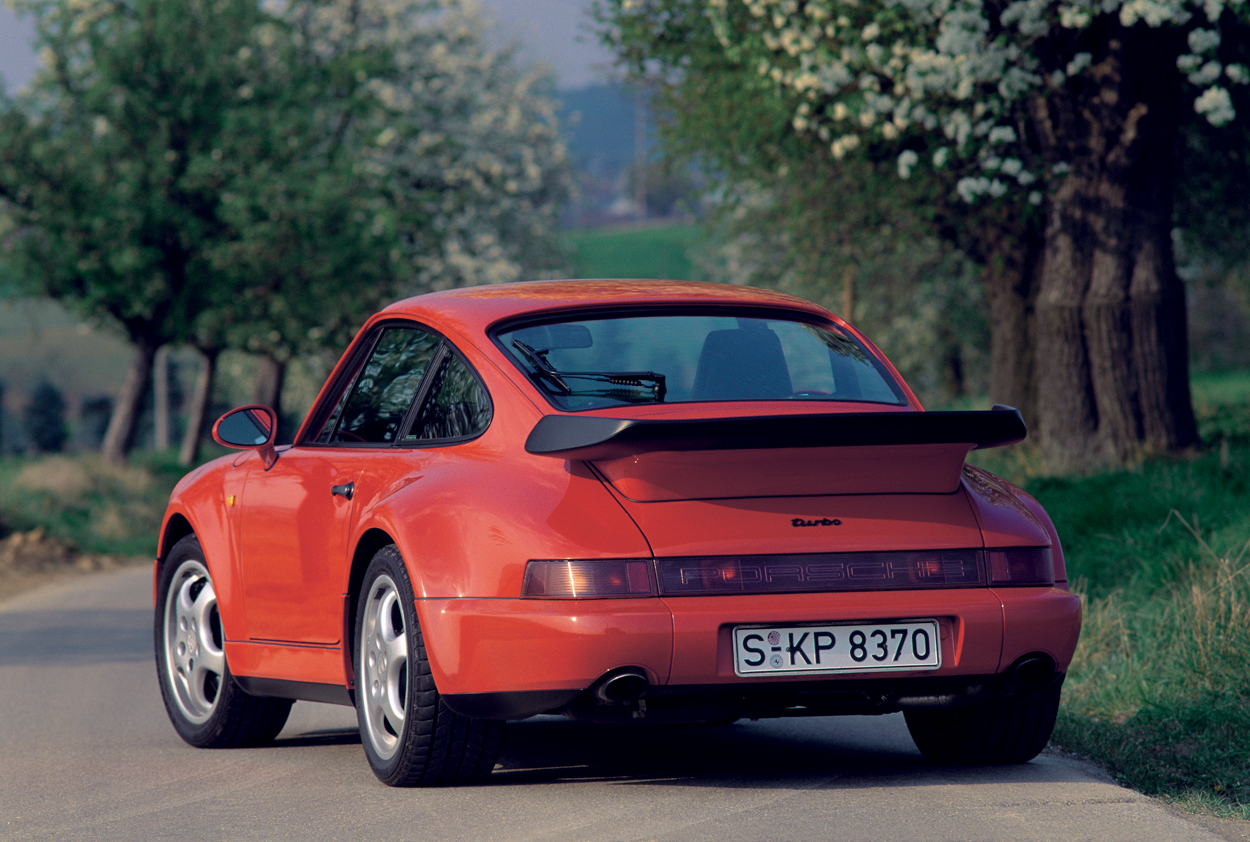 Above: 1992 911 Turbo.
The five-speed manual G50 transmission was tasked with routing power to the rear wheels, now sized 7 x 17 and 9 x 17 inches and wrapped in 205/50 and 255/40 tires. A new limited-slip differential had variable lock-up characteristics to improve stability and agility. Under acceleration, it would lock up to 20%, avoiding understeer that occurs under higher lock-up values. When decelerating, the differential would lock up to 100%, which provides stability in off-throttle situations and under braking. Speaking of brakes, they were now hydraulically actuated (instead of vacuum boosted) and an anti-lock braking system (ABS) was made standard. The front brakes were from the 928, while the rears were pulled from the 944 Turbo parts bin. Though the 964-based Turbo looked very similar to previous cars, aerodynamics were significantly improved. As on the 964 Carreras, handling was improved by the use of a new coil spring suspension, which replaced the previous torsion bar setup.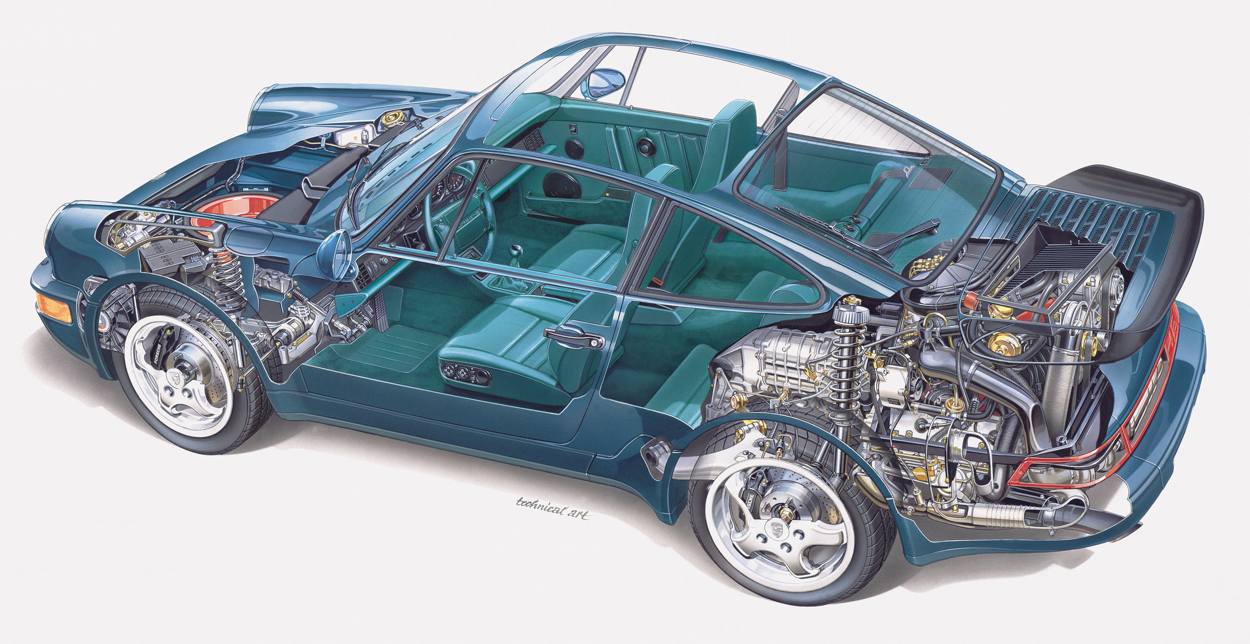 Above: 1992 911 Turbo cutaway drawing.
Inside, the Turbo was a nicer place to be than before. Electrically adjustable heated seats were made standard, and the heating and A/C system were improved with two electric blowers in the rear fenders and automatic climate control. Driver and passenger airbags were standard.
For 1992, Porsche introduced the 911 Turbo S, a stripped-down, lightweight special. Porsche removed air bags, electric windows and seats, a/c, central locking, rear wiper, and power steering. Lightweight glass was used on the rear and side windows, while the hood, decklid, and door panels were made of carbon fiber-reinforced fiberglass. Weight was 2,822 pounds, 420 pounds lighter than the 911 Turbo. The Turbo S was also lowered by 1.5 inches and used stiffer springs and shocks. The front brake rotors were bigger, as well as the new 8 x 18 and 10 x 18 Cup Design three-piece wheels by Speedline. The fog lights were replaced with air intakes to cool the brakes and oil. The Turbo S made 381 hp and 361 lb-ft of torque from its 3.3-liter flat-six using larger valves, more aggressive valve timing, a bigger turbo, and 11.3 psi of boost.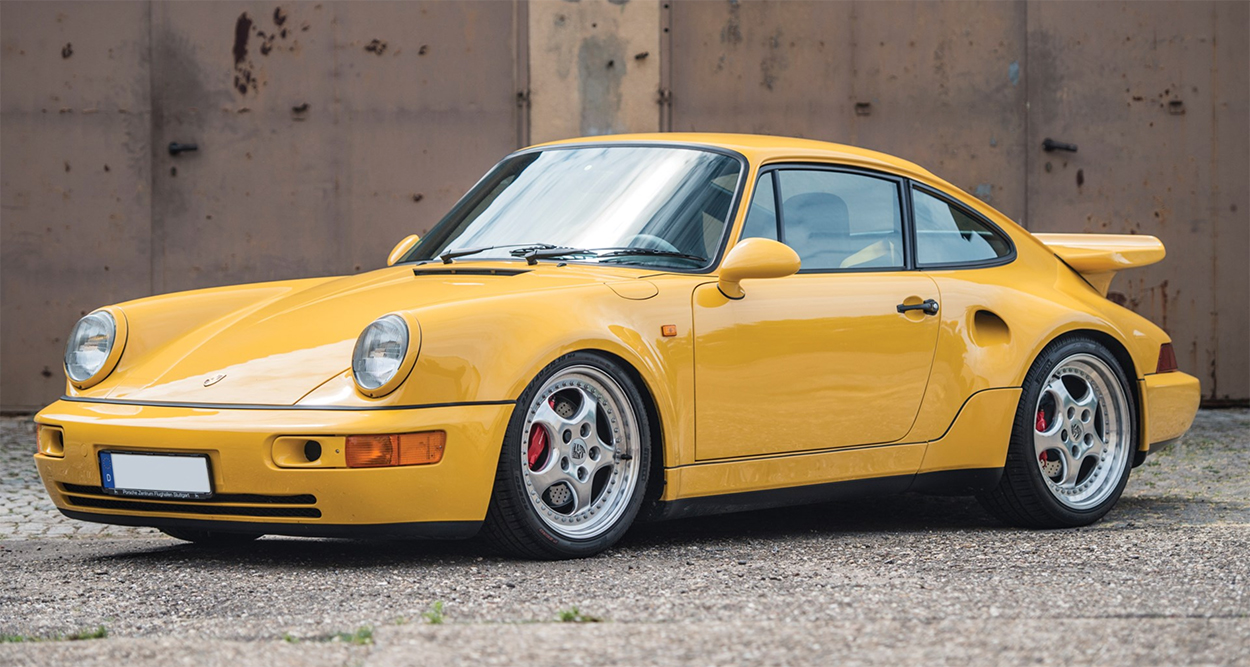 Above: 911 Turbo S. Photo courtesy RM/Sotheby's
To homologate the 911 Turbo for racing in IMSA's Supercar series, Porsche offered a special option (TS2) to turn a regular Turbo into a Turbo S2. Only 20 of these cars were ordered for the North American market, and on paper, it wasn't much different from the regular Turbo. It was not a lightweight special like the Turbo S, and Porsche claimed it came with a slightly more powerful 3.3-liter engine, making 322 hp. However, Karl Ludvigsen noted in Excellence was Expected that contemporary Car and Driver performance tests clocked the 100-150-mph run in 19.7 seconds, 8 seconds quicker than the Turbo. Perhaps Porsche fudged the output numbers a bit…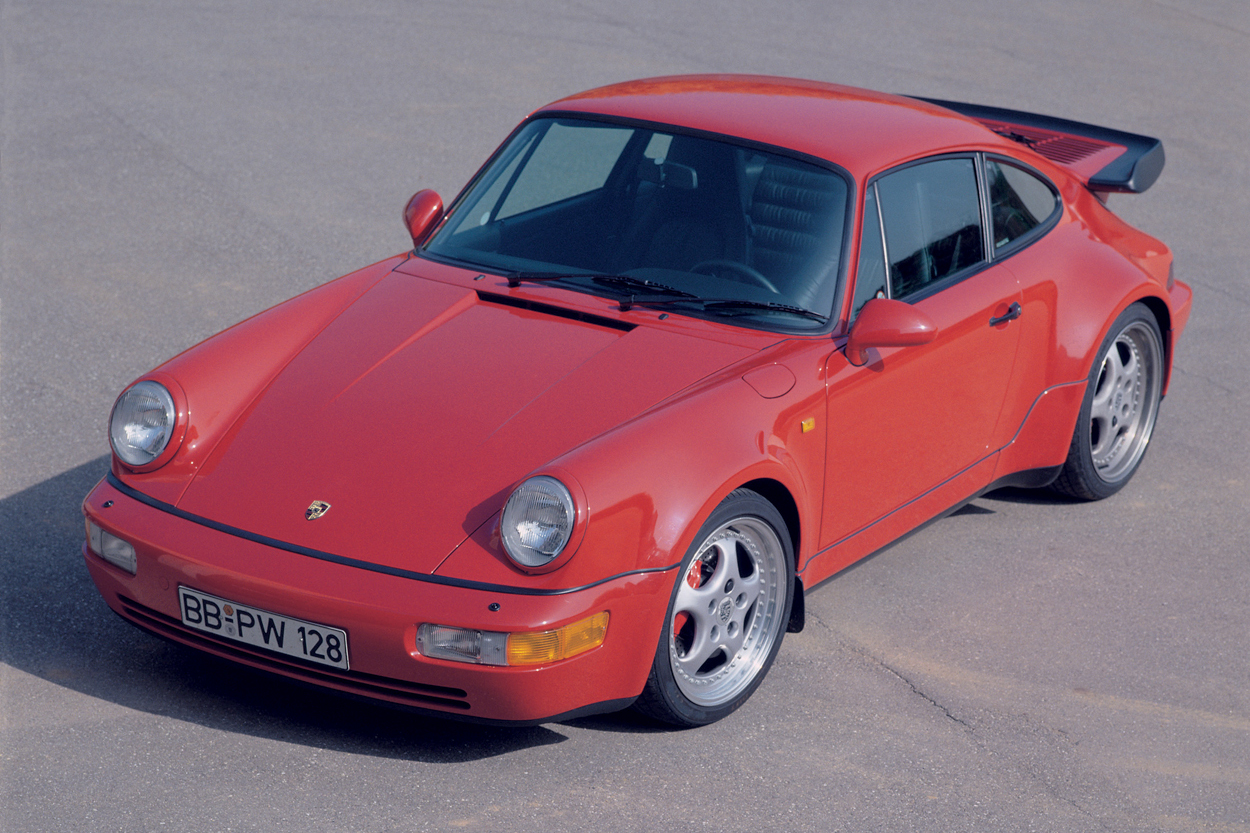 Above: 1993 911 Turbo.
The 1993 model year brought the last 964-based Turbo, and it was equipped with a new motor based on the 3.6-liter unit in the Carrera 2 and Carrera 4. It stayed with the updated CIS/K-Jetronic of the 3.3-liter cars and used single-ignition cylinder heads, but the extra displacement allowed for an effortless 360 hp and 383 lb-ft of torque. The car was beefed up in many ways to handle the power, including rear trailing arms from the European Carrera RS, a strengthened limited-slip differential, stronger drive axles, and larger Speedline three-piece wheels — 8 x 18 and 10 x 18 inches front and rear — with tires sized 225/40 and 265/35. The automotive press praised the engine's increased flexibility, noting that it had a positive effect on the car's handling.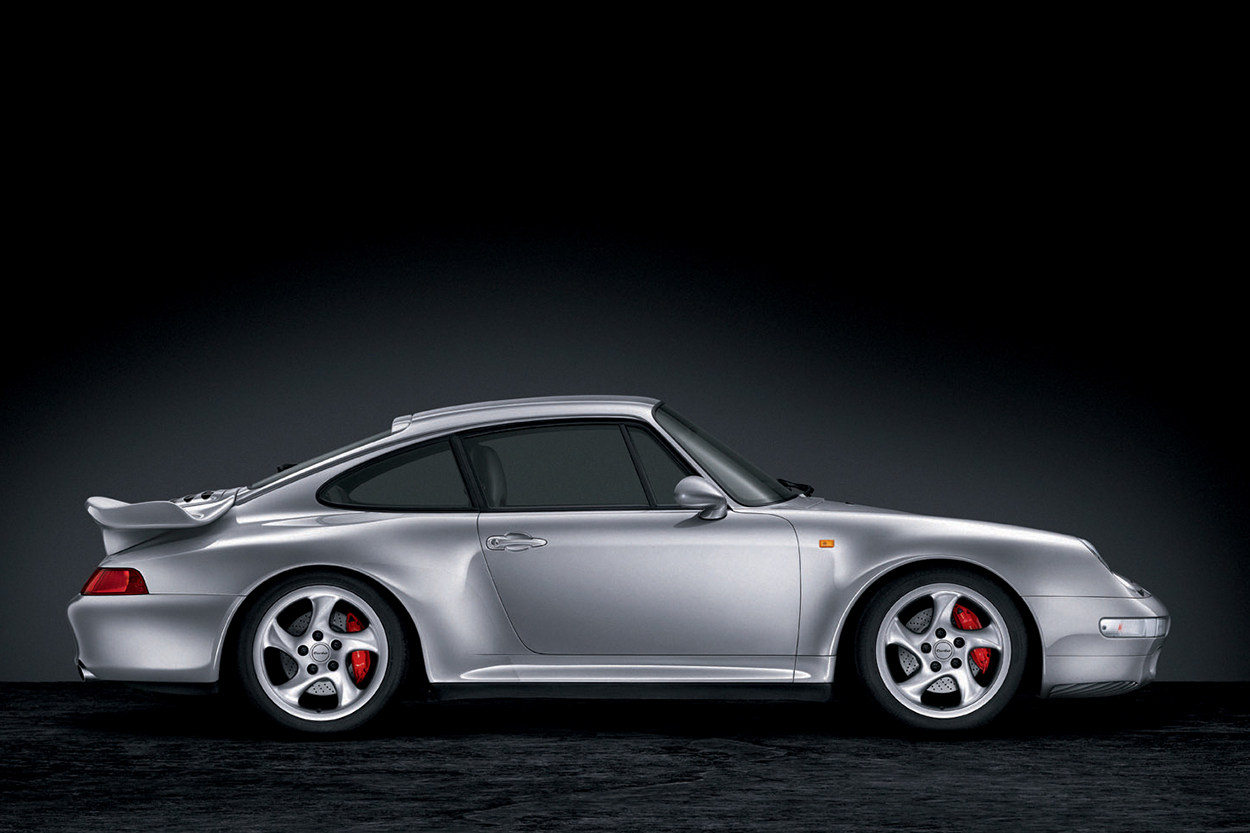 Above: 1996 911 Turbo.
The next 911 Turbo was the bookend of an era, representing the pinnacle of Porsche's street-legal, air-cooled, turbocharged engines, yet at the same time establishing a trend with standard all-wheel drive. The 993-generation 911 Turbo was launched in the US for the 1996 model year, and it delivered on much of the promise of the ill-fated 965/969 from the late 1980s. The 3.6-liter flat-six received twin-turbochargers — on for each cylinder bank, not sequential as on the 959 — good for 408 hp and 398 lb-ft of torque.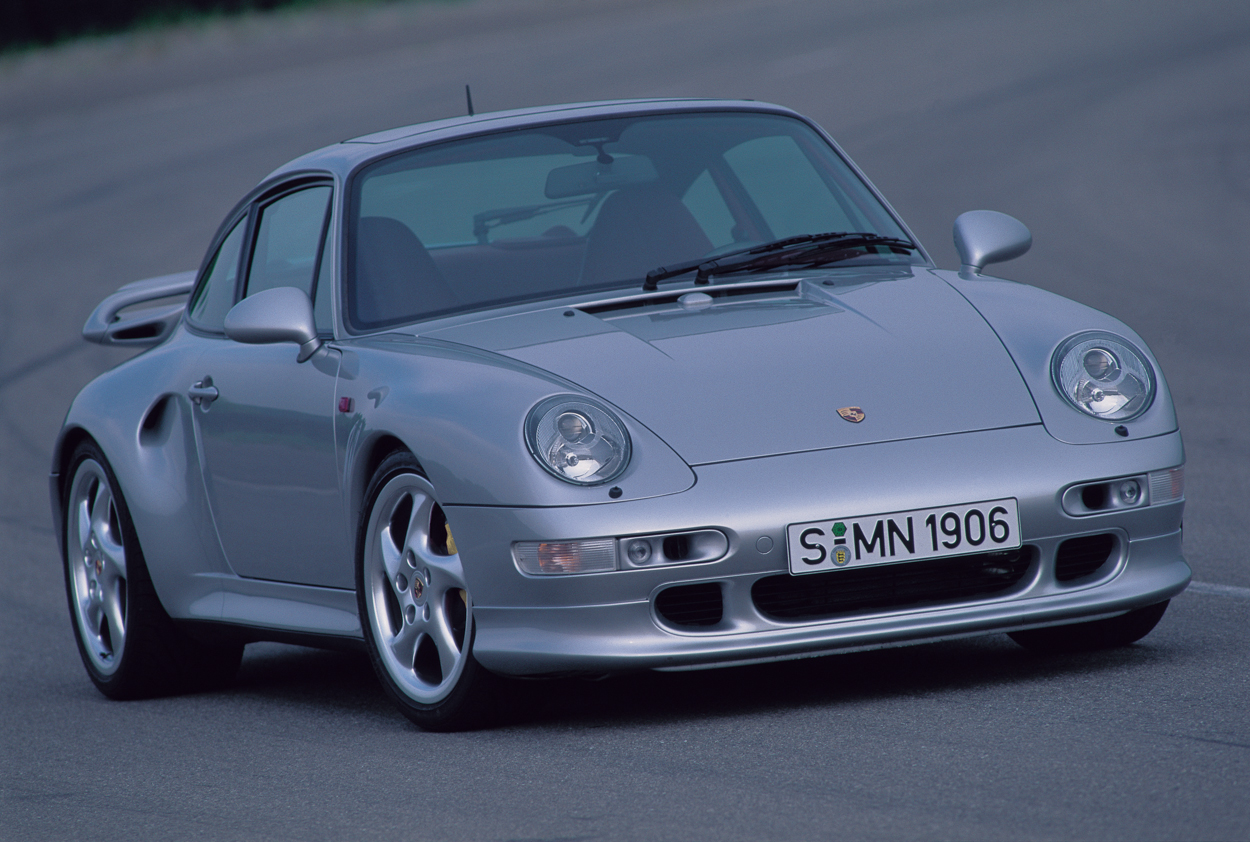 Above: 1998 911 Turbo S.
K-Jetronic fuel injection was replaced with a Motronic engine management system, which improved performance and lowered emissions. The all-wheel-drive system was based on the 993 Carrera 4's, which used a viscous coupling meant to enhance handling rather than provide absolute grip. As much as 40% of power could be sent to the front axle. New, hollow-spoke wheels sized 8 x 10 and 10 x 10 inches were wrapped in 225/40 and 285/30 tires. To keep those tires on the ground up to its top speed of 180 mph, a large, fixed rear spoiler adorned the rear deck lid.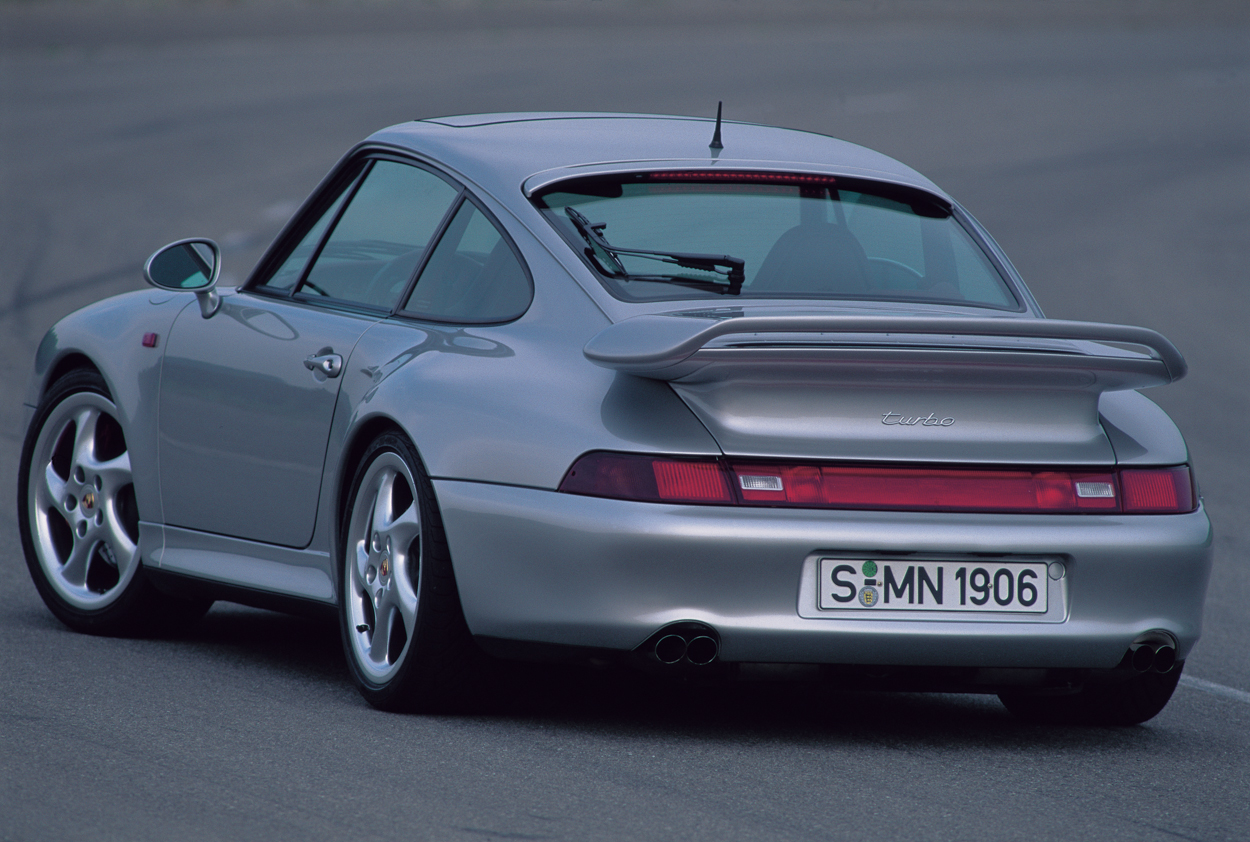 Above: 1998 911 Turbo S.
North American customers were offered a Turbo S for model year 1998, which was restricted to 199 examples. The car included as standard the optional Porsche tuning kit, which raised horsepower to 430, as well as air scoops shaped into the front of the wide rear fenders, à la 959 and every 911 Turbo model that came after it.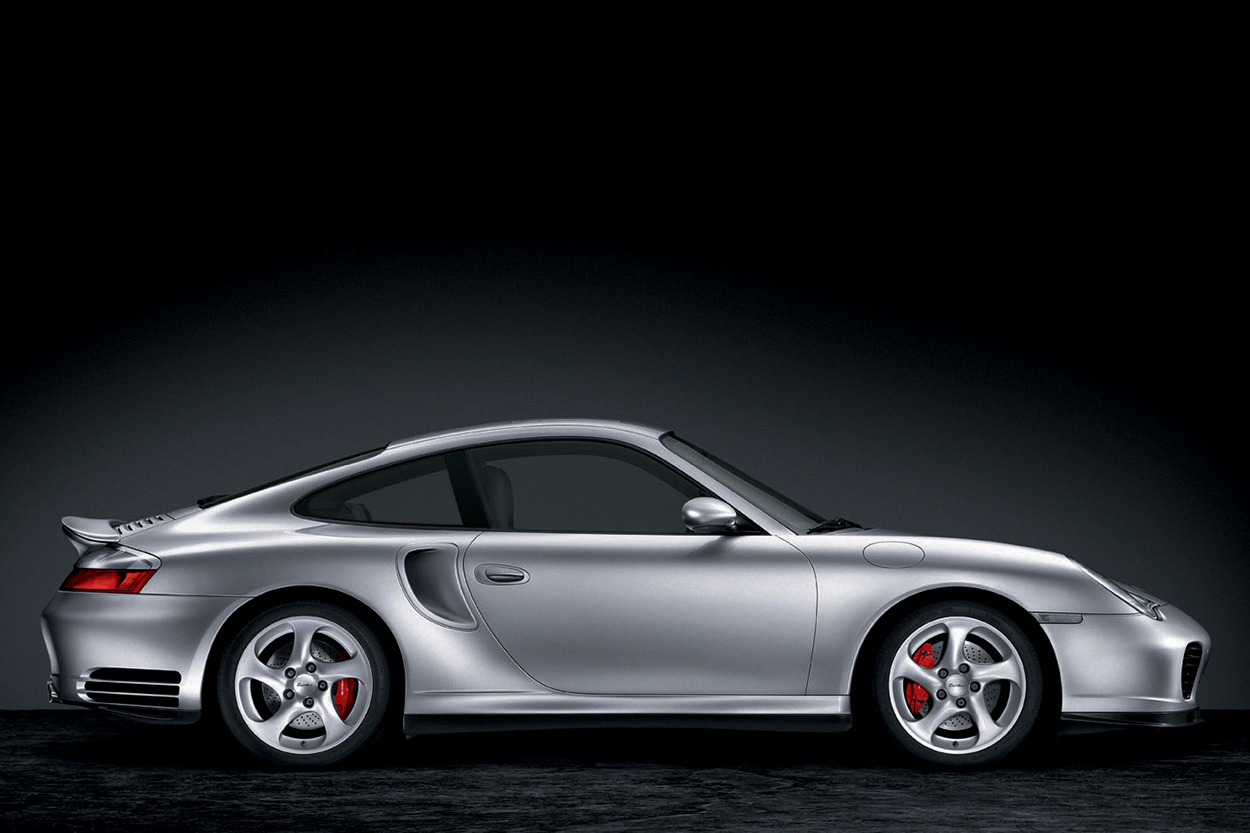 Above: 2001 911 Turbo.
Which brings us to the 996-generation 911 Turbo, the first water-cooled, turbocharged, flat-six-powered production 911. The 996 Carrera was introduced to North America for model year 1999, and it was a totally new car rather than an evolution of the 911 dating back to 1965. As such, its chassis was totally new (well, it shared quite a bit with the Boxster introduced for 1997), the body length and wheelbase were both longer, the car was wider, and a new naturally aspirated engine was developed. The Turbo, launched in North America for the 2001 model year, received most of the updates that applied to the new naturally aspirated Carreras, including the C4's all-wheel-drive system with viscous coupling, but differed in one key aspect: the engine.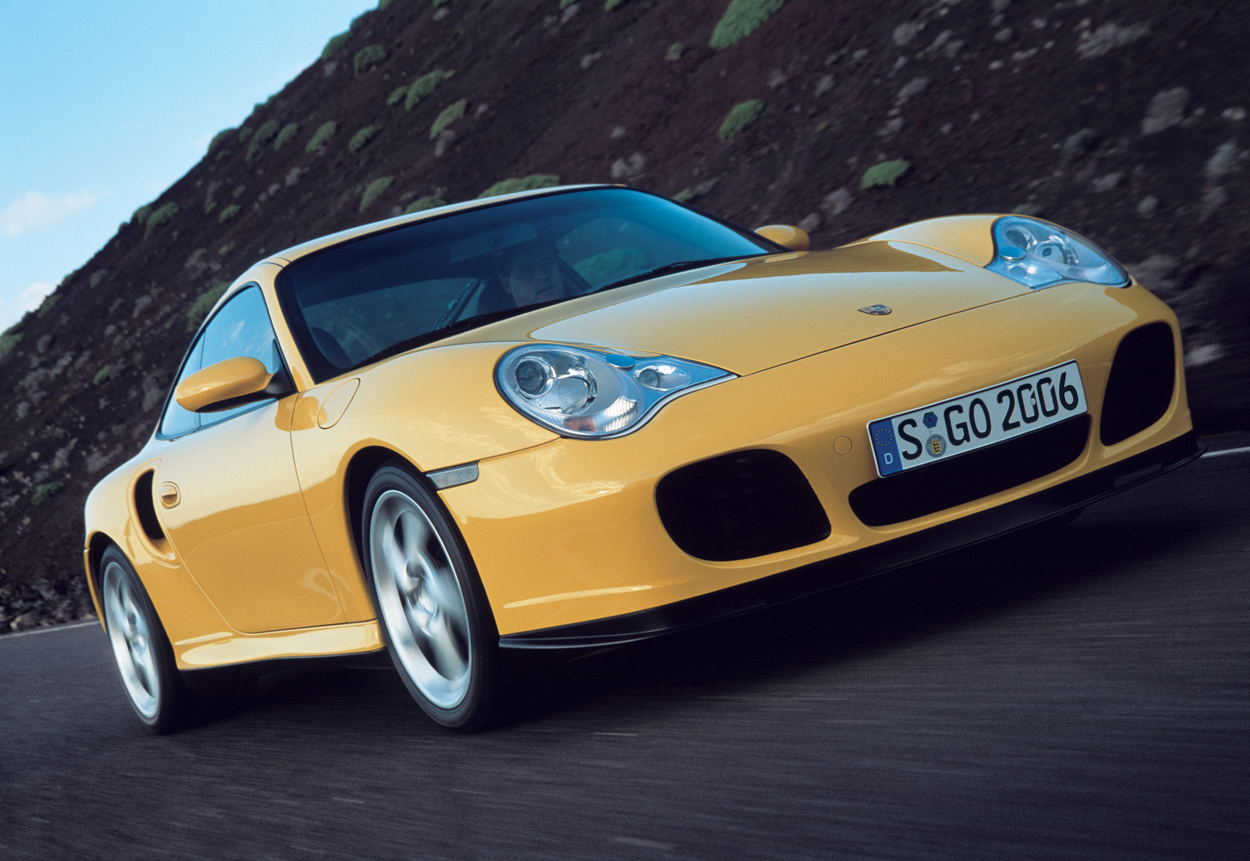 Above: 2003 911 Turbo.
The flat-six in the Turbo was not a totally new design like the engines found in the Carrera and Carrera 4. Instead, it was based on the "Mezger" flat-six used in the Le Mans-winning 911 GT1 race car of 1998. The tried-and-true design of the flat-six allowed Porsche to coax out a reliable 415 hp and 413 lb-ft of torque. In short, because the Turbo's engine was not based on the M96 of the naturally aspirated Carreras, it did not suffer intermediate shaft (IMS) bearing failures, porous blocks, or any of the other nagging problems that have given the 996-generation 911 a questionable reputation. The Turbo was equipped with a six-speed manual, or buyers could opt for a five-speed automatic.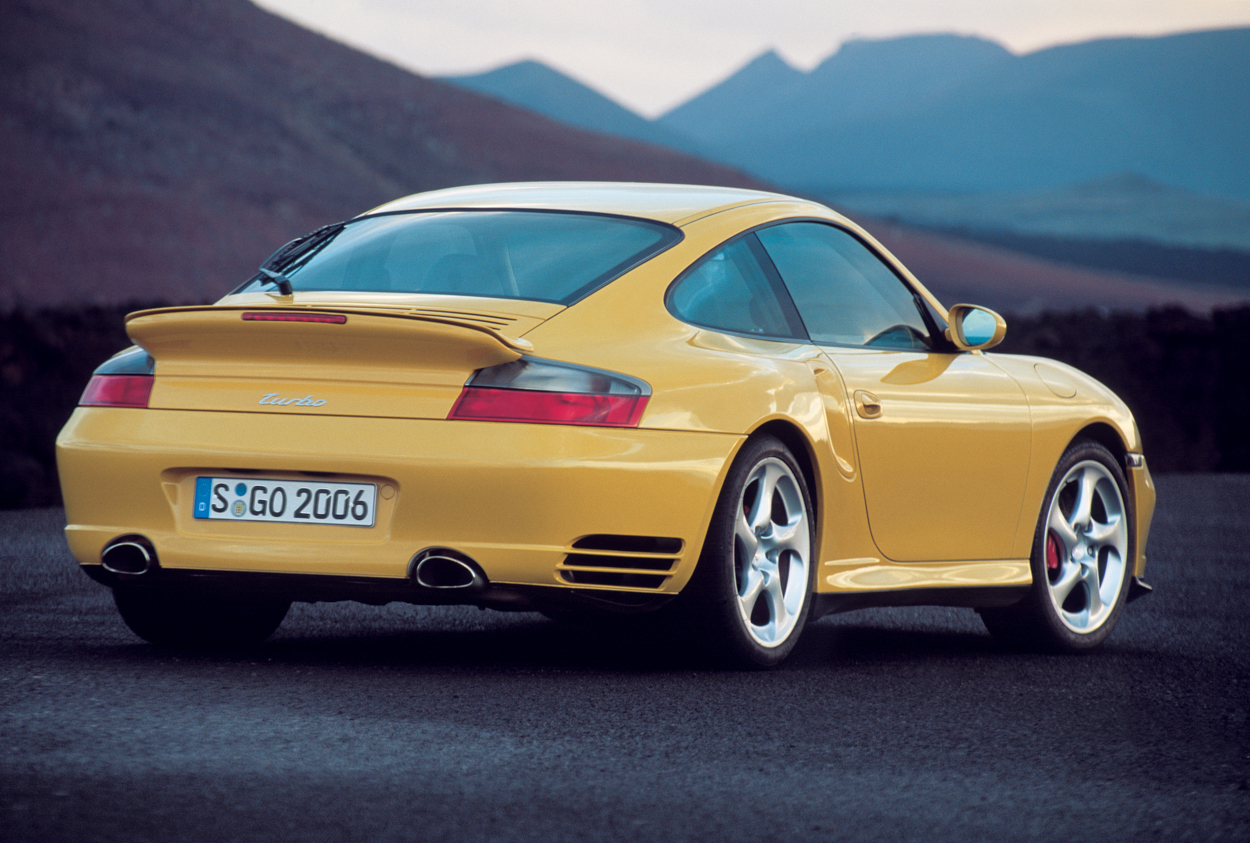 Above: 2003 911 Turbo.
For model year 2002, certain areas of the body received thicker-gauge metal, which increased body rigidity. A more rigid body improved handling, but also allowed loads from the drivetrain to be transferred more effectively into the car. The car also received more standard equipment, including a new Bose sound system, auto-dimming rear-view mirrors, rain-sensing wipers, and more. More exciting was the introduction of the optional X50 Powerkit, which raised power to 450 and torque to 457 lb-ft.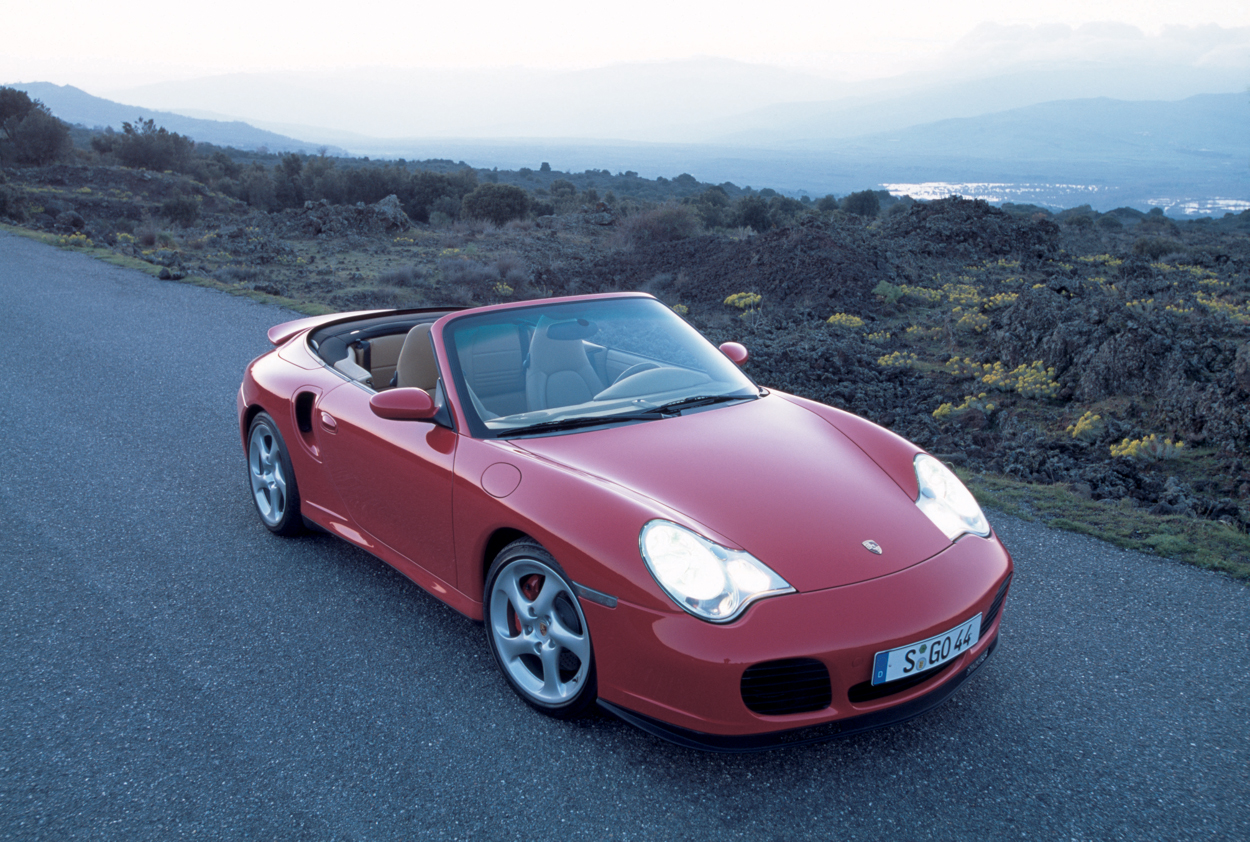 Above: 2003 911 Turbo Cabriolet.
The 2003 911 Turbo was mostly unchanged, but Porsche added a Cabriolet body style for 2004. Model year 2005 saw the introduction of the 911 Turbo S coupe and Cabriolet as the new 997-generation 911 Carrera was launched. The Turbo S made 444 hp and 457 lb-ft of torque. But the "regular" Turbo and Turbo S were not the only turbocharged 911s Porsche offered during the 996 generation.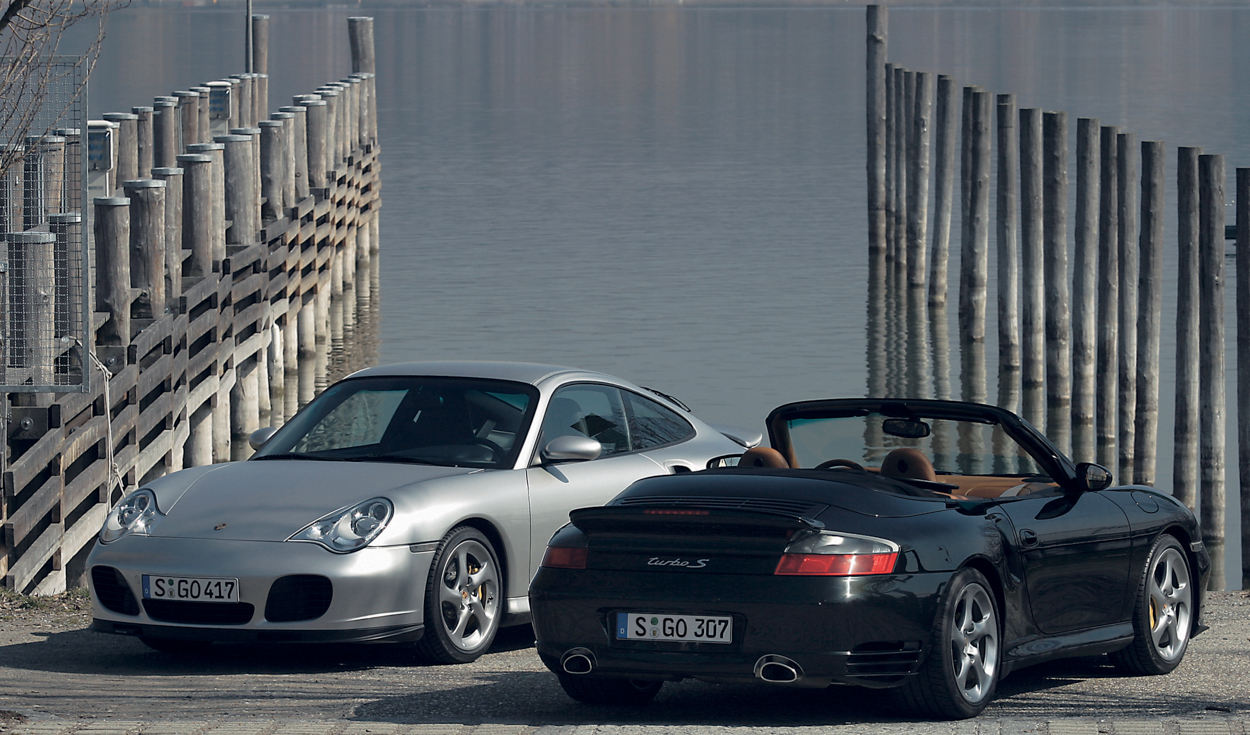 Above: 2005 911 Turbo S.
The turbocharged 911 GT2 was introduced for 2002 (technically the 993 GT2 was the first, but we didn't officially get them in North America). It was more powerful than the 911 Turbo and only came in rear-wheel-drive. In addition to removing the AWD system, to achieve lighter weight Porsche Ceramic Composite Brakes (PCCB) were standard, climate and cruise control systems became optional, and rear seats and sunroof were deleted.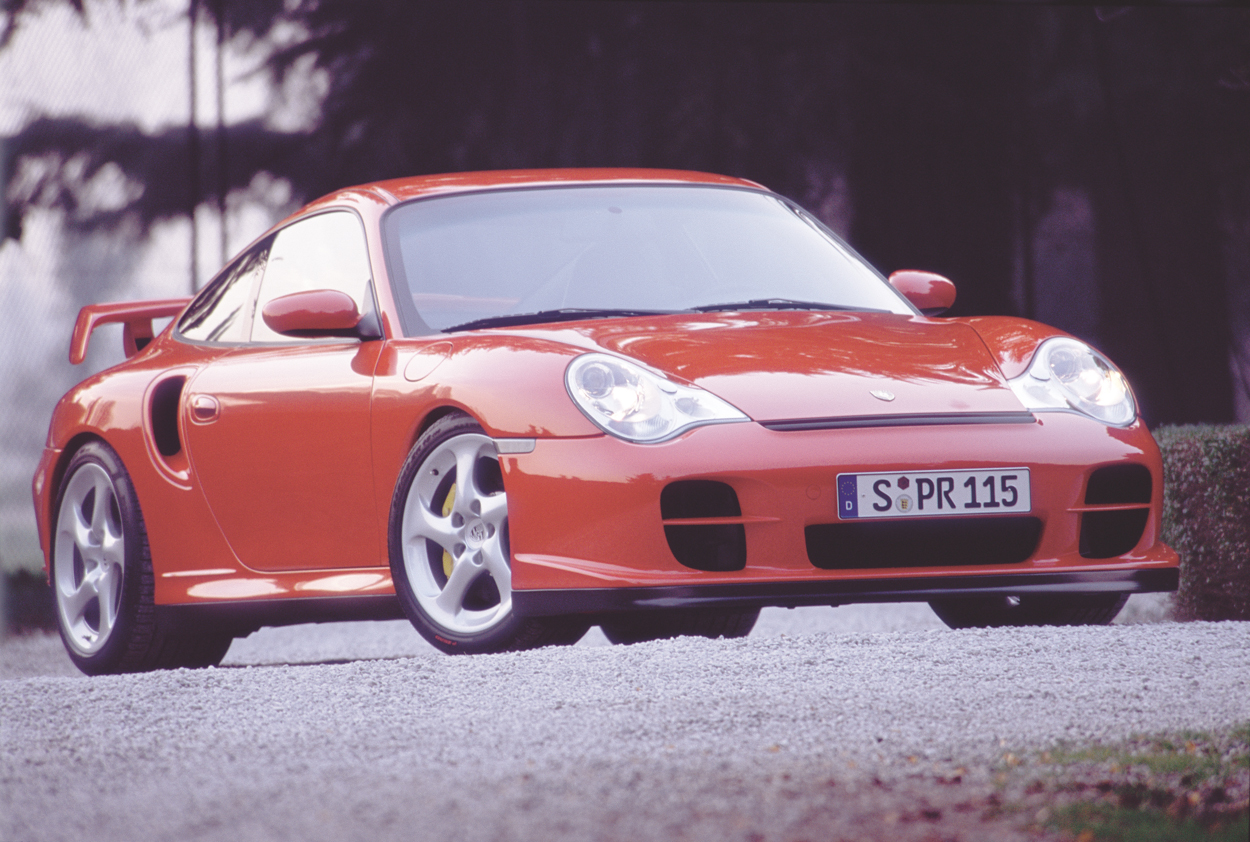 Above: 2002 911 GT2.
The sport seats were also lighter. The flat-six was rated at 456 hp and 457 lb-ft of torque, good for a sub-three-second run from zero to 60 mph. The GT2 was one of the last few cars Porsche did not offer with electronic driver aides, except for ABS. It was also only available with a six-speed manual. The GT2 soldiered on for 2003 mostly unchanged, but for model year 2004, Porsche upped the horsepower to 477 and the torque to 472 lb-ft, raising top speed from 195 to 198 mph. Porsche claimed the 0-62 mph (0-100 km/h) run took the same 4.0 seconds as the earlier cars. A small number of GT2s were sold as 2005 model year cars.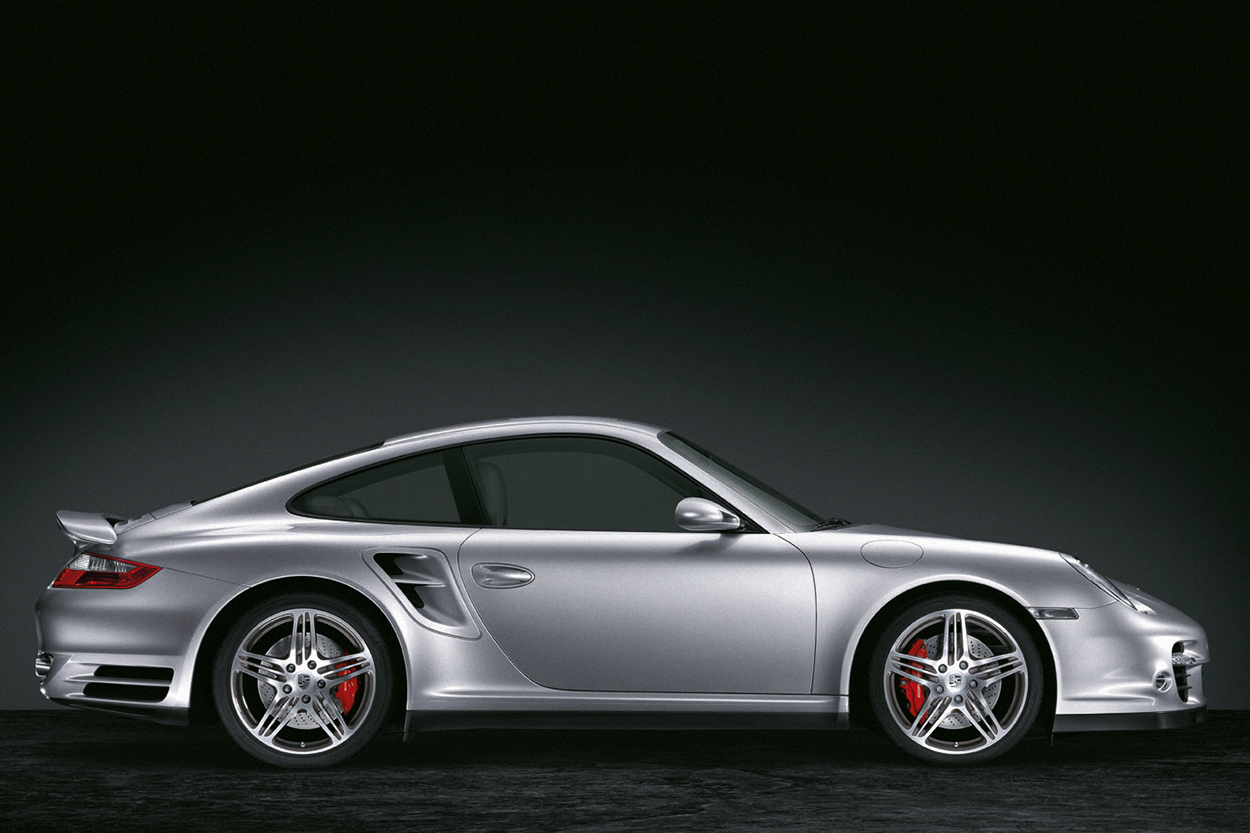 Above: 2007 911 Turbo.
As the first 997-generation 2005 911 Carrera Ss and Carreras were hitting the streets, the last of the turbocharged 996s were also leaving dealerships. 2006 was an off year during which no 911 Turbos were offered. But then the 997-gen 911 Turbo was announced, slated to launch for 2007. It didn't look much different from the car it replaced — small styling updates, such as headlights that evoked pre-996 911s of old, made a big difference — but there were significant changes beneath the body.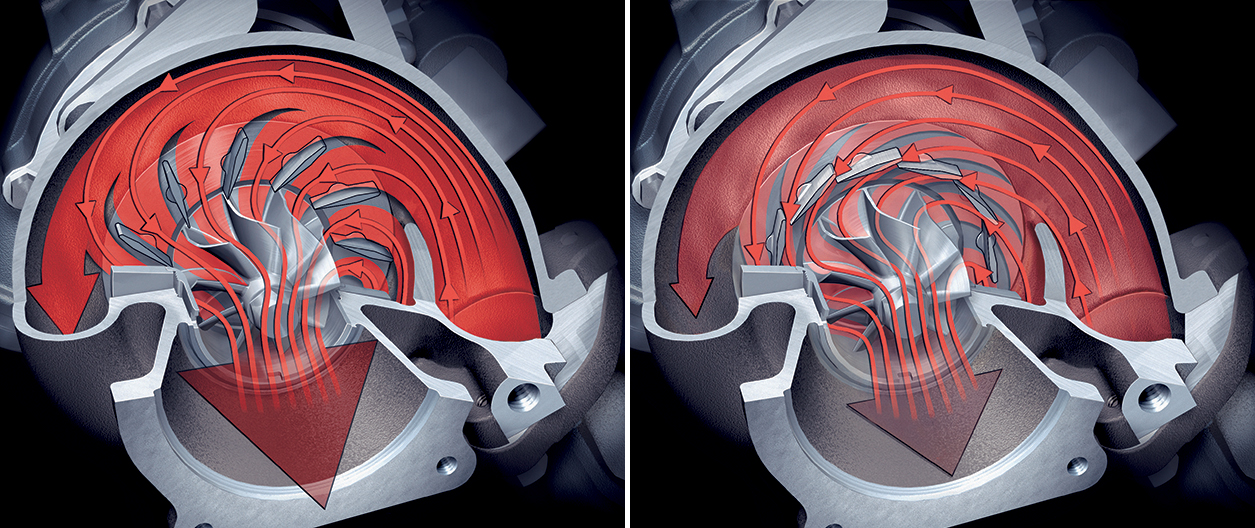 Above: Cutaway drawing demonstrating how variable turbine geometry works.
On paper, the 3.6-liter twin-turbocharged flat-six didn't seem all that different from the engine in the 996 Turbo, but it made much more horsepower (480 hp) and torque (457 lb-ft) due to a technology long-employed in turbo diesel engines: turbochargers with variable turbine geometry (VTG). In short, the exhaust-side turbines pivoted to different angles depending on engine speed and other factors to allow air to flow to the intake-side turbines in the most efficient way possible. VTG decreased turbo-lag at low rpm and increased power at high rpm, and made the engine more tractable at moderate revs. Peak torque was reached at 1950 rpm and was held through 5000 rpm.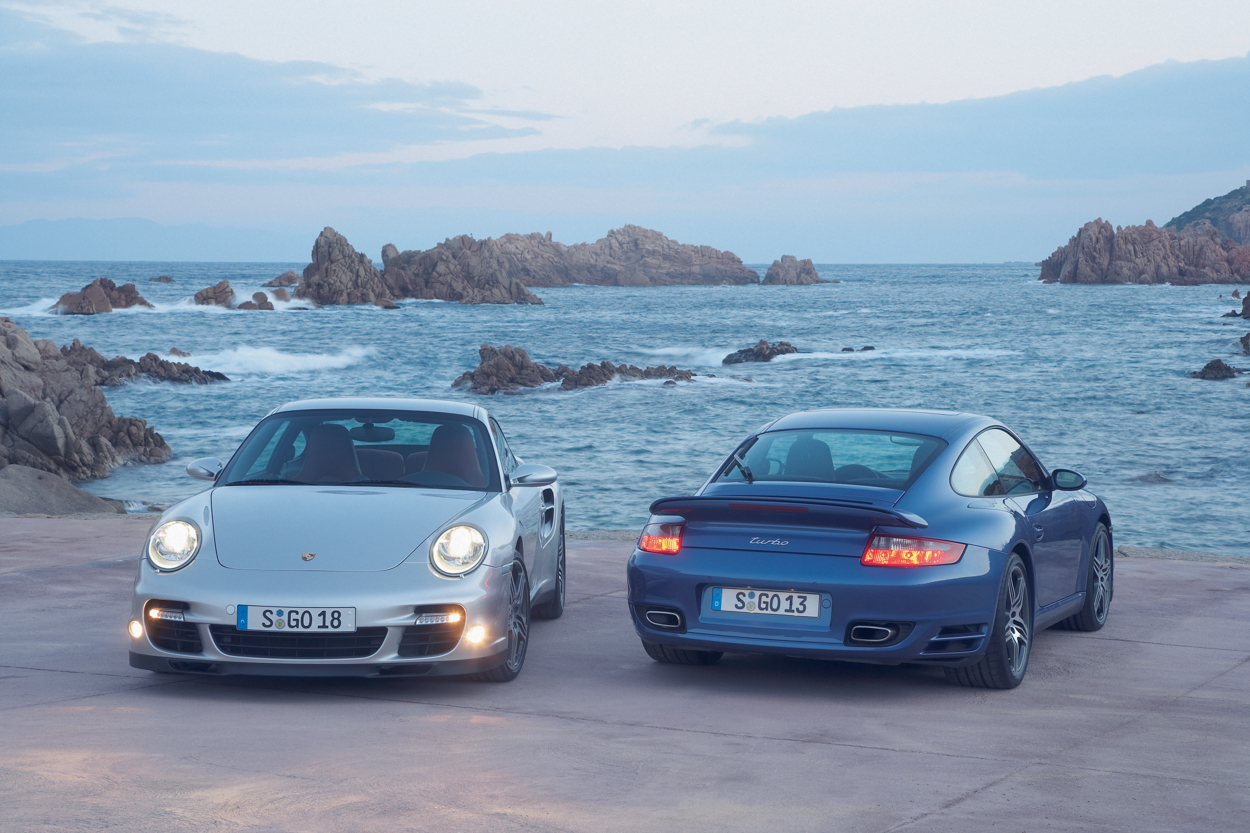 Above: 2007 911 Turbo.
To put this newfound power to the ground, Porsche used a new all-wheel-drive system with an electromagnetically controlled multi-plate clutch instead of the viscous fluid coupling of the previous Turbo. Porsche electronic driver aides, Porsche Traction Management (PTM) and Porsche Stability Management (PSM), apportioned power front to rear as needed, depending on driving and road conditions. Porsche Active Suspension Management (PASM) was standard, offering drivers two settings, Normal and Sport, which soften and firm the dampers, respectively.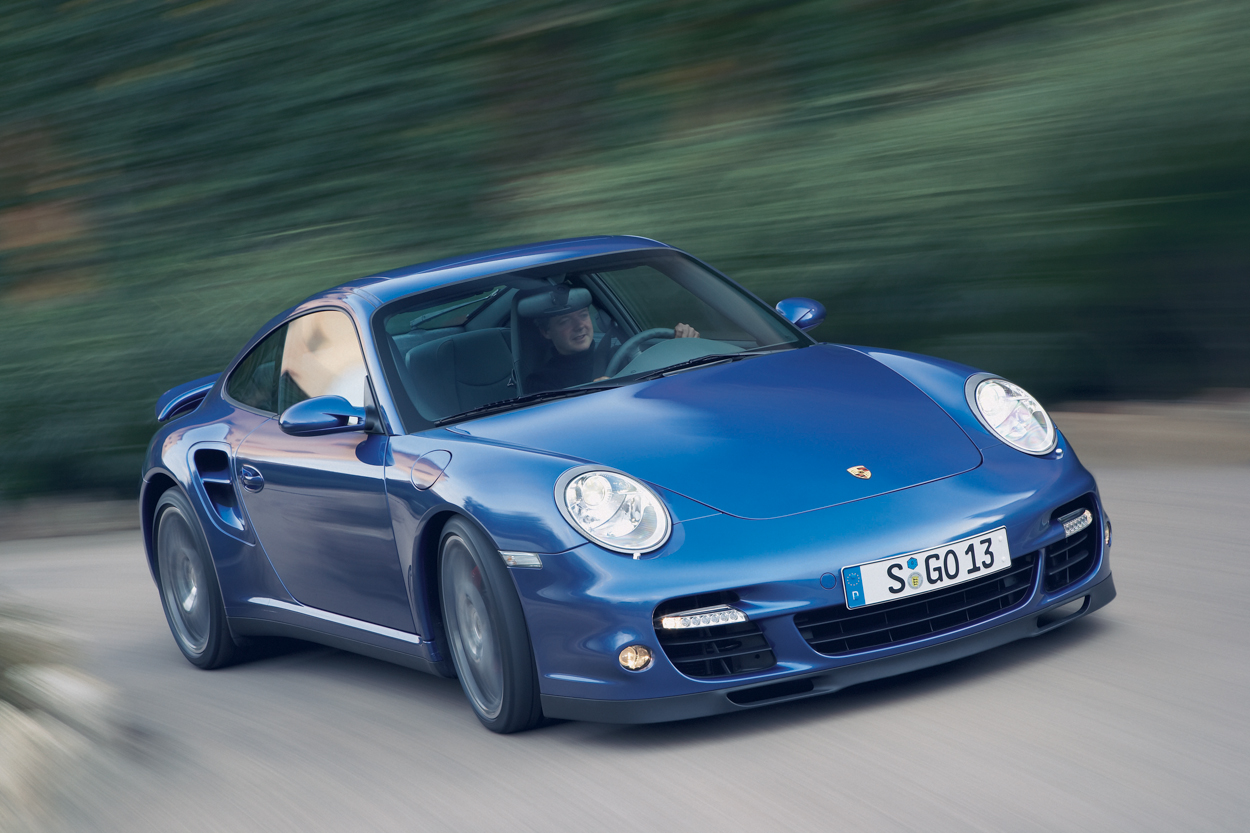 Above: 2007 911 Turbo.
A six-speed manual was the standard transmission, though buyers could opt for a five-speed automatic. The 997 Turbo was the first car in Porsche's history that was quicker when equipped with an automatic transmission, dispatching 0-60 mph in 3.7 seconds compared to 3.9 in the manual. The Sport Chrono Package Turbo option added a feature that's now common in many of Porsche's mostly turbocharged offerings: overboost. Engaging the overboost function, by pressing the gas pedal past its pressure-sensitive detent, caused an increase of nearly 3 psi in boost pressure, raising torque to 501 lb-ft for several seconds.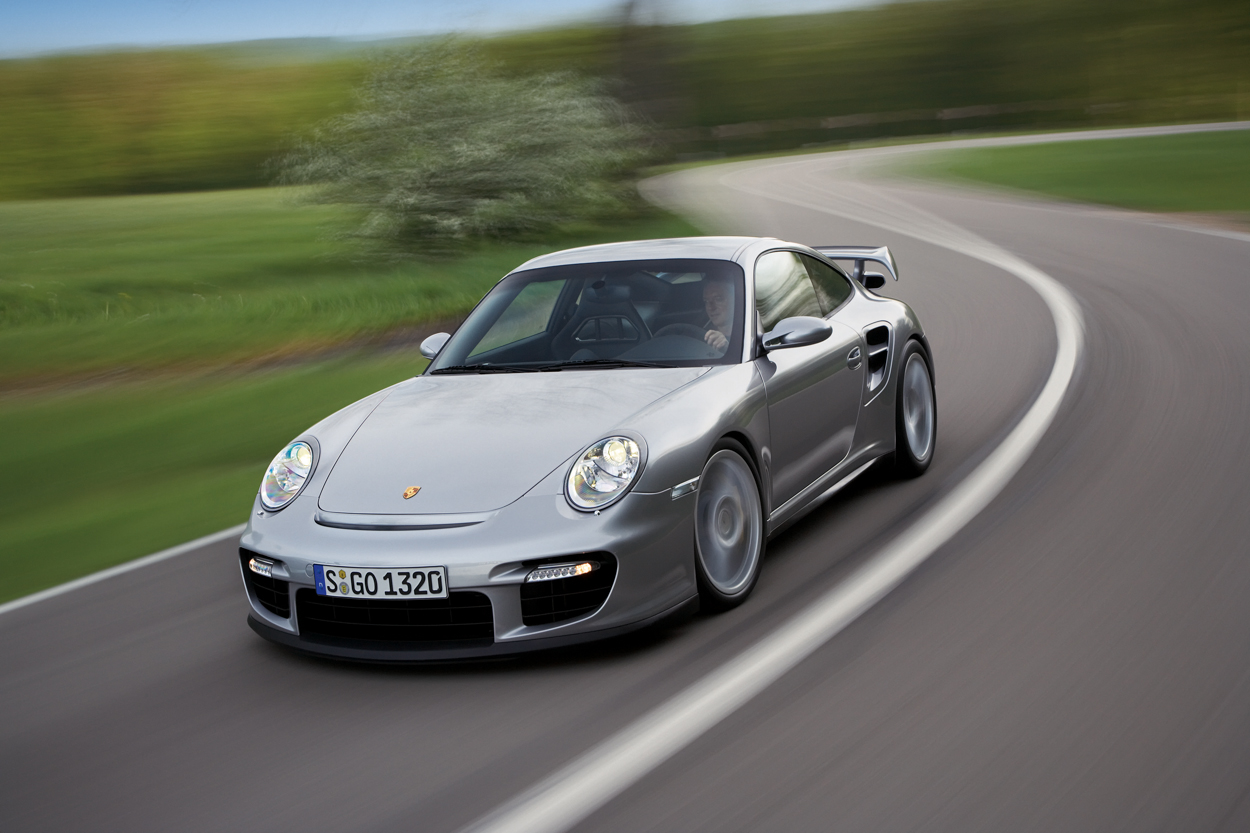 Above: 2008 911 GT2.
A 997-based 911 GT2 appeared for model year 2008, with a 530-hp version of the 3.6-liter twin-turbo flat-six. It was rear-wheel drive, like the previous GT2, and with just 3,175 pounds to lug around it was capable of reaching 204 mph. Porsche said the increased power was from utilizing a larger turbo compressor wheel and implementing a new "expansion-type" intake manifold. As with the previous GT2, PCCB brakes were standard as well as PASM, while a new, titanium exhaust system reduced weight compared to a steel system by 50%.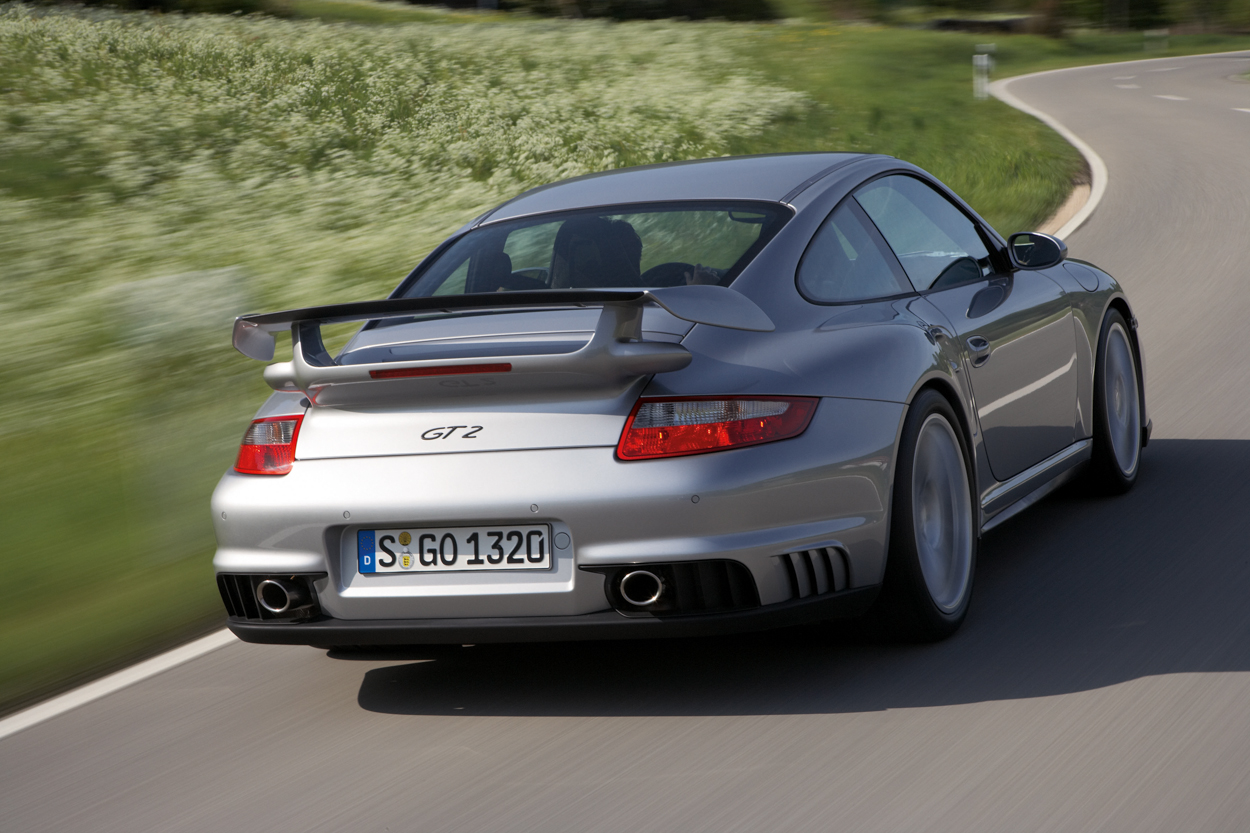 Above: 2008 911 GT2.
The 997 Turbo continued on mostly unchanged until the 2010 model year, when the facelifted, subtly enhanced "997.2" was launched. Minor style updates were made to the car, most noticeably at the rear, where the taillights received a new shape and LED lighting. Again, the biggest changes lie underneath. The previous 3.6-liter "Mezger" flat-six was replaced with a new 3.8-liter twin-turbo engine. It used direct fuel injection (DFI), increased displacement, and a new intake manifold (adapted from the GT2) to achieve 500 hp and 479 lb-ft of torque.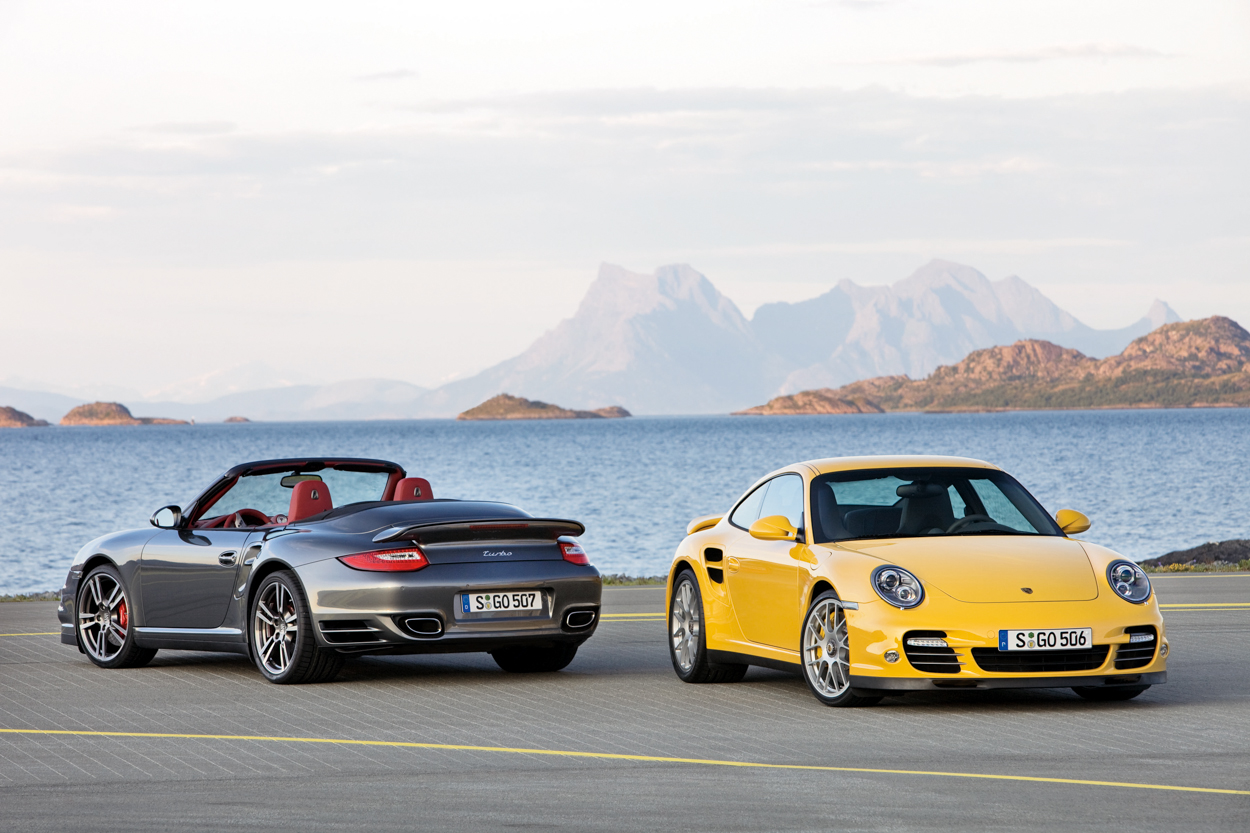 Above: 2010 911 Turbo Cabriolet (left) and coupe.
Porsche ditched the traditional torque-converter automatic for a new, seven-speed, double-clutch, automatic gearbox (PDK), which helped the car — when equipped with the Sport Chrono Package Turbo — achieve a 0-60-mph acceleration time of 3.2 seconds, 0.2 seconds quicker than a Turbo equipped with a manual and a half-second quicker than the 997.1 Turbo with the automatic. A six-speed manual was offered through the end of the 997.2 Turbo's production run (PDK only for Turbo S), model year 2013, after which PDK became the only transmission offering.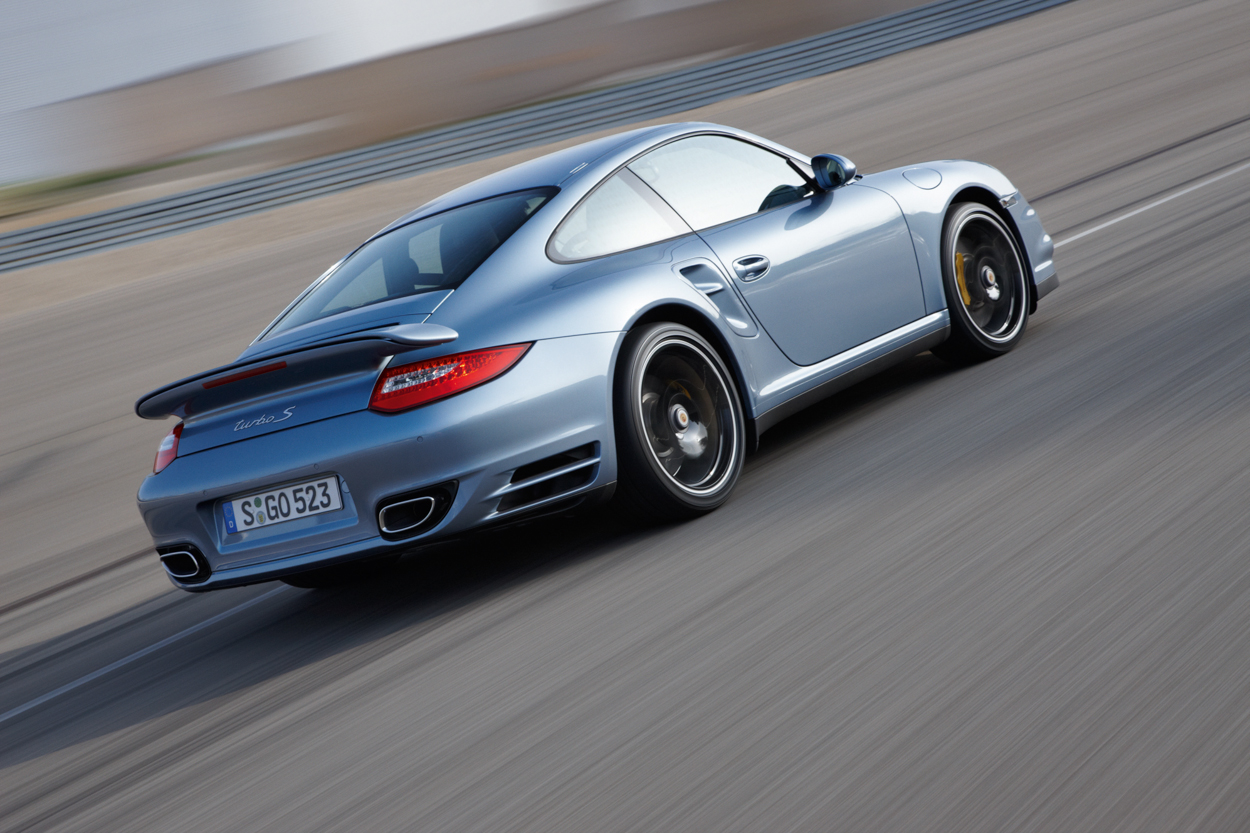 Above: 2010 911 Turbo S.
Porsche also introduced the new 911 Turbo S in coupe and Cabriolet forms for 2010, offering more standard equipment and, yes, more horsepower. The Turbo S achieved 530 hp with 2.9 psi of additional boost, matching the GT2's output of a couple years earlier. Perhaps the most consequential performance-enhancing option on the Turbo yet standard on the Turbo S was the Porsche Torque Vectoring system, which utilized a mix of the rear mechanical differential and the rear brakes to alter the vehicle's handling. Porsche explains it best: "While PSM uses the brakes to stabilize the car, PTV applies the brakes to actively enhance driving dynamics."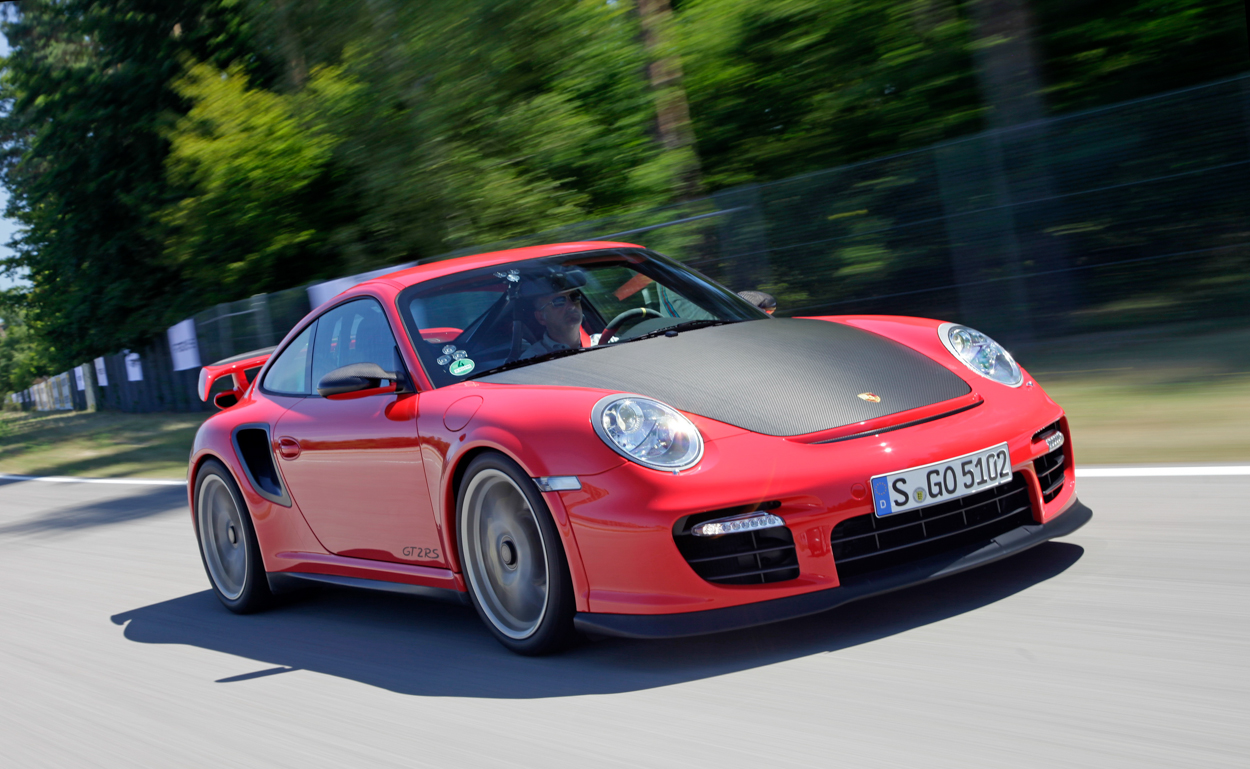 Above: 2011 911 GT2 RS.
Porsche had two aces up its sleeve to send off the 997-generation 911. The one we'll focus on here was the most powerful road-going 911 up to that point: the 2011 911 GT2 RS. (The other was the 2012 911 GT3 RS 4.0.) Using the port-injection 3.6-liter Mezger flat-six from the GT2 as a starting point, as opposed to the newer DFI 3.8-liter turbo engine, Porsche massaged the flat-six to produce 620 hard-charging horsepower. In keeping with all Porsche GT cars up to this point, power was routed to the rear wheels only, and changing gears was done solely with a six-speed-manual transmission. To further reduce the weight of the GT2 RS compared to the GT2, the car featured carbon-fiber front fenders and hood, no a/c and radio (both no-cost options), a single-mass flywheel, and carbon-fiber bucket seats. The resulting curb weight for North America-spec cars was 3,075 pounds, 100 pounds lighter than the GT2. To keep the car on the road and improve cornering grip, wheels sized 9 x 19 and 12 x 19-inches and wrapped in 245/35 and 325/30 tires worked with tweaked aerodynamics to improve downforce, the most visible of which was a massive rear spoiler.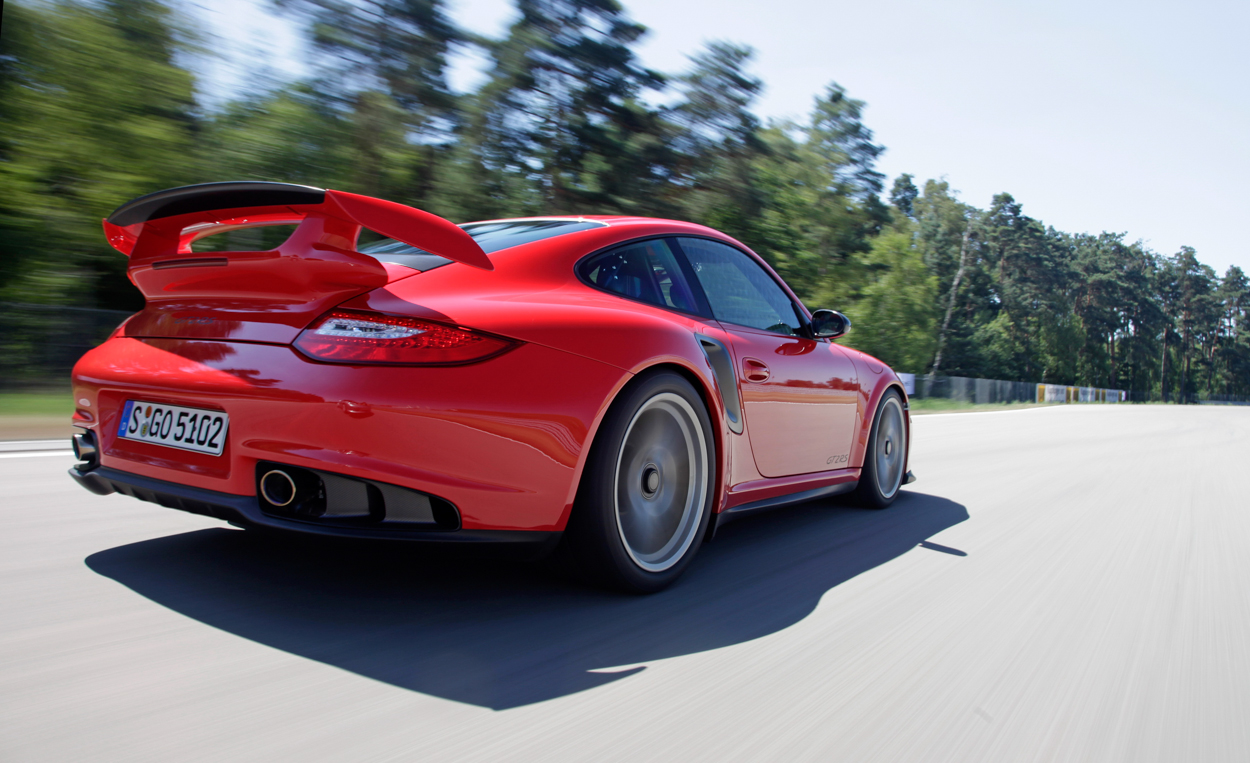 Above: 2011 911 GT2 RS.
Sources: Porsche 911 Red Book. Porsche: Excellence was Expected. Porsche press material.
[UPDATE: A previous version of this article stated that the 997-generation Turbo's last model year was 2011. It has since been corrected.]
---
911 Turbo Common Problems and Buying Tips: All Generations
Early Turbos: 1976-79
Collision damage: carefully inspect rear frame rails. Corrosion: Check window frames and front suspension pan under battery. Engine: Check cylinder leak down. Check for broken head studs. Check for cracks and corrosion in magnesium alternator/fan housing. Check for proper operation of the Bosch CIS system. Check engine compartment hoses. Inspect the exhaust system and turbocharger. Perform detailed operational test of engine and check for leaks. Make sure it holds proper oil pressure and temperature. If engine has been rebuilt, ask for documentation of the work. Test drive: Verify clutch and transaxle operation. Pay attention to handling, and if any discrepancies are noted, check suspension components and alignment.
Mid-year/gray-market Turbos: 1980-85
Check the same areas as the 1976-79 models. Corrosion: Carefully inspect underbody as some cars were driven during winter in Europe prior to being shipped to North America. Importation paperwork: Verify Environmental Protection Agency (EPA) and Department of Transportation (DOT) paperwork has been done properly. Ask for documents if available. Emissions compliance: Verify any changes made to the exhaust system for compliance. Test drive: Verify clutch and transaxle operation.
Turbo's return to North America: 1986-89
Check the same areas as the 1976-79 models. Engine: Verify operation of the Bosch CIS system, as any discrepancies will cause damage to the catalytic converter. Cosmetics: Look for discoloration around rear bumper caused by excessive heat. Verify car has the correct 9-inch-wide rear Fuchs wheels,
964-based Turbos with 3.3- and 3.6-liter engines: 1991-93
Collision damage: Carefully inspect rear of 964-based cars, as rear collision damage can be hard to spot. Corrosion: Inspect for corrosion in front trunk around battery and possible acid damage to ABS brake components behind battery. Carefully inspect windshield frame for corrosion. Engine: Same tips as on previous Turbos. Check alternator for proper output. Verify Bosch CIS injection is working properly. Ancillary components: Check for leaks in power steering system. Verify operation of alarm system and power functions. Check the air-conditioning system; if weak, look for a possible leak at the evaporator. Verify operation of brake power assist. Check airbag system. Verify all warning lights are operational. Test drive: Check suspension bushes in front a-arms, and go for a test drive. Verify clutch and transaxle operation. Pay particular attention to the clutch pedal feel, as it is common to have issues with the release mechanism (fork, tube, and shaft).
993-based Turbos: 1996-98
Corrosion: Check for corrosion in front trunk under battery and brake components, as well as the windshield frame. Engine: Perform leak down test. Check for oil leaks around valve covers and chain housings. Verify turbocharger scavenge line modification has been performed. Check hoses in engine compartment; inspect turbocharger discharge hoses for damage. Verify the use of OEM oil filters, especially on pressure circuit; some aftermarket filters can cause excessive oil return to the crankcase after shutdown. Perform detailed operational test and, in addition to the normal parameters, verify turbo boost pressure. Ancillary components: Check alarm and immobilizer. Make sure all power functions are working. Check dash warning lights for operation. Verify a/c operation, which is also prone to evaporator failures. Check operation of brake booster and condition of abs sensors. Check for loose door strap bracket in door frame (common). Test drive: Carefully inspect condition of the suspension, especially on cars that have been lowered and/or running 19-inch wheels. If car pulls left or right during test drive, check alignment, especially the kinematic toe setting.
996-based Turbos: 2001-05
Corrosion: Check for corrosion in battery tray. Body: Check for clogged drains in forward cowl area. Collision damage: Check for damage to radiators and condensers behind front bumper. Check underbody for damage caused by improper jacking or curbs. Ancillary components: Check condition of headlights, rear spoiler operation, remote key fobs for proper operation, all power functions and warning lights. Verify sunroof operation (if equipped). Verify Porsche Communications Management (PCM) operation. For Cabriolet cars, check operation of convertible top hydraulic system and for clogged water drain ports. Verify brake operation, and on cars equipped with PCCB, carefully inspect all components for damage or evidence of improper maintenance (ceramic composite brake rotors are extremely fragile and expensive). Check power steering system for leaks. Suspension: Check suspension components in cars that have been lowered. Check alignment. Engine: Perform computer diagnostic check. Verify ignition events (over revs). Inspect oil filter element for particles. Leak down test is optional. Pressure-test cooling system. Verify alternator output, and inspect for possible issues in rear power harness. Inspect intercooler cores and hoses. Check exhaust system for damage and that it's securely fastened. Verify clutch power assist and possible leak down of pressure (clutch slave cylinder and accumulator). Drivetrain: Check all-wheel-drive system's front differential and drive shafts. Test drive: Verify clutch operation, including clutch slip under boost while accelerating in higher gears. Verify clean shifting. Be sure transmission doesn't pop out of second gear under deceleration. For Tiptronic automatic transmission, run diagnostic test and operational test.
997-based Turbos: 2007-13
Collision damage, corrosion, and body: Check same areas as the 996 Turbo. Ancillary components: Check same areas as 996 Turbo. In addition, verify operation of electrical system (starting and charging). Look for incorrect crimps in power cables. Suspension: Check suspension components in cars that have been lowered. Check alignment. Engine: Same as 996 Turbo. In addition, verify operation of turbocharger variable geometry. Test drive: Check clutch power assist (not applicable to GT2) and transmission operation. For cars with Tiptronic automatic, run diagnostic and operational tests.