Performance meets art with Michelin and Porsche Outlaws at Werks Reunion 2018
Article and photos by Damon Lowney
There could not have been a better day than last Friday for Porsche Club of America to host its annual Werks Reunion car show in Monterey, California, where more than 600 Porsche cars and SUVs descended upon Corral de Tierra Country Club's fairways to be put on display for thousands of enthusiastic spectators — hundreds of whom also showed up in their Porsches.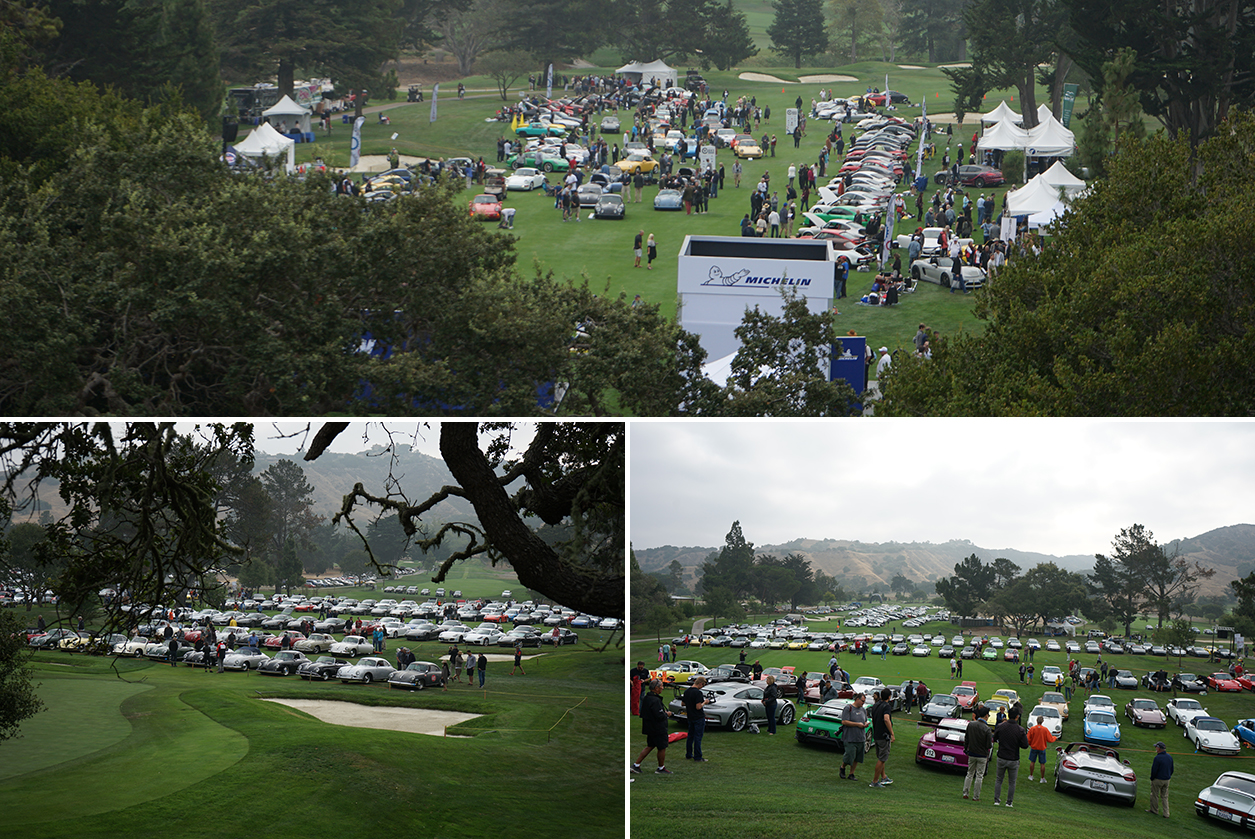 The event, presented by title sponsor Michelin, experienced mild weather and a cool breeze throughout the day, ensuring people could peruse hundreds of Porsches in comfort. As at Werks Reunion Amelia Island in Florida earlier this year, there was a special focus on the Porsche Outlaw movement and its founder Rod Emory of Emory Motorsports. A historically significant Porsche he restored, the #46 1951 Porsche 356 SL that was the first Porsche to win its class at Le Mans, was one of the show's main attractions, as well as a dozen or so other Outlaw 356s, R-Gruppe 911s, and more. Once occupying a niche area of the Porsche world, these heavily modified cars have gained more appreciation in recent years as people recognize the importance of individuality in the car world. Emory also brought his first Outlaw 356, a black 1959 model, and a 356 Speedster that was enhanced at his shop.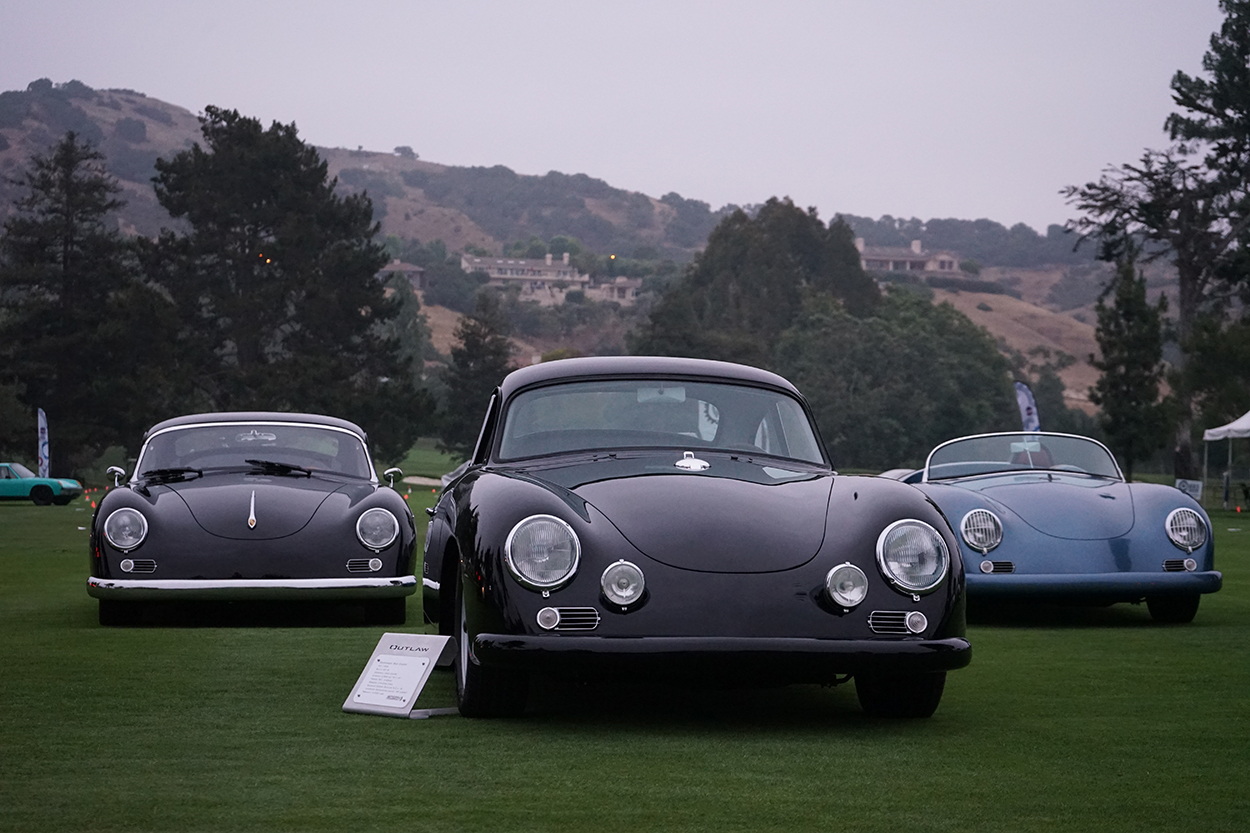 Above, from left: Porsche 356 Speedster body with a 987 Cayman chassis and drivetrain. Rod Emory's first Outlaw 356. 356 Speedster Outlaw.
One particular 356 caught our eye — it was quite low and it appeared to be much wider than the average 356, though it hid its width well. Peering inside, the bespoke steering wheel at first pried our attention away from the center console, which was a dead giveaway to what was lurking underneath the body: a 987 Cayman. The owner of the car had transplanted an actual Speedster body onto a Cayman chassis — complete with drivetrain — after splitting the body down the center and connecting it back together with extra sheetmetal. There's a Jay Leno's Garage video feature on the car, if you want to find out more.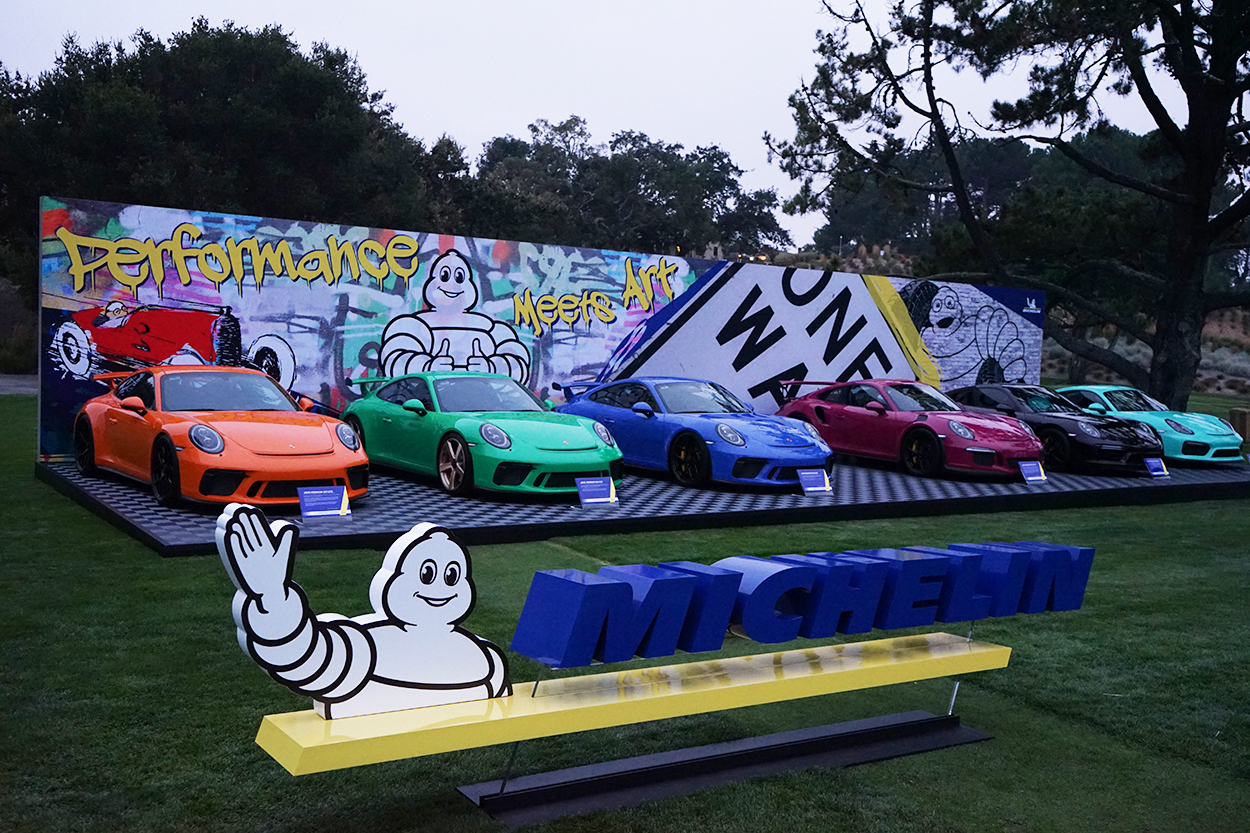 Though Michelin's display booths have been impressive at past Werks Reunions, this year the tire company decided to one-up its Pikes Peak 911s theme from last year and brought a collection of Paint to Sample (PTS) Porsches, most of which were owned by Lisa Taylor (Car Throttle featured her collection in a recent video, click here to watch it). Called "Performance Meets Art," the display, which featured a graffiti backdrop, was a refreshing, decidedly less corporate approach that demonstrated the wilder side of Porsche factory customization.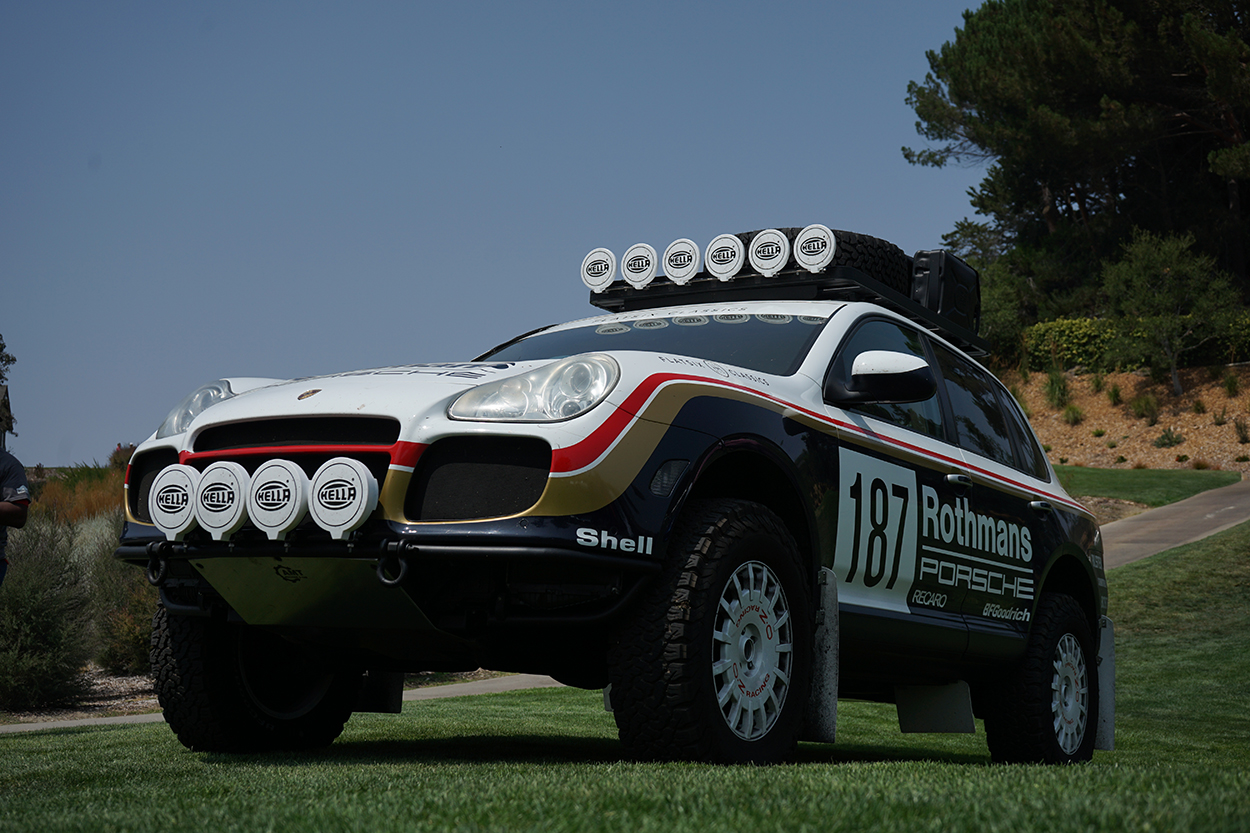 As attendees enjoyed cuisine served by food trucks and adult beverages throughout the day, they meandered through both the "official" display corral and the spectator parking area, which contained as impressive a collection of Porsches as the ones registered for the event. Standing tall and conspicuous was a Rothmans-liveried Cayenne, complete with off-road tires, a raised suspension, and rally lights. Jeff Mohler's 928 GTS was a standout in the group of front-engined Porsches, because it started out as a $1,000 parts car in need of TLC and is now an award-winning car in near perfect condition. Gunther Werks brought one of its 993-based carbon-fiber-bodied, 431-horsepower 400Rs to the event as well.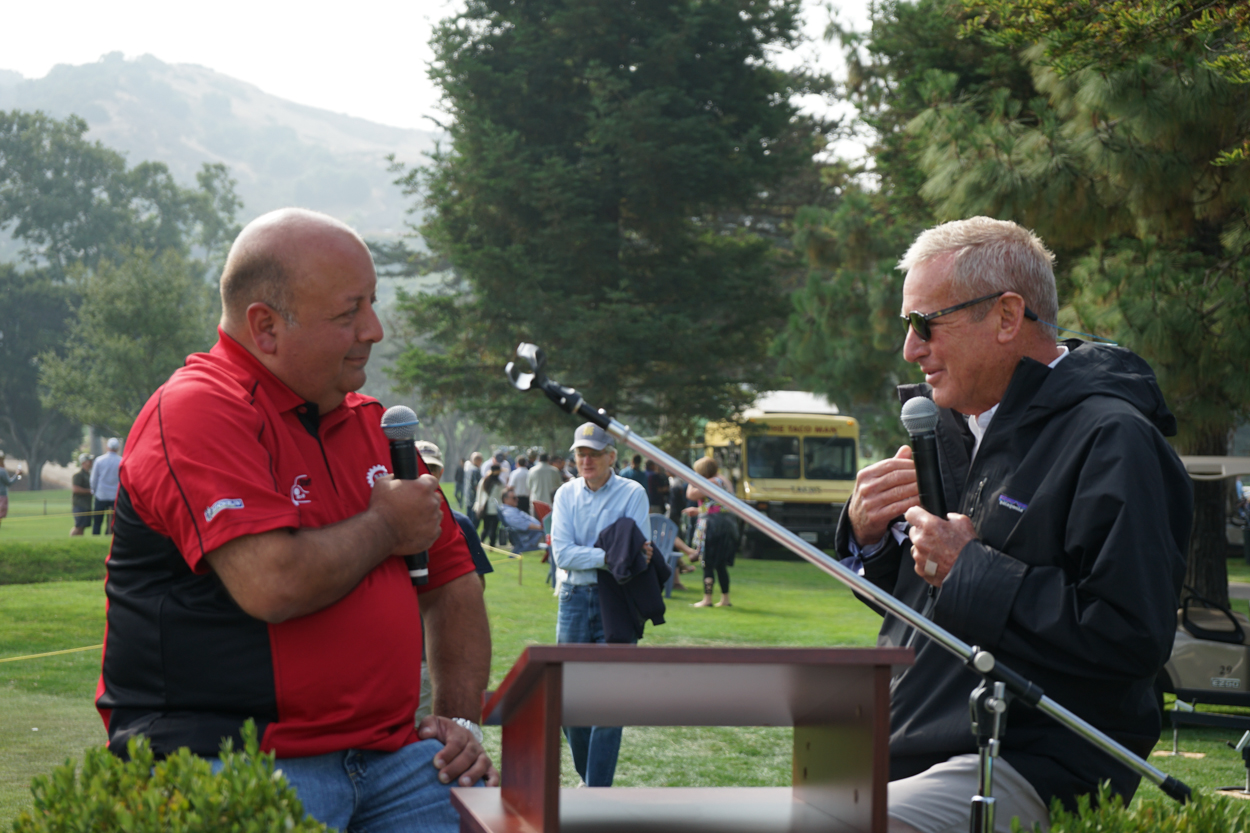 Above: Hurley Haywood (right) speaks to PCA Past President Manny Alban in front of a crowd.
Throughout the day various presenters came to the award stage to talk about their cars and stories. Legendary racer Hurley Haywood was on hand to talk about his life and career and promote his book written by Porsche Panorama contributor Sean Cridland. Porsche Cars North America's (PCNA) President and CEO Klaus Zellmer spoke about Porsche today and in the near future. Rod Emory gave the history of the Porsche Outlaw, which he asserts was started by Porsche with its Le Mans-winning 356 SL. And Porsche presented a couple of its new models in front of a captive audience.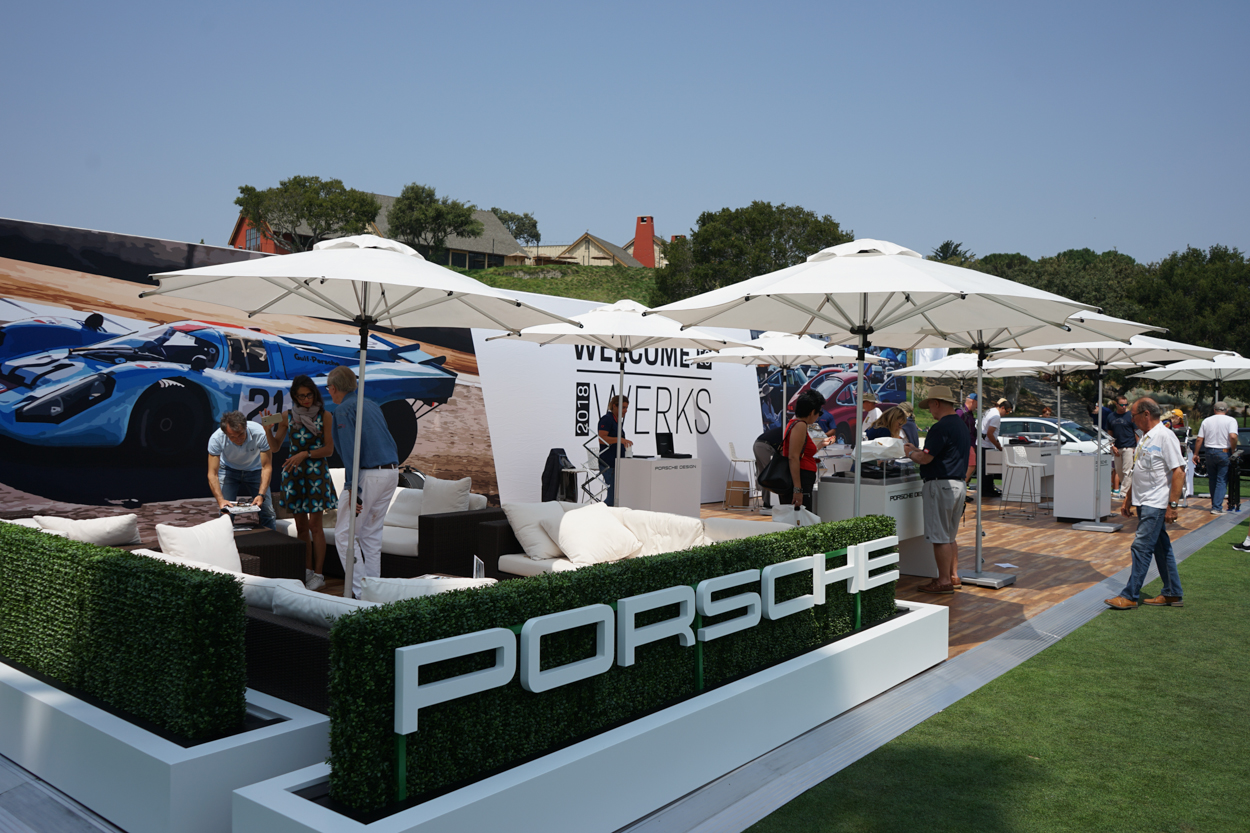 Not everybody is able to attend Werks Reunion every year, and if you're in that category, you're in luck: Watch some of the fun in our two Facebook videos below. The first one is a brief overview of some of the Porsches in the official display corral, while the second one allows you to watch the award ceremony in its entirety. We've also included dozens of photos for your enjoyment.
Overview of part of the Werks Reunion Show Field
Award Ceremony
Scroll down to find out the first-place awards for the judged categories.
---
First-Place Award Winners
CLASS P1, 356
George Alspaugh 1953  356 Coupe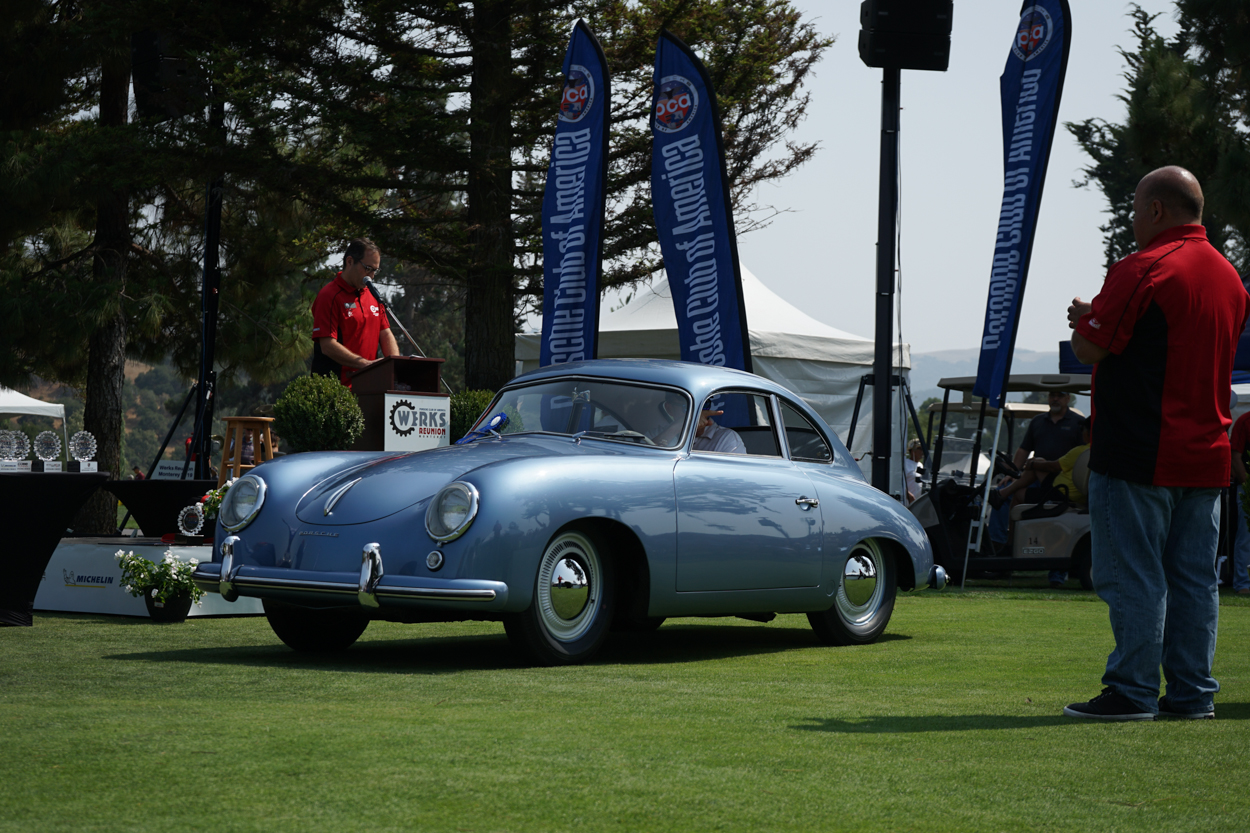 ---
CLASS P2, 65-68 911/912
George Vaccaro 1967 912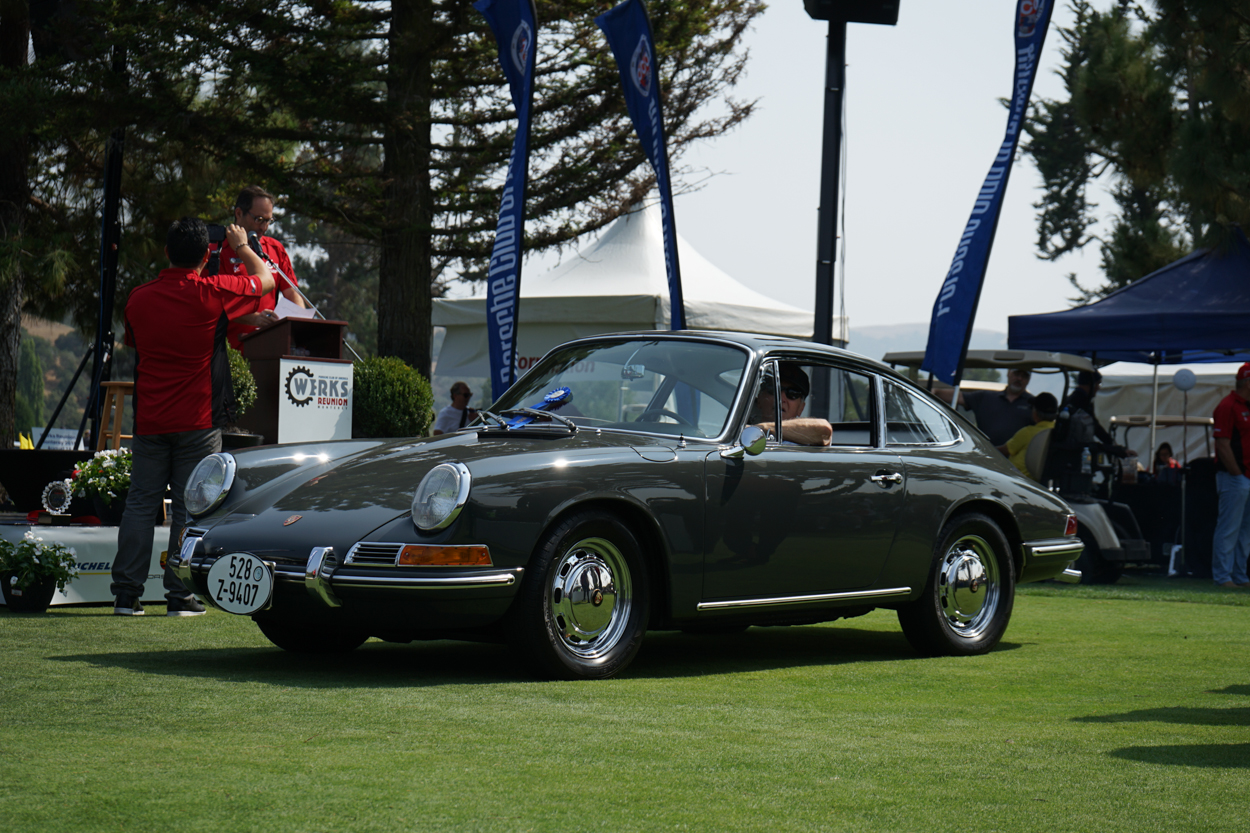 ---
CLASS P3, 69-73 911/912
Charles & Inga Palmer 1971 911E Targa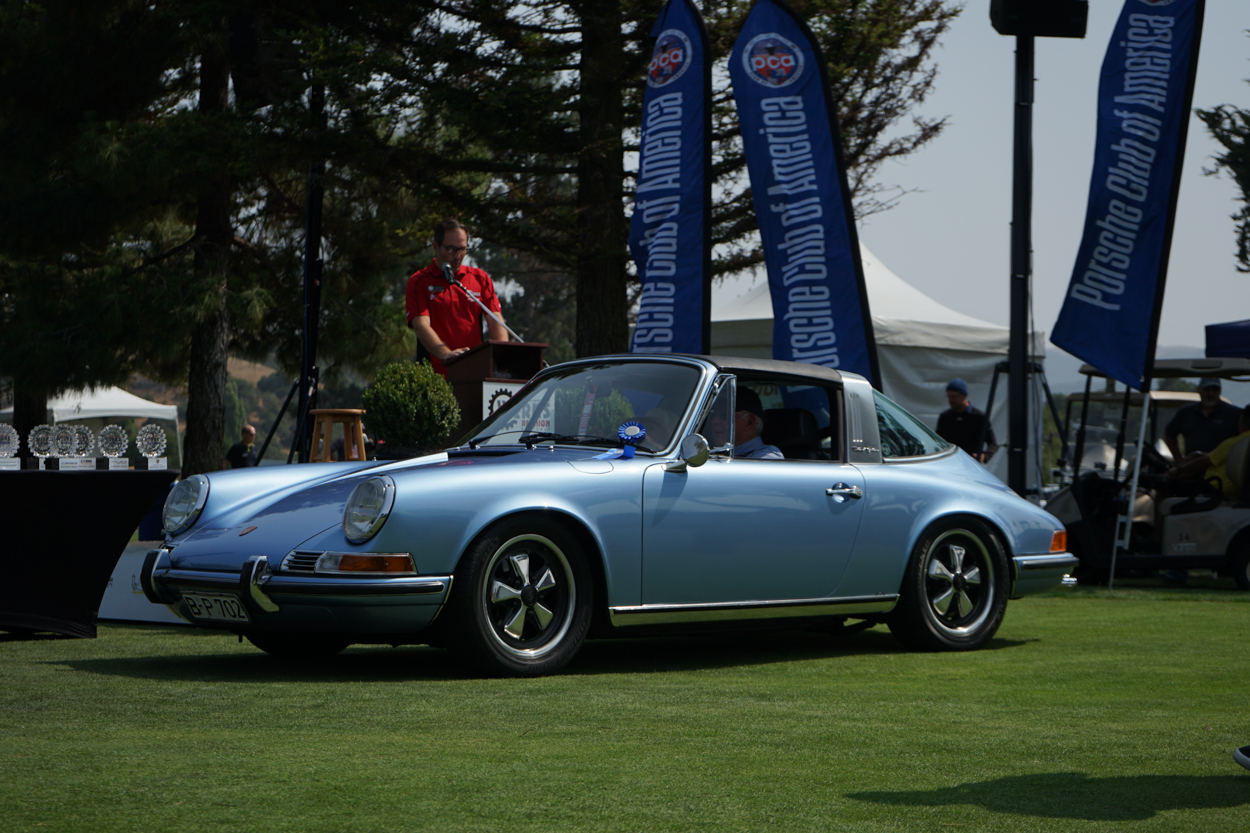 ---
CLASS P4, 74-89 911/912
Bob Hilton 1977 930 Turbo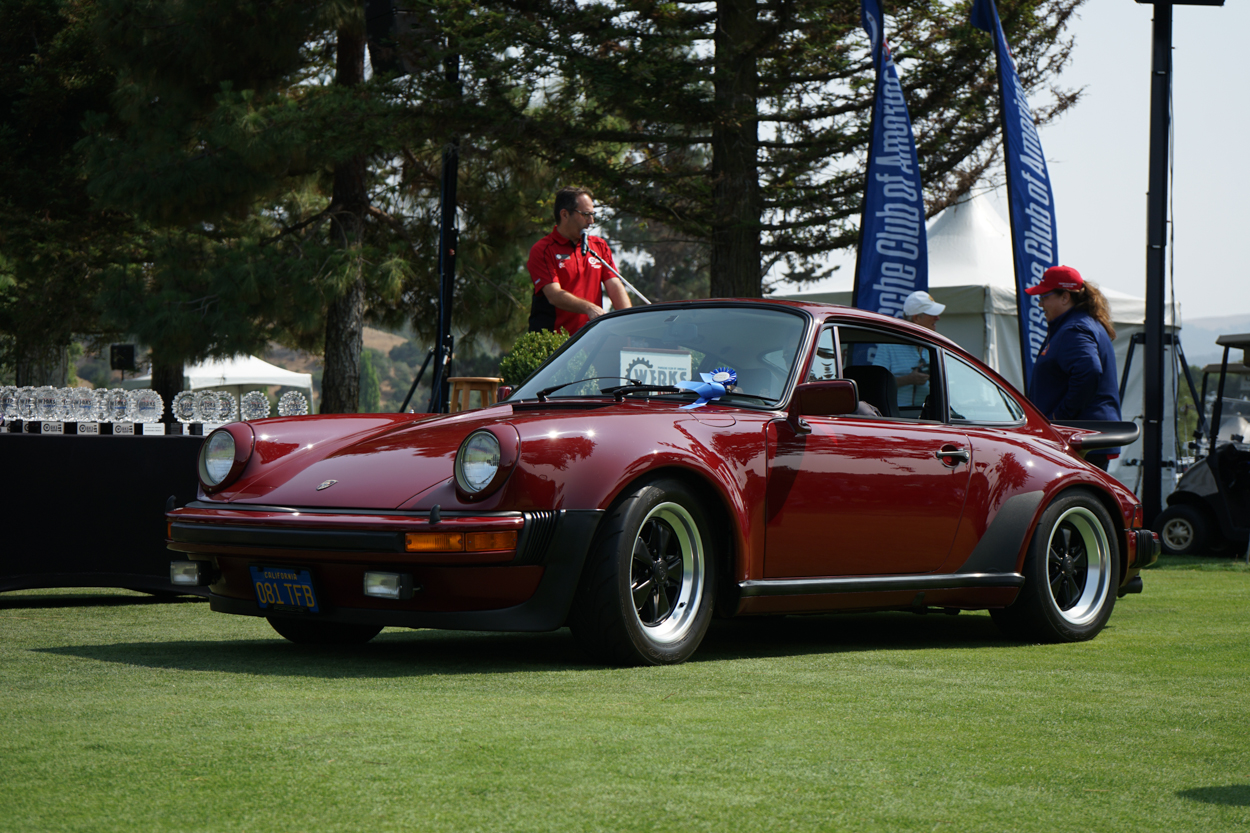 ---
CLASS P5, 964 &993
Ed Boracchia 1992 964 Coupe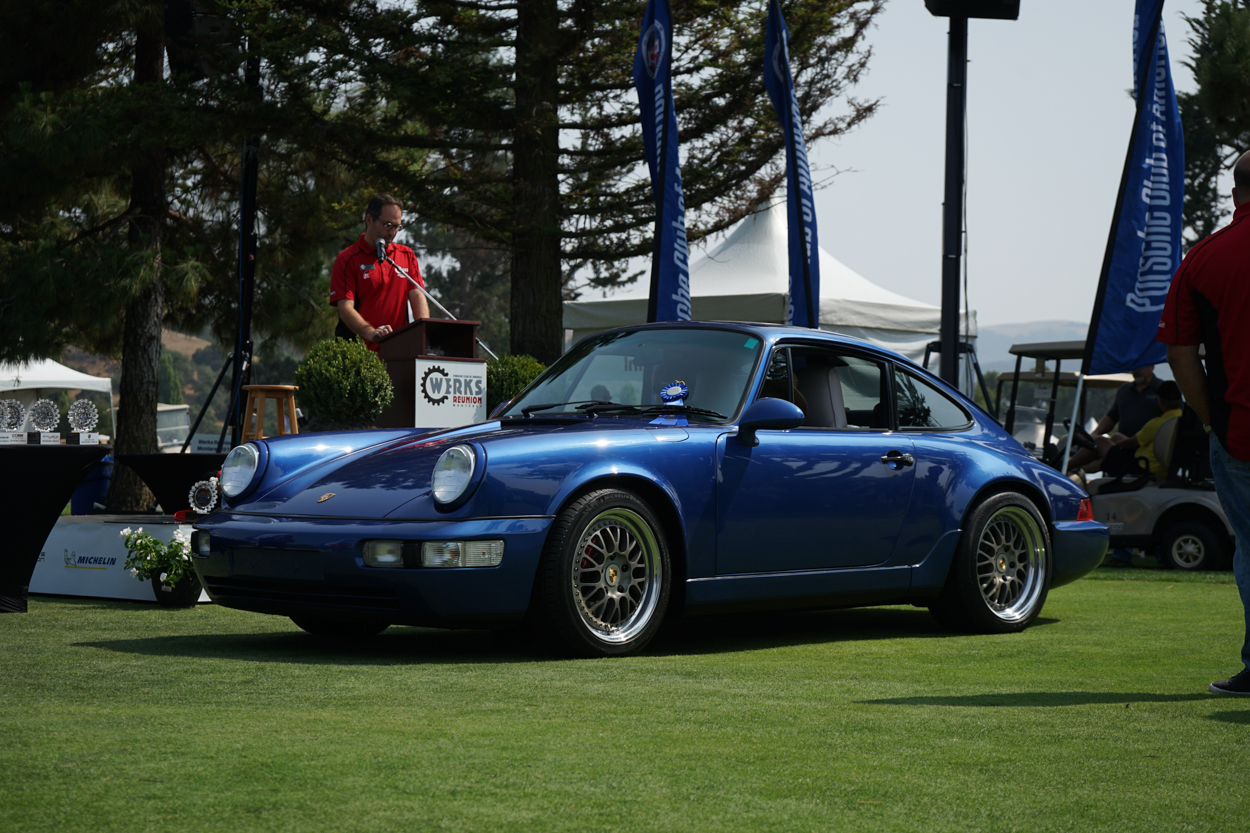 ---
CLASS P6, 996/997
Jack Bitton 2007 GT3RS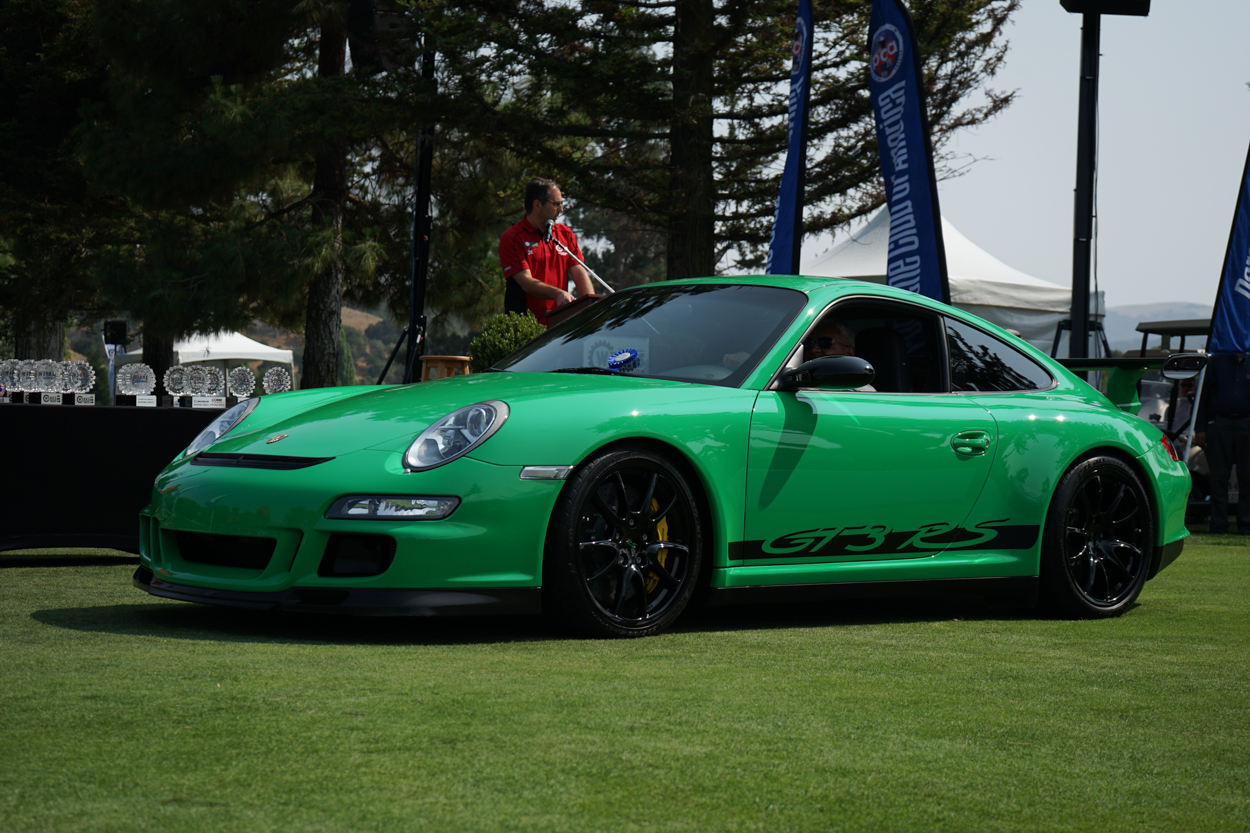 ---
CLASS P6A, 991
Peter Soelkner 2018 GT3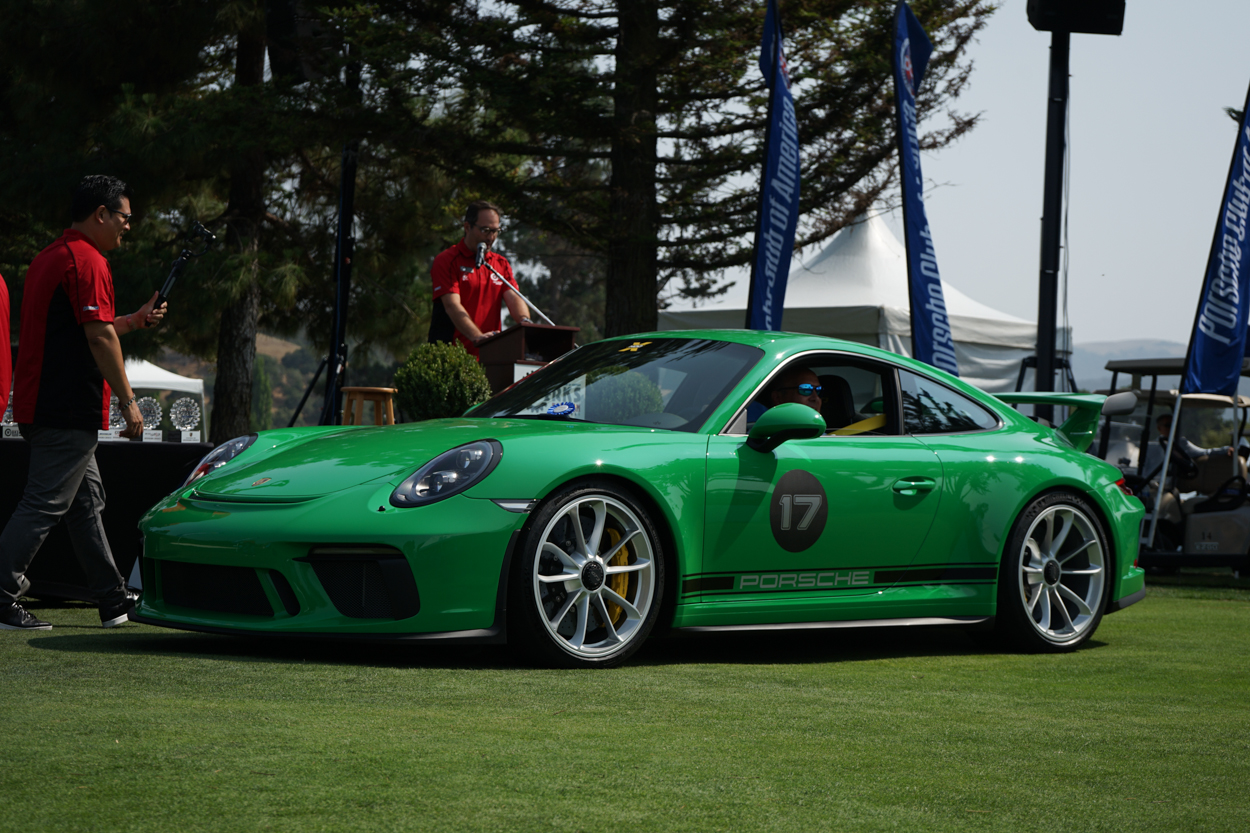 ---
CLASS P7, 914
Paul Hach 1973 914/6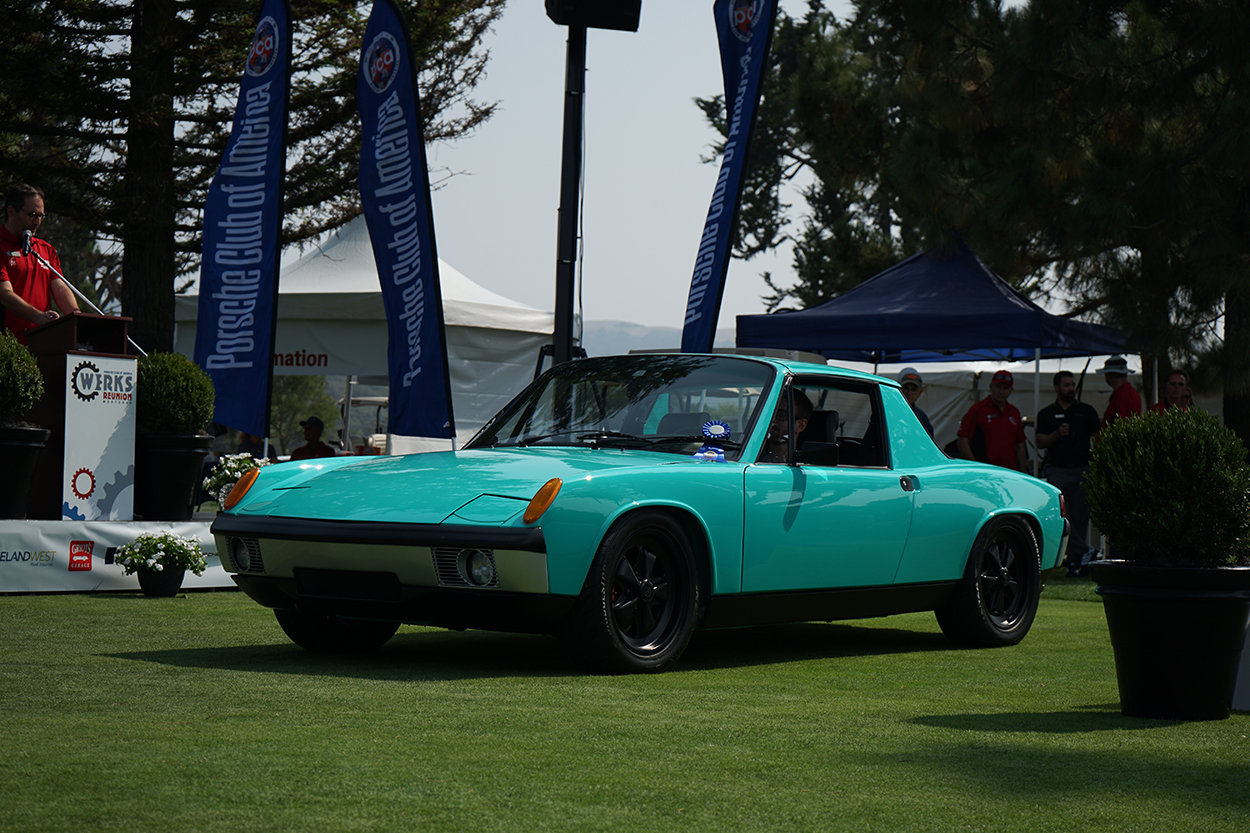 ---
CLASS P8, 924/944/968/928
Jeff Mohler 1987 928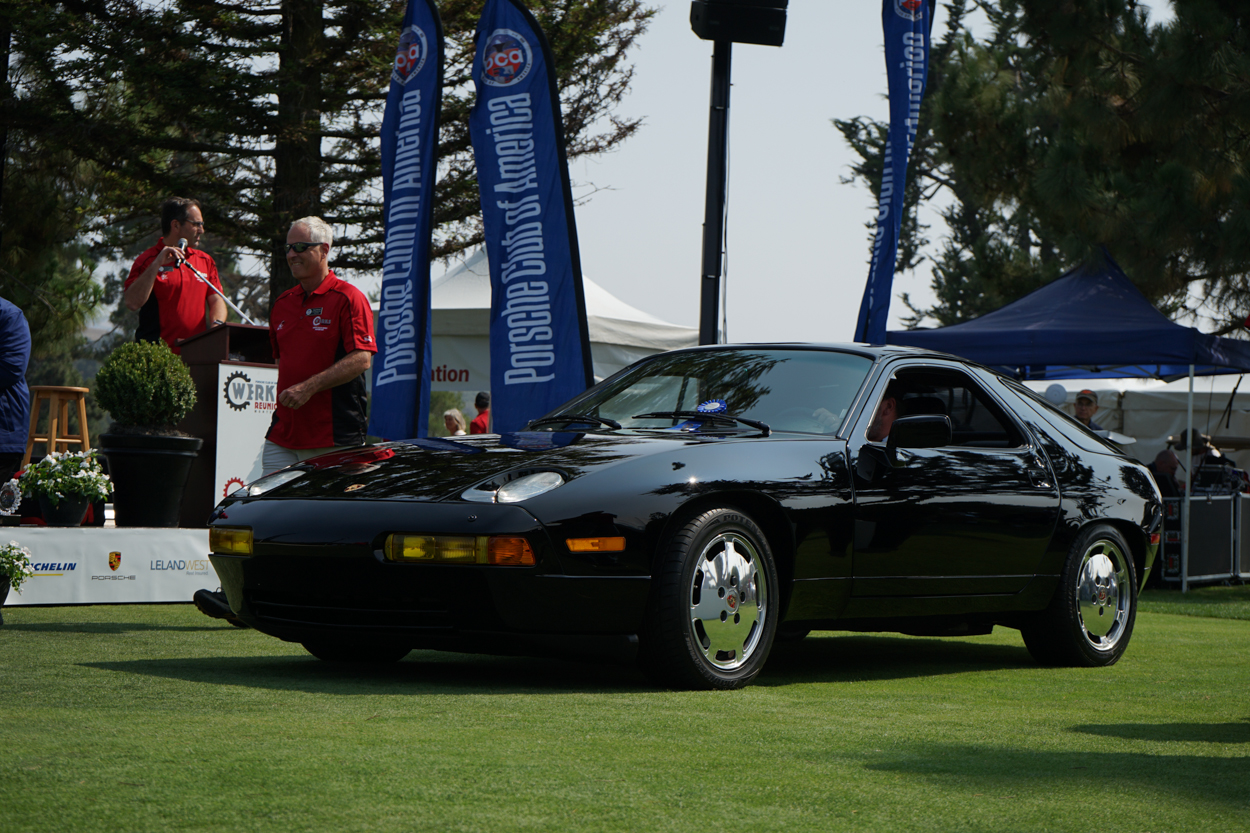 ---
CLASS P9, Boxster & Cayman 
Dana Drysdale 2013 Boxster S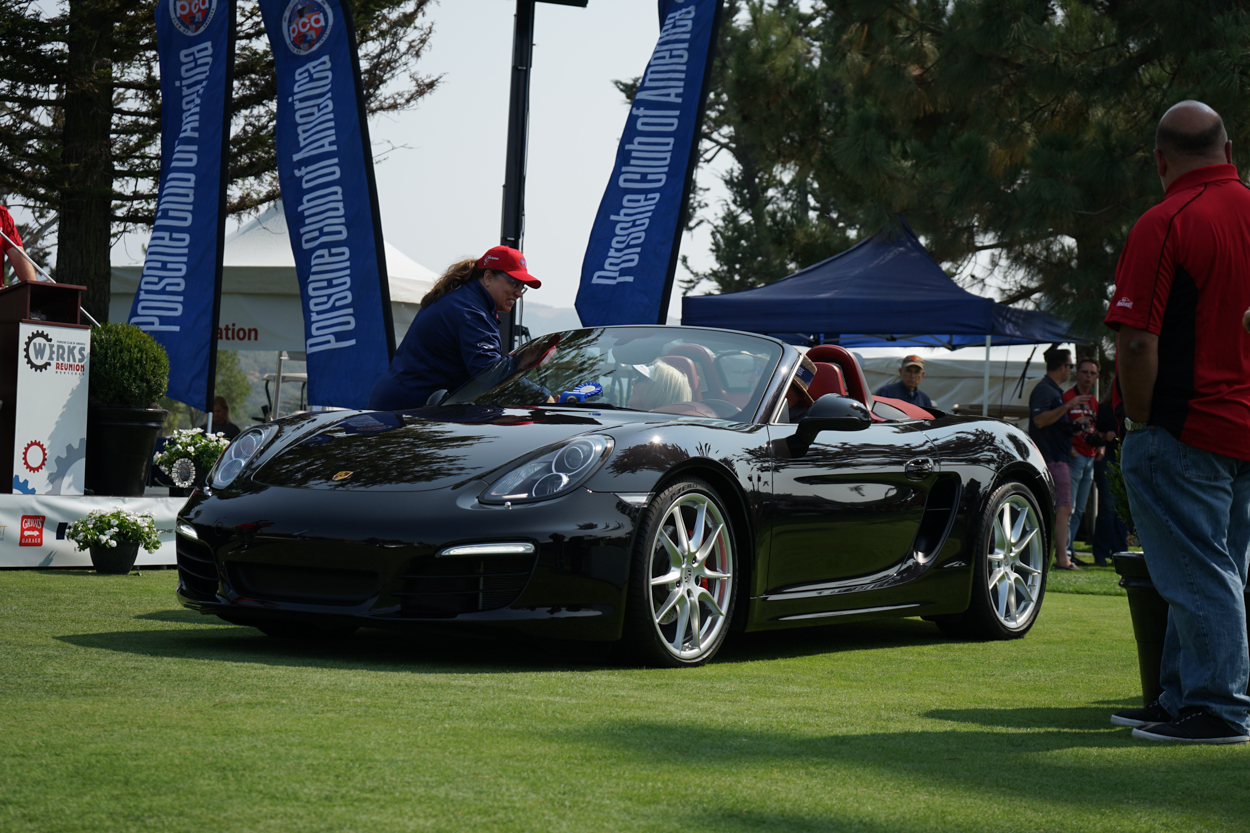 ---
CLASS P10, Cayenne. Macan, Panamera
Mike Alexander 2014 Panamera GTS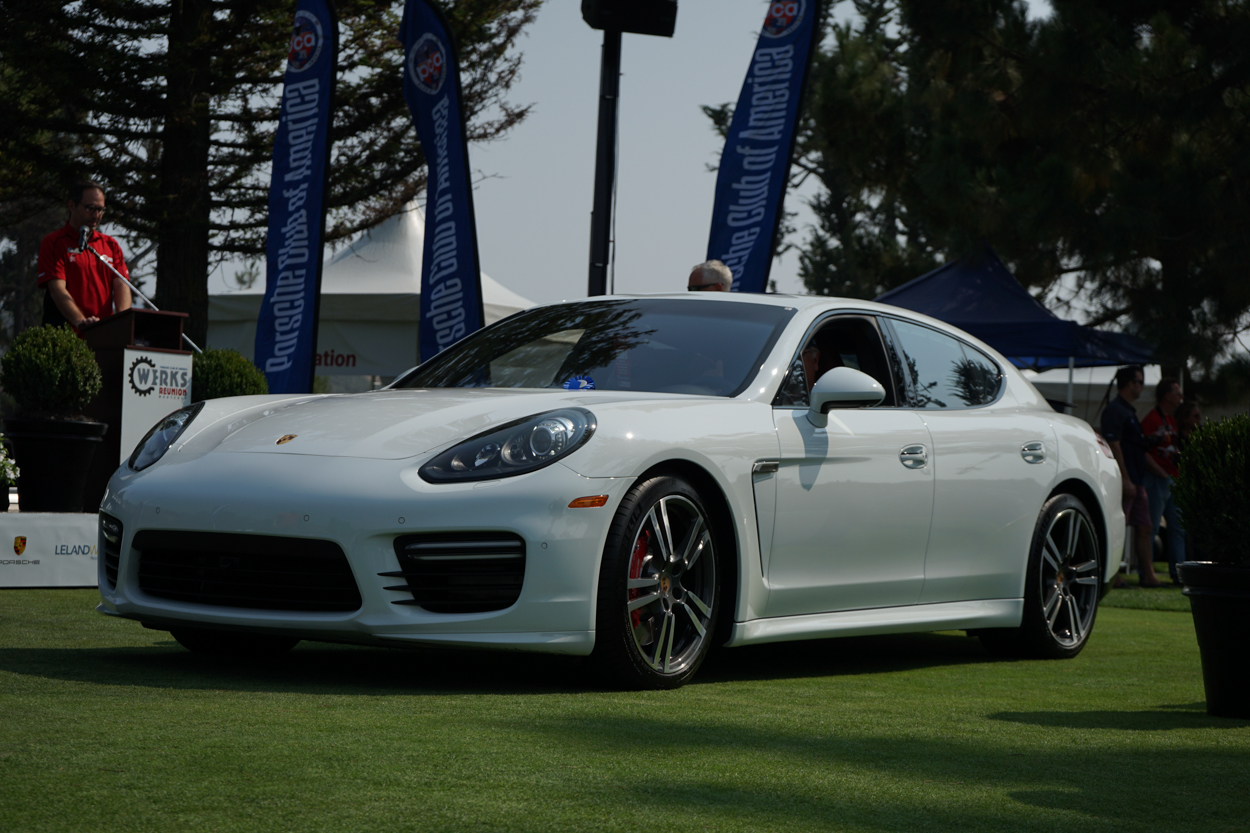 ---
CLASS P11, Limited Production
Greg Pantelis 1989 Speedster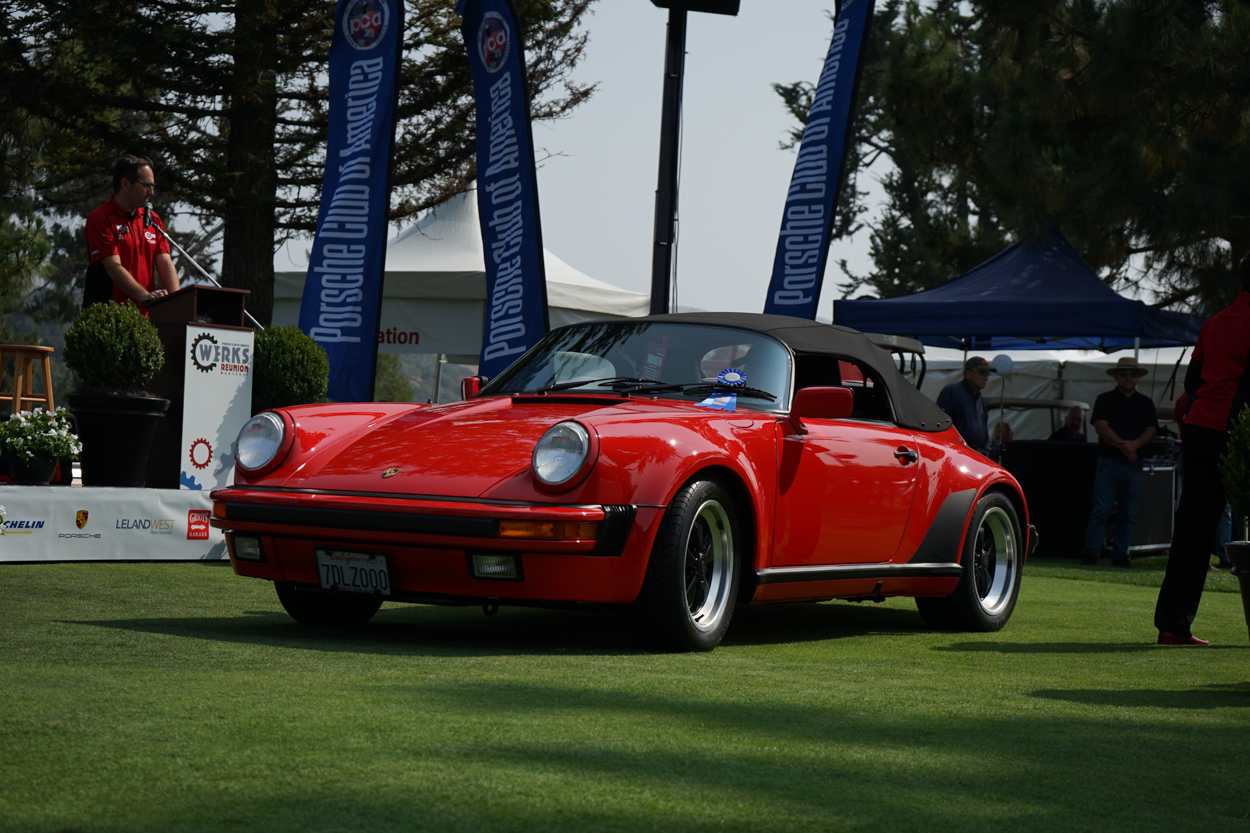 ---
CLASS P13, Tribute/Sport Purpose
Troy & Tracy Muller 1974 IROC Tribute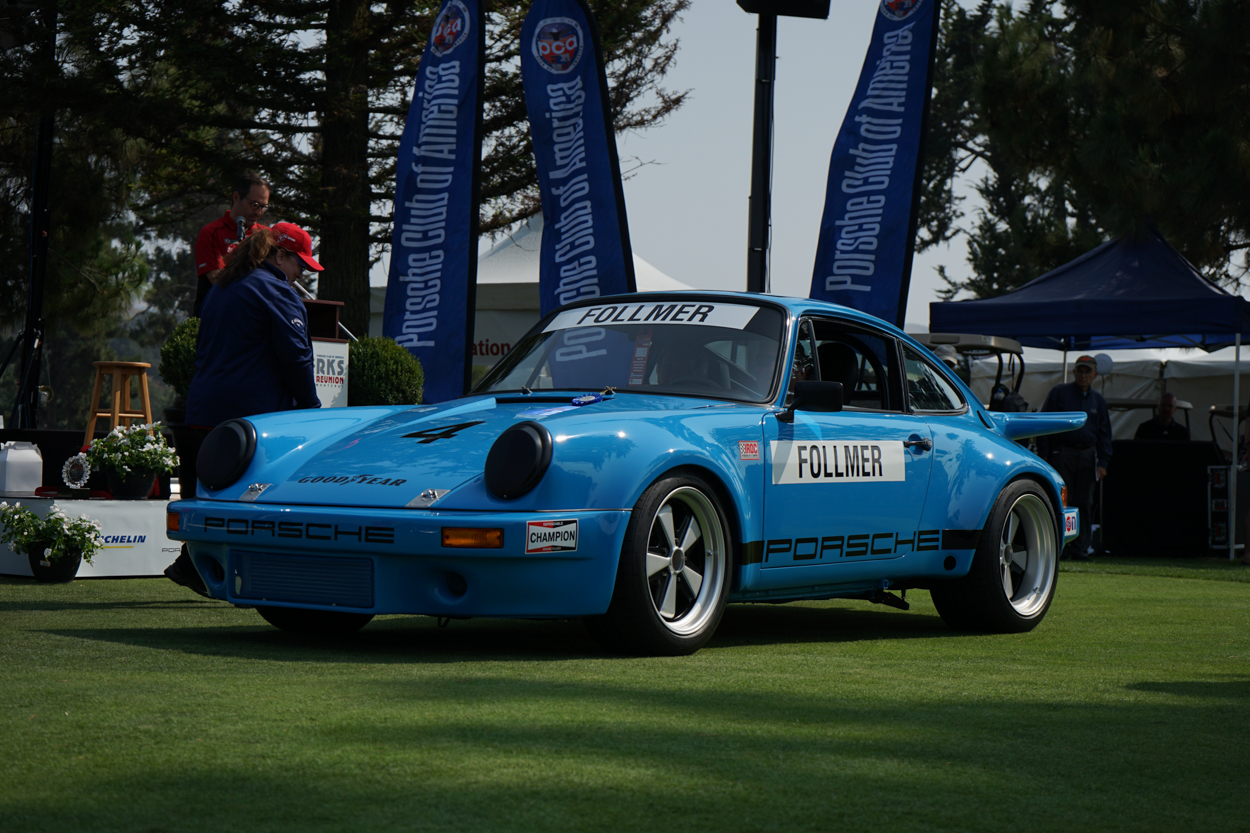 ---
CLASS P13A, 356 Outlaw
Peter Pearce 1957 Speedster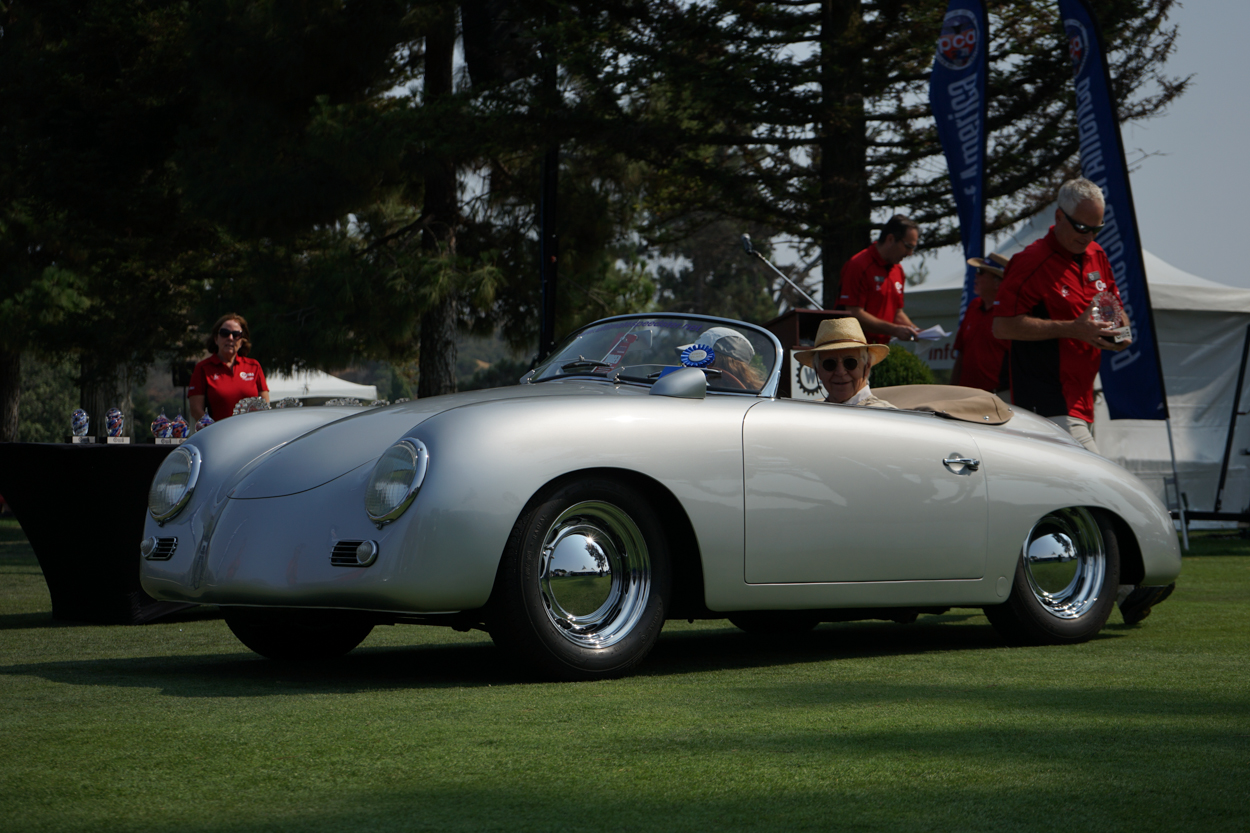 ---
Corporate Awards
Porsche Cars North America
Bill MacEachern, 1973 Turbo Carrera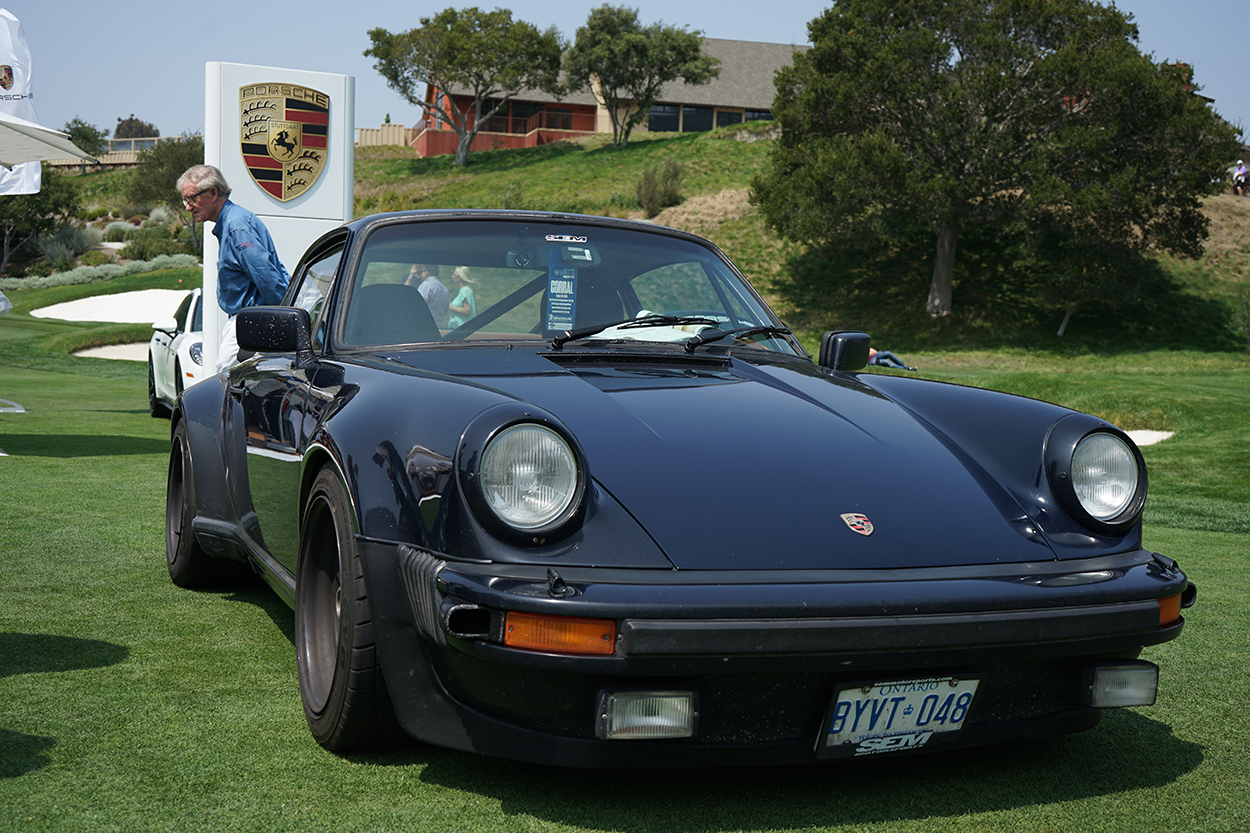 ---
Porsche Design
Sean Van Ness, 993 Turbo WLS II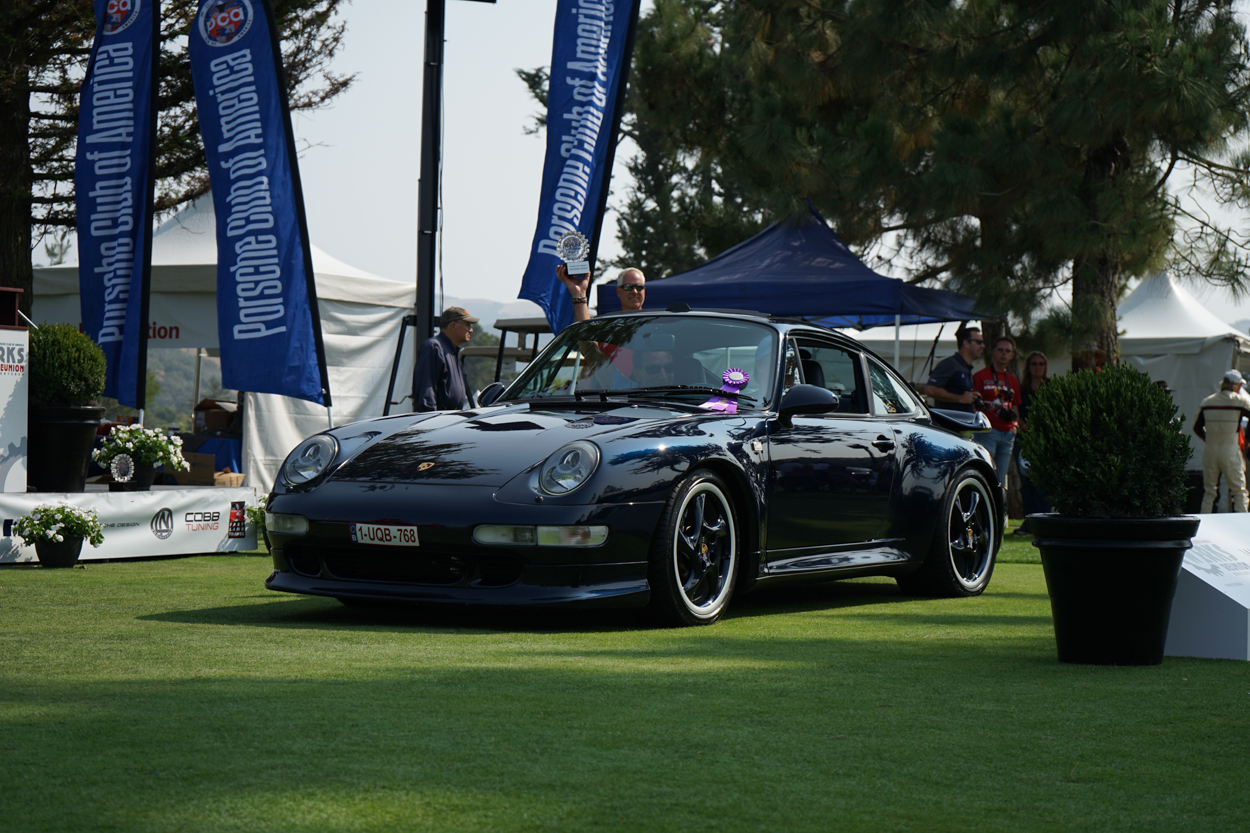 ---
Kef
John D'Angelo, 2016 911 GTS Club Coupe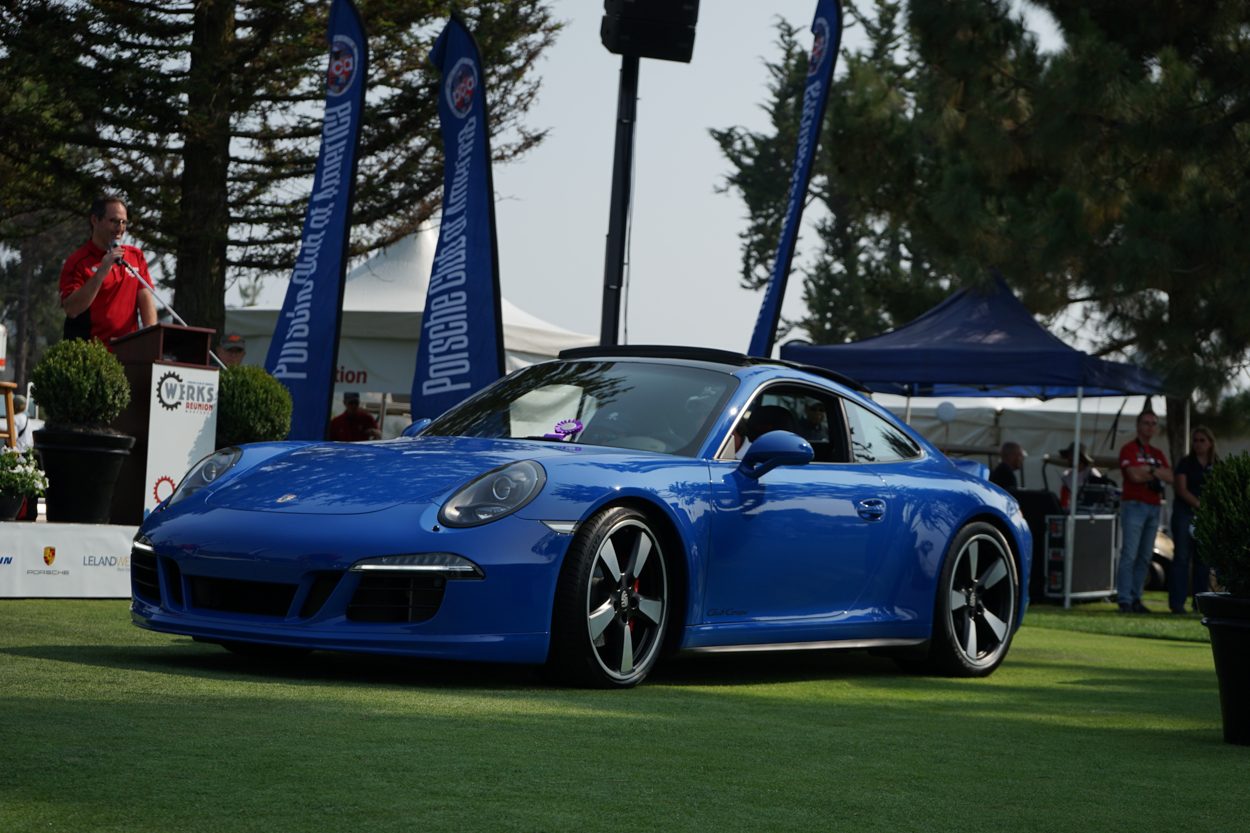 ---
Fast Lane Travel
Phil Bazel, 2016 GT4
(Picture not available)
---
LN Engineering
Nathan Merz, 1974 911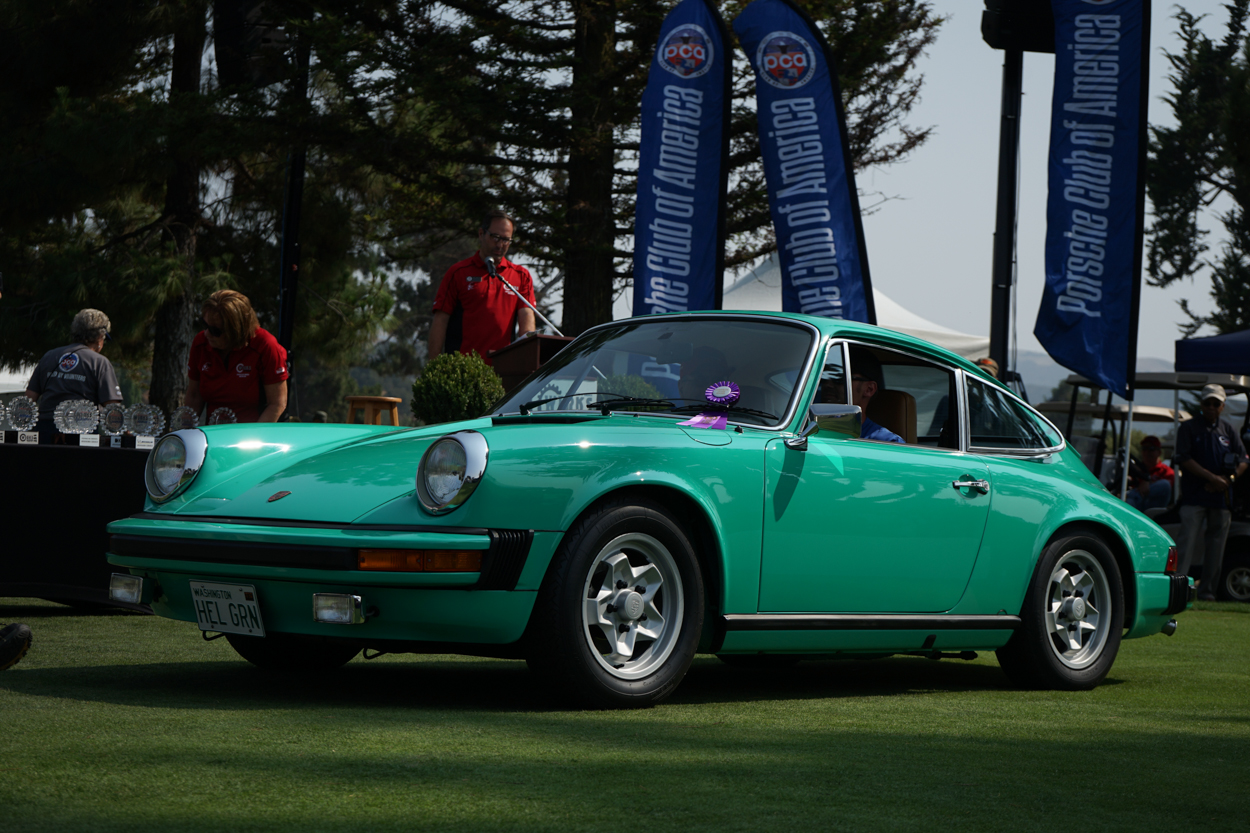 ---
Griots
Marc Giammona, 991 Carrera GTS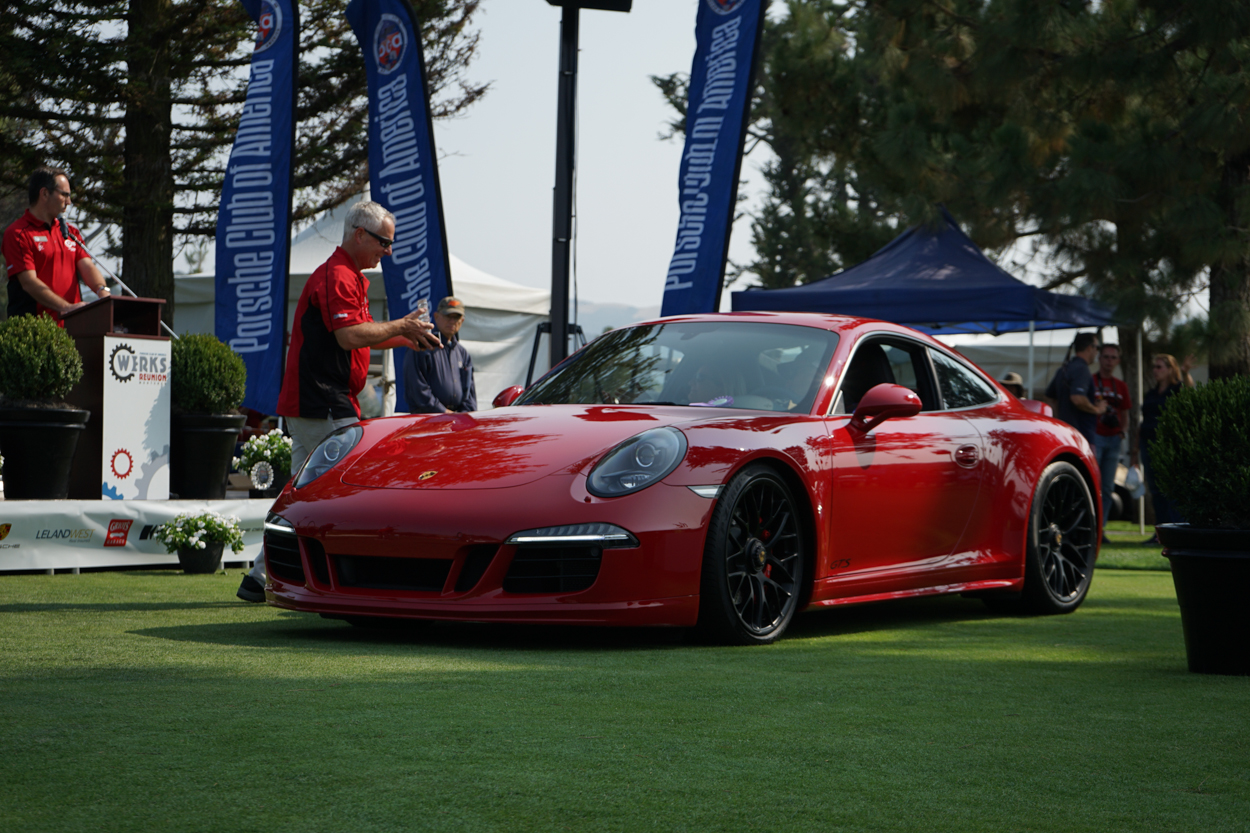 ---
Leland West
Gregg Blue, 1957 356 Carrera GT
(Picture not available)
---
Exclusive Option
2016 Boxster Spyder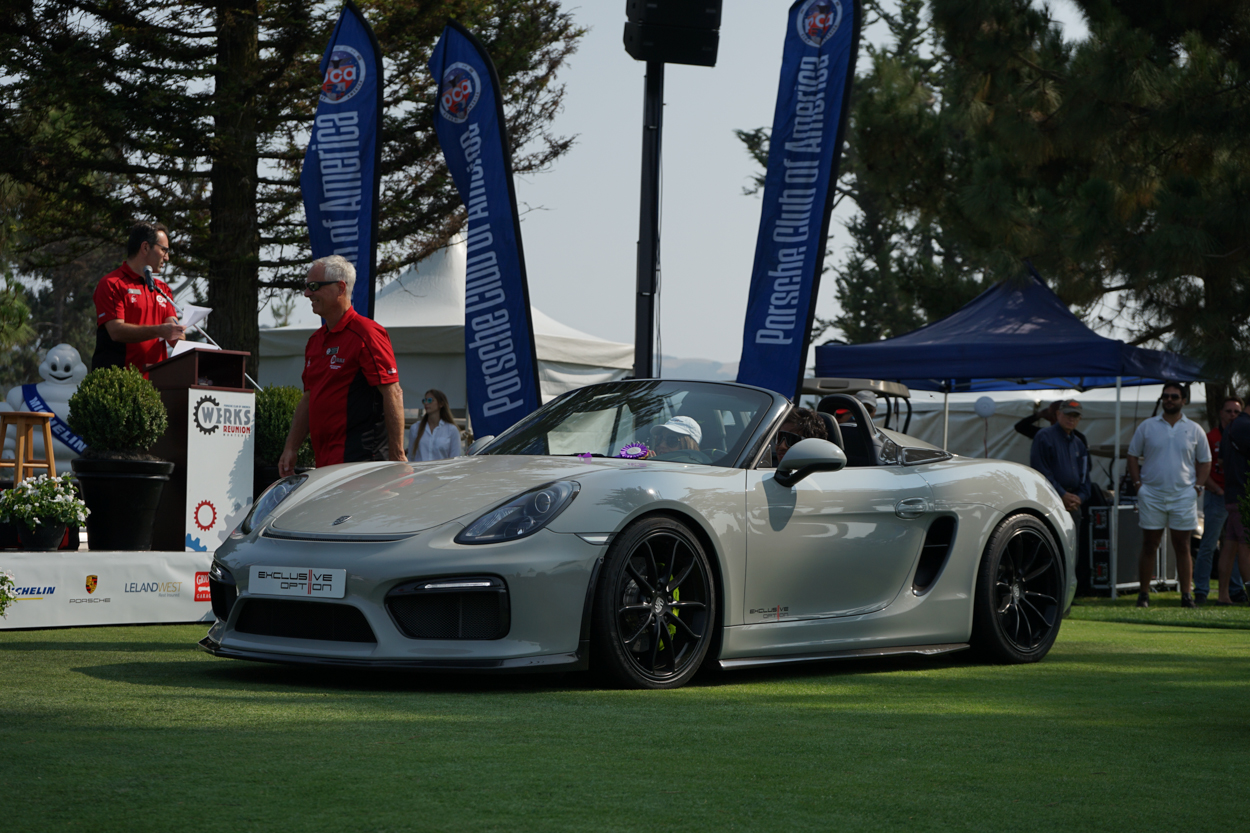 ---
COBB
Ed Gilbert, 2015 911 Turbo S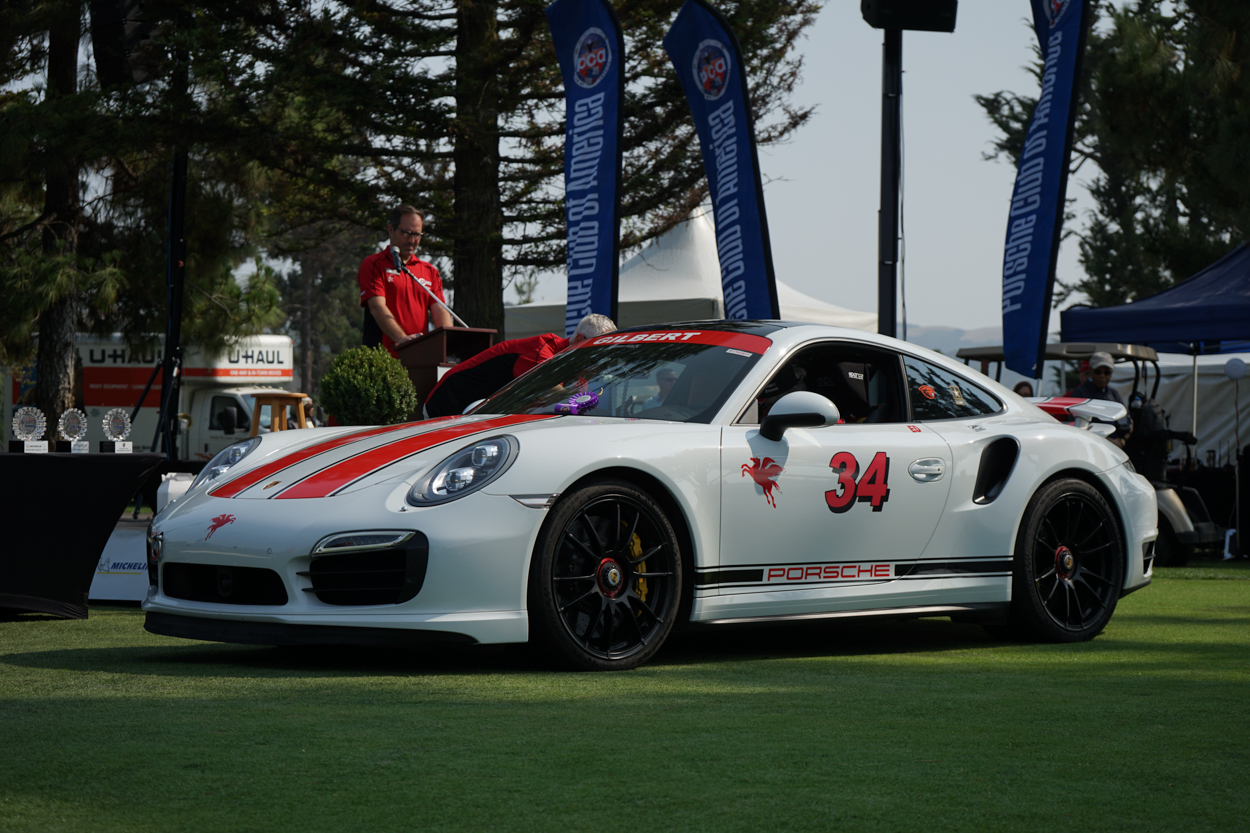 ---
Ceramic Pro
Maria Cordell, 1993 RS America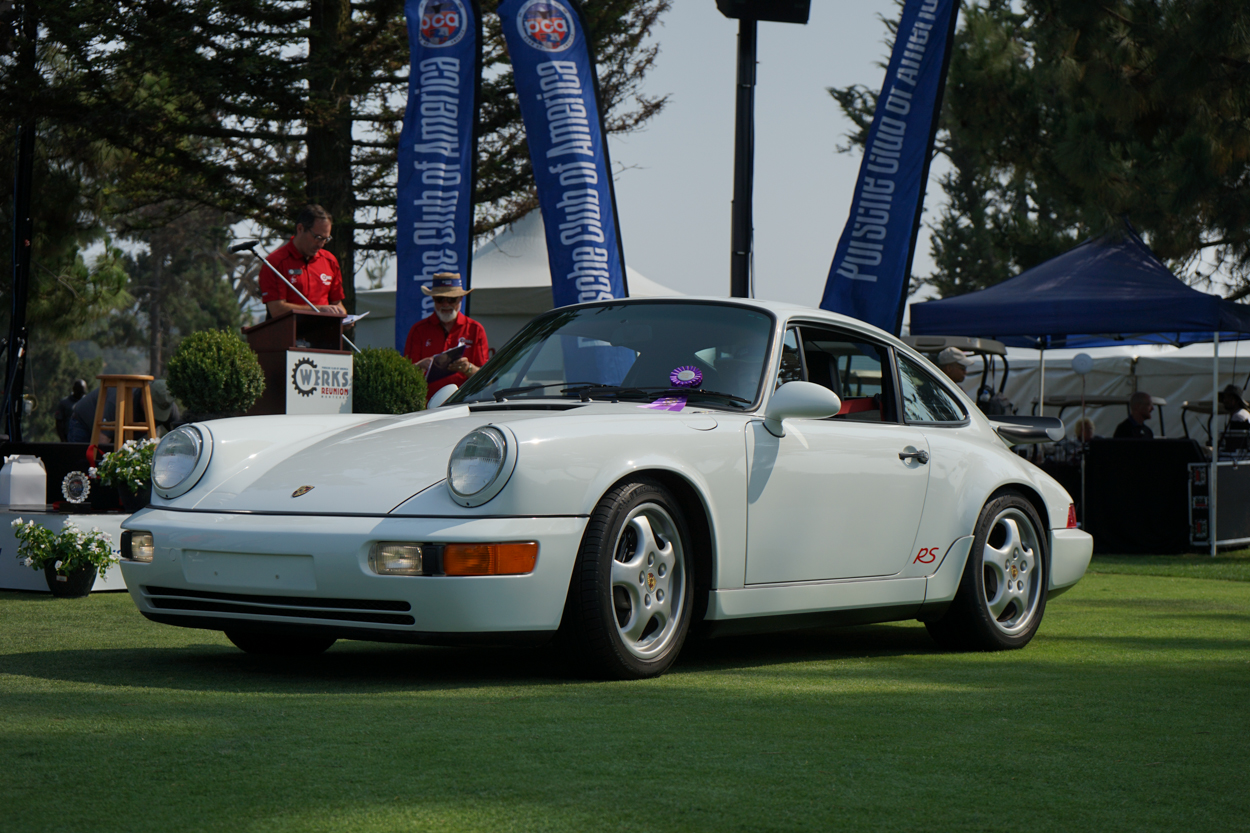 ---
Michelin
George Green, 1956 356 A Coupe