Porsche Rennsport Reunion VI: 81,550 attended RRVI
Thursday, September 27, 2018
Click here to visit the Porsche Club Activiteis event page for information.
Day 4: Sunday
[Written Oct. 2] 
By the end of Sunday, the last day of Rennsport Reunion VI, 81,550 spectators had visited Laguna Seca to be part of the largest Porsche gathering ever. It was also the most attended event at the race track in five years.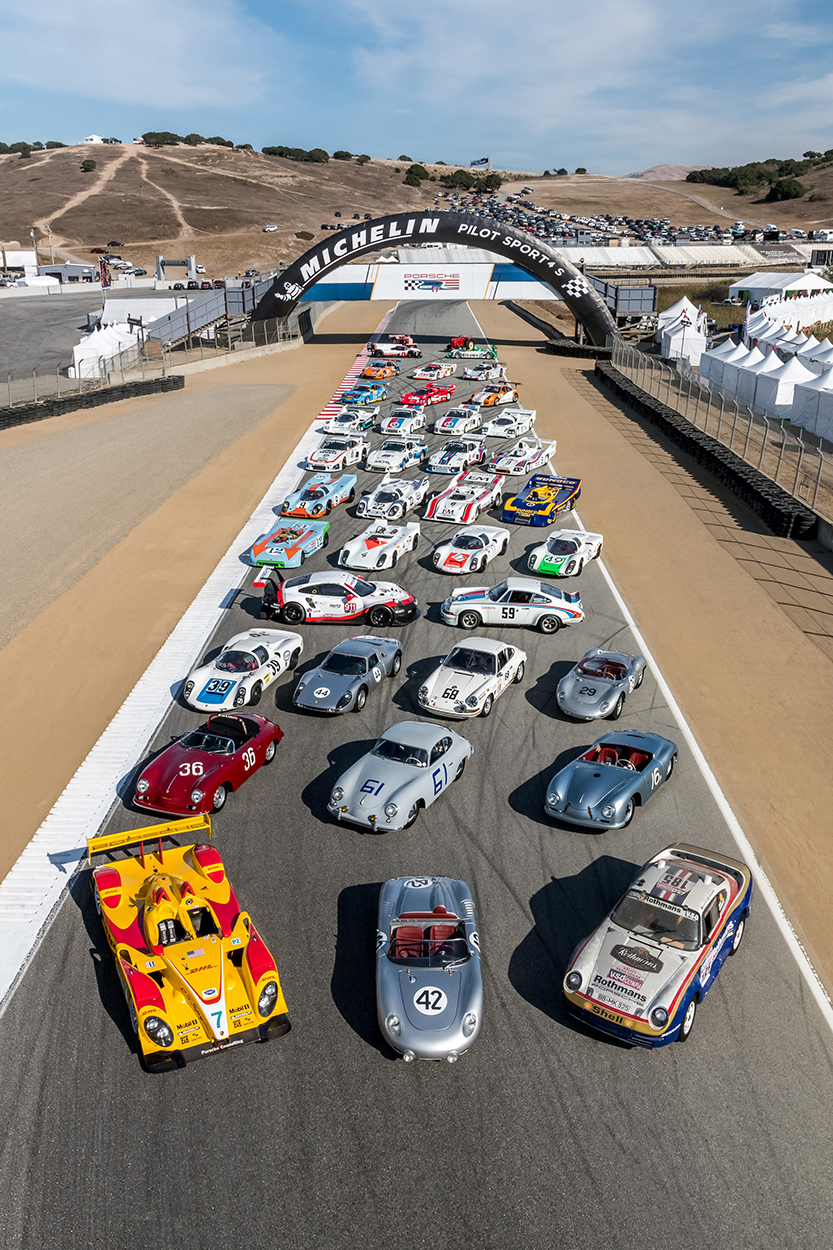 In addition to the racing, there were new car unveilings, dozens of legendary drivers, 500 Porsches as part of the main event — 350 of which raced. PCA contributed with roughly 1,600 Porsches on display in various, corrals, including the PCA Historic Display. (Scroll down to see a video of the display.)
At the PCA Hospitality tent, PCA Past President hosted presentations by Porsche Factory Drivers Patrick Long and Jörg Bergmeister; Margie Smith-Haas, former race car driver and maker of TFA Porsche pillows; and later in the day legendary race engineer Norbert Singer and influential Porsche Designers Tony Hatter and Grant Larson. You can watch the latter below.
Day 3: Saturday
4:30 PM
There are thousands of Porsches scattered around Laguna Seca during RRVI, the majority of which seem to be very nice examples of the marque. The sheer number of significant cars makes it tough to decide which ones to really pay attention to, so we hope to make it a little bit easier and point you towards the PCA Porsche Historic Display near the hospitality tent.
The display celebrates 70 years of Porsche and has nearly every model the automaker has produced over the years. You can find the display at the end of vendor row heading towards the PCA Hospitality Area on Cayman Island. If you can't make it or attend Rennsport, then watch the video below.
---
Day 2: Friday
4:30 PM
Director for Customer GT Motorsport Matthias Scholz; Former Factory Driver, now Director of Sales and Development of Customer GT Cars Marc Lieb; and 935 Product Owner Alexander Breitbach speak about the new Porsche 935 at the PCA Hospitality Tent. Watch the video below! (Click here to watch the video on YouTube.)
1:05 PM
Van Bagley was a big fan of the Porsche 928 and dreamed of owning one, but it was such an expensive car when new that ownership evaded him at the time. In the printing business, the Oakland resident had even produced brochures about the V8-powered German muscle car for the automaker, rubbing salt into the wound.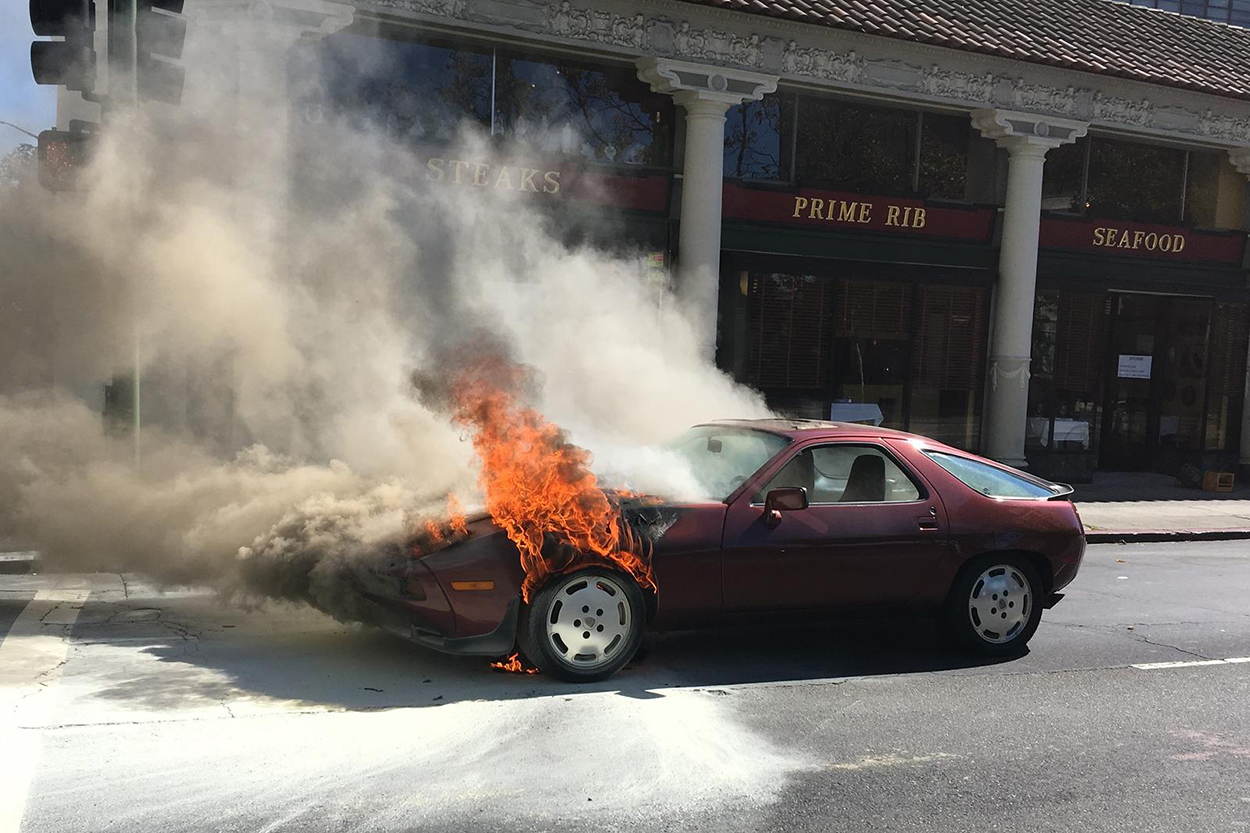 Photo by Van Bagley
In 2015 he came across this 1986.5 928S on Bring a Trailer. It was not running (and at this point, not his first 928), but he was determined to put it in his garage and bought it. Not long after, it caught fire. We learned the car's story at Rennsport Reunion VI. Click here find out how it gained a 6.5-liter V8 in the rebuild process. Happy 9/28!
8:50 AM
One of the benefits of being a PCA member and/or Porsche owner at Rennsport Reunion VI is access to the Porsche Club Activities Hospitality tent are exclusive seminars with legendary race car drivers. Yesterday we filmed Jürgen Barth, Hurley Haywood, Willi Kauhsen, and Rudi Lins talking about what it was like to drive for Porsche during the golden era of racing. Watch the video below.
If you're at Rennsport Reunion and have your member card or Porsche key handy, head over to Cayman Island, surrounded by Turns 2, 3, and 4, to hear more driver stories throughout the weekend. The speaker schedule is below.
Friday:
11:00 – 11:45am (Gianmaria Bruni, Kévin Estre, Sven Muller)
2:00 – 2:45pm (Jochen Mass, David Murry, Jeff Zwart)
Saturday:
11:00 – 11:45am (Chip Robinson, Stefan Johansson, Willi Kaussen, Gérard Larrousse)
2:00 – 2:45pm (Jörg Bergmeister, Michael Christensen, Richard Lietz)
Sunday:
11:00 – 11:45am (Timo Bernhard, Richard Lietz, Patrick Long)
2:00 – 2:45pm (Norbert Singer, Tony Hatter, Grant Larson) – Questions have been approved by PR
---
Day 1: Thursday
5:35 PM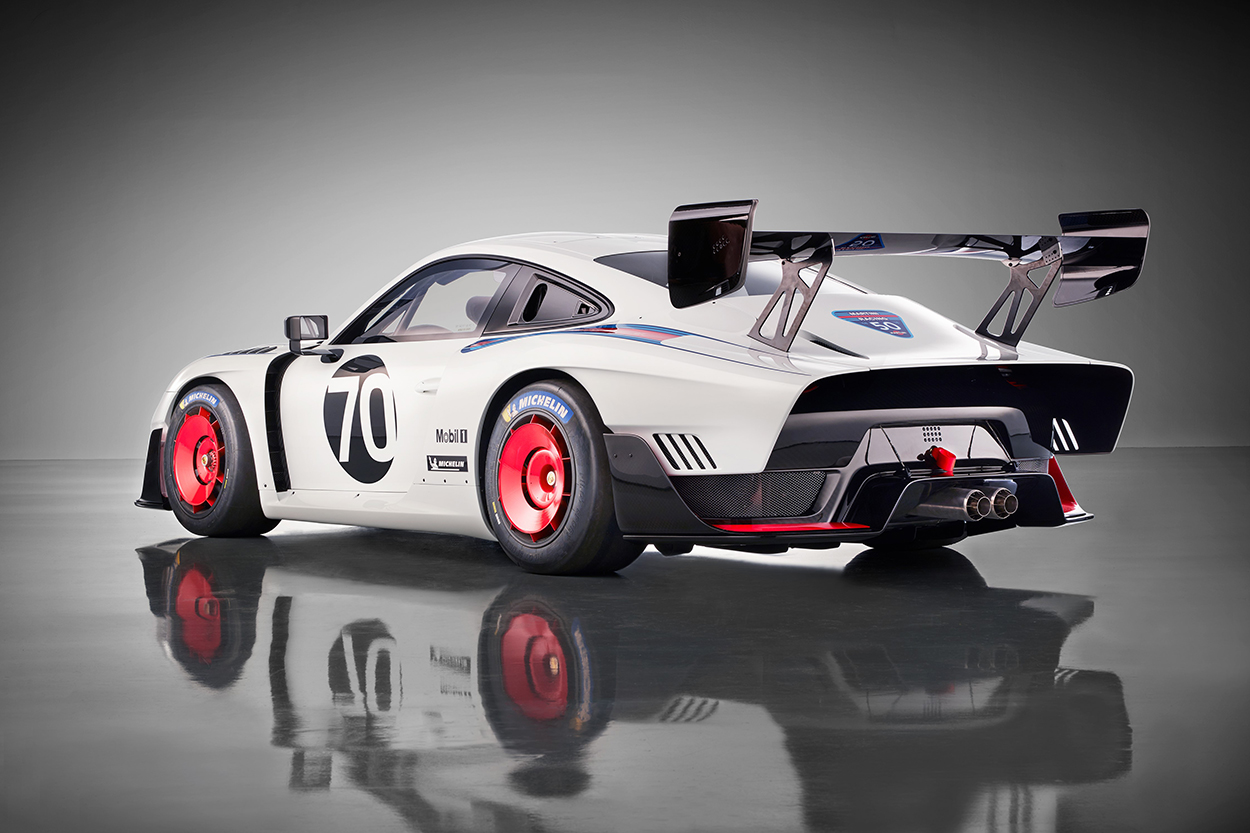 At 1 PM today at Rennsport Reunion VI, there was a huge crowd gathered in the Porsche Park in the Paddock, and for good reason: Two special Porsches were set to be unveiled after the keg-tapping ceremony which officially kicked off the four-day event. Former Porsche Factory Driver Mark Webber, Head of Sales and Marketing Detlev von Platen, and Head of Porsche Motorsport and GT Sports Cars Dr. Frank-Steffen Walliser unveiled the new Porsche 935 race car and the 911 Speedster Concept. Click for all the details.
9:10 AM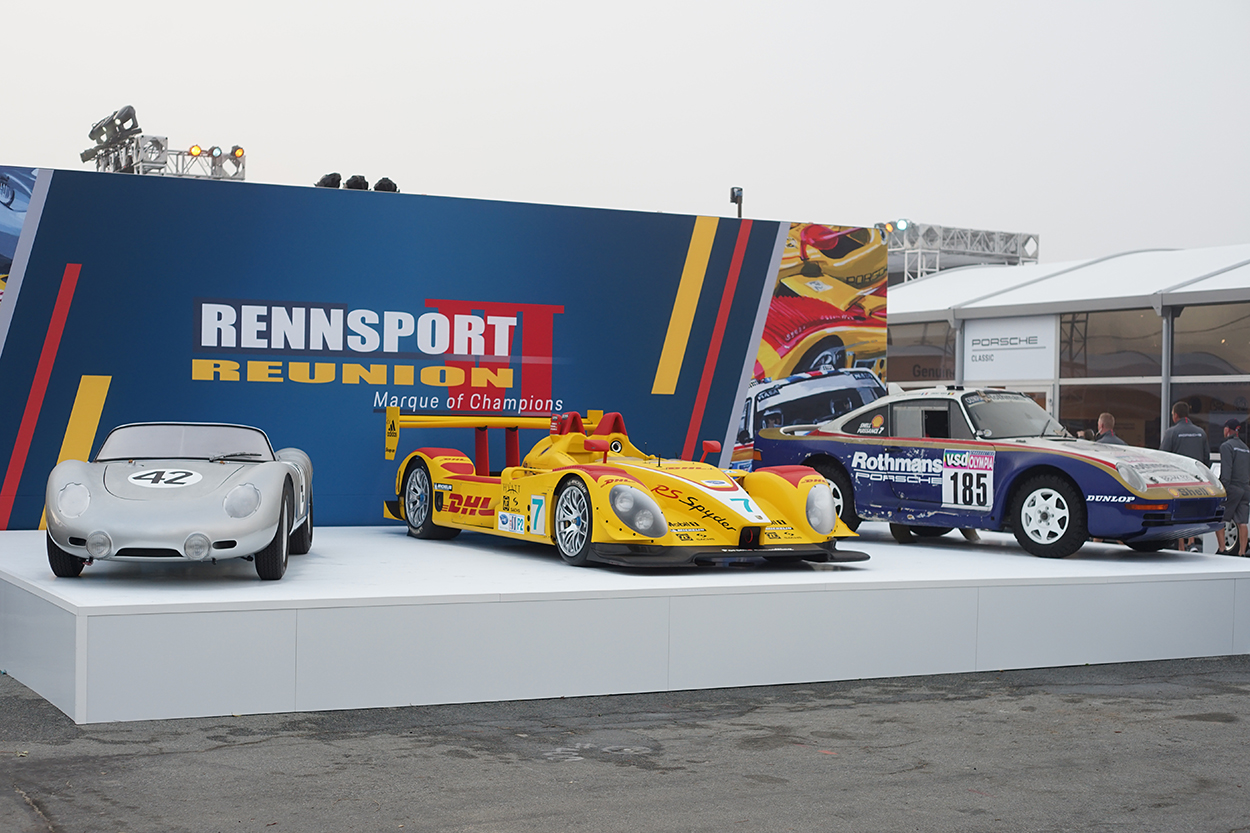 Porsche's Rennsport Reunion is finally upon us, and started this morning at 7 AM sharp — or perhaps before then, as a line had formed at the main entrance to Laguna Seca even though the gates hadn't yet been opened.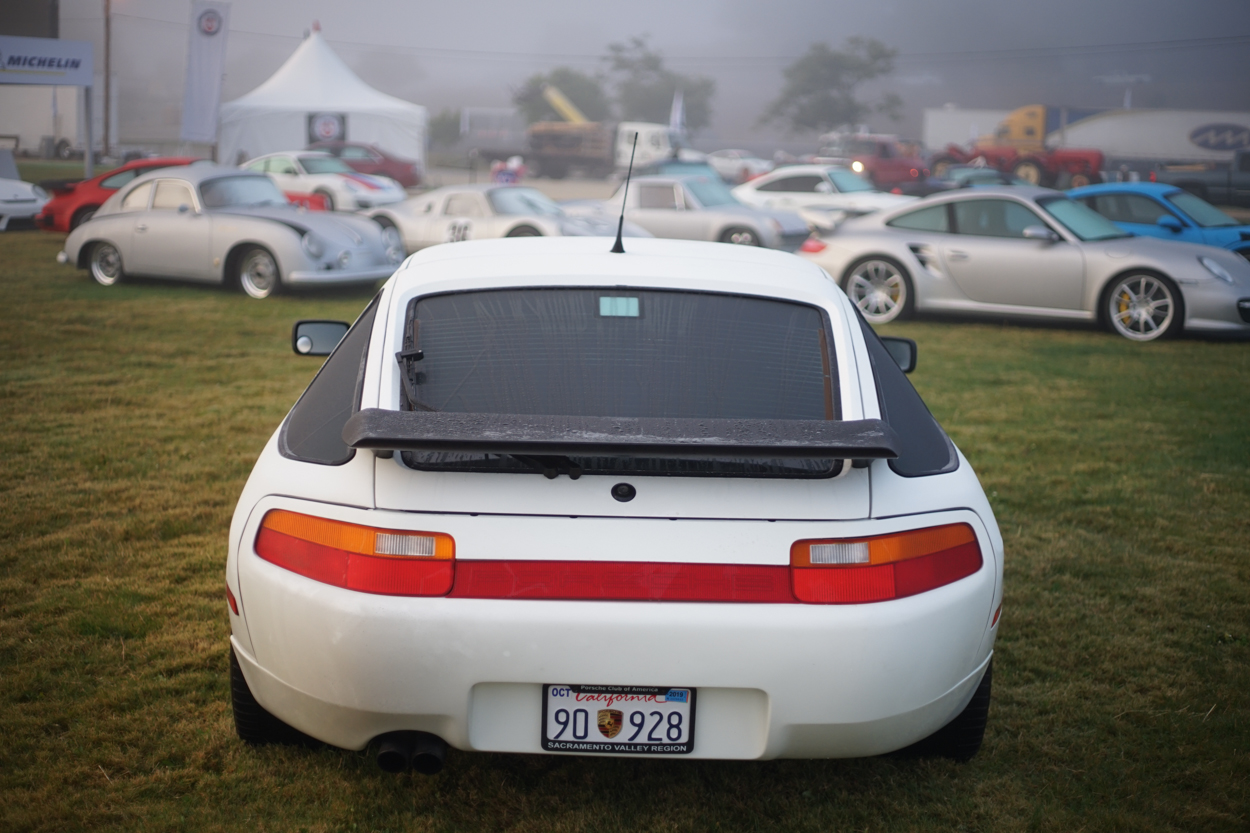 Above: Porsche 928 stares down other cars in the historic display next to the PCA Hospitality Area. Photo by Damon Lowney.
The excitement in the air was apparent on Wednesday, when most of the guests at the track were partners in the event, setting up booths throughout the day on vendor row, pitching canopies over the hundreds of Porsche race cars that'll compete today through Sunday, and the occasional PCA member wandering around after his or her volunteer shift had ended.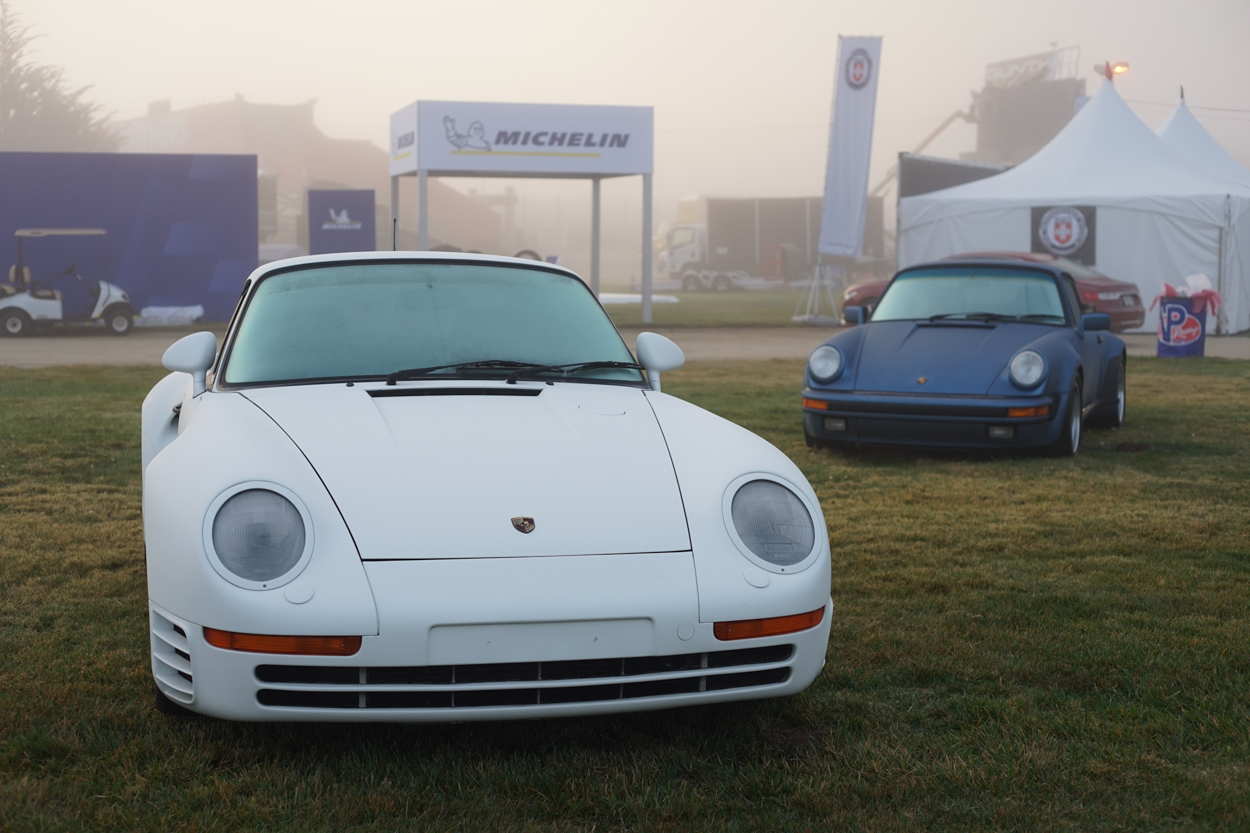 Above: Porsche 959 and 911 Turbo in the historic display. Photo by Damon Lowney.
This year Porsche extended Rennsport one day, for a total of four, due to the massive crowds experienced at the fourth and fifth events here in 2011 and 2015. There are more vendor booths, more cars, and a more impressive assortment of displays by Porsche scattered everywhere around the track — including in the spectator area at the famous Corkscrew turn, where attendees may try their hand at a race simulator between (or during) the racing.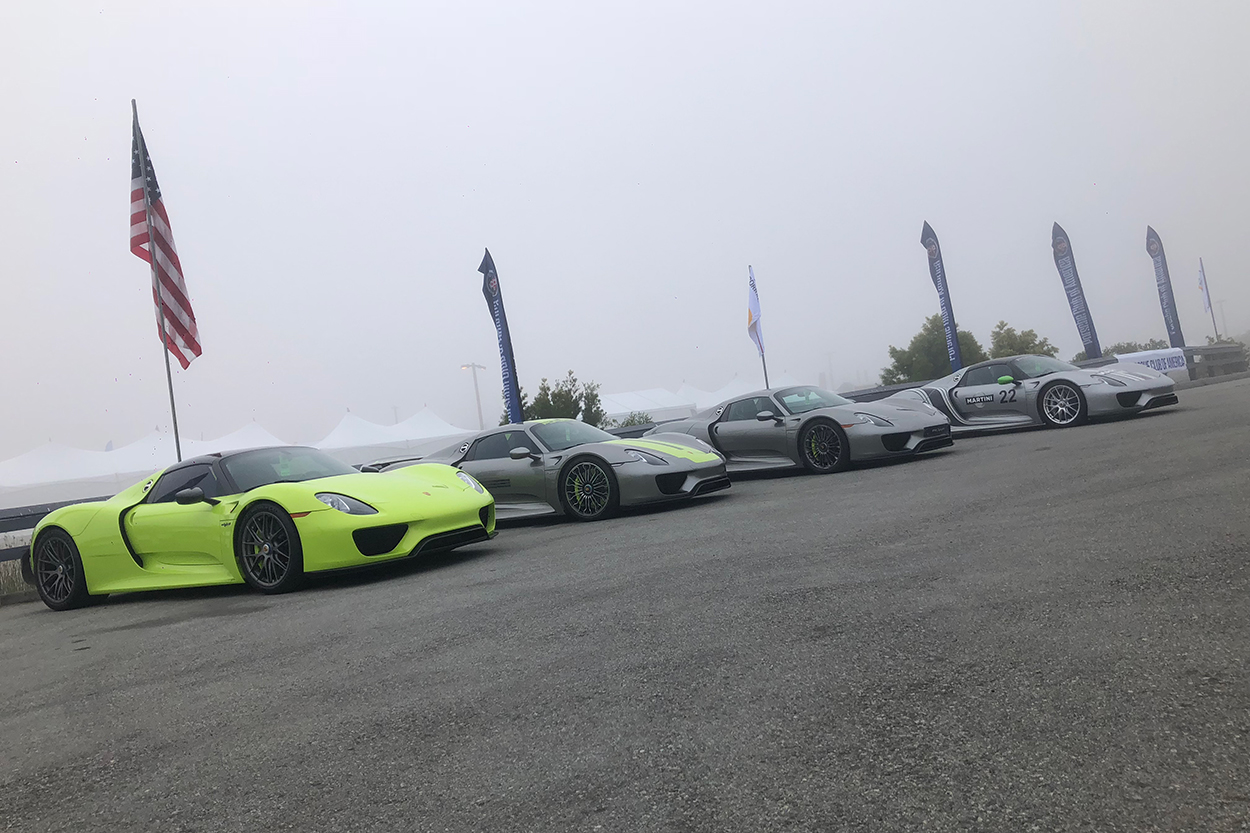 Above: A gathering of Porsche 918 Hybrid supercars parked at the PCA Hospitality Area on Cayman Island. Photo by Vu Nguyen.
Aside from the PCA Club Racing run group, the Sholar-Friedman Cup, PCA has an official presence at RRVI in the form of the PCA Hospitality Area on Cayman Island (also known as BBQ Island), which resides inside Turns 2, 3, and 4. For access to the PCA tent, be sure to have your member card or Porsche key ready — all Porsche owners are welcome. There'll be refreshments, guest speakers, coffee, and prizes, plus a varied assortment of Porsches parked nearby, including at the Historic Display area. Please stop by! To stay in the loop with Porsche Club Activities at RRVI, be sure to click here to visit the event page for info, which will be updated throughout the week/weekend.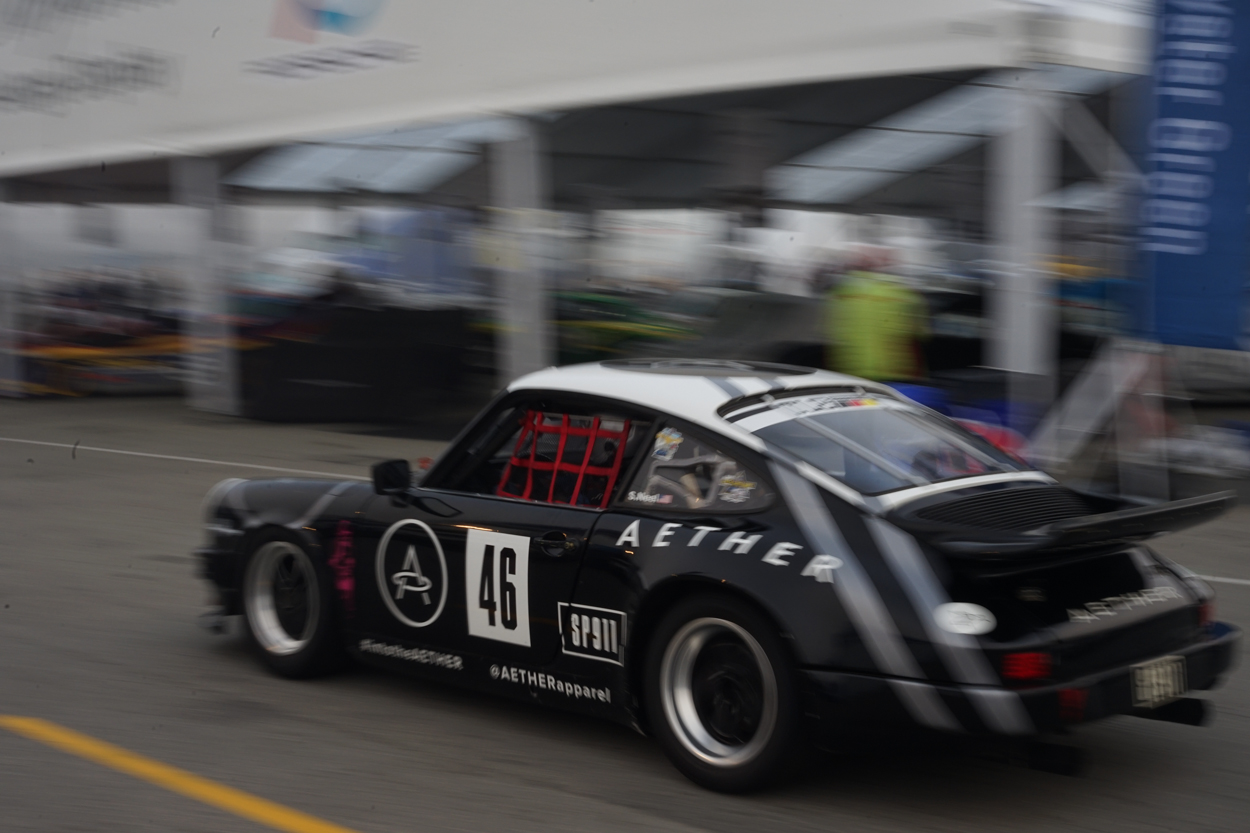 Above: One of the first Porsches in the Sholar-Friedman Cup heading to the starting grid. Photo by Damon Lowney.
As for this blog, we'll be adding several posts throughout the event to share the experience with those who couldn't make it this time around. Stay tuned!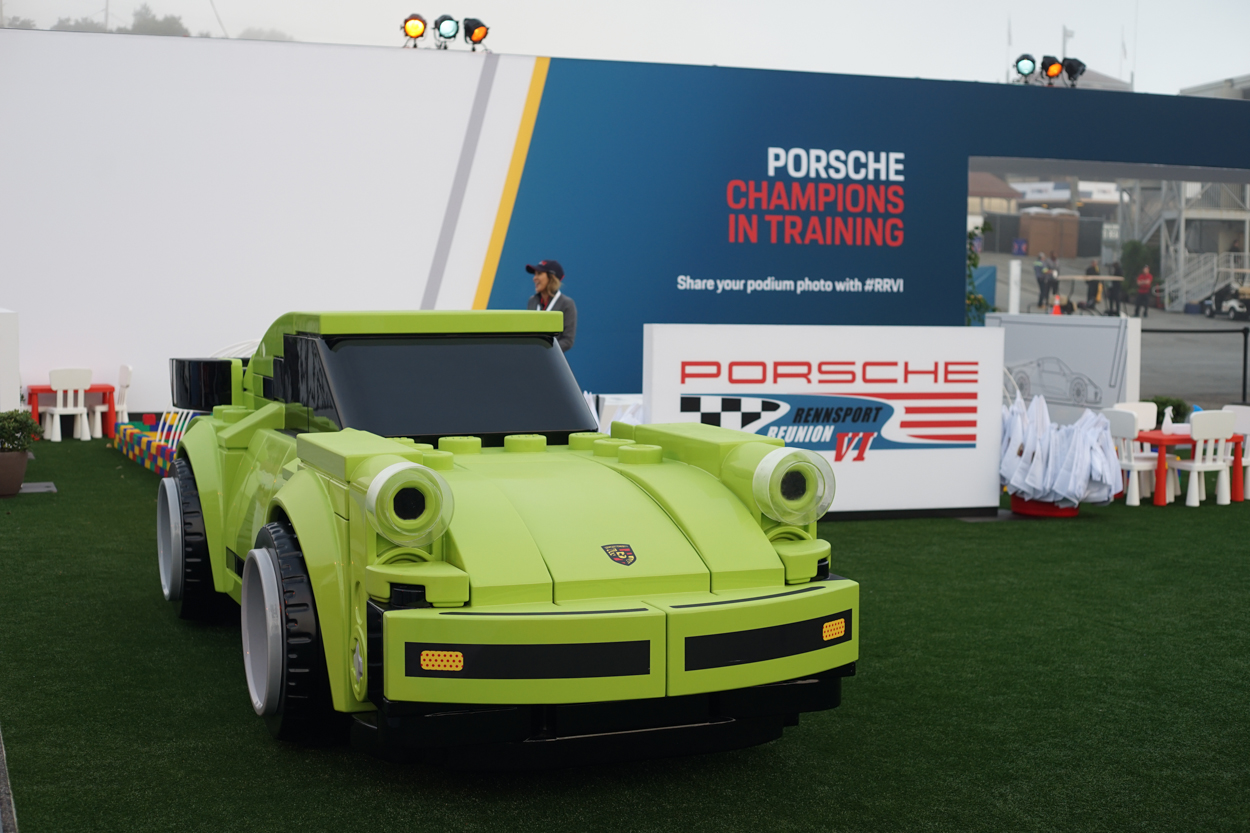 Above: A full-size Porsche 911 Turbo made of Legos in the Porsche in the Kid's Zone at the Porsche Park in the Paddock. Photo by Damon Lowney.
---