Model Guide: Type 993 — The last air-cooled Porsche
Above: 1996 911 Carrera 4S
Article by Tony Callas and Tom Prine
Photos courtesy Porsche
The 993 in all its configurations was the fourth-generation Porsche 911, and sold in North America for model years 1995-98. Design sketches for the 993 were first started in 1989, the year the 964-generation 911 Carrera 4 was launched. The exterior styling design responsibilities were given to Tony Hatter, and his objective was to revise the shape and flow of the 911 body that he (and others) felt had become to some extent a little ponderous with the 964. The result was a well-balanced layout that became popular right away.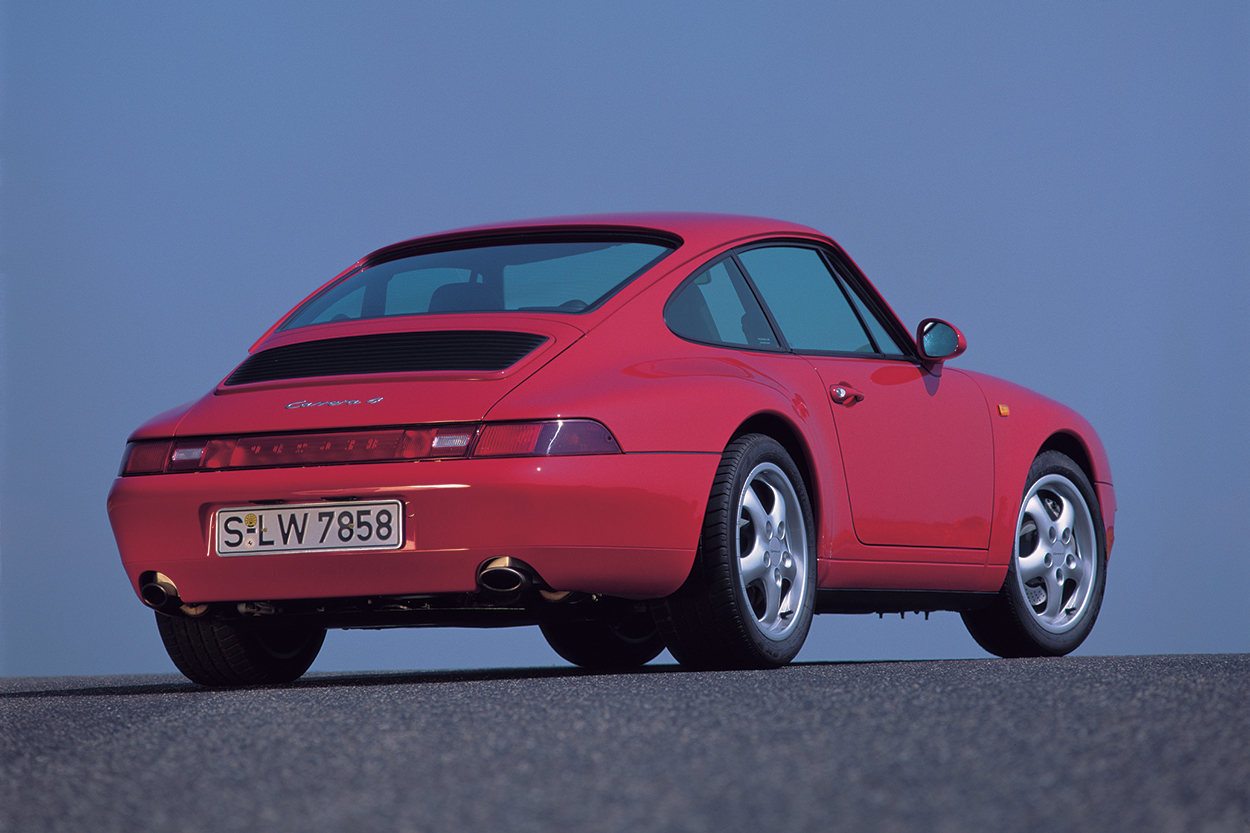 Above: 1995 911 Carrera 4
The 993 initially launched with two models: the rear-wheel-drive Carrera and all-wheel-drive Carrera 4 in both coupe and cabriolet body styles. The M64/01 3.6-liter 964 engine layout was retained but refined. The crankshaft vibration dampener was eliminated in the 993. Hydraulic valve lifters were utilized for the first time in a 911 engine, valve weight was reduced, plus the 993 exhaust system was completely redesigned. When the 993's M64/05 engine went into production it was rated at 272 horsepower at 6,100 rpm and 243 pound-feet of torque at 5,000 rpm.  Also, Porsche changed the G50 manual transmission and added a sixth gear; this gave the normally aspirated (NA) 993 a top speed of 168 miles per hour. A four-speed Tiptronic automatic transmission was also available. MacPherson strut suspension was retained up front, yet at the rear the semi-trailing arms setup that 911s had used since the beginning was replaced by a more sophisticated multilink suspension. Production 993 models first became available in Europe in April 1994 as a 1994 model year (MY) car, while the 993 was released in the US in September 1994 as a 1995 MY car.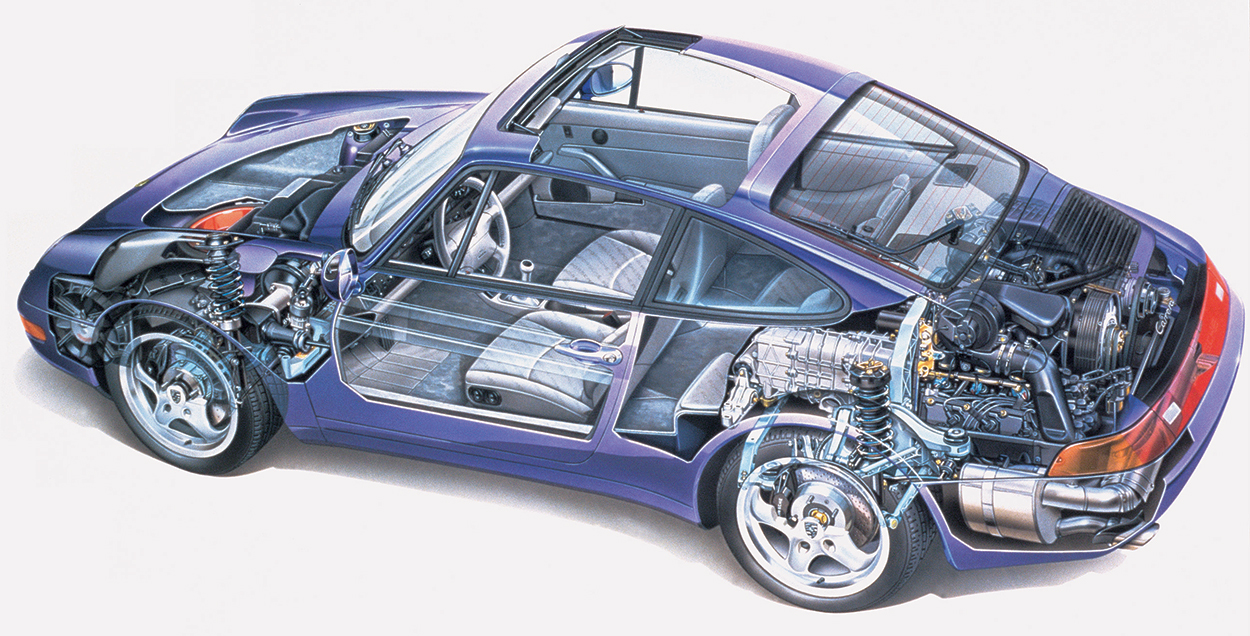 Above: 1994 911 Carrera (Euro)
The 993 Carrera 4's all-wheel drive system was also much different from the 964's. Instead of a mechanical system that was heavy and expensive to fix, the 993 used a simpler viscous fluid coupling to transmit power to all four wheels. When the front wheels started to slip, the fluid in the coupling would thicken and send up to 40% of power to the front. The new AWD system was also notable in its function to improve handling rather than to merely provide more grip.
The next big changes for the 993 came in 1996. The M64/21 NA engine replaced the M64/05 and utilized VarioRam, a system which changes the tube runner length inside the intake manifold based on the engine load and rpm. As a result, output increased to 285 hp at 6,100 rpm, and torque was up to 251 lb-ft at 5,250 rpm.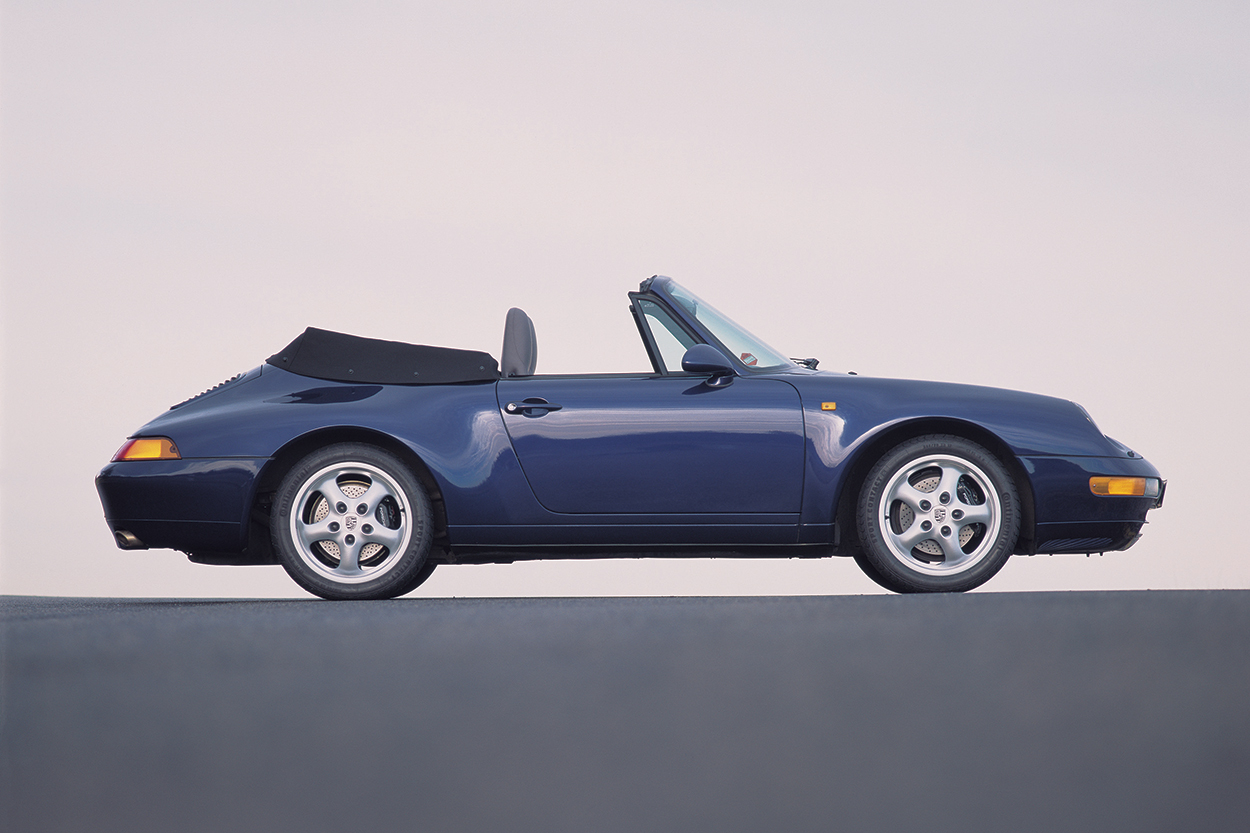 Above: 1994 911 Carrera Cabriolet (Euro)
Porsche also introduced the Turbo for 1996, which had a 408-hp 3.6-liter engine utilizing two K16 turbochargers and all-wheel drive to effectively put the power to the ground. Alongside the Turbo (click here to read the 911 Turbo model guide) came the Carrera 4S coupe, a widebody Carrera 4 with the Turbo's lowered suspension and brakes — though output remained at 285 hp. Rounding out the new additions for 1996 was the Targa, which used a huge sliding glass roof instead of the traditional Targa bar and removable top.
For the 1997 model year, Porsche introduced the Carrera S, which was a widebody version of the Carrera. Like the Carrera 4S, it used the naturally aspirated engine. It was available through 1998, the final year of the 993. Here's where things get interesting regarding the naturally aspirated models available for 1997 and 1998: The Carrera 4 coupe was dropped for MY 1997, though the Carrera 4 Cabriolet soldiered on through 1998. The Carrera 4S coupe continued through 1998, though no Carrera 4S Cabriolet was ever offered. The Targa was sold through MY 1998. The Carrera coupe was offered through 1997. The Carrera Cabriolet was offered through 1998 and the only production model to span the whole 993 generation.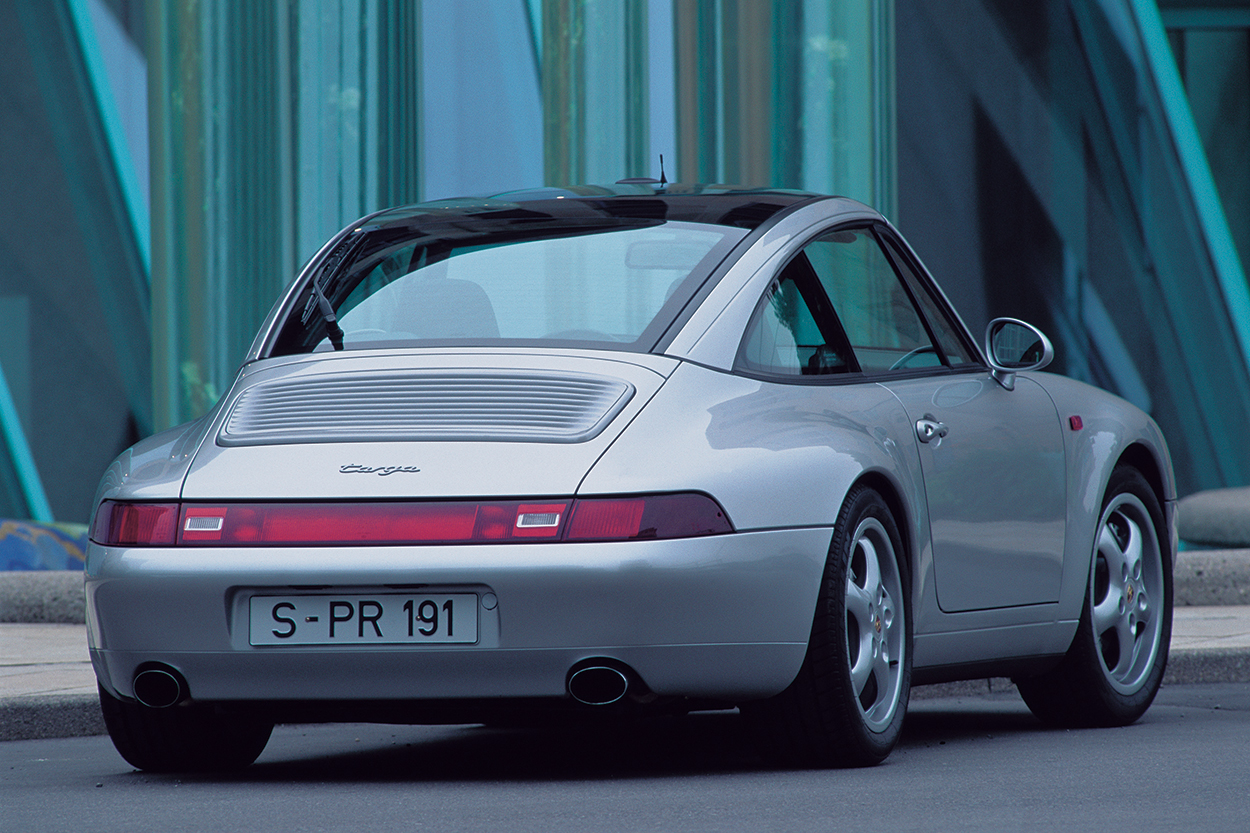 Above: 1997 911 Targa
It is common knowledge that the 993 was the last of the air-cooled Porsches. It was a huge milestone.  Fifty years (1948 to 1998) of air-cooled technology and then Porsche's air-cooled engines were abruptly gone. People often ask why the Porsche air-cooled engine had to go. There are a few reasons, but the most relevant is based around emissions. More specifically, cold start and restart emissions. 
Air-cooled engines take much longer to reach operating temperature than water-cooled engines after a cold start. In addition, because air-cooled engines cool much faster from operating temperature than do water-cooled engines, given the same amount of time between shut-off and restart, an air-cooled engine will have a lower temperature than a water-cooled engine upon restart. Because engines put out more emissions as they rise to operating temperature, and air-cooled engines spend more timing warming up, they put out more emissions after both a cold start and a restart.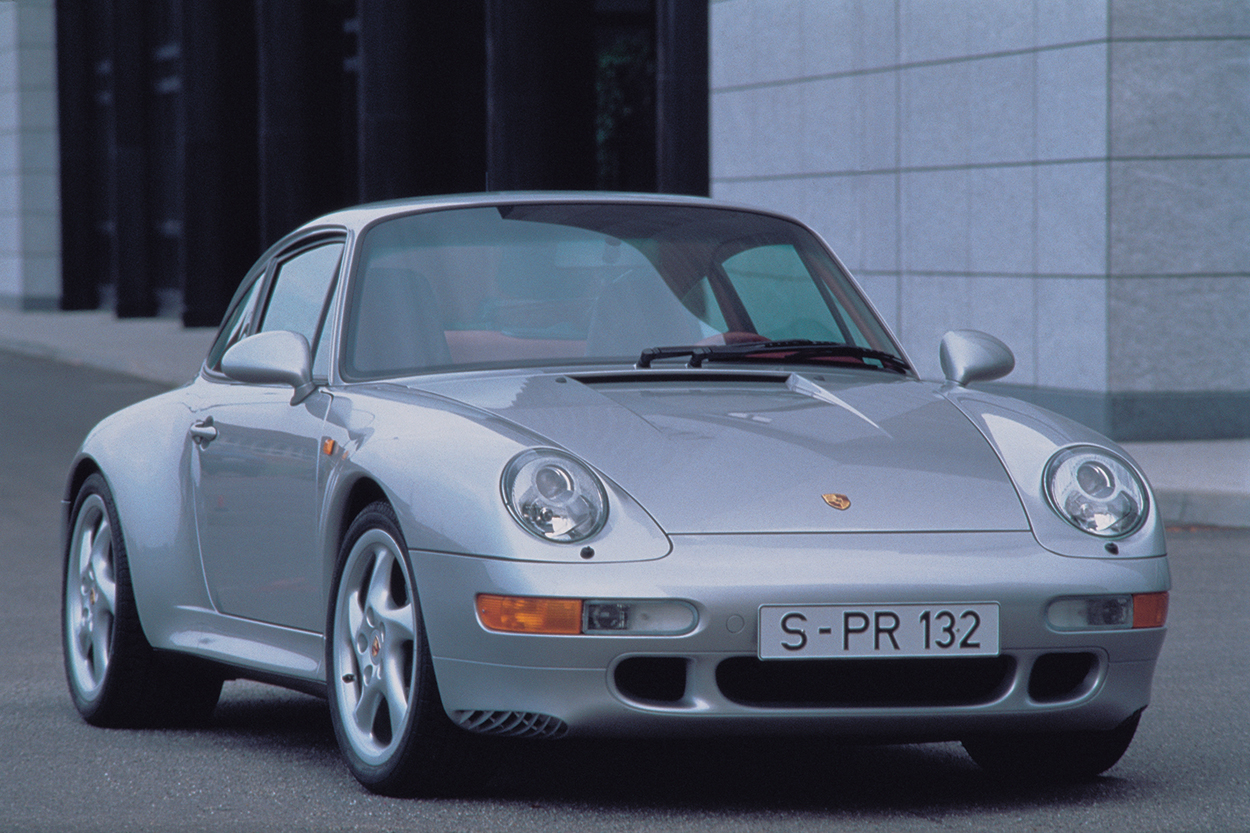 Above: 1997 911 Carrera S
Another factor was that air-cooled engine technology was reaching a point where adding engine performance could no longer meet the increasingly stringent worldwide emissions laws. It has only been recently that the all new Singer-Williams DLS air-cooled flat-six implemented four-valves-per-cylinder heads in an air-cooled engine — Porsche never made a four-valve air-cooled engine for its production cars. A four-valve engine allows for more airflow through the motor than a two-valve-per-cylinder engine design and has a larger airflow area when the valves are open, giving it better volumetric efficiency. More airflow, especially at higher engine rpm, will result in more top-end horsepower.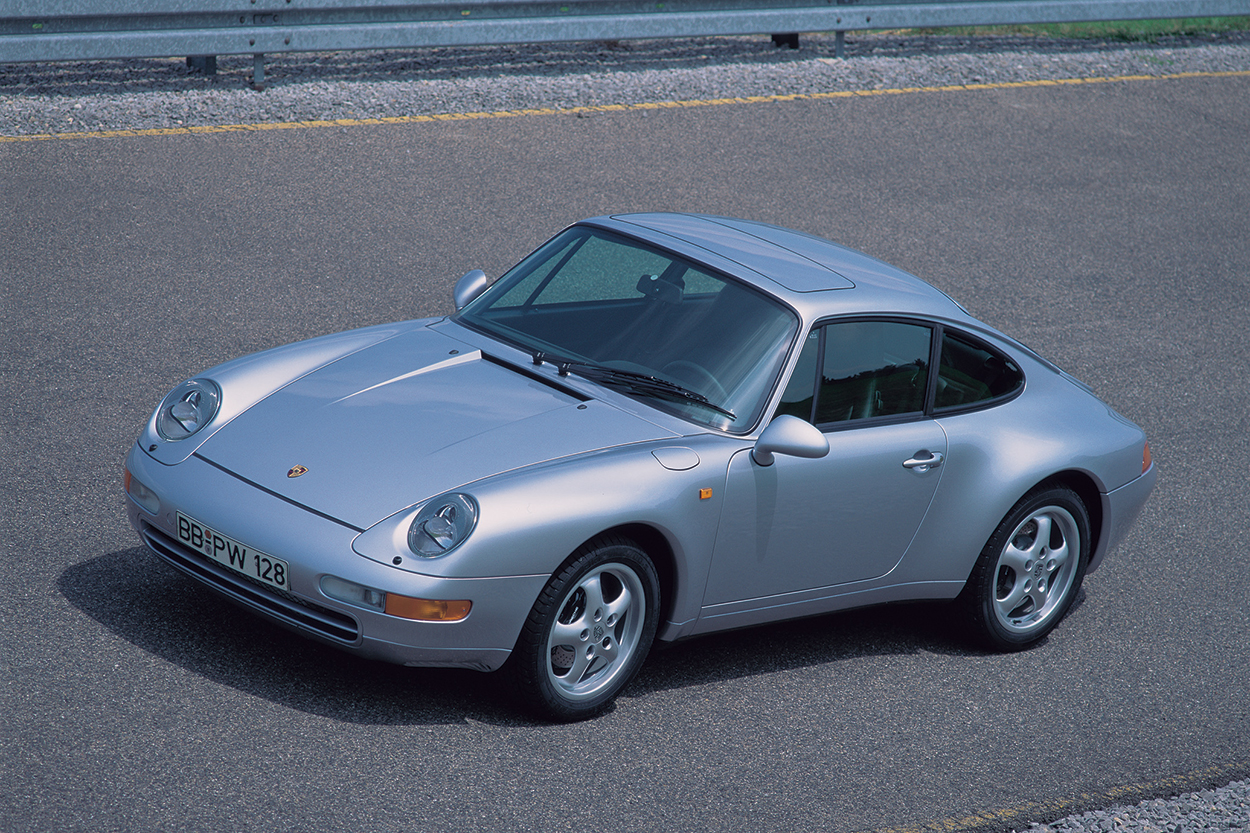 Above: 1994 911 Carrera (Euro)
When the 964 production car first arrived in 1989, I was very concerned because the whole suspension system was totally different, and then there was the laborious task of performing the simplest items such as an engine oil-and-filter change, not to mention a  roughly 12-hour major service.  I was relieved to see basically the same interior in the 964s as was in the 1978 - 1989 911s, because it gave me great hope that things were mostly the same. Still, there were no thoughts that Porsche was going to drop the air-cooled engine any time soon. Of course, Porsche engineers had to already be considering the next engine design.
When the 993 first arrived, I wasn't a fan of it initially either, but this time it was because things were really changing at Porsche. The rear suspension was completely different — albeit a more advanced multilink design — while the interior had now changed with cheaper door panels and substandard rear seats. The 993 was marketed under the premise that it was $5,000 cheaper than the 964, which was possible because Porsche was now using new manufacturing techniques that saved money, including changes in the materials utilized such as vinyl instead of leather, composite materials being substituted for traditional metal components, etc. — and the savings added up.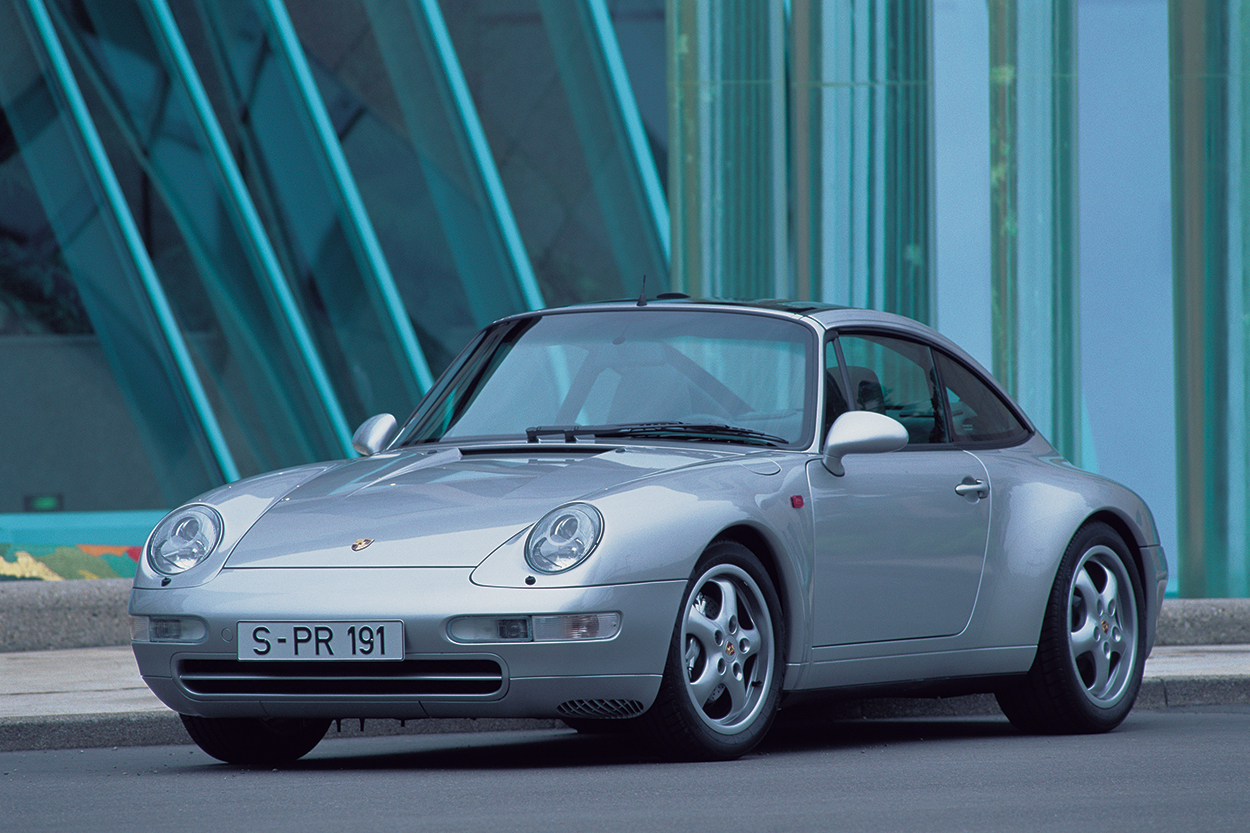 Above: 1997 911 Targa
Additionally, the complete wiring harness was an all-new modular-style harness, unlike what Porsche had ever utilized. Every Porsche before this had every wiring sub-harness for any option the car could have, compared to the 993 modular harnesses that only had the necessary wiring for the options on that particular car. Besides cost, a benefit of this approach was a substantial reduction in vehicle weight. The downside: Porsche, as did many other automobile manufacturers, started using a soy-based wiring jacket in its wiring harnesses. Rodents loved it and over the years chewed up the jackets.  Another inherent problem with soy-based wiring jackets is that they can erode away, which can cause short circuits and has proven to be the root of many unusual running and/or instrumentation issues. Another money-saving item, one that was indicative of the cost-cutting mindset, was that Porsche discontinued the engine oil magnetic drain plug. This decision was short-sighted because these drain plugs collect ferrous material from the engine oil, which can be an early indicator of internal engine problems that might not otherwise be detected.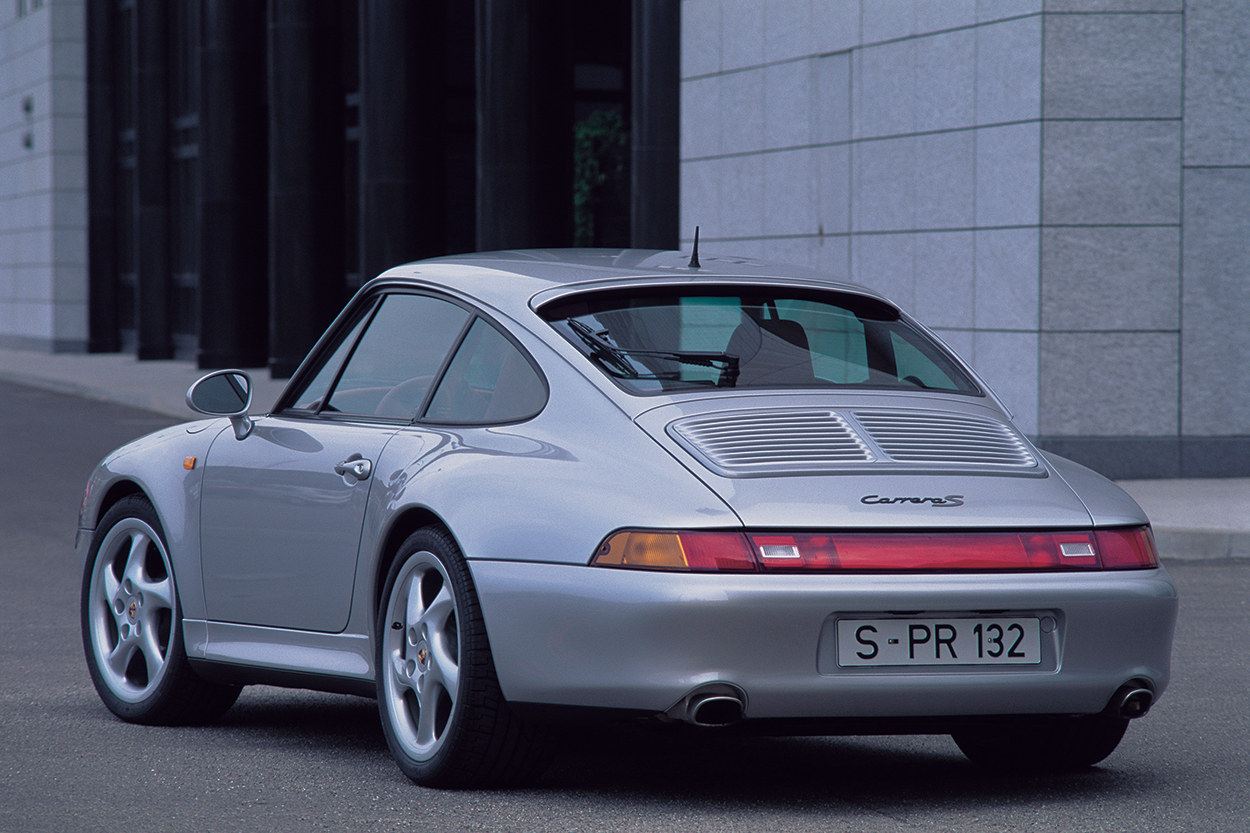 Above: 1997 911 Carrera S
As the 993 took on the toughest proving grounds, on the streets in the hands of owners, we found out that they were very durable, in spite of Porsche's cost-cutting measures. The worst issue affecting the 993's naturally aspirated engines was the secondary air injection problem, especially in the On-Board Diagnostics 2 (OBD-2) 1996-98 MY cars caused by valve guide wear. The secondary air injection ports would clog from carbon buildup (burnt engine oil in the exhaust ports from badly leaking exhaust valve guides) and would result in a Check Engine Light (CEL) when the secondary air injection system wasn't operating. An illuminated CEL prevents owners from being able to pass state-mandated emissions tests. All 993 NA cars will eventually have this issue unless the valve guides are replaced (upgraded) to a better quality guide, but it is truly worst for the OBD-2 versions due to the CEL issue. The 1995 993 also has the problem with premature valve guide wear, but because it has the OBD-1 emissions system, it will not set a CEL for secondary air injection failure. However, as the valve guides get worse, the engine doesn't run as well. The 993 Turbo does not have this issue because Porsche utilized a different, higher quality valve guide material. For this and many other reasons (including the performance), the 993 Turbo is one of Porsche's truly great cars. 
Here is the list of common 993 issues:
Valve guides can wear and clog secondary air injection (naturally aspirated engines)
Engine case through-bolt O-rings leak oil
Dual-ignition distributor internal belt can fail
Drive-belt pulley should be updated
Engine wiring harness was recalled, check to see if the recall fix was performed
HVAC module parasitic drain can discharge battery
Monroe-brand shocks not desirable
Windscreen can delaminate
Front control-arm bushings crack, causing steering wheel shimmy
Clutch slave cylinder can make creaking noise
Clutch slave cylinder hose can leak
Gearbox shift-selector seal can leak
DME relay can fail
Cabriolet power top module can fail
Steering rack can leak
Steering tie-rod rubber boots can crack
A/C condenser and oil cooler fan resistors can fail
A/C evaporator can leak
Spark plug wires can deteriorate
Cooling fan hub bearing can fail
Flywheel rear-main-seal can leak
Engine valve covers can leak oil
Removal of engine underbody panel is recommended for better cooling
Rear wing "accordion" can break
Shifter bushings and fasteners can have issues
Third brake light bulbs can go out
Vacuum distribution port can collapse
Targa top mechanicals can be troublesome
Sunroof seals can fade (difficult to replace)
Sunroof cables can have issues
Door pockets can crack 
Door-stop mounts can break on A-pillars
Rubber steering wheel airbag mount bushings can weaken, causing the horn to blow unexpectedly. This can happen, for example, under braking
Cars that sit can develop problems with congealing brake fluid (white wax material)
Speedometer, odometer, and/or tripmeter gears can break
Plastic rear window for cabriolet top can fade
Exterior mirror-bolt trim-caps can be missing
Windscreen wiper-blade rubber-buffer can be missing
Windscreen and rear window rubber/plastic trim cracks and breaks. Worse, the window trim plastic is molded to the window, and when it breaks, the fix is to replace the window. The rubber trim that goes around circumference has a felt-like surface, which will creak when it wears out
Corrosion can happen around windscreen and/or rear windows
Considering the fact that all of the 993 models are now over 20 years old, the time, mileage, and level of service/maintenance that each car has received play an important part in how well each car has survived. Owners who have properly maintained their 993s over the years, repairing all of the items on the above list as they came up, should have a well-running, reliable Porsche that won't take much to keep on the road. A well-maintained 993 is the kind prospective owners should be looking for. Owners who put off repairs likely have a long list of problems to address — and it will be expensive.
Overall, Porsche 993 models are wonderful. For those who are current owners: You have a very special car. 
For those considering a 993 for purchase: get busy, prices are going up.
[UPDATE: A previous version of this article incorrectly stated that the 993 Carrera was produced for MY 1995-1998. The story has since been corrected.]