PCA Executive Director Vu Nguyen is a model student
Tuesday, October 30, 2018
Article by Tom Neel
Photos by Tom Neel unless noted
Above: Vu with one of his "Junked" series dioramas.
As the war was ending, Vu Nguyen's (gwen) family fled a devastated Vietnam for a chance at a new life in America. As his grandparents were South Vietnamese dignitaries, there was little question of their fate had they stayed when the north swept up the south in the final days of this ugly conflict. Yet past his name and fluency of his family's native language, Vu, the first of his family born here in the States, is as American as apple pie. Like many Americans, one very big slice of this pie is deeply rooted in his love of cars. And not just Porsche cars. All cars — anything cars, and especially ones in 1/18 scale.
When I planned my visit to PCA headquarters to spend a little quality time with PCA's executive director, my agenda was to specifically talk about his passion for collecting 1/18-scale diecast metal Porsche models. Yet sometimes a story reveals something unexpected, and such is the case here. What was to be an anecdote about a man and his model cars became a tale about a father and his son, and how a toy car became the seed of automotive passion. It's also a story of how the grown man, now a father himself, not only inspires a car club but is also passing his love of cars to his children.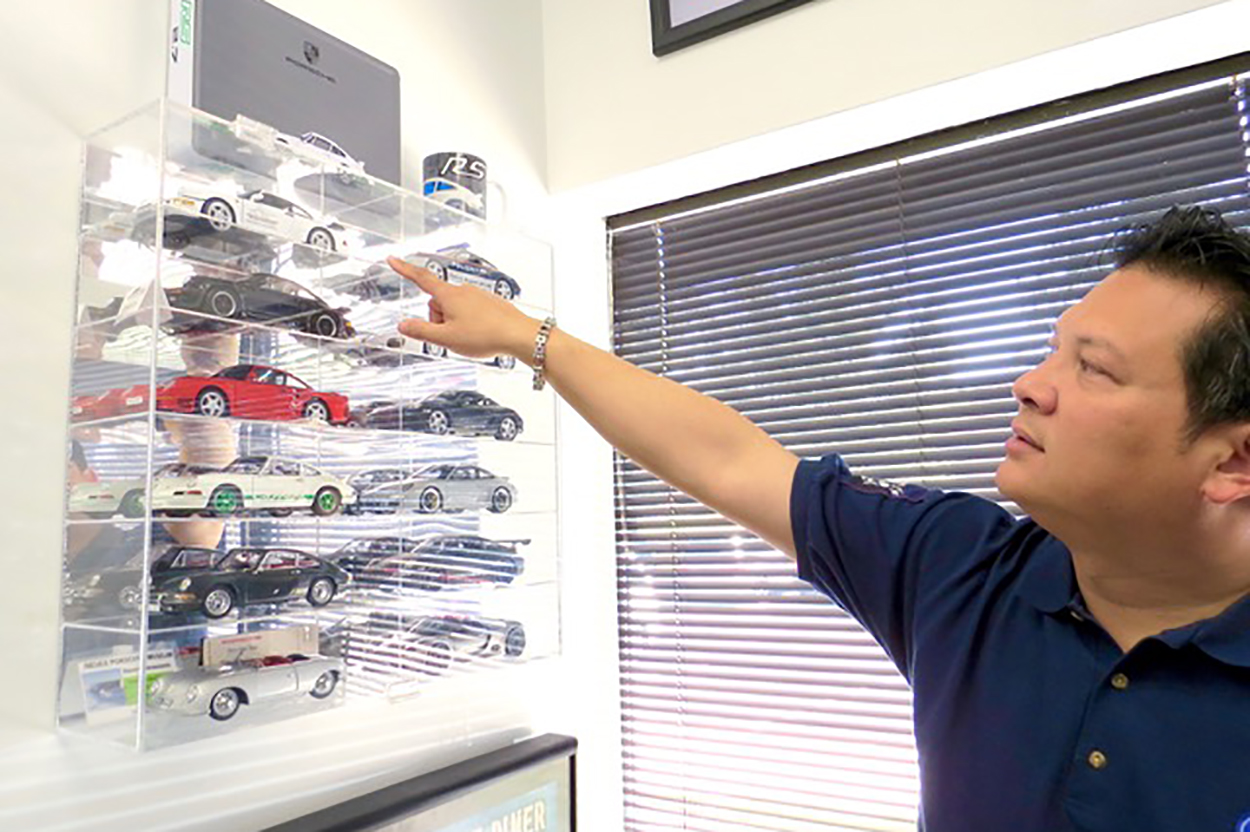 Vu with part of his model collection on display at the PCA National Office.
When we think about why any of us are members of PCA, Porsche enthusiasm followed by ownership (or vise versa) are obvious musts. The social activities hosted by the club and its Regions sprout naturally through our shared interests. Yet what planted the Porsche seed for Vu in the first place? What watered the seed and tended to its growth towards ownership? In Vu's case, the answer was model cars. From his first one, a burgundy Saab 900 from around 1983, to the sizable collection he had amassed by the start of college, to the more than 550 he has today, they have provided constant inspiration. Zooming around on the floor with toy cars in hand instilled his imaginative ownership and freedom, followed by racing radio control cars with his father, working on real cars together, and then onto the ownership of his first car and then his first Porsche. I can relate: My father worked at a Chrysler Plymouth dealer and brought home manufacturer promotional models for my brother and me. From those models came slot cars, working on cars, and then driving at an early age.
Vu keeps a small part of his collection in his office at PCA's headquarters, the models of which have stories that involve his work at PCA. It includes cars that he has sat in, such as the first 356, or even driven, such as the pre-production 959. As he shows me a pre-production 918 Spyder model, he shares, "I was very fortunate to work with Tony Hatter, as well as Dr. Frank-Steffen Walliser, Head of Motorsport and GT Cars, and had Frank sign the model."
Vu then opens the glass doors to a display case beside his desk, filled with Porsche models and memorabilia. Beginning at the top with the 2012 Porsche 911 Club Coupe in Brewster Green and the PCA 60th anniversary 2015 911 GTS Club Coupe in Club Blau, he quickly moves on to what he calls his "Junked" series, a seasonal group of four 356 dioramas. Referring to his real 356 engine on display at the National Office, Vu says, "I've always hoped that I'd come across a 356 in a barn or someone's backyard, so I have these cars in my mind. One day I came across a broken 356 [model] on eBay. I was like, Wait a minute, why don't I buy one of those and make a broken 356? So that's what I did."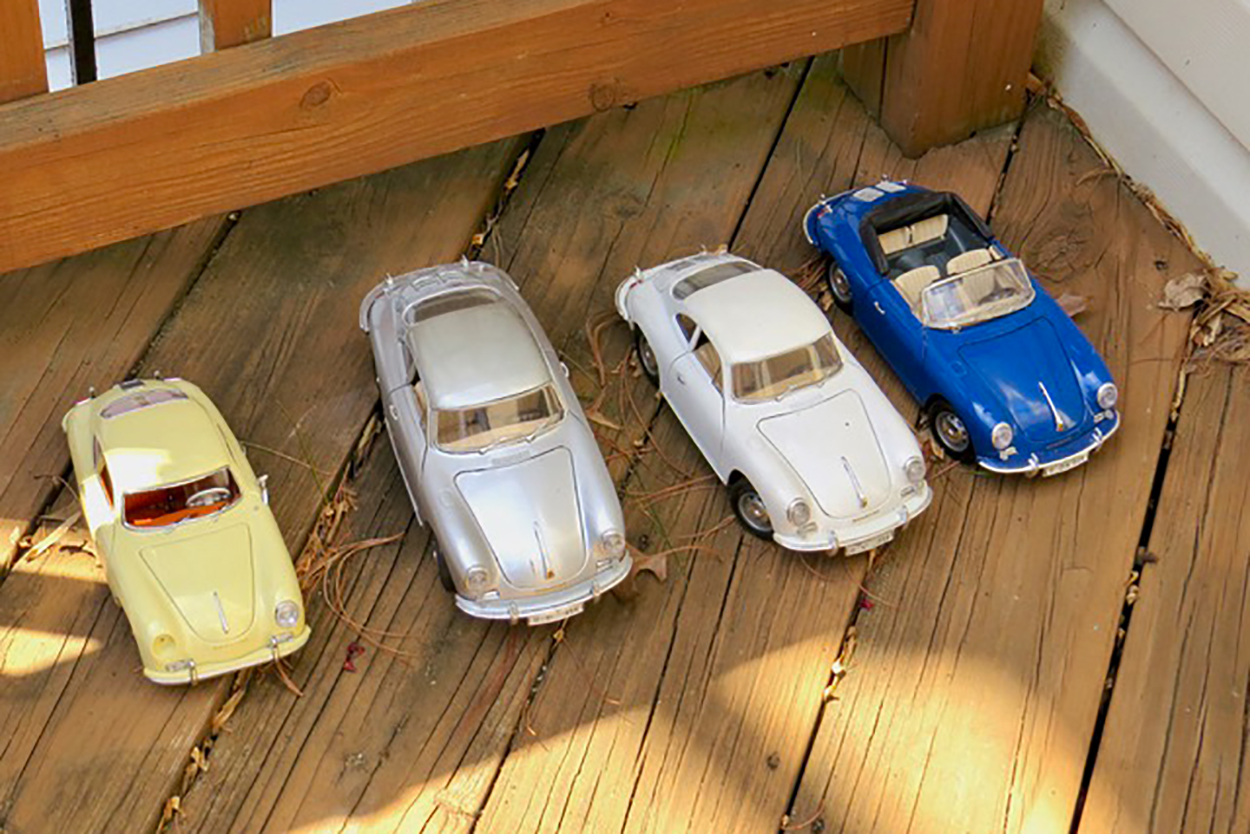 Vu prefers to allow nature to age his 356s in preparation for his "Junked" series dioramas. Here are four models currently sitting on his deck.
He then built a small diorama depicting summer, followed by three more representing fall, winter, and spring. "I start my projects by going to eBay, or going to some random yard sale, or something like that, and I find broken cars." He then leaves them on his back deck to age naturally. "I can age them myself, but I like the authenticity of letting the sun do it." The level of detail in his junked models goes even further than recreating years worth of environmental wear. For one of the models, around the time Twinkies was going out of business, he made a miniature box of the cream-filled sponge cakes to be placed on the passenger seat. Laughingly referring to his fall car, Vu says he bought a little wooden rake on Amazon, to his wife's puzzlement. Such is the way of the driven modeler. He was so pleased with the results of that car, he took it to PCA's Tech Tactics East event and had well-known Porsche restoration guru, John Paterek, autograph it!
It becomes apparent in our conversation that each of the cars in Vu's model collection tells a part of his life's story, and they are clear evidence of his enthusiasm about anything automotive. Take the model of a green BMW 320i, for example. "My parents left Vietnam during the fall of Saigon. While they were fortunate to make it to America in a plane, they pretty much came with what they had on their backs. So it took a good part of the late '70s and '80s for them to rebuild and get on their feet, to be comfortable enough to splurge on nice things like a vehicle," Vu explains. "In 1983 my parents bought a Graphite Grey 1983 BMW 320i. So that's the car that sort of started the whole — we're doing okay now."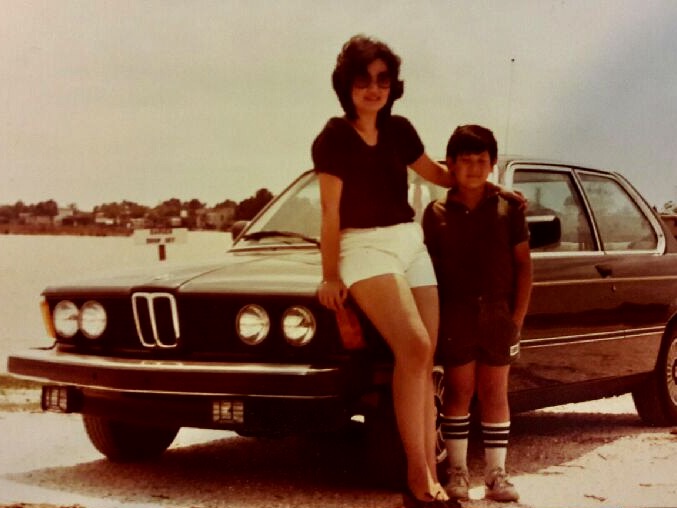 Vu with his mom and his family's BMW 320i in 1983. Photo courtesy Vu Nguyen
It was also the car in which he learned to drive a stick shift. For years, the little green model paid tribute to his parents' car, and a year ago he found and bought a real 320i from its original owner. I soon discover this is not the only model/real car pair in his collection. Vu's first car was a 1986 Pontiac Fiero SE. His second, acquired as a freshman in college, was a 1992 Ford Mustang GT 5.0 in Titanium. He has models of both, and his acquisition of the mini Mustang even expanded his repertoire of car trivia. He wondered why anyone would bother to make a 1992 GT Mustang toy model in the same color combination as his car. "Turns out my [real] car is 1 of 357 cars that were made!"
In my conversation with his father, Buu (pronounced "Bo"), he lovingly shares purchasing a HotWheels collector case for his son and then, in time, the cars to fill it. One day Buu looked into the display and realized many of the cars were not the ones he'd bought his son. Young Vu told his father that he was trading them with friends at school for ones he liked better. Buu was impressed with his negotiating skills! By the time Vu was in college, he says his 1/18-scale collection had grown to about 100 cars. He took a break during college, but when he started to work he purchased a UT-brand Porsche 911 GT2 in 1997, which restarted his passion for collecting diecast models, and an obvious interest in Porsches.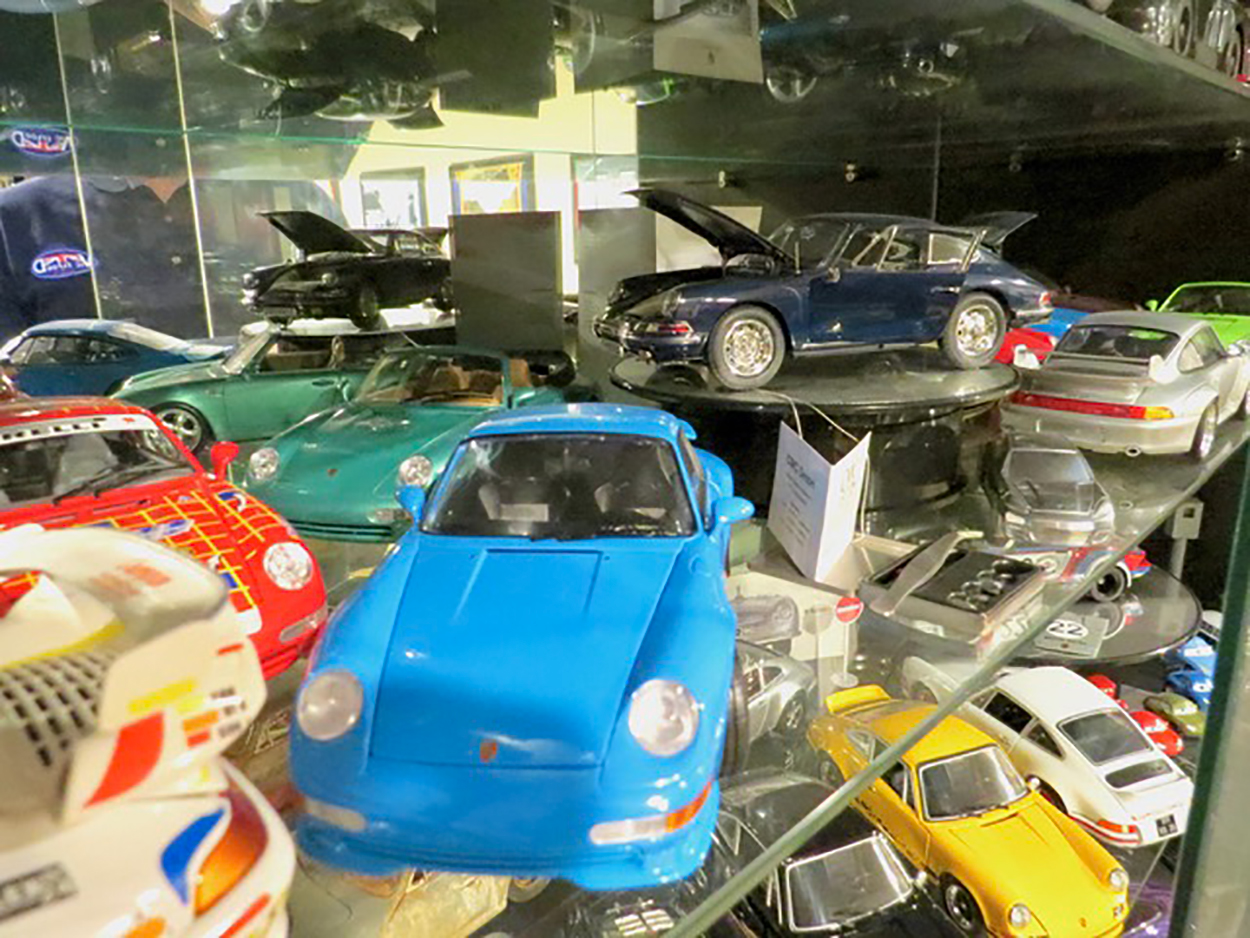 Part of Vu's model collection in his home's basement.
Vu rarely splurges on really expensive models like those made by CMC. He only buys models that hold meaning for him. "I'm more of a toy hunter. I want to find something that's old, rare, never seen before, hopefully worth a lot, but maybe worth nothing. I like collecting things and playing with them." He points out a 1993 911 Burago model in yellow that he found, and also an extremely rare Gulf Blue version of the same model that he encountered at a swap meet amongst "a bunch of random Porsche parts." He's never seen another one like it. Every so often he's had to buy a "lot" of toy cars to obtain the one he really wants. But that works out just fine. Once in awhile, when his kids have friends over, he says, "they see my collection, I just open up the bottom [drawer], and I'll say, 'Just take one.'" It's one of his ways to keep the car torch burning in kids today.
I couldn't help but ask how his wife felt about his apparent automotive addiction. Vu tells me he was late for his first date with his future wife because he was working on his Mustang. "I also got pulled over, which made me extra late," he says. "So from the beginning, she's known that cars are very much a part of our lives."
It's a good thing because we then head to his home, the door to Vu's two-bay garage ascends, and my eyes descend upon an excessive quantity of automotive madness stacked and squeezed into a modest space. "You'll find that I'm one box away from the show 'Hoarders,' the automotive edition," Vu quips. Via lifts, his 911 and Mustang hover over the BMW and his wife's Boxster. Toolboxes, bins, and containers abound, as well as his large stable of RC cars. "I'm not a spectator. I have to go in the garage and get grease under my nails. That's where I really disconnect from the world."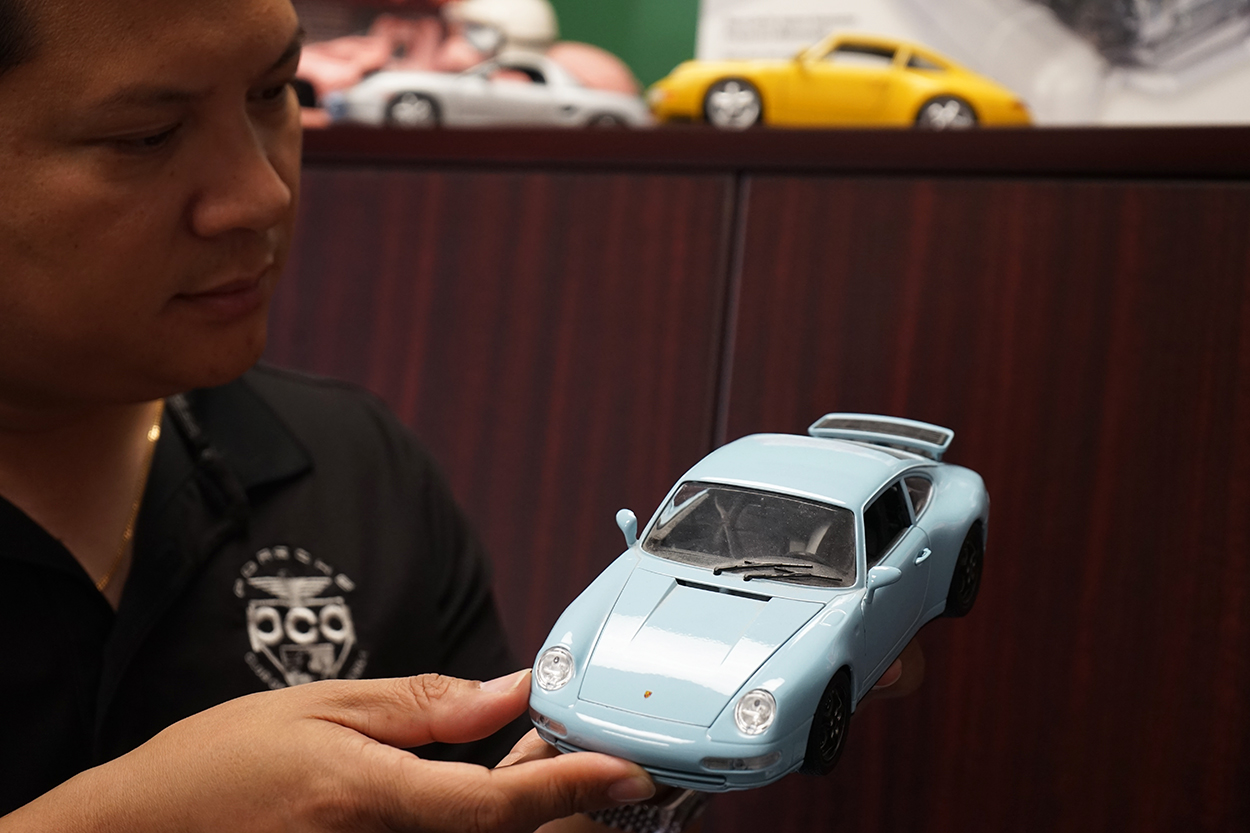 Vu examines his rare Burago Porsche 993 model in Gulf Blue. Photo by Damon Lowney
Here again, we find evidence of Vu's nurturing father. Buu was more than willing to pass along the gearhead gene to his son. He would tell Vu, "If people can do it, you can do it… If you know the reason, you understand the systems, you can do it, but you have to know why." As I listen to Buu, I pick up on a trait shared by most gearheads, including his son: "Sometimes my car didn't even need to be fixed, but I liked to open it up and clean it. I loved to use the timing light (a strobe light shaped like a gun) because of the blinking. Nothing was wrong with the car; I just hooked it up to play with the gun!"
"As a little kid working on the cars, my dad hated laying on his back and looking up because he gets dizzy," Vu says. "So he'd give me the wrench, and I'd slide underneath and work on the car." Today, he sees himself passing along his father's enthusiasm and knowledge of cars to his daughter, who soon will have a driver's license.
"My dad recently retired to Vegas, and back in '09, when [the government] was doing cash for clunkers, my dad traded in his three-quarter-ton Chevrolet Suburban and bought a Ford Focus," Vu explains. "At the time, I'm thinking this might be my daughter Justine's car in the future, so he let me help him spec it out! Let's get a two-door, not a four-door, and get the manual SE option, the one with the nice wheels. My dad said okay! And he did eventually leave it for my daughter." Justine has her learner's permit, and Vu has been teaching her to drive a manual for the past year. While we both think it's an unnecessary skill today, we also agree it's more engaging and keeps a new driver more focused on driving. Another benefit: Sharpened focus has enabled Justine to build her driving skills more quickly than many of her peers.


Vu shares his automotive passion with his kids Jason, 14 (left); Justine, 16 (middle); and Jonah, 9. Photos by Vu Nguyen
So how did Vu's passion for Porsches come about? "My parents got through the BMW and Mercedes stages, but never had owned a Porsche," he explains. "In the '80s you saw a lot of Porsches in movies. I had a Porsche Trapper-Keeper (brand of loose-leaf binder), Porsche book covers, stuff like that… So I've always had a dream growing up that by the time I was 30 I would have my Porsche."
"So when I was 28, I owned my dream car, and I'd always been a car club guy, because with my Pontiac Fiero I was with the Fiero car club. With my Mustang I was with the Mustang Group. With my Jeep I was doing Jeep Jamborees," Vu relates. "I'm a longtime member of the BMW Car Club of America. I had also joined the Saab Group for a while, so I've always understood the advantages of being tied to the group that loves the particular vehicle that you own."
Heading into Vu's basement, the story of his continued youth appears. Vu admits he is "cheap" in his approach to collecting. He's a bargain hunter, thrifty, and so he built his own display cabinet, but misjudged the sheer quantity of his collection. His display barely holds half of what he owns. Of the 250 models he has on display, half are dedicated to his Porsches, and the other half are car memories of his youth. While he is not without race cars, the collection represents more street cars overall.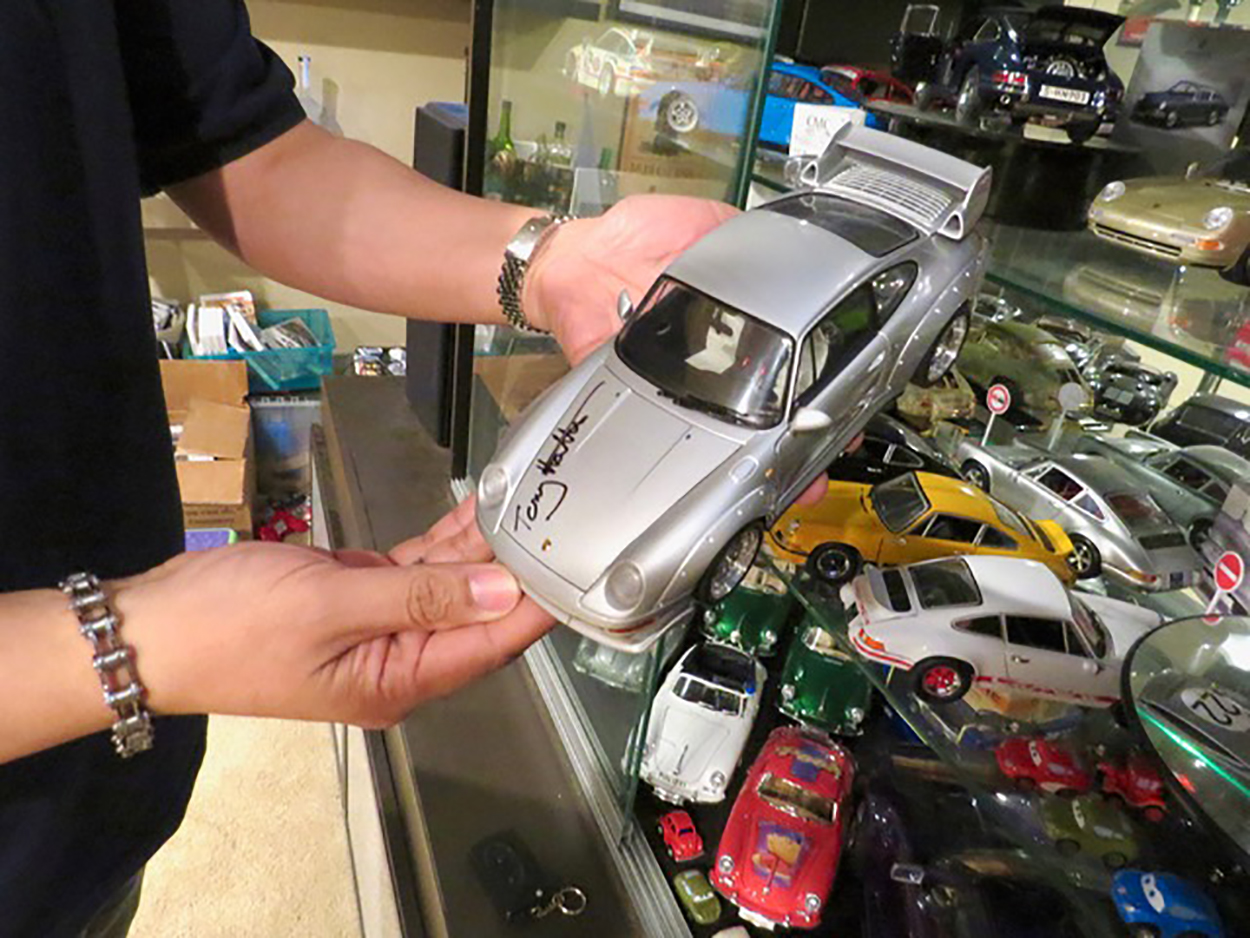 A 993 GT2 model signed by Porsche Designer Tony Hatter.
He tells me while pointing into his display, "As you can tell I really do like the story, it's very much about the story. Why did I buy a 1/18-scale Fiero? Because it was my first car. Why did I buy the 'Smoky and the Bandit' one? Because I loved watching Burt Reynolds and Sally Fields doing a burnout on the highway." The UT 993 he has was autographed by Tony Hatter, the designer of the 993. There's also a Nürburgring Taxi BMW autographed after his ride with Sabine Schmitz. He has the Herbie "Love Bug" Beetle and the supercars of the '90s. "I'm a huge fan of '69 Mustang Boss 302s," he adds. Also in his collection is a Citroën deus chevaux — better known as the 2CV — which I should mention is a favorite car of automotive journalist Chris Harris. Vu smiles and says, "Someday I will own one." I ask him which ones he would grab in an emergency? He ponders my question and says, "That's a tough one… I think I'm sitting here with the ship!"
Vu has been PCA's executive director for 13 years now. His formal education is in marketing and transportation logistics, but he feels that "everything as a kid that I think about has prepared me for this job in a lot of ways. My passion for the cars obviously!" This makes me wonder if the kids of today, who seem less passionate about cars, are as such because the adults in their lives have in some cases stopped showing them the way. It's hard to know the power of a toy's role in inspiring a child to love something as an adult. But it's quite easy to see in this case how it not only did just that, but has also inspired an individual to take Porsches and the culture surrounding them to new heights. It all started with a collection of model cars, or more accurately, a growing collection of fond memories. A collection that began with one, a gift that keeps on giving.