Porsche 911 GT2 RS lightly modified by Manthey-Racing sets new Nürburgring-Nordschleife lap record [w/video]
Article by Damon Lowney
Photos courtesy Porsche
It seems the quest to conquer the Nürburgring-Nordschleife is still alive and well after a street-legal McLaren P1 LM clocked 6:43.2 and a Lamborghini Aventador SVJ did a 6:44.97, both beating the GT2 RS Weissach Edition's 6:47 record from over a year ago. Porsche and Manthey-Racing's latest attempt at a lap record, on October 25, allowed a lightly modified GT2 RS to take the record back with a 6:40.33. Watch the in-car video below.
Lars Kern was the driver, the same guy who clocked 6:47 in the GT2 RS in September 2017. You're probably wondering, then, what kind of voodoo could shave seven seconds off of an extremely quick lap? Somewhat surprisingly it wasn't more horsepower. No, Manthey-Racing decided to improve the GT2 RS' aero and suspension, plus add an additional distilled water tank, which sprays a mist onto the intercoolers to keep the car's full 700 horserpower in working order. In addition to those modifications, a set of magnesium wheels, better brake pads, and new brake lines round out the GT2 RS MR package. Porsche says a racing bucket seat was used for safety reasons, but that there was no weight advantage in doing so.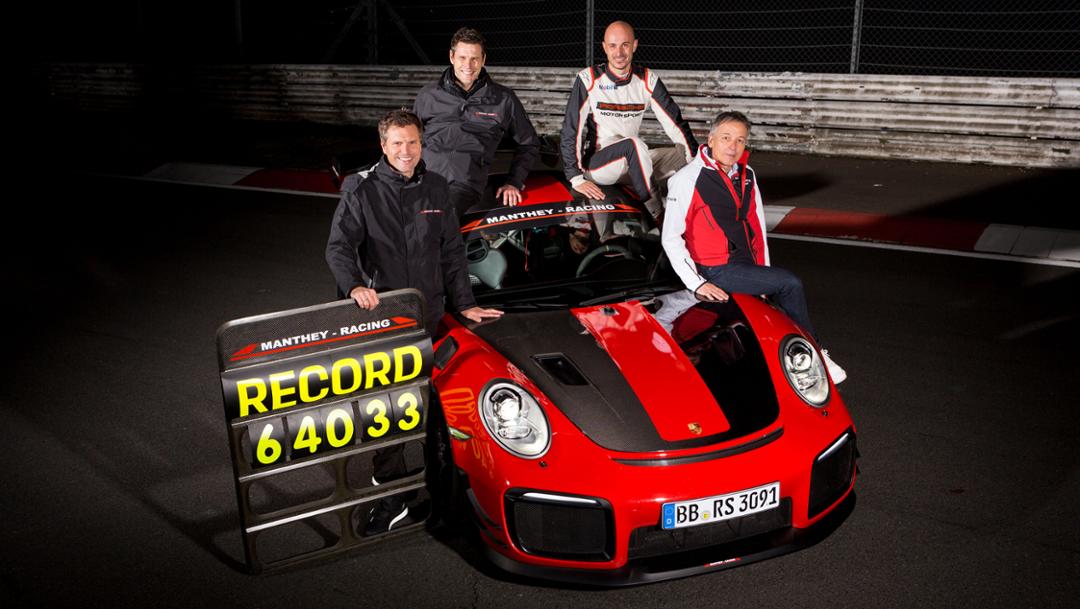 Perhaps more important than the parts themselves was how they were set up. To that end, the GT2 RS was specifically tuned — mainly suspension and aero settings — to tackle the 12.9-mile track.
Aside from the race seat used in the record lap, the full MR package listed above, which is intended for club sport and track day events, can be ordered from Manthey-Racing and fitted to your GT2 RS.
"The drive was great fun," Kern, 31, says. "The balance of the car is also very good with the new package. I did not have to take any great risks to be fast. But I only had one attempt because it was already getting dark. It worked out first time though."
"We kept our eye on the weather all day and thought hard about whether such a drive was possible. We would not have taken any risks if it was raining or if the track was slightly damp," says Dr. Frank-Steffen Walliser, Head of Motorsport and GT Cars.
Porsche's excuse for chasing the record once again: "In this test drive, we simply wanted to assess the potential of the vehicle once more," Walliser says.