Our Porsche 924 — Just a car, yet so much more
Thursday, December 27, 2018
Article by Jim Vinci
Photos courtesy Jim Vinci
At home, surrounded by friends and family, Porsche 924, VIN 9248205023, quietly succumbed to the rising floodwater of Hurricane Harvey at the age of 39. Although almost 40 years old, she still remained spritely and was active until the end on August 28, 2017. Born in Neckarsulm, West Germany in early 1978, she came to America with her family in 1979 and resided in a number of residences in the US, headed back to Heidelberg, Germany, and finally settled in Texas. A fixture in the San Antonio automotive scene for decades, she moved to Houston for the last years of her life. Though the hurricane took her away, she is remembered as a part of the family by her "Mother" Tara Michaels of Houston, myself, her "Grandfather" Colonel James Vinci, USA, Ret, of Universal City Texas, and his wife Joan.
The year I bought it was 1977, and I was stationed in Stuttgart, Germany as a young Army officer. I decided to add a Porsche 924 to our family of three. There were many decisions that had to be made in preparation for the arrival of the new family member, and Tara, just four years old at the time, was as excited about the occurrence as I was.
Once my build order was placed, Porsche AG dealt with me directly and invited us to watch our car being built at the Audi plant in Neckarsulm. Needless to say, we jumped at Porsche's invitation to watch the car being born, which explains how we originally became so attached to the car.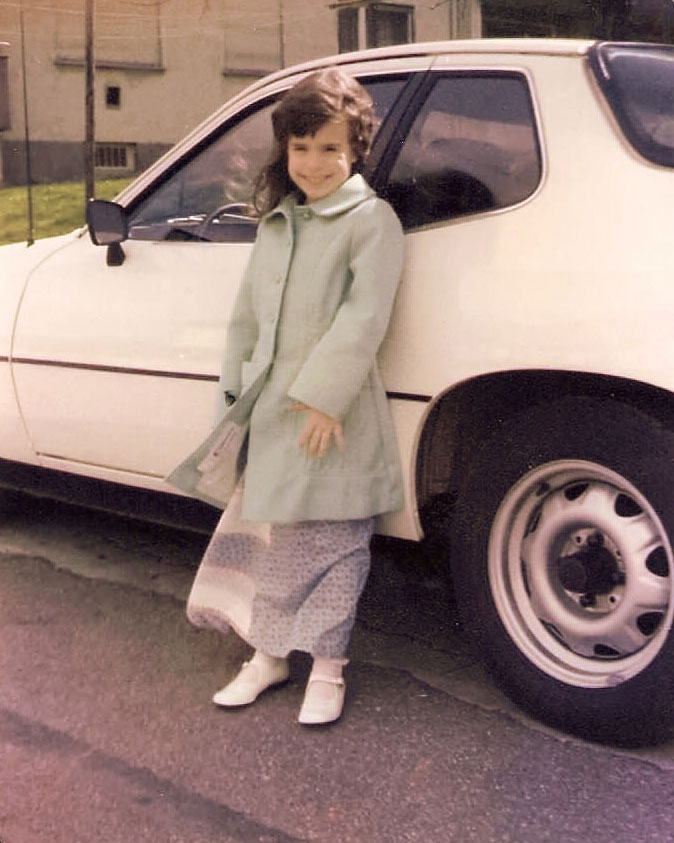 Above: Tara stands with the 924 in the early 1980s.
Another reason for such attachment to the 924 was my daughter's love for the marque. Although only four years old at the time, Tara already was enthralled by the Porsche mystique of speed and style. That affection started at the early age of 18 months, when she would accompany Joan and me in the 911T to the San Pedro Avenue Drive-in Theater. After I had lowered the jump seats, her port-a-crib mattress fit like a glove in the rear. 
When heading out for an evening at the drive-in, Tara knew she had the best of all worlds. She didn't have to stay home with a baby sitter, and she got to go for a ride in a fun car. She learned to tune out the theater noise and go to sleep in her mobile bed. Best of all, she watched her mom lecturing me for driving the Porsche too fast. Once she even had the opportunity of being entertained, visually and audibly, as she watched and listened to me struggle to change a flat tire at 1 AM. For those of you with early Porsches, you'll remember the feeble Porsche jack that had been designed for the 356.
Tara's love for Porsches and fast driving continued while living in Germany, traveling in the 924's jump seat as we sped through the continent. She logged many kilometers (mostly fast ones) on the autobahns. 
She was always very proud of the 924, often reminding her little German kindergarten friends that she had a Porsche. As she grew older, her love for the 924 never diminished, and she often asked when she would be the car's caretaker. Of course, at that early age I thought it a safe bet to tell her that she would have the car if I ever bought a new Porsche. I didn't realize that she would not only remember my words but constantly remind me throughout grade school, during her driving days in high school, and then in her college years at Texas A&M.
I deserved a new Porsche to celebrate my achievements, she would say. I often thought it was pride in her father, but now realize she had ulterior motives. Finally, I bought a 1994 Porsche 911, and of course Tara amazingly held me to my promise to give her the 924. 
It really wasn't that difficult a decision to make. There was great emotional attachment to the car, but it was exceeded by affection for our daughter and the thought that the car would stay in the family. It was time for the car to leave the nest as my daughter had done a few years earlier.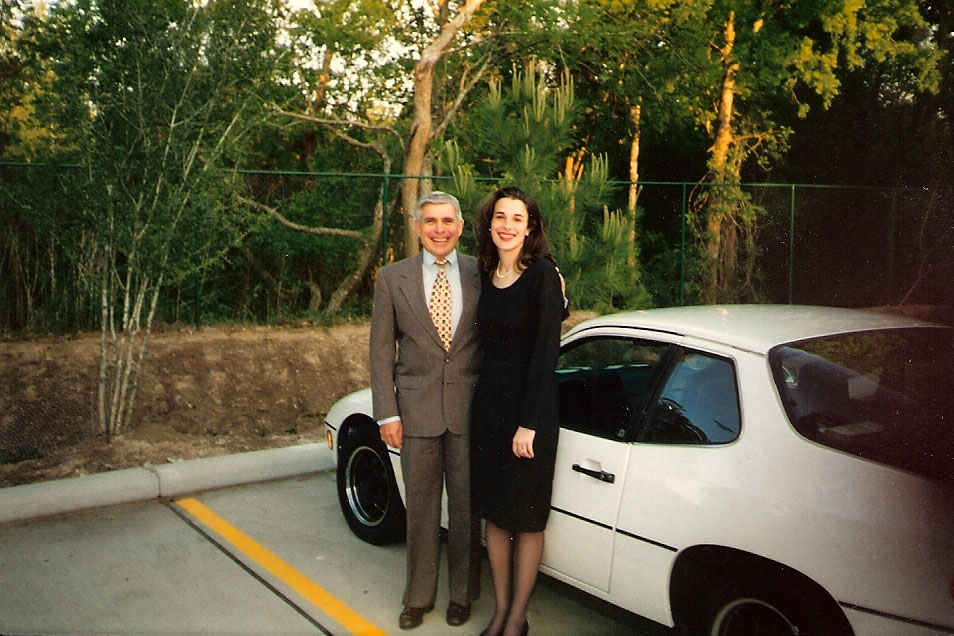 Above: Jim with daughter Tara and the 924 he'd passed down to her.
Tara's three children command her attention now, but she affectionately cared for her '78 Porsche. It was always garaged and under a car cover when not being taken out for its routine "outings." The car was personally maintained by a man named Hans, a German-born Porsche master mechanic who retired as shop foreman from Porsche of Houston. Even in retirement, Hans continued to meticulously maintain the 924 until his untimely passing in early 2017. 
As you can see from the pictures in Germany and then prior to Hurricane Harvey both car and daughter were looking amazing!
Unfortunately, on August 28, 2017 at 12:21 AM, during Hurricane Harvey, the Army Corps of Engineers opened the dams in Houston without warning! Tara's house and their four cars, including the Porsche, were immediately flooded. Tara and her family made the easy decision to evacuate themselves, 11 neighbors, and eight dogs by a canoe my son-in-law owns, leaving most material possessions behind, including the 924. They continued the next day in their canoe to recover important personal papers and articles for many of their neighbors who had no means to return to their flooded homes. They had three feet of water in their garage, but the streets were covered by more than eight feet of water. You can see from the interior picture that the water rose past the door handles and remained for over a week. There was no chance of salvaging her cherished Porsche 924.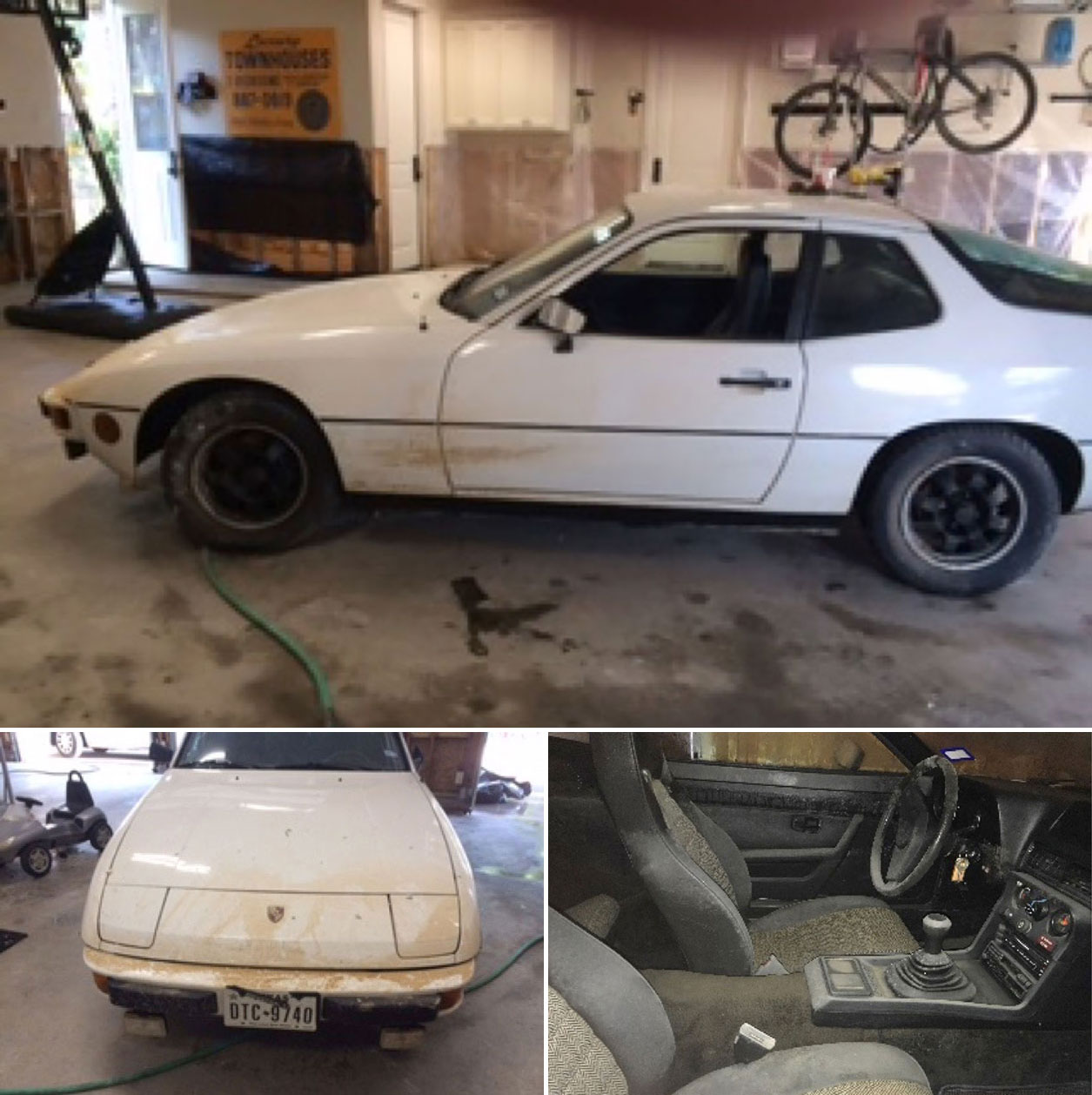 Above: The 924 post-Hurricane Harvey. Water damage totaled the car.
There were family plans in store for the 924. With only 51,261 miles, it was still young in Porsche years. Tara was preparing to pass it on to her high school son, Dylan, but nature had other plans.
Although there is no more San Pedro Drive-in in San Antonio, and we don't drive at two miles a minute on the autobahn, what's most important — even more so than the car itself — is that we still have those special, great memories of our times together in our Porsche 924. Although our plans to pass it on to the next family generation will never happen, she was a family member we'll never forget.