Renting a classic Porsche 911 SC
Tuesday, January 29, 2019
Article and photos by Damon Lowney
In the twilight of my high school years, when my classmates were frantically applying to the most expensive, best universities in the world, I had a conundrum of my own: How could I drive the best cars without becoming a doctor or lawyer? My answer was automotive journalism, but now there's a quicker and easier way: classic car rentals.
The 1982 Porsche 911 SC pictured here is one such rental car, which I procured for a couple days while covering the Scottsdale auctions, using Hagerty's DriveShare app. Hagerty's app/program is not the only one out there, but the company is a friend of PCA's and invited us to use it with a 50% discount, and frankly it's about time we tested and reported back on one of the newest products in the car-tech sector.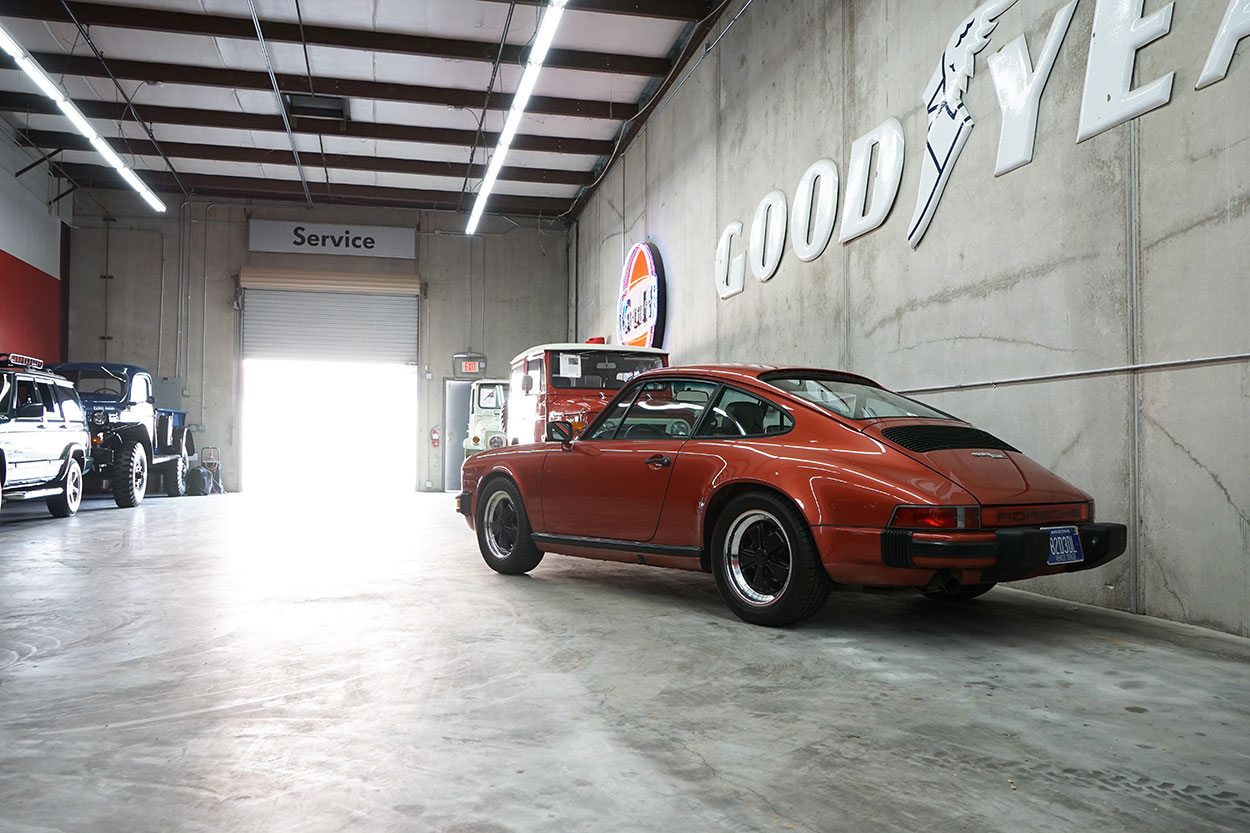 I confess, my heart wasn't initially set on the 911 SC. There were a couple 944 Turbos (aka, 951) listed that were $120 per day, less than half of the SC's $300, and I knew from past experience that a 911 SC is not twice as much fun to drive. Blame the intense interest in anything rear-engined and air-cooled. So I booked a 951, waited a couple days, and then was informed the car was in the shop. I quickly learned the other rental 951 was also in the shop, leaving me with one option. First lesson: Be sure to book your DriveShare rental well in advance to avoid any scheduling issues.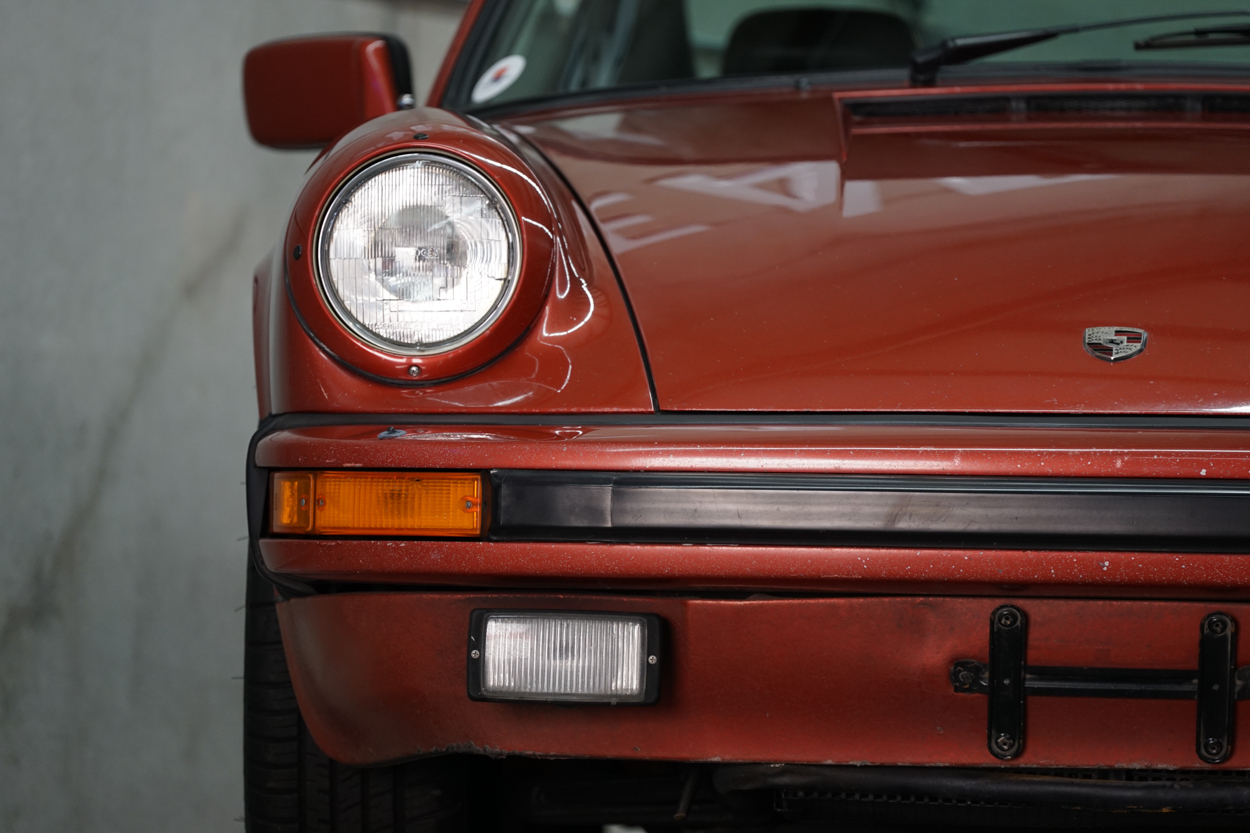 So I booked the 911 SC from Jon Morley, owner of Canyon State Classics in Tempe, AZ, a business that buys, sells, and consigns cars, and will even help you find the one you're looking for. In the "showroom" garage space, I was surrounded by a classic Toyota FJ Cruiser, a Rolls Royce, a 981 Boxster S, and more. Though a share of DriveShare rentals are owned by auto industry business people, private owners list their cars to rent as well.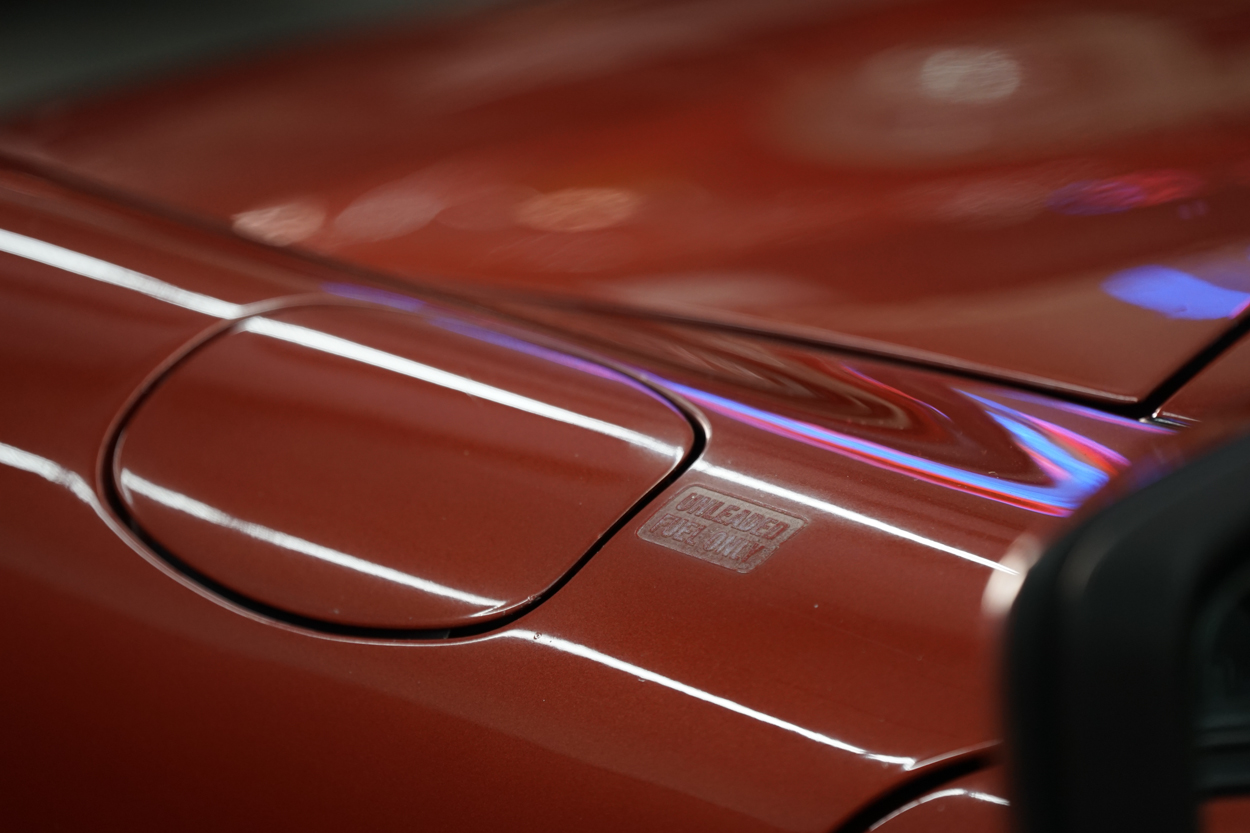 "It's a very visceral car," Morley stated in a phone interview. "You're very connected to the car in every single way," he continued, with notable appreciation for the air-cooled 911's reputation as a driver's car. When asked about why he put his 911 SC up for rent, he said he decided to do so when he learned of the DriveShare program, though he had been considering renting on Turo, another rental car app, for awhile. He wanted to explore ways to make a little money on a car that was otherwise sitting on his lot, waiting to be sold.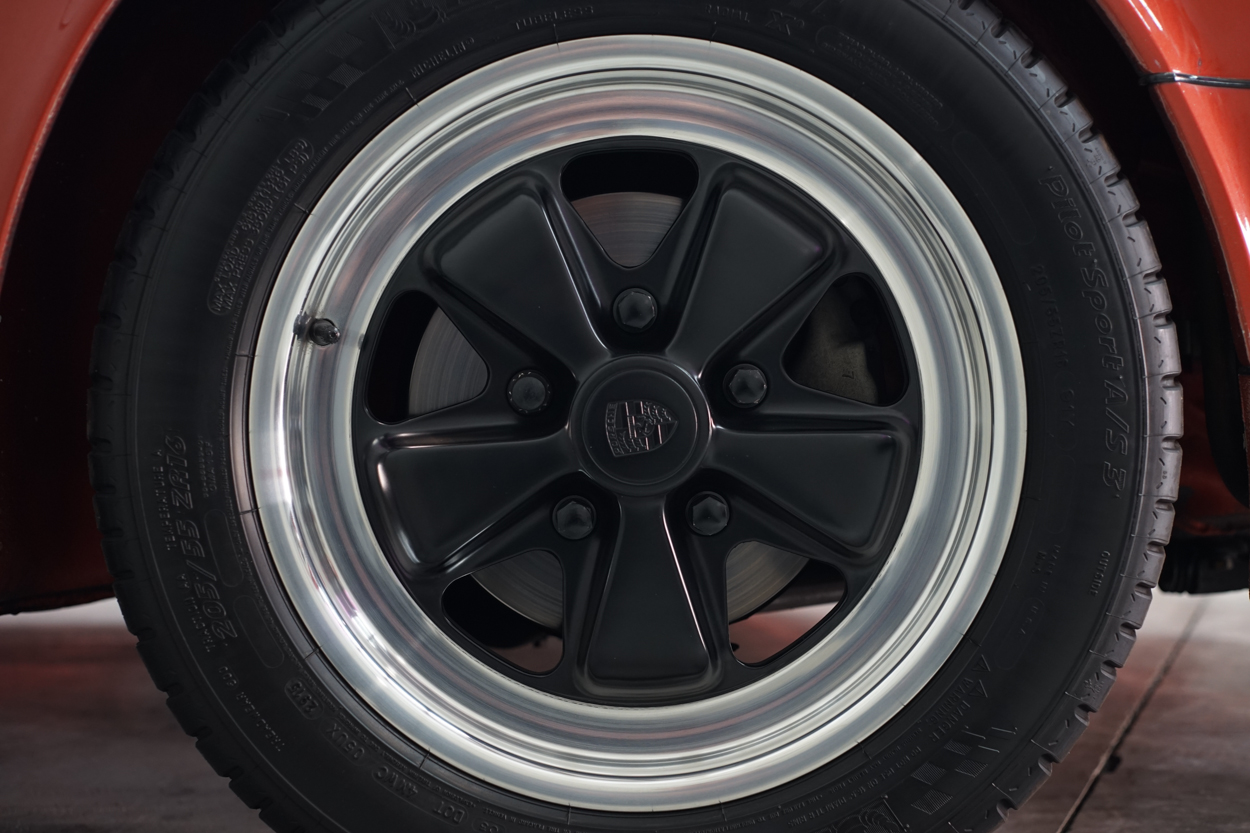 Commenting on the steep, $300 per day pricing, he said, "It's not going to be for everybody. The higher price encourages people to really think about what they're renting, and that it's not an inexpensive car." Hagerty also verifies the validity of each renter's license and that his or her driving record meets its standard before rentals are confirmed. Morley added, "An '80s SC coupe is the car you want to experience if you're going to experience an air-cooled Porsche."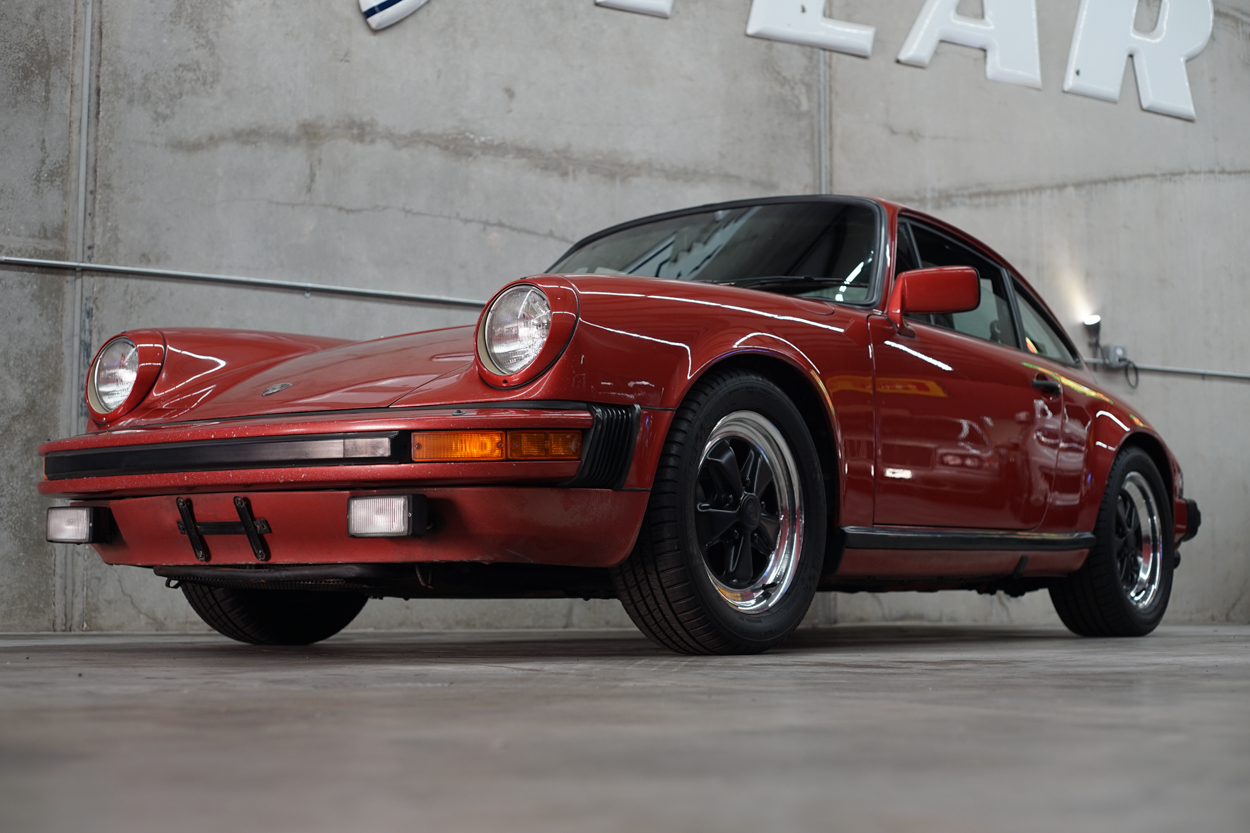 To prepare for my arrival, Morley had a bit of preventive maintenance done to the car so I wouldn't have any problems during my two-day rental. I might add, be sure to pay attention to any notifications you receive from the app, as they will pertain to important details of the rental, including instructions for the check-in process, which is crucial and includes taking photos of the car at various angles as well as a picture of the dashboard with the odometer in view. Once I was finished taking photos, I hopped into the Wine Red 911.
---
I've heard people make a common utterance to air-cooled 911 virgins almost everywhere I go, and it's the truth: You must drive one to know what you're missing. No other car Porsche has made since the 1960s comes close to replicating all the details that make up the 911 experience. So, once I was seated in the brown leather interior, I took a few minutes to familiarize myself with this quirky little sports car. The first thing I notice is the unadjustable steering wheel, which is placed a bit too low and far away for my total comfort. I then slide the seat forward and do my usual dance to find my preferred distance from the pedals — with my left foot on the clutch, there's a slight bend to my knee. I take note how the floor-hinged clutch and brake pedals are trying to fold my feet into my shins, and then give the gear lever a few rows.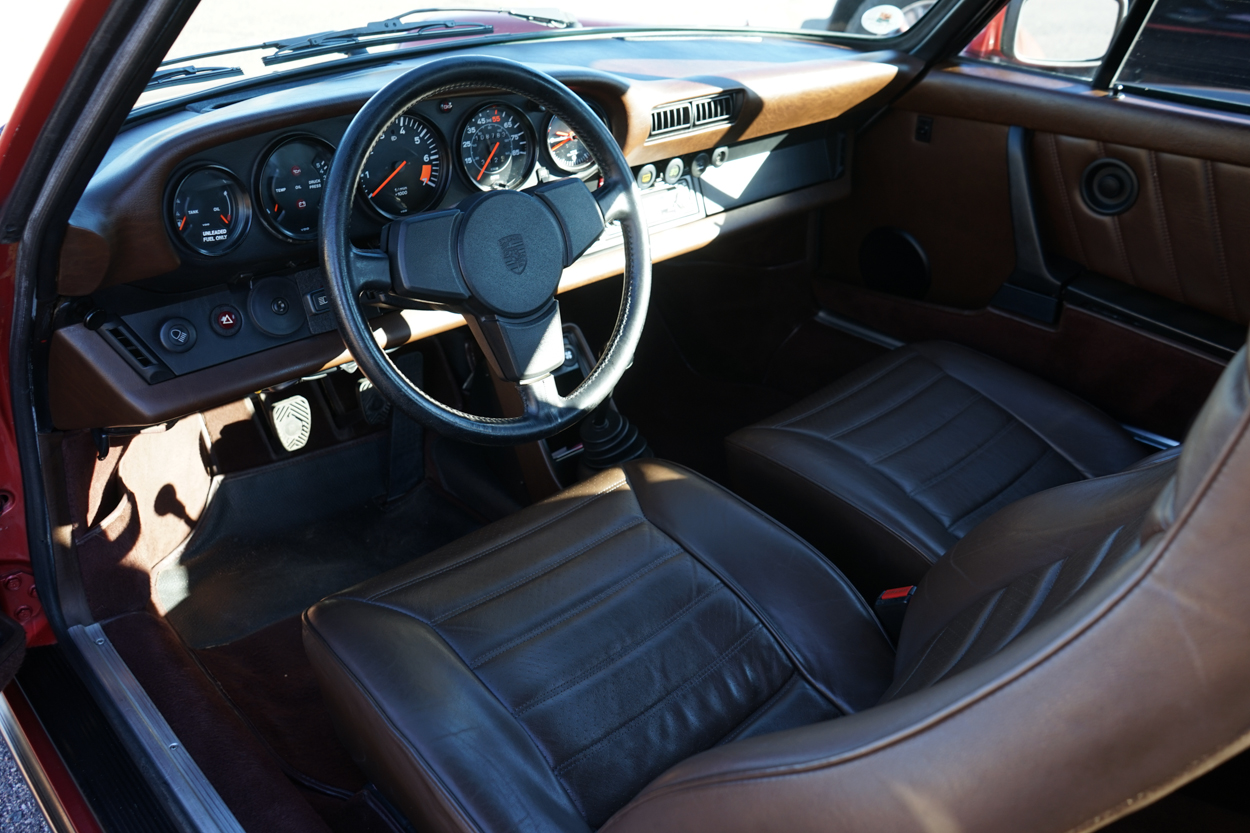 The Type 915 gearbox that was found in every manual 911 from 1972-1986 deserves it own introductory paragraph because it feels nothing like any modern manual transmission. From my past experiences with this gearbox, my dislike for it was already known. The quirkiness starts with your first grab of the shift lever. You'll notice it does not return to center when in neutral; it will stay in whatever position you leave it, between first and second, third and fourth, or somewhere in between. (There is a spring detent that keeps the lever out of fifth gear and reverse unless a bit of force is applied.) The lack of a return-to-center spring is likely to give first-timers the impression that the gearbox is broken, even though it isn't, and initiate fears of selecting first when going to third. After re-familiarizing myself with the transmission, I turn the left-hand ignition, reach down for the shifter next to the seat's bottom bolster, and pull left while pushing it up into first. I roll gingerly onto the gas pedal, ease off the clutch, and am on my way.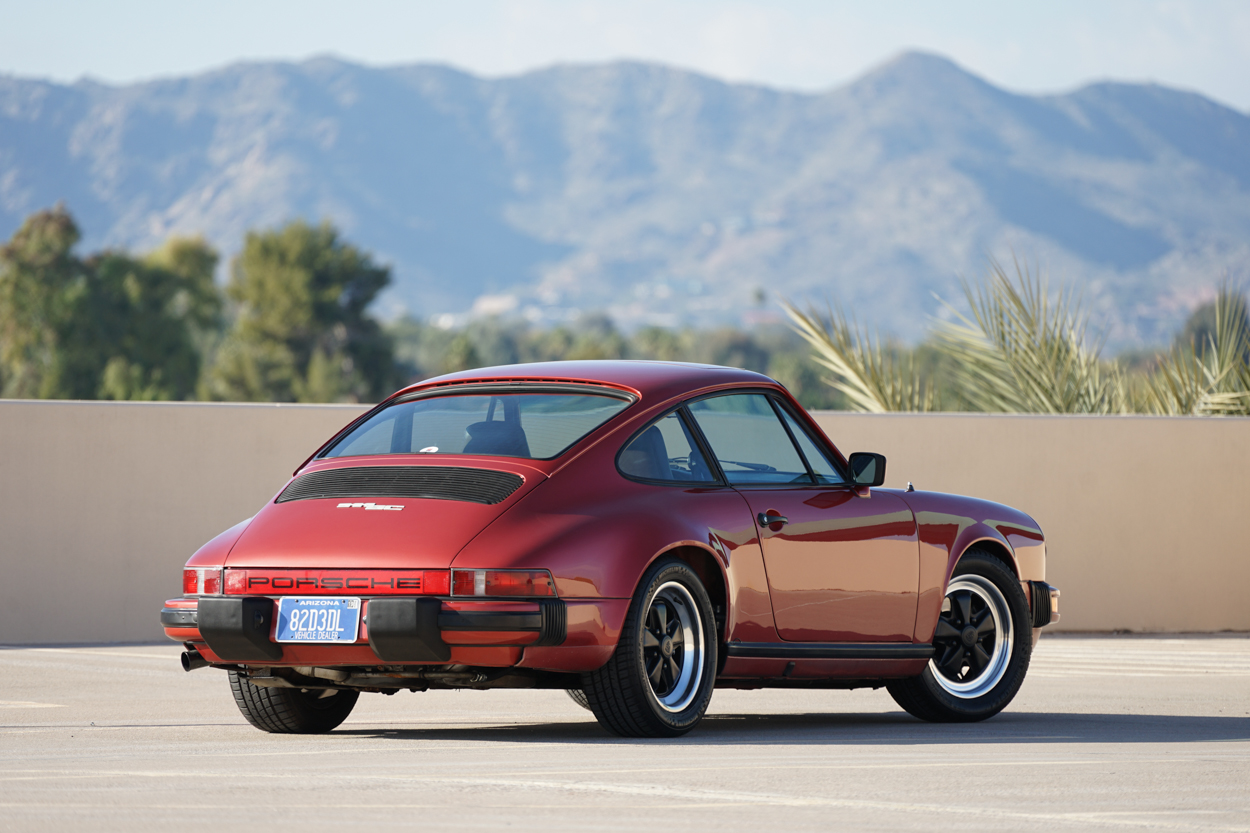 The SC's 3.0-liter flat six up to 4,000 rpm makes a sound that's nothing to write home about. A nice burbly idle is followed by increasingly louder noise as the revs climb, without much of the endearing flat-six wail. As I drive away from Canyon State Classics, the engine is buttery smooth and imparts the feeling of quality, regardless of the noise it's emitting. And then it's time to shift.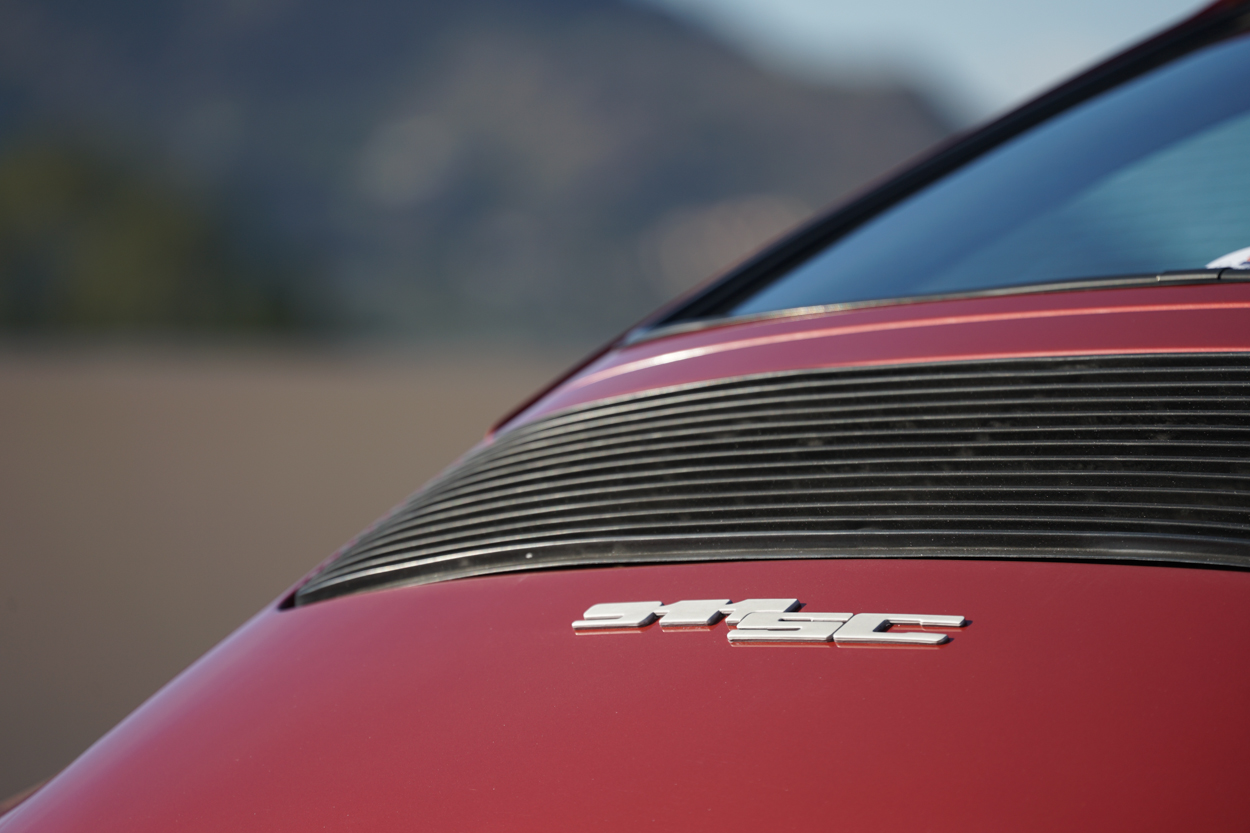 Approaching 4,000 rpm, I grab the shifter, roll onto the clutch pedal and off the gas, pull it out of first and into second, and complete the shift. It was not smooth, and smooth shifting is a point of pride for me. The 915 had reared its head in protest. I continued to make inconsistent, jerky shifts, and even asked knowledgeable 911 owner and Porsche Panorama contributor Nathan Merz, who was also attending the auctions, if there was something wrong with the transmission. Nope, it's fine, he quipped. He suggested that I slow down my shifts to smooth them out, because the 915 doesn't take well to quick shifts. I took his advice, slowing gear changes to what seemed like a snail's pace, and pretty soon I was able to go from gear to gear without upsetting the car. From there I worked my shift speed back to normal, which gave me a sense of accomplishment I don't normally have when learning to shift an unfamiliar car.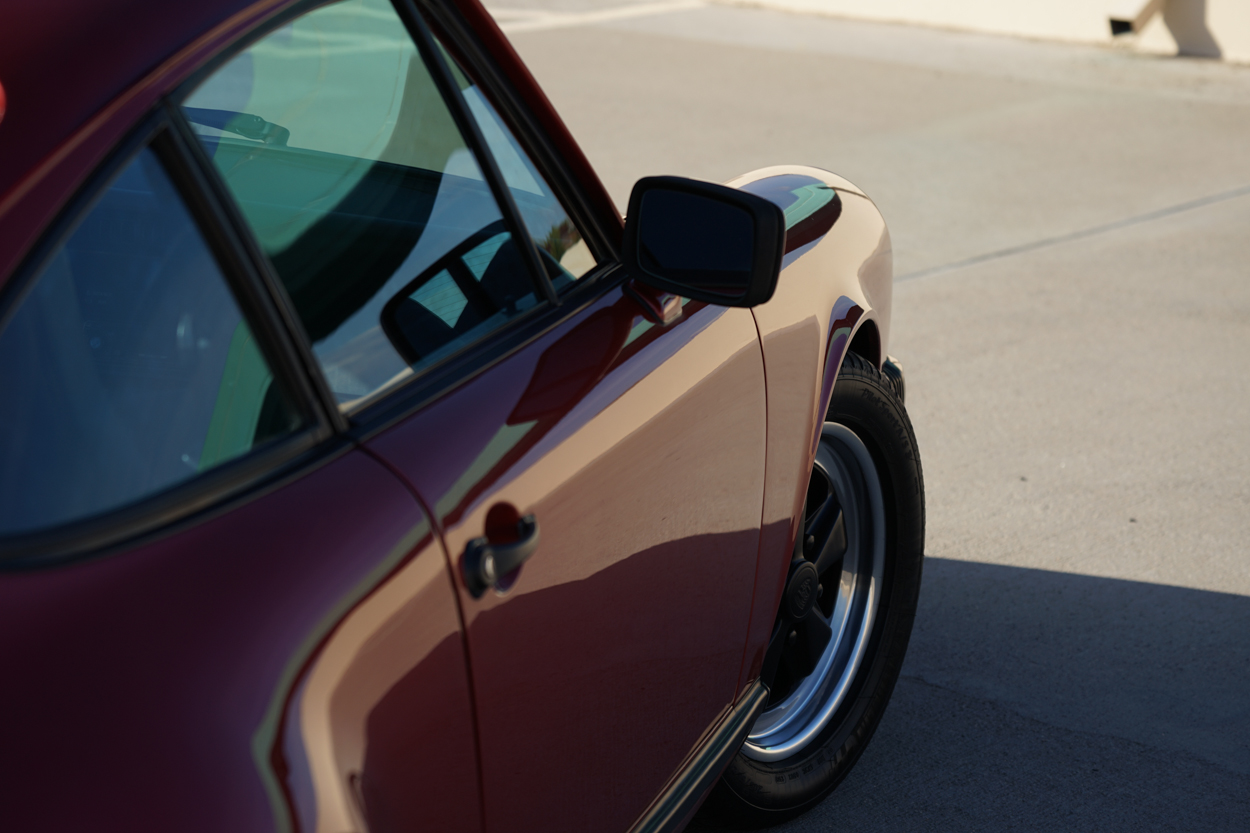 For the first 100 or so miles, I drove the 911 SC to my hotel, various auctions, and a dinner out in the suburbs of Scottsdale. The roads in the Phoenix/Scottsdale area are mostly straight with a lot of traffic, and the 911 felt at home in this environment. A clear view in all directions and of all four corners of the petite sports car made it surprisingly joyful to navigate traffic, the peppy 180-horsepower engine allowing me to accelerate and slot into small openings and take off. An air-cooled flat six likes to be kept at or above 3,000 rpm, good for second- and third-gear cruising up to about 50 miles per hour and giving it the beans in a split-second's notice. It was in this environment where I first opened the taps and held second gear until the 6,500 rpm redline, leaving the traffic in my dust.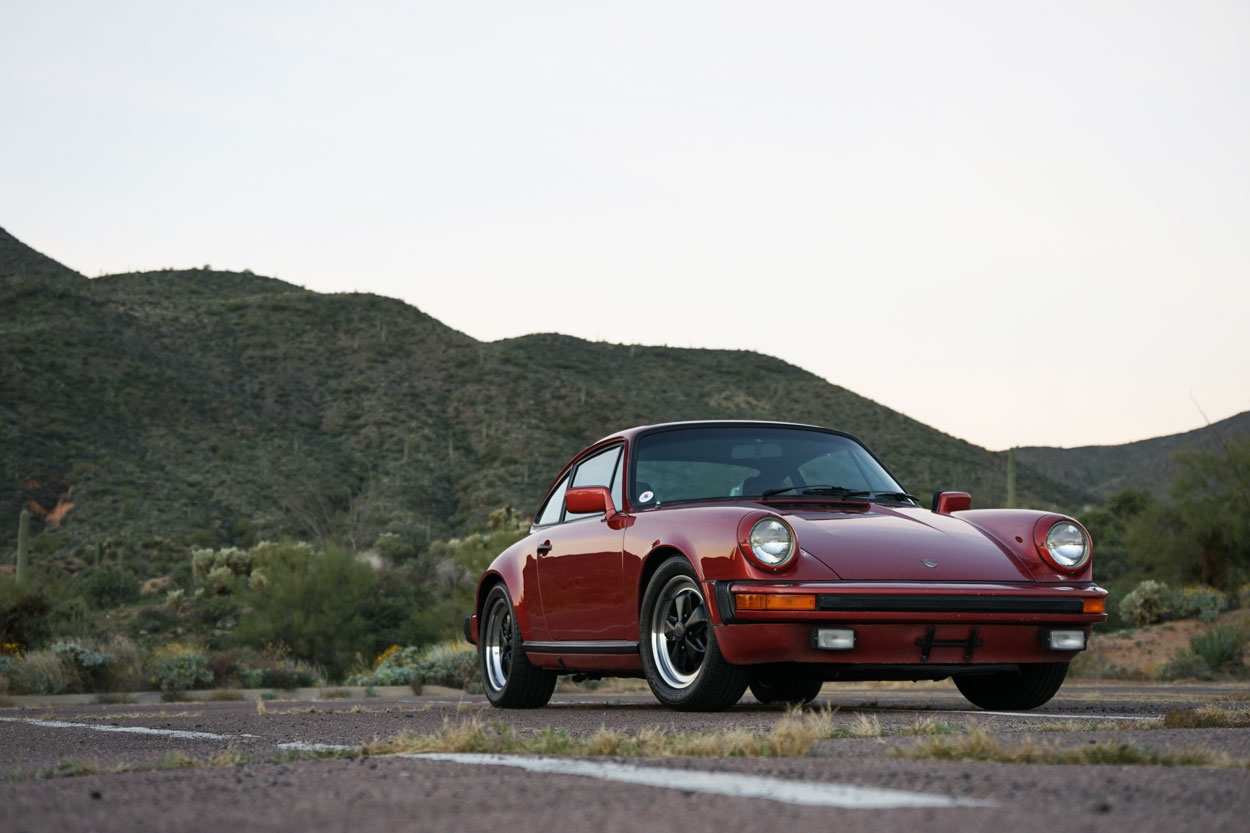 The first time you experience full throttle past 4,000 rpm in an air-cooled 911 is when the magic really begins. Until then, a 911 is a pleasantly small car, with an annoying transmission, that transmits a lot of noise and the texture of the road into the cabin. The cacophony of noise and sensations is a bit overwhelming in daily driving, and it's not until that first hit of real speed with the flat six wailing behind you does it all come together and start to make sense. So much sense that you start thinking about what the car would be like on a twisty back road.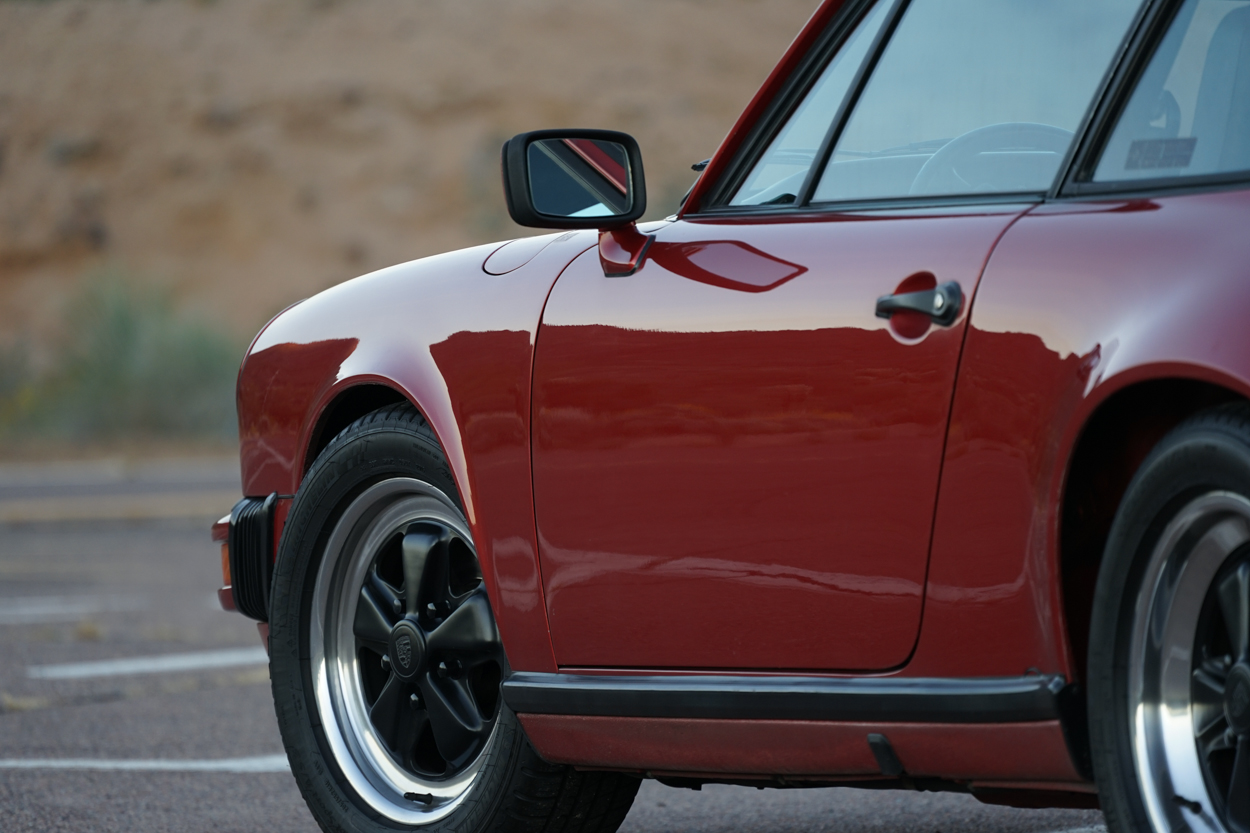 At 6 AM on a Saturday morning, nine hours before I was scheduled to return the rental, I headed out to the closest twisty road I could find to stay reasonably near the 200-mile limit (+$0.75 per extra mile) of my rental agreement. This turned out to be Bartlett Dam Road, aka, Service Road 205, leading to Bartlett Lake and an outdoor recreation center. The 13.5-mile road has a nice mix of tight corners, elevation changes, and sweepers, all while descending into a picturesque valley, giving me a chance to evaluate the rear-engined sports car's handling at about six- or seven-tenths of my self-perceived driving ability — and take some nice pictures. At the start of the service road the sun was barely glowing over the horizon. I stopped for a moment to gather my senses, and only one vehicle drove past, a pickup truck towing a small boat. I waited a minute, slid into the 911, engaged first gear, and took off.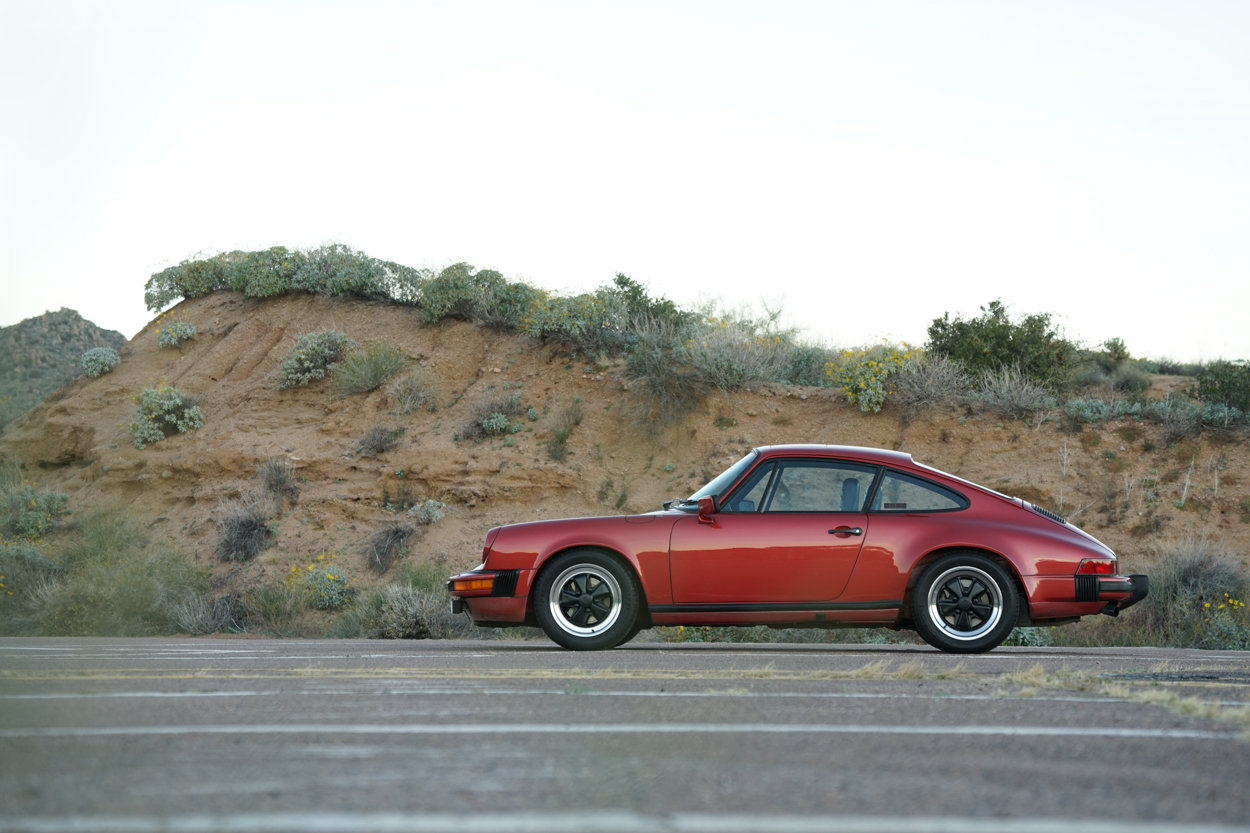 During any spirited drive in a 911, be it air- or water-cooled, I am always wary of the heavy rear end and the effect it has on the balance of the car. I tend to exaggerate any rule of thumb I have about staying safe while driving fast. Brake in a really straight line. Slow down earlier and more than what's needed for a turn. Be extra judicious coming off or getting onto the throttle. And, in the case of a 911 SC, there is no anti-lock braking system, so no standing on the brake pedal. Basically I drive like I'm on a set of cold racing slicks. And of course, this isn't my 911, it's somebody's pride and joy. For peace of mind, DriveShare by Hagerty provides $1 million of liability insurance and agreed-value insurance for any physical damage to the car during DriveShare rentals — a key feature of the program is to make sure renters and car owners are protected.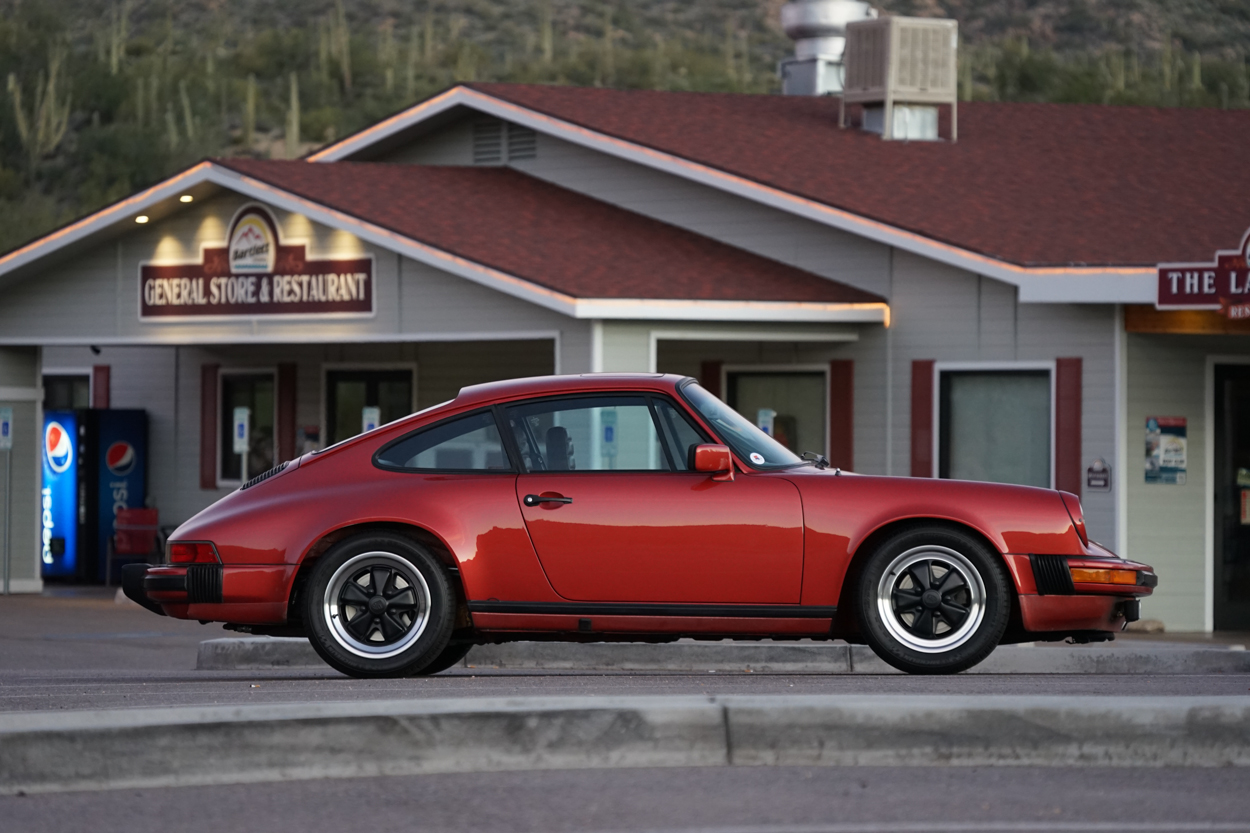 The nice thing about a 911 is that what many may perceive as flaws in normal driving are assets when the speed picks up, the aforementioned low-speed cacophony turning into vital communication. No need to look at the tachometer to time an upshift when the engine's howl turns to a scream a few hundred rpm before redline. The Michelin Pilot Sport A/S 3 tires fitted would send a thump through the chassis over the smallest ripple, while the steering wheel would tug at my fingertips when the camber dipped at the edges of the road. On the throttle over a crest, I sensed through the steering wheel and the seat of my pants exactly when the front tires, followed by the rears, lost and then regained grip. All of these sensations are present in most Porsches, just not with the same clarity.
I made it down to Bartlett Lake a little before 7:30, snapped pictures until the sun crested the surrounding mountains, and then turned around to head back to my hotel 50 miles away. The drive back up the service road was fun yet uneventful, as was the slog on the freeway heading towards Phoenix. I decided to get some coffee, exited the freeway, and pulled onto a boulevard.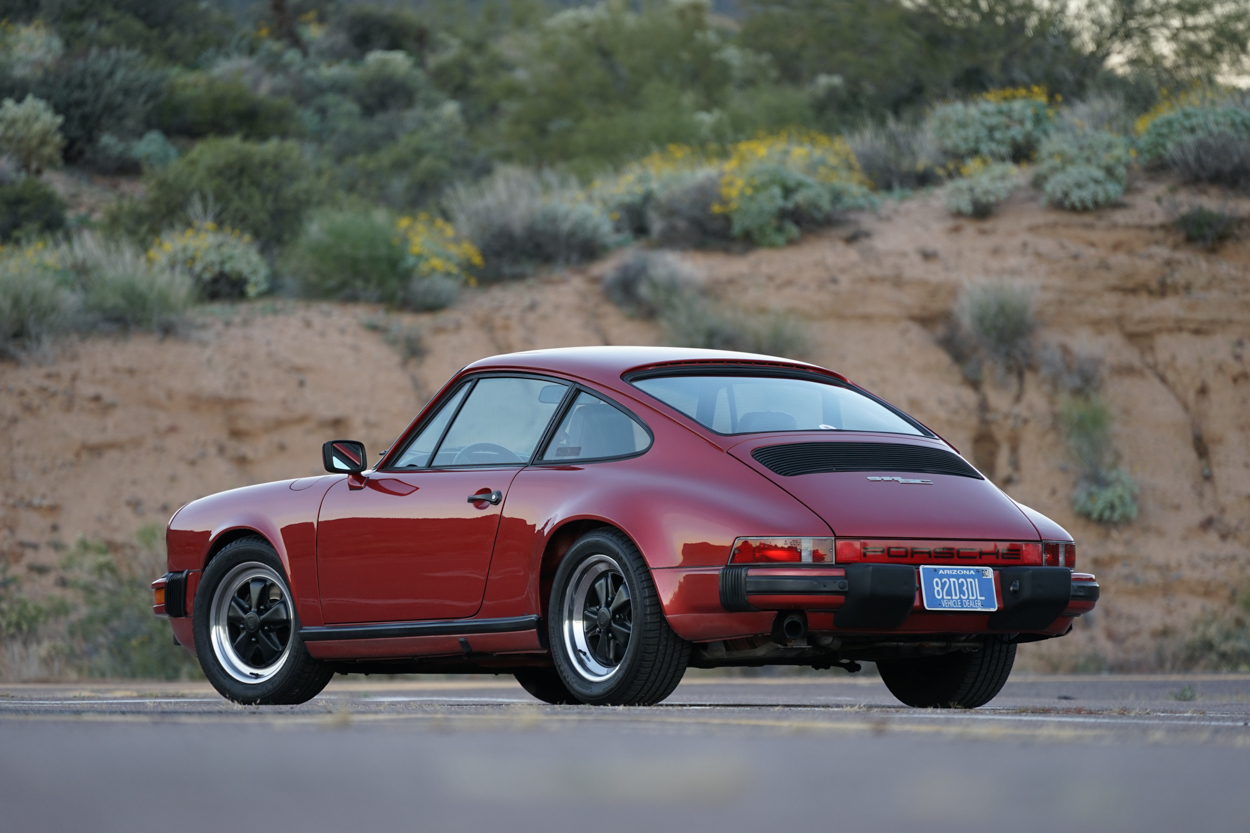 The Starbucks was just 1.7 miles down a large, straight, multi-lane road. It was along this stretch, cruising at 50 mph, when something in the front-end of my rental 911 SC started making a metallic scraping noise that correlated to speed. When I touched the brakes to slow for my turn into the Starbucks parking lot, the steering wheel pulsated and tugged to the right. I parked the 911, called owner Jon Morley, and told him the car would need a tow. (DriveShare includes Hagerty roadside assistance, but I opted to call Morley.) After he picked up the car, I took a Lyft back to my hotel.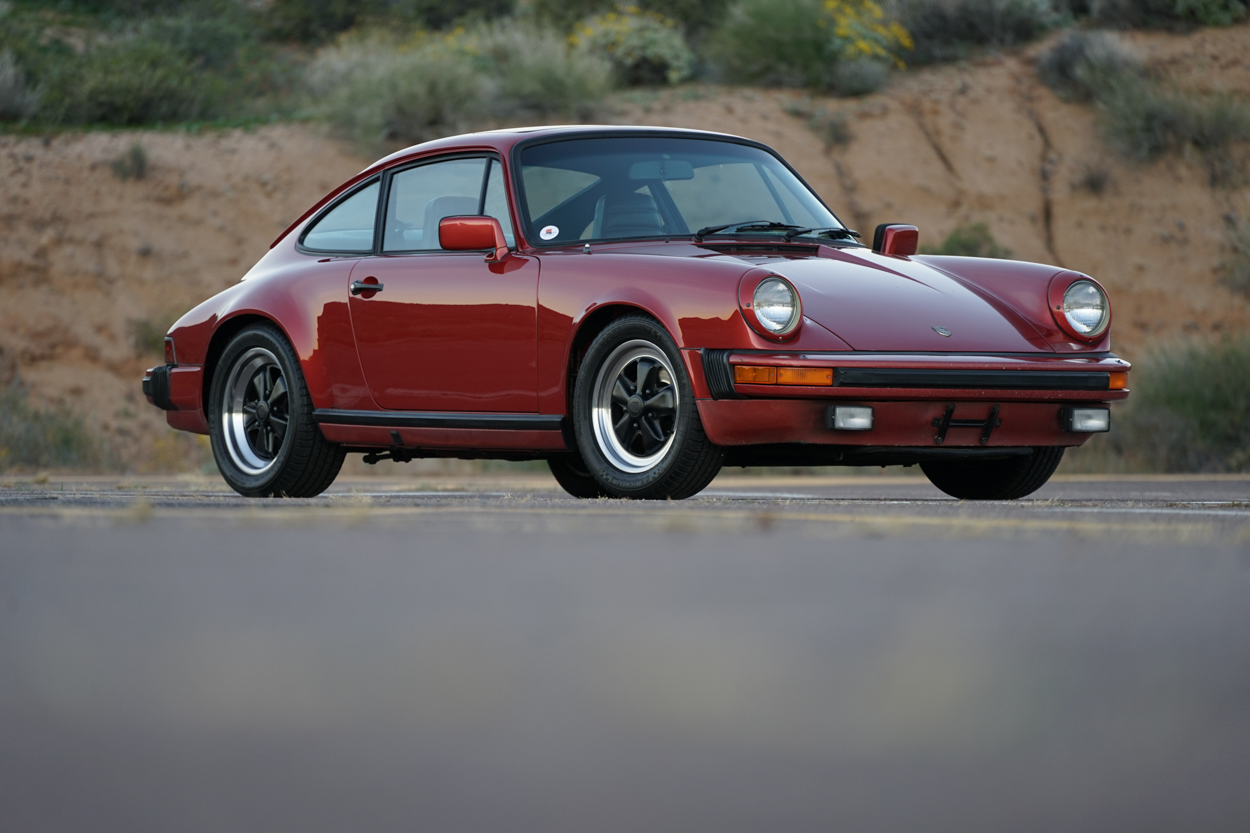 It's somewhat unfortunate the rental ended this way, but the more I thought about it in the following days, the happier I was that I got the full classic car experience when the Porsche was in my care and not yours. Things break on cars approaching 40 years old, even with only 108,000 miles on the odometer, a point that should not be lost when choosing a vehicle rental for your next trip. As far as anyone who saw the car or I could tell, this 911 SC is a solid, well-maintained car with original yet honest, stone-chipped paint and no rust. A car that's been loved and driven over the course of its life, with updated chain tensioners and even the requisite aftermarket air box pop-off valve. Yet it still broke and shifted my day's schedule back a few hours. If you absolutely need to be somewhere, maybe a classic car rental isn't for you.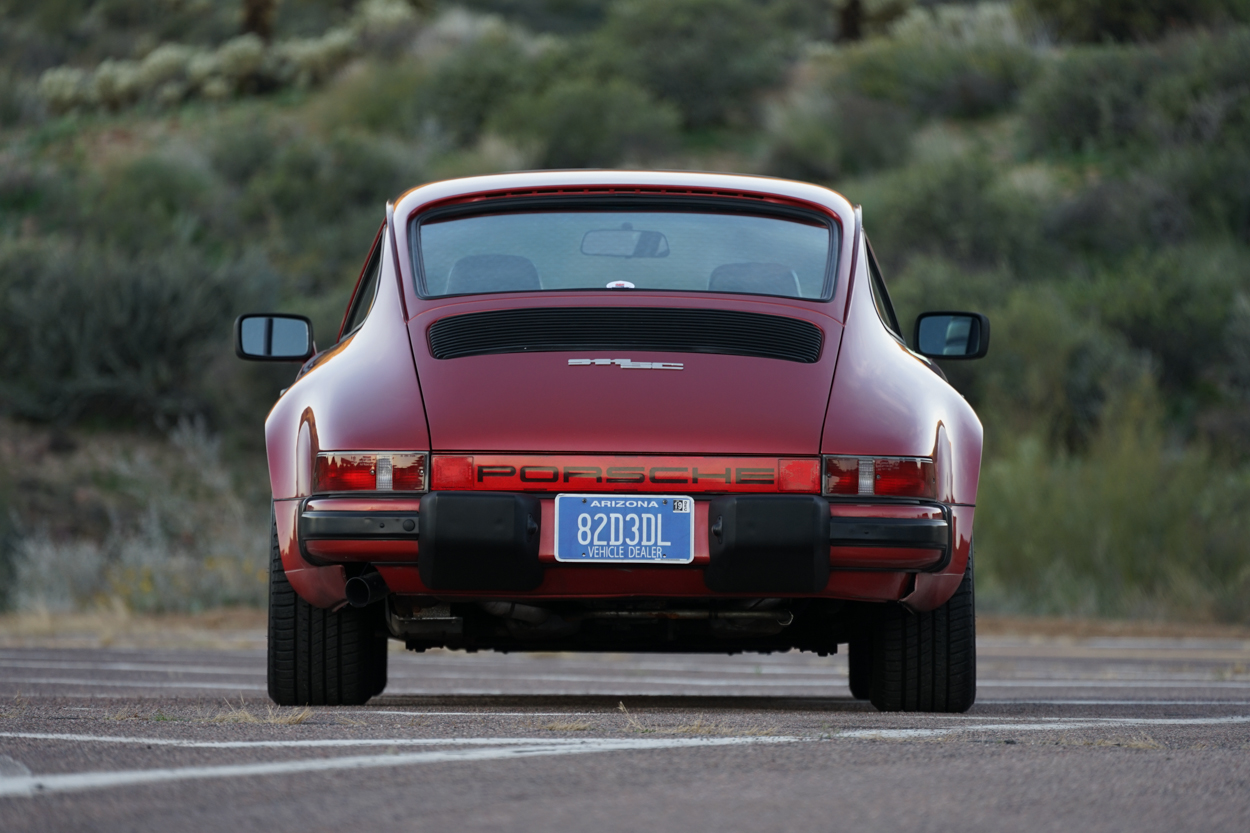 On the other hand, if you're 30 or older and want to experience your dream car for a day, or even use a day's rental to figure out whether or not a car you're interested in buying is something you'd actually want to own, DriveShare, and potentially other similar rental programs, is a great option.
Morley echoed my sentiment. "I think it's a really good way to decide whether or not you want to own a car like that," he said. "It's hard to feel something out in a standard 10-15-minute test drive. It helps them decide whether they want to make that investment."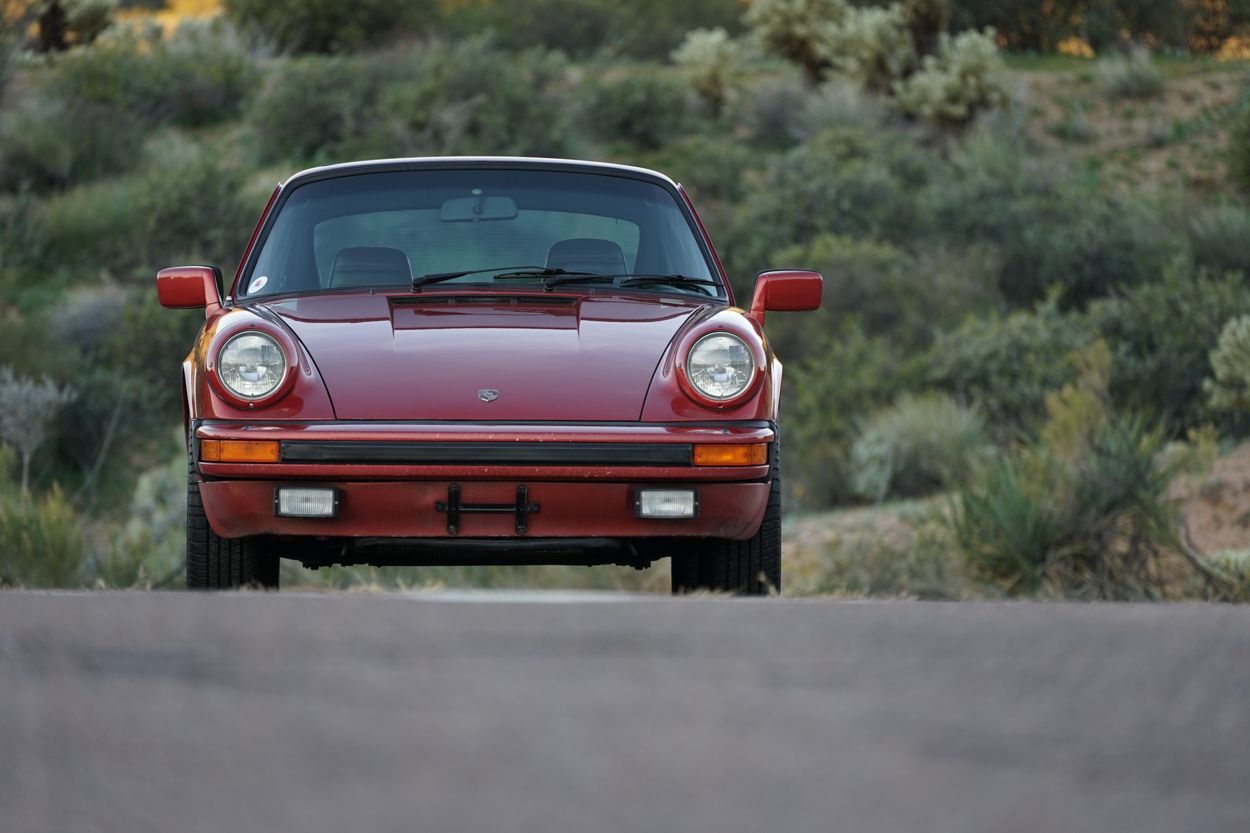 If I were in the market for an air-cooled 911, the opinions I've formed over the course of my two-day rental would have significant weight in my final decision. For example, my main criticism of the 911 SC is that I don't like the 915 transmission, yet I'd still be happy to live with it because I'm not so sure finding a G50-equipped Carrera (1987-89) is worth the price premium. In fact, by the end of the rental, learning to master the 915 transmission had become a positive part of my experience. For some, that will not be the case. 
Our final conclusion: Give Hagerty's DriveShare app a try — or visit www.DriveShare.com — if you have the itch to drive something you've never driven before and have the means to do so. You're going to have fun, and you're bound to learn something new.