Barnfinding: Blue Greed
Tuesday, February 12, 2019
I'm Adam Wright, and my brother Matt and I scour the country for long-lost Porsches. Some of our adventures make great stories, which I will share with you starting with this article for PCA.org. I hope you enjoy it and future tales. And if you have any stories you want to share, please do — I enjoy writing about other people's escapades far more than my own. Please email me adam@unobtanium-inc.com
---
Greed: It's one of the seven deadly sins, right between lust and pride. Pride I can deal with in this business and lust does not come up much, at least not in a scary way. But greed, it's a relatively common sin. Sometimes it comes at you sideways, as it did with this 1973 Porsche 911T Targa.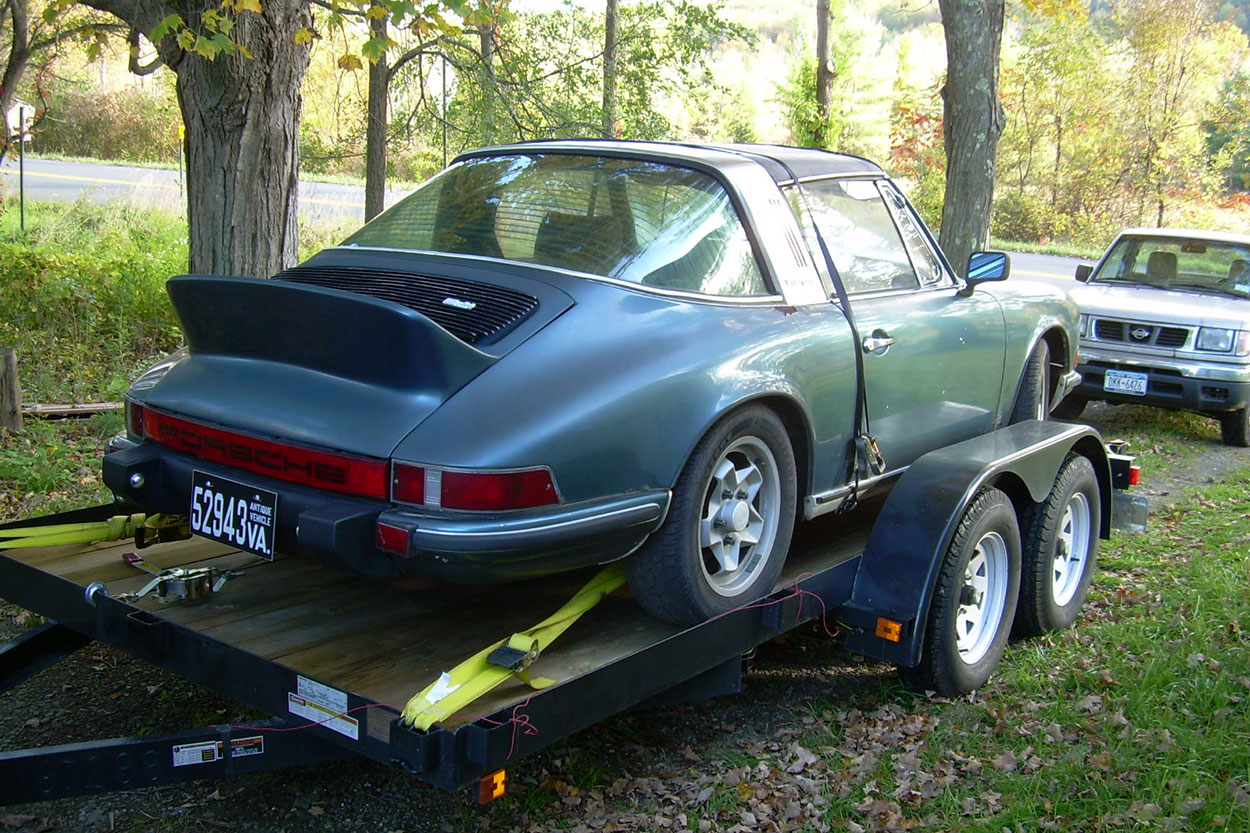 We saw an ad pop up for the car at a cheap price on The Samba. This was years ago, when it was still primarily a Volkswagen site, so when a Porsche popped up you could still snag it.
The deal happened fast. We were at a restaurant and immediately sent money to the guy from my sister-in-law's phone using PayPal. This was new technology at the time. I think we bought the car for around $3,000.  
The story was the car was complete but had been sitting for a number of years and the seller did not want to get it running. The shop where it was located had quoted him a really high price to clean out the mechanical fuel injection (MFI) system. So there it had sat, for 2-3 years. The seller was apparently undecided on what he wanted to do with the car, but had recently been given the opportunity to buy into an energy drink company, so he was liquidating anything and everything. Luckily for him the shop owner was very patient and the car was just sitting there — what a nice guy, or so all of us thought.
The seller told us where we could pick up the car and said he would let the shop owner know we were coming. The shop owner was anything but nice when we arrived; he was downright pissed off! The question we had was why? The car had been at his shop for years, so why was he mad all of a sudden? The answer revealed itself fairly quickly when we arrived. Apparently he had a side hustle in which he would give people extraordinarily high estimates for doing work, they would think about it, and eventually just leave the car with him. He showed us no less than six 911s that were just sitting there, presumably waiting to be signed over to him. It was very strange.
From what we could gather, people would forget about the cars, or someone would die, or he would hit them with a storage bill, and they would just tell him to keep the car. Well, the seller of our 911 had foiled his plan, and now he saw one of his 401k cars leaving with the Wright brothers. He demanded money for storage, and since it was now our car, we ended up paying.
His greed had driven him to decide to get a pound of flesh from someone, anyone, might as well be me. We had bought the car at a good price, so he could have as well. But he didn't want to make a fair deal, he wanted the whole pie, and now he was getting nothing for his three-year "investment." He was red-faced about it.
So we paid the storage, loaded the car, and then looked inside it. The seats were draped in these Native American blanket-style covers, but my brother eyed the shape of the seats and his eyes lit up. He reached in and pulled a seat cover off, and guess what the car had? The elusive and very valuable Porsche sport seats. The seats themselves paid for the car, so this deal was only getting better.
The shop owner came out while we were strapping the car down, saw we had the seat cover off, and mentioned how valuable the seats were. Again, he could have made a deal for the car, pricey seats and all, for not a lot of money. But since he was only happy with a free car, he ended up with nothing, other than a hastily arranged storage bill. 
We swapped the seats out for regular seats, the sport seats paid for the car, and the sale of the car was all gravy — a good deal.