PCA Club Racing brings USAF Thunderbirds to Rennsport Reunion VI
Tuesday, February 26, 2019
Article by Ryan Carignan
Lead photo by Staff Sergeant Ashley Corkins
If you were at Rennsport Reunion VI this year on Saturday or Sunday afternoon, you likely saw a unique sight that had nothing to do with the action on the track. A perfect, precision fly-over of F-16s performed by the US Air Force demonstration team, the Thunderbirds. You may have wondered how Porsche managed to orchestrate that feat typically reserved for Super Bowls and World Series games; the truth is that Porsche didn't, but a familiar PCA Club Racing face did. 
Club Racing is a unique blend of grassroots racers and gleaming professional teams unloading haulers full of race cars — it is one of the things that makes Club Racing so special and successful. One of the teams that is well known throughout the paddock is Mark White's group from Waunakee, Wisconsin, Accumoto Motorsport. If you're not familiar with White or his shop, you probably have seen his handiwork in the paddock, at Rennsport, in the pages of Porsche Panorama, or on the cover the last edition of Club Racing News. If you find yourself staring at a meticulously built E Class air-cooled 911 with a livery that "tips the cap" to race cars of Porsche's past, you're familiar with what Accumoto does.
Teams like Accumoto Motorsport provide places for people to learn and perfect a craft, develop their talents, or learn new ones. That is how the story of the Thunderbird fly-over begins, with a job offer to a mechanic who was looking for a change of pace.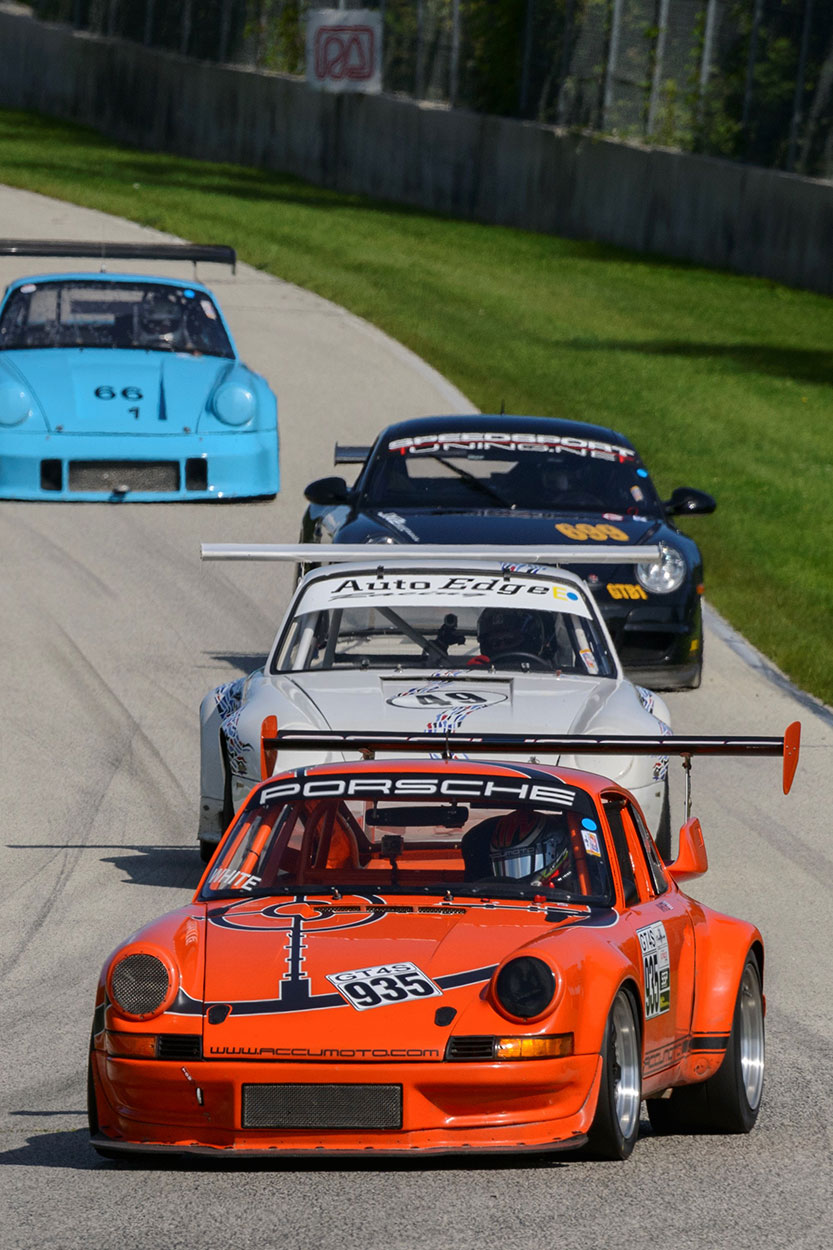 Above: An Accumoto Porsche 911 leads the pack during a PCA Club Race. Photo courtesy Mark White
Justin Beach had always been into cars and racing, and knew he wanted to make a career for himself in the auto industry. In 2003 he went to the Madison Area Technical College located in Madison, Wisconsin for a two-year Automotive Mechanic degree. "That wasn't enough, so I went back for another two years for an Automotive Collision degree, and that's where I was picked up to be a tech for a racing team," said Beach. He interviewed with Wisconsin-based Kelly Moss Road and Race (KMR), for a position as an auto body specialist/fabricator and got the job. "Kelly Moss is where my love for Porsches and racing was developed," he said.
At KMR, Justin learned that working in a race shop meant doing things a little outside the normal job description. Employed as an automotive body repair technician, he soon found himself working on everything from nut-and-bolt restorations of early 911 RSs, RSRs, replicas, hot rods, etc., to one-off custom builds, carbon fiber repair, and metal fabrication. As Beach put it, "it was definitely not your 'normal' automotive collision repair technician's responsibilities."
After working at KMR for a few years, Justin started to moonlight on nights and weekends at Accumoto, detailing race cars and customer cars at the shop. "He was initially referred by a good friend as a detailer," said White. "I contracted him for a couple projects that he ultimately did a great job with."
While he enjoyed his work in racing, Beach had also developed a desire to serve in the military. A close friend was an active duty fire fighter and did a good job of recruiting Justin. He was convinced that military service would help broaden his abilities and make him a better person. The prospect of going from working on race cars to working on fighter jets was intriguing, and he decided to take the plunge.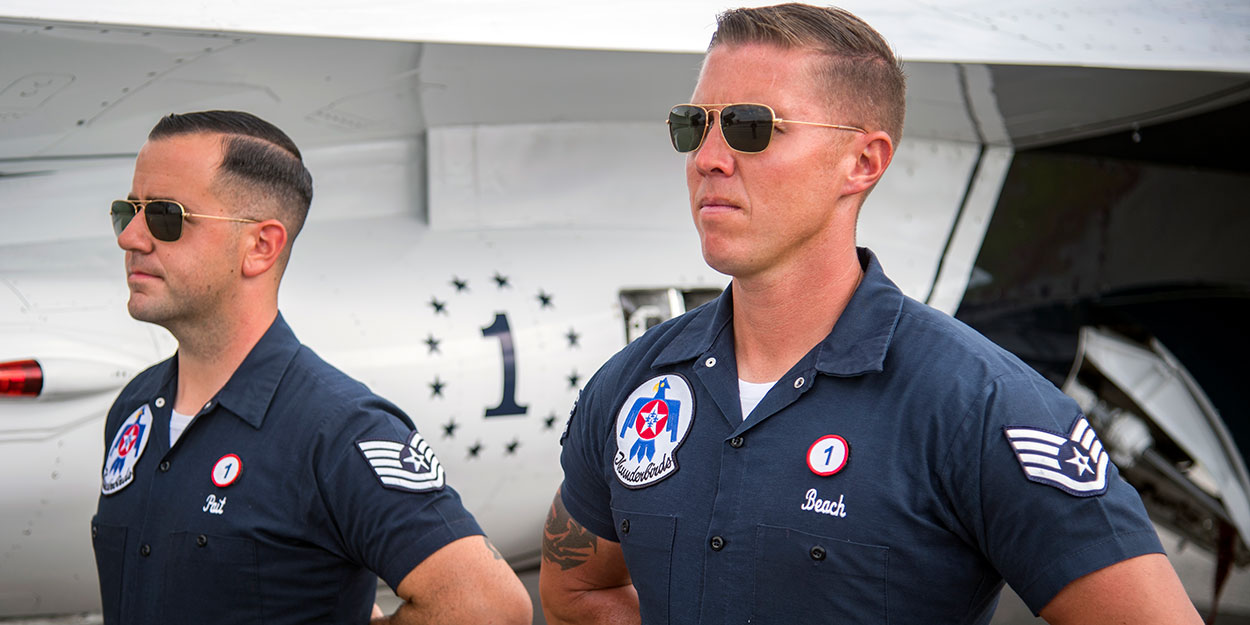 Above: Justin Beach (right). Photo by Staff Sergeant Ashley Corkins
With about a year wait before entering the Air Force, he was offered a full-time position at Accumoto Motorsport and decided it would be a great change of pace before he left for basic training. At Accumoto, Justin continued working as "the body guy," but he was also introduced to more mechanical work, like what he trained for with his first academic program.  "There I was, a one-man-deep autobody technician doing everything from detailing cars to win 'Best of Show,' to making fiberglass panels and repairing sheet metal," Beach said.
The experience at Accumoto was a good one for Justin and for the shop owner, Mark White. "Justin immediately proved himself to be an extremely hard-working and loyal member of the team," said White. "The only thing that exceeded his work-ethic was his sense of humor."
One of the first projects Justin worked on as a full-time employee of Accumoto was car #935, an orange missile of a turbo, air-cooled 911 built for the GT3S class. After a complete rebuild of the body and motor, the car was a work of art, "My favorite car still today," said Beach. "I hope to own one similar one day." White went on to break several track records and garner best-prepared car awards at several PCA events.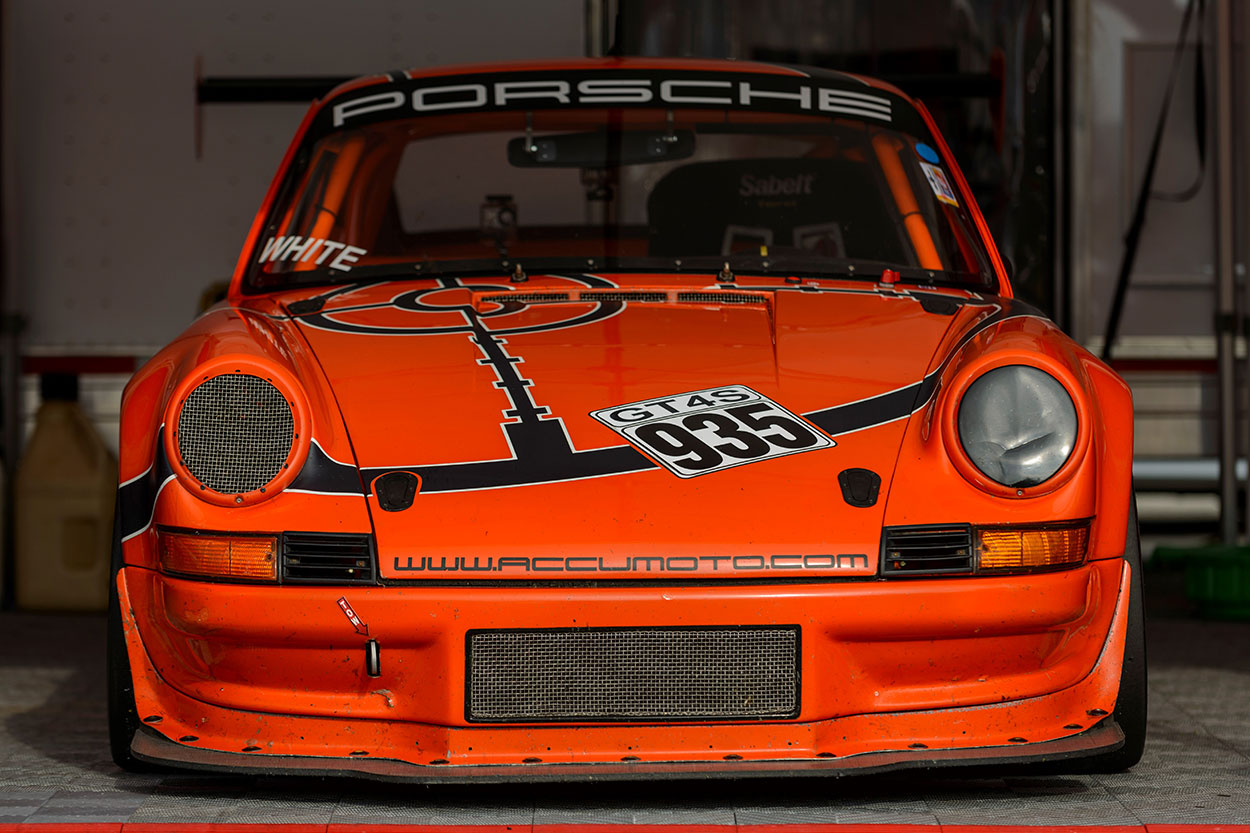 Photo courtesy Mark White
There was even an attempt by White to have Justin enter the Wisconsin Air Guard and stay on at Accumoto instead of entering active duty. As enticing as the offer was, Justin made a promise to enter active duty. "He again displayed loyalty in wanting to honor his word with his recruiter," said White.
In August of 2011, Justin went to basic training and then technical training in Aircraft Structural Maintenance. His first assignment was at Hickam Air Force Base in Honolulu, Hawaii working on the backbone of the Air Mobility Command, the C-17 Globemaster. With three years of experience on the C-17, and some proper mentoring from a flight chief and former Thunderbird team member, Justin applied to be part of the Air Force's premier demonstration team. Even though he had no previous experience with the F-16 flown by the Thunderbirds, Justin's evaluation scores, supervisor recommendations, physical fitness performance, and personality were enough for him to be selected from the large pool of volunteers the team reviews each year.
In 2015, Justin moved to Nellis Air Force Base in Las Vegas, NV for training with the famous Thunderbirds. Justin learned the ropes of the new aircraft and worked his way through several roles with the team over his first three years. Ultimately, his performance and excellent reputation earned him the job as Assistant Dedicated Crew Chief (ADCC) for Thunderbird #1, the squadron commander's jet. He would now be performing in front of crowds of millions worldwide as he prepared the jet for flight.
His experience in the paddock prepared him well for the military, and especially for his position with the Thunderbirds, where teamwork is required to get the job done, regardless of job title. "Hands down I don't think I would be the person I am today in the military if it wasn't for the experience I had in racing," said Beach.  "Working as a team to get the car back on the track is like the Thunderbirds not having all six jets ready for a show the next day."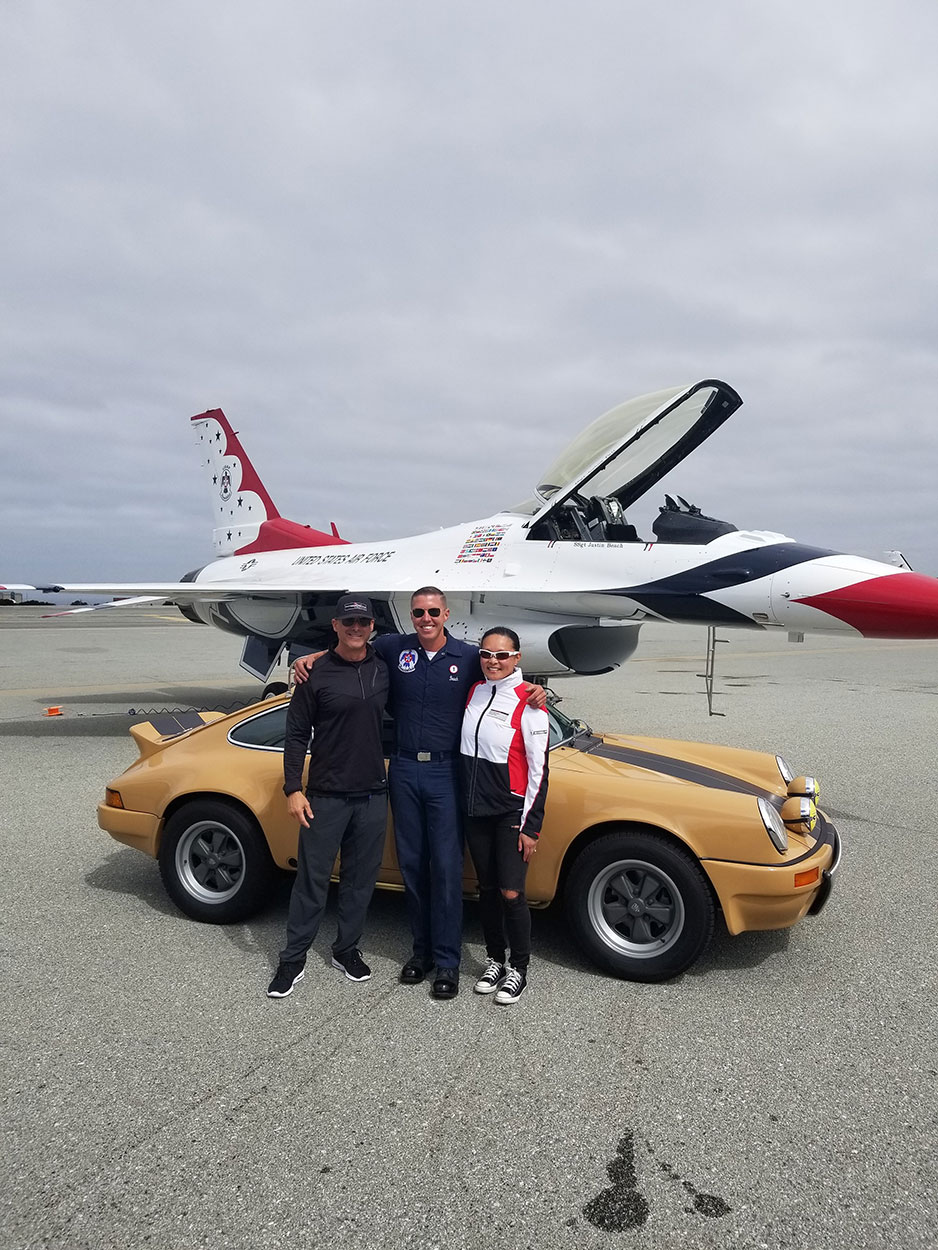 Above, from left: Mark White, Justin Beach, and Mrs. White stand in front of Accumoto's Safari-style 911 build and a US Air Force Thunderbirds F-16. Photo courtesy Justin Beach
The Thunderbirds were the star attraction of the Salinas Airshow this year, which happened to be the same weekend as Rennsport. Justin was surprised by the number of Porsches he saw driving around and in the parking lot of their hotel, but it wasn't until he was scrolling through his Instagram feed that he realized the extent of what was going on. There he saw a post by White showcasing one of Accumoto Motorsport's cars, which was part of the Scholar-Friedman Cup, a PCA Club Racing run group at Rennsport. A quick internet search on Rennsport led to a phone call to White to let him know he was in town and to see if they could meet up.
"I couldn't call him fast enough! Yeah, we text each other here and there, but we haven't seen each other in years!" said Beach. "My trip to the Salinas Airshow turned out to be the greatest show for me this year, only because I got to see my old friends."
The Thunderbird squadron commander also noticed the abnormally high number of Porsches driving around, and knowing Justin's racing past, he asked what was going on. Justin was happy to explain Rennsport Reunion and what it stood for. He also took the opportunity to ask the boss if the team could find their way over the track that weekend, and several other Thunderbird pilots were eager to make it happen as well.  "It was suggested as a joke," said White. "Justin replied (straight-faced) that his pilot would be all-in, and since he flies the lead jet, all the others would follow."
The airspace between the airshow performing area, the track, and Monterey Regional Airport was tight, but it just might work. After checking out the layout during Friday's air show practice, the Thunderbird lead knew a slight tweak to their flight path would lead them directly over the track. After finishing their Saturday performance at Salinas, the world-famous Delta formation of Thunderbirds rocketed over the Corkscrew to the surprise and delight of the crowd below. Unbeknownst to the team, they missed the end of the National Anthem by minutes, not too shabby for an "un-planned" maneuver.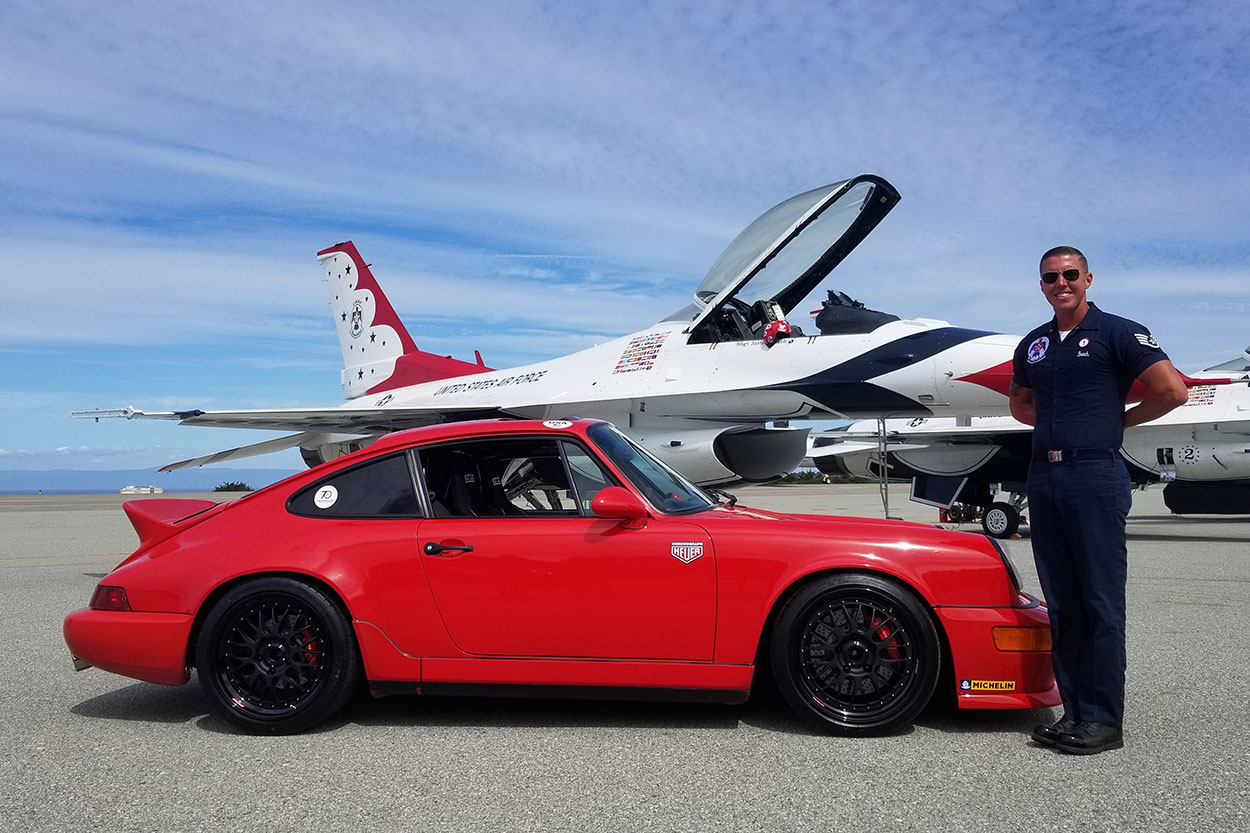 Photo courtesy Justin Beach
On Sunday, the team conducted another Delta pass transitioning to a modified "pass and review" maneuver where the crowd gets a view of the top of the aircraft as they bank for their turn. A sight even more impressive if the viewer understands that the only pilot looking at where the formation is going is the lead pilot and the other five aviators are focused on the plane that is a foot or less from their cockpit.
No reunion of old friends involving cars and airplanes would be complete without taking some time for pictures. The Accumoto team was quick to bring "Sanchez," their take on a gentlemen's Safari 911, to the airport to pose for a picture with Thunderbird #1. And if you were at Rennsport, you probably saw Beach and some of his fellow Thunderbird maintainers walking around the paddock in their tailored blue uniforms posing for many, many pictures with ladies and gentlemen of the crowd (although there were more ladies than gentlemen requesting a picture). 
All of this reinforces the motto of PCA: "It's not just the cars, it's the people." If it wasn't for the relationships forged through our passion for racing and the Porsche marque specifically, stories like this wouldn't exist. The next time you're walking the paddock of a Club Race, take a look at the teams prepping and repairing cars. You never know what this "hobby" can lead to, and what the people you'll meet may one day accomplish.