Exclusive Manufaktur Porsche GT3 Touring: The Ultimate Gentleman's Grand Tourer
Article by Tom Neel
Photos by Damon Lowney
True artistry is found in originality. Yes, inspiration has its place in the process as an energetic wave of enthusiasm serving something new. But the artist must deliver his or her original ideas and vision to the act of creation overall. When Ferdinand Porsche created his now iconic car company, each original design had to be imagined. As with all artists, designer Erwin Komenda had to allow his pencil to touch paper, see lines appear from his hand, have magic unfold before his eyes, and thus history was written in the universal language of art. These sketches of originality became among the most desired shapes in automotive history and would stand the test of time.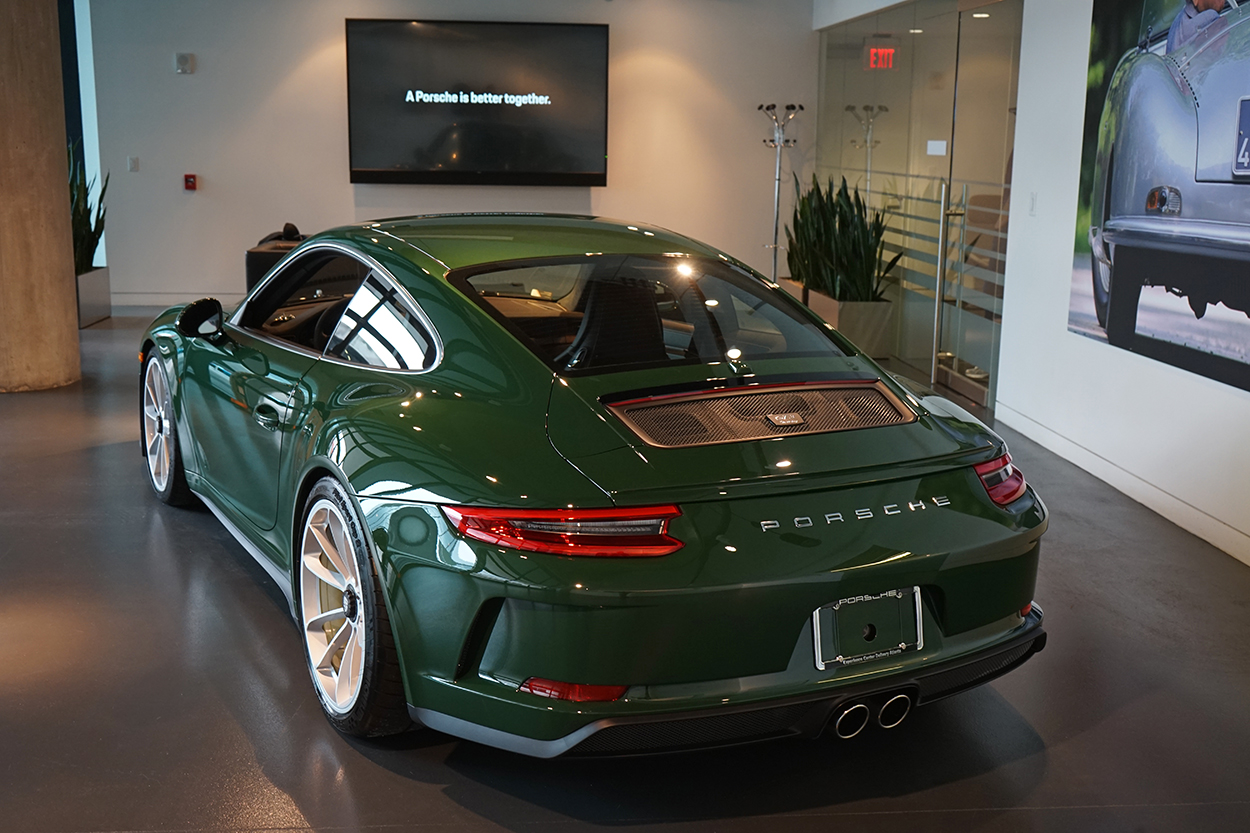 Decades later, with some these days reimagining the 911's iconic design, Porsche has never stopped inspiring itself with its own originality and fresh approaches to its own tradition. A tradition it created, honed, and polished. In the process, it has offered its enthusiasts exclusive personalization second to none. Its engaging platforms thus become the blank canvas of collaboration with Porsche Exclusive Manufaktur's designers and craftsman. You might be asking how far this collaboration and artistry can go? Come along as I share a story of two friends, deep with Porsche enthusiasm, and a car company open to imaginative possibilities.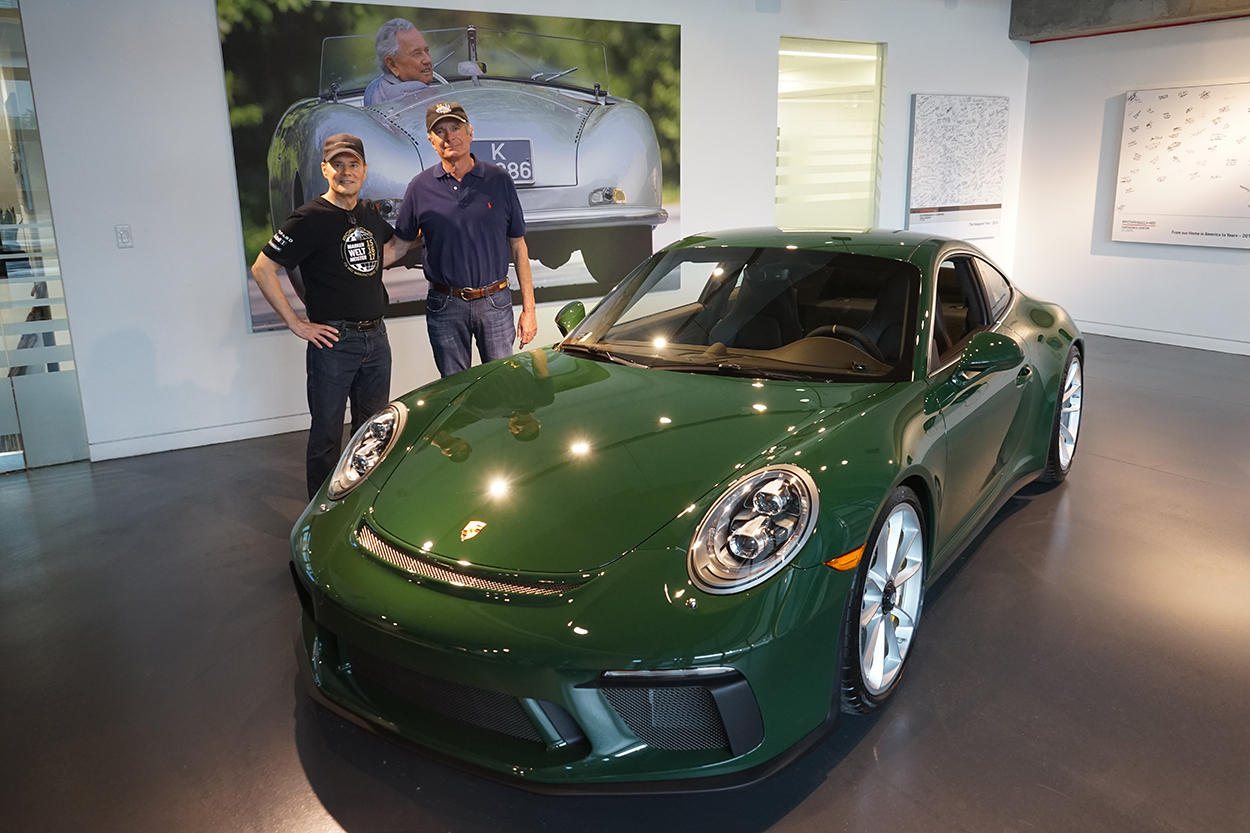 Above: Jorge Carnicero (right) with friend Tom Neel at the Porsche Experience Center in Atlanta. Jorge took delivery of his GT3 Touring at the Porsche Experience Center in Atlanta.
Close friend Jorge Carnicero, an international breeder of Hanoverian sport horses based in the USA, UK, and Germany, purchased his first Porsche in 1971. A silver 911S with a black interior, it was followed by a 1976 911S in Bitter Chocolate Brown with a tan interior. The next two 911s followed in succession, white and Guards Red, and since those early days, so have many more in varied colors. We all have our automotive pleasures; Jorge's is envisioning the possibilities through configuring. For him, it's just like beginning a painting with a blank canvas. I certainly can relate, as I've been a professional fine artist for the last thirty years, and I've known Jorge for over twenty of them.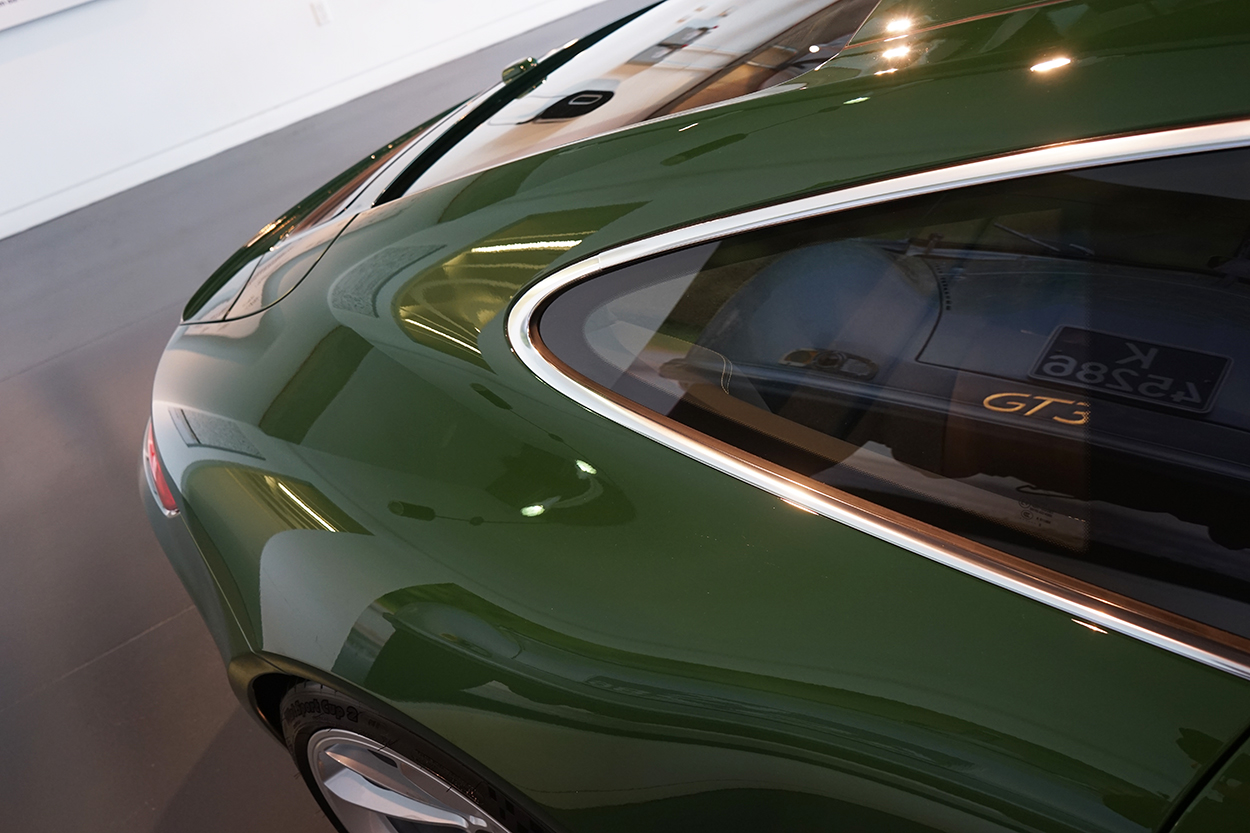 In the 1970s and '80s, before my painting career began, I did everything with cars. I worked on exotic cars before they were even known as such. I was also a top-fuel funny car mechanic, an automotive painter, created hundreds of van conversions that were so popular in America back then, and built off-road vehicles, which led to a national sales manager position with a large aftermarket suspension company in Southern California. With time, that position became one of only numbers, almost entirely stifling my deepest creative voice. So at the age of 32, I walked away from it all to passionately pursue my childhood dream of becoming a fine artist. It would be a life where a blank canvas would be my playground. That was half of my lifetime and a lifelong journey ago. I became mostly known for my landscape paintings but didn't steer from doing automotive as well as and aircraft paintings and so many other creative projects.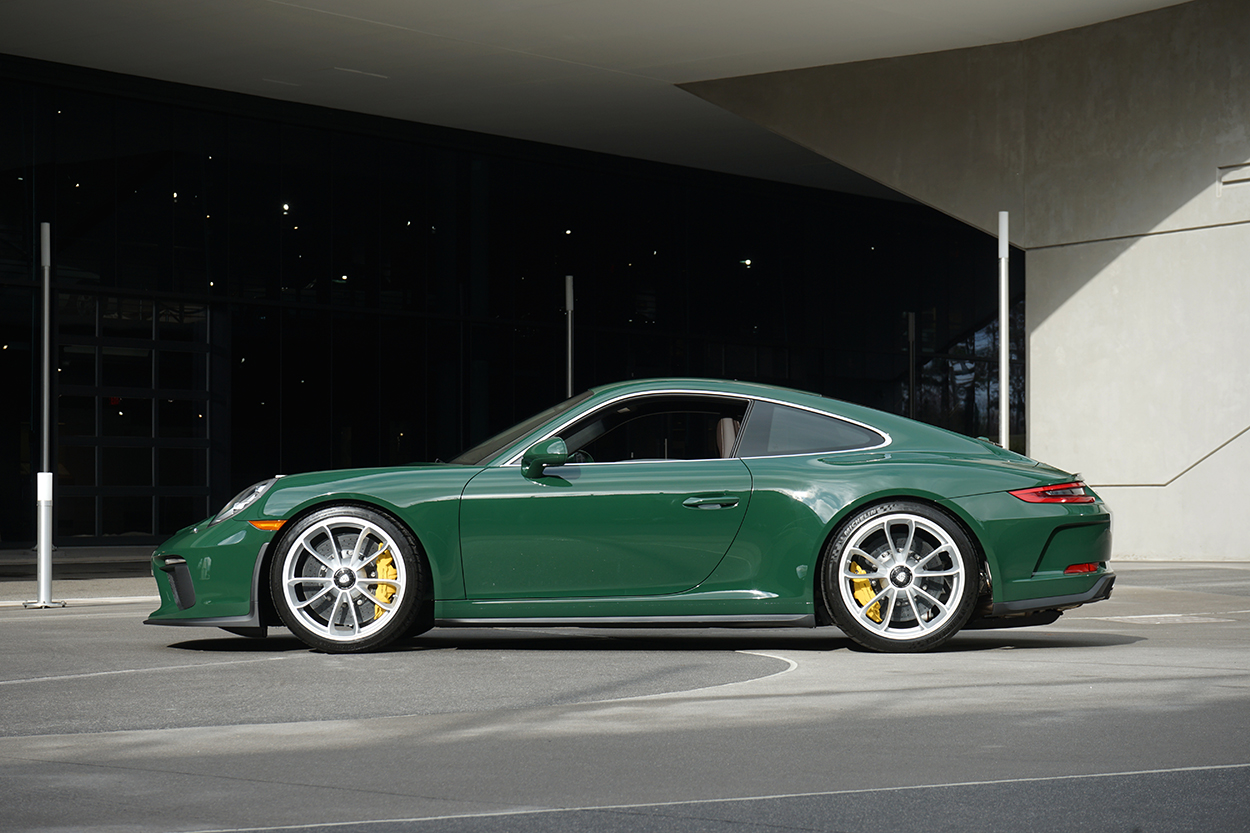 Jorge Carnicero and I met and became friends through our love of cars. Working by day as an artist, I had also returned once again to my childhood hobby of scale model car building. I began building large-scale racing dioramas, which ended up finding their way to collectors throughout the United States and abroad. They got Jorge's attention, too. He became a collector, and we became friends. Trusting my automotive sense and artistic sensibility, it seemed natural that I became a willing part of Jorge's car-configuration process.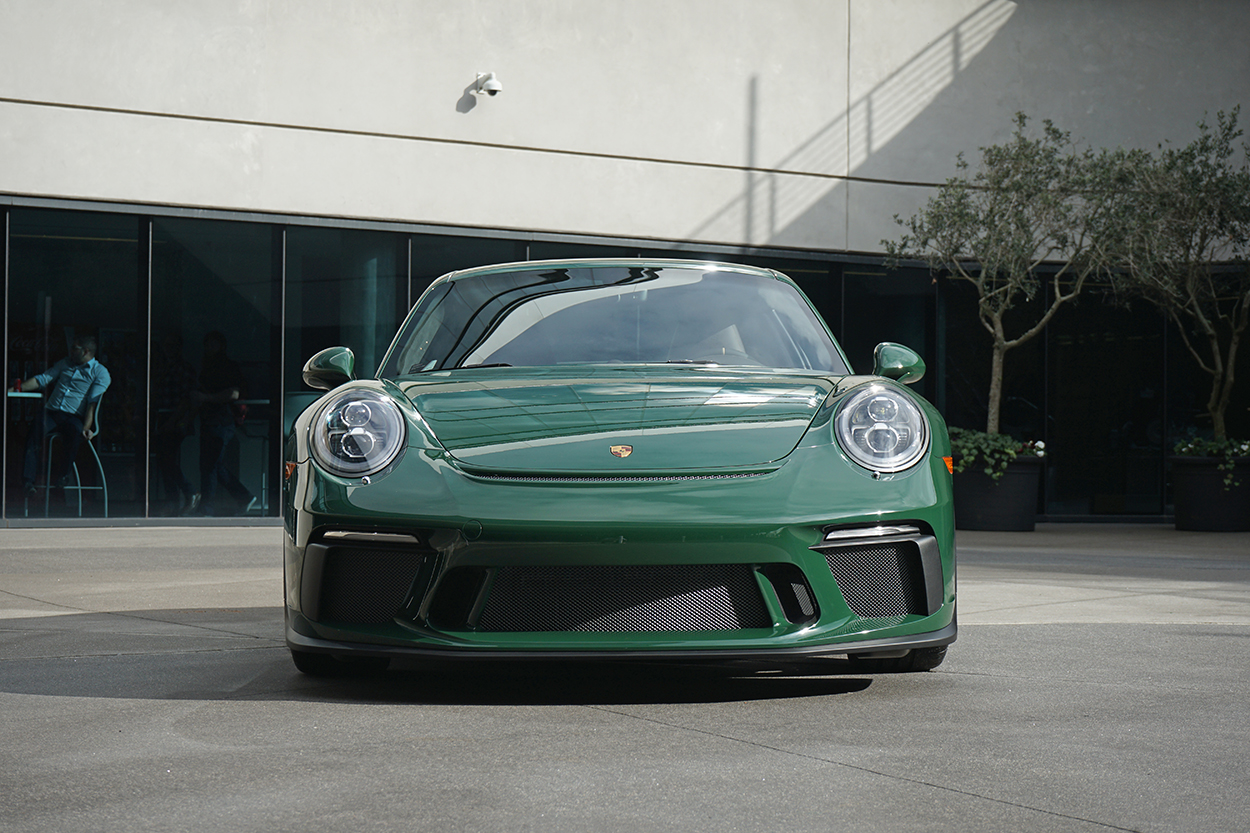 Fast forward to two old friends, both now Porsche owners, talking about the endless possibilities of configuring Porsches. Our productive conversations often drifted from the peripheral boundaries of provisional ownership, deep into the importance of a car's influence on others far into the future, and its shared legacy in the making of a respected marque. The approach is to visualize our blank canvas as if we were seeing it decades into the future as a classic, a sort of snapshot into a new car's legacy. Then we creatively work backward to the present time, like having a time machine working in reverse, focusing on what we think will make the car an appreciated classic decades into the future.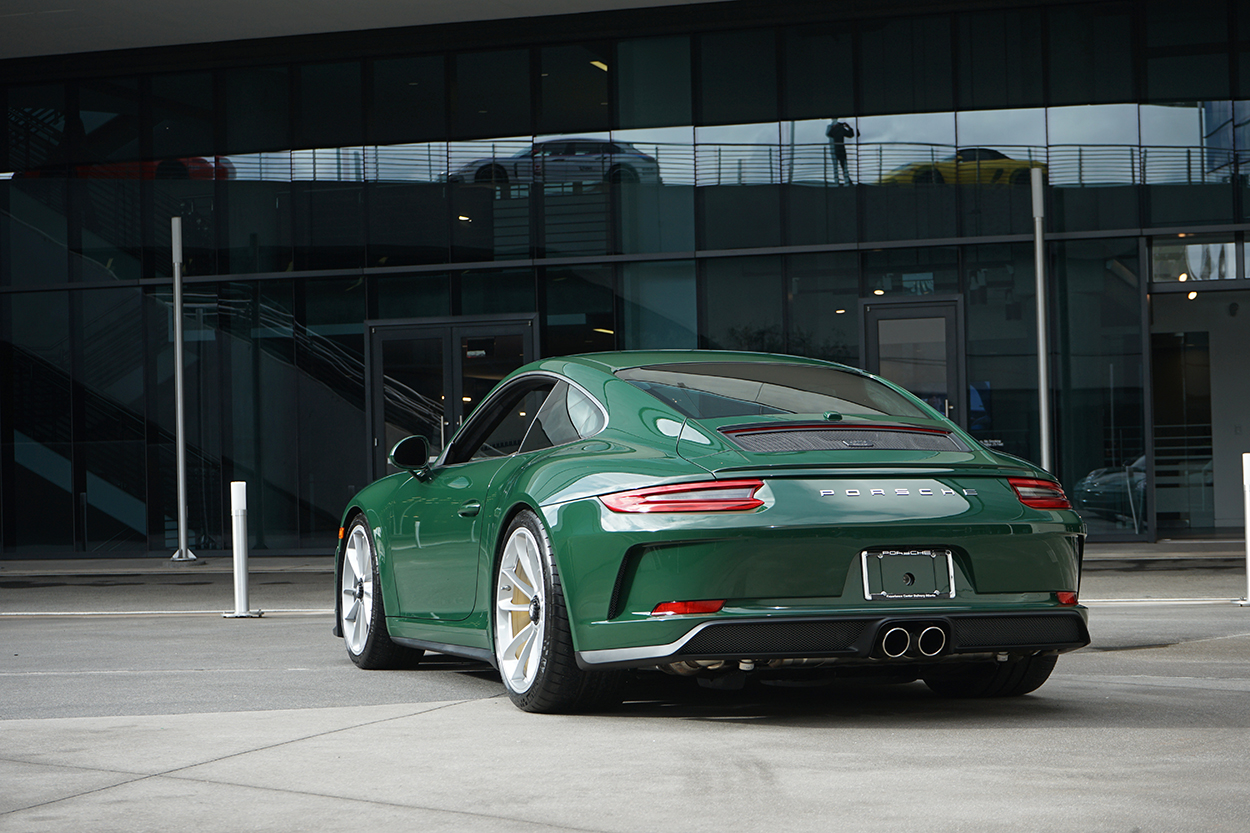 The 2018 GT3 is more than a blank canvas worth painting. It's a tightly woven masterpiece in its own right. Presenting this latest GT3 with the option of a Touring Package, our minds instantly began pondering the possibilities of this exceptional end-of-era automobile. By checking this one box on the GT3's configurator, classic magic could happen. With the rear wing removed, the foundation for the ultimate gentleman's sports car would be left in its place. We felt it even more so than with the previous 911R, as one other significant detail would make our goal even more to the point. The choice of replacing the GT3's black window trim with chrome would be giving the GT3 Touring a more stately and historical aesthetic. Mated with silver wheels and Chrome rear script, continuity begins to take shape. Now how far could we go? We were about to find out.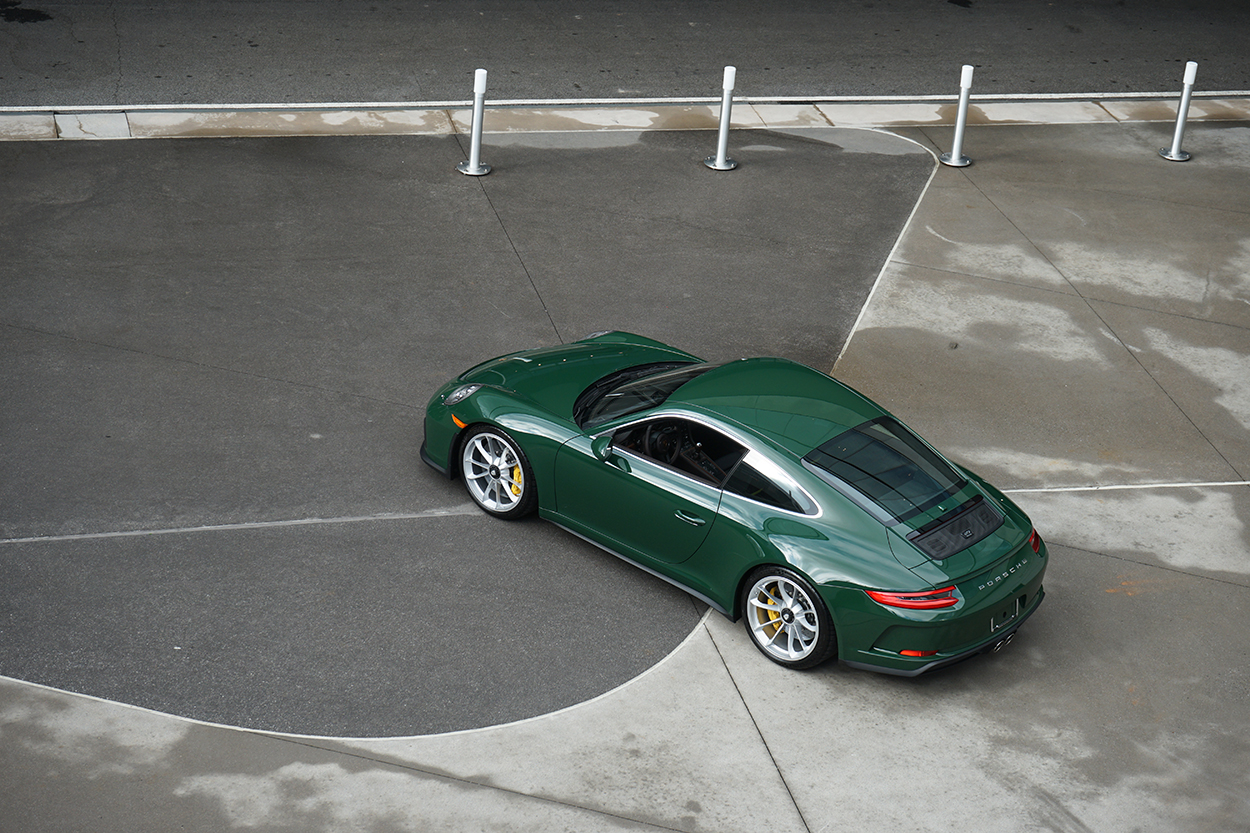 Even though Jorge and I were most often at different ends of the earth, rarely a day would go by without some communication between us. So repetitious were the calls back and forth during this special project, the phone would ring in the morning and, before the second chime, my wife Linda would say out loud, "Good morning Jorge." It was as if she was clairvoyant.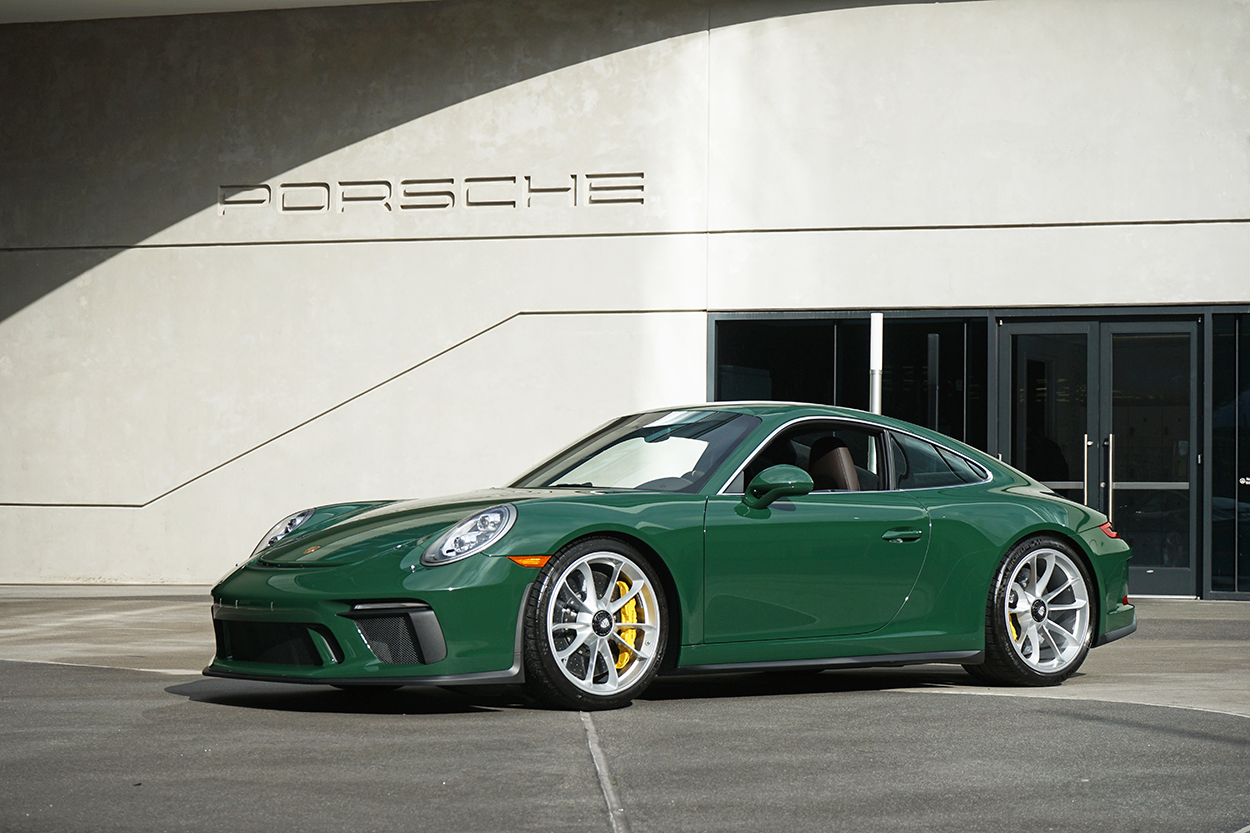 To design anything is to care about its bloodline and balance. Bloodline is of great importance, a viewpoint taken from the inside out. I also think of it as a car's soul and authenticity. There are more than a few these days who are approaching Porsche classics by leaving no part of the car untouched, including the drivetrain, the interior, and the exterior. To me, it's like surgically removing its character and undermining what made it great in the first place. Then there is the balance, which is more than merely an everything in moderation approach. Because of the GT3's perfect performance package, balance in this case is carefully weighing it to a mostly aesthetic objective. The pursuit of achieving a very tasteful consistency down to the smallest detail. In doing so, a partnership must form with the focus in building something truly special and the desire for it to be seen this way by everyone involved. Porsche is a very service-oriented company and is exemplary in providing highly skilled and passionate professionals to be teamed with you. As such, a project like this simply could not have been possible without the invaluable assistance of Dominic Mayer from Porsche Exclusive Manufaktur in Germany, and Yana Perros from Porsche Exclusive Manufaktur at Porsche Cars North America in Atlanta. Both dedicated long hours in making Jorge's dream become a reality. If this is a path you wish to take, Porsche will provide you with specialists, and that they are!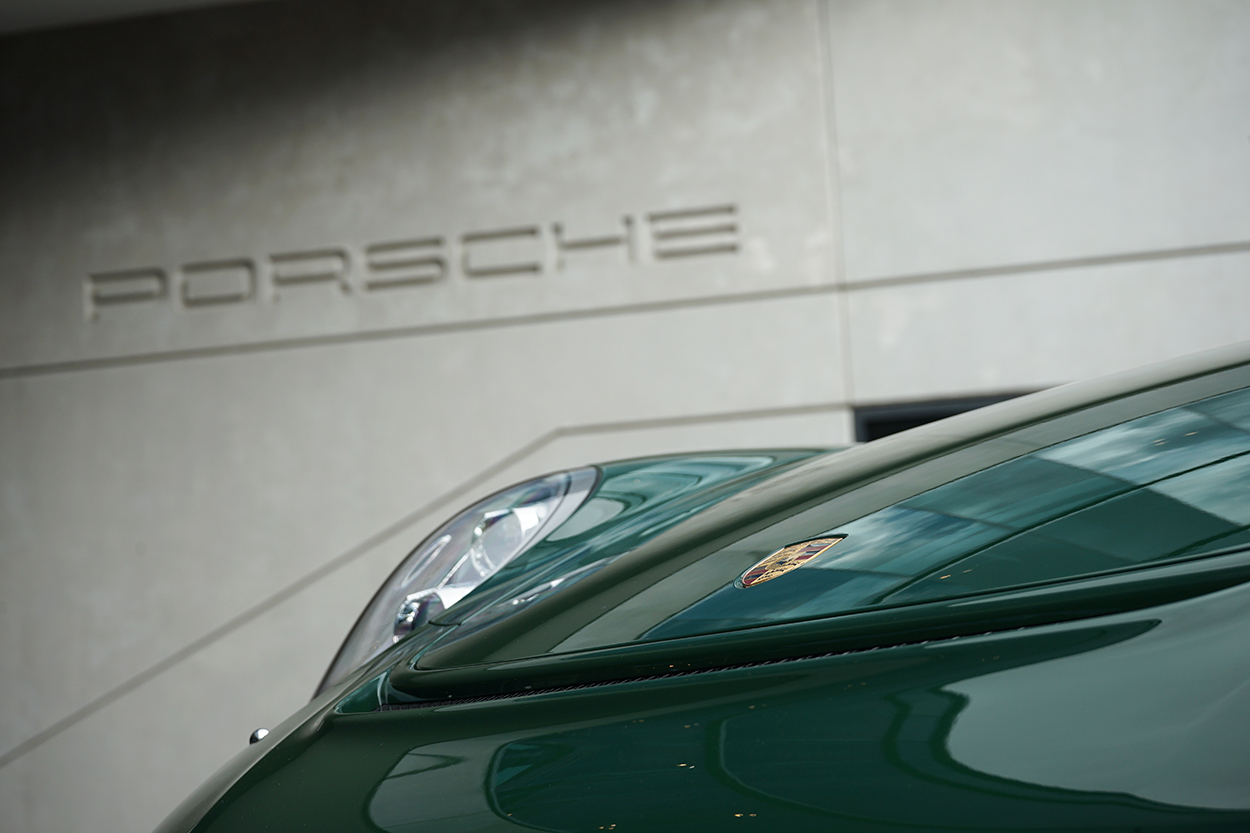 I know for Jorge, he was proud to be doing this, to be developing one of the finest examples of the 991.2 possible. After all, his GT3 Touring would be delivered near the end of the 991 generation, which saw the one-millionth 911 roll off the assembly line in 2017, Nürburgring Nordschleife records broken, three overall wins at Le Mans in a row, and the build itself would happen during Porsche's historic 70th anniversary year. How would this 911 then be viewed 70 years from now? We felt it needed to represent the essence of this all. The project required patience, collaboration, and politely asking (not demanding) if something was possible. It would also become a project nearly two years in the making. After I drove the new GT3 in April of 2018 at the Porsche Experience Center in Atlanta, I was even more jazzed! With the rock-solid foundation of the 991, the new 4.0-liter version of the GT3 is a well-cut diamond. There's little question that decades from now it will just as admirably shine.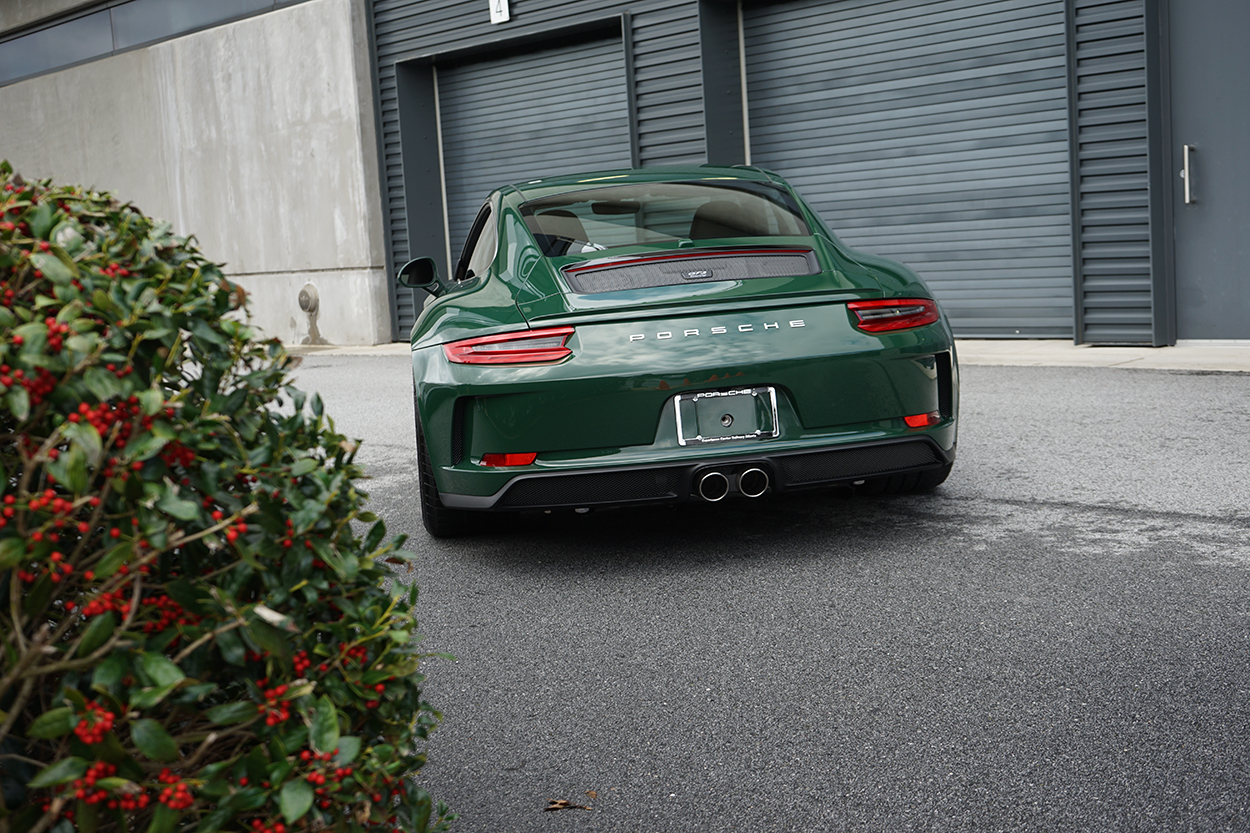 So color sets the tone, literally speaking. It is a clear direction in the overall voice of a car. Each color choice will not only instantly say something about the car itself, but its owner as well. In the case of this GT3 Touring, we were dealing with history and the interplay between a race-bred GT car sleeping only skin deep within a gentleman's tourer. Jorge's daily driver is a Jet Green Metallic Cayenne, a color he really likes, but we both felt a non-metallic color suited this car's character much better. In looking at the possible choices we soon came to Irish or British Racing Green. Greens are a secondary color made from the primary colors of yellow and blue. Mix the two together and you have green. Then there is value, or shade, how dark or light the color is. These two greens have almost identical values. Where they differ is Irish Green — as used on the one-millionth 911 — leans toward the yellow side of things, and British Racing Green leans towards blue, and this was favored. So paint-to-sample British Racing Green was chosen.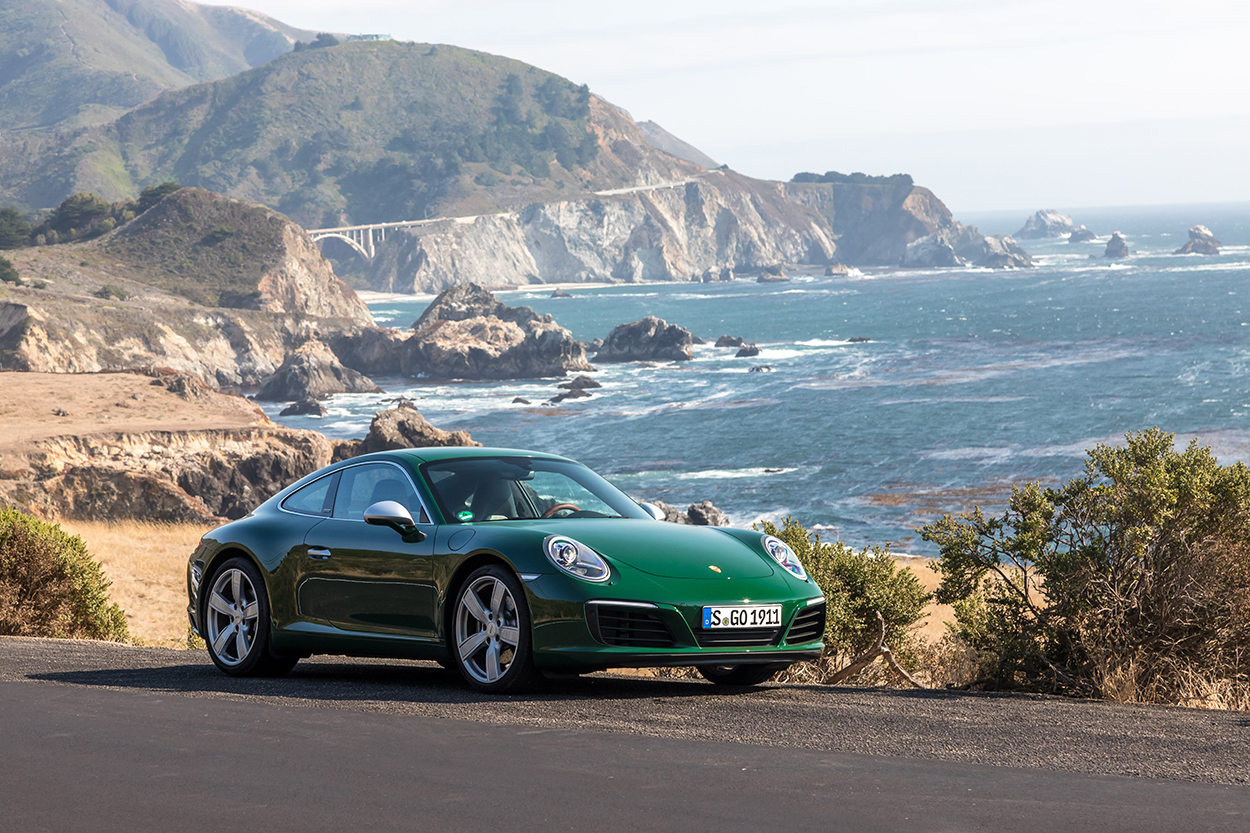 Above: The one-millionth Porsche 911, wearing Irish Green paint.
Now Jorge's Cayenne also has an espresso leather interior and we found it would more than compliment the British Racing Green exterior. So the decision was made to use espresso but with black accents and Luxor Beige stitching. As the standard GT3 interior is all black, this would add subtle flare, but also be very costly.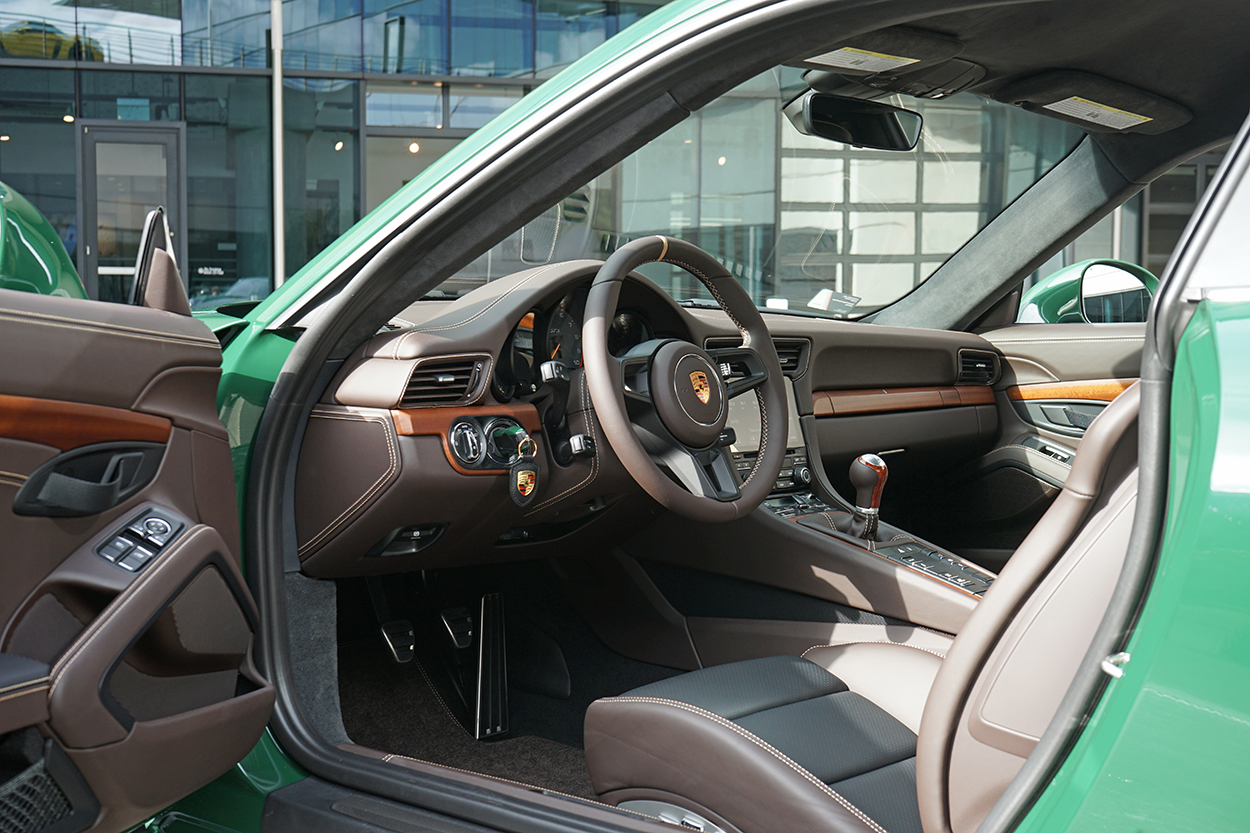 You see, GT-car interiors are pre-determined, and they must roll off the production line with one of those interior selections. Black means black throughout, and we were now shooting for almost all of this to be done in espresso. Any decisions you make like this, even small ones, must be done in the Exclusive Department. So in this case, the entire interior, dash, seats, and all, would be removed and completely redone after production. Also, I would guess that most Porsches spend anywhere from a few hours to a few days in the Exclusive Department. This GT3 Touring would be there for months. With each conversation between Jorge and me, and then Exclusive Specialists Yana and Dominic, careful attention was taken to decide precisely where each piece of espresso and black would work best. As comfort and ease of egress were important to the gentleman's approach, choosing 18-way adjustable seats was a must. The full racing buckets were never a consideration. Upon opening the door and peering inside, one first sees the seat centers in black, then the console, then the armrests. Everywhere you see black was talked about endlessly, as was each placement of espresso. The espresso leather details continued to grow and, as such, with enough time to take it all in you'll notice leather in many unusual places. The full seat backs, all dash vents, the back seat-less area, and other small but significant areas were not overlooked.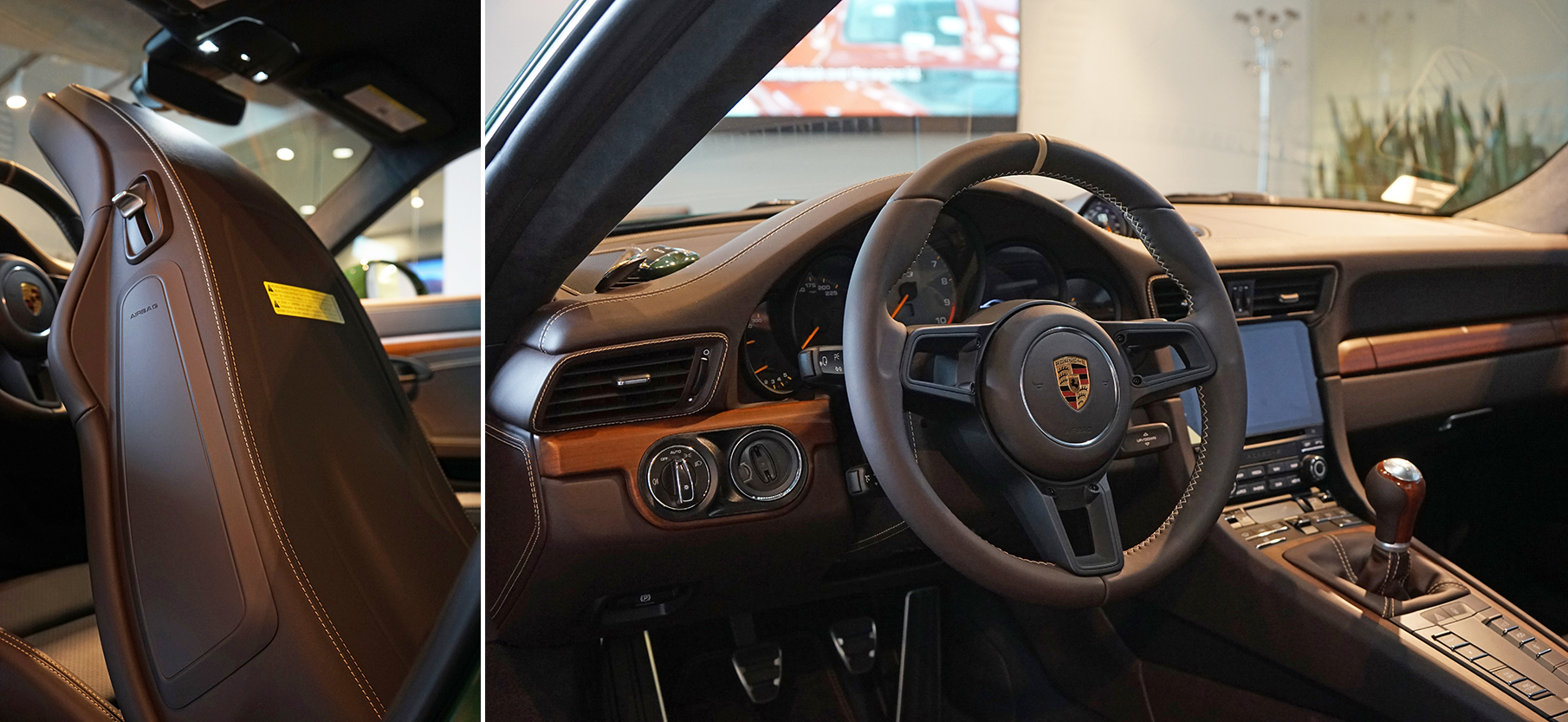 The next detail to get attention was the interior dash and door panel trim. While carbon fiber would have been the natural, pre-determined choice, we decided to look at wood, at first without giving much thought to the one-millionth 911 and its wood trim. But once we did give it some thought, it seemed those involved in Germany saw it as inspiration. Though the satin-finished wood trim in the 1M 911 was unique, Exclusive was able to provide a set that clearly mimicked the source of inspiration. Note the 1M 911 had a wood steering wheel, but because it would be more difficult to replicate in the GT3, it was instead wrapped in espresso leather and paired with some other details. The center of the wheel was covered, as was the column itself, while Luxor Beige was used for the wheel center mark and the stitching. This was also the case of the Touring's manual shift knob, where espresso was mated with wood detailing.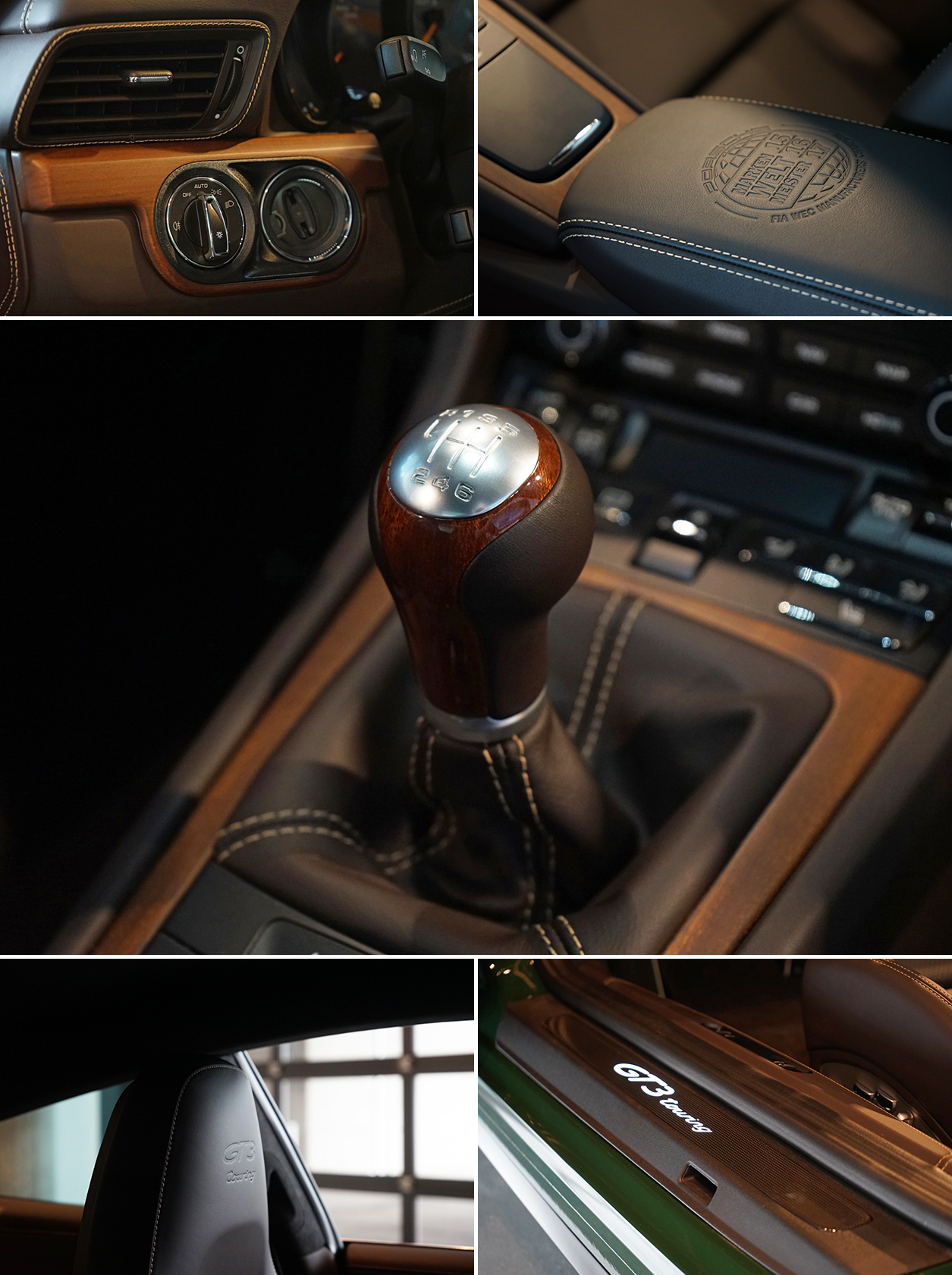 During this time, the question of embossing for the center console and headrests came up. The standard choices of Porsche crests were put aside when Jorge, recalling the Marken Welt Meister (World Champion Mark) sticker found on his early 911, asked if this could possibly be recreated to represent Porsche's trio of Le Mans wins from 2015 through 2017. Porsche seemed pleasantly surprised by this request and loved the idea, but it would require the costly manufacture of the embossing die itself. With the headrests, it was felt having letters stitched in Luxor Beige was too much. So, the idea of creating another embossing die with the words GT3 Touring was offered. This stamp or die embossing would be subtle and with no stitching. The GT3 Touring script was then also used for the full-length and illuminated carbon-fiber door sills.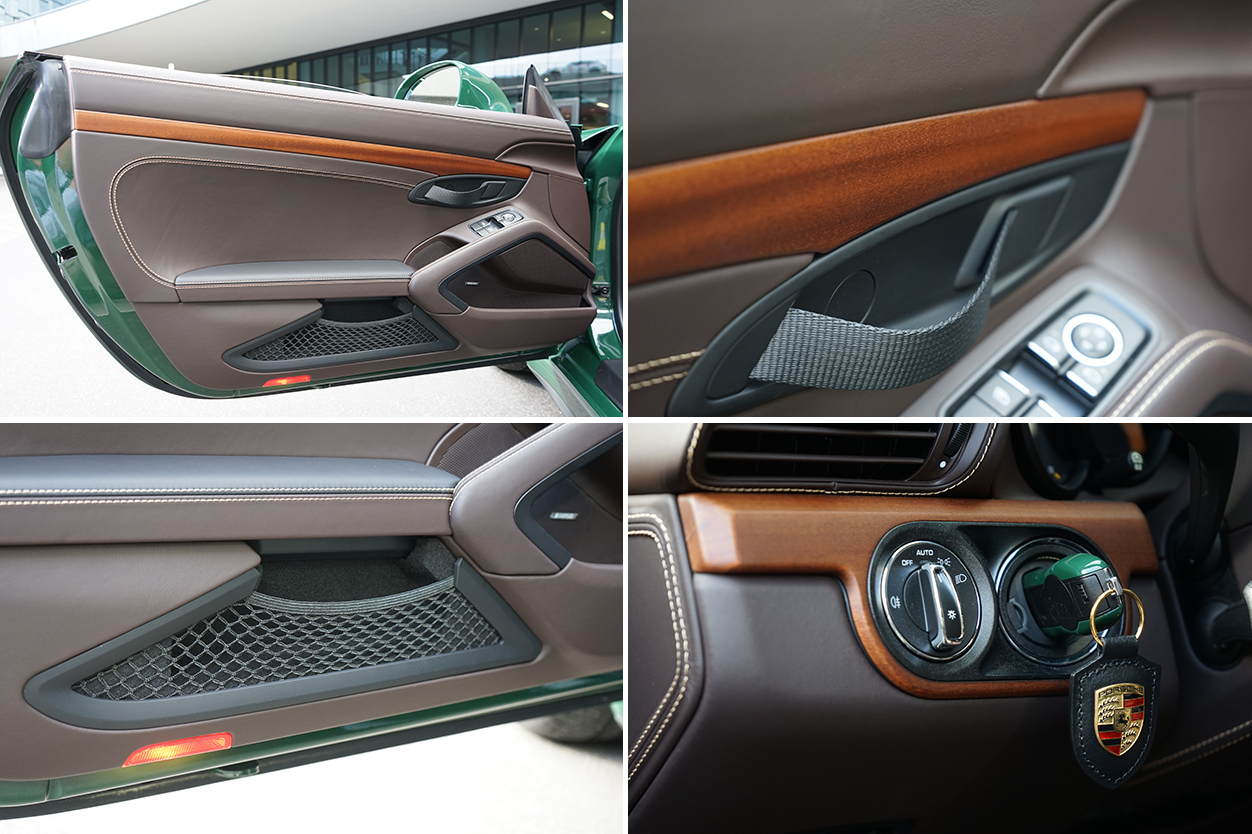 The GT3 Touring's lengthy stay in Exclusive Manufaktur became a bit like making a wonderful soup. Everyone in the kitchen was catching the tantalizing aroma of something delicious! A dash of this and a pinch of that were being recommended throughout the process. Such was the case of opting for the nylon door openers over the standard GT3 Touring polished metal ones. In time, as the GT3 RS production was underway, the idea came up to use the netted door panel pockets over the standard hinged-door type. These unique features, blended with the other ingredients of our soup, all helped to give this Grand Tourer the understated elegance we were looking to achieve. So pleased we were with the results, a race-inspired interpretation of this design was also done in the way of a GT2 RS! Bookends they will be!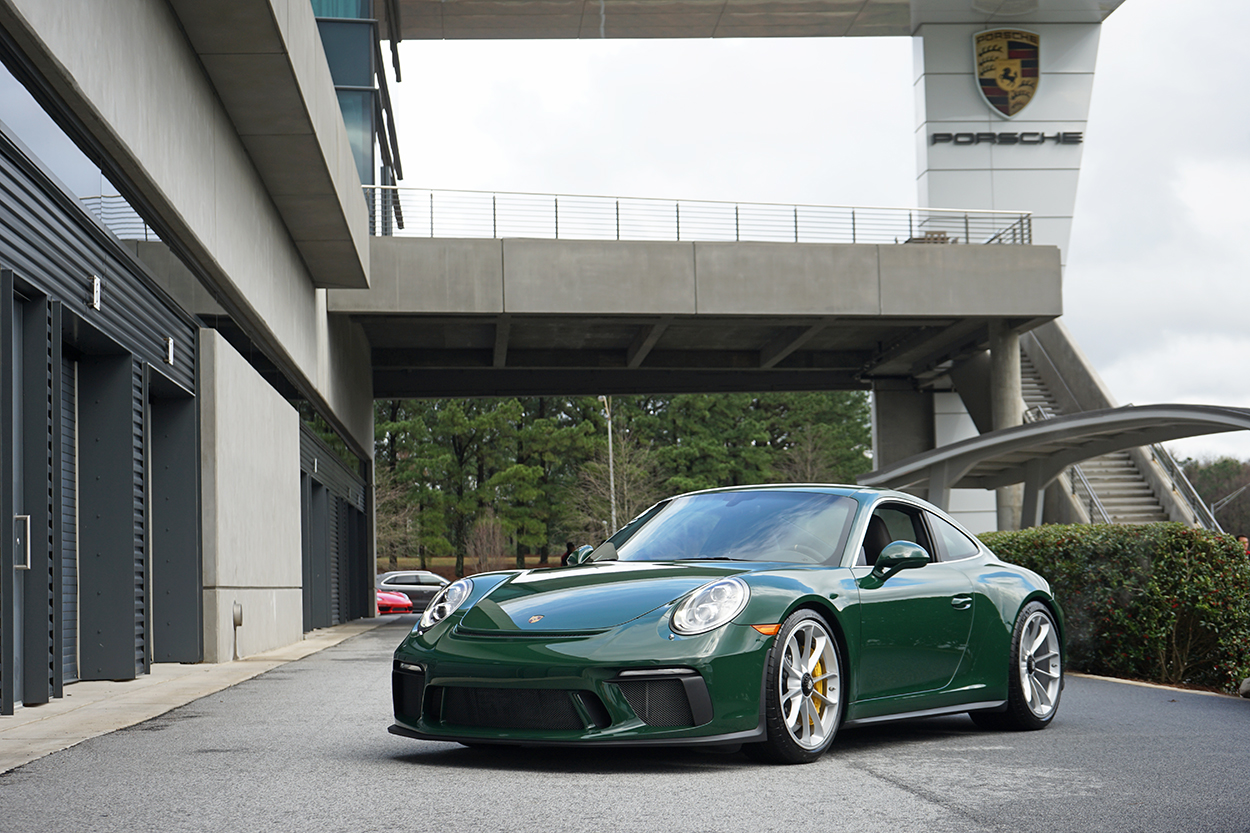 The British Racing Green GT3 Touring made its way across the sea in early 2019. Delivery took place on February 28th. Jorge and I, along with Porsche Club of America's Vu Nguyen and Damon Lowney, made our way to the Porsche Experience Center and headquarters in Atlanta, Georgia. There, along with Porsche representatives Yana Perros (PCNA Exclusive Specialist), Frank Wiesmann (911 Product Spokesperson), Hayley Laszlo (Delivery Specialist), and Kyler Graham (Driving Coach and Product Specialist), the silk unveiling cloth slid quietly across the deep green paint and the 991.2's classic surfaces to the excitement of all.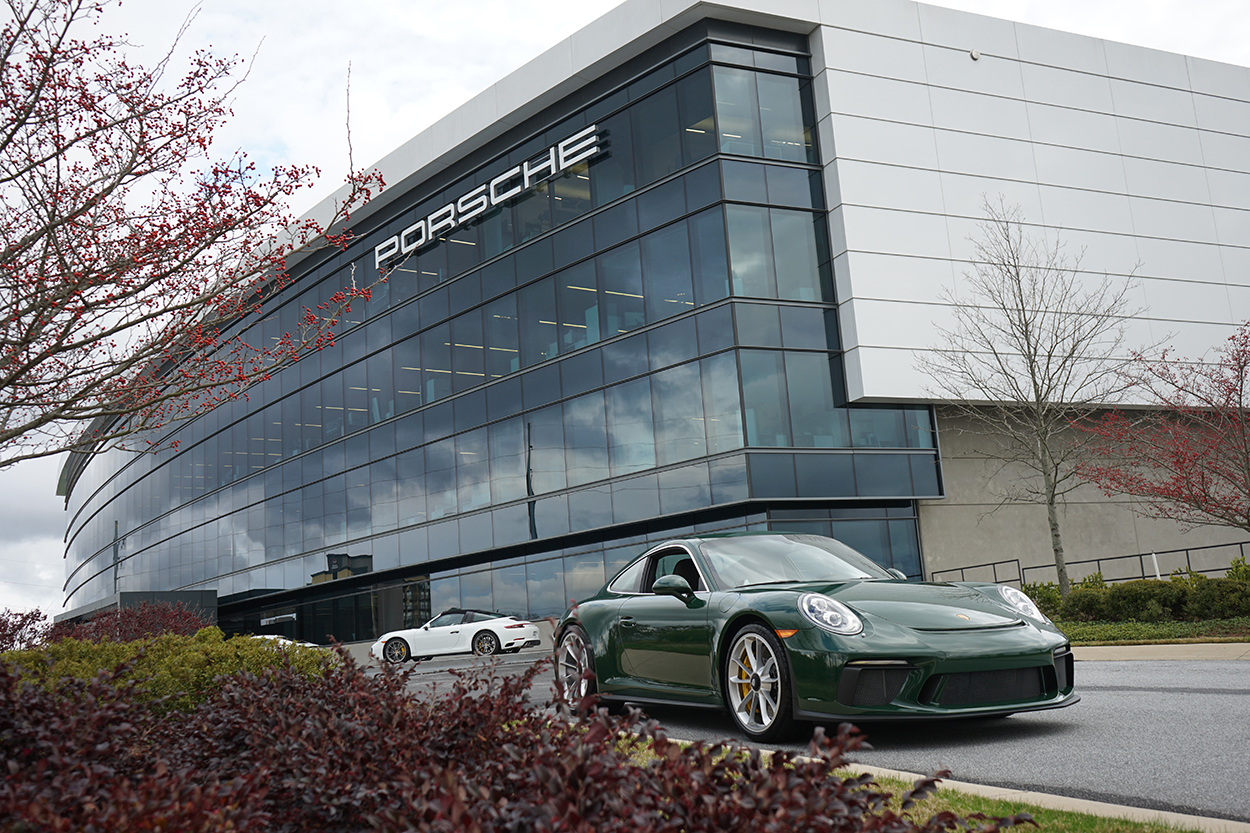 Jorge and I started applauding Porsche's workmanship. As the owner of this handsome Porsche, he was, and is, ecstatic! When your vision and dreams become a tangible reality, validating the hours of conversation between friends, life is good. Porsche seems to not only breed excitement in this way; it also fosters a deep pride in ownership.
---
Watch the video of the GT3 Touring delivery below: