Passing on a passion to race
Above: Connor (left) and Chip Henderson, a father/son team.
Article by Chip Henderson
Photos courtesy Chip Henderson
As a parent, there are few things more important than seeing your child succeed at something!
This is especially true if they share your passion for a thing that they grew up watching you do. Since my son, Connor, was young, he was very much into cars. It wasn't long before he had quite a collection of Hot Wheels and could always point out the different Porsches on the road.
When he was old enough, I would take him to PCA autocrosses then later DE's followed by PCA Club Races. I would drive and he would occupy himself in the paddock, playing with his Hot Wheels, checking out the other cars, and hanging out with my driver friends when I was out on the track. On the drives home he would excitedly talk about the cars he had seen and always make grand suggestions on what improvements we should make to our car to make it go faster. "You know if we put a bigger turbo in it..." Eventually he would drift off to sleep (usually after some ice cream).

Above: Connor at an autocross, before he was old enough to drive.
Like most kids his age, he spent a lot of time playing racing games on his Xbox or Playstation. Occasionally we would race side-by-side in the games and it always turned into an all-out crash fest. He usually won, but I considered it great father-son quality time. As he grew older his passion for cars grew as well. When he turned 16 his first car was a Volkswagen GTI. It didn't take long before he was autocrossing and modifying the car to handle better and go faster.
As soon as he turned 18, we signed him up for his first HPDE at Putnam Park. He was driving a used Cayman S and I could hardly get him off the track. At one point it started raining and all the other drivers decided to hit the pits. Not Connor. He stayed out with his instructor and, to the delight of the corner workers and to my chagrin, decided to practice his drifting skills for the rest of the session. But he loved it and I knew that someday soon I would be sending him out in my 944 Turbo race car.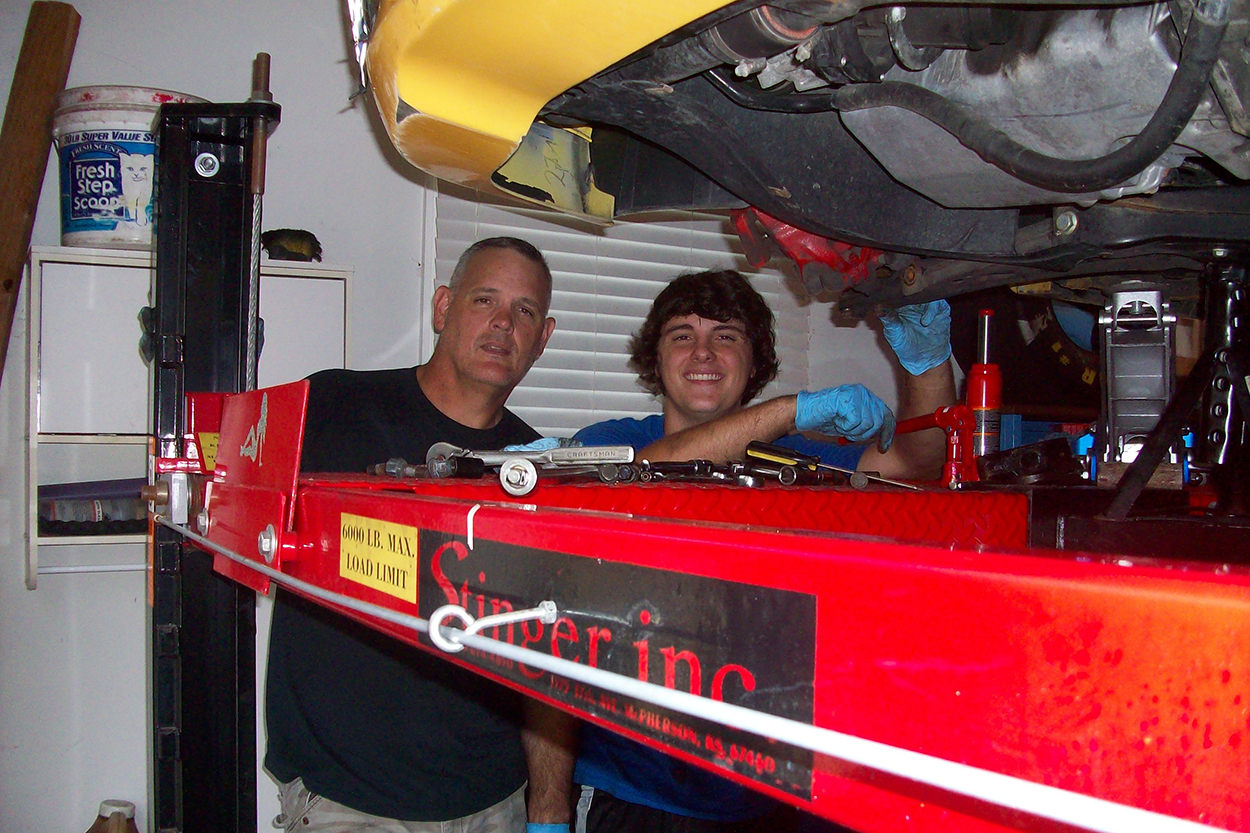 Above: Chip and Connor work on a car.
But, we had a deal. I would help him pay for his track time, but his focus had to be going to college. Meanwhile we spent a lot of time in the garage wrenching on cars and planning for the future.
As a member of the US military, it was inevitable that eventually I was going to get deployed somewhere far away for an extended period of time. These are especially tough times for any military family and ours was no exception.
My second deployment ended up lasting Connor's entire senior year of high school. My job overseas was serving as a Combat Advisor to the Afghan Army, so this meant spending a lot of time "outside of the wire" locked and loaded. Before going out on missions I remember that I wasn't really afraid of getting hurt — or worse, I remember being worried that I might miss things like walking my daughter down the aisle on her wedding day, or being there when my son started his first sports car race. It is funny how very important those things become.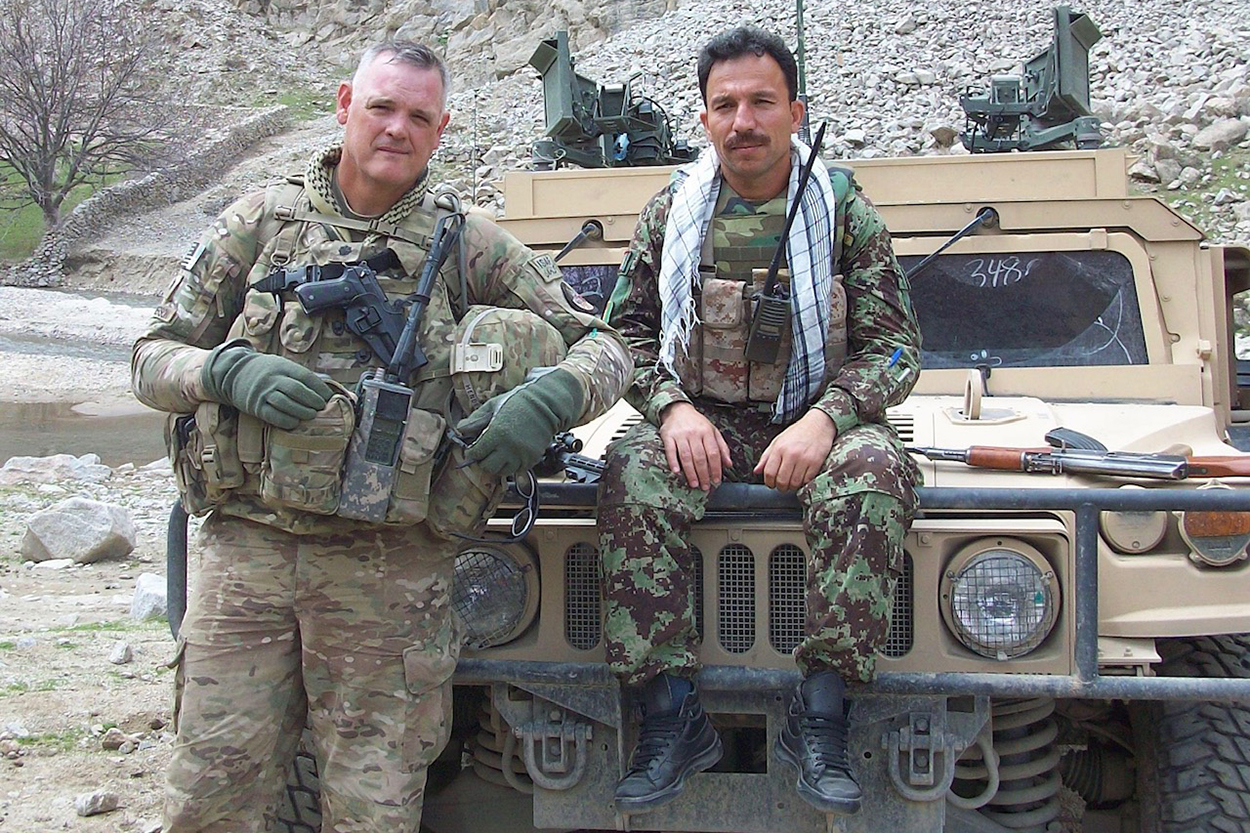 Above: Chip (left) on a mission in Afghanistan.
Fortunately, I returned home unscathed — somehow getting back in time to surprise Connor at his high school graduation. 
I soon discovered that, while I was gone, he matured into quite a solid young man and, as he worked his way through college, we worked in as much track time as we could. When the day finally came when I thought he was ready, I handed him the keys and he strapped into the race car. 
I can tell you that I was incredibly nervous and watched in anticipation for the car to come back into view every lap that day. After talking to his instructor and realizing that he was already running lap times faster than my fast lap at my first club race, I knew he was going to be OK.
After he graduated from college, he was able to get more time in the car and on the track, and last year we made the decision that he would apply for his rookie license and enter the Mid Ohio PCA Club Race. Since I was working the race, he would drive the sprints and we would share the car for the enduro. I don't think I have ever been as nervous before a race as I was when I watched him pull out onto the track for that first sprint. That was quite a moment. As a rookie his lap times were respectable, but the run group was small and he was starting near the back, so it was a perfect scenario for his first race.
He ran well, holding his own through both sprints, and I couldn't have been more proud. However, he was hearing a clicking sound coming from the rear of the car, which on a 944 Turbo meant a bad CV joint. Then he experienced another important part of club racing — fixing the car at the track. But fix it we did, and within a couple hours we had the new CV's installed. 
The next morning when I took the car out for the enduro warm-up, it ran perfectly.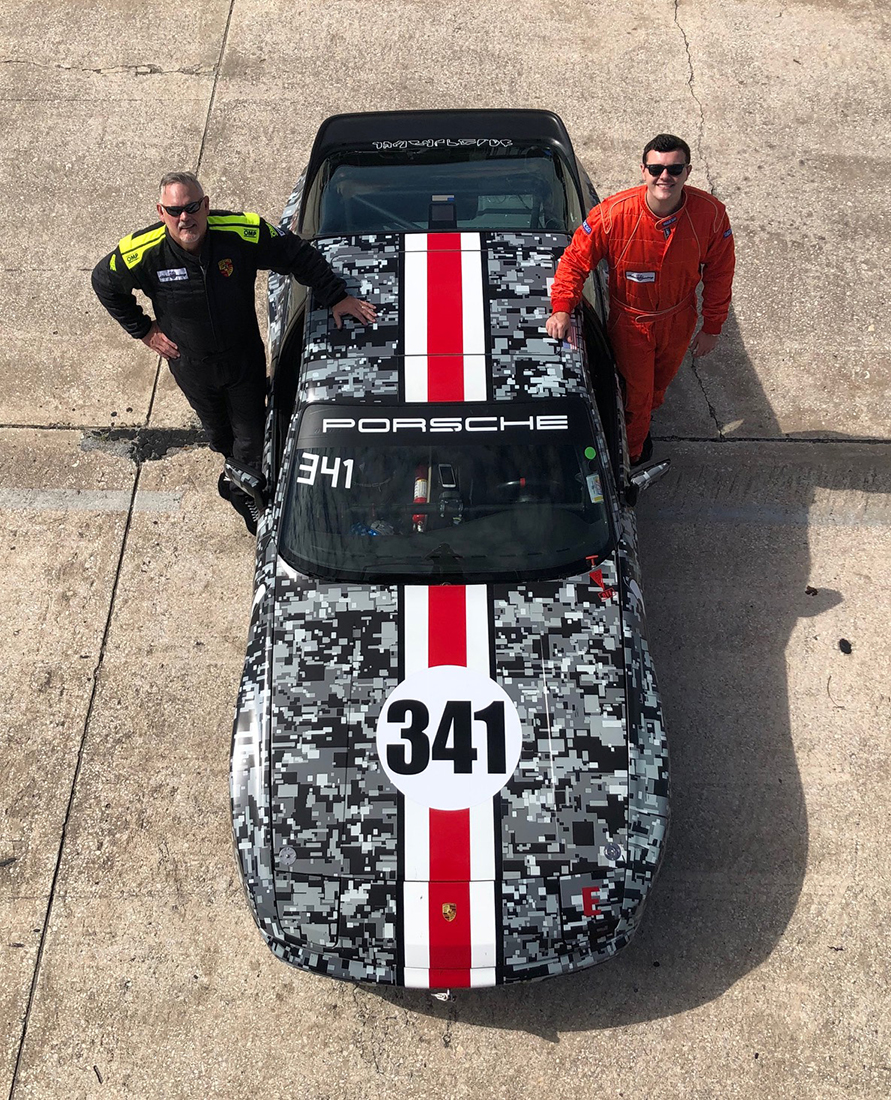 Waiting on the pit wall as my son raced the car that we built together in our garage was quite an incredible experience. He had managed to keep the cars ahead of him in sight and when it was time to pit and hand the car over to me, we were in good position for a decent finish.
Fortunately, I caught a lucky full-course yellow, which caused the field to bunch up and put me in position to take the lead. I made the pass for P1 just after the restart and managed to hold on for the win.
So, after all of those years of taking my son to, autocrosses, DE's, the deployments, more DE's and finally his first club race, we were heading to victory circle together. It really doesn't get much better than that. 
Connor soon learned that being successful in a job meant putting in a lot of hours – sometimes even on weekends. So, his racing had to be put on hold for the rest of 2018. However, his hard work has paid off in the form of more free time, so we're planning to do more racing in 2019.
In February we made it down to Florida for the 48 Hours of Sebring. Despite having no experience on that track, Connor drove very well and even managed to snag the Rookie Award. 
I don't believe I have ever seen him more excited than when he climbed from the car after the first sprint race. Of course, at one point during the long drive back to Ohio, he said to me, "You know if we upgraded the suspension, the car would be faster." Then he promptly fell asleep. That's my boy. 
Thank you PCA for helping to make it all possible.