2019 Zone 6 Grand Tour: Nine days, 2,300 miles, 10 Regions, and our Porsches
Article by Mark Prusynski
Photos courtesy Mark Prusynski
Day 1 Saturday, June 22
Pacific Northwest and Olympic Peninsula Regions
If the 2015 Zone 6 Grand Tour was a 4,700-mile marathon, this year's 2,300-mile tour of Zone 6 will only be a half marathon. We started on a quiet Saturday morning at Griot's Garage in Tacoma. They were kind enough to open early for coffee, donuts, and the usual drivers' meeting. Of course, we all had time to browse the store and buy products to keep the Porsches pretty.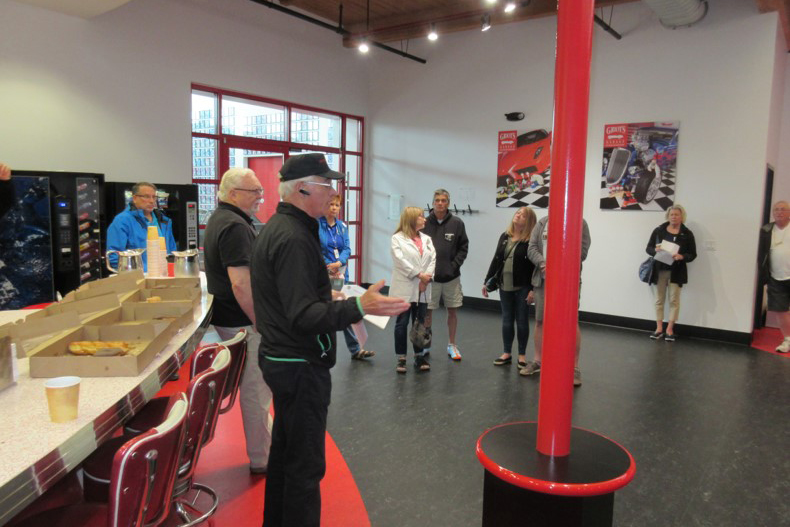 Above: Greg Halverson giving the first safety briefing at Griot's.
Greg Halverson, the National Tour Chair and member of Pacific Northwest Region, led our tour through the area south of Seattle. We were somewhere near Mount Rainier, but the clouds hid the views. That's not unusual for the area. We ended the morning with a wonderful lunch provided by Porsche of Tacoma at the dealership, a fantastic showplace for Porsche's finest. The Olympic Peninsula Region took over and led us out of the city along the Eastern edge of the Olympic National Forest and all the rivers, lakes, and inlets. We ended the day in Port Angeles with a dinner near our hotel, which was next to the dock where our ferry will carry us across to Vancouver Island early tomorrow morning. I hope the foghorns don't go on all night.
Two Regions, 37 Porsches, 67 people, 351 miles. Only a couple thousand to go.
---
Day 2 Sunday, June 23
Vancouver Island Region
There was already a long line when we arrived at 7 am for an 8:15 departure of the Coho Ferry to Victoria. With 20 or so Porsches in the parking lot we had a nice show and opportunity to take pictures and talk to PCA members. The Vancouver Island Region met us with signs pointing to a staging area and we were soon off north toward Nanaimo.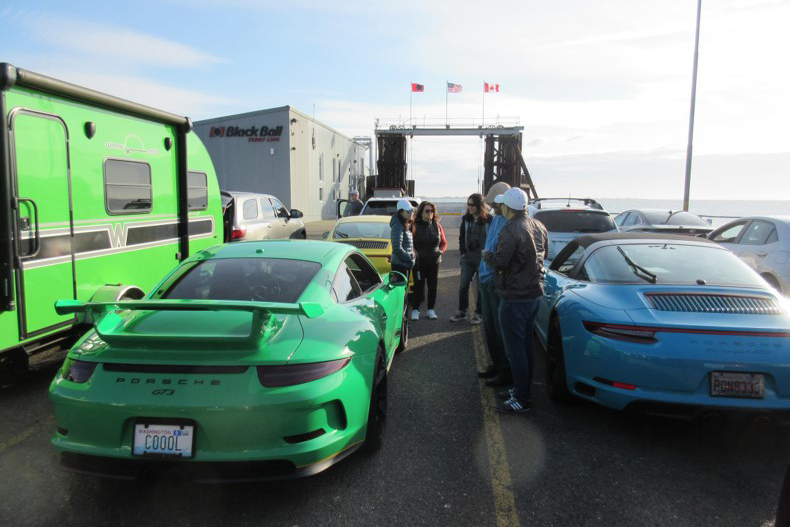 Above: Waiting for the ferry.
Victoria has a stoplight about every block and they give preference to bikes and pedestrians, so a green light lasted about long enough for two Porsches to get through. Al Kyle thoughtfully provided instructions, translated into miles. I, however, had used the time waiting for the ferry to change the Boxster over to kilometers. We managed by actually looking for road signs. What a concept! We divided and regrouped several times and were soon at the Vancouver Island Motorsport Circuit, where we had a nice lunch and three parade laps around the circuit.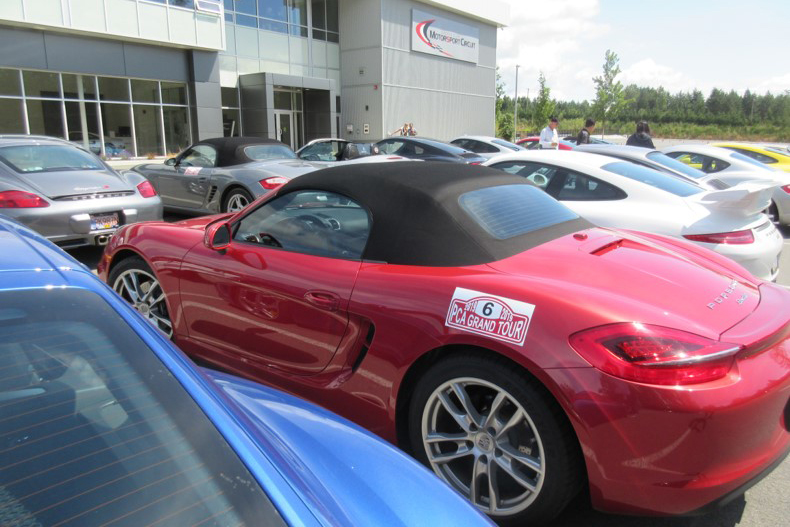 Above: Getting ready for Parade laps at Vancouver Island MotorSport Circuit.
Most of us opted for the scenic route over the quick route to Nanaimo and we experienced some beautiful back roads. Our P-cars were led for several miles by a P-truck that seemed to be following the same route. It was a delivery truck full of "Preserves and Pickles" that finally turned off to deliver the goods.
Three Regions, Pacific Northwest, Olympic Peninsula, and Vancouver Island. 47 Porsches and 80 people on 100-mile segment (Not counting the parade laps or ferry ride.) 451 miles total.
---
Day 3 Monday, June 24, 2019
Canada West Region
We started early with 30 Porsches on the ferry to the mainland and another 13 joined us north of Vancouver. The Sea to Sky highway going up through Whistler is just spectacular. We stopped for lunch at a golf course with snow-capped peaks jutting straight up. We had occasional clouds and sprinkles, but some of the hardy cabriolet drivers kept the tops down without getting too wet.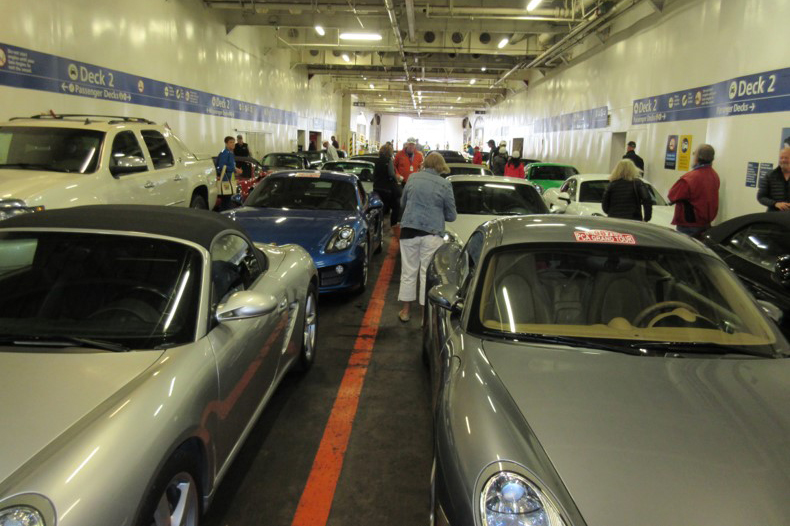 Above: On the ferry back to the mainland.
Linda noticed a young black bear standing by the side of the road. He waited for Colin in his black 911 to pass and then decided to sprint across right in front of Corby's Cayman. Corby's new brakes passed the test, barely missing the bear. Or, should it be "bearly"?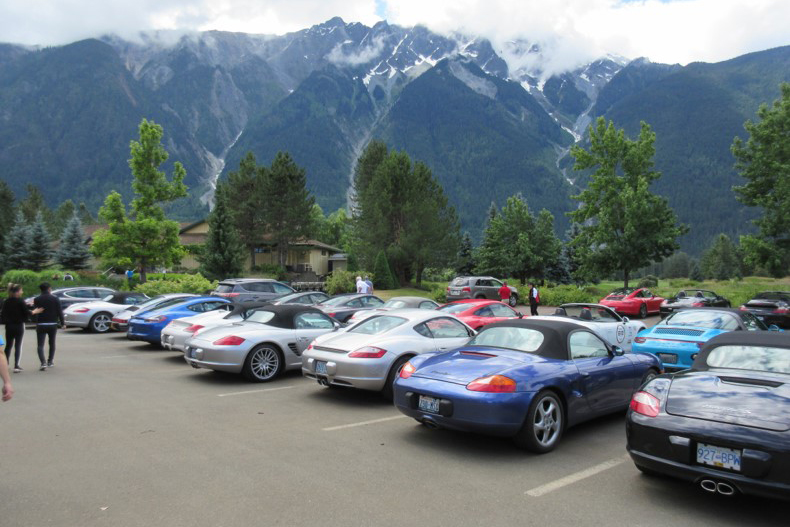 Above: Lunch at Whistler, BC.
Great twisties all 260 miles on the way to Merritt and we'll get to sleep in a little tomorrow. Life is good.
Four Regions, Pacific Northwest, Olympic Peninsula, Vancouver Island, and Canada West. 710 miles. 
---
Day 4 Tuesday, June 25, 2019
British Columbia Interior Region
We took a short ride from Merritt to brunch at the Two Eagles Golf Course in Kelowna, overlooking Okanagan Lake and the mountains beyond. BC Interior Region met us with hats and judging slips for a show and not so much shine. People were asked to vote for their favorite car without regard to how dirty it was. Fortunately for me, the winner had to be present. The owner of a blue Targa wasn't present, so my Amaranth Red Boxster took the top prize and a graphite blue metallic Cayman S took second. It was nice to see that people appreciate the more unusual colors.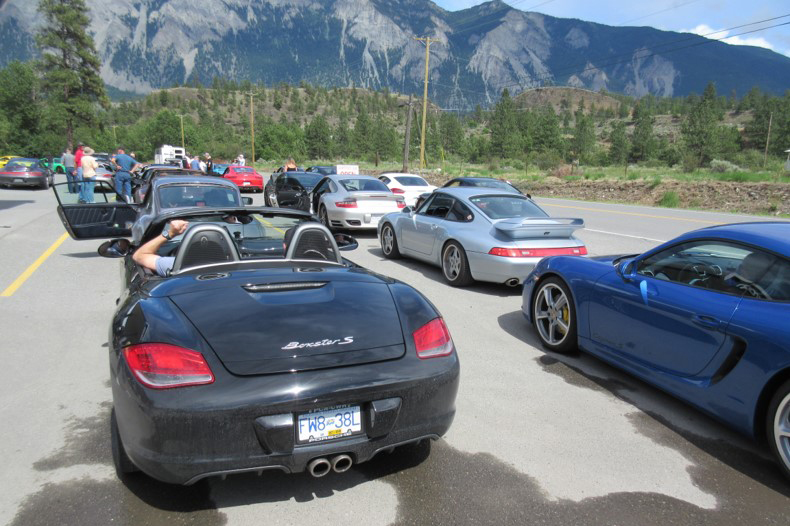 Above: Merritt, BC to Nelson, BC.
After brunch we drove nearly 300 miles in about six hours over mountain passes with heavy forests, beautiful lakes, and rivers, with an occasional backdrop of snow-capped peaks. The Needles Ferry only holds about 30 cars and leaves every 30 minutes. We arrived with a few minutes to spare in front of a semi that we had all passed on the way.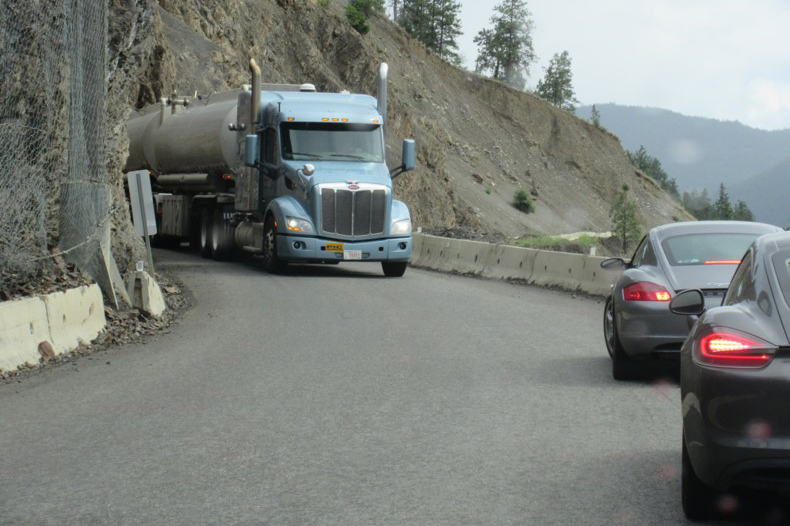 Above: Look who we met on a one-lane road!
They squeezed him on right behind me and he didn't even come close to my back bumper. The five-minute ride across wasn't enough rest from the long drive with hardly a straight stretch. My arms will be sore tomorrow. Fortunately, it will be a fairly relaxing day.
Five Regions, Pacific Northwest, Olympic Peninsula, Vancouver Island, Canada West, and British Columbia Interior. 1,030 miles—almost half way. 
---
Day 5, Wednesday, June 26
Inland Northwest Region
We got to sleep in today and started with a leisurely drive down to the border crossing at Nelway. Those of us at the back of the line thought one of our group at the front was in trouble, causing a long delay. It turned out we followed two school buses full of kids, who each had to be processed. When we started going through, it was obvious that the guards were aware that Porsches had front trunks, until Al Kyle's 944 pulled up. They made him pop the hood. Then when a Panamera pulled up they were even more confused. They never figured out that the Caymans and Boxsters have two trunks. We sailed through.

Above: Back to the US (Two school buses full of kids right behind the building).
INWR met us at the first pull out and took us on a route that wound in and out of Idaho. Linda and I were getting close to home. We stayed in the Spokane Valley and ate a fantastic dinner with several Region visitors. Despite the short drive, I was ready for an early bedtime.
Six Regions, Pacific Northwest, Olympic Peninsula, Vancouver Island, Canada West, British Columbia Interior, and Inland Northwest. 170 miles today for a total of 1,200.
---
Day 6, Thursday, June 27
I was looking forward to meeting our Silver Sage Region pals in Orofino, but first headed back over to Northern Idaho on some roads that were familiar to Spokane Parade attendees. We had a planned stop in Moscow, but it was delayed somewhat by road construction. The coffee almost kicked in too soon. Several of us walked briskly from the cars to the restroom. Our oldest daughter attended University of Idaho in Moscow and the trip brought back some good memories.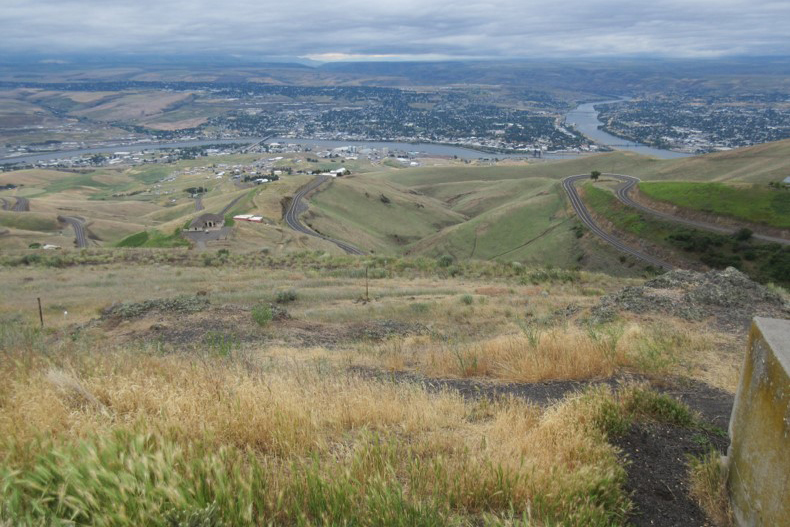 Above: Spiral Highway.
Speaking of memories, I will never forget the first trip our family made to the West in our 1964 Pontiac Catalina. Seven people in one car with no seatbelts. We went up this crazy road on the edge of Idaho that curved back on itself over and over. Turns out it's still there and it's called the Spiral Highway. Our group wound down it and then headed along the river on Highway 12 to Orofino for a box lunch with the Silver Sage group. They picked us up and over Whitebird Pass. We could see lush greenery for miles and Linda said she thought our state was awfully pretty, too.
We had a great evening dinner at Shore Lodge on the edge of Payette Lake and one person at each table won a Porsche paperweight courtesy of Porsche of Boise. I took home a Boxster! We ended with a rousing Happy Birthday song for Sue Hagner.
Seven Regions, Pacific Northwest, Olympic Peninsula, Vancouver Island, Canada West, British Columbia Interior, Inland Northwest, and Silver Sage. 202 miles today for a total of 1,402.
---
Day 7, Friday, June 28, 2019
Our longest drive started off early and poorly, with chipseal for miles. We were stopped a couple of times for road construction and had to putt along through loose gravel. No serious rock chips were reported and when we finally got out of it we made good time across Oregon to John Day for lunch with the High Desert Region. They led us through some picturesque canyons and along dark blue reservoirs. I had trouble keeping up, although my passenger seat alarm never went off once. We had to pause to allow some cowboys, riding ATVs rather than horses, to herd cattle across the highway.  It looked easier than herding cats, right Gary?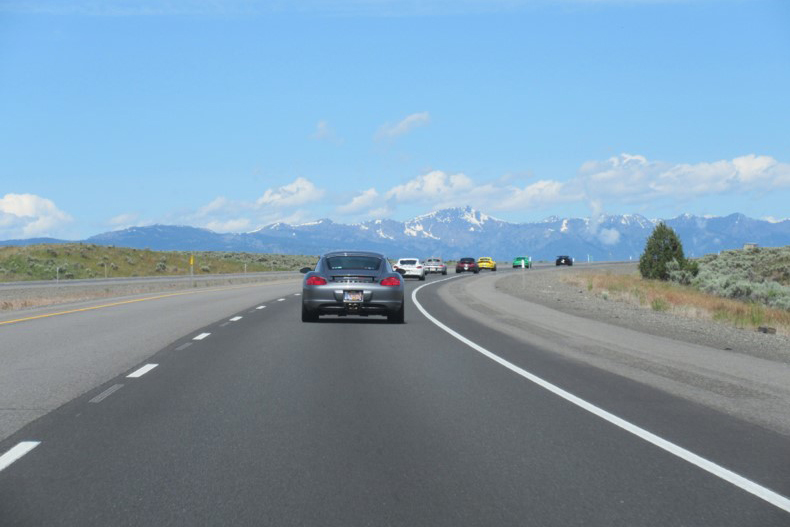 Above: Getting close to Baker, Oregon.
We stopped in Bend, Oregon, and had a nice dinner in a member's garage that was the envy of everyone there. Dinner was hosted by Porsche of Bend and it's back to the hotel for the night. Tomorrow we cross over the Cascades and head to the Pacific Coast.
Eight Regions, Pacific Northwest, Olympic Peninsula, Vancouver Island, Canada West, British Columbia Interior, Inland Northwest, Silver Sage, and High Desert. 420 miles today for a total of 1,822.
---
Day 8, Saturday, June 29, 2019
Rick Ohlson is our tour guide for the Cascade Region. Even Rick's superlative-laden description of the drive over McKenzie Pass could not accurately describe the beauty of our surroundings. A very narrow road took us up through a fire-scarred forest to Dee Wright Observatory in the midst of a huge lava flow. Snowcapped volcanic peaks were all around. Then the road down the west side was even more narrow and twisty. There was hardly room to stay in the right lane.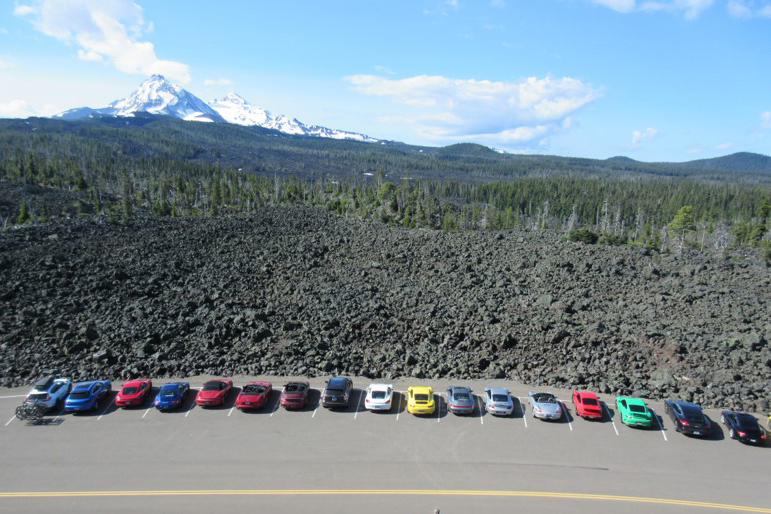 Above: Spectacular view from Dee Wright Observatory in McKenzie Pass.
We overwhelmed a nice restaurant for lunch and headed back up to Highway 20 and over toward the coast. The forest is much denser on the west side than it was on the east side. At Newport, we headed north on Highway 101 through a couple of coastal tourist towns to Lincoln City. Dinner with Porsche friends at a restaurant overlooking the ocean, a walk on the beach, and a room with a view of the ocean ended a perfect day. 
Tomorrow is the last day of the Grand Tour. Nine Regions, Pacific Northwest, Olympic Peninsula, Vancouver Island, Canada West, British Columbia Interior, Inland Northwest, Silver Sage, High Desert, and Cascade. 267 miles today for a total of 2,089.
---
Day 9, The Final Day, Sunday, June 30, 2019
Joe Kelly from the Oregon Region led us today, using a tour prepared by Bill Munson. Joe runs an excellent tour and this one contained all the variety that the Northwest has to offer. The fabulous Oregon Coast was on our left until we turned inland through dense forests. There were a couple of times that I wanted to stop and take a picture of William Fong's Signal Green GT3 passing through the bits of sunlight that filtered through the canopy. The ferns on both sides of the road matched the GT3. Of course we couldn't stop, but the image remains etched in my memory.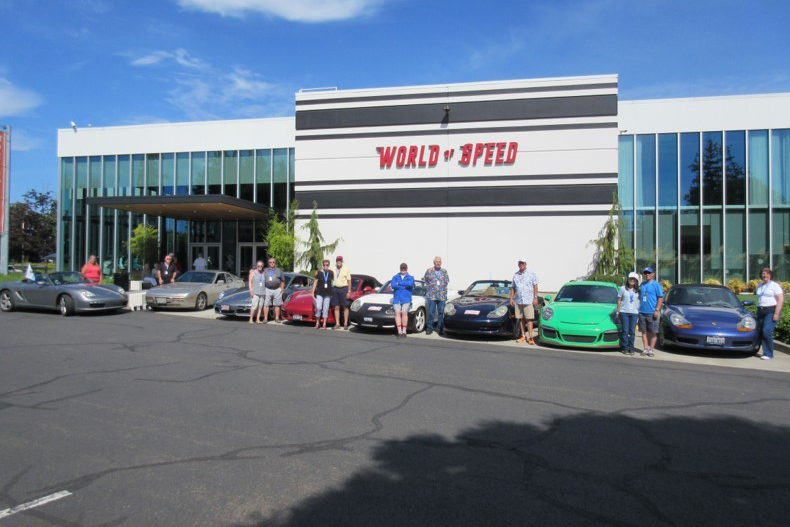 This is the group that traveled at least eight of the nine days of the tour, left to right: Gordon (hiding) and Sylvia Mansfield, 2006 Seal Grey Metallic Boxster, Nanaimo, BC; Al Kyle, 1986 Zermatt Silver 944 Turbo (that turned over 250,000 miles on the last day), Victoria, BC; Janice and Gary Glover, 2006 Seal Grey Cayman S, Nanaimo, BC; Linda and Mark Prusynski, 2013 Amaranth Red Boxster, Boise, ID; Paul Atterton, 2001 Biarritz White Boxster S, Comox, BC; LaRoy and Kelly Gossen, Dark Blue Carrera, Newburg, OR; Joyce "Joyz" Lau and William Fong, 2016 Signal Green GT3, Bellevue, WA; Roxie Wilson, 1999 Zenith Blue Boxster, Bellevue, WA; Photographer not pictured, Perci Hala, 2014 Pure White Cayman S, Duncan, BC
Lunch was at Camp 18, near Seaside, Oregon, a huge log restaurant with historical mementoes of the logging days. Good food was promptly served and we were back on the last leg. More forest, wine country, a couple of small towns, and we arrived at World of Speed in Wilsonville. We staged cars for pictures and had a short visit at the museum. We all said our thanks and good-byes there or at a nearby restaurant on the patio. It was great to be finished, but sad to see everyone head off in separate directions for home. What a fun group we have in Zone 6 and our tour was truly Grand.
Ten Regions, Pacific Northwest, Olympic Peninsula, Vancouver Island, Canada West, British Columbia Interior, Inland Northwest, Silver Sage, High Desert, Cascade, and Oregon. 190 miles today for a total of 2,279 miles.