First-ever PCA Experience engages Porsche and car enthusiasts at Summit Point
Article by Tom Neel
Photos by Damon Lowney unless noted
Our lives are filled with first experiences. Your first date, your first time driving a car, and, of course, buying your first Porsche. On Saturday, August 3, the Porsche Club of America celebrated its first ever "PCA Experience" event. For an organization which has provided its members literally thousands of national and regional club experiences over its 64 years, this was to be something new. A place and time for both non- and less-active members to experience the wide variety of lifestyle events the PCA has to offer. It was a fun-filled, Porsche-loving day for all!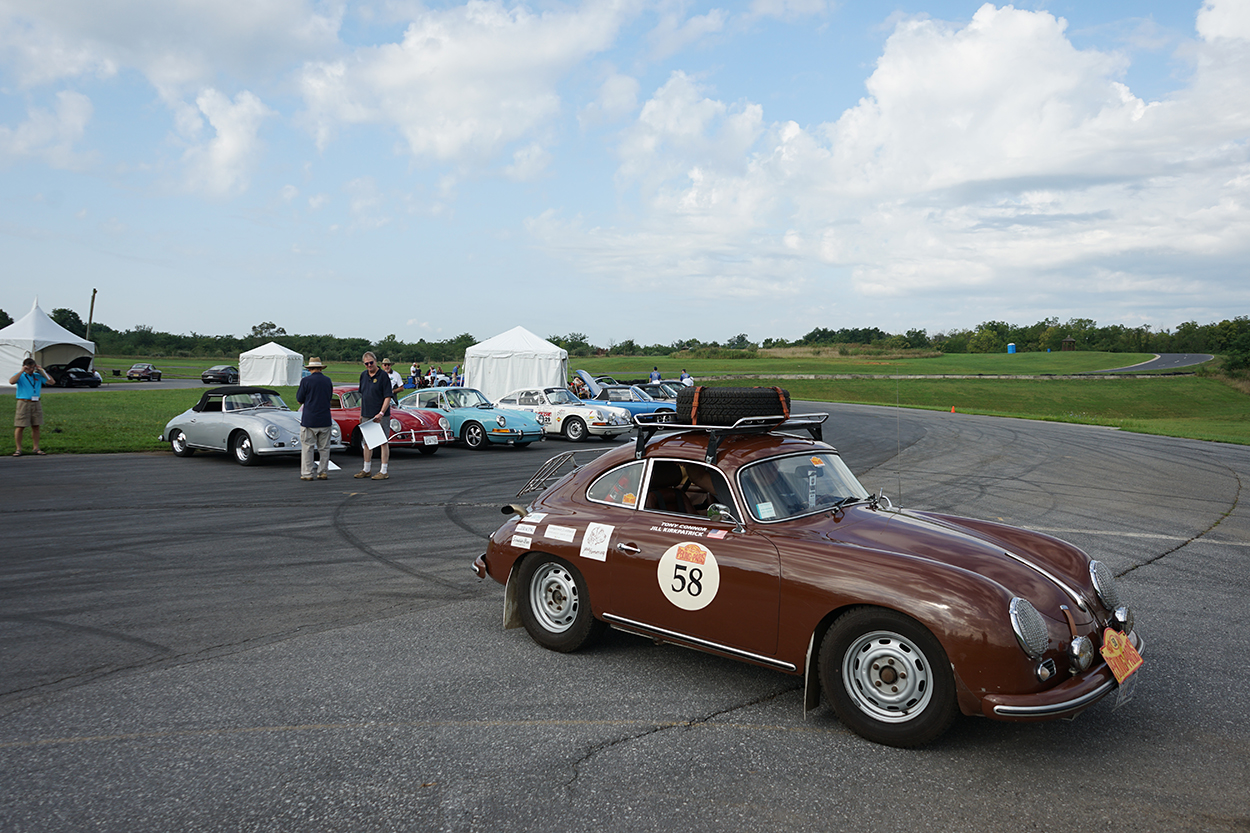 Above: Members arrive in their Porsches at the Heritage Display. Potomac Region member Tony Connor completed the 2016 Peking to Paris race in this custom 356.
Taking place on a sun-drenched, cloud-filled, cerulean blue-sky day, Professor Ferdinand Porsche simply could not have imagined anything like this when he founded his small German company in 1930. For him to visualize nearly 90 years later, a 135,000-member-strong, American car club bearing his name and continually celebrating it by presenting the amount of activities the Porsche Club of America so admirably has on this day, would have been impossible. He would be very proud nonetheless.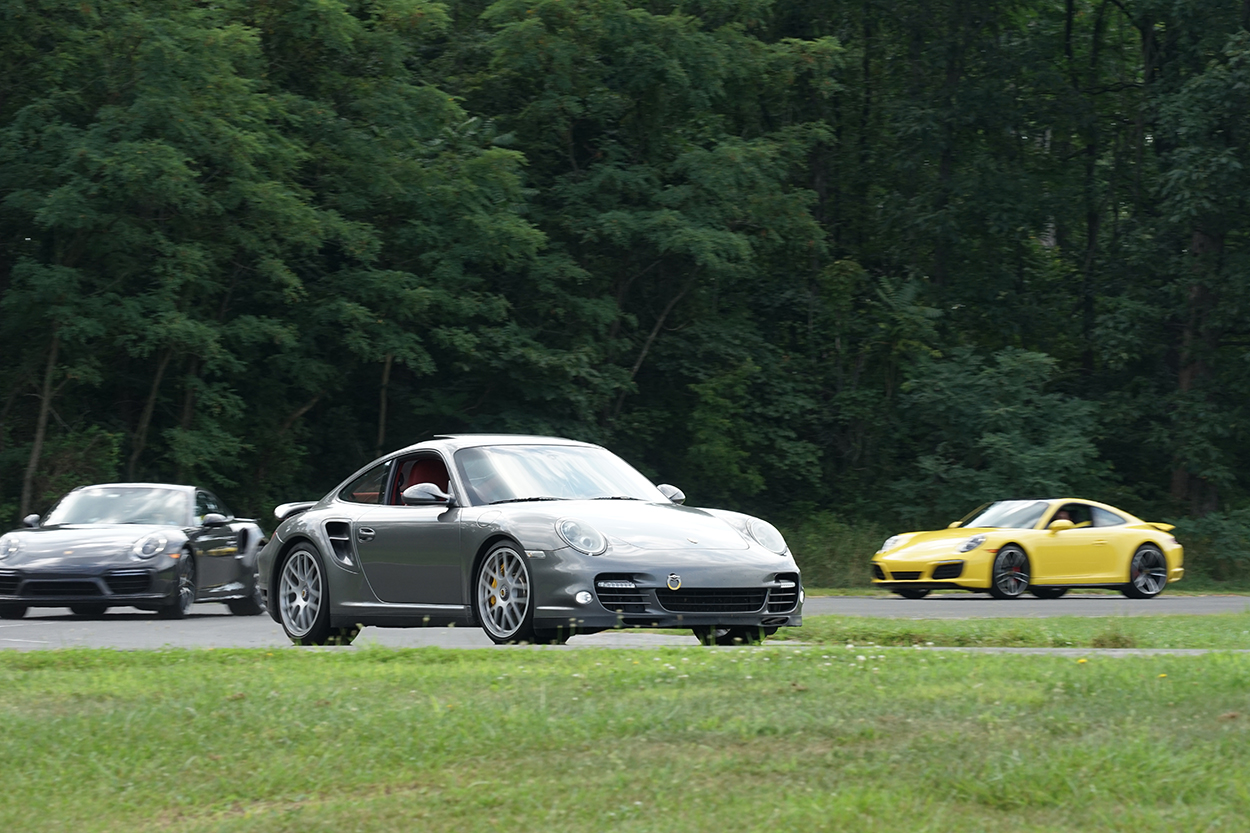 Above: Members could sign up for moderate-speed Parade Laps on Summit Point's Jefferson Circuit.
Holding the event at the vast Summit Point Motorsports Park, approximately 50 miles northwest of Washington, D.C., in Summit Point, West Virginia, allowed the somewhat nearby Columbia, Maryland-based PCA National Office to pull off such an all-hands-on-deck endeavor. No small feat though with the PCA Experience being sandwiched between two of their biggest events of the year, Porsche Parade and Werks Reunion Monterey. PCA Executive Director, Vu Nguyen shares, "This has been at least six months in planning. The date that came available for us coincided with Parade and Werks Reunion, but we pulled it off. I think we had at least 500 attendees that aren't normally at PCA events! They came out and got a glimpse of everything PCA has to offer. I'm ecstatic!"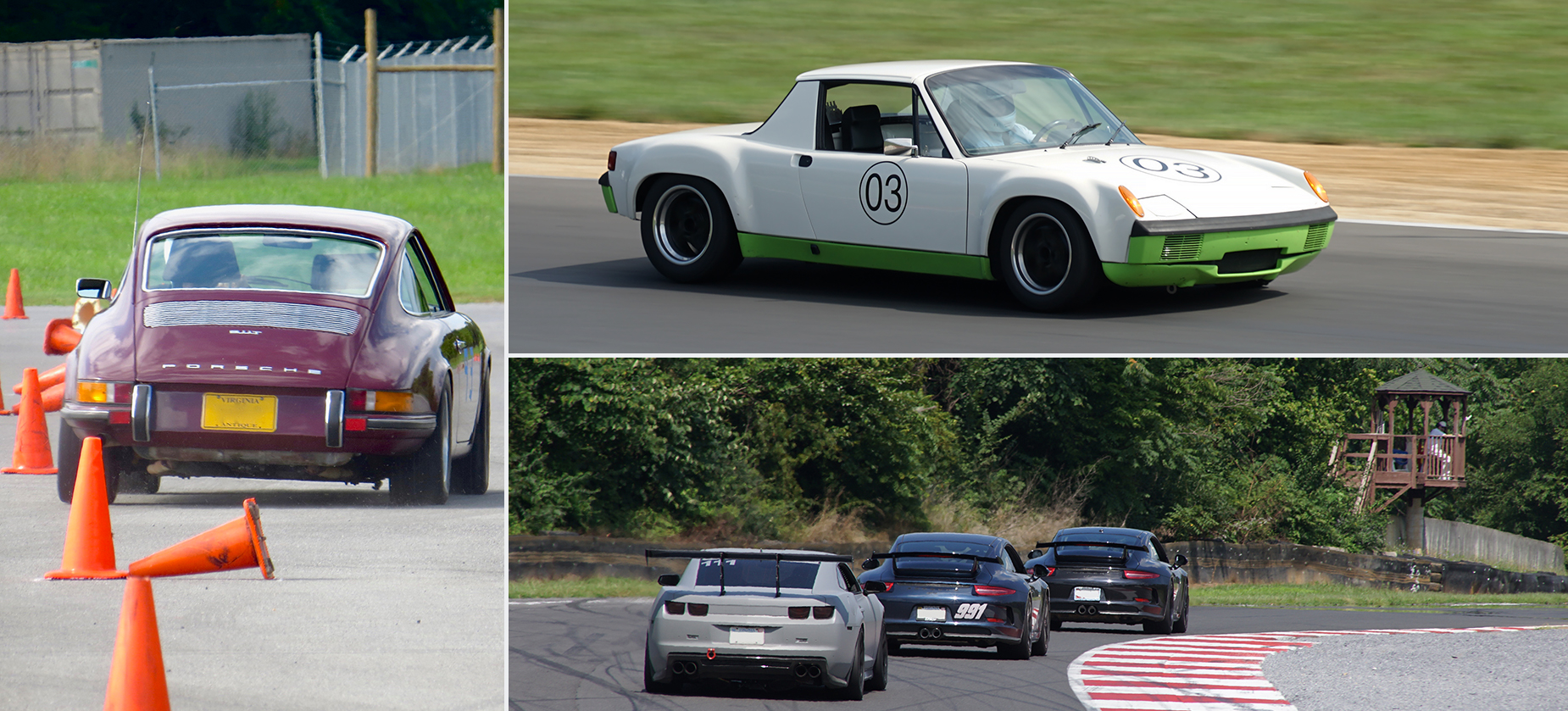 Above, clockwise from left: A member drives his 911T at the Chesapeake Region Autocross (Photo by Tom Neel). A 914 laps Summit Point's main track at Potomac Region's High Performance Drivers Education (HPDE) event. A Chevrolet Camaro follows two 911 GT3s in Turn 4 at the HPDE.
That "glimpse" Nguyen was referring to included seeing High Performance Drivers Education track driving, hosted by the Potomac Region, and autocross driving on a timed obstacle course, which was held by the Chesapeake Region. Attendees could even hop in a Cayenne SUV and be driven by a Porsche Sport Driving School instructor on an off-road course within the facility. There were hundreds of Porsches to see of most every model, along with a heritage display featuring historic Porsches, GT cars, and race cars. There was even a judged car show!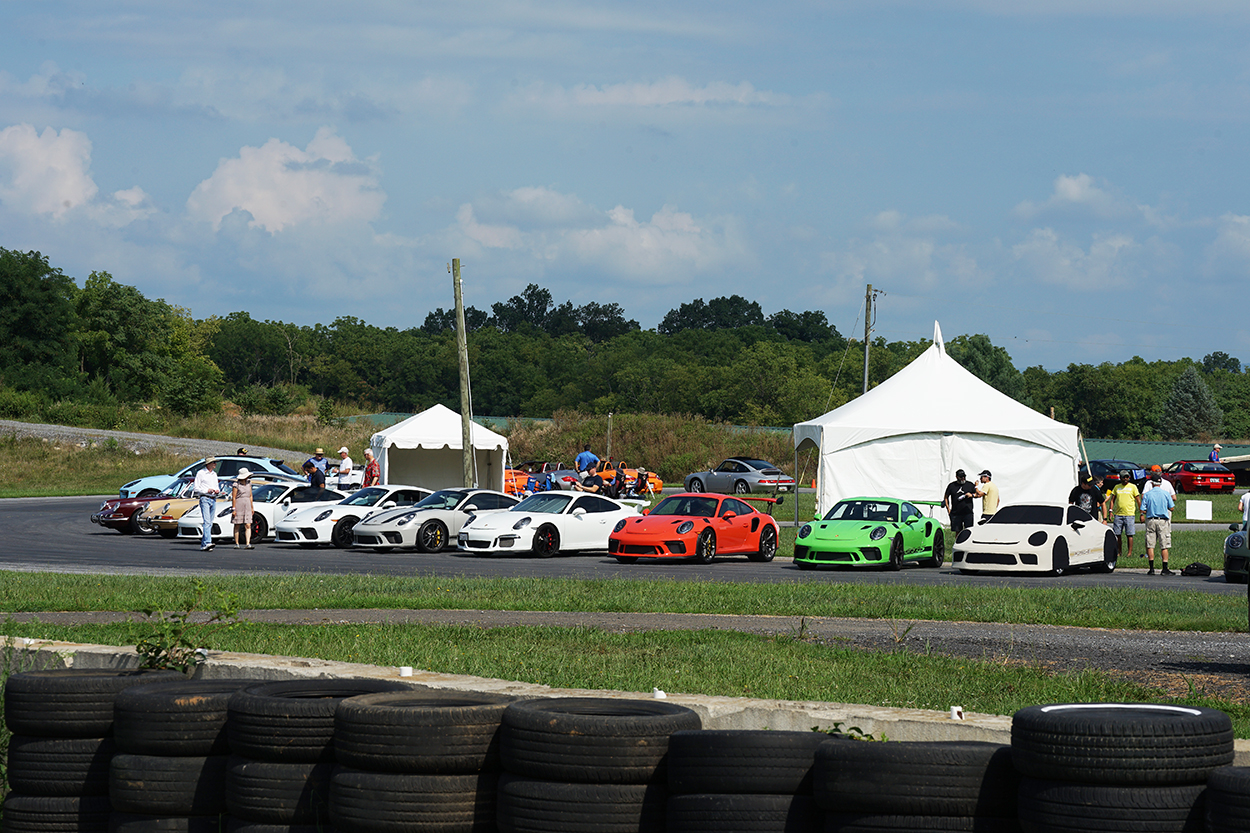 Above: Porsche GT cars at the Heritage Display.
You could meet with Porsche dealers, and take guided bus tours to see everything. Of course, being a family event, there was no shortage of food, music, PCA merchandise, toy cars, games, and a radio-controlled-car track for the kids. PCA is well known for saying, "It's not just the cars, it's the people," which is backed up nicely by its other motto, "Fueled by volunteers!" PCA members were there in numbers to volunteer and help everyone have a great time, and this included the entire PCA Executive Council including two past presidents!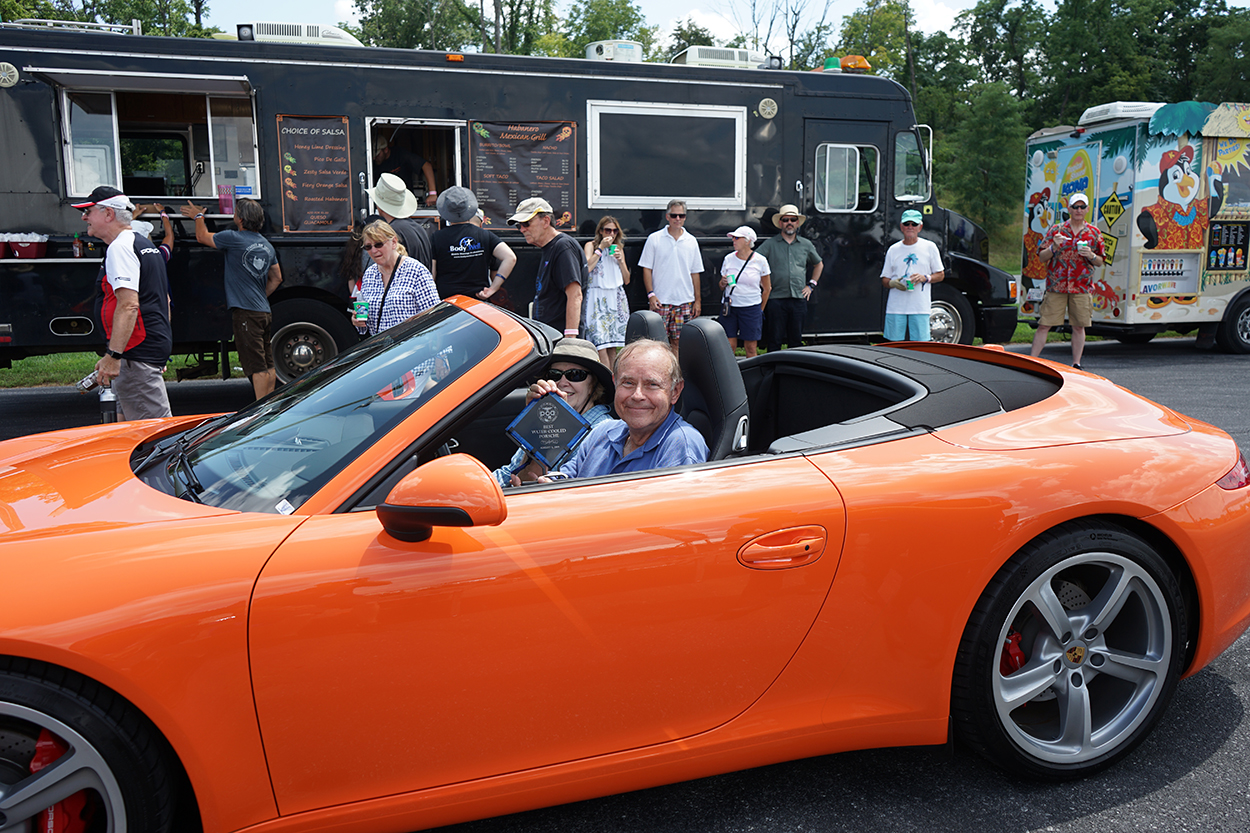 Above: A member in his 991 Carrera S holds up his trophy for Best Water-cooled Porsche.
Current PCA Vice President Cindy Jacisin happily had this to say: "It was a great opportunity to meet future members and current members and I think everybody got a great feel for what the PCA is all about. We feel fabulous! Attendance was great, we had a good mix of people who own Porsche cars and aren't members yet. But then also a lot of regional members who have not really participated in their Region, didn't know what it was all about, and who have said they are now going to check out what their Region has to offer. You can't ask for more than that. An active member is a happy member!"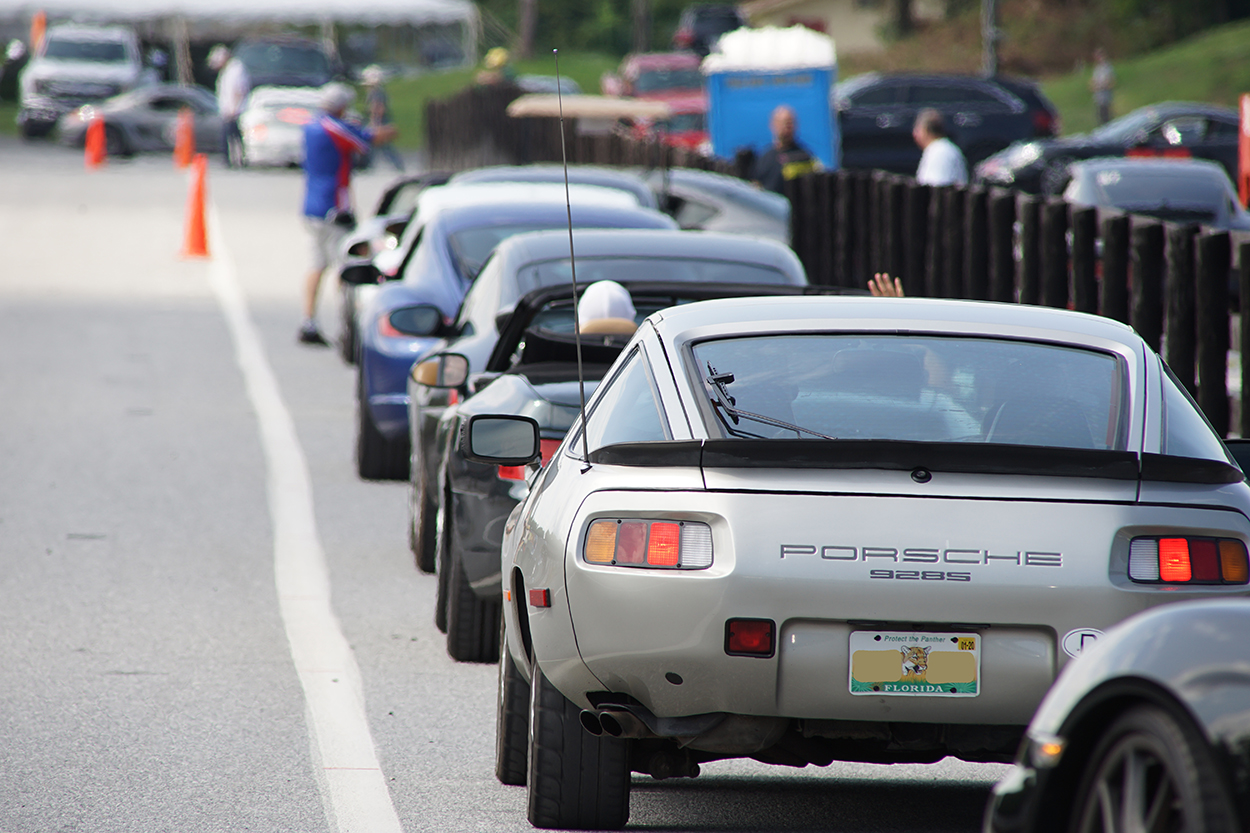 Above: Various Porsches ready to head on track at the HPDE.
From its humble beginnings in 1955, which pre-dates Porsche's iconic 911 sportscar, the PCA has always been a close-knit community of Porsche owners, this despite growing to 145 regions throughout the United States and Canada. PCA members celebrate the finer things in life and desire the comfort of good friends, good conversation, and a love of the world's finest automobile. The Porsche experience reaches across the cars and the years to people, binding together the family whose name the cars bear, the men and women who design and build them, and those across the world who drive and cherish them. PCA members know the unbridled joy that a Porsche can provide, and have built a community around that very feeling. The Porsche Club of America offers driving experience, technical assistance, and camaraderie second to none, along with an award-winning magazine and vendor discounts.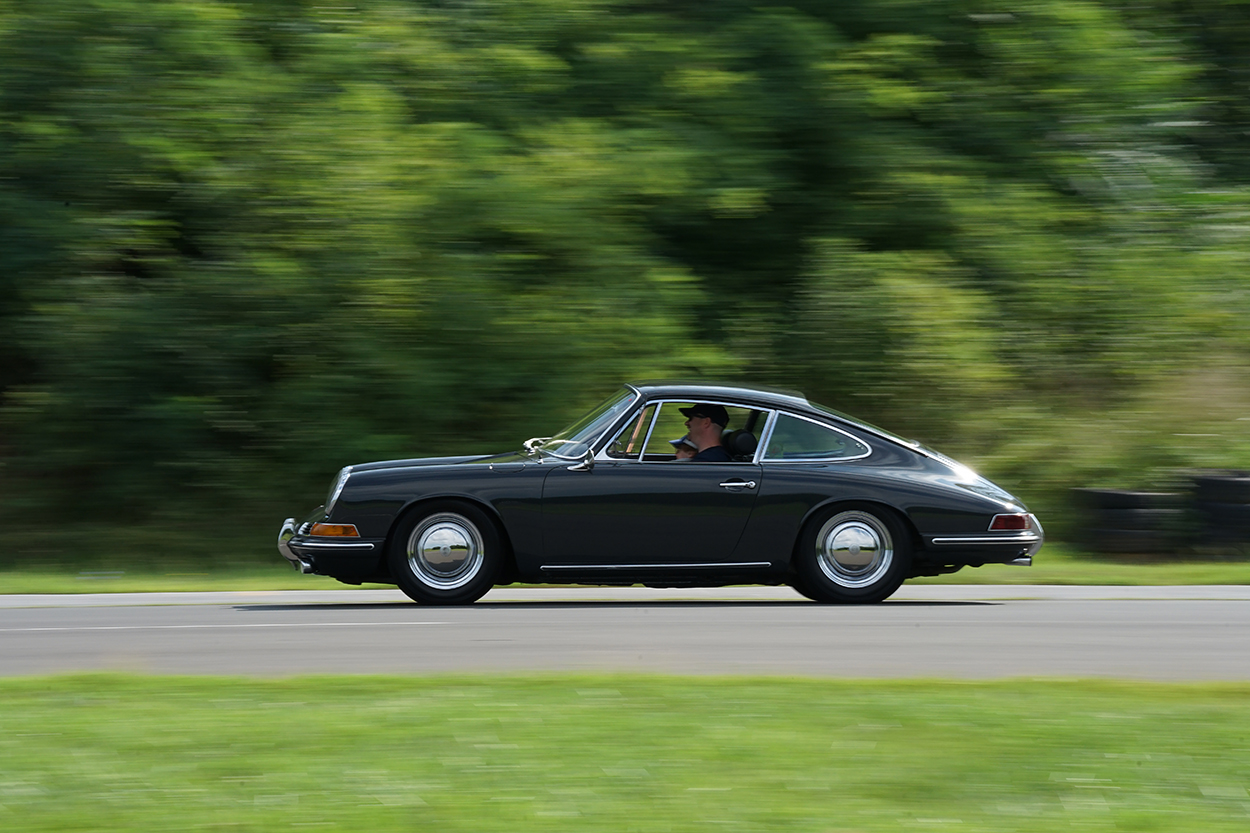 Above: A member and his nine-year-old son enjoy Parade laps on the Jefferson circuit in his 912.
This event has proven to be an appetizing tasting menu for Porsche Club of America. One cannot imagine it not being repeated. PCA Past President Caren Cooper had this to say in looking towards the future: "The attendance was awesome and it far exceeded our wildest expectations for the first time. We're going to evaluate, but it is our hope to take this type of event to other locations." Sounds delicious, and you'll not want to miss taking a bite!
Special thanks to Porsche Cars North America, specifically Area East, as well as the Regions and volunteers that made this event happen!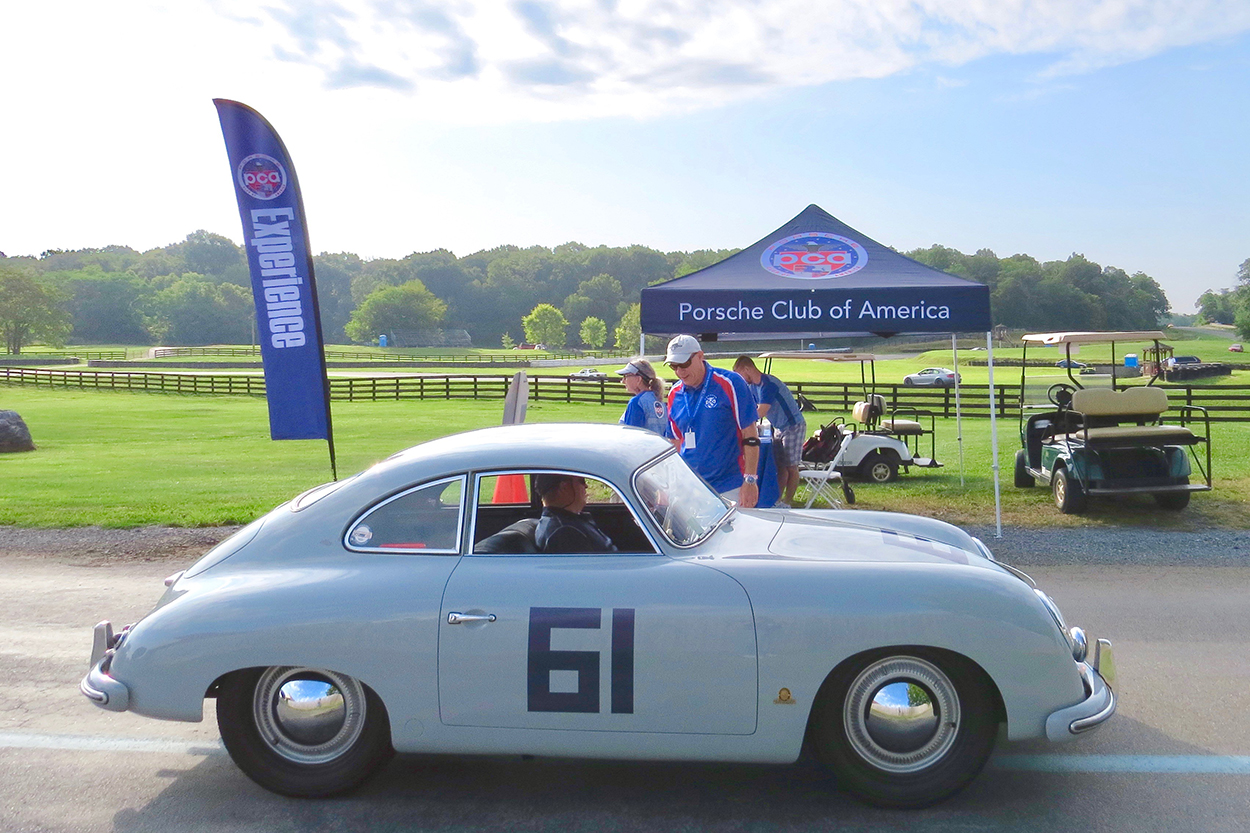 Above: A member arrives at PCA Experience in his 1953 356 (Photo by Tom Neel).