Most powerful hybrid Porsche Cayennes announced
Article by Damon Lowney
Photos courtesy Porsche
Above: Porsche Turbo S E-Hybrid (foreground) and Turbo S E-Hybrid Coupe.
Porsche announced three new models yesterday, the Porsche Cayenne Turbo S E-Hybrid, Turbo S E-Hybrid Coupe, and E-Hybrid Coupe, which will soon join the Cayenne E-Hybrid that's been on the streets since early 2019. The new Turbo S E-Hybrid models produce 670 horsepower and 663 pound-feet of torque, making them the top-of-line Porsche SUVs, while the E-Hybrid Coupe uses the same 455 hp setup as the standard-body model.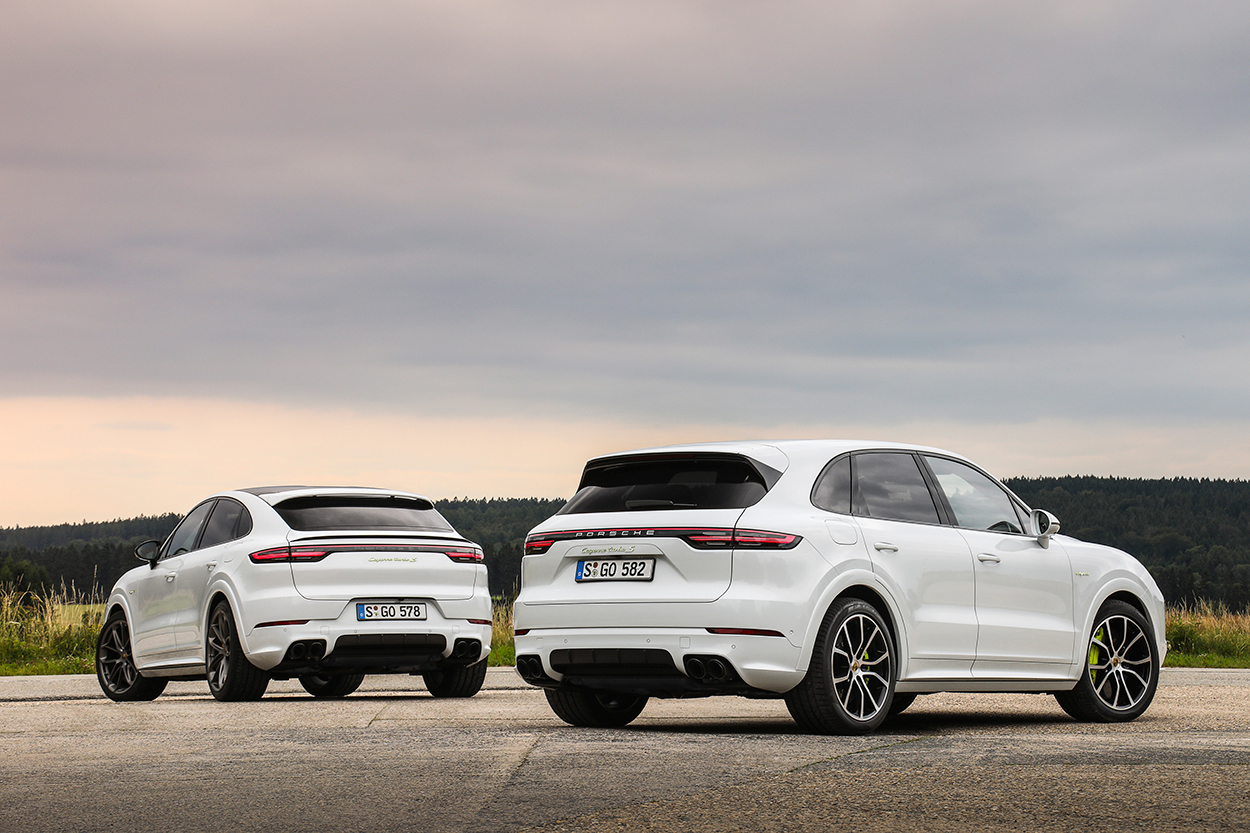 Like the Panamera Turbo S E-Hybrid, the new top Cayennes have a 541-hp 4.0-liter twin-turbocharged V8 paired with a 134 hp electric motor, which sits between the engine and transmission, an eight-speed automatic. Porsche says the new Turbo S E-Hybrid Cayennes go from zero to 60 miles per hour in 3.6 seconds, on to a top speed of 183 mph. The electric motor can propel the vehicle quietly on its own or assist the V8. The 14.1 kWh lithium-ion battery has 30% more capacity than the previous generation hybrid Cayennes and, with the standard 7.2 kW onboard charger, can replenish all of its energy in 2.4 hours with a 240-volt connection and 50-amp circuit, Porsche says.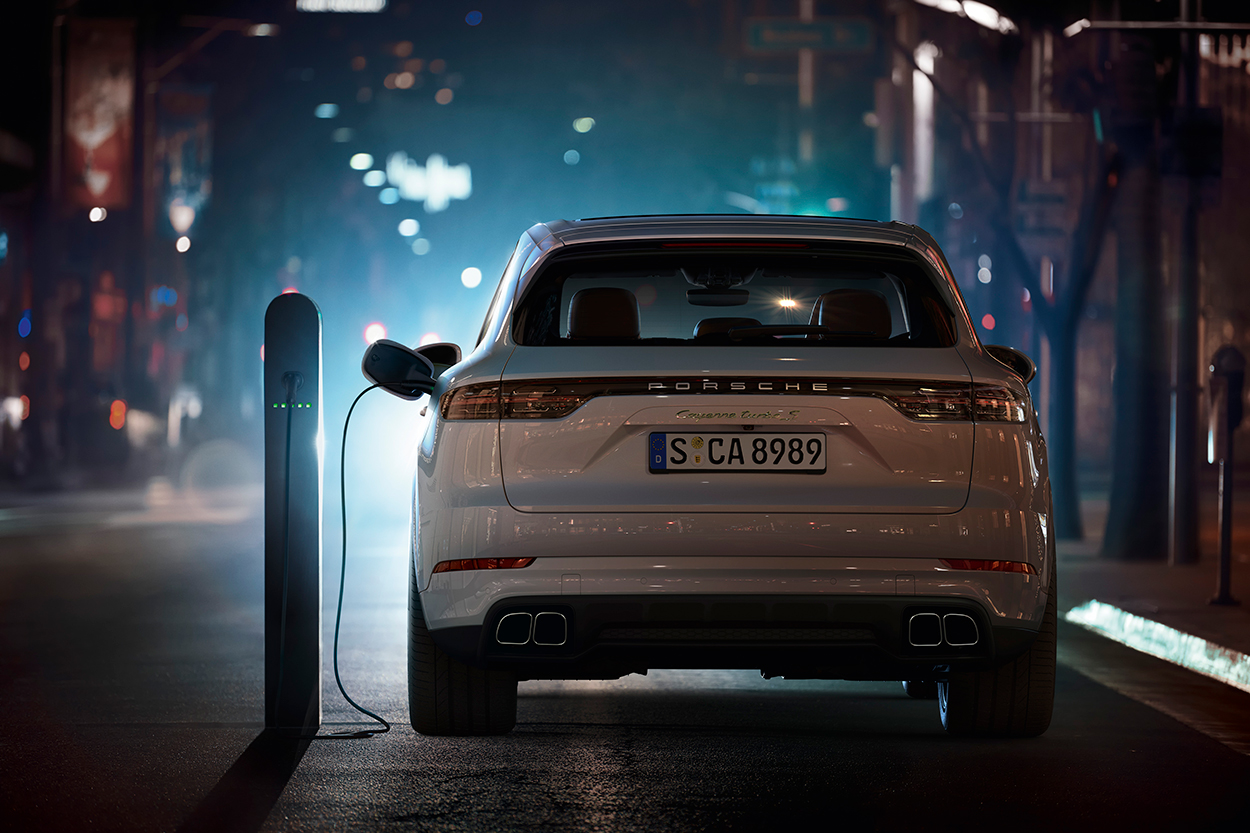 Following tradition, the top model Cayennes receive a lot of standard equipment that are normally options, and, in the case of the Cayenne Turbo S E-Hybrid (and Coupe version), includes Sport Chrono Package with sport mode, carbon ceramic brakes, active anti-roll bars, torque vectoring, AeroDesign 21-inch wheels, and body-color wheel-arch extensions. Sport exhaust and rear-wheel steering are options that can only enhance the driving experience for those who like a bit more sport in their SUVs.
Inside, both the standard body and Coupe versions of the Cayenne Turbo S E-Hybrid have 18-way Adaptive Sport Seats. The standard body model gets bench rear seating while the Coupe has two rear buckets that can be replaced with a bench as a no-cost option.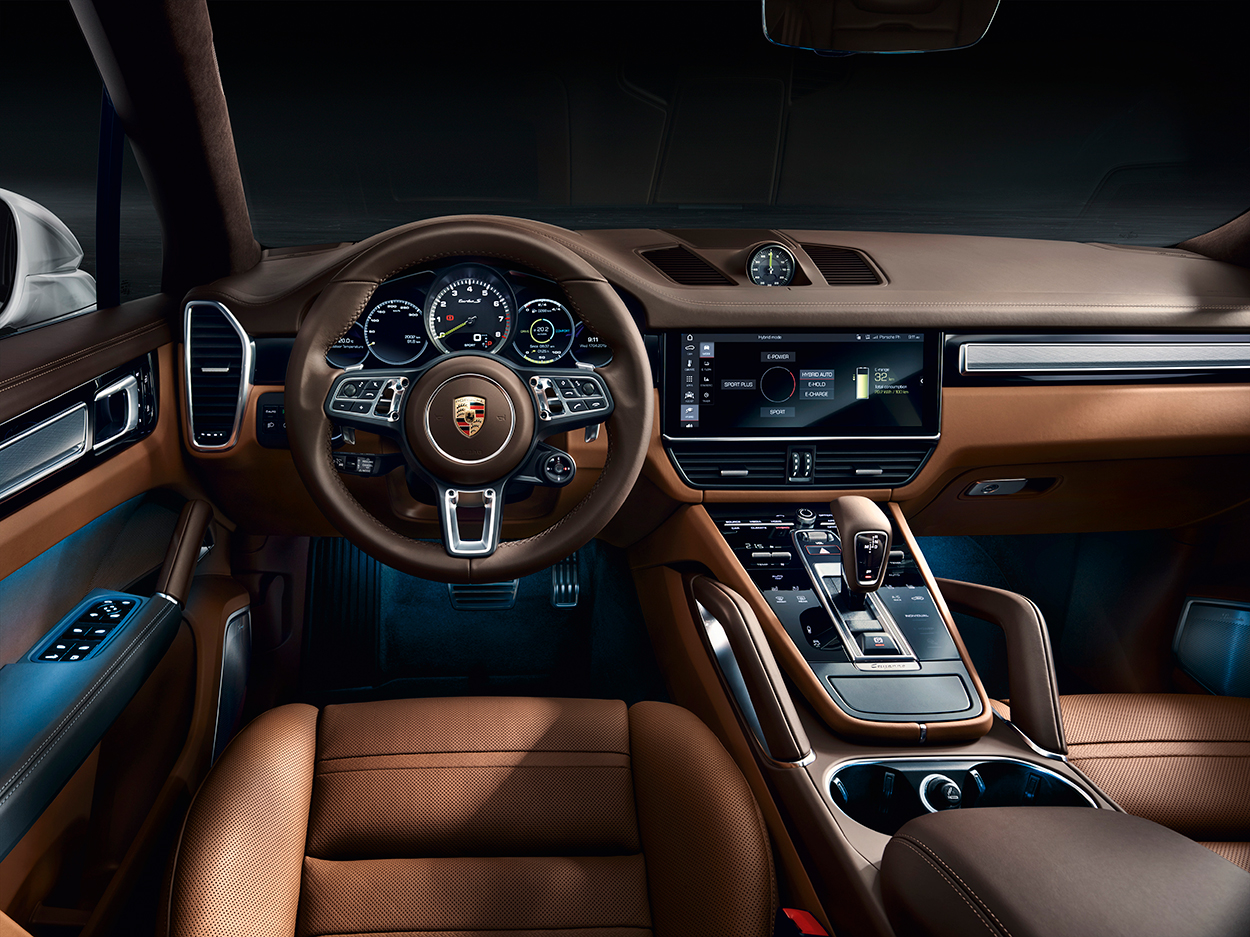 The Cayenne E-Hybrid Coupe has a less powerful setup, with a 330-hp 3.0-liter single-turbo V6 paired to the 134 hp electric motor, which, when combined, make 455 hp. The E-Hybrid Coupe can reach 60 mph from a stop in 4.7 seconds and tops out at 157 mph.
Both the Cayenne Turbo S E-Hybrid and E-Hybrid Coupes have a Lightweight Sport Package option, available in two versions. The most sporting version removes 48 pounds and includes a carbon-fiber roof, 22-inch wheels, Sport Design Package, carbon fiber interior trim, heated multifunction steering wheel wrapped in Alcantara, and an Alcantara roofliner. Black and silver houndstooth seat centers round out the package along with some exterior carbion-fiber trim.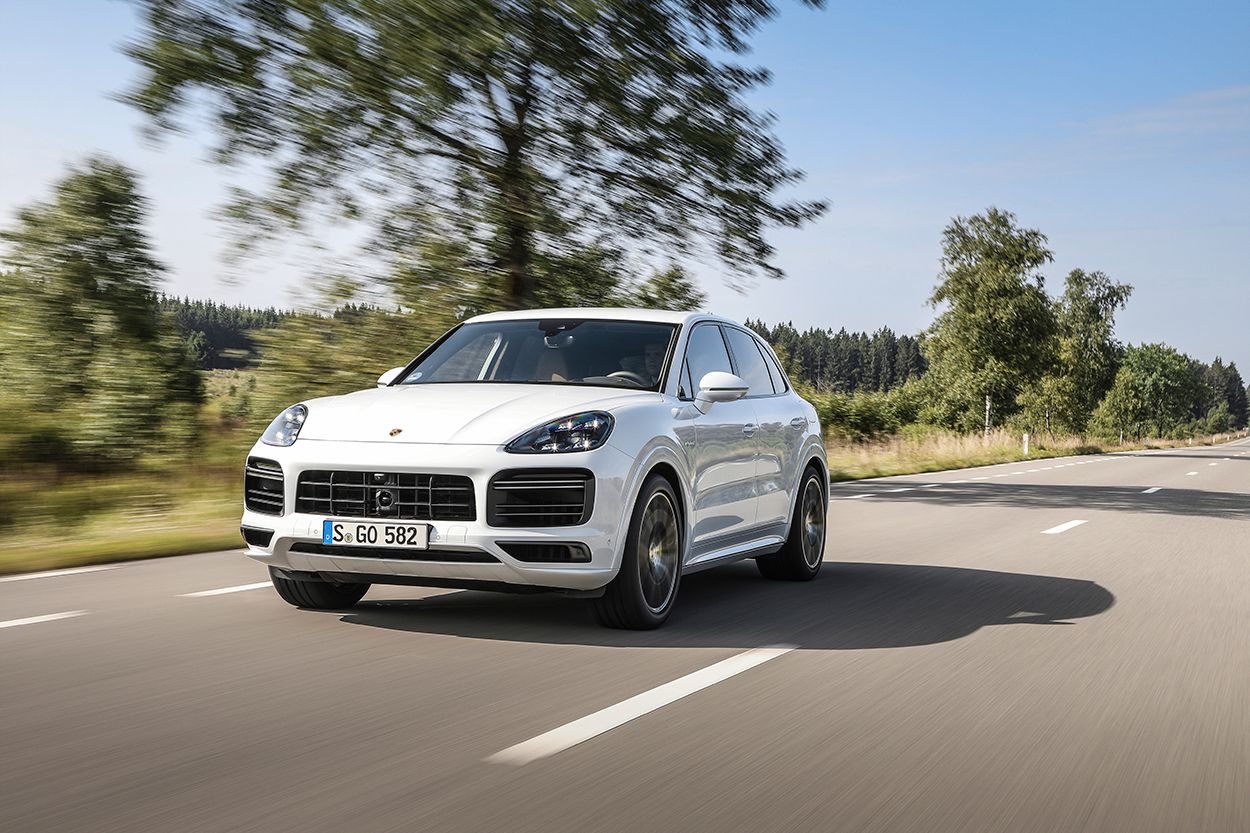 The Cayenne E-Hybrid Coupe has eight-way sport seats, fixed glass panoramic roof, and 20-inch wheels, all upgrades in standard equipment over the standard body E-Hybrid.
Visually the hybrid models are distinct from their gasoline-powered brethren with Acid Green badging and brake calipers.
Look for the new Cayenne hybrids to show up at dealerships in the first quarter of 2020. The Cayenne Turbo S E-Hybrid will start at $161,900. The Cayenne Turbo S E-Hybrid Coupe starts at $164,400. The Cayenne E-Hybrid Coupe starts at $86,400. These prices do not include the $1,350 delivery and processing fee.