Barnfinding: Always ask for more pictures
I'm Adam Wright, and my brother Matt and I scour the country for long-lost Porsches. Some of our adventures make great stories, which I will share with you starting with this article for PCA.org. I hope you enjoy it and future tales. And if you have any stories you want to share, please do — I enjoy writing about other people's escapades far more than my own. Please email me adam@unobtanium-inc.com
---
I've often said that gentlemen's agreements are only valid if both men are gentlemen, and if not, all bets are off. The same goes with buying cars based on pictures: It all depends on how honest the person selling the car is. If said person is honest, the pictures will reflect that, but if they are up to no good, there are a million ways to make a car look better than it really is.
The first part of this story does not reflect deception or funny pictures, it just tells the tale of a day in the life of a Porsche hunter. My brother and I had done a package deal with a widow in Southern Virginia but we still had one car to pick up, a 1964 356C Cabriolet. My wife had never been on one of my car pick-up trips, so she asked if she could go. Of course I said sure, but I did try to prepare her for what was going to be a rough extraction. 
We drove down to VA without any problems and arrived at a muddy mountaintop to get the car. I reached into the back of the truck and grabbed a saw, at which point she asked, "Why do we need a saw?"
"To cut down the tree growing through the car, of course!" I said.
I think she was starting to realize what we were in for, and as we were both pondering this there was a rumble, and the skies opened up. What was already going to be a not-fun day had now turned into a wet and muddy not-fun day. The car had been in the same spot for decades, long enough for a tree to grow through it. So we proceeded to trim back the foliage and try to get the car to move, then onto the trailer. At one point my wife asked me, "Do you know how much this manicure cost me?" I didn't, but I was sure going to find out how much the next one was going to cost me.
We got the car loaded — and did I mention it was still raining? — then headed north. Around the time we got to Pennsylvania the rain had switched to snow, making the driving just that much more fun. How much fun can this trip throw at us? Around this time I looked in the rearview mirror and the doors had popped out of the car, but loath to take my still-wet body out into the cold snowy wind, I decided to just keep driving. This was a decision I lived to regret. Without the doors to hold the car's shape, I started noticing the windshield getting lower every few hours, to the point that upon arriving home the car had basically folded into itself.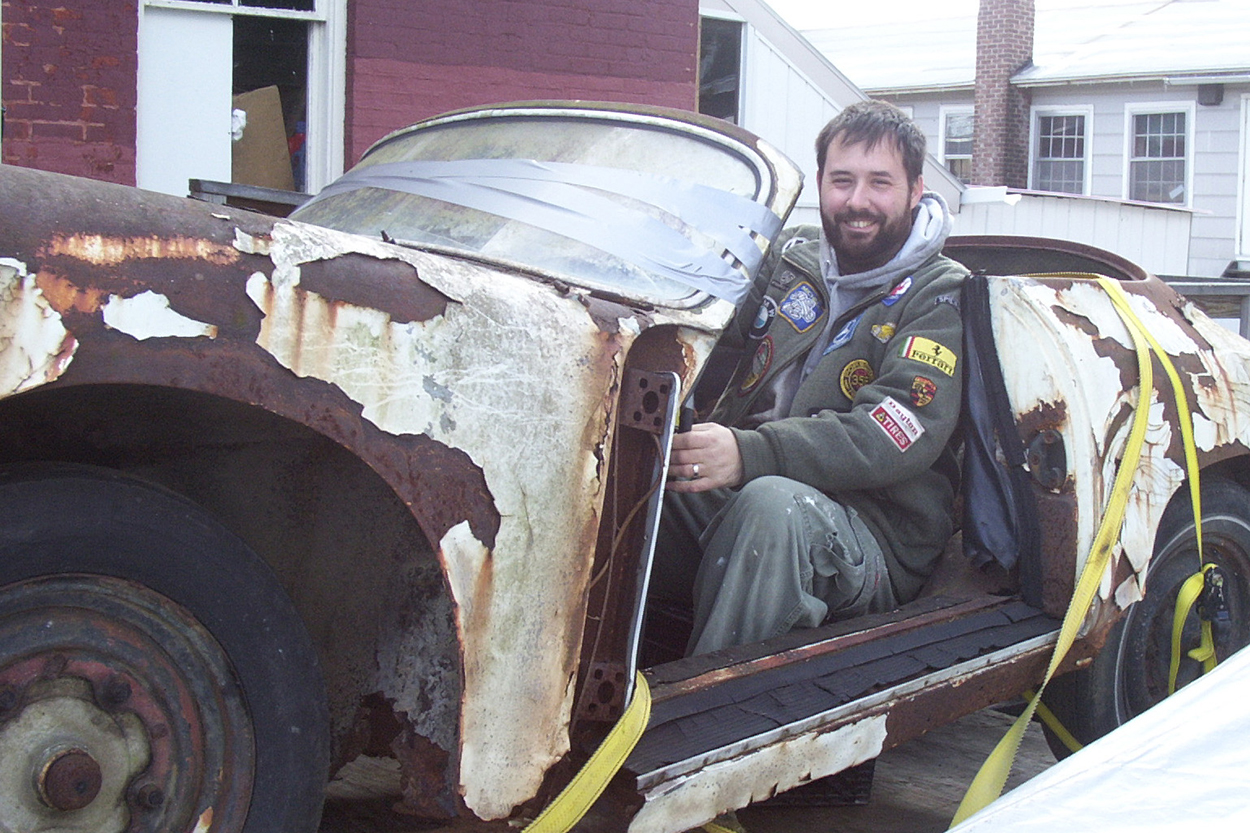 Monday morning came, the sun was shining, and I had to look at what I had dragged home. We had a very rusty 356C Cabriolet that was pretty rough. Luckily I found just the buyer, a dealer down south who was famous for acquiring such cars and would gladly buy the car from me. It was ironic that we went to Virginia to get a car, dragged it to New York, only to send it back down from where it came, but that's just the way this business is sometimes. So I took about 20 pictures of the car, showing every ugly angle and sold it to my friend for not a lot of money. He got the car, no complaints, and that was the last I thought I would hear about it.
Fast-forward a few months and I'm talking to another buyer on the West Coast who is asking me about cars I have for sale. He then tells me he needs a lot of pictures of whatever I have because he had recently bought a car based on a couple of pictures, and when it arrived it looked nothing like what he saw in the pictures. It was so rusty it even broke into two pieces when they forklifted it off the truck. It's like it had folded in on itself on the ride home… Sound familiar? As my friend was telling me the story, I asked him to check his email. I asked, "Is this the car you bought?" I had just sent him the picture of the car with stuff growing all over it. He said, "Yes, how do you know about this car?" 
"I paid $500 and sold it to a guy down south, who I assume you bought it from," I explained. Just as I suspected, he had paid $20,000 for the car based on two pictures: one from the front, and one from the back. Ironically they were my pictures — except he didn't have the 20 or so other photos I had sent the dealer I sold it to. Only two had made it to the next buyer. I had a good laugh, but the guy on the West Coast wasn't laughing at all. But at least a cautionary tale to always ask for more pictures came out of this unfortunate ending.
---
I wanted to extend a warm invitation to all our PCA brothers and sisters for our yearly open house. If you haven't been to one yet it's a lot of fun with a free food truck and hundreds of Porsches, everything from 356s to new Porsches and everything in between. All are welcome. Hope to see everyone out on Saturday, August 31:
Unobtanium, Inc.
14 W Shore St.
Ravena, New York 12143