PCA Club Racing Driveway to Raceway – Collin Thomas
Tuesday, September 10, 2019
Article by Ryan Carignan
Photos courtesy Collin Thomas
The Porsche Club of America's "Driveway to Raceway" articles began in 2018 to showcase stories of how and why PCA members got involved with PCA Club Racing. So far, we've highlighted men and women, husbands and wives, and father and daughter/son teams who have taken a passion for Porsche from their driveway to the track. The inspiration for this installment was watching a PCA Club Racing rookie tackle the often-tricky Mid Ohio Motorsports Park on a weekend that varied between gorgeous weather and dry track conditions, and perilously close lightning with frighteningly wet and treacherous track conditions. It also offered an example of comradery and community that occurs at nearly every Club Race on the calendar, enjoy.
How did you first get interested in racing?
When I was in high school, I didn't watch racing and didn't know anyone who did. I knew there were racetracks, but I had no idea what opportunities existed to drive on one. However, I had this insane desire to get a cool car and drive on a racetrack.
I worked for a small software development firm, and one of the people working there, Bob Briggs, happened to be a driving instructor with PCA and the BMW CCA. He told me about track days, and from there, I worked full time through the rest of High School and college to buy a car and go to the racetrack.
While I was in college, I had a ride-along in a '70s 911 race car at the Pittsburgh Vintage Grand Prix Schenley Park street circuit.  That was my first time in a race car and on a racetrack, and it confirmed I love being on a track as much as I thought I would. Whenever I saw someone for the next few weeks, all I could talk about was how awesome being in that 911 was.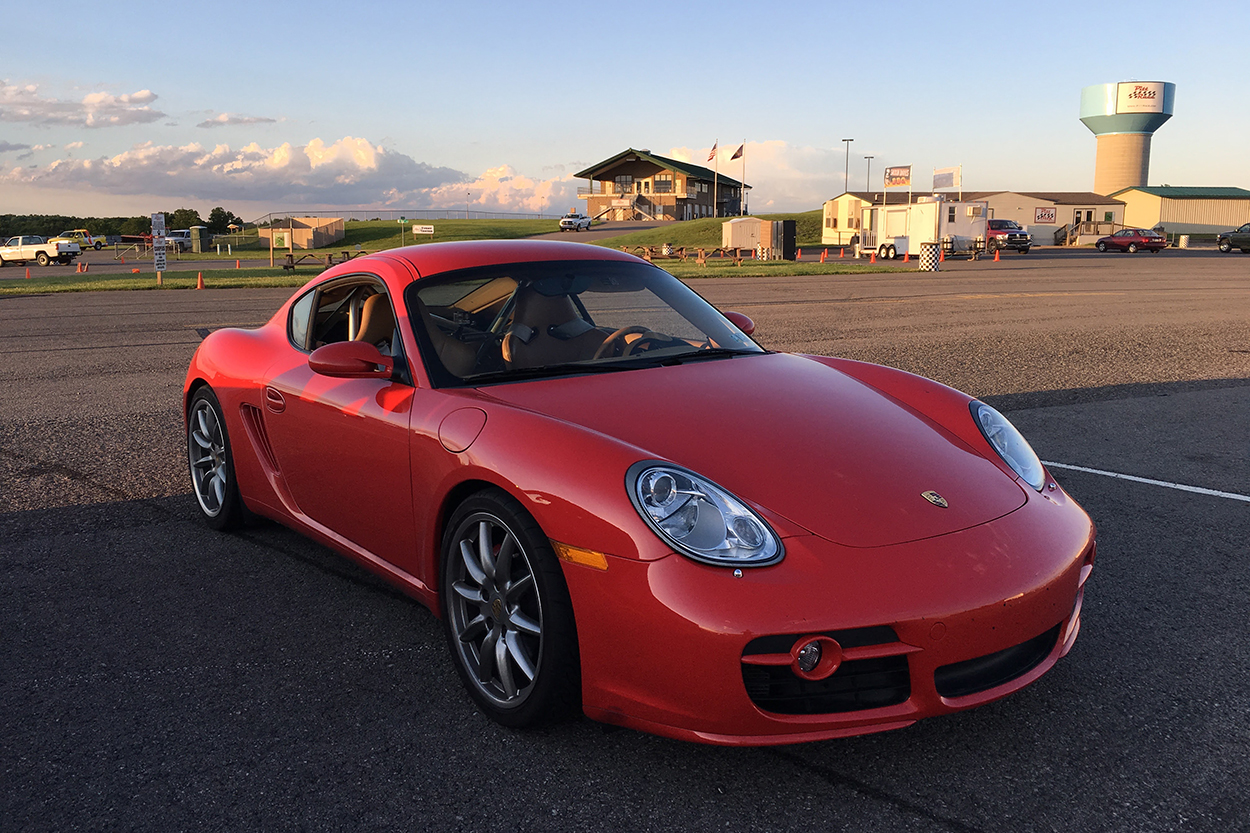 As I neared college graduation, I was looking for my sports car. I narrowed my choices down to a Lotus Exige and a 2006 Porsche Cayman S. I decided to go for the Lotus, but, thankfully, the deal fell through, and I bought the Cayman. That purchase led me to join PCA, where I have created many great friendships and spent many happy days at the track. I completed my first PCA High-Performance Driver Education (HPDE) with dealer tags still on my Cayman!
Once I started tracking the Cayman, I knew I would have to gain more experience before I would be comfortable trying to race. For the next two years, I did about 30 track days a year to build my skill and confidence. Then my PCA instructor friends and I competed in a ChumpCar World Series race, and I knew I was ready for PCA Club Racing.
What drew you to Porsches specifically?
When I was growing up, like most of my friends, I liked cars, motorcycles, and anything that looked cool and went fast. I was probably eight years old when I saw a neighbor down the street with his silver Boxster with red interior.  That car turned me into a Porsche fanatic.  From there on, every time I saw a Porsche, I had to point it out.
The funny thing is a PCA friend of mine ended up buying a first-generation Boxster in the same color combo. I kicked myself as I wish I could have purchased it from him. But in a weird twist of fate, everything has come full circle as my Spec Boxster is the same silver and red color combo.
There were also several videos from the early days of file sharing on the internet that got me interested in Porsches, especially air-cooled 911s.
What do you enjoy most about PCA Club Racing?
I enjoy meeting the people the most in PCA Club Racing, and PCA in general. Some of my closest friends are people I have met in the paddock at PCA events. I think you get many passionate enthusiasts and wonderful people in PCA.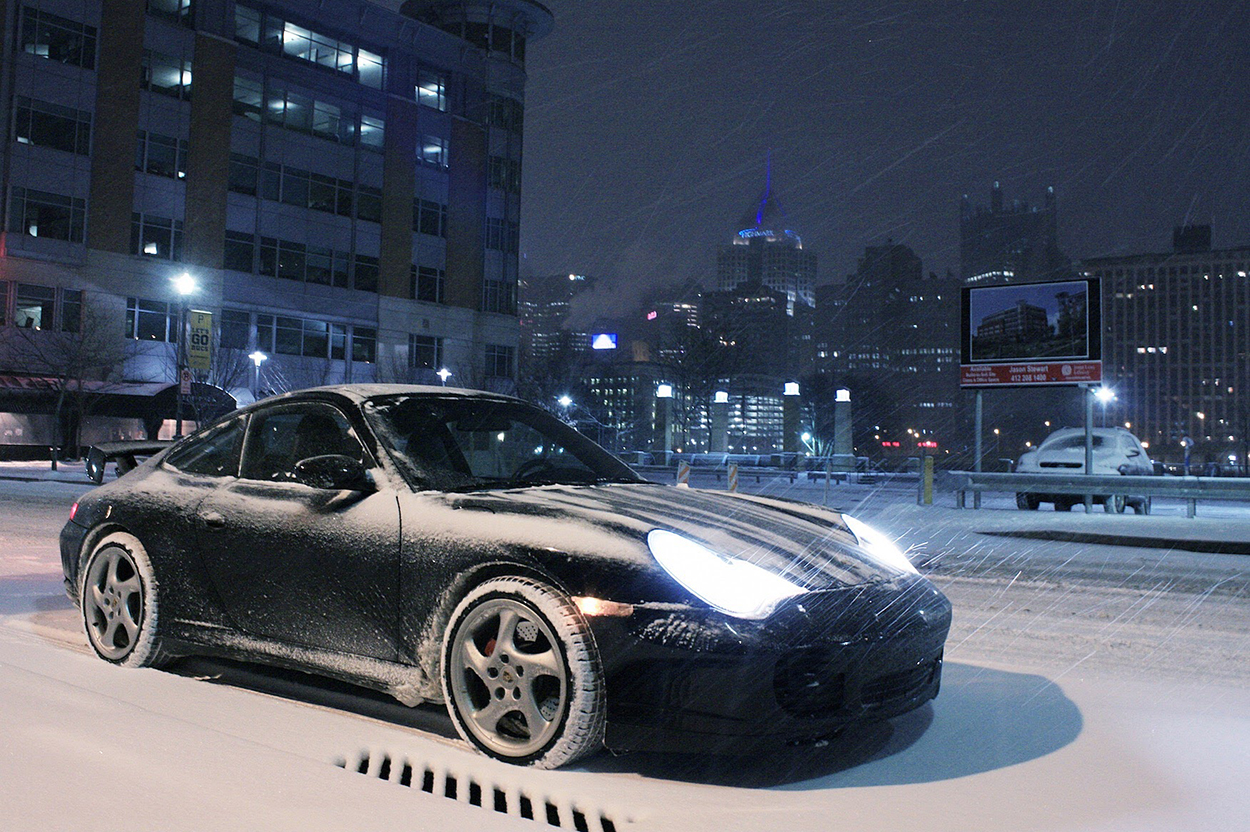 What is your Porsche experience past and present?
I started with the 2006 Cayman S. I purchased it as a stock model and proceeded to modify and upgrade it for track work. While I was tracking the Cayman, I purchased a fully optioned 2003 911 Carrera 4S. That car was my everything vehicle; it was my winter car that I took skiing, and was even briefly an "art car." A local artist named Baron Batch painted the car for a friend's art show called "Art and Exotics." I sold the C4S on Bring a Trailer after two years of ownership. By then, I was towing the Cayman to the track, and when my lease was up on my truck, I bought a 2015 Cayenne Diesel to be my tow vehicle. That is around the time I decided to go racing, so I sold the Cayman to buy my Spec Boxster, which I tow to the track with my Cayenne!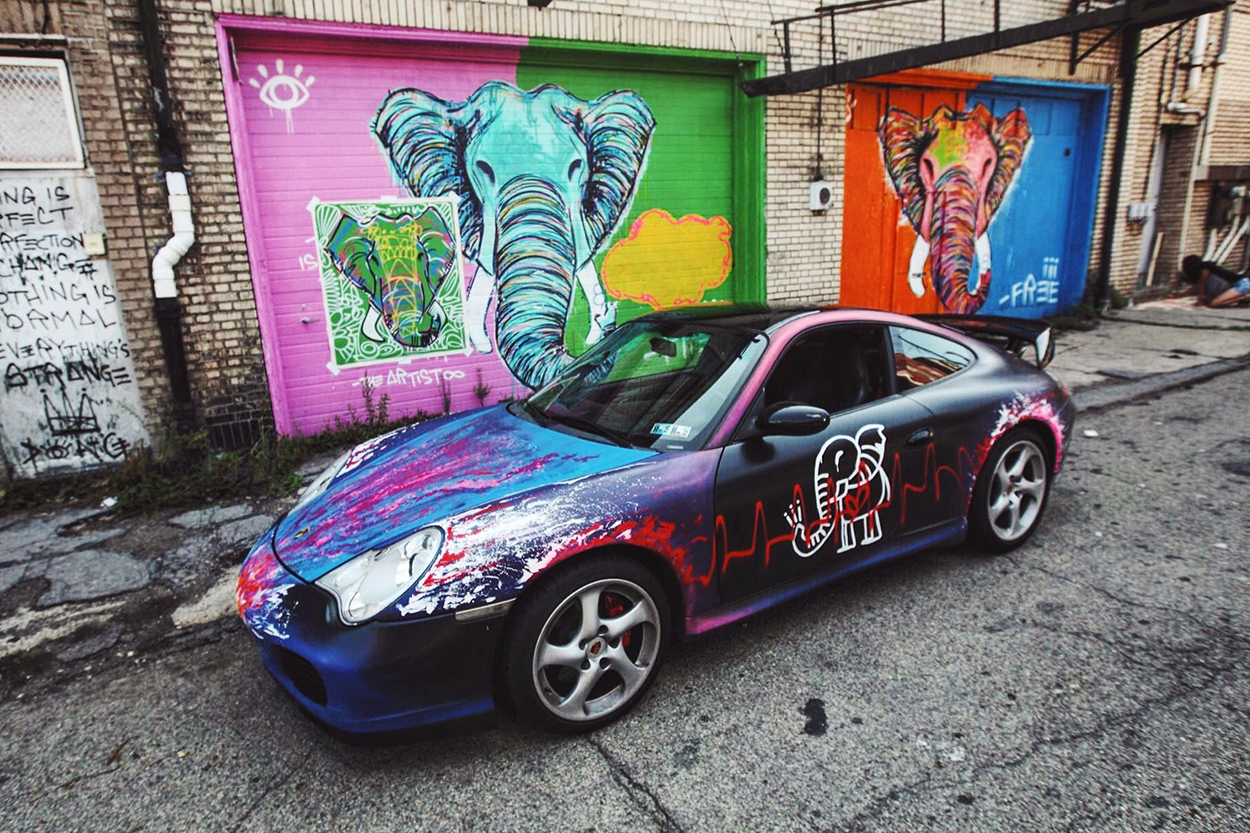 What did you think about your first Club Race?
My rookie race was going to be at Watkins Glen, but my friend and fellow racer Dante Oliverio suggested I sign up for Mid Ohio. The weather forecast did not look good, but I already paid for my hotel, so I was going to go and see what happened. I had driven Mid Ohio eight times before, and several of those were in the rain. With that, I have seen plenty of cars wreck on the wet track. I wasn't too keen on racing there in the rain; which is why I didn't buy or bring rain tires.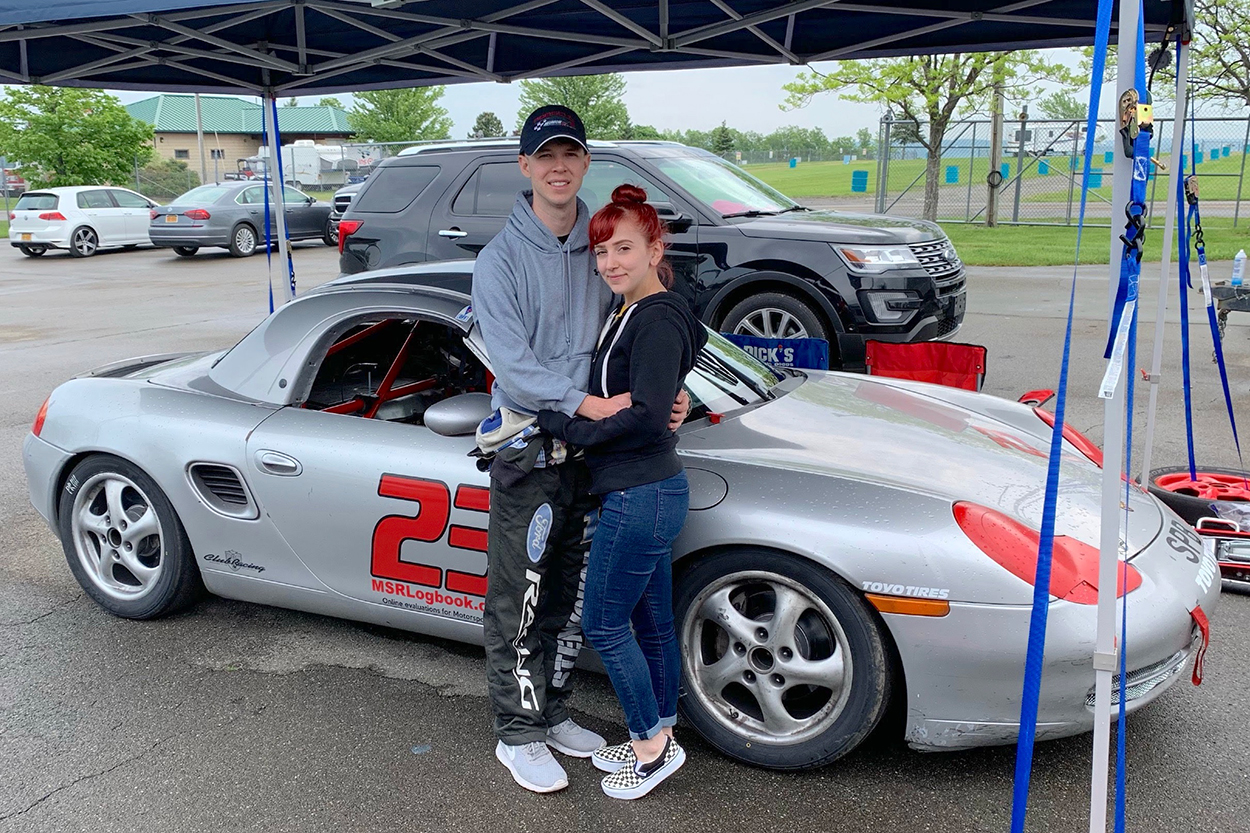 Above: Collin Thomas is on the left with his Spec Boxster.
Thankfully, Friday's weather was not too bad, and it looked like I was going to complete my rookie requirements without a problem. Then storms rolled in, and the thunder and lightning arrived. Track rules require a full shut down for 30 minutes after a lightning strike, and I didn't think I would get on track. Then I received a text saying my run group was next on track. I asked a fellow SPB racer I met earlier that day, Oliver Lucier, if going out was a mistake. He said I should do it and that we would probably be going green soon. When I explained that I didn't intend to run in the rain and didn't have any rain tires, he immediately offered to lend me his. I was shocked by the gesture and tried to offer him something in return, but he refused. Oliver, a National Scrutineer (Colin Graidage), and an SPC driver put the rain tires on my car while I got my race gear on. It was such an incredible moment of comradery and generosity, and I am extremely grateful.
I went out on track for my mandatory rookie practice starts, tiptoed around the wet track, and completed my rookie requirements. I also managed to avoid a 944 that spun twice after the first corner!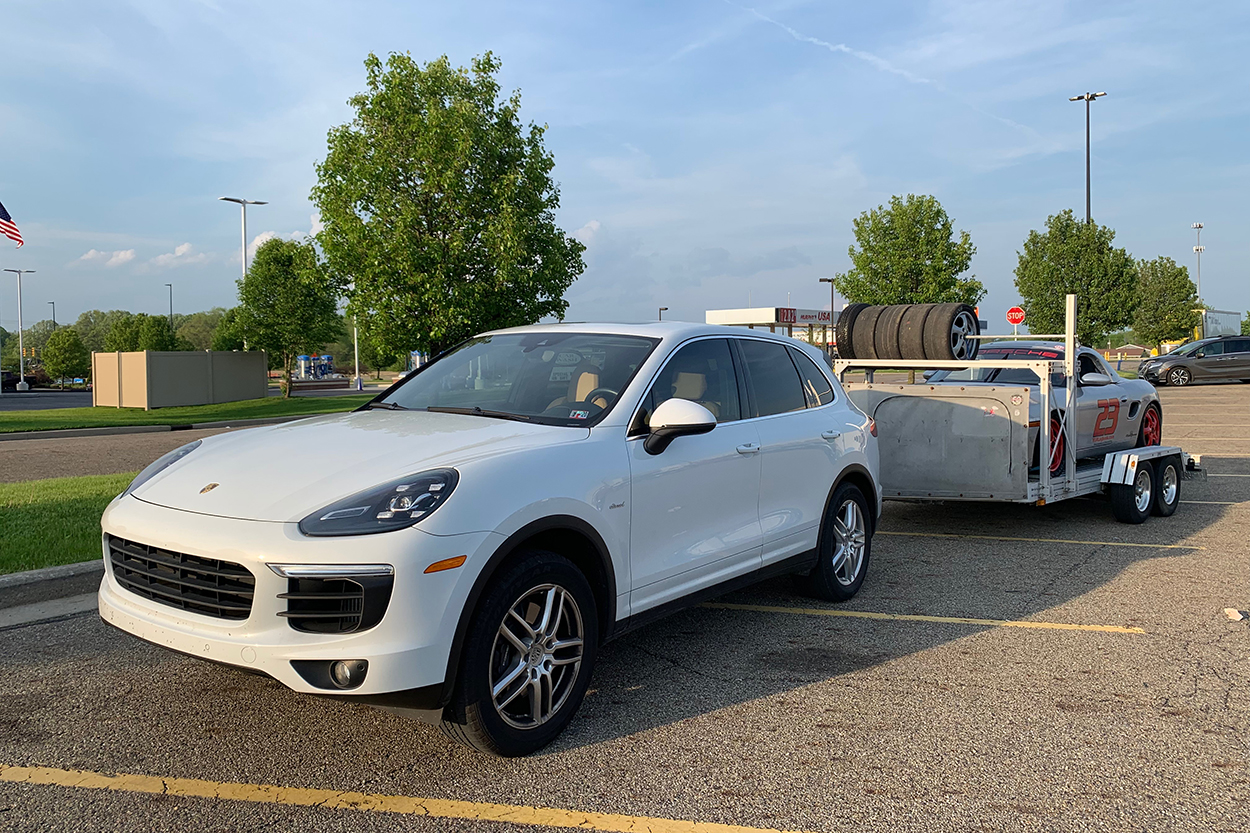 What is your advice to those thinking about racing?
If you are new, my recommendation is to bring your car to the track and get involved in PCA High-Performance Driver Education events. It doesn't matter if it's a stock road car or a prepared race car. In my opinion, PCA events are the best for beginners and have the most focus on safety to help you learn.
If you have been attending HPDE events and are thinking about racing, come to a Club Race and talk to people. There are probably people in your region or instructors at your next HPDE who race, and they can tell you more about racing. I think people will find the same friendly vibe at a Club Race that they do at an HPDE.