DIYer modifies hybrid Porsche Panamera: Turbo spoiler, adaptive cruise control, 911 steering wheel
Above: 2014 Panamera S e-Hybrid with Turbo wing extended.
Article by Anthony Wong
Photos by Lee Scoggins
Porsche makes cars that are fun to drive — most people know that. But to fully enjoy a Porsche, I believe that working on it is the only way to make the ownership experience complete. Porsche vehicles are so well designed that, without working on them with your own hands, you will never find out why the MSRP is a steal. Every part is designed and engineered so precisely and beautifully. Every piece of software is written so logically and so thoughtfully. Suddenly, it is not surprising anymore that Porsches have won so many races since the 1950s.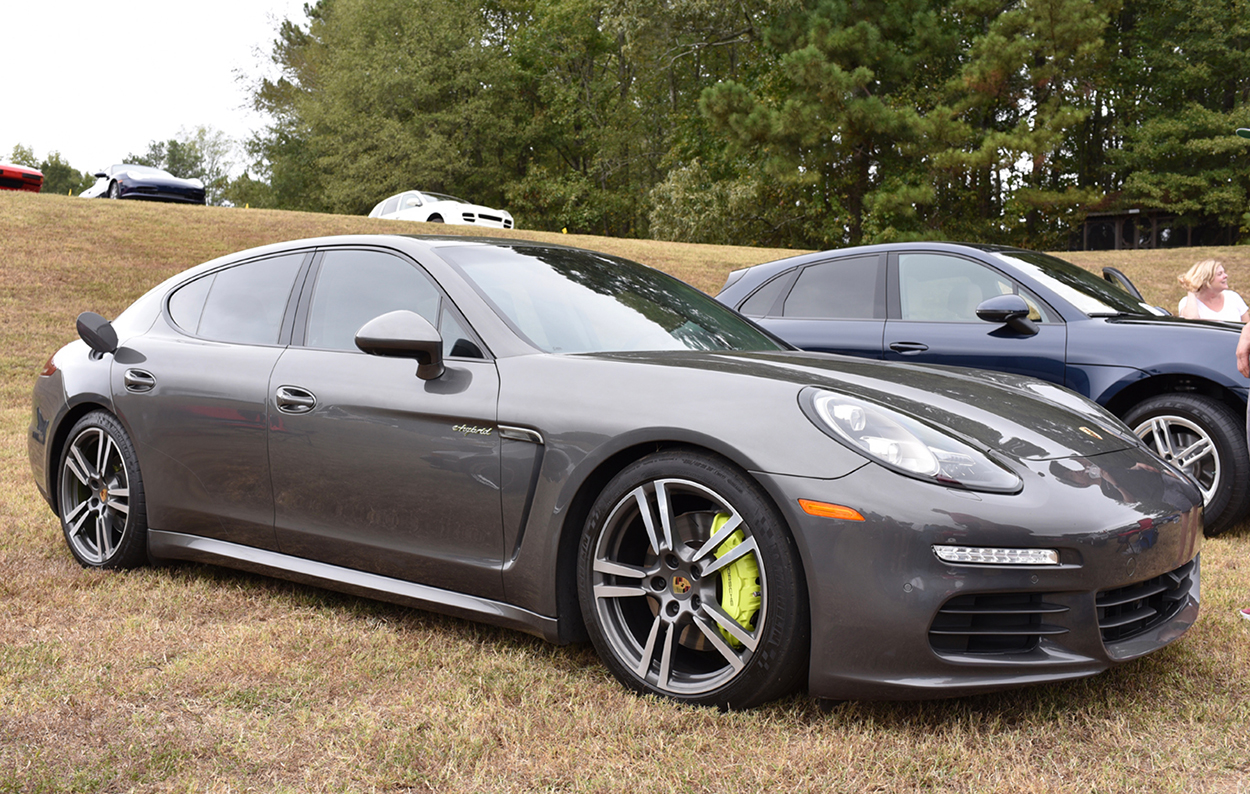 When I returned my leased Nissan Leaf in October of 2016, I wanted a car that could continue using the charging station that I hand-built for it but wasn't thrilled about the limited range of EVs and scarcity of charging stations. The Panamera S e-Hybrid quickly got to the top of the list. In February/March 2017, I found a 2014 Agate Grey S e-Hybrid with LED headlights at a Manheim auction, and I fell in love with it. After winning the auction, I bought a one-way ticket to Orlando and drove it back to Atlanta.
This Panamera has all the main options that I absolutely needed, including the plug-in hybrid drivetrain, but I wanted more. One of the first things I did was to upgrade the steering wheel. Specifically, the 991.2-generation 911 steering wheel. It looks nice. However, as most of the Porsche service centers know, this was not a plug-and-play upgrade. It took some translating of one set of 1s and 0s to another set of 1s and 0s. After working with Paul Li of German Performance Service, who developed the translation interface, I successfully upgraded my steering wheel, without losing multi-function buttons and the heating function. To top it off, I wrapped it in Alcantara with an Acid Green stripe to match my e-Hybrid color scheme. This marked the beginning of my Panamera's upgrade journey.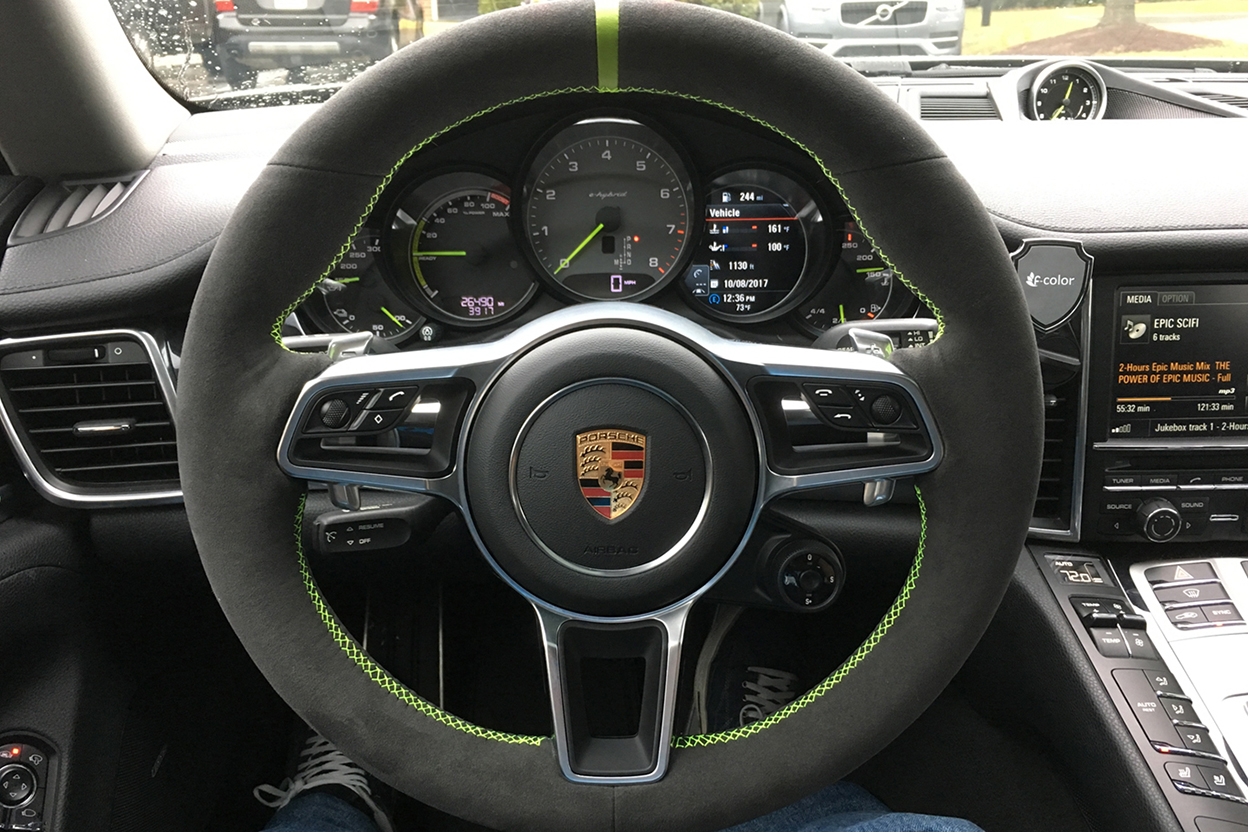 Above: 991.2-generation 911 steering wheel wrapped by the author in Alcantara and with Acid Green stitching to match Porsche's hybrid color scheme. It required a translation of the programming code to work in the Panamera and maintain its functions.
I have a 17-mile daily work commute that usually takes 70-90 minutes each way. Adaptive Cruise Control was the thing I always wished I had. After doing some studies, I figured out how to replace the front grille, tap the M6 holes to add the Lidar and mounts, and tap the wiring into the Crash CANBUS for signaling. Fellow engineer Buddy Maughon helped with the ACC wiring. Installation was not easy for a beginner, since a new fuse had to be added. It took me three weekends to put all the hardware in place, including replacing the switch block behind the steering wheel. Completing the install and a few nights of troubleshooting, ACC was finally added and fully functional. The commute became stress free.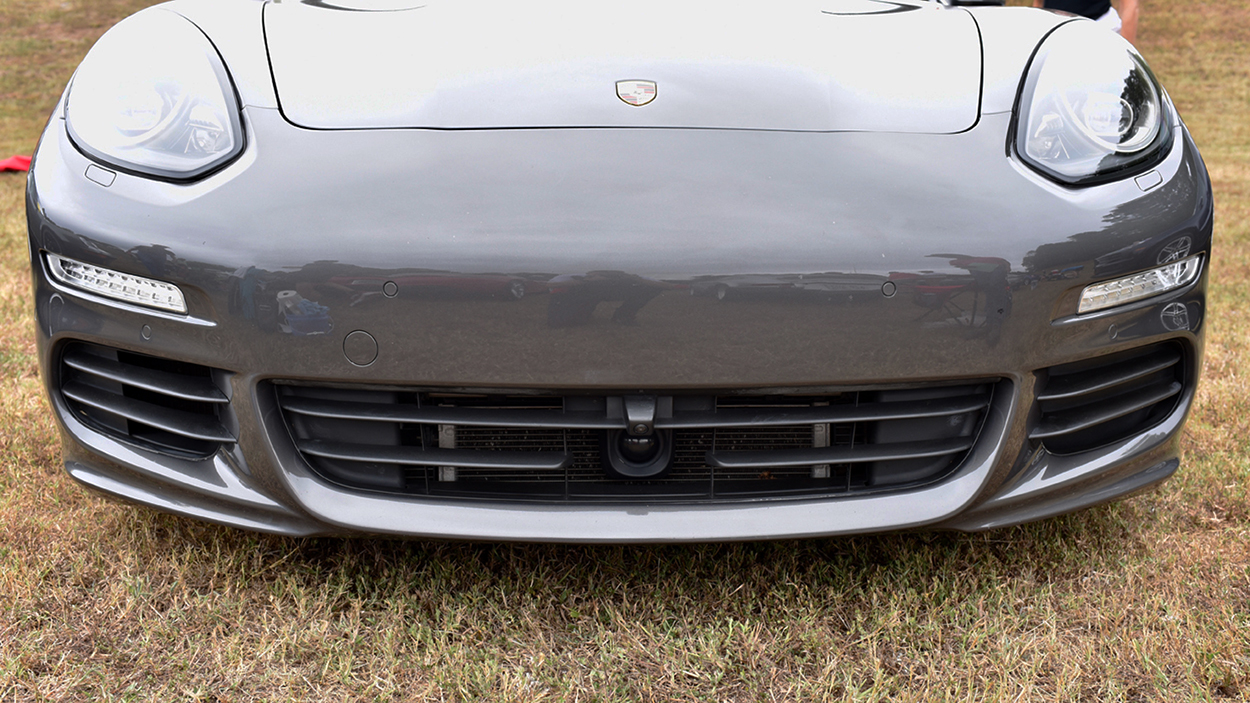 Above: Adaptive Cruise Control sensor can be seen in the middle of the grille.
After the ACC experience, I came across a Panamera Turbo S with the 2D spoiler. I was mesmerized by how it opened — raising up before extending to the sides — and closed. I researched and found out that the 2D spoiler was never offered on e-Hybrid Panameras. Telling myself that I could figure it out, I ignored my dealership's recommendation against performing the modification. (Readers, ignore dealership recommendations at your own risk; certain modifications could potentially void warranties or damage the vehicle.) I bought the Turbo spoiler assembly and mounted it onto my S e-Hybrid.
After two months of studying the Panamera wiring diagram and function flows, I constructed my own custom sub-harness based on my own abstract wiring diagram. I connected it from my new Turbo spoiler to the rear body control module (BCM), the fuse block, and the relay block. Since no one had ever done this before, I did it slowly and carefully, making sure my install matched my drawing perfectly. It was 3 am when I buttoned up the electrical systems in the trunk.
After everything seemed to be error free on the Porsche Integrated Workshop Information System (PIWIS), I uploaded the Turbo codes into my Panamera and immediately, for the first time, the 2D action on the Turbo spoiler worked flawlessly on my S e-Hybrid. The next day, I was very excited when I hopped in the Panamera, getting ready to spread its wings for the first time on the highway. To my surprise and disappointment, the car did not start. All of the warning lights lit up in the dash. For two nights in a row, I spent hours sitting inside the Panamera with PIWIS on my lap, trying to figure out why it would not start. As it turned out, I reprogrammed the entire car, from nose to spoiler, as a Panamera Turbo. Well, the ECU, instrument cluster, and front-end electronics couldn't find the Turbo engine and the car refused to start. Slowly, I reprogrammed part of the car as part e-Hybrid and part Turbo, and woo-hoo, everything worked as intended. I have since shared my wiring diagram and programming procedure on a few Porsche forums.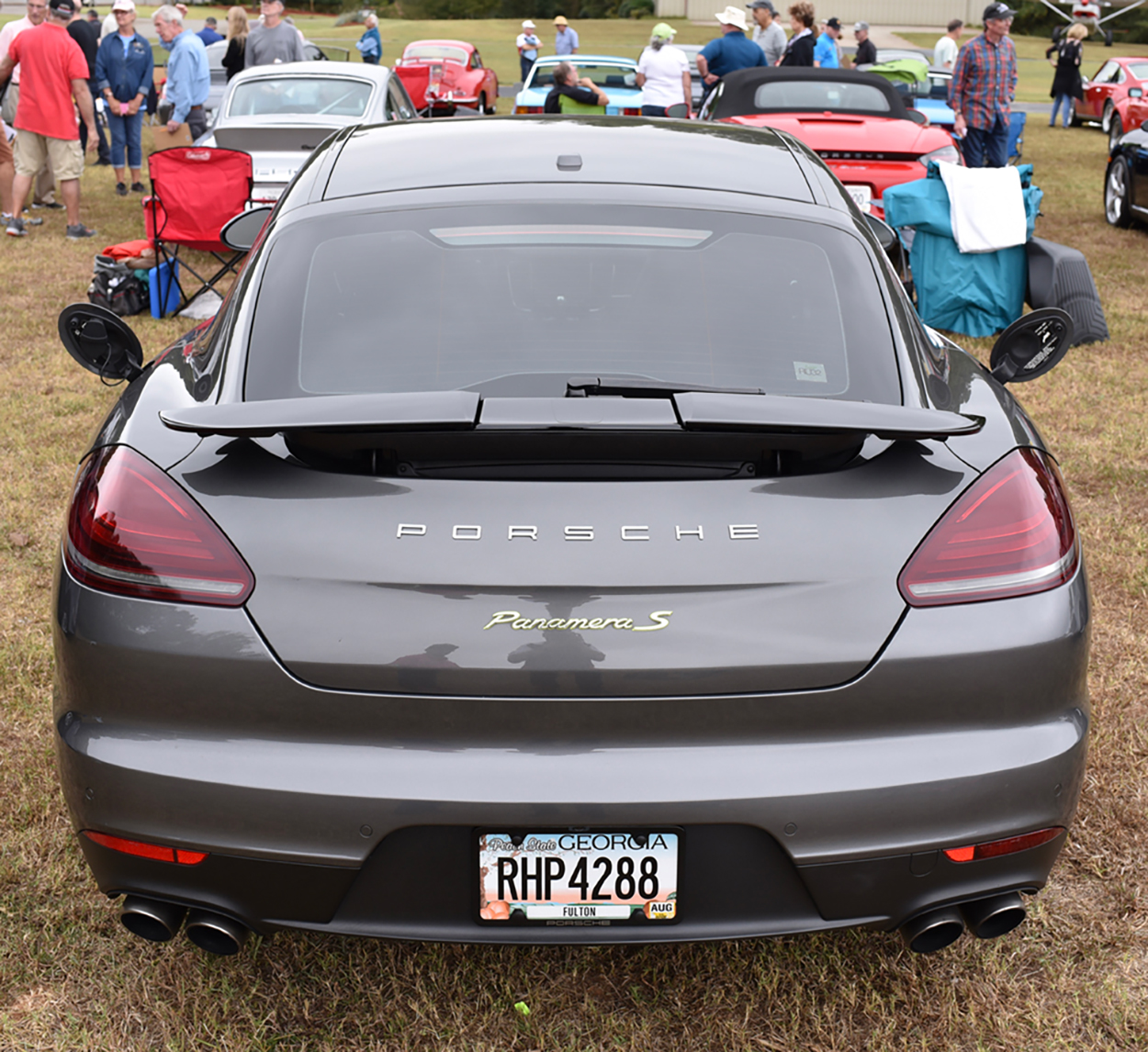 Above:  Panamera Turbo 2D spoiler fully extended.
Needless to say, the journey continues and gets more interesting. Since the spoiler upgrade I have also tuned the spoiler speeds and angles, tuned ACC to have more choices, added the lane departure warning system, the interior light package, side and rear automatic sunshades (thanks again to Buddy Maughon with the shades), and more. I have also added Apple CarPlay and Android Auto to mine and a few other Panameras, Cayennes, 911s and Caymans that belong to my awesome friends in many other Regions of PCA, which we may cover in a future article. It has transformed from a very awesome hybrid sedan, to the ultimate G1.2-generation S e-Hybrid Panamera. (I am sure the 2019 Panamera Turbo S e-Hybrid is even better.) I did post videos of it on a few forums, and a few Panamera owners have even shipped/drove their Panameras to Atlanta for me to modify. I was even invited to Vancouver one time to perform a Turbo spoiler install. 
Through working on my own and other Panameras, Cayennes, and 911s in the past three years, I have acquired a lot of knowledge about the Porsche brand and its fantastic vehicles and have even started a side business, 9XX Research, that does the aforementioned and other modifications. I am still excited to see new vehicles made by various brands. But deep in my heart, I know that there is only one brand that can repeatedly deliver beautiful, functional, and reliable performance sports cars, and the nice people... Porsche!