Opinions & Insights: Why you should drive the Blue Ridge Parkway
Tuesday, October 22, 2019
Article by Tom Neel
Photos by Tom Neel unless noted
Autumn in the mountains of North Carolina is that time of the year when chlorophyll departs millions of leaves, leaving behind a glorious scenic brilliance of fiery hues like Speed Yellow, Lava Orange, Guards Red, and even Mahogany Brown. Cue in the confusion as you glance down through the photographs, void of anything but Mamba Green. Autumn was really late, so I'll ask for your imagination. That said, they don't call this road the Blue Ridge Parkway for nothing, and this was delivered in soft, distant layers. Many moons ago I started making my way up and down the parkway for not only its incredible scenic views and twisty-ness, but for the coolness found in its elevation on a blistering hot day below. Generally speaking you find it to be 7-10 degrees cooler and less humid, making it soothing with windows down, top tucked away, or on a motorcycle. Mid-October seemed the perfect time for my wife Linda and me to take a refreshing drive on the scenic road in our 2017 Porsche Macan S.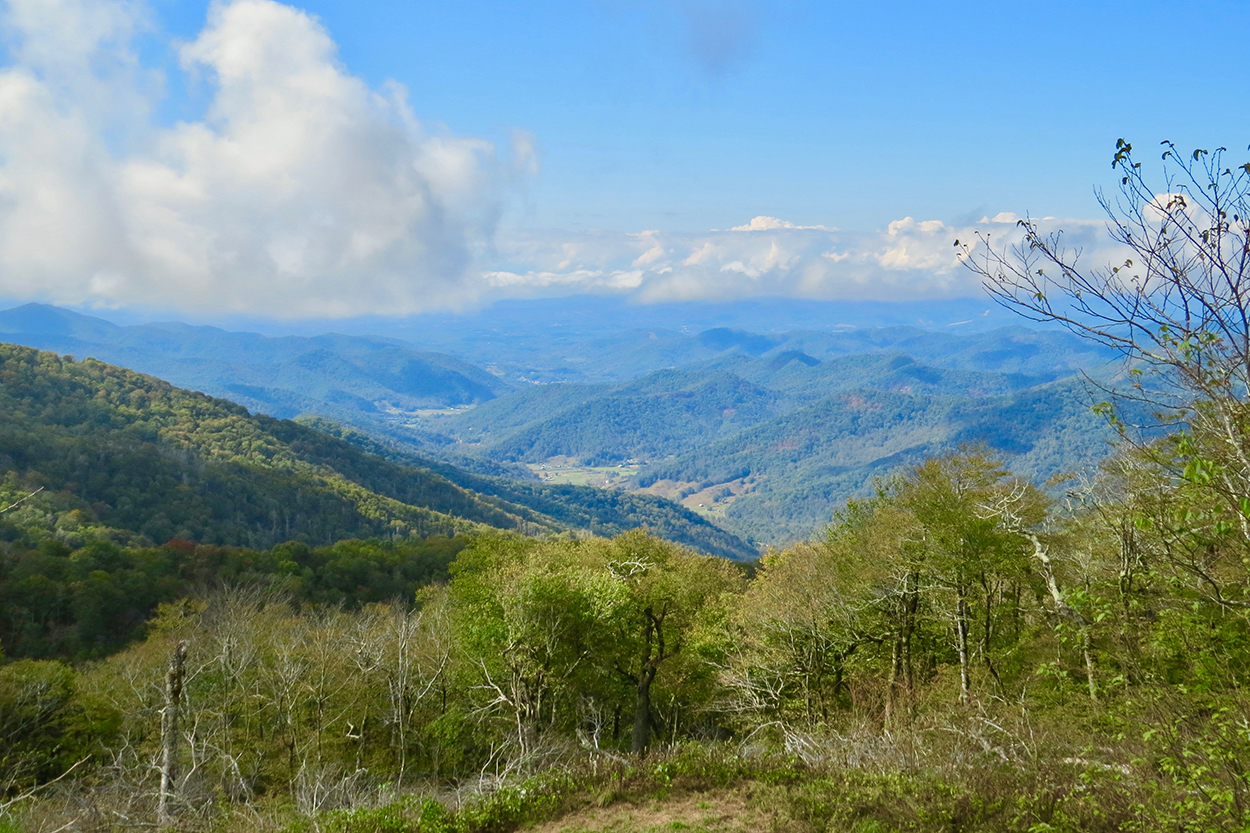 The 469-mile-long Blue Ridge Parkway, or the BRP as I call it, is America's longest linear park. Making its way along the ridgeline of the Appalachian Mountains, their lofty 1.2-billion-year-old age putting them among the top ten of the oldest mountain ranges in the world. On the roads that wind through them, the Macan S is so sure-footed and agile you would think it's a 911 Carrera 4S with a lift kit. Yet even lacking Porsche's fabulous rear-wheel steering, its stabilizing presence on a twisty road carries the Macan S through turns with reassuring sure-footedness. Built in Leipzig, Germany, its twin-turbocharged 3.0-liter V6 produces 335 horsepower and 339 pound-feet of torque. But to be honest, specs mean very little to me. Feel is everything and this platform feels superb.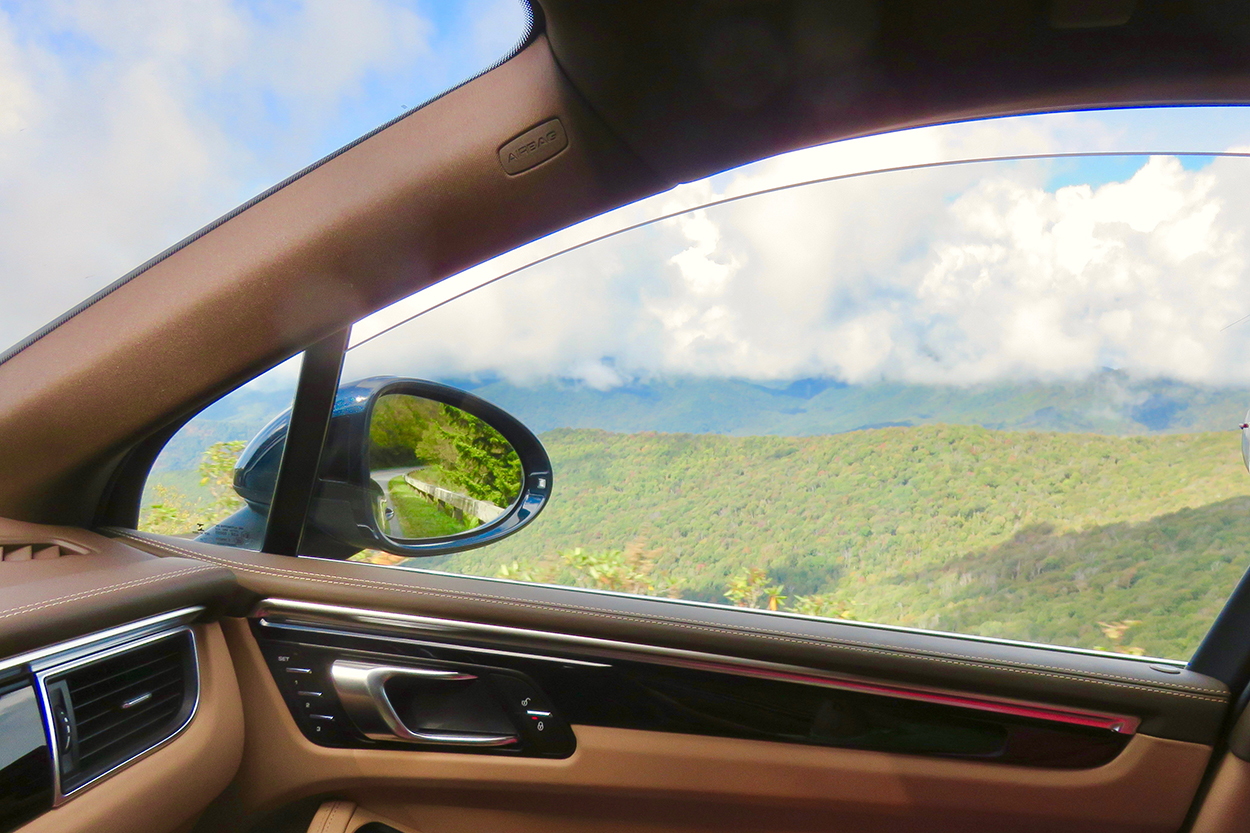 While the BRP begins in Waynesboro, Virginia, at mile-post 220 it turns itself over to the Tar Heel State. The mile posts are found every mile on the right while driving south along the route and continue their numeric ascent all the way to 469, ending at Cherokee, North Carolina, which is located in the Great Smoky Mountains. Folks, let me share this. We all travel the world, but the world travels here to experience the full length of the BRP, and you should too! I can recall reading about F1 legend Michael Schumacher, who loved to visit the United States from his home in Switzerland, making sure he rode a Harley Davidson down the BRP.  As an example, at one parking overlook the Macan was part of a six-in-a-row SUV line-up, with license plates from Massachusetts, New Jersey, Florida, Texas, Georgia, and North Carolina.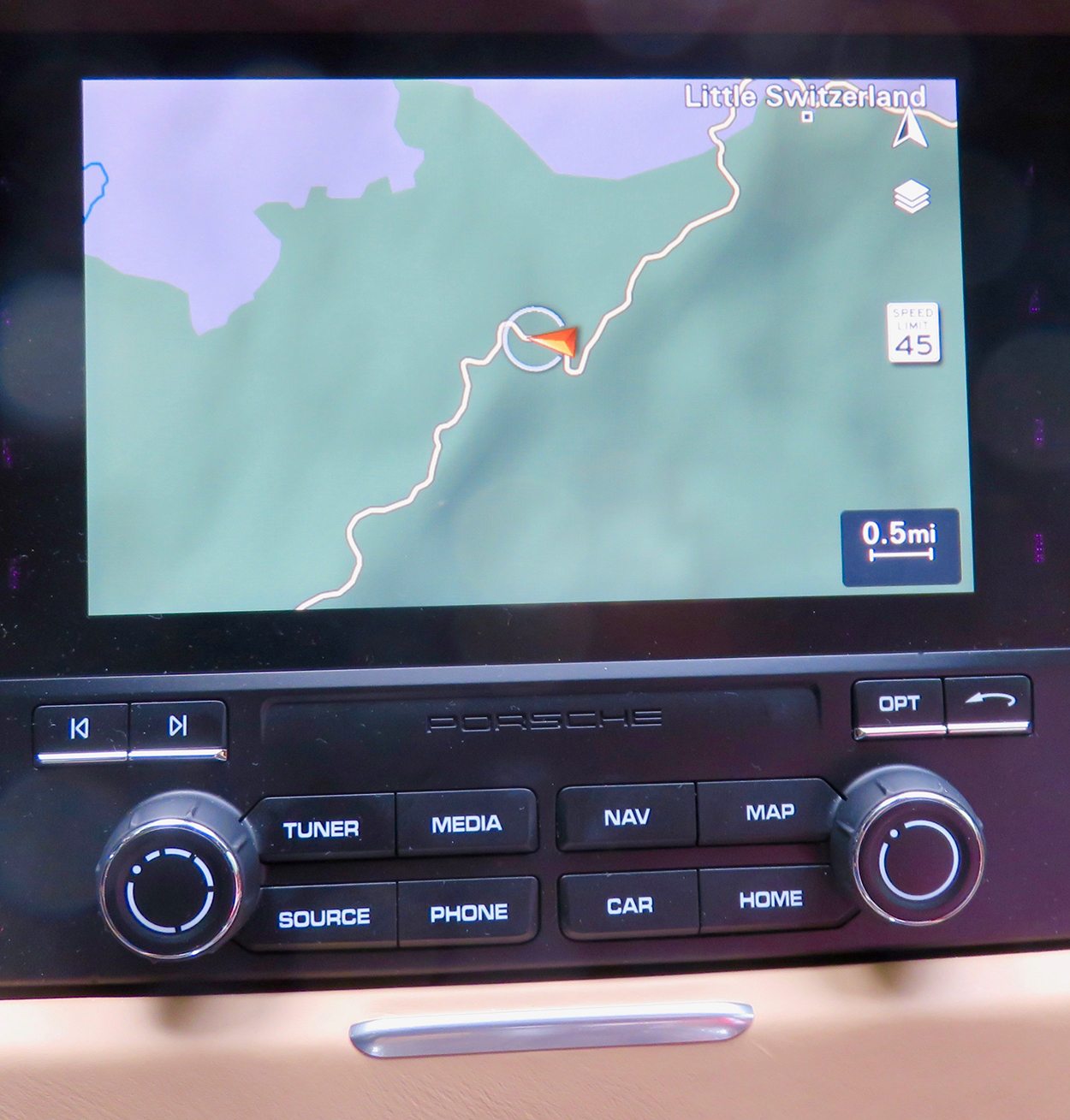 After purchasing a home near Lake Norman this year, Linda and I have enjoyed having a new convenience to the more southern reaches of the BRP. This two-day jaunt would focus on the area between mile-posts 335, just north of Little Switzerland, with its quaint Inn, on down to mile-post 382 and the must-see Folk Art Center just north of Asheville. After our serpentine trek, we enjoyed an evening at the Red Rocker Inn, located in the town of Black Mountain, which sits just east of Asheville. The Red Rocker is pretty much what you might expect to find with most B&Bs, with two exceptions. First, a delicious dinner that brings in more than just Inn guests. Second, walking just a few blocks into town offers up the White Horse Black Mountain, a music venue that is a great find. So, we checked in, went down for dinner, then took a nice walk to the White Horse to see great jazz with the sublime voice of Roberta Baum. Sa-weet!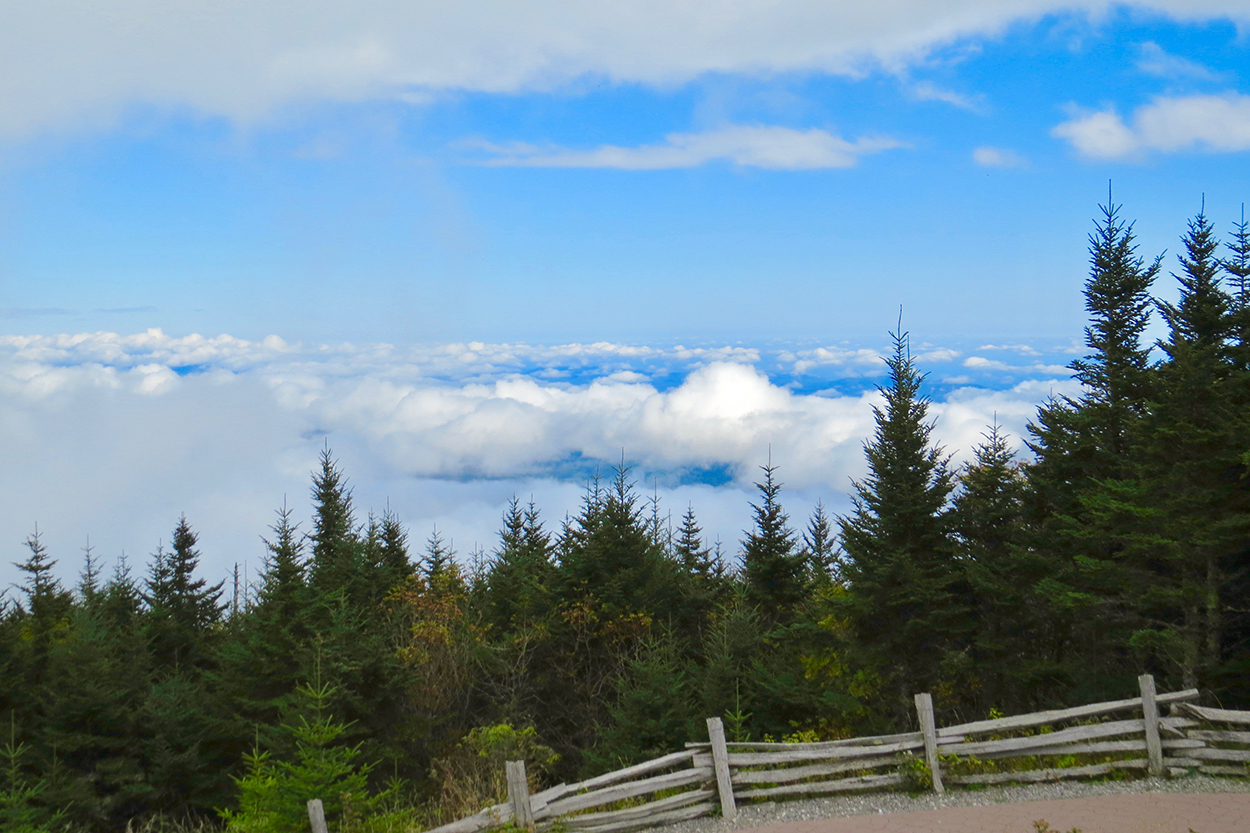 Like so much of North Carolina's half of the BRP, this particular 50-mile stretch offers travelers a peaceful pace, closer to heaven in elevation and sporting more dramatic views than that of the Old Dominion. A handful of miles offer intimate tree-lined canopies, ancient rock faces, man-made tunnels, then epic overlooks, layered in rolling blues. While our day began with a mystical fog, it gave way to dappled sunlight along our winding path. We cut through fog entering a tunnel and exited in full sunlight. Simply magical. In a Porsche, this stress-free road lowers your blood pressure as it raises your pulse with rhythmic turns a many. At elevations of four- to five-thousand feet above sea level, you would think for mountains especially found here in the east that you're done going up. Then the BRP hands you Mt. Mitchell State Park. It's like a park within a park, but Mt. Mitchell, found at mile-post 355.4, is the highest point east of the Mississippi River. After winding your way eight miles up via NC 128, you find yourself at an elevation of 6,684 feet, and you feel it too! Above the clouds, the view can be anywhere from spectacular to unpredictable. I was there once on two wheels and if not for the taillights in front of me, the fog was so thick it was like floating in a cloud. But on this day, oh baby was it breathtaking. Hum, maybe that was the elevation at work on me! In any event, you can enjoy lunch or walk the extra 300 yards from the parking lot to the summit. Worth doing if you're up to it.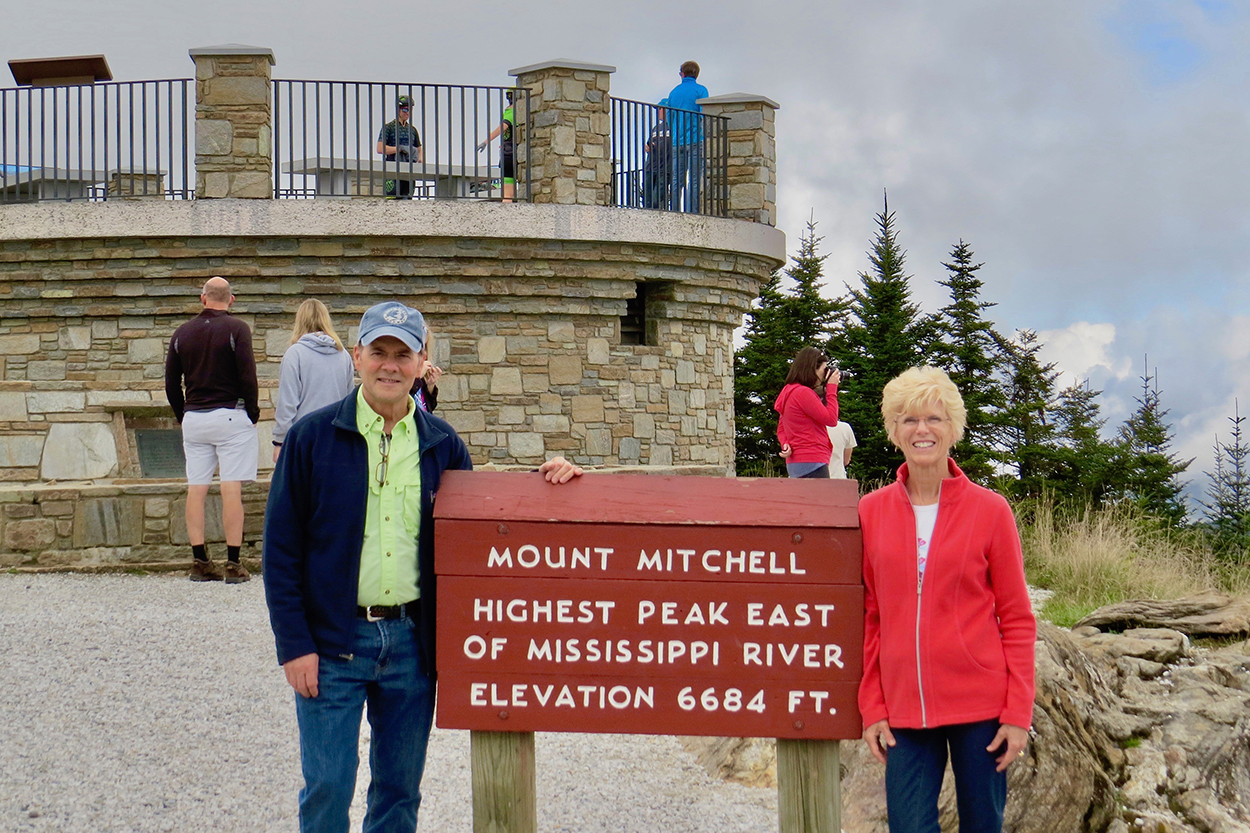 Continuing south you'll find views from Walker Knob at mile-post 360, and just a few miles after, Glassmine Falls, an 800-foot falls you can see from your distant overlook. My guess is this is much more dramatic in the spring, as also would be the case as you pass through Craggy Gardens in the Great Craggy Mountains, found just a few miles past Glassmine Falls. Covered with purple rhododendron from mid-to-late June, the area offers trails throughout its beauty. Finally you make your way towards the artsy Asheville, North Carolina. The Folk Arts Center found at mile-post 382 is home to the Southern Highland Craft Guild. Right on the Parkway, the facility is filled to the brim with artisan works from associated guild members residing in mountain counties even up in the Northern Virginia area.
While the BRP makes its way around the southern perimeter of Asheville and continues another 80 miles or so to its end, for us it was time to take in the town and then head on back north. Asheville is a story within itself. Home to the Biltmore Estate, with its 250 rooms covering 175,000 square feet and set on 8,000 acres, it's the largest home in America. You should make it a must-see as you make your own way down the grand Blue Ridge Parkway — in your Porsche of course!
---
Panamera Turbo S E-Hybrid on the BRP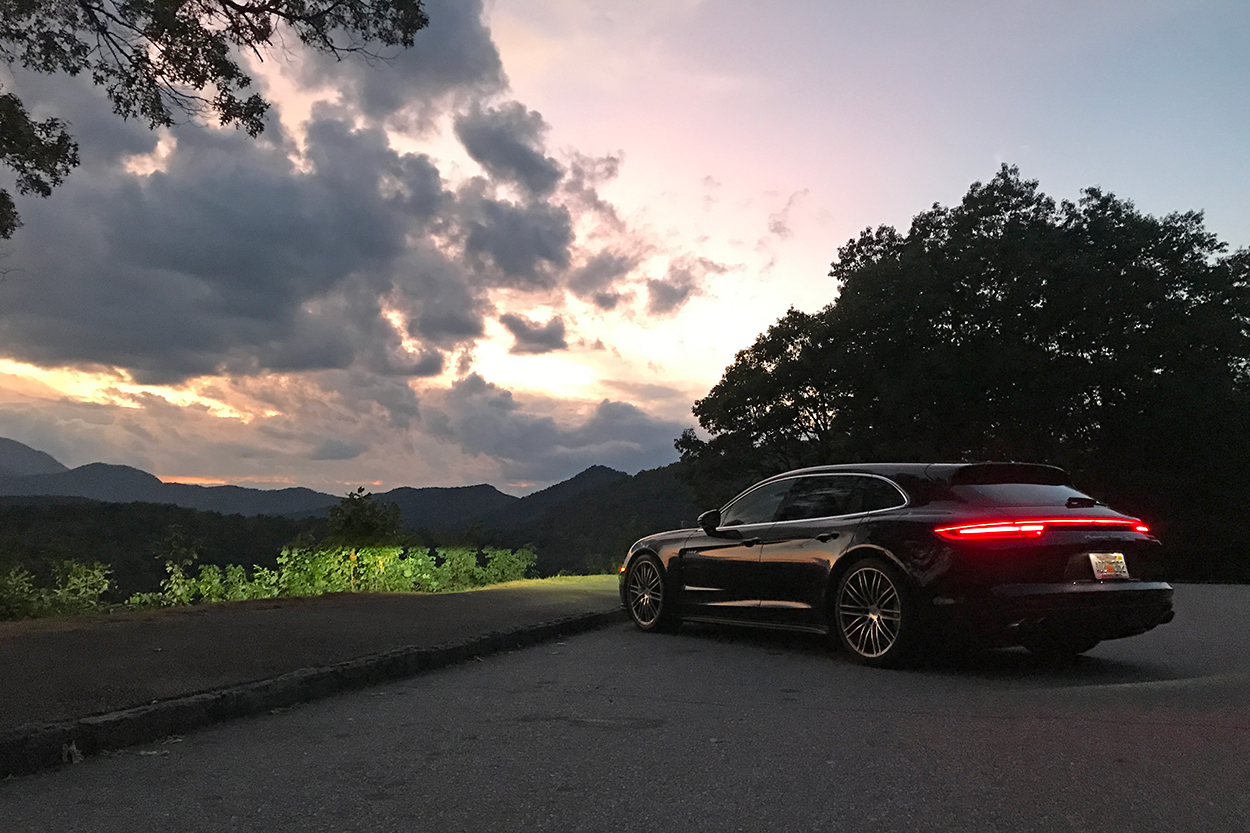 Photo by Damon Lowney
The November issue of Porsche Panorama (due out soon) will feature the robust Panamera Turbo S E-Hybrid Sport Turismo as tested throughout Asheville, North Carolina and along the Blue Ridge Parkway south/west of this artful city. The Turbo S E-Hybrid adapted exceptionally well to the personality of downtown, while brilliantly becoming the tarmac eating tourer it is at heart along the BRP.
Picking up the BRP near mile-port 395, just north of the French Broad River Overlook, travelers are entering the Pisgah National Forest and the last 70 miles or so through the Great Smoky Mountains, to the Parkway's end at Cherokee, North Carolina. The Panamera and the Parkway shined brightly!