PCA Sim Racing: A family affair
Above: Jonathan Shum with his son Jacob setting up for a sim race.
Article by Chris Paiz
I recently had a great opportunity to spend time with someone whom I've raced Porsches against yet had never met and knew very little about. It was another typical late-summer humid evening in Houston, Texas, and there I was, sitting in one of the city's many Tex-Mex restaurants across from Jim Huth, a competitor of mine in the newly minted PCA Sim Racing series. In between delicious bites of enchiladas, Jim and I talked Porsches, sim racing, and the familial connections with each.
Sim racing — isn't that just some computer game that teenagers, including my own, play way too much of? Well, yes, but that's not the whole story. This year, PCA joined with iRacing and Podium eSports to develop an online simulation racing series that pits drivers who are PCA members from across the United States and Canada against each other at virtual recreations of iconic North American tracks. For season 1, competitors used one of the most popular race cars worldwide: the 991.2-generation 911 GT3 Cup. Season 2 took a different approach with drivers piloting the fire breathing, mid-engined 911 RSR. All races were run using the iRacing simulator and broadcast live by Podium eSports on YouTube.
The drivers are just as diverse as the tracks driven. All competitors are PCA members who hail from many different Regions. Their ages range from the aforementioned teenagers to retirees. Skill levels vary from professional drivers with real-life racing experience to those who have never driven a Porsche in anger. Some drivers are even family members, which brings me to brothers Jim and Mark Huth.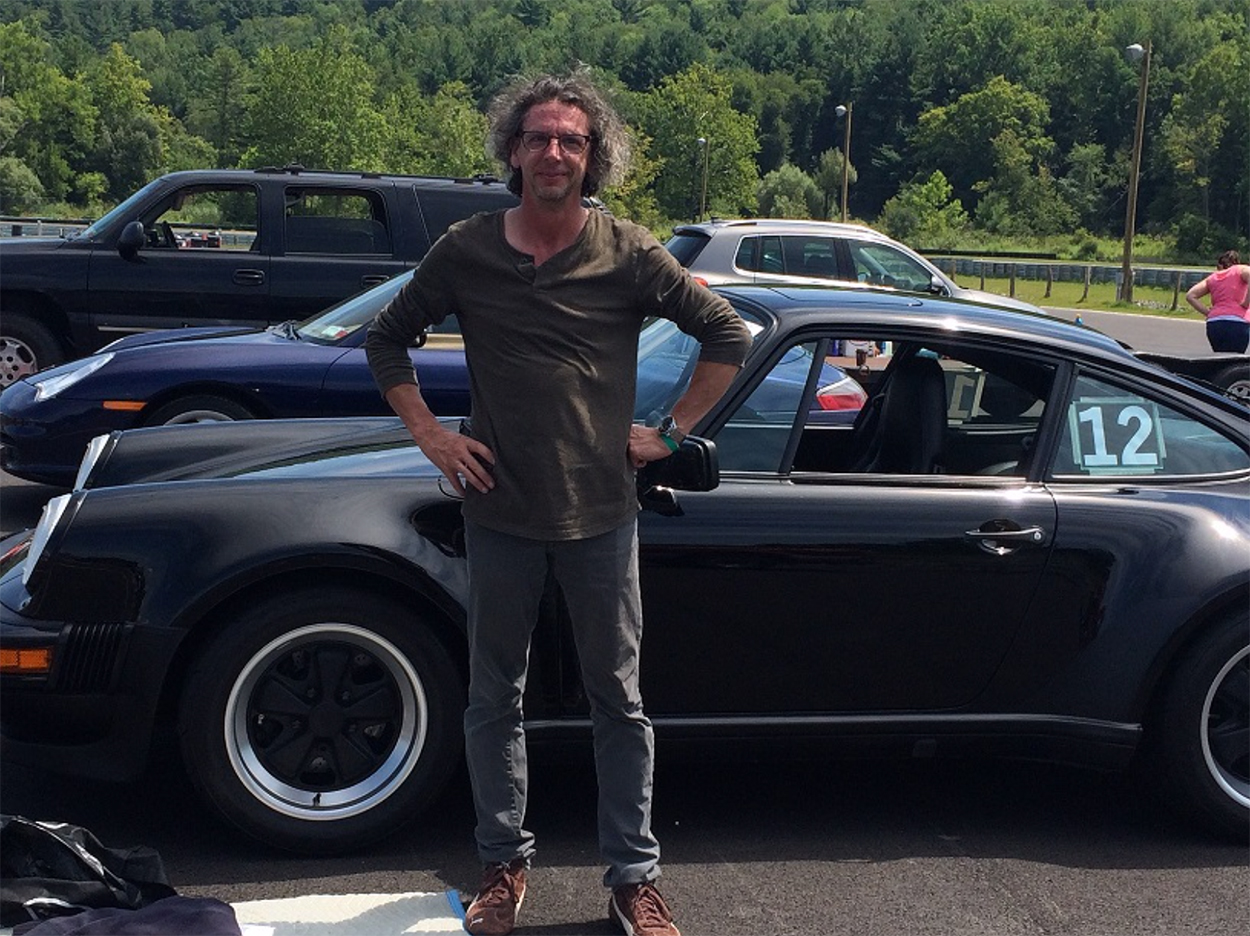 Above: Jim Huth with his 1987 911 Turbo.
Like most siblings, they have been competitive ever since they were kids. As they got older and their lives took different turns, the two brothers moved hundreds of miles apart. Now married, Jim lives in New York and is part of the Hudson Champlain Region, works as a live audio engineer, and travels around the globe with some of the biggest names in the music industry. Mark lives in Illinois, is a member of the St. Louis Region, and plays saxophone and horns professionally almost every night.
However, on Friday nights the brothers strap into their respective simulators, pull down virtual-reality headsets, and fire up race-ready flat sixes. "[PCA Sim racing] brings us closer together even though we are miles apart," Jim Huth says. "It's helped with the distance. There are nights where we can't stop laughing. We are closer than we've ever been since we were kids."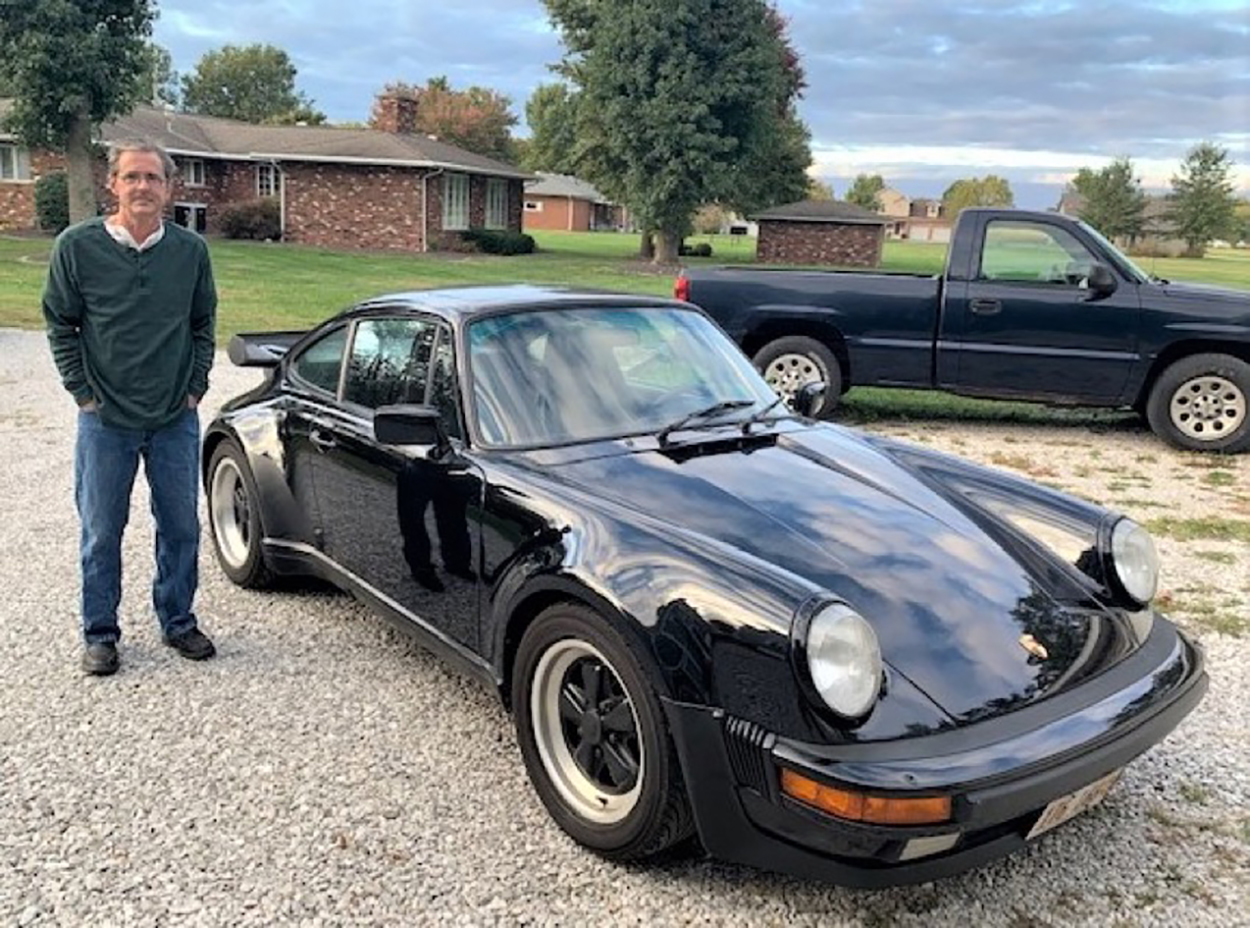 Above: Mark Huth with his 1986 911 Turbo.
The Huths joined PCA almost two decades ago. At that time, Jim was looking for a Porsche to call his own. Unbeknownst to him, his brother was also looking for a Porsche. What they also didn't know was they were looking for the same car. "Out of the blue, my brother called me up and said, 'Look at the car I got,'" Jim recounts. Mark bought a blue 1986 911 Turbo.
"I had looked at that exact car!" Jim says, and he had even considered buying it. He told Mark as much, and Mark found an almost identical car shortly thereafter. "Mine is an '87," Jim says as he smiles. Both joined PCA and haven't looked back since.
I've had the pleasure of driving nose to tail this past season with both of the Huths. During the race at Road America I had to try and defend my position against both Jim and Mark at the same time. Normally, I might be able to defend against one Huth, but not two. Jim later told me that he and Mark were on a separate communication channel and worked together to set up a pass. Needless to say, I was a sitting duck.
The Huths are not the only family members who participate in the PCA Sim Racing series. Season 2's outright winner William Levesque joined his father, Michel Levesque, both Rennsport Region members, on the tarmac for a tremendous season-long performance during which William won every race he entered as well as the championship. 
The Levesques hail from Canada and have known racing for over a generation. "I won multiple autocross championships in the past," Michel says, "as well as two Formula Ford series in Eastern Canada back in 1987 and 1988."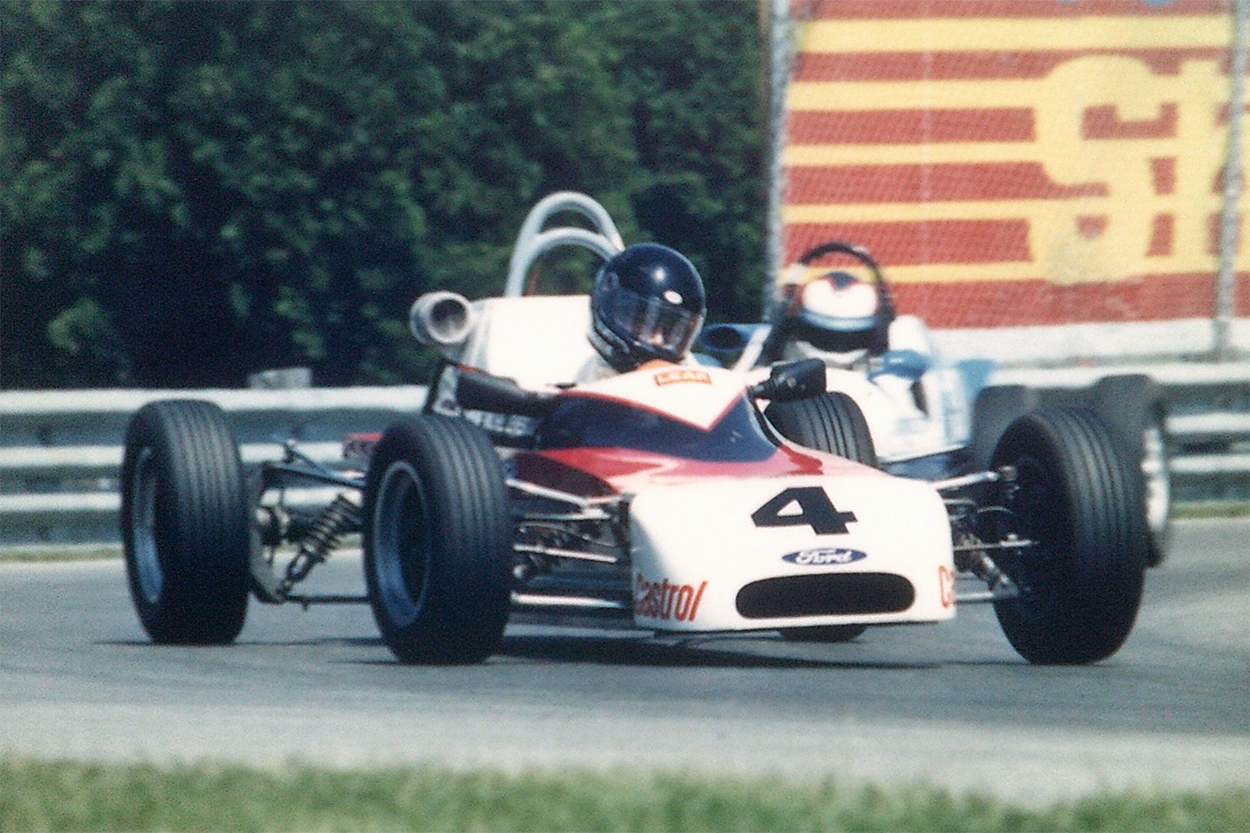 Above: PCA Sim Racer Michel Levesque racing a Formula Ford in the late 1980s.
William has had his own success in real life as well. Thirty years after his father's Formula Ford days, William won four different time attack series in a Miata. Today, they are now auto crossing a Mazda 3 in their spare time. 
There are also PCA Juniors from the next generation participating in the series. Jacob Shum and his father Jonathan, a Carolinas Region member, are racing alongside the Huths and the Levesques. Jacob, a freshman in high school, has been sim racing with his father since he was five years old. "We had two Logitech wheels mounted on a table," says Jonathan about those early days.
Jonathan has always enjoyed performance driving in real life, participating in his PCA Region's High Performance Driving Education (HPDE or DE) events. However, the PCA Sim Racing series is competitive and also an avenue for Jacob to participate. "At DEs everyone drives different cars, so it's difficult to compare driving skills and lap times," Jonathan explains. "The PCA Sim Racing Series allows PCA members to compete in identical cars to see who is the better driver/racer. It's also nice to have a platform where PCA junior members can participate."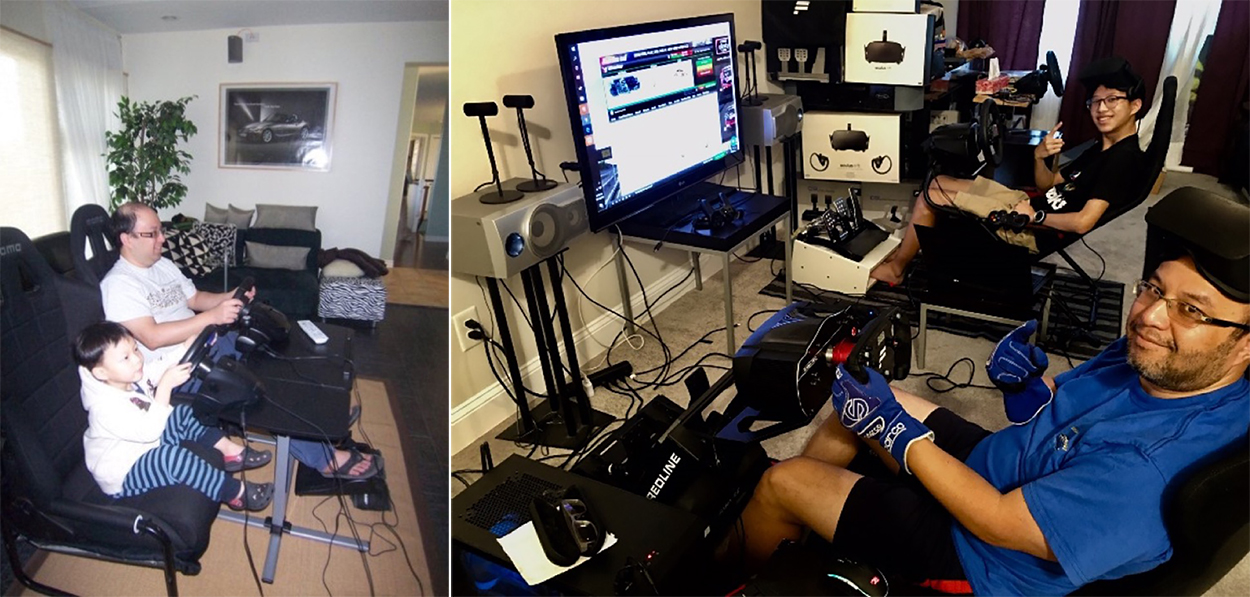 Above: Jonathan Shum and his son Jacob have been sim racing for a very long time.
Prior to season 3, the father/son duo only had one sim rig to use and compete in. "We shared one rig so we had to take turns racing and spotting," says Jonathan. Now, he and Jacob have two separate racing rigs at their home and, for the first time, they will be able to compete against each other. Both are looking forward to a successful season 3 campaign in the 911 GT3 Cup car.
The PCA Sim Racing series has been able to bring families together through sport. Many times, age differences between parents and children or physical distances between siblings prevent family members from friendly competition. PCA Sim Racing eliminates these barriers. Oh yea, and you get to drive some of the most exciting race cars developed by Porsche.
---
About the Author: Chris Paiz, a Lone Star Region member, is an avid racer and PCA National Driving Instructor. When he's not sim racing, he's often behind the wheel of real race car competing in endurance races nationwide.