Audrain's Newport Concours & Motor Week — a Northeastern Monterey Car Week?
Tuesday, November 5, 2019
Article by Ceileidh Siegel
In the spring of 2019, I started to hear rumblings that one of our local car museums, Audrain Automobile, would be hosting a world-class Concours as well as supporting dozens of other car events from October 3-6 — the first Audrain's Newport Concours Motor Week. I've always wanted to go to the Pebble Beach or Amelia Island Concours, but I couldn't pass up an event like this in my own backyard, Newport, RI.
Fortunately I wouldn't be just a spectator, I'd also be helping to run one of the concours. In late September, I was asked to be a judge at the PCA Northeast Region's Porsche Concours d'Elegance, which was to be held the day before Motor Week's main event, Sunday's Audrain's Concours d'Elegance. A few of the members had seen my article in the August issue of Porsche Panorama, "MINE-11," and thought I would have a unique/diverse perspective and be able to fairly judge cars in the Werks Category, a new class that encourages the entry of modified cars, resto-mods, a focus on a car's history, and fun facts as opposed to the stricter and more traditional concours rules that adhere to from-the-factory presentation and cleanliness. Naturally, I said yes and began researching and learning my role as a judge. 
Fast forward a few weeks, and it is Friday, October 4, the middle of Motor Week. I had a few hours to check out the scene, so I dropped my daughter off at daycare just a few minutes from downtown. My first stop was the Newport Art Museum, where the Porsche brand had taken up residence. Next door was Lamborghini, and a few doors down from the Italian marque were Mercedes-Benz, Bentley, and others. It was a little unclear where to find each brand's booth and what their showcases would be, but I figured there would be wrinkles to iron out — after all, it was Motor Week's first year. 
After parking at the Porsche exhibit, I got out of my car and went straight to the new 992-generation 911 on display. The knurling of switches, the dash (a perfect blend of physical and digital), the far more robust cup holder, the unmistakable smile of the front end, and the new full-width light-bar at the rear are realized far more elegantly in person than in photos, and I fell even more in love with the rear-engined sports car. There was also pair of Weissach-package 911 GT3 RSs, boldly positioned and showing off an insane amount of carbon fiber — they seemed to growl with the engine off.
From the Porsche exhibit I walked over to the Tennis Hall of Fame, the central location for all things Motor Week. It was $30 to enter this area, with some high-end vendors, a few beautiful Aston Martins on display, and two offerings from Gooding & Co. Just off the grass courts was the imposing display for the new Chevrolet Corvette, in its own portable two-story building. Behind that there was a large building with vintage motorcycles and more booths with other manufacturers. After getting my fill of all things automotive, I picked up my daughter and headed home.
I left my house at 7 am Saturday, thrilled to be on my own for the day and 100% focused on Porsches. After a 20-minute drive, music blasting, windows down, sunroof open, with a STRONG iced coffee in hand, I arrived at Chateau-Sur-Mer, an 1850s Italianate granite villa of about 20,000 square-feet. Already, just the parking area was flooded with unbelievable examples of Porsches, with mint 356s, Macans, and everything in between. I fit right in and was immediately recognized by my license plate. "Hey, loved your article!" a guy yelled.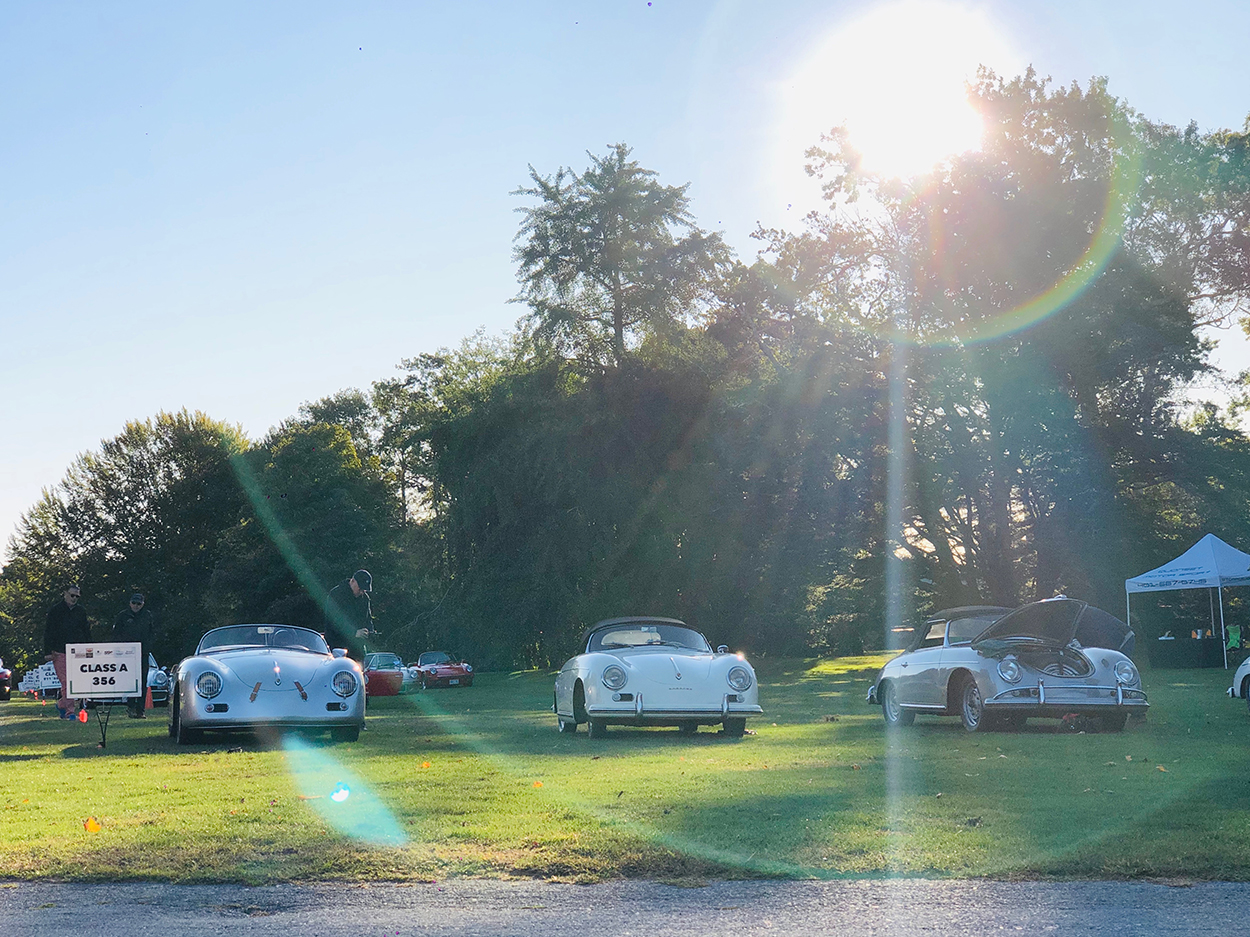 Above: Early in the morning at the Northeast Region Concours. Photo by Vu Nguyen
I headed over to the Werks Category judge gathering and broke off into a group with two other judges, Chris Cannon and Tim Pafik, to focus on 964, 993, 996, and 997 entrants. I had corresponded briefly with Chris over email, and Tim and I had been Instagram friends for about three years but only met in person two weeks prior at the concours preparation event. Both are lifelong Porsche enthusiasts with garages filled with concours-ready automobiles. We quickly understood the grading rubric and got to work.
As we walked the show field, we heard a great story about a 993 Turbo formerly owned by baseball Hall of Famer Reggie Jackson that was immaculate — so immaculate that the owner claimed no one had ever worn shoes in the car. Not exactly adhering to the spirit of the Werks Category in my opinion, but it did have a good story. There was a really fun all-purpose track/daily 996 that is shared by a husband and wife team, a mint rag-top 997, and more. The highlight for me in the category was Darren Beurer's 964, with eye-catching period-correct roof racks and bespoke upholstery that I immediately recognized as Hella Jongerius by Maharam — a beautiful stripe pattern with seafoam greens and charcoal accents. Darren was surprised to meet a fellow fabric geek and enthusiastically described his selection process and how both the rear and front seats' stripes were perfectly aligned (bonus points for attention to detail). The 964 even had Porsche-customized vintage aluminum luggage. Darren was happy to share innumerable details about the history of the car and the hands-on work that he's performed.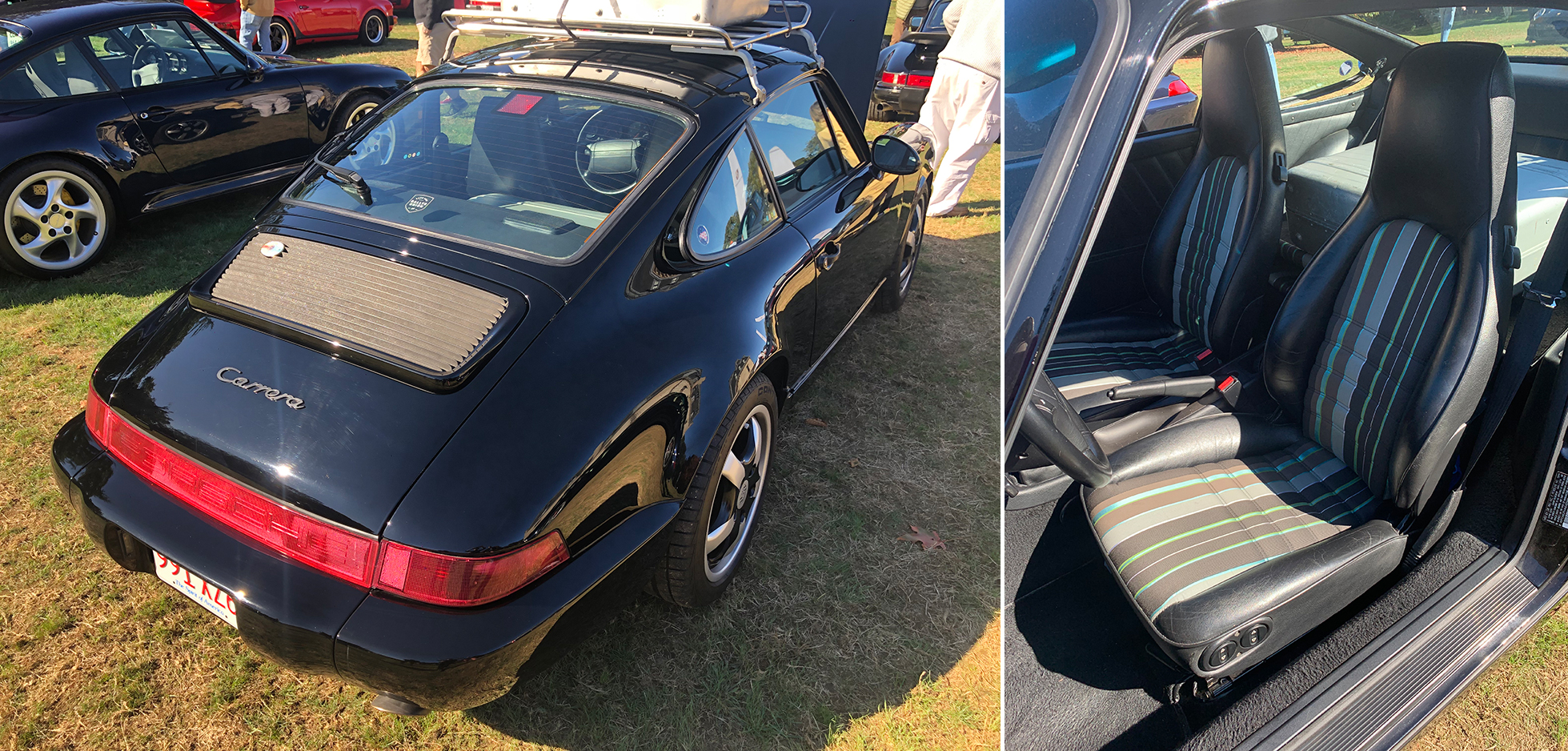 Above: Darren Beurer's 964 Carrera. Left photo by Vu Nguyen. Right photo by Ceileidh Siegel
There were rumors that Rod Emory would bring a special 356, and they were proven correct when the crowd scurried and parted to allow him to drive a newly built Signal Red Outlaw onto the lawn — the latest addition to the Audrain Automobile Museum's permanent collection. I got a good look at the details, the pristine finish, and the perfect blend of form and function. I shook hands and chatted briefly with him and his darling wife Amy about our shared passion for Porsches. Bucket list, check! He explained that the car looks and smells like the most cared for 356, yet it stealthily incorporates a 911 four-speed transmission, antiroll bars, and an air-cooled flat four base off of the 964's flat six tuned to a brisk 260 fuel-injected horsepower. Pretty amazing for a 1,950-pound car!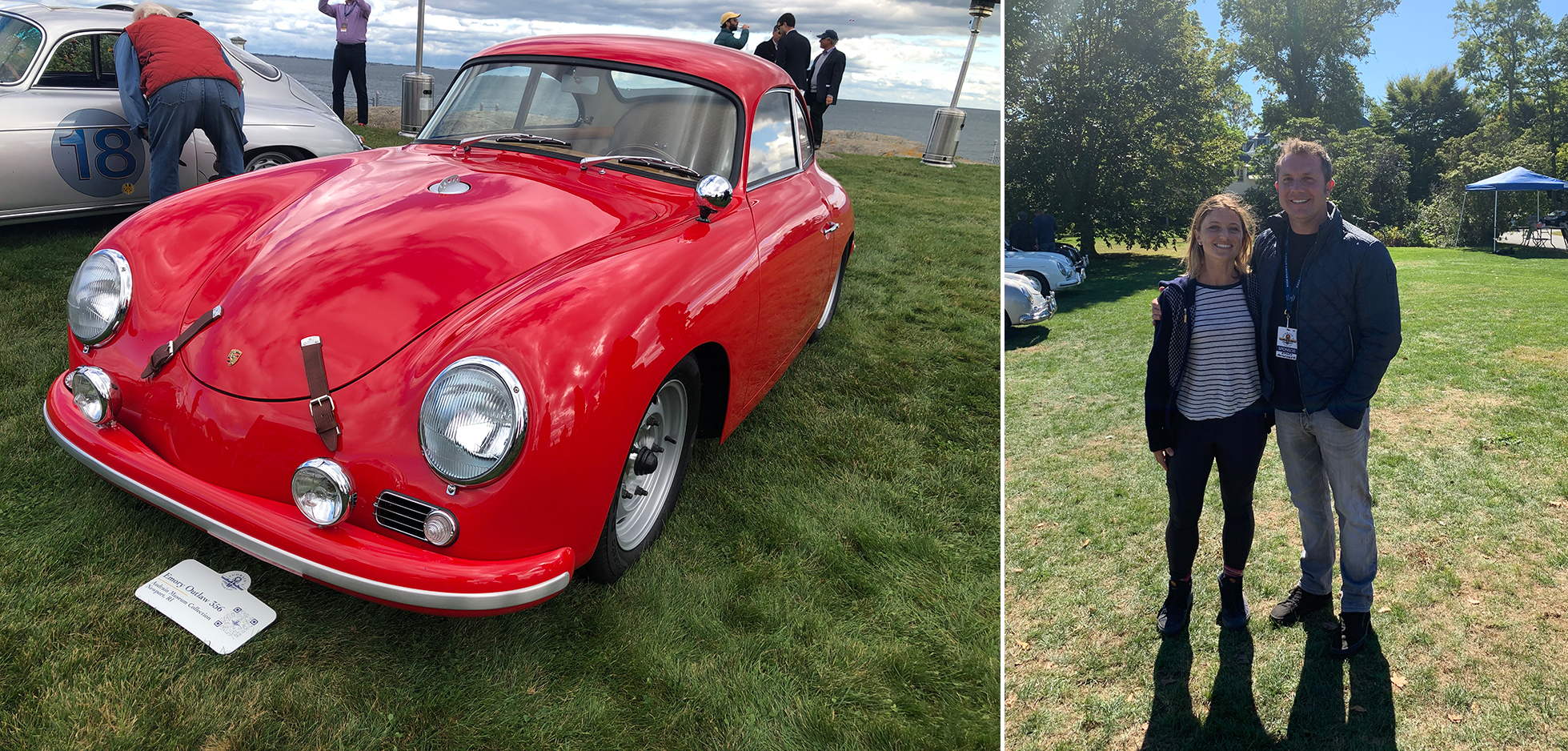 Above, from left: Emory Motorsports' latest 356 Outlaw. Author Ceileidh Siegel and Rod Emory of Emory Motorsports.
We celebrated the class winners  before Chris, Tim, and I headed to lunch. I hopped in my car and drove to the New York Yacht Club, while Chris drove his class-winning 356. Another friend, Larry, casually arrived in his Aston Martin DB11. The Cobb salad was delicious, the company even better. I hadn't yet bought a ticket to the Sunday Concours event — at $175 I wasn't sure if I would. Going alone for that price was plausible, but I didn't want to pay that money and go by myself. Fortunately Chris offered an extra ticket and I gladly accepted. There were a handful of high-priced events during Motor Week, which was a little tough to swallow. While I know how much effort goes into planning and staging at this scale, I didn't have the spare capital of $450 here and another $200 there. It made me question who the target audience was if I felt it was expensive — and I'm a certified local petrol head with a couple of bucks to spare. 
Having not planned to be at the concours on Sunday, my day started with a 10k road-race with my mother-in-law, which I had signed up for months earlier. Fortunately the race was early, so I jetted home afterwards, got ready, and my daughter and I headed to the Chateau-Sur-Mer. After parking, we walked about 10 minutes to the Coffee at the Concours event at The Breakers, a mansion built as the summer home to railroad magnate Cornelius Vanderbilt.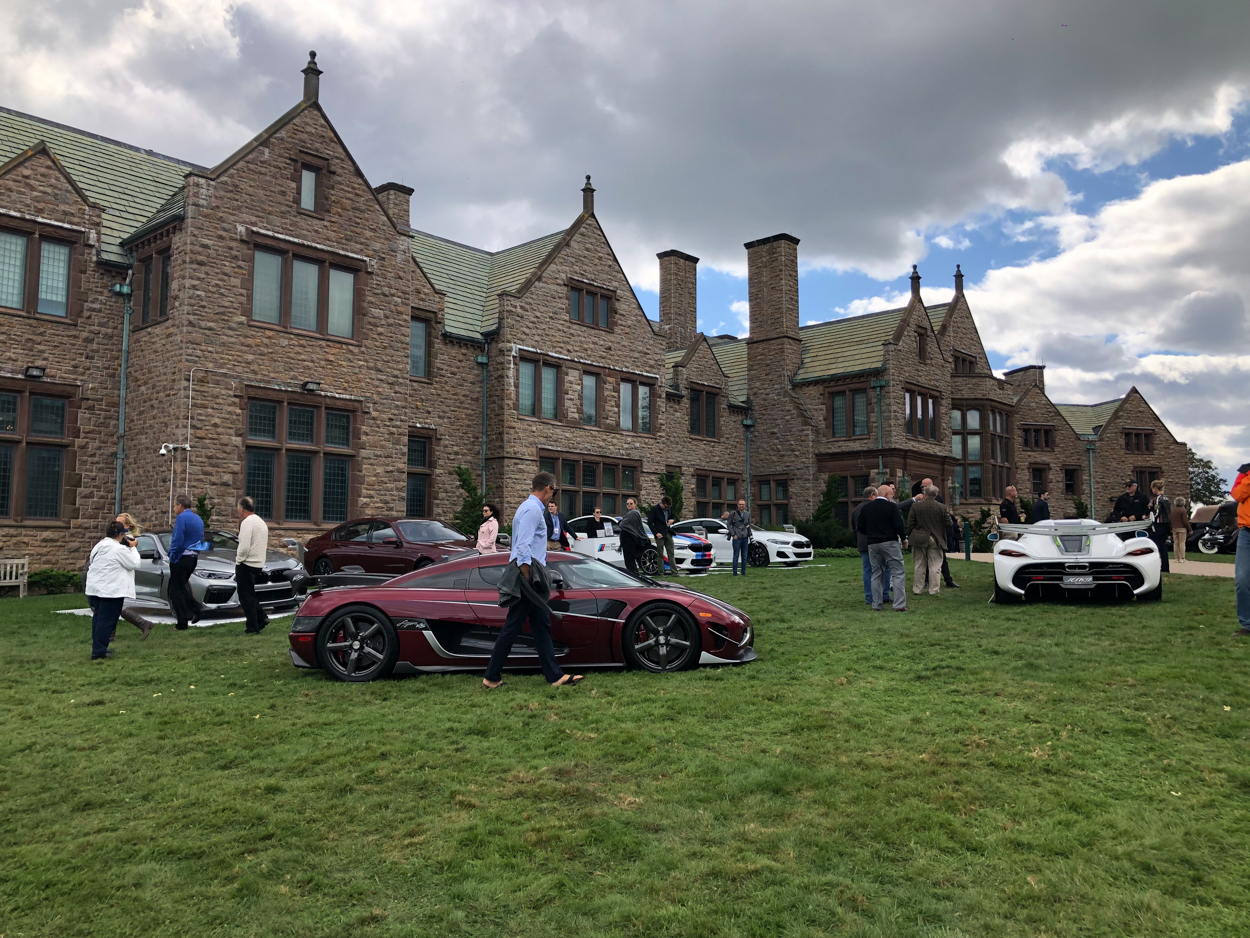 Above: Site of the Audrain Concours d'Elegance with The Breakers mansion in the background.
Wow. That was the word and the feeling when I turned the corner and began to understand the magnitude of the site and the vehicles. With my daughter safely strapped to my back, we began to peruse the categories. Since this was my second Concours d'Elegance event ever — the first as a spectator — I had no expectations. I just wanted to take it all in. Immediately I was drawn to a bright yellow 1920 Ford Model T Speedster piloted by a husband and wife team, dressed in period racing garb down to the goggles. Then I turned and noticed the craziest radiator I've ever seen on a 1901 Panhard, perhaps as squiggly and long as an intestine, with fins at 1/8-inch increments.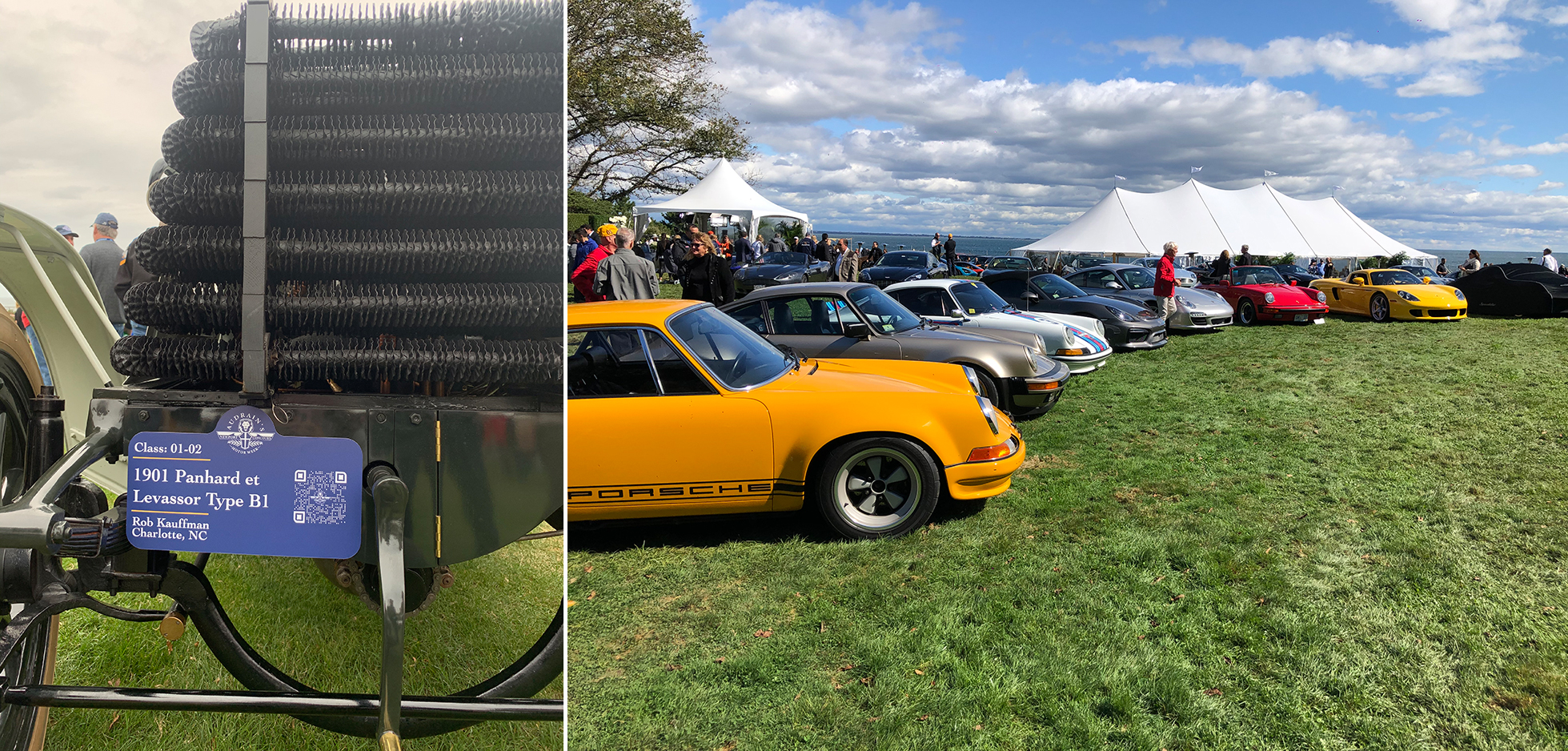 Above, from left: The Panhard's radiator. Porsche's parked at the Audrain Concours. Left photo by Ceileidh Siegel. Right photo by Vu Nguyen.
In the back-left corner of the lawn I spied a car I knew from Instagram, an iconic 1976 BMW 2002 re-imagined by Carter of Enthusiast Garage. It was hard to miss, painted bright orange, so adorable and aggressive at the same time. It was in the "30 Under 30" section, a place for young builders to showcase their wares, all completed for under $30,000 — though I'm sure they don't calculate elbow grease properly with that figure. I finally met with Panorama Editor Rob Sass, who was there as a judge and able to show me a bit behind the scenes. We chatted with another judge, Jay Ward, Pixar's creative director. I was in awe at how small the car world can sometimes seem.


Above, from left: Panorama Editor Rob Sass with Ceileidh and her daughter. A new Porsche 911 Speedster at the Audrain Concours. A "Werks"-style Mercedes-Benz 300 SL. Left and right photos by Ceileidh Siegel. Middle photo by Vu Nguyen.
Fast forward a few hours and the winners were selected, ready to drive in front of the main stage with hosts Jay Leno and Donald Osborne, who would speak with the owners about their vehicles' provenance. As the cars drove up, my favorite part was listening to the distinct sound of the winners — rumbling exhausts of a vintage Ferrari race car, a Werks-style Mercedes-Benz 300 SL gullwing, the most elegant Lancia, and innumerable others — each one transporting me to its respective era.
As the final class winners were receiving their awards, I reflected on the success of Newport's first Motor Week. I had a great experience over the three days I attended and had even met significant people in the classic car world in addition to seeing some truly magnificent automobiles. Capped by Sunday's concours, I can see why it has been described as the East Coast Monterey Car Week. I'll definitely be showing up next year, inviting friends, and looking forward to seeing how much Motor Week catches up to more established automotive festivals.