Road-tripping in a Porsche to the first Boardwalk Reunion
Tuesday, November 12, 2019
Article by Kevin Naughten
Photos by Kevin Naughten unless noted
Day 1 - Fri October 19, 2019 – Our 911's first major road trip adventure begins.
My wife and I loaded our 1982 911 SC Targa to the gills and set out from Reston, Virginia for a long day of driving and a ferry crossing. Our mission was to attend the first Porsche Club of America Boardwalk Reunion in Ocean City, New Jersey, which was hosted by Zones 1 and 2. This was the first long-mileage multi-hour run for our 911, which has no power steering, anti-lock brakes, nor air bags, and has 288,000 miles of enjoyment – thank you Stuttgart! It does have a sweet 1990s Pioneer stereo, amplifier, woofer, and XM radio. Our 911 has made many one-hour-plus runs to various PCA events and Summit Point Motorsports Park, but not much farther or longer.

Our drive to Maryland's Eastern Shore was beautiful, dry, and sunny. The highlight was crossing over the spectacular Chesapeake Bay Bridge onto Delmarva Peninsula. From the low-sitting 911 we actually had a decent view of the Chesapeake Bay. For decades, I have made this same road trip to Ocean City, Maryland and Rehoboth Beach, Delaware. For the first time in 50 years we were stopped at a railroad crossing in the one-stoplight town of Greenwood, Delaware. A beautiful new Delmarva Central Railroad engine with short train was crossing! For decades, I assumed these tracks were abandoned. We considered this a good omen.
By the mid-afternoon, after three hours and 150 miles, on smooth, flat, and dry Eastern Shore highways with wonderful scenic fall landscapes, we arrived at the Cape May-Lewes Ferry terminal in Lewes, Delaware. Since we were early, we boarded the Ferry Henlopen and were lucky enough to park right on the port bow. We thoroughly enjoyed the smooth, scenic 85-minute transit across the massive Delaware Bay sitting on the sunny, breezy deck. This provided a great break for the 911 and us. The ferries are professionally staffed and are perfect for unwinding after driving the highways. They have comfortable lounges, clean "heads" (restroom for landlubbers), full snack bars, and Crow's Nest bar on the top deck. We off-loaded the 911 from the Henlopen and made an easy transit north on the famous New Jersey Garden State Parkway. We had been to Cape May, but not north on the New Jersey shore in decades. We forgot how beautiful the Garden State Parkway is with its sweeping vistas of the tidal flats and marshes. We passed the towns of Wildwood, Stone Harbor, Avalon, Sea Isle City, and Strathmere while enjoying Bruce Springsteen on XM Sirius E Street Radio.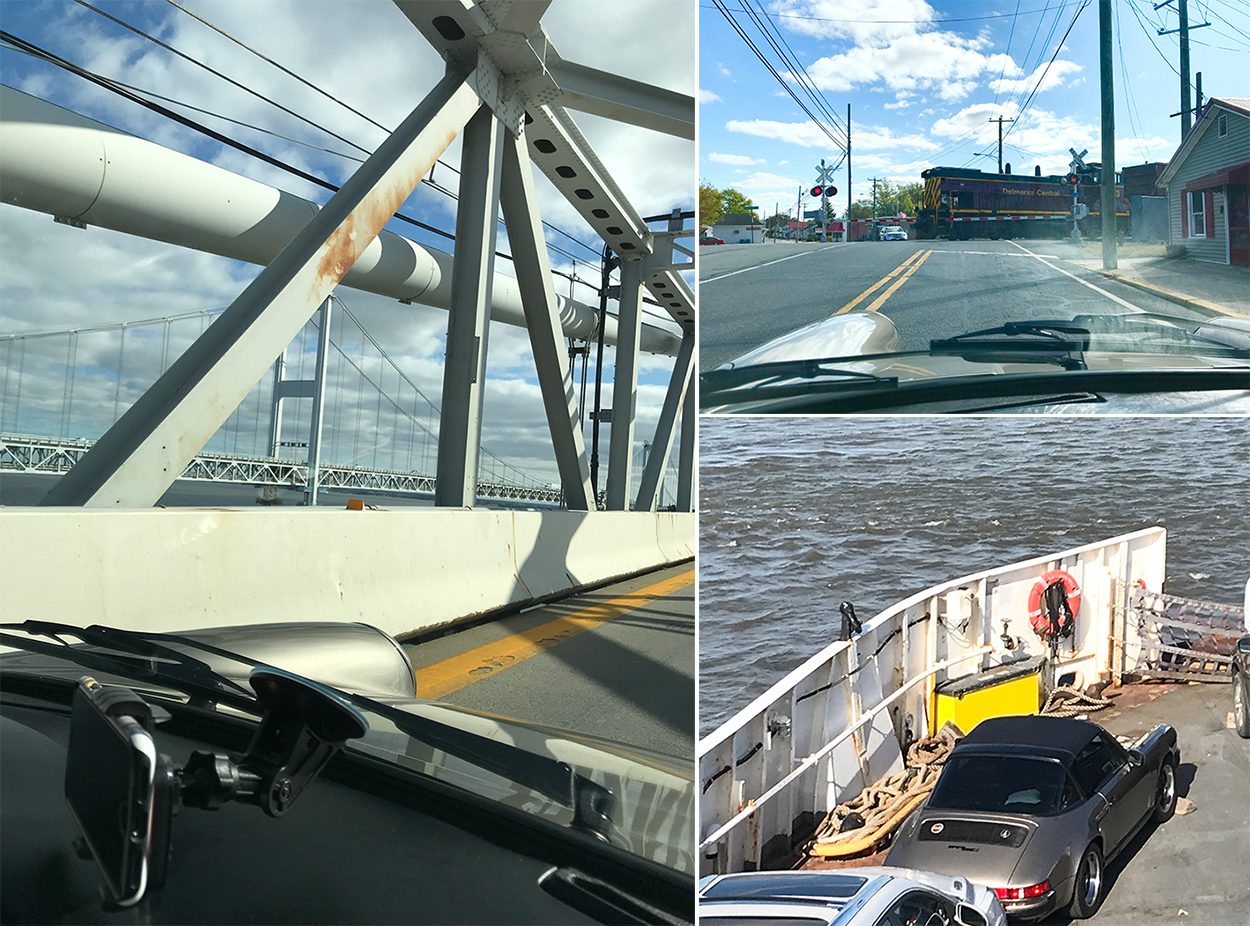 After a 30-minute drive we arrived in Ocean City, New Jersey and promptly checked into the historic post-World War I-era Flanders Hotel. The Flanders Hotel is Ocean City's most historic and prestigious boardwalk hotel. It was built in 1923 for the staggering cost of $1.5 million. The hotel quickly became the "Jewel of the Southern Jersey Shore" and was named "The Flanders" in memory of the fallen World War I Allied troops from the "Battle of Flanders," which was fought in Belgium in 1914.
We spent the evening exploring Ocean City, which is known as America's Greatest Family Resort and one of best beach towns in southern New Jersey. Ocean City is a dry town, so we ventured over to Somers Point (a wet town) that is located a short drive over a sweeping causeway for even more fabulous scenery of Great Egg Harbor Bay. Somers Point has many restaurants and pubs and is a great destination for those PCAers who prefer a cocktail with dinner.
Day 2 Sat October 19, 2019 – Spectacular Weather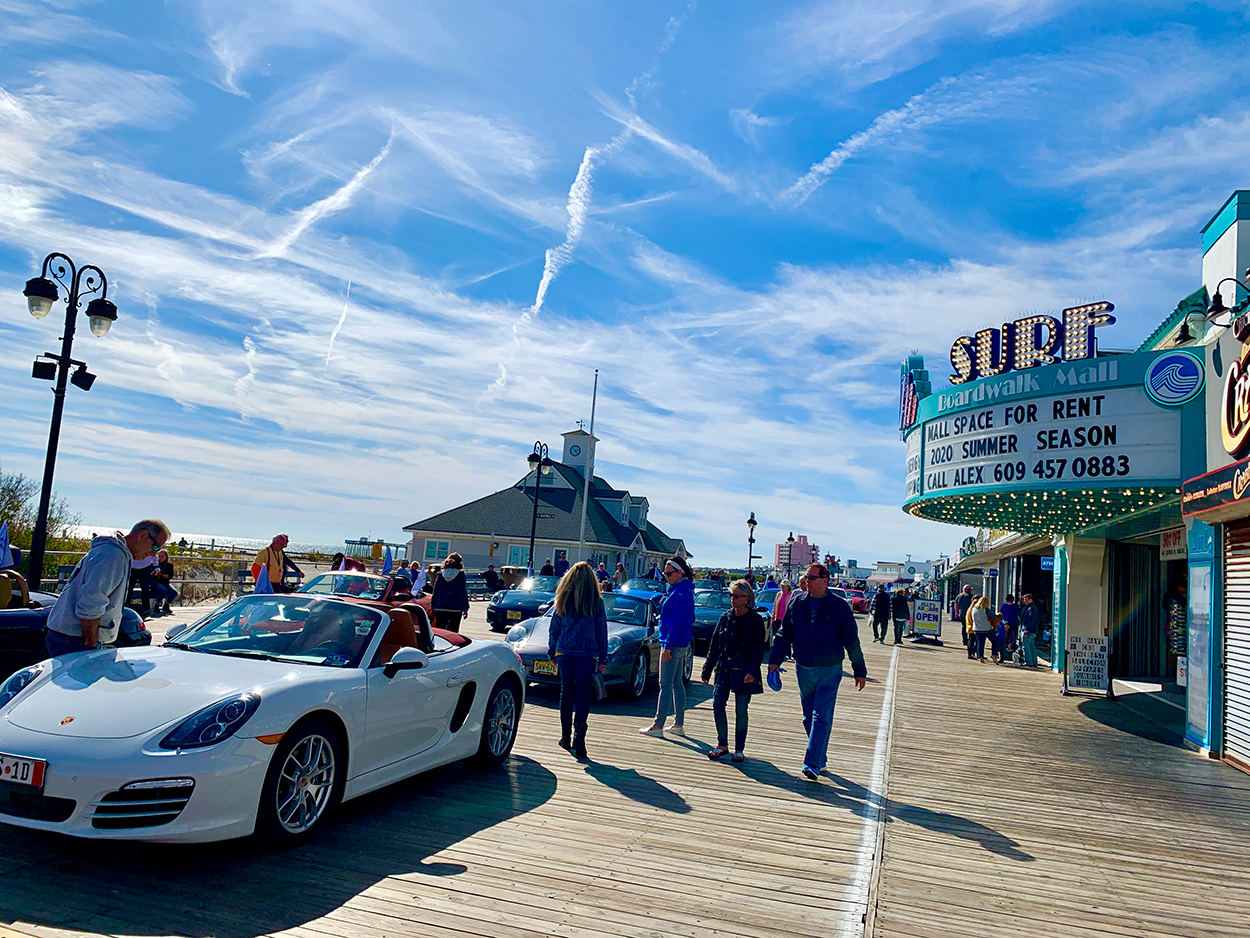 From our ocean-front Flanders suite, we woke at dawn to a stunning sunrise on the Atlantic. We picked up coffee from the hotel's excellent coffee and bakery shop (Drip & Scoop) and made our quick 2.5-mile drive over to Ocean City's Municipal Airport to help set-up. By 7 am PCA volunteers led by Boardwalk Reunion Co-Chair Ellen Beck were out in force setting up registration for the first Boardwalk Reunion as well as lanes for Porsche staging. By 10:15, 300 Porsches of all models and colors were staged on the tarmac. A driver's meeting was held at 10:30 by Boardwalk Reunion Co-Chair Bob Gutjahr. At 11 am the Ocean City Police were ready to start the police-escorted parade over through town to the boardwalk on-ramp. By 11:30, 300+ Porsches were safely parked side-by-side on the Boardwalk, covering nine city blocks.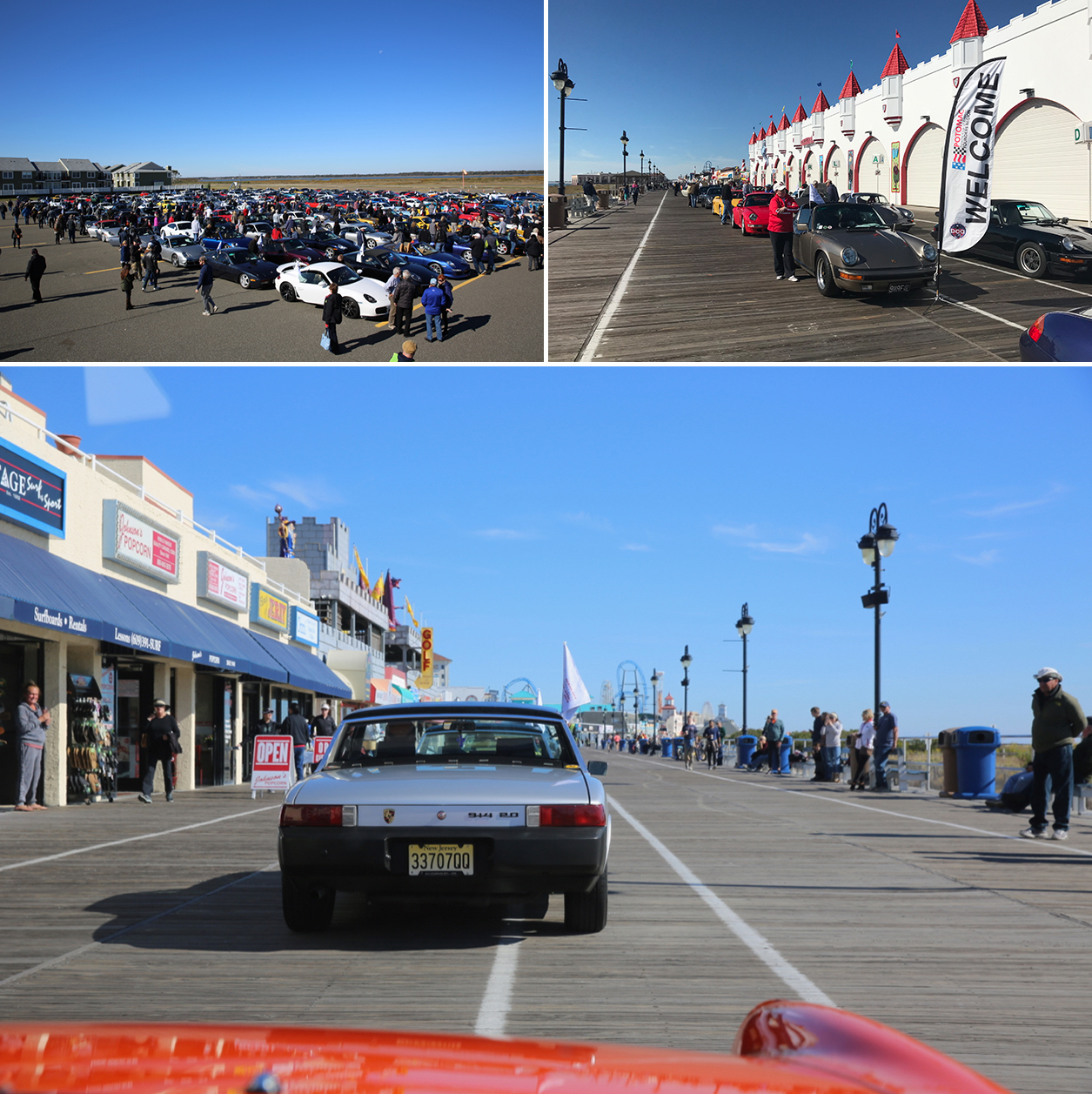 Above: The author's 911 SC Targa (top-right). Top-left and bottom photos by Vu Nguyen.
It was truly an amazing site with all the gleaming colors and models in the gorgeous beach sunshine. Participants had their choice of four tech sessions during the day from 12 to 4 pm covering several subjects including James Dean's 356 Speedster, 356 and early 911 restoration tales, Classic Porsche tool kits, and Boxster 101. Those who were brave enough walked all nine blocks, viewing the 300+ Porsches, and, per my wife's Apple Watch, she logged at least 15,000 steps. Numerous shops and restaurants were open, so folks had their choice of lunch or ice cream on the boards. By 4 pm all Porsche drivers were re-staged at their vehicles for the exit parade off the boardwalk. Most folks were exhausted by then, but an hour later at 5 pm the social cocktail hour kicked off in the Flanders' massive ballroom. By 6 pm an amazing beach party dinner with an expansive, delicious buffet dinner in the hotel's main dining room was underway and followed by a short presentation of awards to the Boxster Register, which used Boardwalk Reunion as their own gathering, replete with an appearance by Pedro Bonilla. Presenting sponsor Porsche Cherry Hill and supporting sponsor Hagerty insurance were recognized as well as Zones 1 and 2, which for the first time combined forces to underwrite the event. PCAers kicked up their flip flops and danced until 10 pm.
Day 3 Sunday October 20, 2019 – Storm on the Horizon
By Sunday morning, PCAers were truly exhausted, but we mustered early to check out of The Flanders Hotel and make the 30-minute drive south on the Garden State Parkway to the Cape May-Lewes Ferry terminal in Cape May. As we queued up to board, Tropical Storm Nestor's squalls were hitting the Mid-Atlantic. We were lucky enough to board an early 09:30 passage and park below deck to keep the 911 as dry as possible. (The 911 Targa top leaks slightly in heavy winds and rain.) We made our second 85-minute transit across the Delaware Bay, gently rolling on the white-capped waves while passing massive cargo container vessels headed north on the Delaware River to Philadelphia.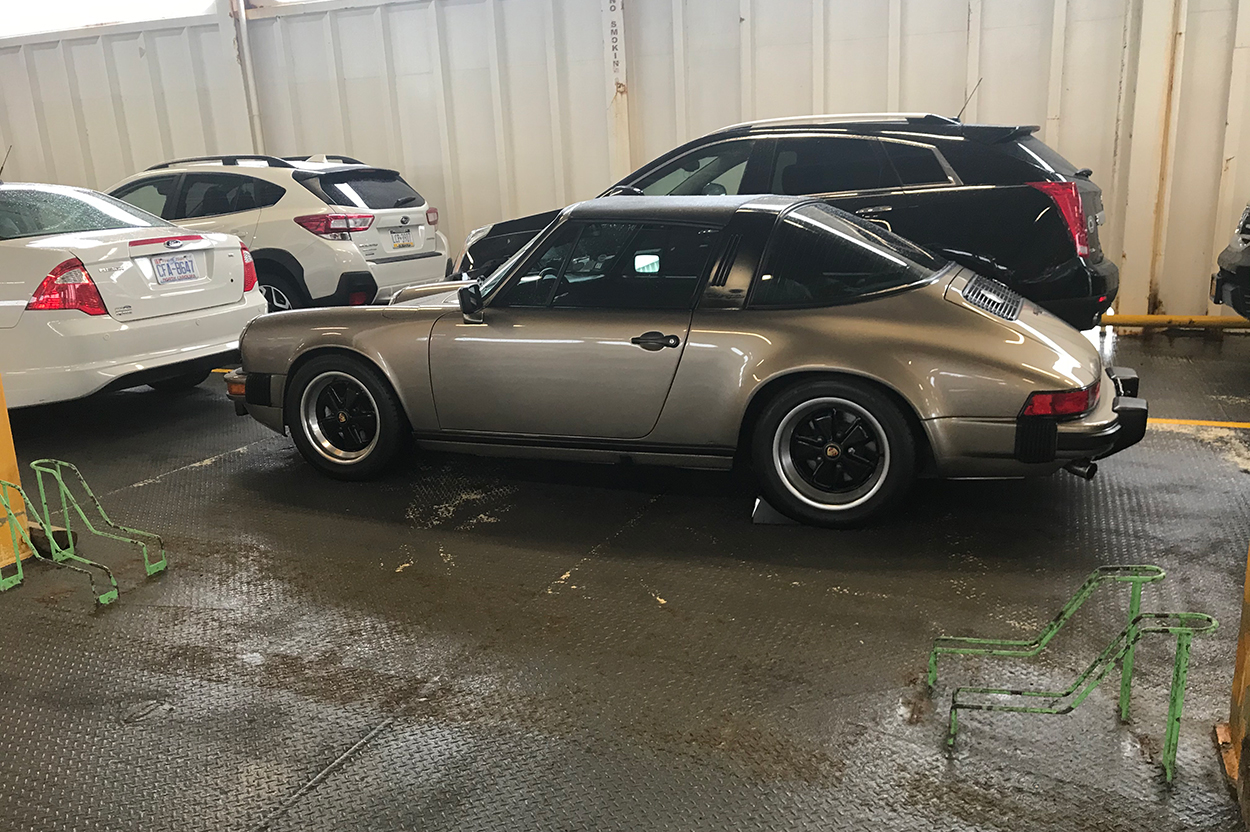 We safely offloaded into Lewes in Sussex County, Delaware as Nestor's winds gusted to 27 miles per hour with sheets of rain. Thankfully I had the sense to book a night's stay at our favorite Rehoboth Beach hotel. Bad news, the hotel does not have a garage, which is a rare luxury in Rehoboth Beach. By the time we checked in and unpacked the 911, I was soaked. I tried to keep the 911 protected from the wind-driven rain by putting her car cover on as quickly as possible. We thought about all the other PCAers we met on Saturday who were driving home in the storm, some as far as Michigan (12 hours) and one long-distance award winner who drove three-days and 800+ miles from Chicago.
Day 4 Monday October 21, 2019 – The Calm After the storm!
The sun rose like nothing happened the day before. I got up early and went out to check the 911. Thankfully she was relatively dry inside since I had spread two microfiber towels on the outside bolster of the passenger and driver seats coupled with the snug water-resistant car cover that seemed to keep her somewhat dry. I opened the windows, frunk, and engine hatch — it was first time I have ever seen water collected on the top of my 1982 vintage York AC compressor! By the mid-morning the 911 and the car cover were dry. We made another safe 150-mile transit back over the Delmarva Peninsula, the Bay Bridge, and arrived home safely in Reston. Our veteran 911 SC Targa performed admirably without one hiccup — thank you to Dave Bergman and Tony Shea of Bergman Autowerks in Manassas, VA. The trip was uber-fun and we will definitely go back! 
See you at PCA Boardwalk Reunion II Saturday October 17, 2020 in Ocean City, New Jersey.
Trip Metrics:
Total roundtrip mileage: 428 miles. 
Total fuel consumption: 21 gallons (one tank). We drove from Reston VA to Ocean City NJ on a ½ tank or 11 gallons – averaging 19.5 miles a gallon.
Total oil consumption: scant (thanks to Motul 20w 50 Classic oil).
Tolls: $85 (incl. New Jersey tolls $3 and round trip Cape May – Lewes Ferry fee $82 w/military discount)