Video: Watch PCA Club Racer pass 41 cars at Daytona in single race
Tuesday, November 19, 2019
Article by Damon Lowney
It's one thing to catch somebody, yet it's another thing to pass. The final PCA Club Racing event of the season was at Daytona International Speedway in Florida, October 25-27, and going into it GTA3 Class points leader Cory Friedman had a lot riding on his performance. To maintain his points lead in the class championship, he had to finish at least second in the first of two sprint races. Piloting a 2017 Porsche 911 GT3 R and starting from the back of the pack, he methodically passes the competition lap after lap and ends the race in — you guessed it — second place.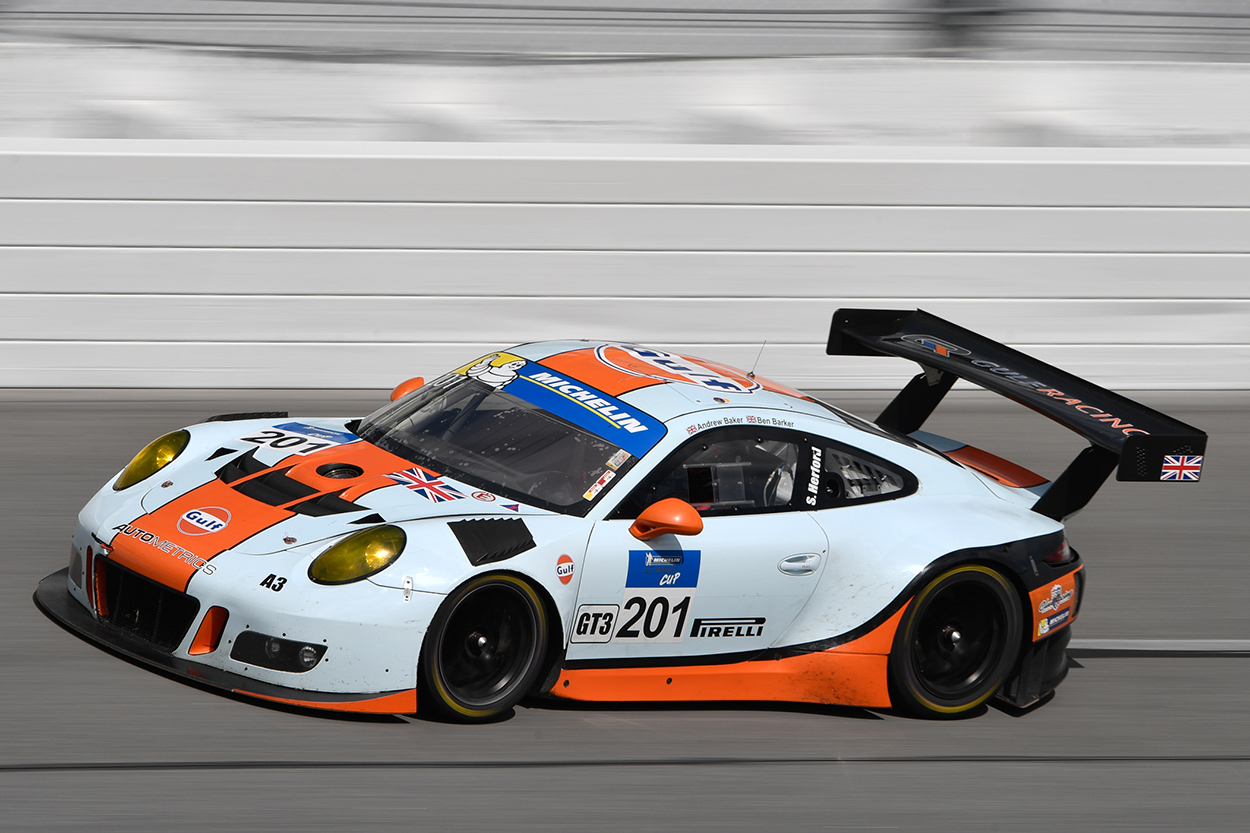 Above: The 911 GT3 R that Cory Friedman drove at Daytona.
That's 41 cars Friedman, vice president of Autometrics Motorsports, overtook, and he was not even driving his usual steed, a 2015 911 GT3 Cup. Fellow racer and Autometrics customer Shannon Herford loaned him the GT3 R, which offers more horsepower, more aggressive aerodynamics, and more overall performance compared to the Cup yet remains in the same GTA3 class.
"I went into Daytona one point ahead of Pierce Marshall. The championship would go to whoever scored the most points that Daytona weekend," Friedman writes in an email. "I have been running a modified 991.1 GT3 Cup in GTA3 class all year. Our car is quick, for sure, but I was worried going into Daytona because there are not many places to 'hide' at Daytona with such long sections of straightaway on the oval."
Friedman qualified second in his Cup, behind Marshall, which prompted him to think of a plan to improve his chances. "One of my friends and customers, Shannon Herford, asked what it would take to beat Pierce. I replied, 'A faster car.' Shannon replied, 'I have a faster car.'" And the rest is now history.
Changing cars meant Friedman would have to start at the back of the pack in the first sprint race. Fortunately for us, he had a camera rolling during the race, which you can watch above. What's so impressive to us is how calm and collected he is, setting up and waiting for passing opportunities before taking them at just the right moments.
For the record, Friedman took first place in the second sprint race of the weekend, securing the GTA3 championship, and also won the endurance race.
"It was a fun weekend for sure," Friedman says. "I can't believe Shannon was kind enough to toss me the 'keys' to his awesome car. I definitely owe him one."