2020 Porsche 911 Carrera S and 4S at PEC — with a Taycan surprise
Tuesday, December 24, 2019
Article by Tom Neel
Photos by Linda Neel unless noted
Let's face it, humans in general do not like change. I can be among them. So with each new generation of 911, what we think we've come to expect are things to be the same with some improvements made. But improvements made over the lifespan of even one generation can add up to some pretty radical change. 
As we embark on a new decade, the 2020 911/992 doesn't just mark the eighth generation of this iconic sportscar. It much more accurately symbolizes a ten-year leap in the 911's evolution. Ponder this for moment. Buying a new 911 Carrera S or 4S ten years ago meant you were going back two generations to the 997. Its naturally aspirated 3.8-liter flat six could still be seen when you opened the rear deck lid.
The seventh-generation 991 was still a couple of years off, and upon its arrival we were told the engine was basically in the same place, though it suspiciously now only looked like two cooling fans. The car was bigger: two inches wider up front, a little over an inch longer, while the 3.9 inch-longer wheelbase was achieved primarily by moving the rear axle backwards by three inches. The interior was completely new, too, though as with the 992, tradition was still to be found. This generation would also bring us electric power-assisted front steering and rear wheel steering. The later of which, in my opinion, is especially a handling game changer.
For the 991's 2017 refresh to the 991.2, the base and S versions came with way more than a few body tweaks. Natural aspiration was gone! Now every standard model 911 would be turbocharged. Not since the suffocation of air-cooled engines had such a radical move taken place. Despite the uproar, both moves added a breath of fresh air into 911 sales.
So, as we begin this new decade, I believe the 992 was given a new approach. It is more than a simple evolution of the last generation, and I see it as having three major influencers. First, of course, is tradition — A rear engine, 2+2 coupe with 911 styling. Second is the 918 Spyder — Unveiled in 2013, its hybridized performance was a game changer and will one day be adopted by the 992. Third is the Mission E Concept — Introduced in 2015, its overall design (inside and out), represents the ultimate future direction of Porsche itself and the 992.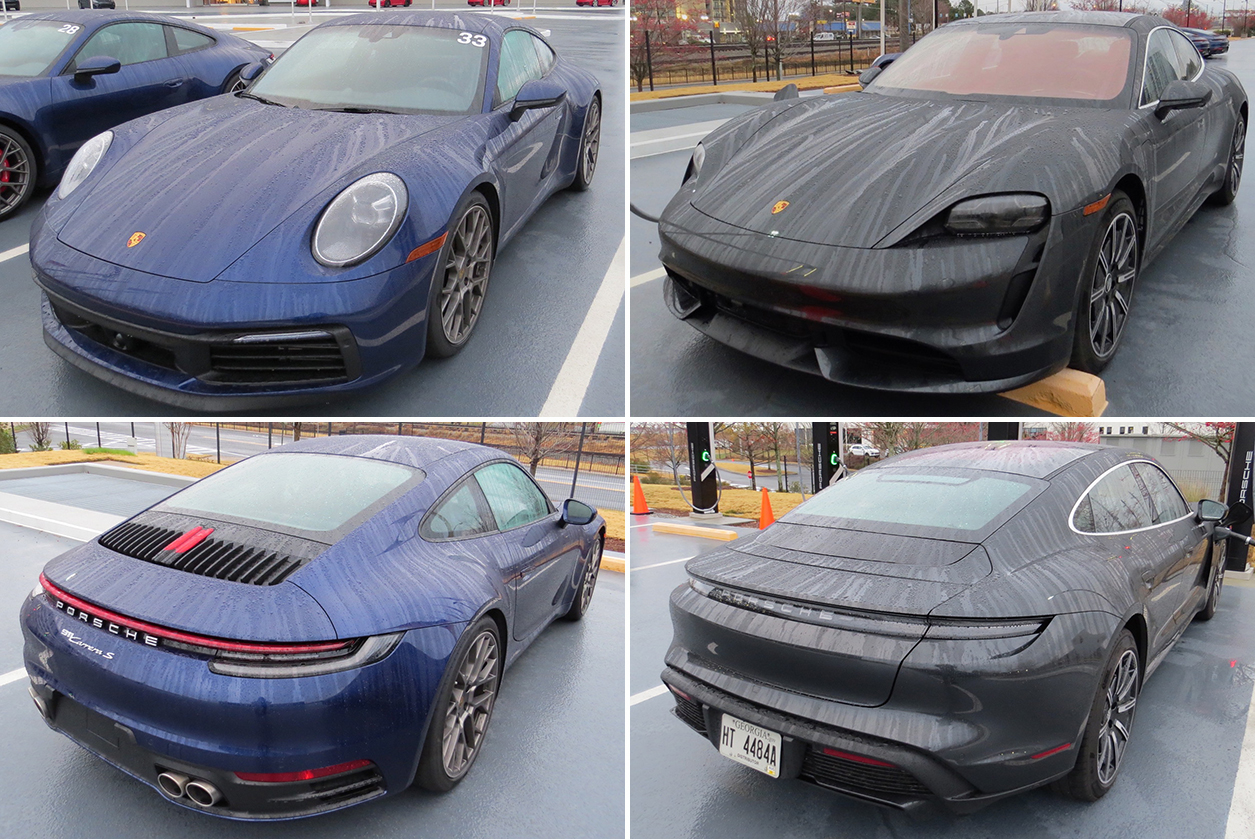 The 992 Carrera S (left) and Taycan have similar shapes in spite of their inherent differences. Photo by Tom Neel
Having just said this, imagine the ironic good fortune of arriving to put the 992 Carrera S and 4S through their paces at the Porsche Experience Center in Atlanta — walking across the parking lot on a chilly, rain-soaked Friday the 13th no less — and being surrounded by a cavalcade of humming Taycans. What turned out to be the last day of Taycan dealer training had me surrounded by direct visual comparisons of the 992 and the Taycan itself. Seeing the Taycan and the 992 right next to each other and even spending some time in the Taycan simulator, it's abundantly clear how the 992's overall aesthetics have been so undeniably influenced by the Taycan, inside and out. As well, you can see how the 911's historic styling influenced the Mission E concept car, the Taycan's progenitor. Open the door of the 992 and you see even more how the two have rubbed off on each other. The two main differences only being the 992's leather eyebrow over the instrument panel being removed on the Taycan, and the tiny new gear lever they both share, which moved from the 992's center console to just right of the Taycan's steering wheel. This makes room for the Taycan's extra center-mounted display. If you want an early feel of what it is like to sit in a Taycan, just sit in a new 911. The two are as remarkably similar as they are different propulsion wise. On that note, there was significant energy present surrounding the Taycan. You could feel the excitement.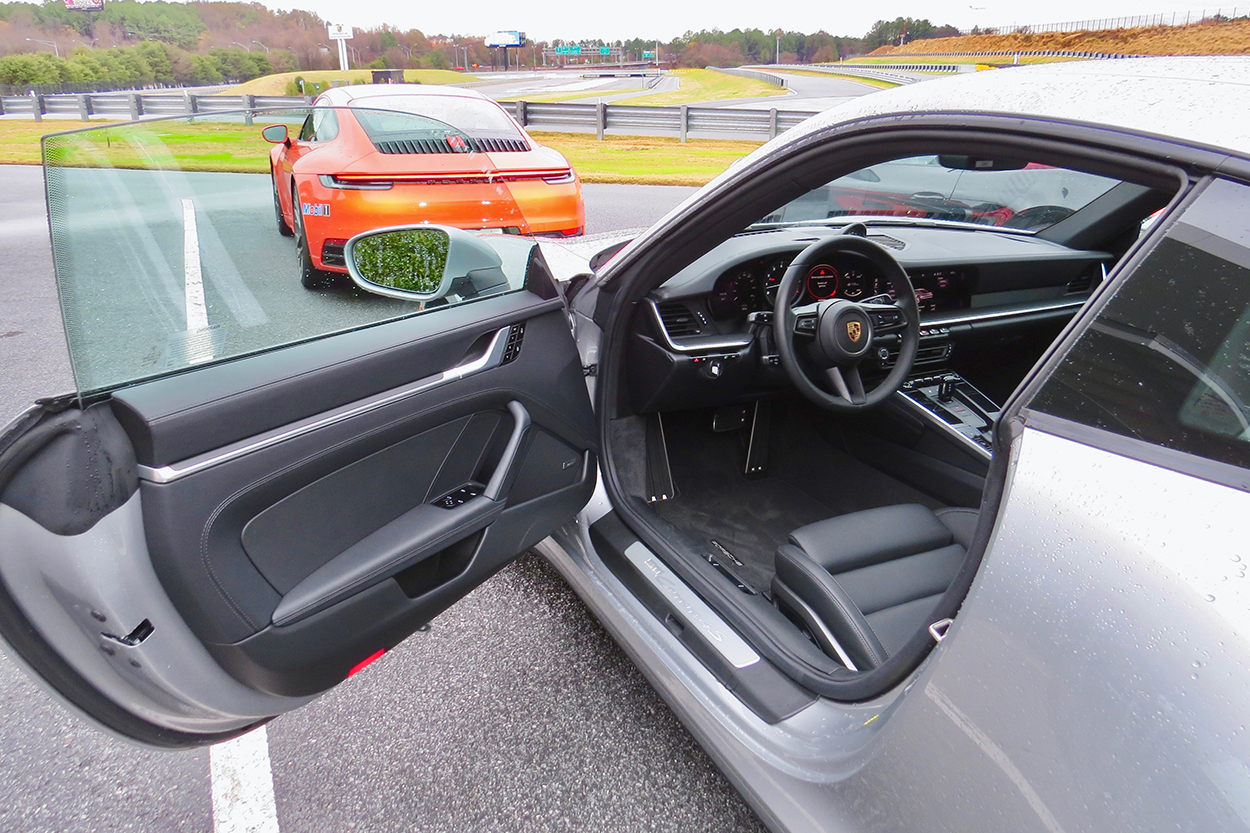 Allow me to add this quick additional Taycan visual. For those of you who think the Taycan is just another Panamera, think again. Though it's close to the Panamera in size, the Taycan appears more like a 911 sedan, and where the Panamera gets thick around its nose and hind end, the Taycan is sleek and stunning.
As I now prepare myself to drive the 992, I can't help but feel this is a milestone time in Porsche's history. A time when it must simultaneously try to sell its historic past and its brave new future. In doing so, I'm trying to be in the present in realizing the past ten years have flown by, and along with the many evolutionary changes yet to come, who knows: By 2030, the majority of Porsche's lineup will be electrified in some way, a mix of EVs and hybrids. For me then, this is not just another 911. Heck, I've even questioned if it may become the last 911. In other words, this is a drive I want to remember. So let's get started.
Now, I drove the 992 on the street prior to my arrival and my instant observation was the very eye-catching displays, both instrument and infotainment. The infotainment display has been raised and is highly visual, which was accomplished by placing the central air vents low and under the display. In real-world day-to-day driving they are attention grabbers, with layers and layers of data to play with. It'll be easy to let your eyes wander there. Some may also feel the new interior to be a radical departure from the last, but remember, designers are taking us into the future. In doing so, the first year of a design may take time getting used to and seven years out things can start to feel dated. So I believe designers shoot to have you completely on board and used to things at about year two. Until then, remember my Taycan thoughts, as this is where all Porsches will be going. You can bank on it. Today I'm remembering to keep my eyes up and out, especially here, where shiny guardrails shall remain dent free!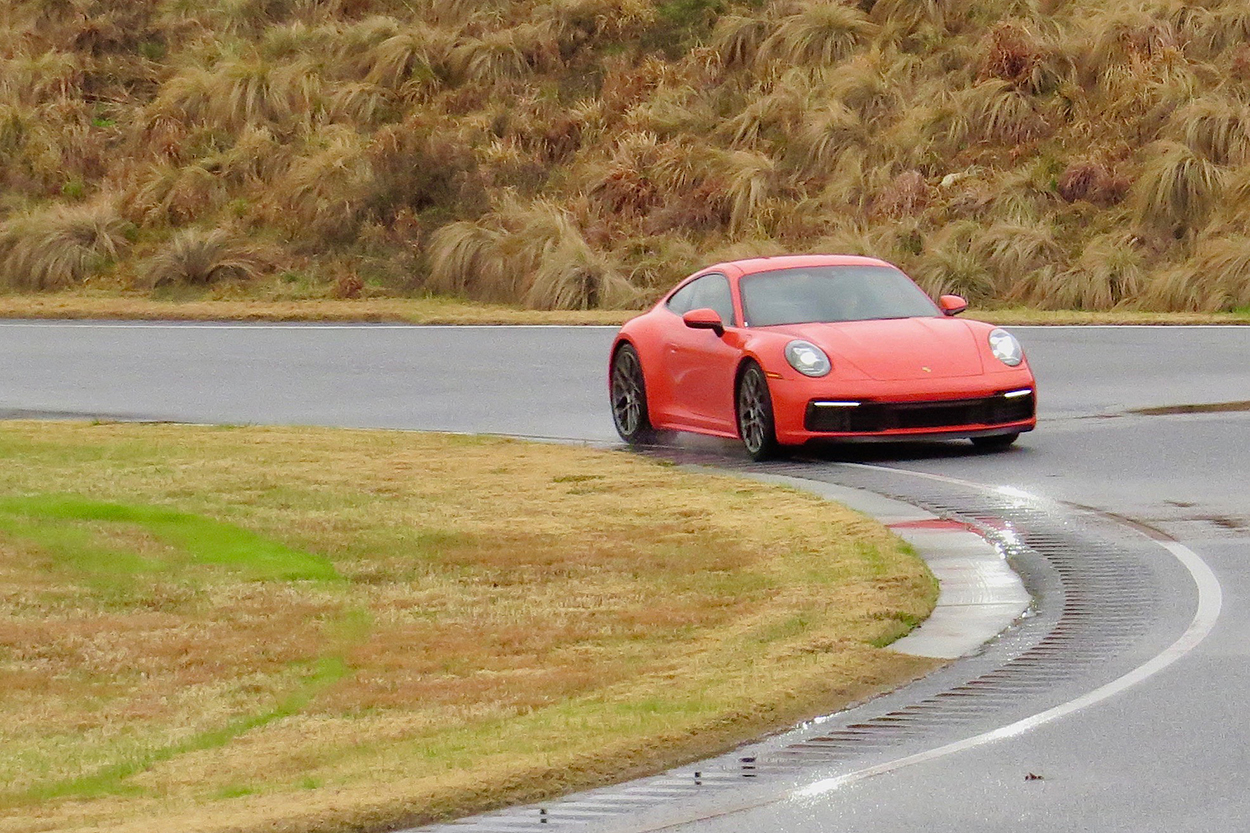 It's not raining now, but it did over the night and every inch of the place is wet. It's an uncomfortable, breezy 47° F. The deck for performance tire used here is 46º. Turn the key. What key? There isn't a key anymore. Instead, a small, plastic, knurled thing symbolically still sits to the left where Porsche placed it many moons ago for those running starts at Le Mans. A push button would now be better suited. Next, put it in gear by two-fingering back the little thing-a-ma-gig that used to be a stout gear selector. Thankfully the steering wheel feels familiar. I'm accompanied by PEC driving coach and friend Kyler Graham, and away we go!
I should share that I'm far less a spec or stat guy, and much more of a feel type person as a driver and a writer. Numbers rarely paint a true picture of how a car feels. They often put notions in your head that aren't in keeping with your perception of how a car feels to drive. So upfront please excuse the absence of unnecessary numbers here. 
Even on the street, the 992 instantly feels stiffer. This is due to both body and suspension improvements. The engine mounts have also been moved forward and out, thus firming up the opposing forces between engine and chassis during quick transitions.  Additionally, steering rack ratio changes bring more precise steering, aided by the same 62.5-inch front track found on the 991.2 GT3 RS. Also like the GT3 RS, the wheel diameters are staggered front and rear at 20 and 21 inches, respectively. While this increases the rear contact patch, I suspect raising the rear axle a half inch (1/2 of that extra inch at the axil's center) also helps sharpen the nose and reduces squat. Especially pushed, all of these changes are GT car-like noticeable and you can lean on it every bit as hard.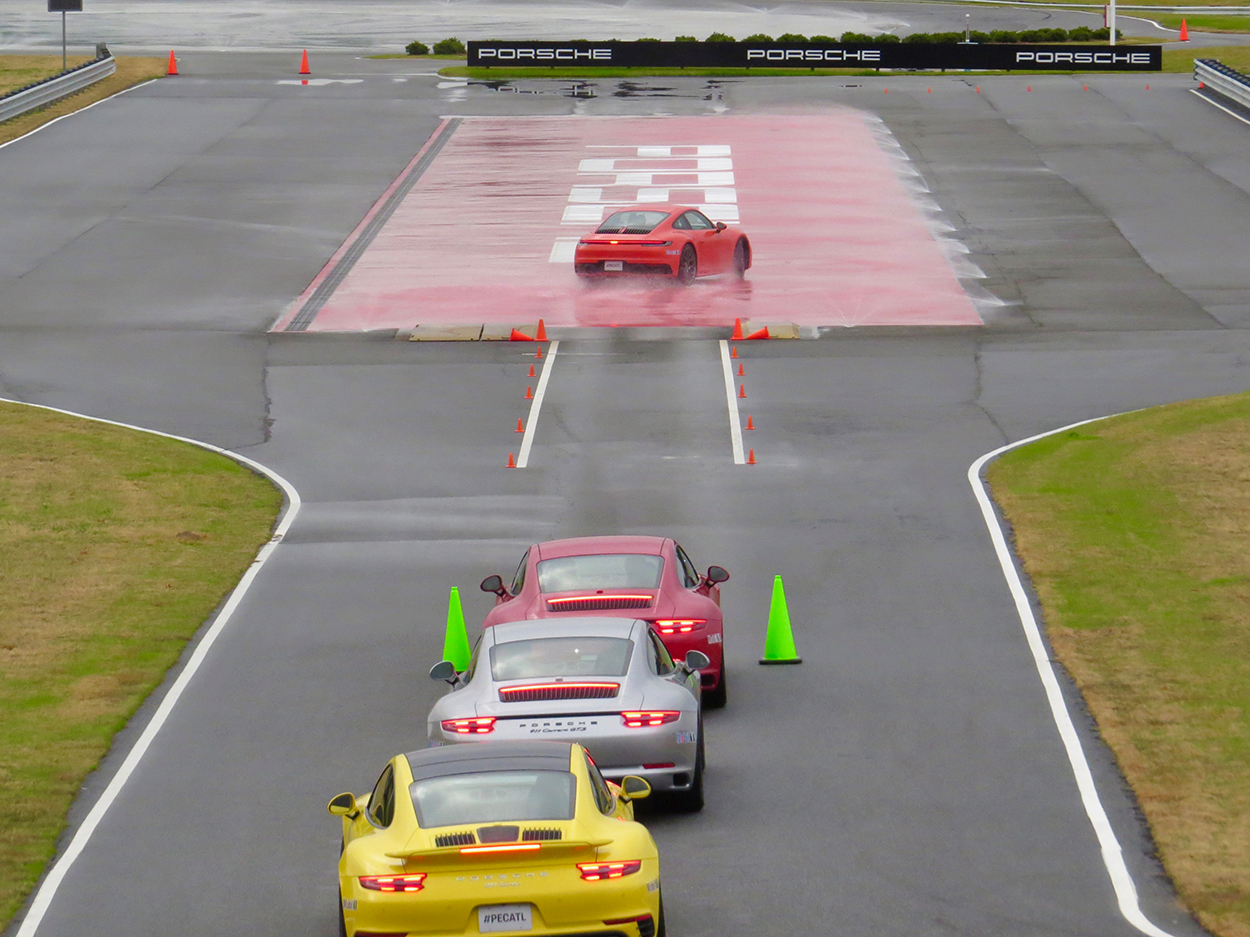 911 Carrera S on the kick-plate at PEC.
The collective result of these improvements has the 992 being sneaky quick around the track. You see, when you approach a GT car of any kind, you know it. Be it a large elevated wing, an altered front nose, stripes and graphics, carbon fiber bits, yards of Alcantara, or missing back seats, it plays with your mind. You know from the time you light it up, it's going to be fast and handle like it's on rails. But you don't expect a Carrera S or 4S to be as quick, if not quicker, and handle about as good as a GT car. Newsflash, it does! I was quicker around the PEC circuit than previously in a GT3 RS and I'm not alone. This, too, while pulling nearly 1 g on a cold, damp track on the 992's new Goodyear Eagle F1 Asymmetric 3 tires, compared to a GT car's Michelin Pilot Sport Cup 2s. I must say, the Goodyears were impressive.
Now I'm in no way implying here that it's time to discard your wings and things, adjustable suspension, and overall GT-ness in trade for a 992. But don't be surprised if at your next track day you can't shake the 992 off your tail either, or pass 'em. The 992 is proper quick and its mid-range torque is also said to be reminiscent in feel to that of a GT2 RS. How Porsche manages to consistently raise its own bar on this timeless layout is mind boggling. But they have done it once again.
For the record, the 4S (shown in silver), was equipped with Porsche's Active Suspension Management Sport (PASM Sport), which offers electronic variable active damping with two manually selectable modes, "Normal" and "Sport;" a 10-millimeter lower ride height compared to standard, stiffer anti-roll bars (front and rear), extended front spoiler, and increased maximum rear spoiler height. The S unit I was driving (shown in Lava Orange) was equipped with standard PASM, Porsche Dynamic Chassis Control (PDCC), said to actively suppress lateral body movement during cornering and minimize lateral instability on uneven ground; and rear-axle steering, which is paired with PDCC.
Both models were equipped with steel brakes, which, quite frankly, performed brilliantly considering all conditions of cold, wet weather and being pushed to their limits in both heavy track use and stopping from power launches, bringing the ton-and-a-half vehicle from north of 80 miles per hour to a cat-clawing, ABS-pulsating, over 1 g stop. It's worth mentioning, even with tires searching for grip in the wet, the launch itself sent both our heads bouncing of the head rests.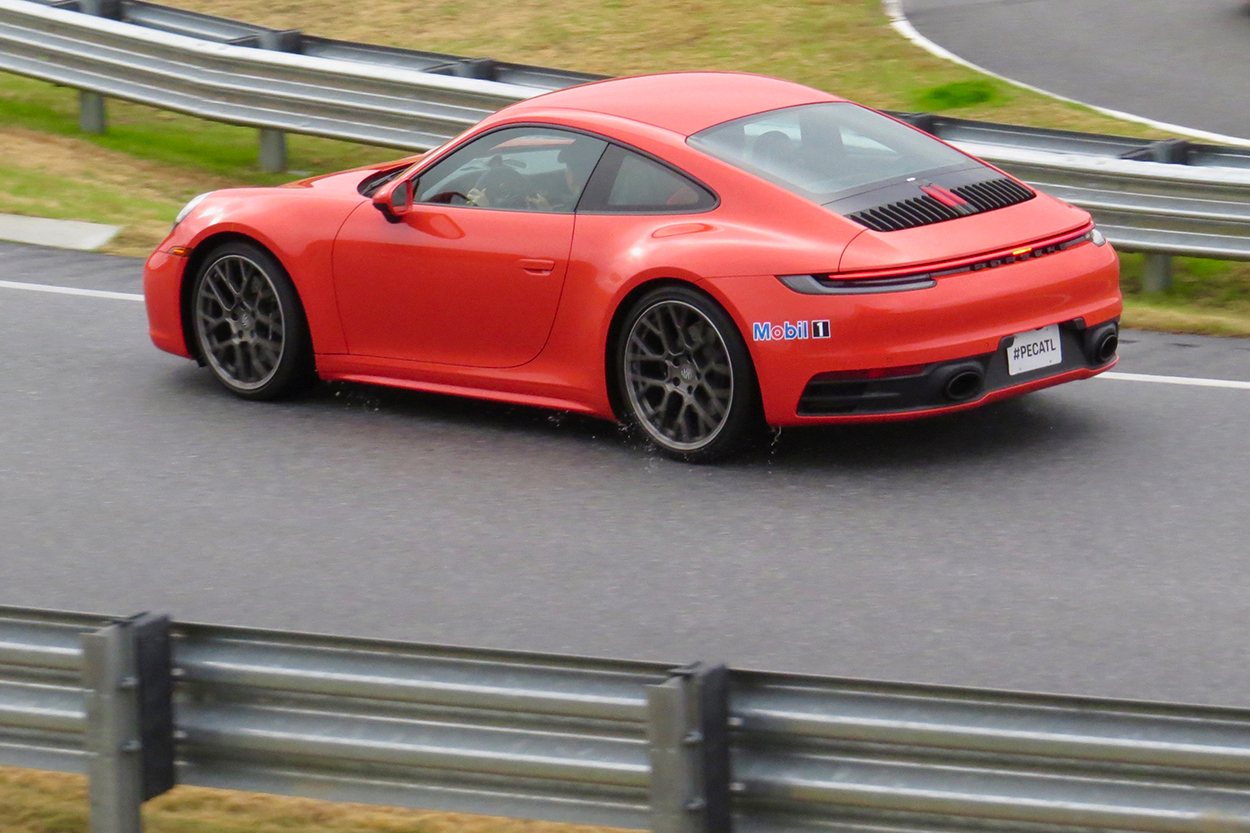 Wet mode, a new feature on the 992, uses acoustics to detect when the car is driven on a wet road.
The 992, of course. ramps up driver aides with things like Wet Mode. It was certainly wet here and worth trying, and I did so on PEC's wet low-friction skidpad and circuit, kick plate, and track. I could go on about it, but allow me to simply put it this way. If you happen to buy a 992 and it happens to rain while driving, use Wet Mode. It's a smart, intuitive system that is not annoying and, with the push of a button, may save your life. While we're here, the wet skidpad is one of the best places to truly separate the 2S and 4S's capabilities. I will admit not to being a real pro in this area, but Kyler is as good as they come. Here's what I think we both would say in comparing these two models. Remembering that the engine sits like a big weight in the rear, once you've snapped the 2S into skid, you have to be very fast with countersteer and very light on the throttle. It takes real finesse. With the 4S things are almost just the opposite. I think it's not only harder to bring the tail around, but once it happens, when the subsequent spin is about to follow, you give the 4S more throttle (not less) and its front wheel drive pulls the car out of the centrifugal forces happening at the tail.  Where the 2S might lose the tail to the spin, the 4S front wheels claw forward, saving the spin, and the feeling is so cool. It's makes perfect sense in retrospect and on paper, but may be counter intuitive for the driver to press the throttle to pull out of a spin.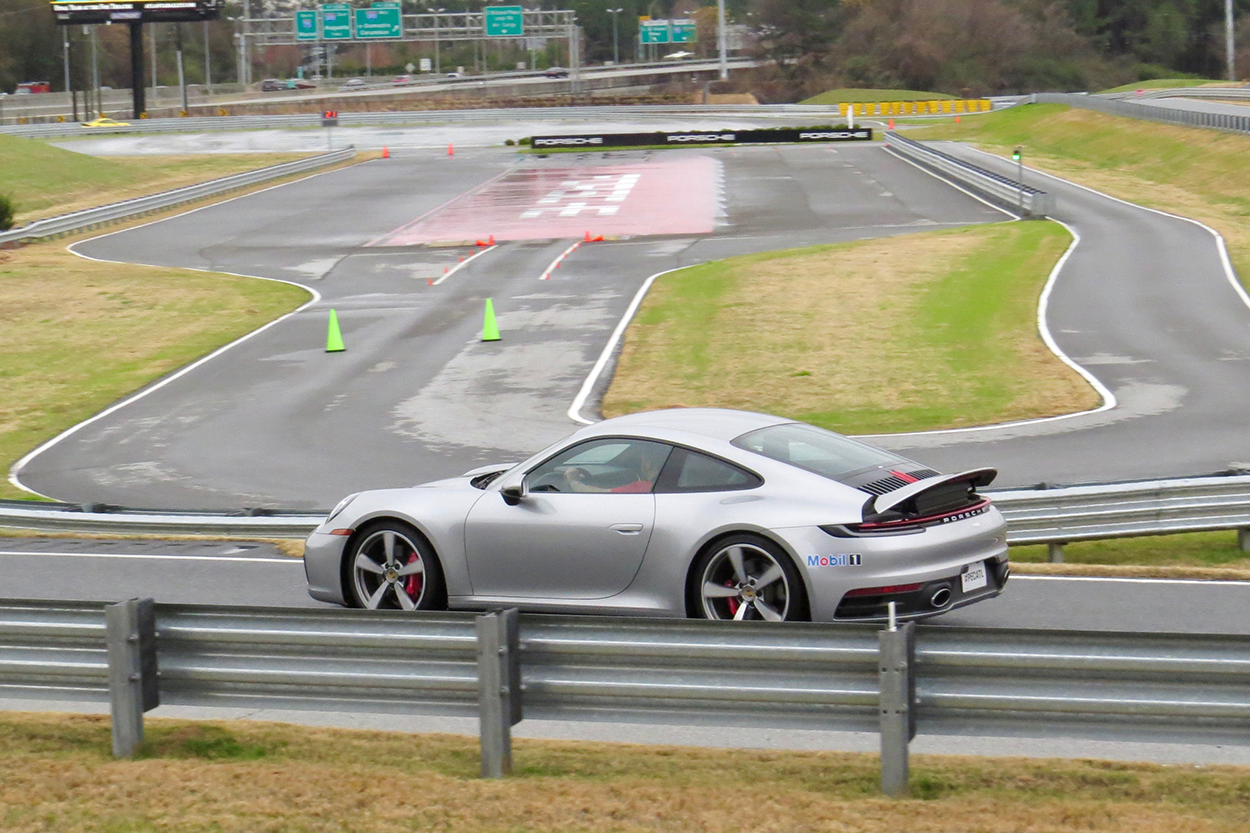 Now really pushing things on track — again it's damp and cold — predictable tire movement could be found in the way of light understeer, but it was never unnerving. I will admit to oddly feeling a little less confident on PEC's fastest sweeping turn in the 4S (which I drove second) than with the 2S. I could feel its all-wheel drive actively searching for grip under me. This section is also quickly followed by the hardest braking point leading into a hard right.  Coming through this section the next lap, Kyler suddenly gave me an audible reminder to "Brake hard!" He then mentioned that I had just hit 102 mph. Faster than the GT3 RS I'd driven here. It was proof that one needs to be mindful of the 992's unassuming ground-gathering prowess.  The source of my perception in the 4S squirminess had now revealed itself: I was flying and it was doing its job! It is quite an automobile. If I were to offer the tiniest complaint in driving this car quickly, at least with my hand movements on the wheel, is that occasionally the many function buttons found at 9 and 3 o'clock can sometimes be felt. No big deal really. 
So, is the 992 a purchase you should make? Listen, if you have any model 911 and it's serving you well for country road drives or occasional PCA HPDE events, don't envy the 992. If, though, you've been considering a pricy used GT car with track-days or autocross escapades in mind over its outright racy looks, the 992 is a great choice. But if you are looking for a new 911 and like the 992's new look and technology, you simply can't go wrong with a Carrera S or 4S. This is not just a good car, it is an amazing example of how Porsche has once again improved upon its traditional concept, using evolutionary change to take us into the future. Well done!