Rugged Luxury: Porsche Macan S vs Subaru Outback
Wednesday, January 29, 2020
Article by Tom Neel
Photos by Damon Lowney unless noted
My two-car garage has two SUVs. Call me typically American, as we Americans simply love our SUVs. Porsche has now long understood this, capitalizing on it with its introduction of the Cayenne in 2003, followed by the smaller, more agile Macan in 2014. While the Cayenne is more likely an American's idea of an SUV, the Macan is much closer to an actual Sport Utility Vehicle. In a sense, the Macan S, GTS, or Turbo, are the closest things you can get to a raised-up five-door Carrera 4 or 4S. In fact, two years ago, I actually traded in our 991 Carrera for a highly optioned Macan S and I don't regret it a bit. Apparently, I'm not alone in this thinking, as the Macan is easily the best-selling Porsche ever. It not only outsells the Cayenne, it outsells all Porsche cars combined.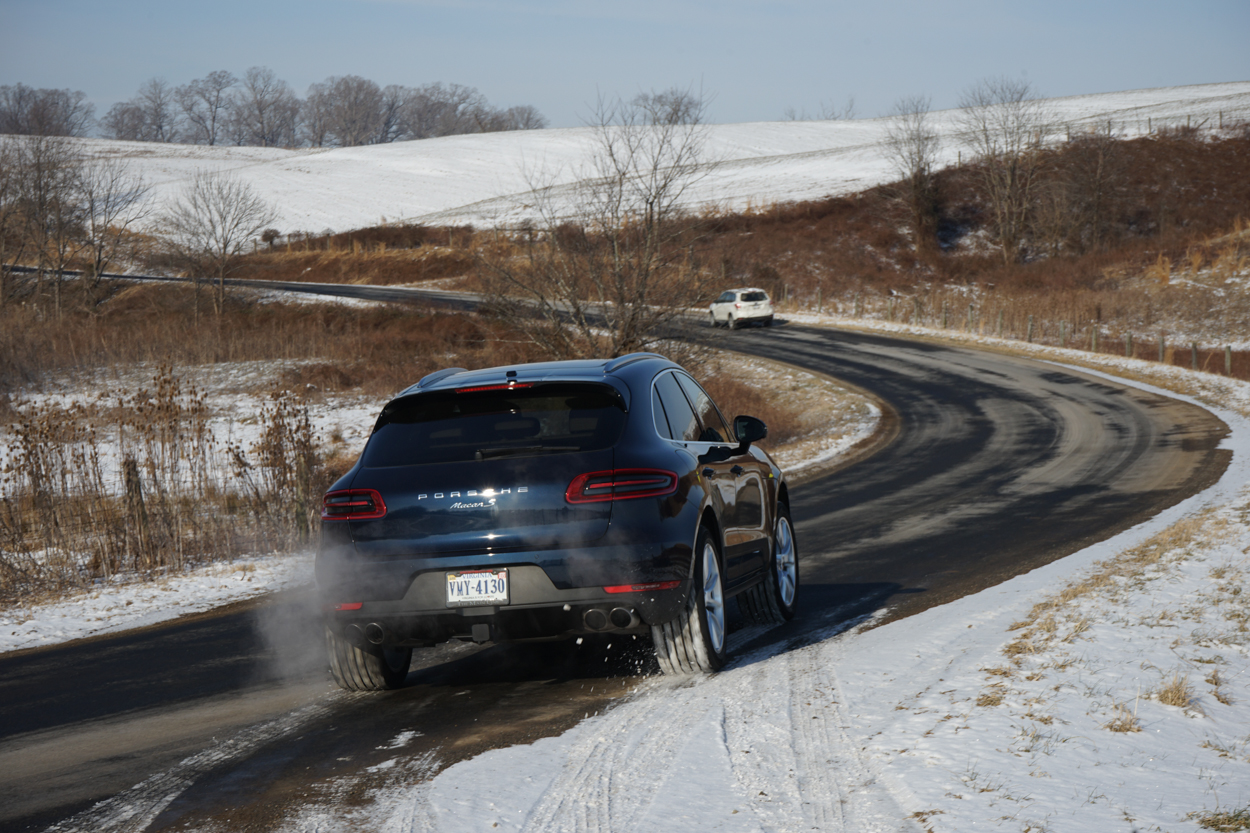 As with all Porsche models, there's a built-in familiarity. From the moment your butt hits the seat and your fingers wrap around its steering wheel, the Macan feels very Carrera-esque. Key on the left, an almost identical steering wheel, a tach-centered instrument cluster, and lots of center console buttons all make you feel at home. So, while the center console is broader and features cup holders, the feel is honestly 911, and way more so than the spacious accommodations of the Cayenne. Still, the Macan seats five and has an abundance of space by comparison to a 911, making it much more comfortable. It's possibly the perfect blend of sport and utility.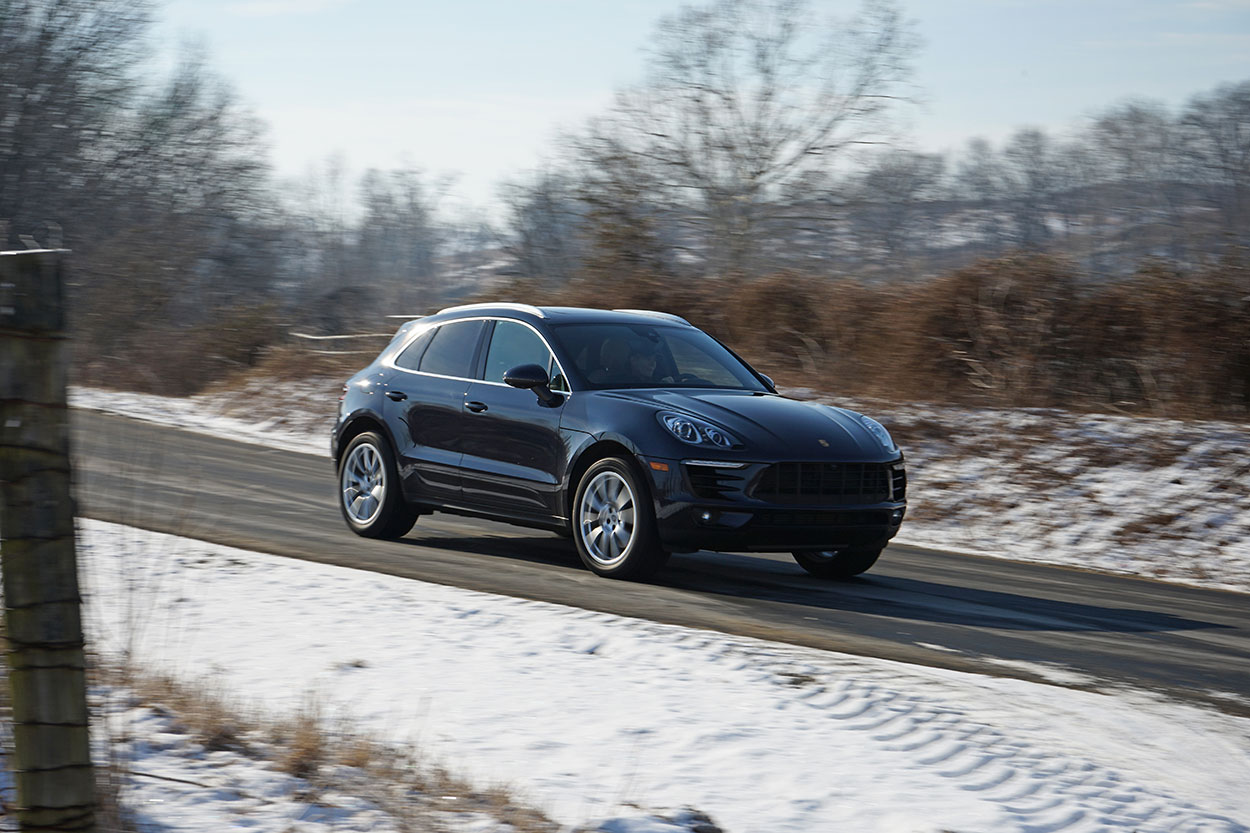 Out for a country drive, the Macan S also shines with delight in those times when you round a bend on a good back road and meet a washed-out gravel driveway. Instead of clinching your teeth as you hear gravel going off like a shotgun blast into your wheel arches, you find yourself at complete ease of it being no big deal. Same goes with your precious Porsche's nose, where the tiniest of rock chips becomes a noticeable blemish and the summer bug goo a pain in your derrière. The Macan rises above much of this and seems to take it on the chin like the rock star it is.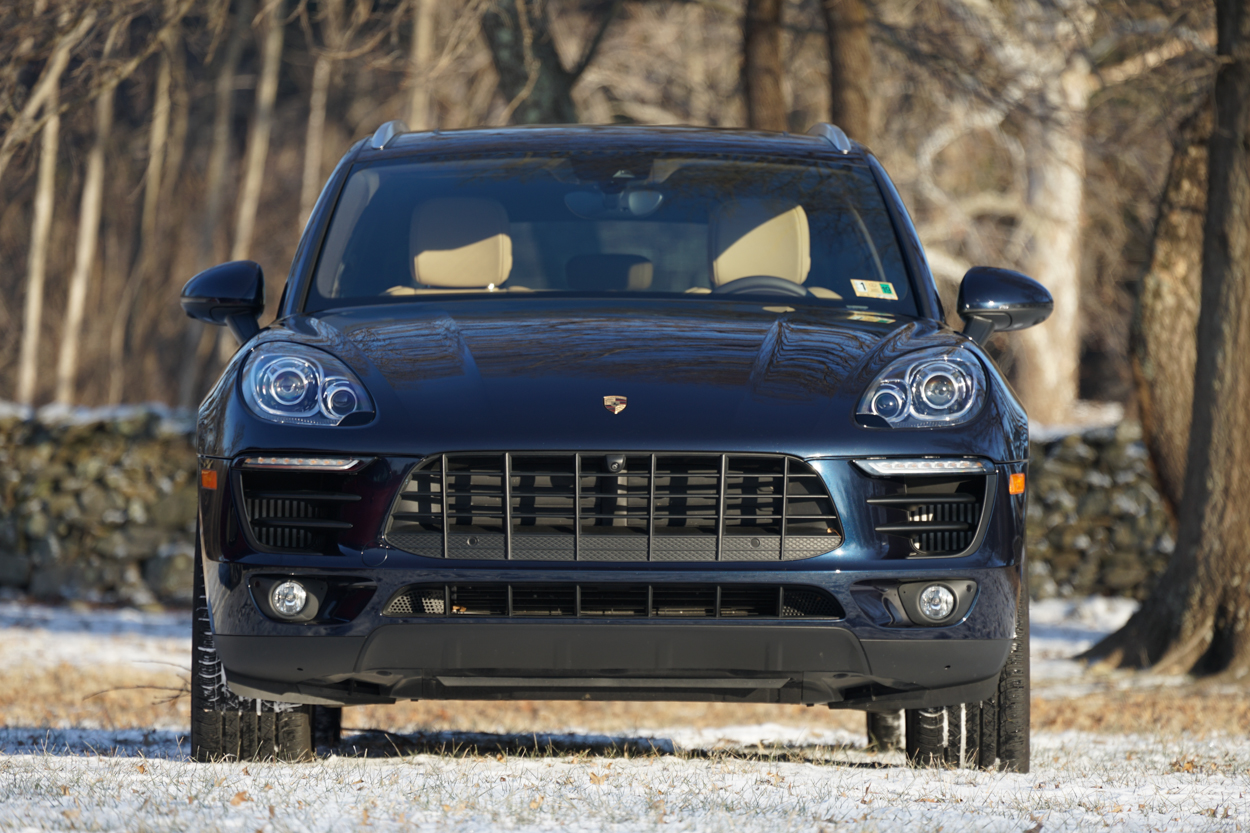 Alas, perfection is hard to achieve. The recent second service reminded me that our 2017 Macan S has now been with us for two years. A good time to reflect on both the good and what I would improve. Ironically, the Macan's stablemate is our 2017 Subaru Outback. Like the Macan, it is the top seller of the Subaru lineup. Hum, are they even worth comparing? Oddly, yes. Used as a company car, our Outback is equally loaded by Subaru standards and there are some interesting similarities between them. For instance, I can share that both vehicles, on separate trips from Virginia to North Carolina this summer, netted me tickets for driving 70 in a 55. So it seems both vehicles, in this case, are equally capable of getting me into trouble.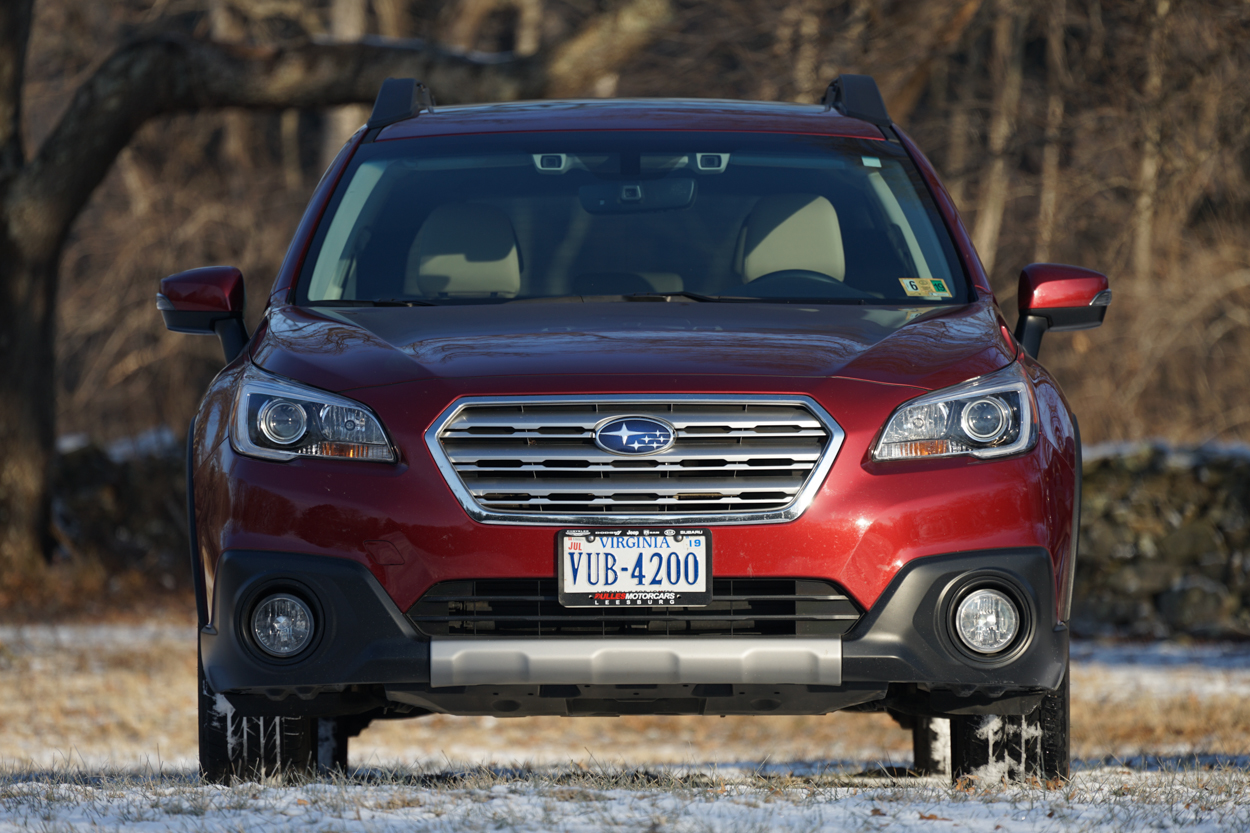 The similarities continue, as both have paddle shifters, both have lane change-warning systems, and both have heated seats. Both have multi-adjustable power seats, sunroofs, and both have ample cup holders. They have similar wheelbases, the Macan 110.5 inches, versus the Outback's 108.1. Headroom actually favors the Outback by about 1.5 inches, and the Outback's turning radius outshines the Macan 18.05 inches to 19.4, but both do well in this area, and again are similar.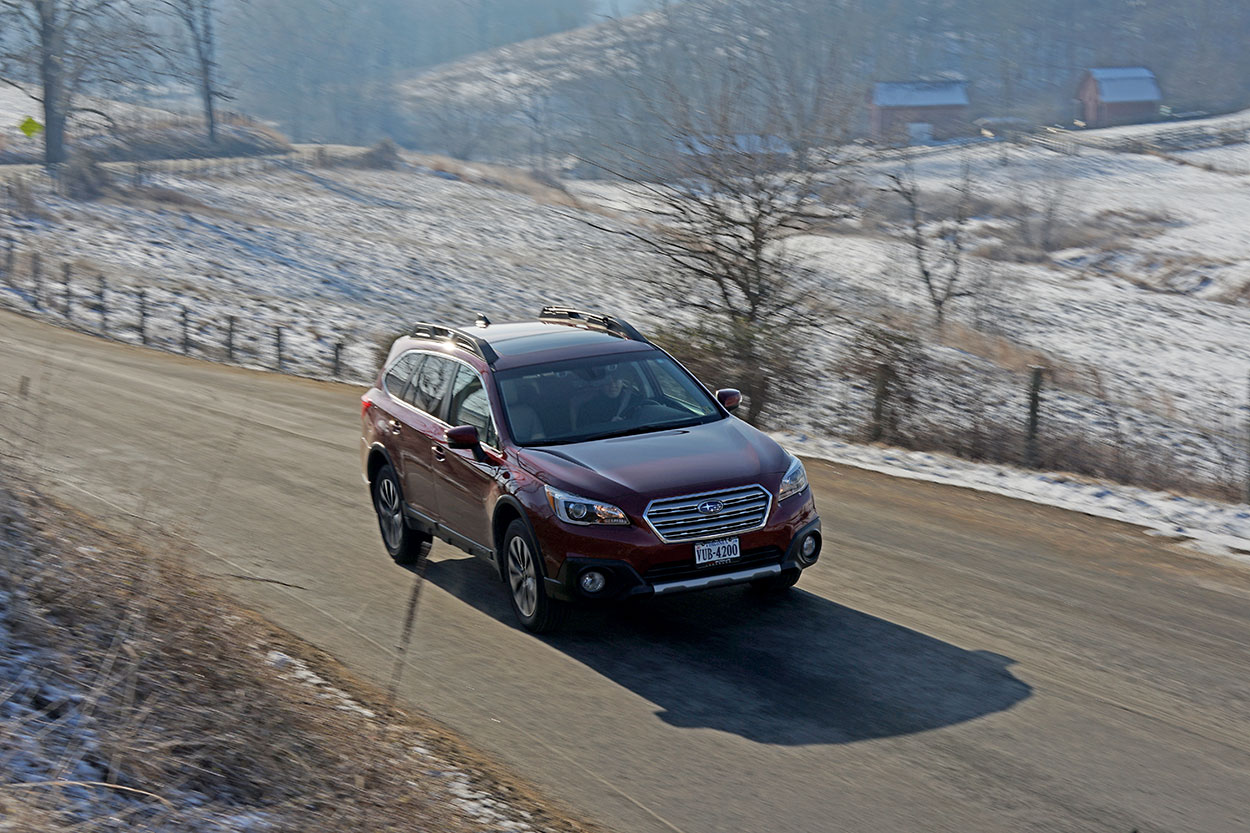 It's at this point the separation begins. Our loaded Macan S was over twice as much as the Outback Limited when new. Notably, the Macan's $19,830 in options alone (base price $54,400), leading to its hefty $73,830 MSRP, make up well more than half of the Outback's highly optioned MSRP of $36,156. Ouch! Subaru attempts to offer a good amount of its reasonably priced options through packages going from base, to Premium, Limited, and Touring. The same may be said of Porsche beginning from base, to S, GTS, and Turbo models. But Porsche leaves a plethora of highly desirable pricy options outside the package spectrum. Configuring a Porsche can be a long walk down temptation lane. I've often said of Porsche's base interior that it doesn't feel like a good value for as expensive as the base car is. But add in the very noticeable cost of even the first tier of optional leather, and somehow its new even higher overall price does.


Photos by Tom Neel
The Macan S, with a 340-horsepower turbocharged 3.0-liter V6, does deliver nearly twice the horsepower of the Outback, which makes 175 horsepower from a 2.5-liter flat four. But the thrifty Outback punishes the Macan on fuel consumption (25/32 vs. 17/23 city/highway) and on highway range by 100 miles while running on regular gas. The Macan S uses the expensive stuff. The best irony of all is it's the Outback that has a boxer engine up front. Go figure. Could you just have imagined if Porsche's engineering department had stuffed a 911 flat six in the front of the Macan? Now that would be worth the price of admission!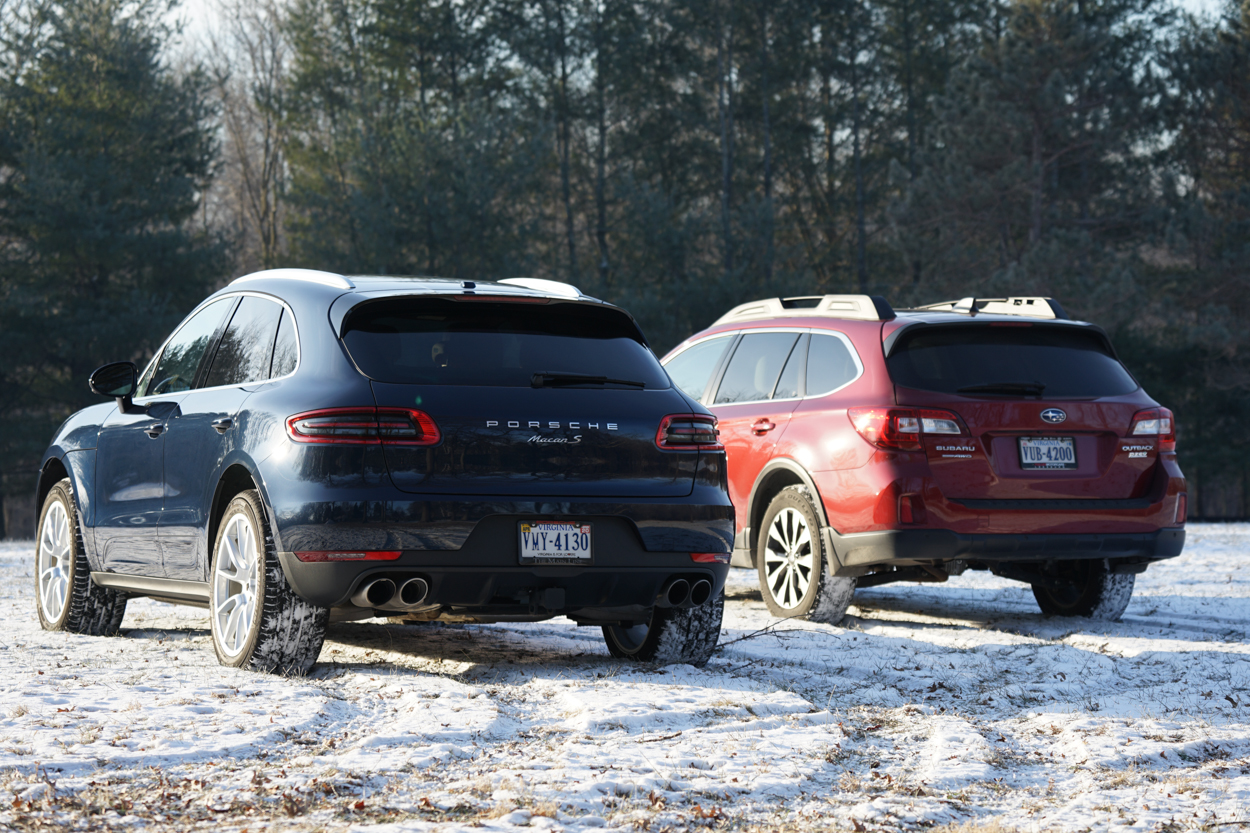 Still, the net result of their differences in this area might be best demonstrated in passing another car. With the Outback you cautiously prepare to pass that car in front of you and use momentum to get the job done. With the Macan S, you decide that the three cars in front of you, all going 40 mph in a 50, need disposing of. If not in Sport mode, press that button, which removes lag by elevating rpm, punch it, and politely wave bye, bye. By car number two you're probably well beyond the posted speed limit, and quickly all three cars now reside in your rearview mirror. A valuable feature? To some – very.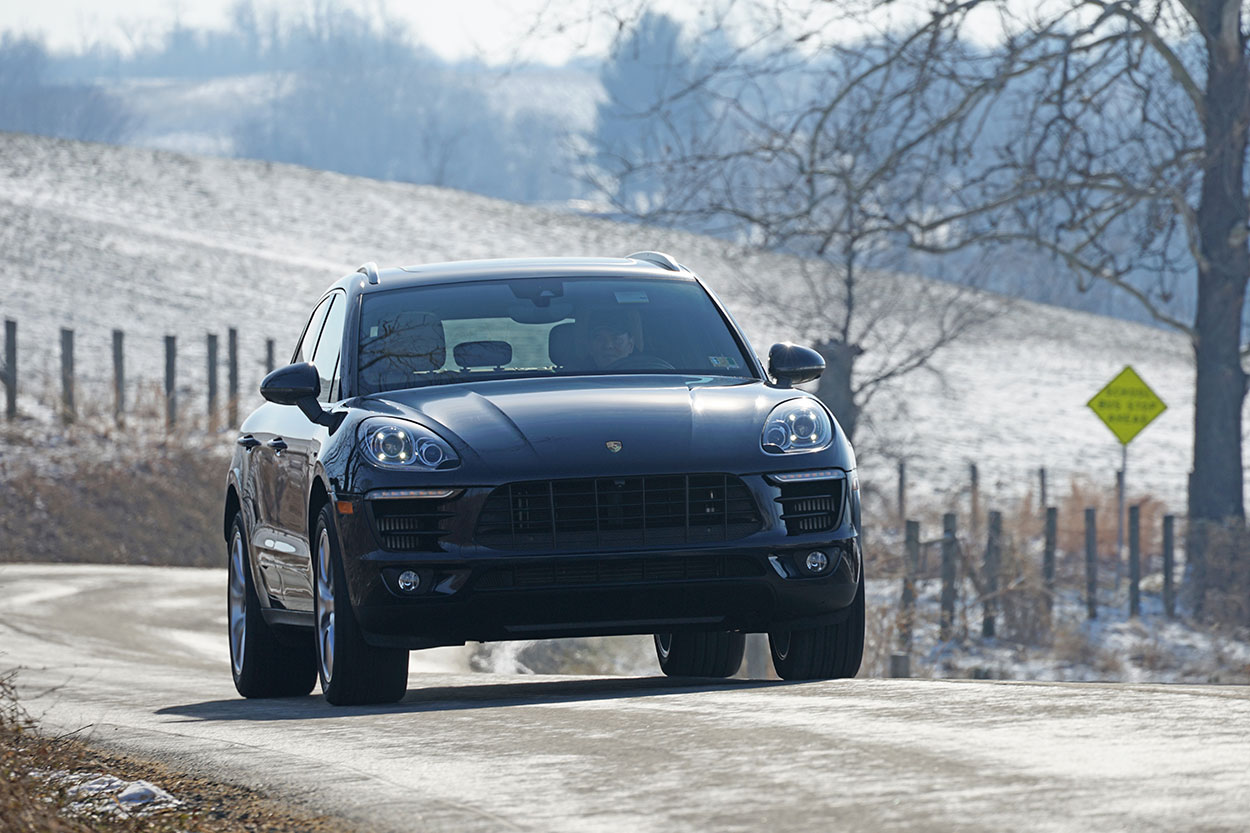 The Macan S weighs nearly 500 pounds more, yet it has 20 fewer cubic feet of overall cargo space than the Outback. I can share that I have packed the Outback to its gills, and it's one of the features for its price that make it a very good value. While both are roomy enough, in the garage, the one thing that is noticeably different is the track of both vehicles. The Outback looks quite skinny with its 61.8-inch track. This compared to the Macan's broad and more full-figured stance, with its 65-inch track. Its larger wheel-and-tire combination alone makes it look more substantial. It's worth noting, however, that the 991.2-generation 911 is just five inches shorter than the Macan.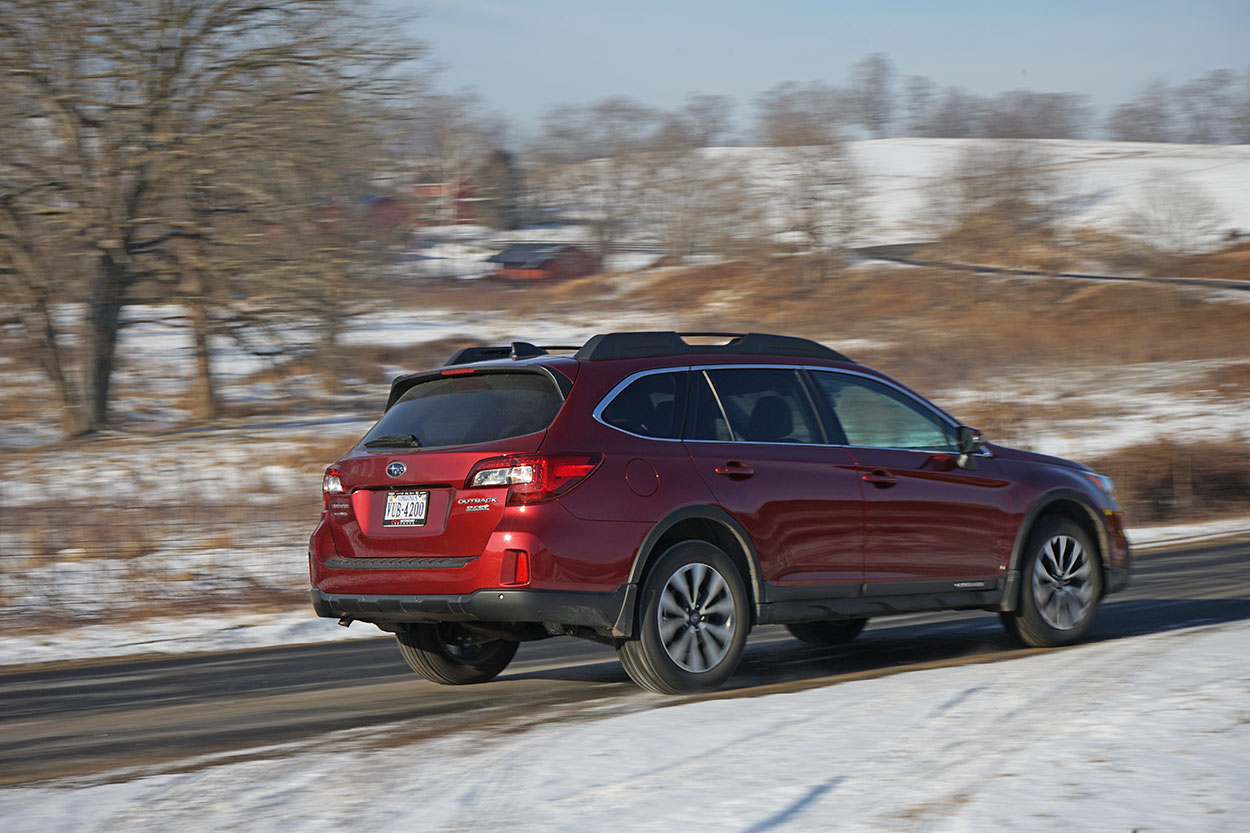 I must admit, the Macan S does handle. I would even go as far as saying in a spirited back road jaunt to lunch with equal drivers, a 911 driver wouldn't even be a sandwich bite ahead of the Macan S. It truly does emphasize the Sport in Sport Utility Vehicle. The Outback would be way back trying to keep up, for this is not its calling.
Inside, the Outback's steering wheel seems somewhat cheerfully inspired by Porsche. I would place its upgraded interior above the base offering by Porsche, but way behind the optional leather one of our Macan S, which is beautifully done. Life inside a vehicle though can be much about interfacing with its controls, and I will sadly admit that the complexities of Porsche's systems are second to the ease of the Outback's. I dislike fumbling with HVAC systems especially. On one hand, frustratingly choosing the plethora of vent options through the Macan's many switches and buttons is only saved by how easy it is to cool off using its seat ventilation or warm up using its bonfire seat and steering wheel heaters. Must haves in my humble opinion.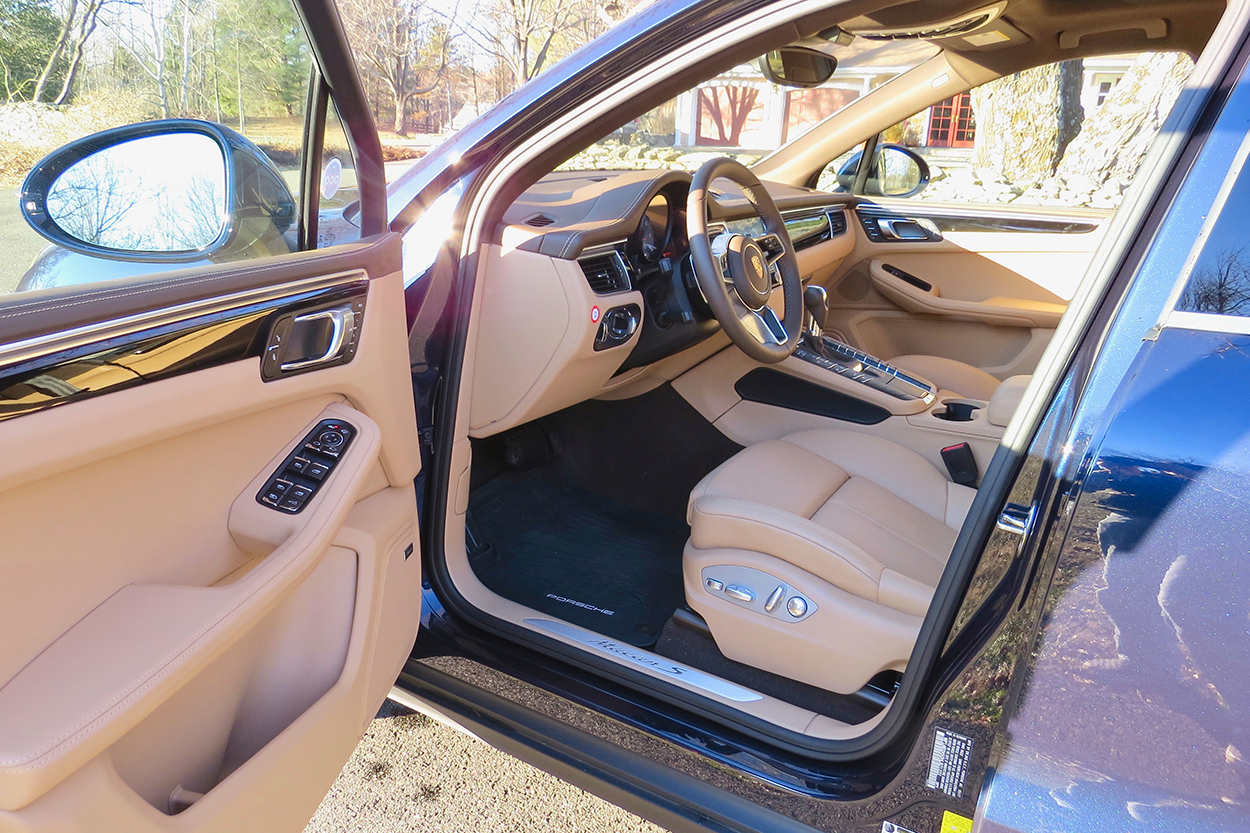 Photo by Tom Neel
Okay, a couple of last things. First is voice activation, or what Porsche calls Voice-control and Subaru refers to it as Starlink Voice Command. In short, our Outback has it and our Macan does not. Let's get out of the way that Starlink in the Outback basically works fine and we use it often. So then you must be asking, what's up with the Macan? Why no voice activation? It's a fair question. I've spoken with both a salesperson and an employee at Porsche's North American headquarters in Atlanta, and I was told Porsche's voice control from this era didn't work very well, and you probably won't find it on Macans ordered by dealers for their lots. The system now used in all new Porsche models has been much improved from 2019 forward. That said, when I am in my Macan and go to make a call, I end up doing it through my contact list, which can easily be pulled up on the nav screen. Still, not as simple as pushing a button and asking. Also, the way around this with both is to simply ask Siri to make the call.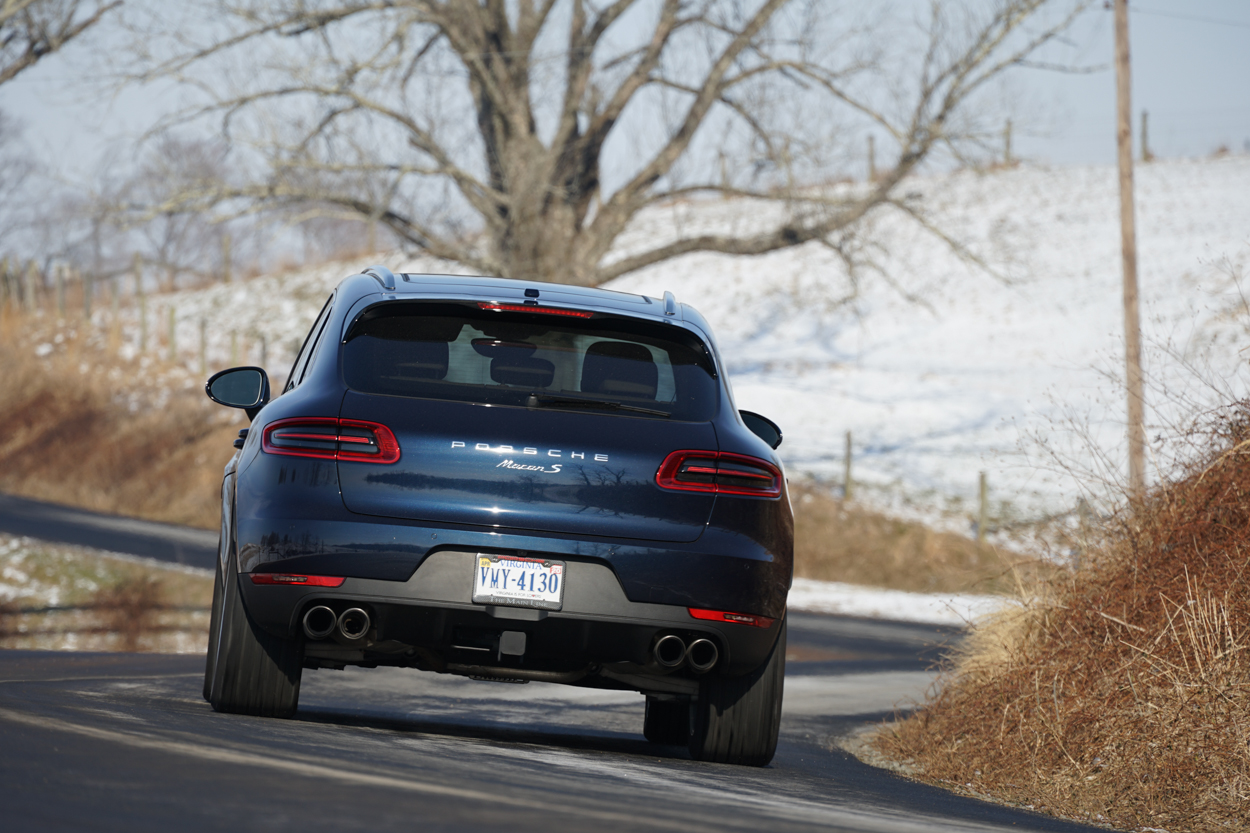 The last comparison has to do with driving in snow. To be fair, while I have driven the Outback in some hardy snow conditions, our Macan met snow for the first time during this photo shoot. While every Subaru owner knows that Subarus are good in the wet or snow, I can attest the Macan feels plenty planted in wet weather. As for snow, considering Germany gets loads of the white stuff, it makes perfect sense that its abilities in this area would be plenty good, particularly when winter tires are fitted. Our Macan S came equipped with Michelin Latitude Tour HP all-season tires, the description for which specifically states they're good to use in light snow. They're similar in application to the Bridgestone Dueler Sport tires on the Outback, so I'm running with the Macan doing just fine in the snow if needed.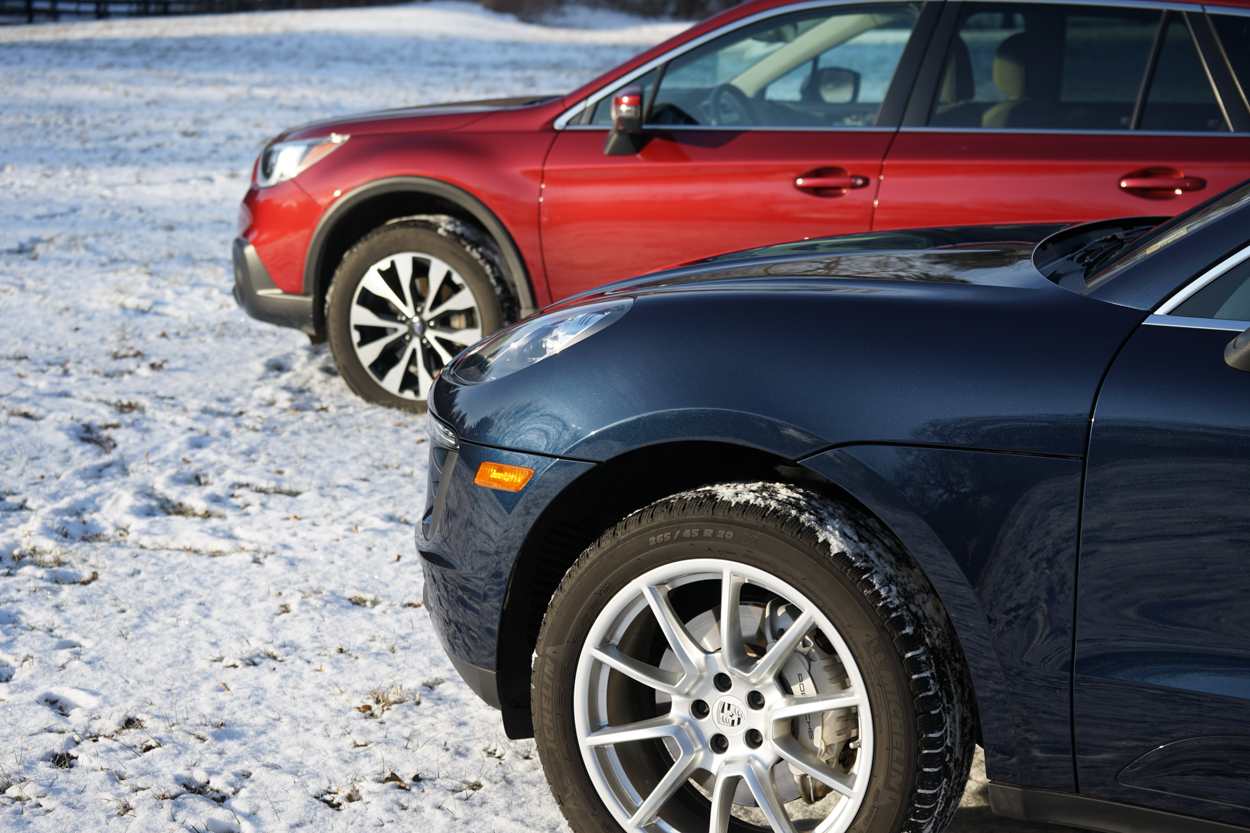 In the end, comparisons and their conclusions rarely decide final decisions. This is likely the case here as these two clearly represent very different price markets within the SUV sector. Perhaps more than anything, this comparison amusingly demonstrates either how good less expensive choices have become from being inspired by the luxury market, or how great of a value used luxury vehicles like Macan have become after a few years of depreciation. All cars have become better and if I were an enthusiastic Porsche-owning father looking for a great car for my child heading off to college, I would seriously look at Subaru as a possibility. They're great, well priced, even with boxer engines!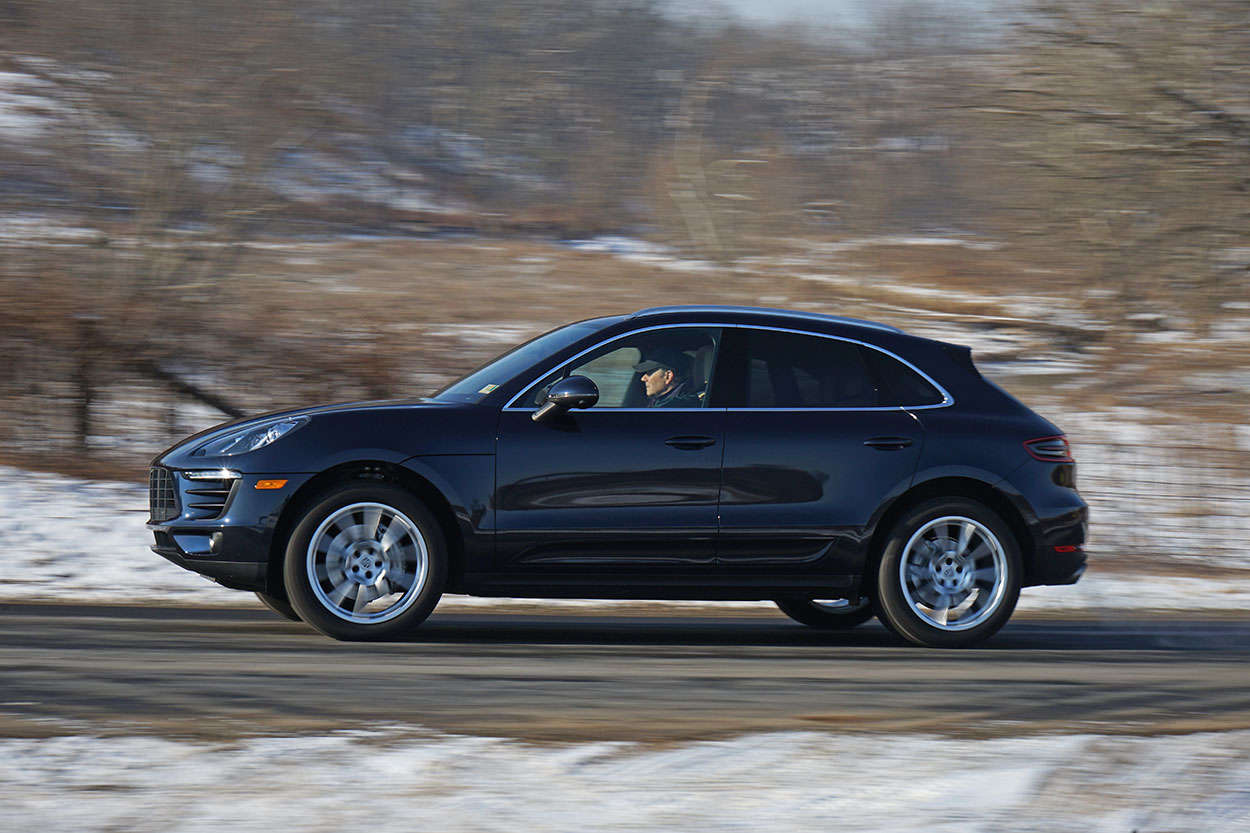 On the other hand the Macan S has been our third Porsche in three years, and with a new 718 Spyder on the way, I can share it's not going anywhere. On paper, I do feel the Macan S is a little overpriced to its direct competition, until, that is, you properly compare it to other models in Porsche's range. If you compare its quality, performance, and outright usability to a Porsche sports car, you'll find it to be an absolute deal. Factor in that most Americans will never use either model's top speed or even launch it in an effort to experience its zero-to-60-mph number, and the Macan S shines even more. Subjectively, the Macan offers a feeling in how it operates that an Outback never will.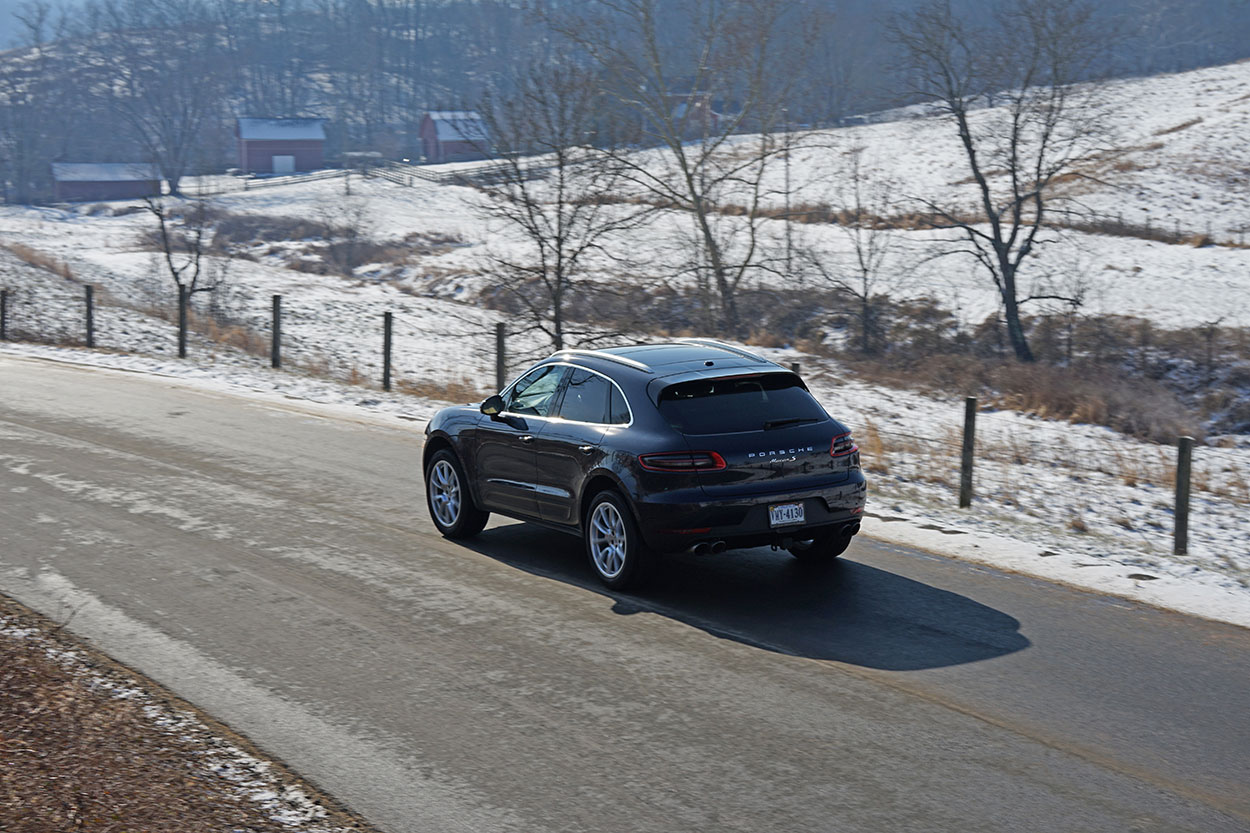 Alas, as the sun is setting on the Outback's three-year lease, its garage days are now numbered, yet it has served me well. But with time, so comes depreciation. For those in the market for an SUV, there are now opportunities to purchase a nice certified pre-owned Macan S, or even a base, turbo four-cylinder Macan, that would be in the ballpark price of something like a new Outback. Well then, this puts a spin on things! It begs the answer to the question of which one I would now choose if I were in the market. If it will be all work and no play, I'd rather be working in the Outback. But if there will be both work and play — we're enthusiasts here, after all — and because of the good value a used Macan offers, the Macan S would be the easy winner here.