More for less: 2019 Porsche Cayenne E-Hybrid first drive
Photos by Damon Lowney unless noted
At PCA, our new Porsche experiences of late have been primarily with the newest internal-combustion-engine sports cars, the 718 GTS twins (Boxster/Cayman), and the pure electric Taycan. Lost in the shuffle have been the plug-in hybrids. That was remedied recently when we spent a week with the Cayenne E-Hybrid.  On the whole, it was a positive experience, and the electrification is an indisputable value-add to the Cayenne S.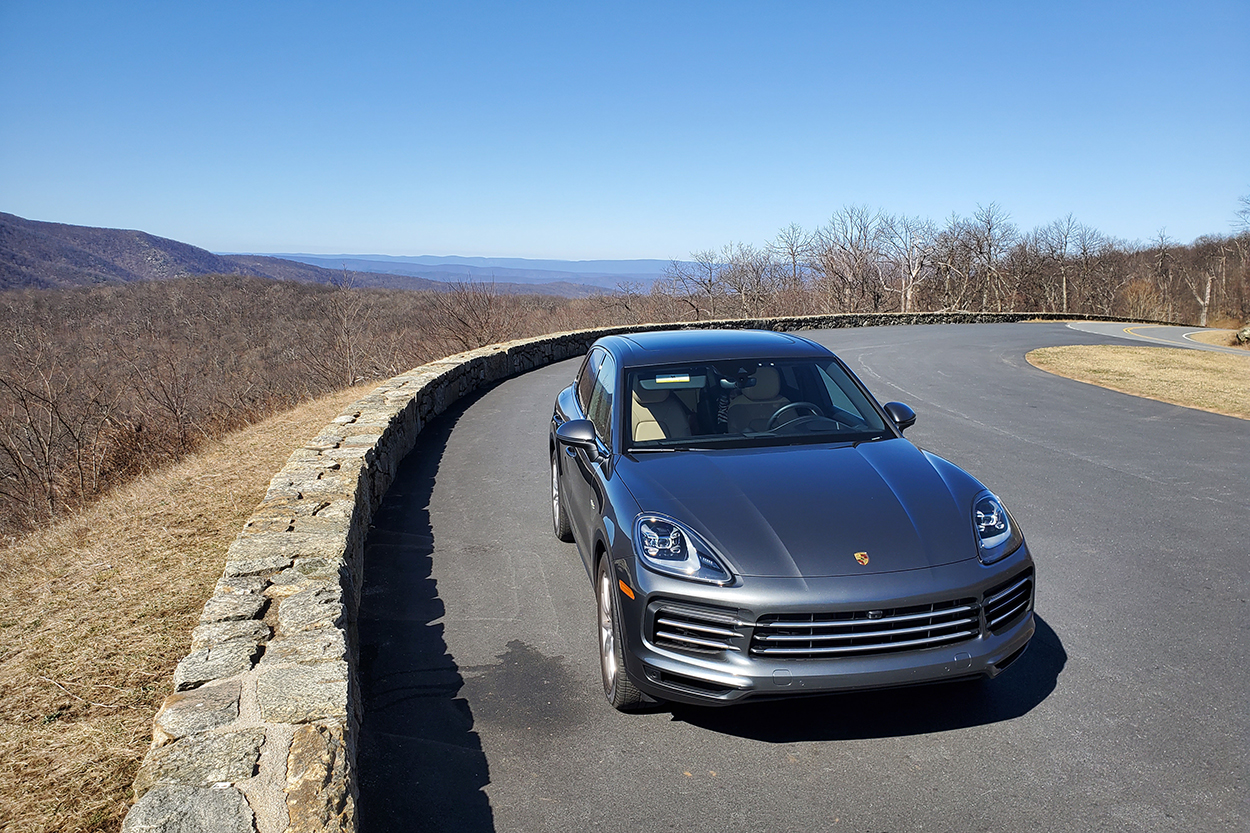 Above: On the Blue Ridge Parkway. Photo by Rob Sass
The addition of the hybrid drive system adds 21 horsepower and a huge 110 pound-feet upgrade in torque over the Cayenne S. And while it also comes at the cost of another 400 pounds or so of weight, both the numbers and our backsides say that it's worth it. 0-60 miles per hour comes up in 4.7 seconds versus 4.9 for the Cayenne S. Fuel economy, as one would expect, is pretty decent for a vehicle of this size. With liberal use of the fully electric mode, it's possible to see around 30 miles per gallon in normal highway driving. Low-twenties is what we saw on a trip down to the Blue Ridge Parkway. Two-lanes and around-town driving didn't drop the fuel economy all that much.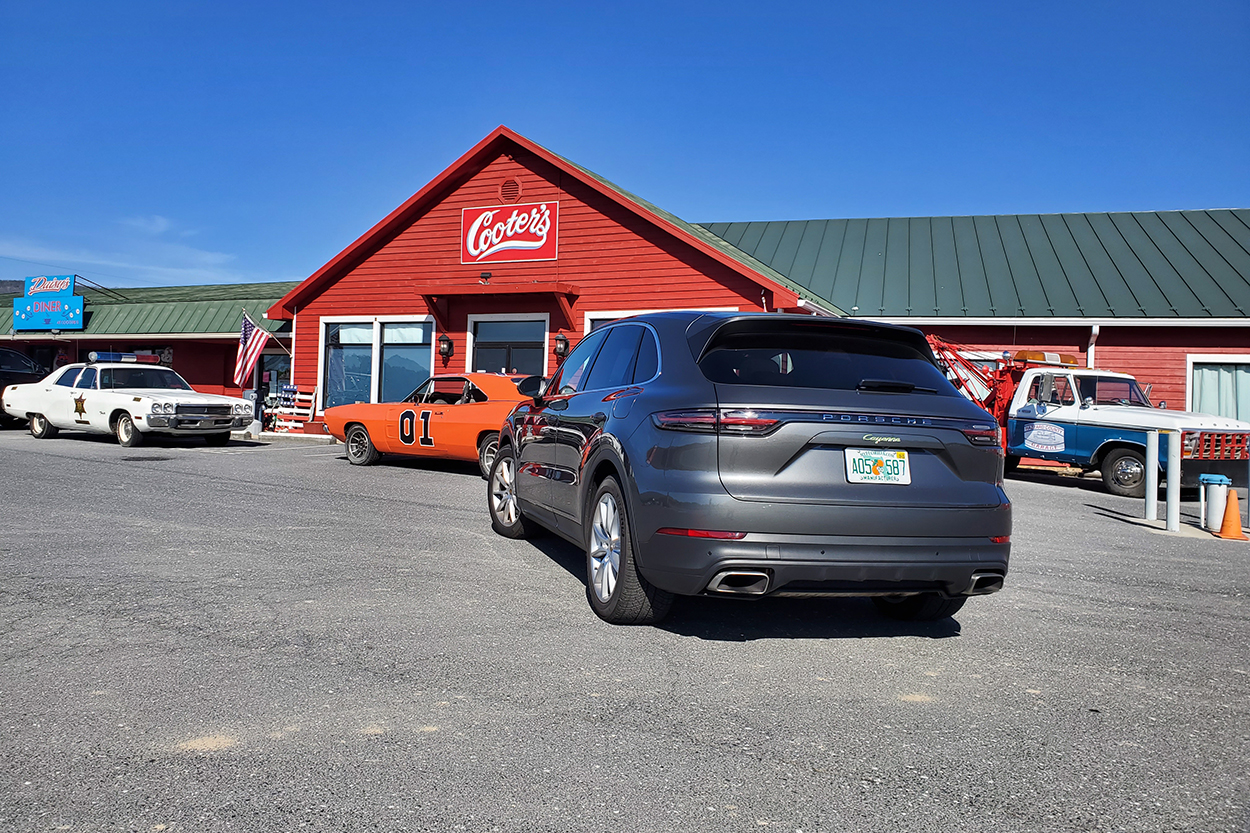 Photo by Rob Sass
Our time with the car included a fair amount of time on Shenandoah Valley two-lanes in rural Virginia. As we've written before, for a 5,000-pound-plus car, it acquits itself well, particularly in Sport Plus mode. But physics is physics, and there's no mistaking the Cayenne for a Boxster. But all things considered, with a load of luggage and kids for a weekend glamping trip, there's almost nothing I'd rather have been in, save for perhaps a Macan, or a Panamera Sport Turismo, both of which would have made out fine for a long weekend trip.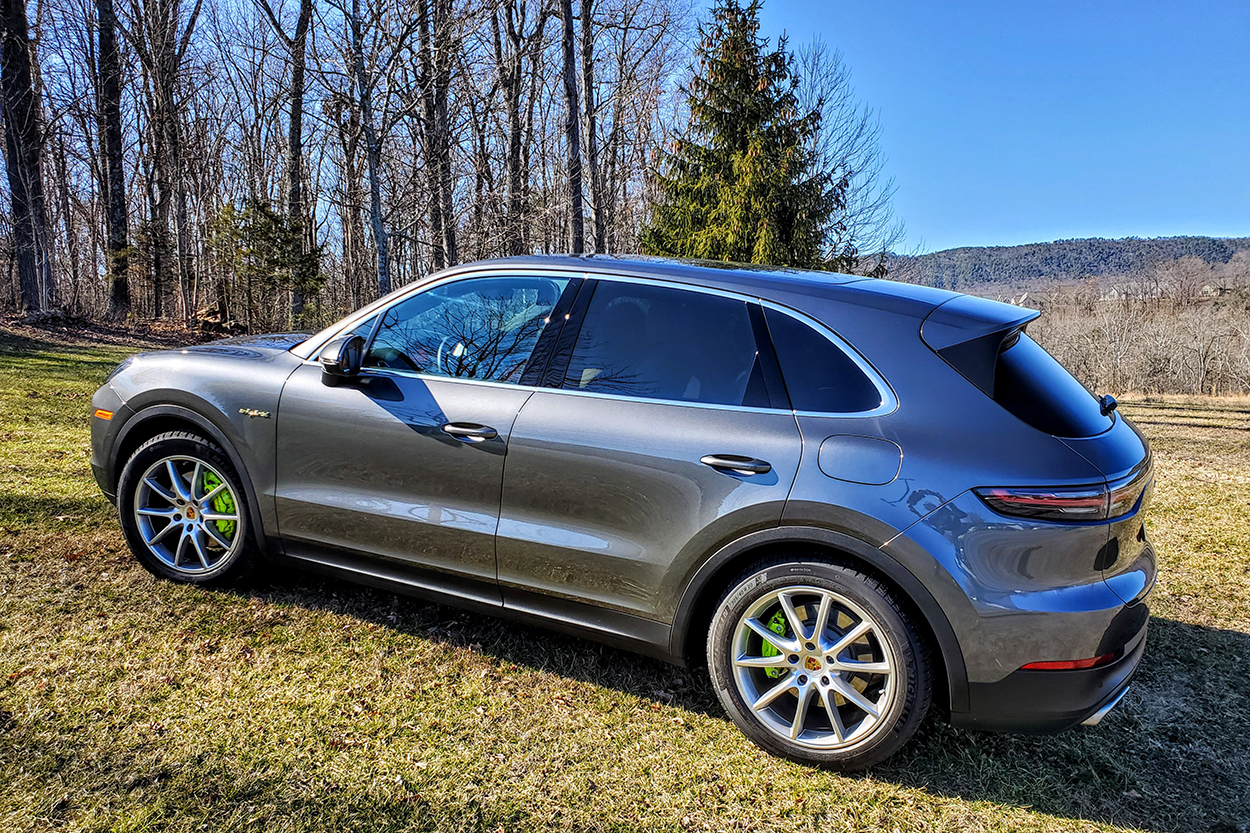 Above: Glamping with the Cayenne E-Hybrid. Photo by Rob Sass
A little modest off-roading to entertain the kids is certainly something we wouldn't have done in a Panamera. We used roughly 8% of the Cayenne's off-roading abilities, which is something that perhaps 0.01% of new Cayenne owners actually do. A pity, having seen what the car is capable of at Porsche Sport Driving School. At least the younger owners of older E1-generation Cayennes seem to be actually using them as intended. — Rob Sass, Editor in Chief and Director of Content, Porsche Panorama and PCA.org
---
I get the feeling the Porsche Cayenne is overlooked due to its smaller, younger sibling, the Macan, but my recent drive in an E-Hybrid confirms that it really should be at the top of SUV shoppers' lists due to its Cayenne S-matching performance, capable electric motor and hybrid system, and lower price. The E-Hybrid starts at $81,100, while the S starts at $84,300, though this E-Hybrid was optioned to $96,790.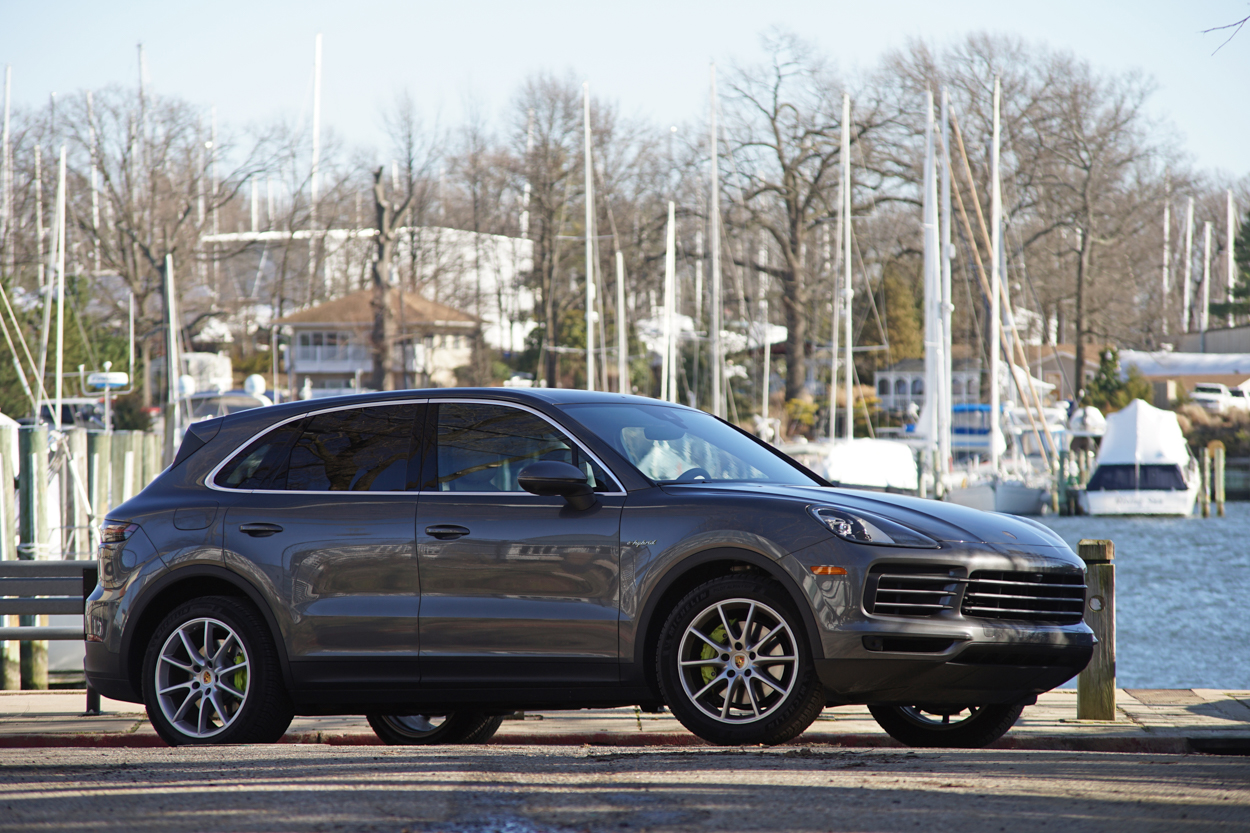 I didn't spend too much time with the Cayenne E-Hybrid, but I was able to steal away from the office a little early one day with the pretense of "work." I hopped behind the wheel with my camera to head to Annapolis, MD at around 2 PM, meaning I'd be in a bit of traffic on the way home — perfect.
First off, let's talk about specs. The E-Hybrid has 455 horsepower compared to the S model's 434. That's a combination of a 335-hp 3.0-liter V6, the same turbocharged lump as in the Panamera 4 E-Hybrid. Combined with a 134-hp electric motor connected to the flywheel, the total 455 hp feels strong, with torque coming on early. 332 pound-feet of torque from the V6 doesn't sound like much for a 5,164-pound SUV, but the electric motor gives its 295 lb-ft early, lending the hybrid Cayenne 516 lb-ft total from 1,340-5,300 rpm. You can feel it when jabbing the throttle for a run up the on-ramp, or in rush-hour when I decided to stay in electric mode in bumper-to-bumper traffic. Without much effort I was able to accelerate up to 70 miles per hour in electric mode as traffic eased, and I continued on for the final 5-6 miles back to the PCA office without engaging the internal combustion engine.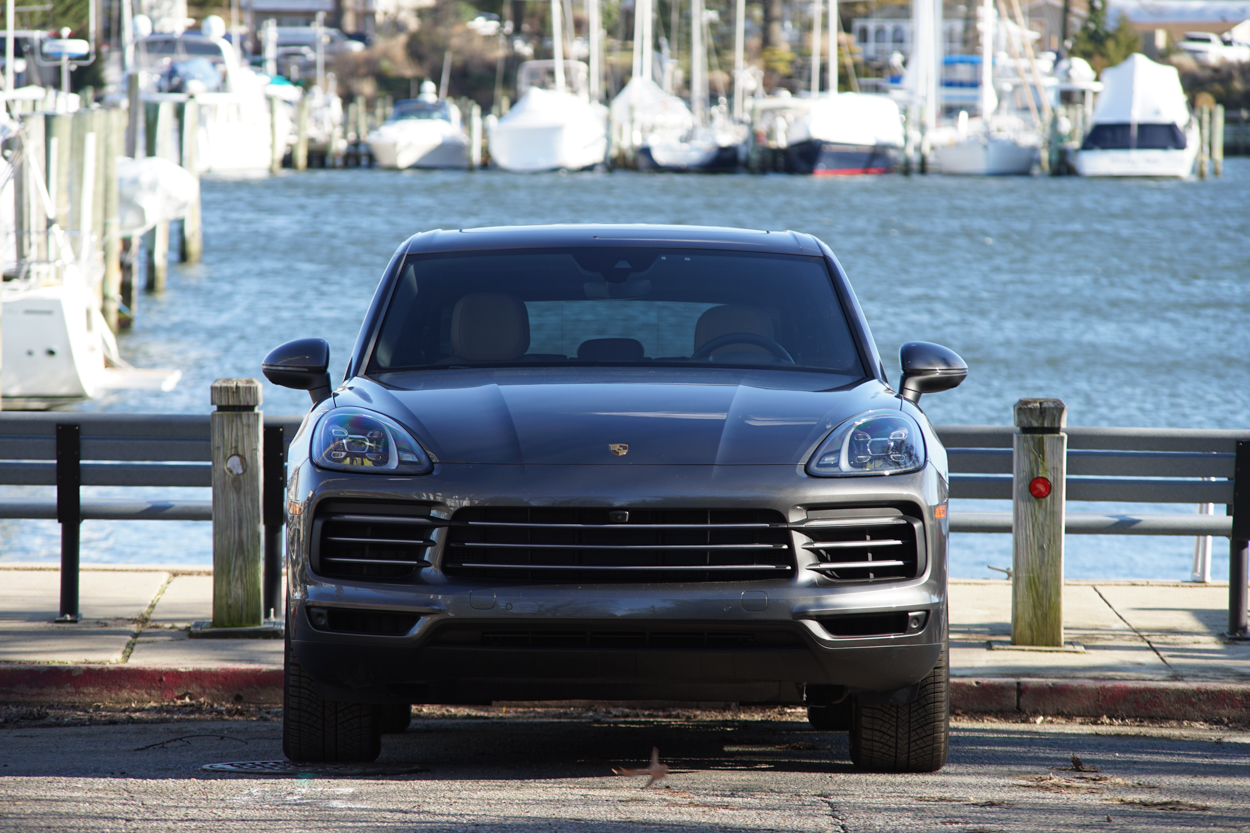 Behind the wheel, the Cayenne is a comfortable place to be, especially when equipped with air suspension and Porsche Active Suspension Management. The active dampers and air springs have a clear delineation between their three settings, with the sportiest setting having a noticeably firmer — yet not jarring — ride that lowers the car and tightens up body roll for things like quick lane changes. The softest setting is indeed cushy and best used for long slogs on the highway.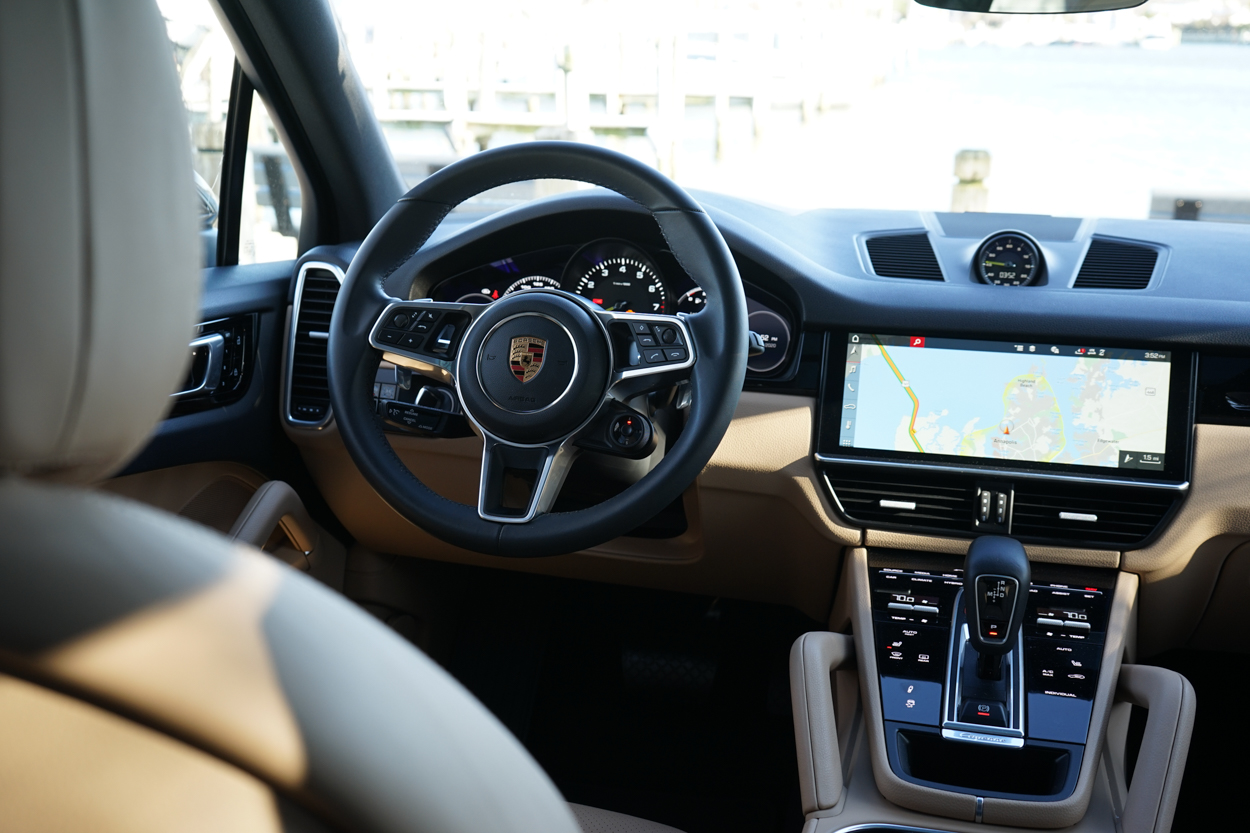 After stopping off at the Porsche dealer to pick up a coil pack for my Cayman (my clumsy hands broke a small piece off the female side of one connector), I headed to downtown Annapolis, where cobblestone streets meet the beautiful Chesapeake Bay. I drove past the Annapolis Yacht Club, taking 6th street to its end at Back Creek, where I took in the crisp winter air and admired the view of boats parked and waiting for better weather. It shouldn't be long before they'll be out on the bay, since winter was anything but cold, and the current state of affairs with this particular strain of coronavirus encouraging social distancing — like hopping on a boat and sailing away from it all.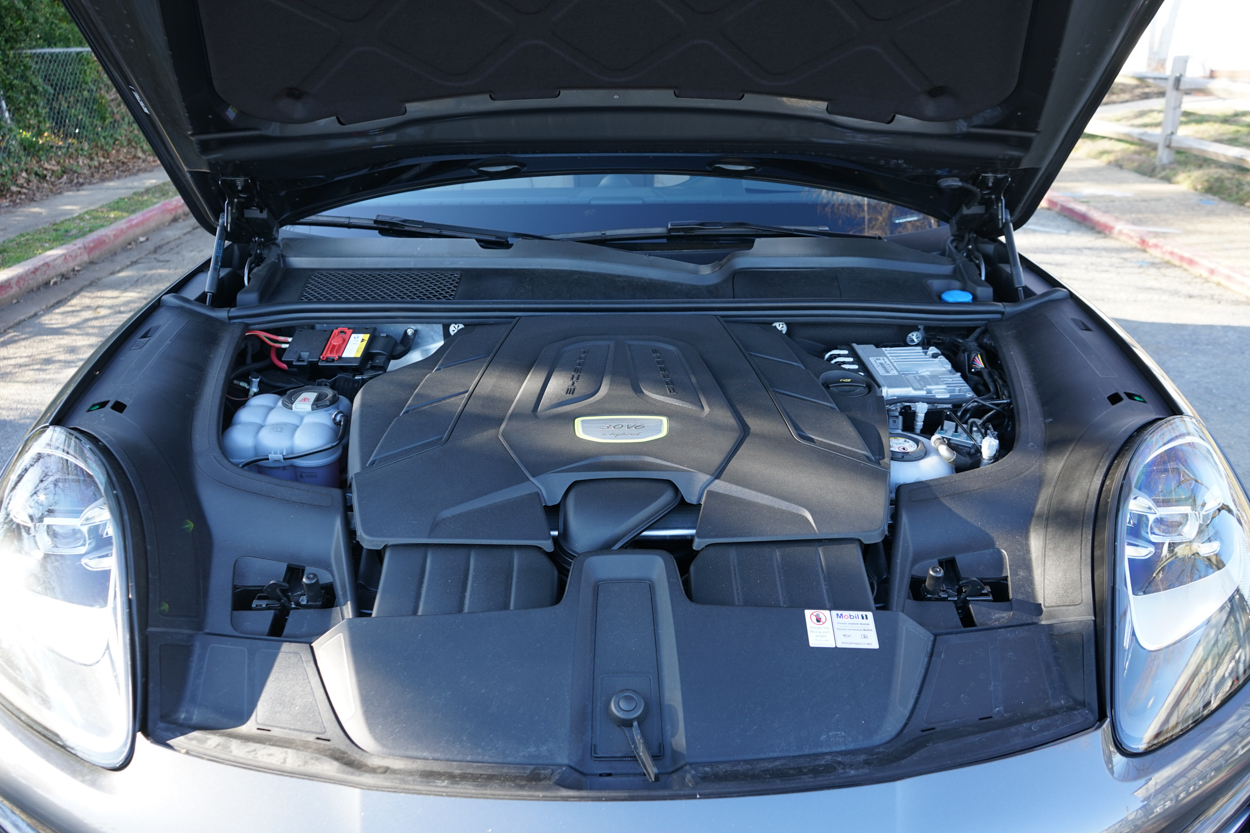 But if you must stay on land and wouldn't mind making the commute a bit more enjoyable, consider the Cayenne E-Hybrid rather than the S model, because it's one of the few times in recent memory when Porsche offers a bit more for less. — Damon Lowney, Digital Media Coordinator, Porsche Club of America