2020 Werks Reunion rocks Amelia Island at new location [w/video]
Article by Tom Neel
Photos by Damon Lowney unless noted
Video by Keown Films
Werks Reunion Amelia Island this year was blessed with sunshine, perfect temperature, and the highest turnout ever, as over 600 Porsches were registered and up to 4,000 more car enthusiasts descended onto the fairways of Amelia River Golf Club on March 6. After three years at a different location, compliments rolled in for the fourth annual Florida event.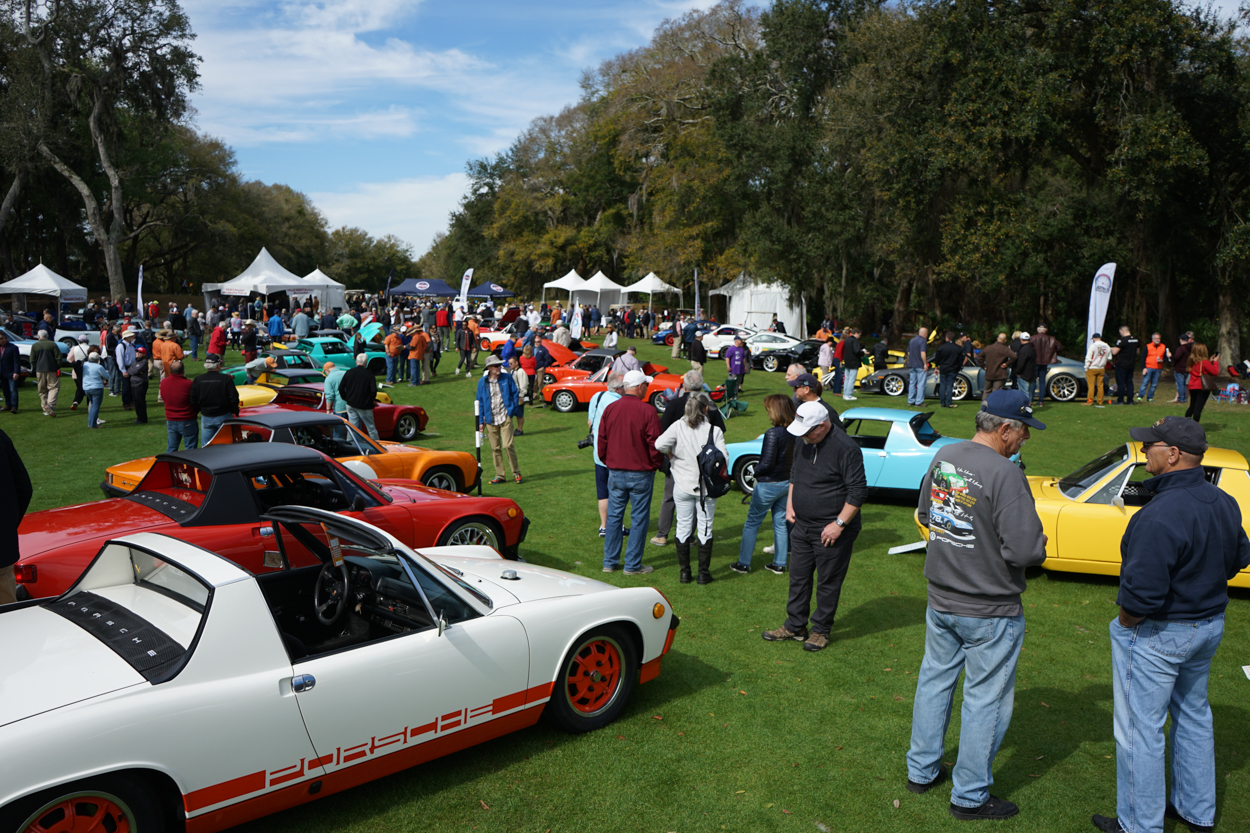 "We are so excited! This is our first year at Amelia River Golf Club," PCA Executive Director Vu Nguyen said. "First years are always tough, but looking at the crowd, seeing the number of folks that are here and over 600 cars is amazing! We had some adversity getting everything together. Rain hampered our setup yesterday, but the sky is clear today and I think everyone is happy."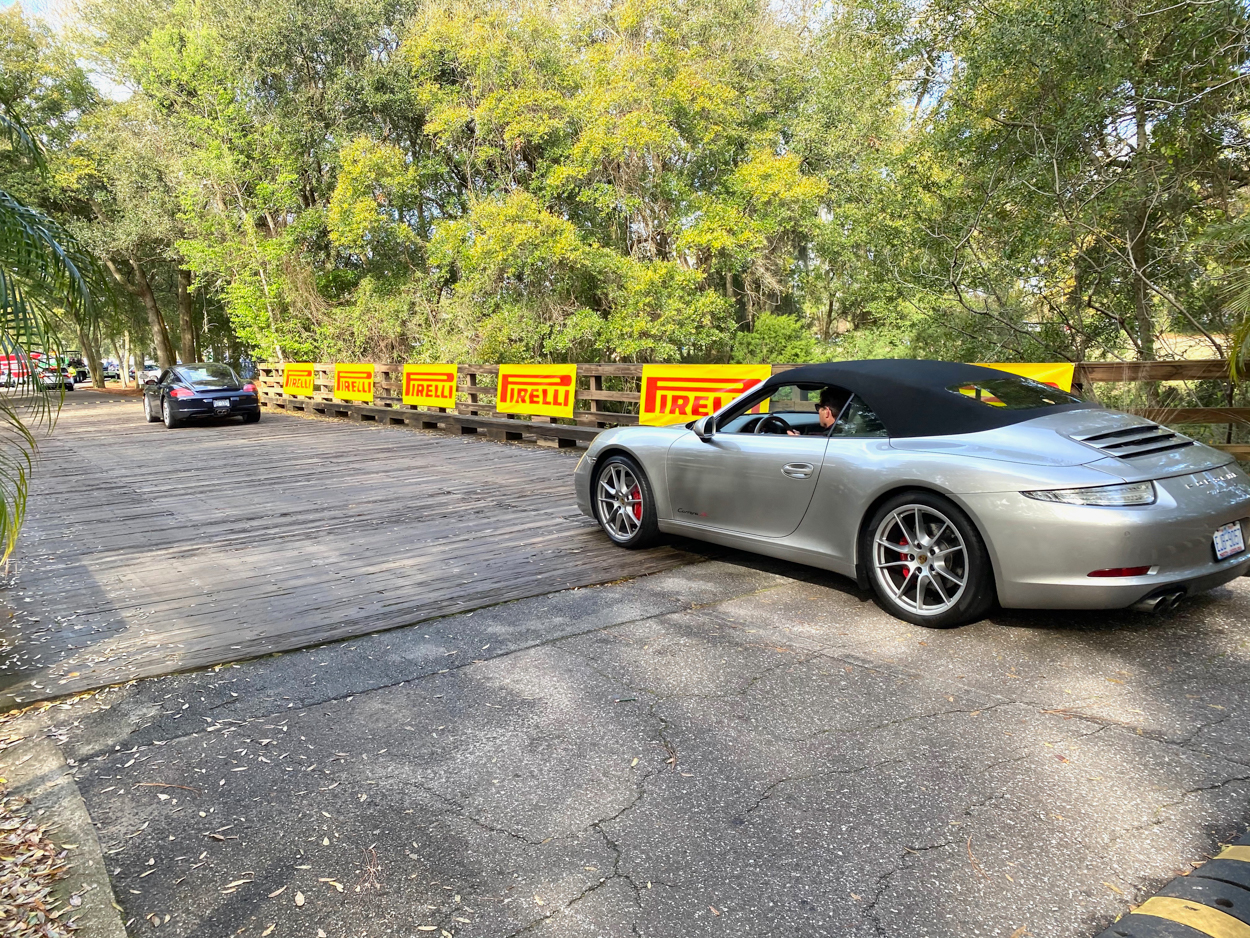 Above: Pirelli Bridge. Photo by Tom Neel
The event got underway early, utilizing two fairways for judged Porsches, one for the non-judged Porsche Corral, and yet another for spectator parking open to the public. Werks Reunion Amelia Island, which is sponsored by Pirelli, is a casual and comfortable Porsche car show — there's nothing pretentious about it, even when it comes to the judging. "This is not a clean car contest. It's really about the provenance of the car, and every owner is going to be interviewed," lead judge Ron Gordon explained. "We are looking for special cars and the best examples. The car needs to be well represented, but not spotless, as the expectation is it's driven."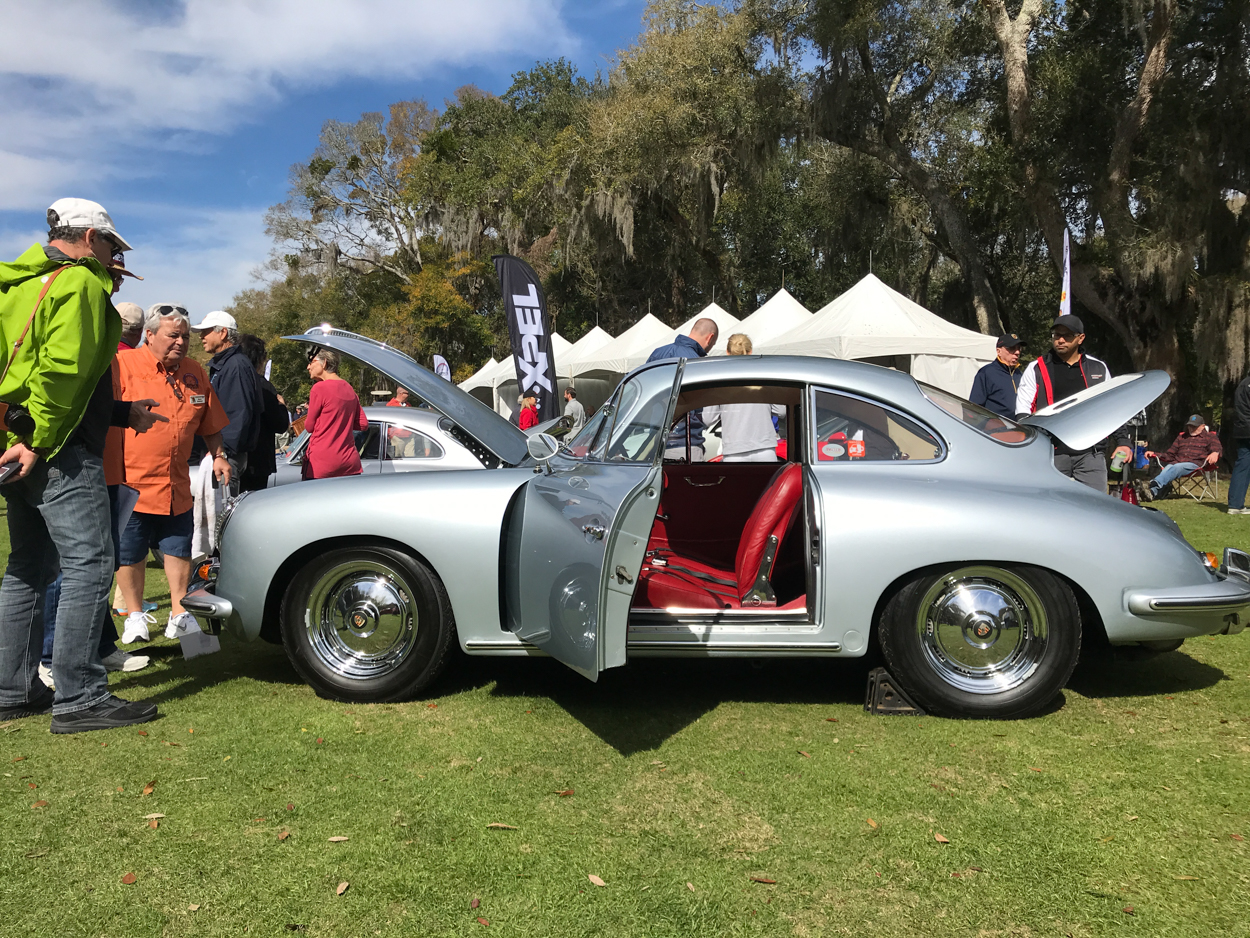 PCA's Werks Reunion is part of an extended Amelia Island Concours d'Elegance weekend, which offers an array of things for car enthusiasts to do leading up to the big show on Sunday. "I told [Amelia Island Concours founder] Bill Warner that Werks Reunion is like the tailgate party before the big game," PCA Past President Manny Alban shared. "We're not charging admission, we just want people to come, hang out, and have a fun day on Friday."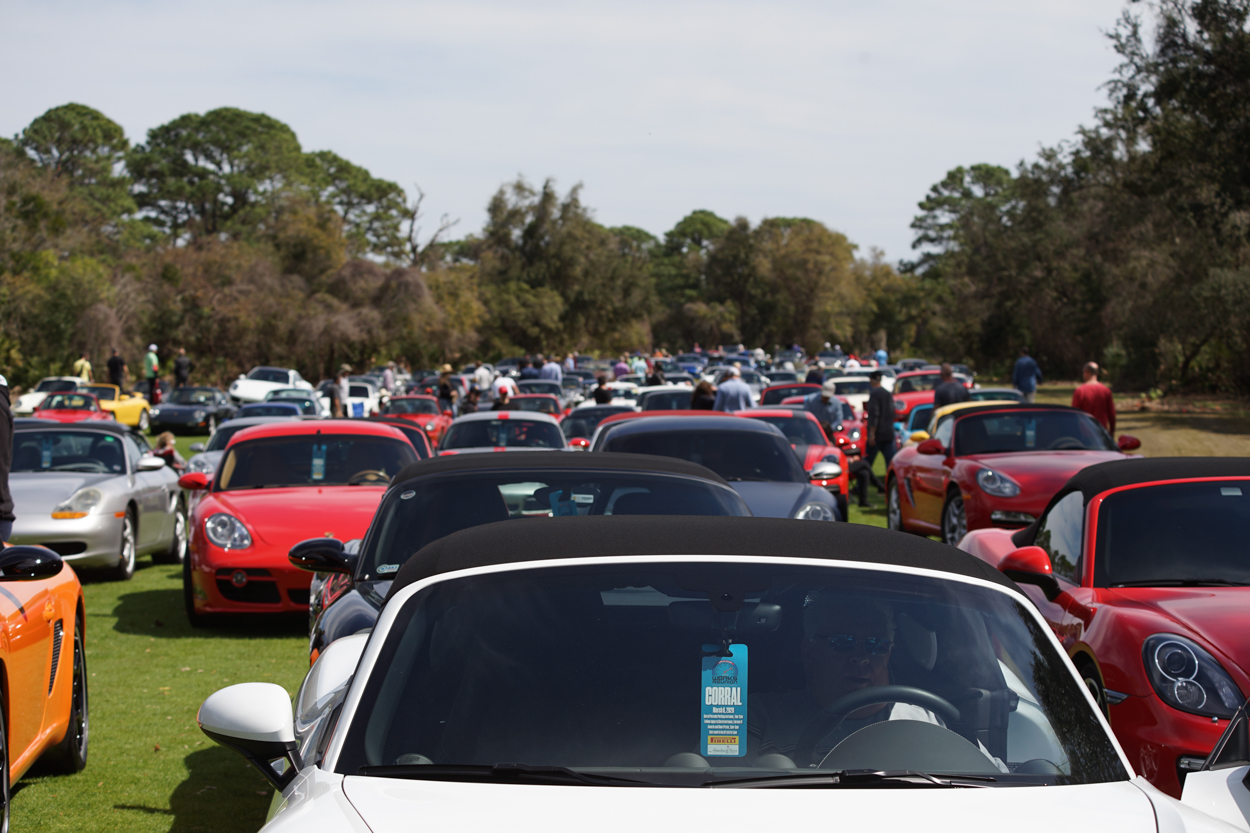 Alban spoke the truth, as attendees found themselves not only enjoying great Porsches, but great food, music, lots of vendors, Porsche displays, and even celebrity guests you may not see elsewhere. John Oates of the well-known rock duo Hall & Oates, along with his wife Aimee, were showcasing their 1984 911 Carrera and had this to say about the event: "It's obviously great to be among Porschephiles or Porsche lovers. It's a great community of people with a mutual love for an iconic brand. It's a pretty cool thing to be around." Racing legend Jacky Ickx spoke about his many years and historic wins with Porsche, as well as giving a shout out to PCA and its members: "You are great supporters and defiantly great ambassadors!"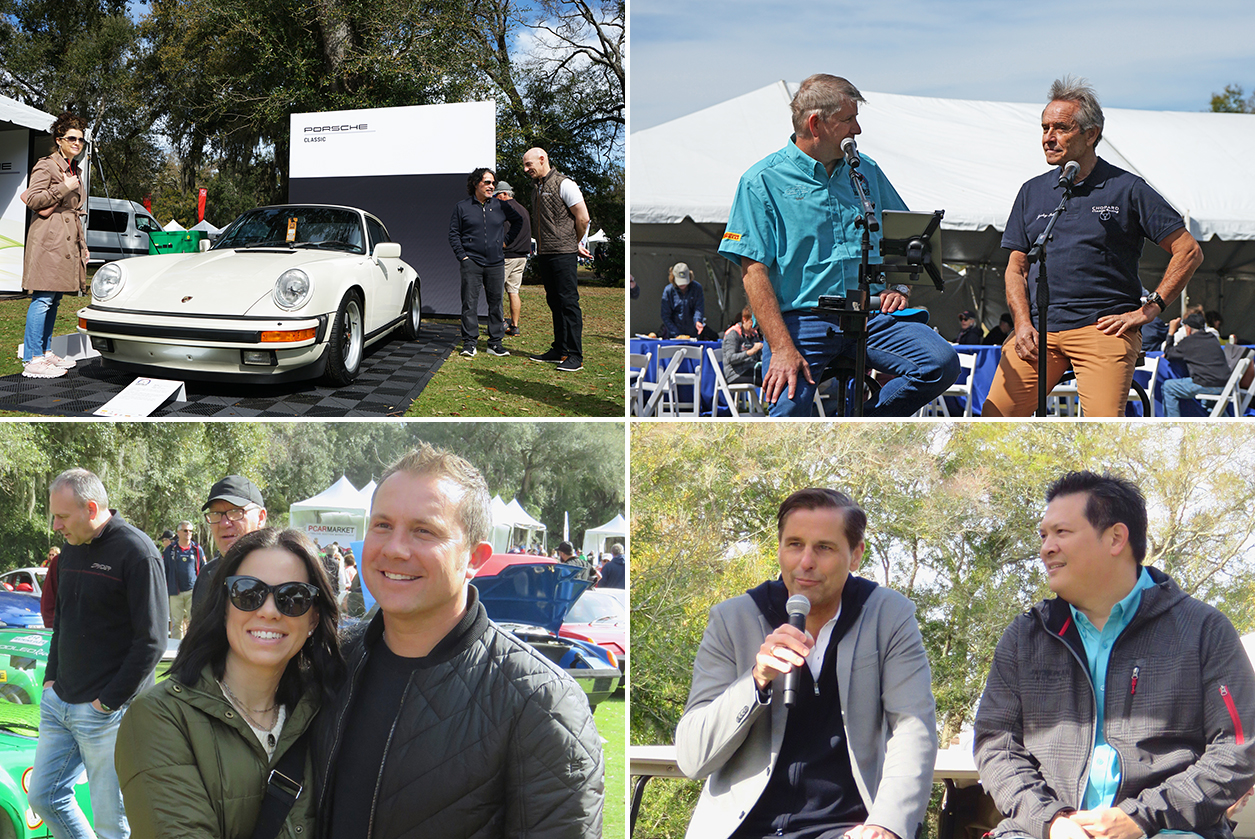 Clockwise, from top left: John Oates and Porsche Classic's Ray Schaffer talk as John's wife Aimee looks on. Jackie Ickx (right) speaks with PCA President Tom Gorsuch. President and CEO of Porsche Cars North America Klaus Zellmer (left) speaks with PCA Executive Director Vu Nguyen on stage. Rod Emory of Emory Motorsports (right) and his wife. All photos by Tom Neel except for top left.
Rod Emory of Emory Motorsports told us, "What I love about the Amelia Island weekend is that I get everything I get in Monterey [Car Week] without the traffic, chaos, and the heavy schedule. You have Werks Reunion, all the auctions, an amazing concours, the Guardians of Porsche dinner, and all my friends are here. Obviously, I love to come and support the East Coast, and Werks Reunion is very important."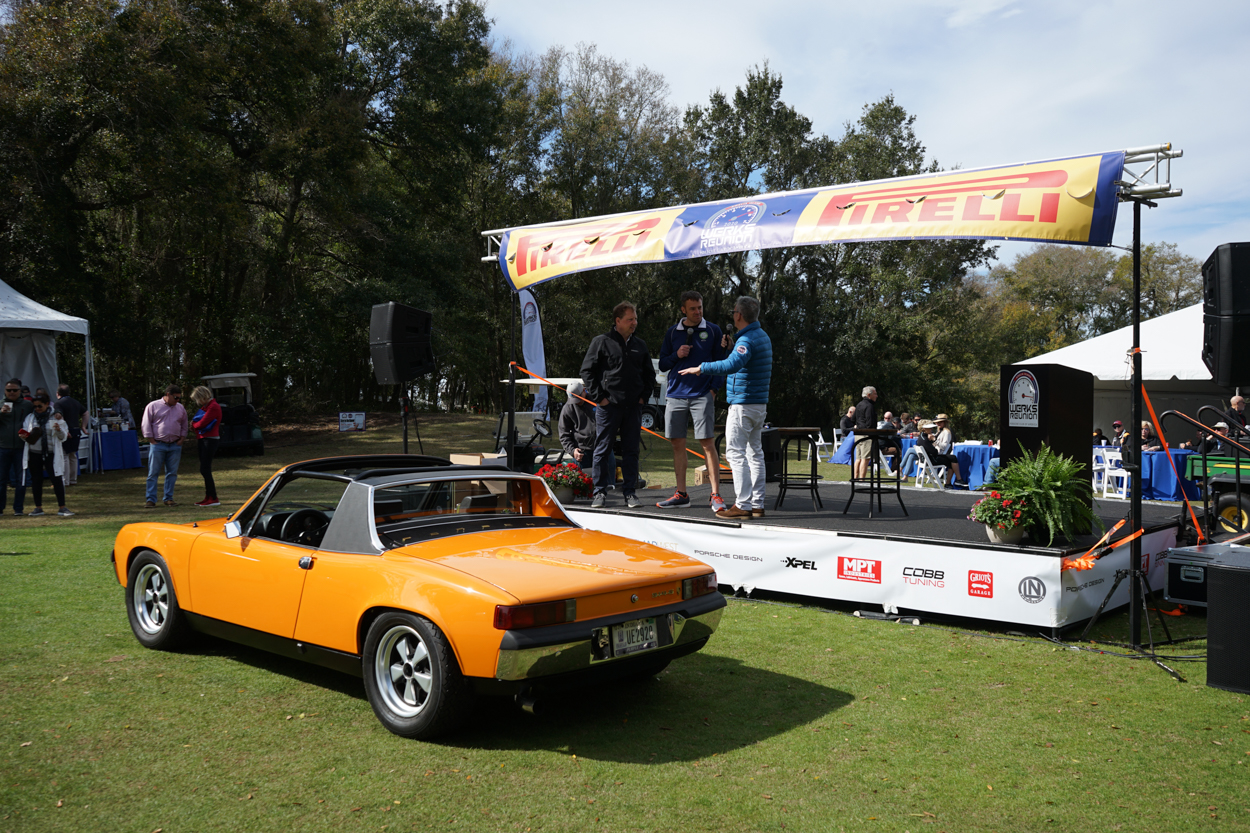 Above: Porsche Panorama Editor Rob Sass, contributor Nathan Merz, and Hagerty's Brad Phillips talk about this 914-6.
Throughout the day, the main stage not only became a source of entertainment from the likes of this year's musical duo, Gilly & the Girl, but offered the chance to see and listen to significant people in the Porsche world talk about their business and passions. President and CEO of Porsche Cars North America (PCNA) Klaus Zellmer took to the stage and addressed the crowd, while Porsche Panorama Editor-in-Chief Rob Sass was joined by contributing writer Nathan Merz of Columbia Valley Luxury Cars and Hagerty's Director of Automotive Lifestyles Brad Phillips in an in-depth discussion on the late Chuck Stoddard's beautiful 914/6, which celebrates its 50th anniversary this year. Featured in the April 1974 issue of Panorama, all felt it to be the ultimate example of a road-going 914. Other notable speakers included President and CEO of Porsche Motorsport North America Dr. Daniel Ambruster; Andial co-founder and PMNA consultant Alwin Springer; and Richard Griot of Griot's Garage.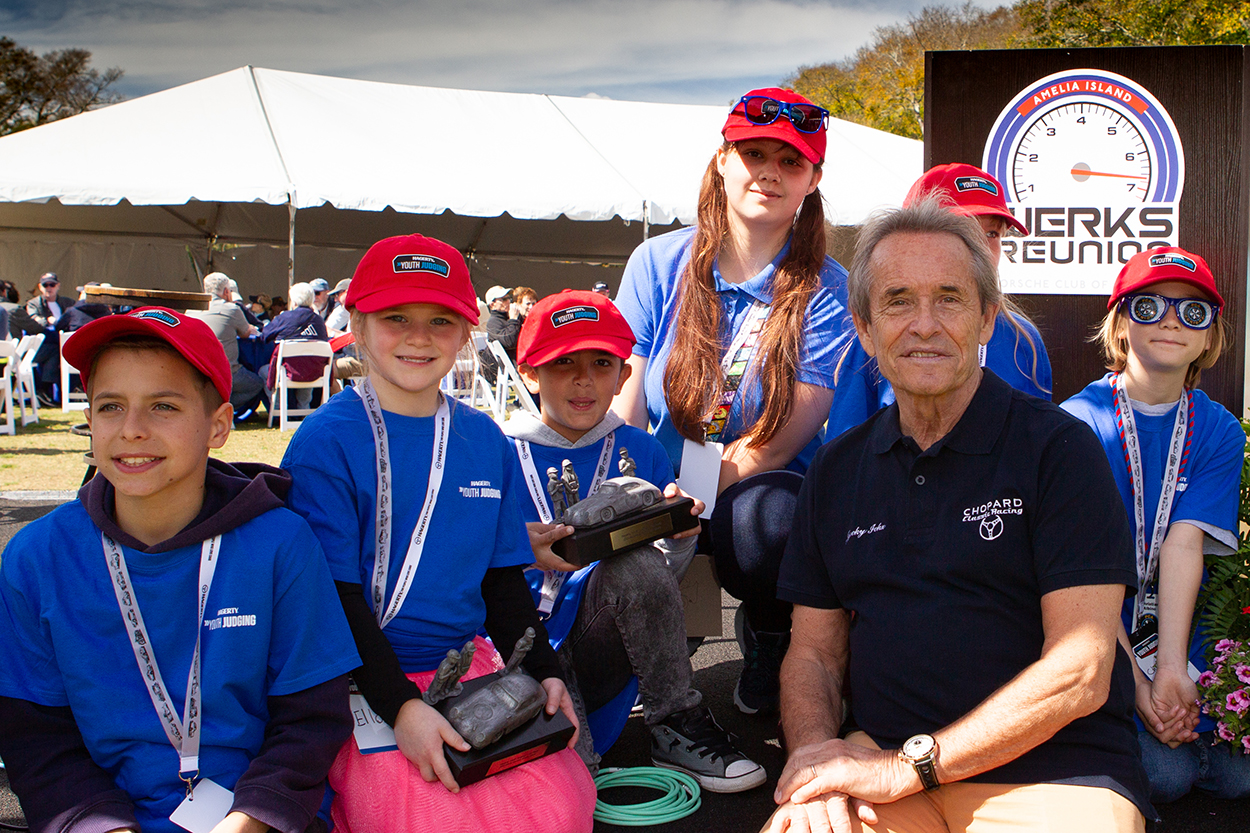 Above: PCA Junior judges with race legend Jackie Ickx. Photo by Michael Alan Ross
Doug Hart, Head of Business Development for Hagerty, joined the stage with the newest generation of Porsche lovers. Six energetic youngsters, chosen as part of PCA's "Youth Judging" program, of which Hagerty is a sponsor, were able to take to the field to learn about and judge Porsches from 1975 to the current models. They then gave trophies for 3rd place to a 1979 911 Outlaw, 2nd place to a 1983 Porsche-powered Le Mans race car, and 1st place to a 2011 911 GT2 RS. This was capped off by a photo-op with Jacky Ickx orchestrated by Panorama photographer Michael Alan Ross.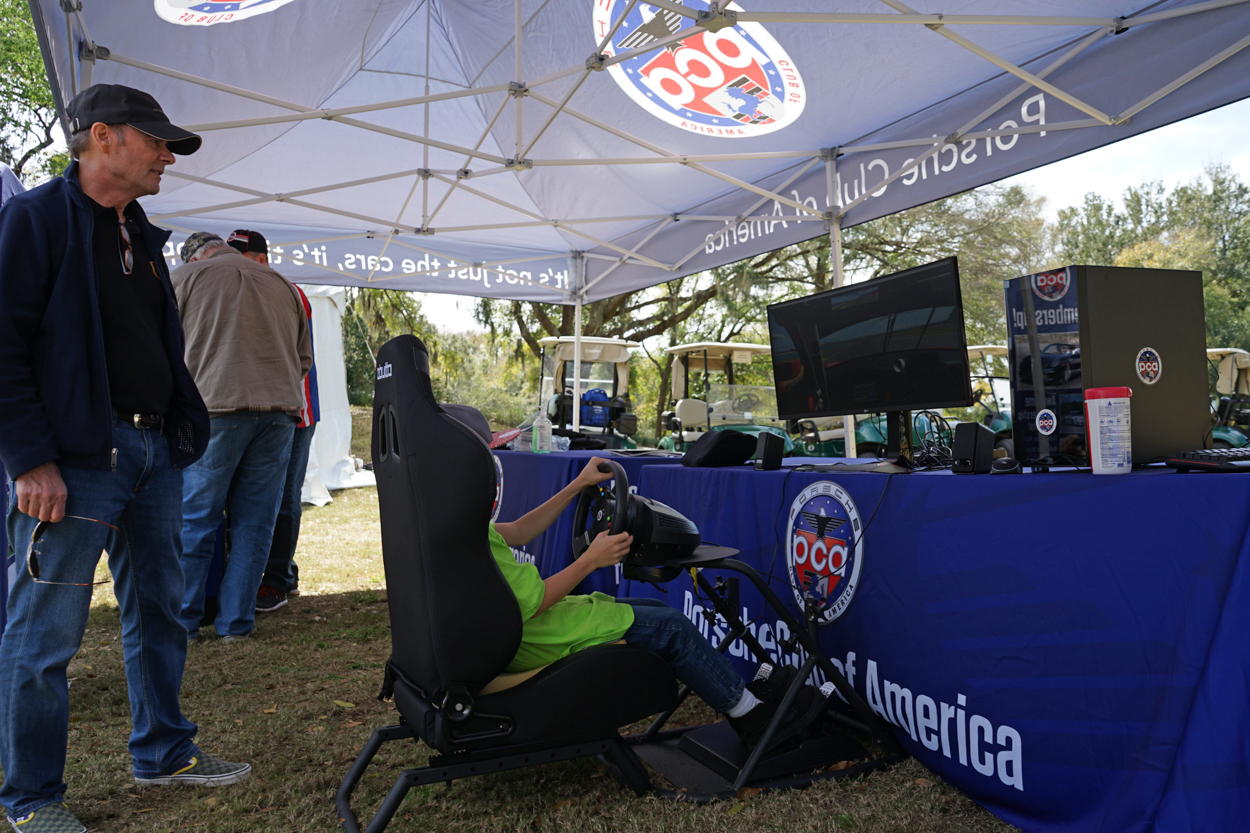 Above: Author Tom Neel looks on as a youngster sim races.
Over at the PCA tents, Werks Reunion apparel was available, as was the ability for new members join the club. A racing simulation setup was also in play for folks of all ages to try their skill in the growing "PCA Sim Racing" program. With 150 members representing Regions all over the US and Canada, the bustling series offers real competition to gamers. Visit pcasimracing.com for more information.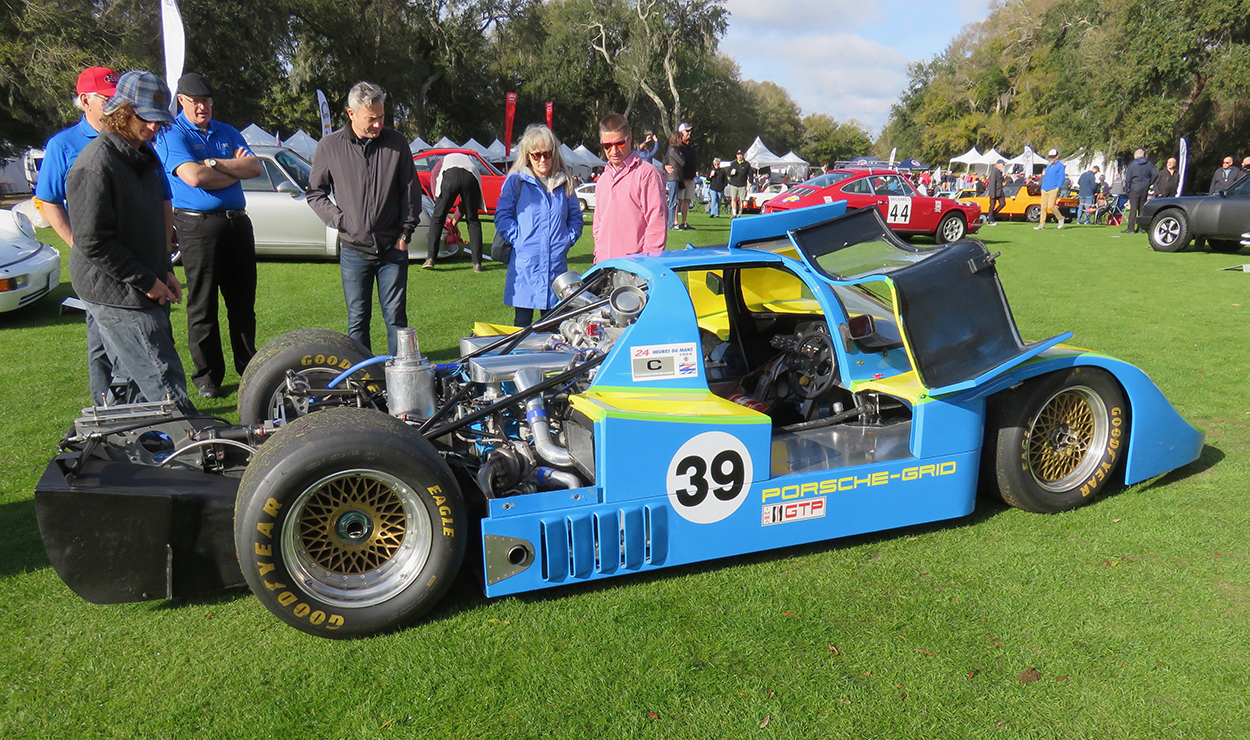 Above: The 1983 Porsche-powered Le Mans racer that placed second in the PCA Juniors judging.
Walking the scenic grounds of this year's Werks Reunion, the number of cars seen in the Porsche Corral alone was a lot to take in. Rows and rows of almost every model, color, and option could be found. In the judged class section, an even greater number of classic Porsches were on display. "For Porsche, [Werks Reunion] is pretty special for us because we get to meet a lot of members with a lot of nice cars all in one place, and the event is open to the public," Manager of Porsche Clubs North America Mark Harston explained at the popular PCNA display. "So, they get to see what the club is all about and what the Porsche brand is all about. It's the perfect show."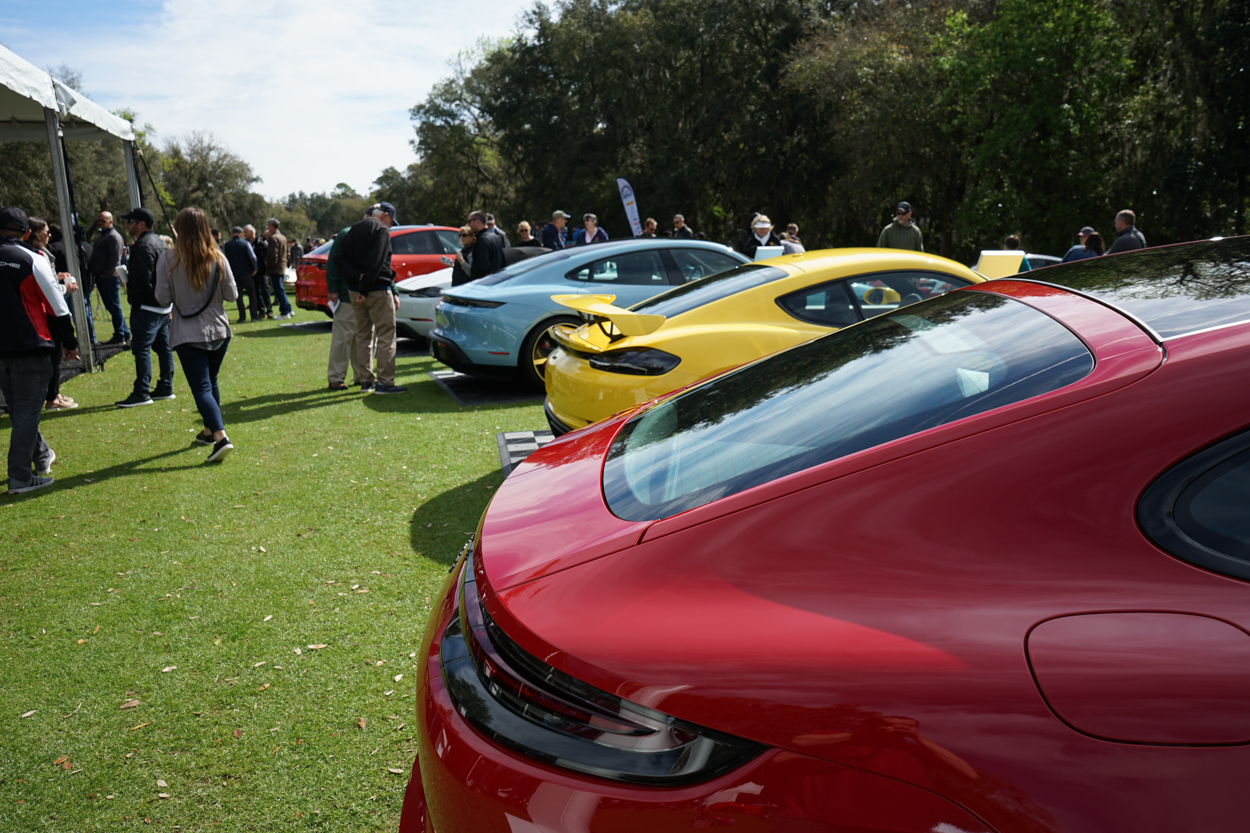 Porsche brought eight cars to Werks Reunion this year. They included the sporty new Cayenne Coupe, both the 718 Cayman GT4 and Spyder, Panamera, and, of course, a new Taycan painted in Frozen Blue. The "Bad Boys" 992 Carreras were also displayed near the PCNA tent.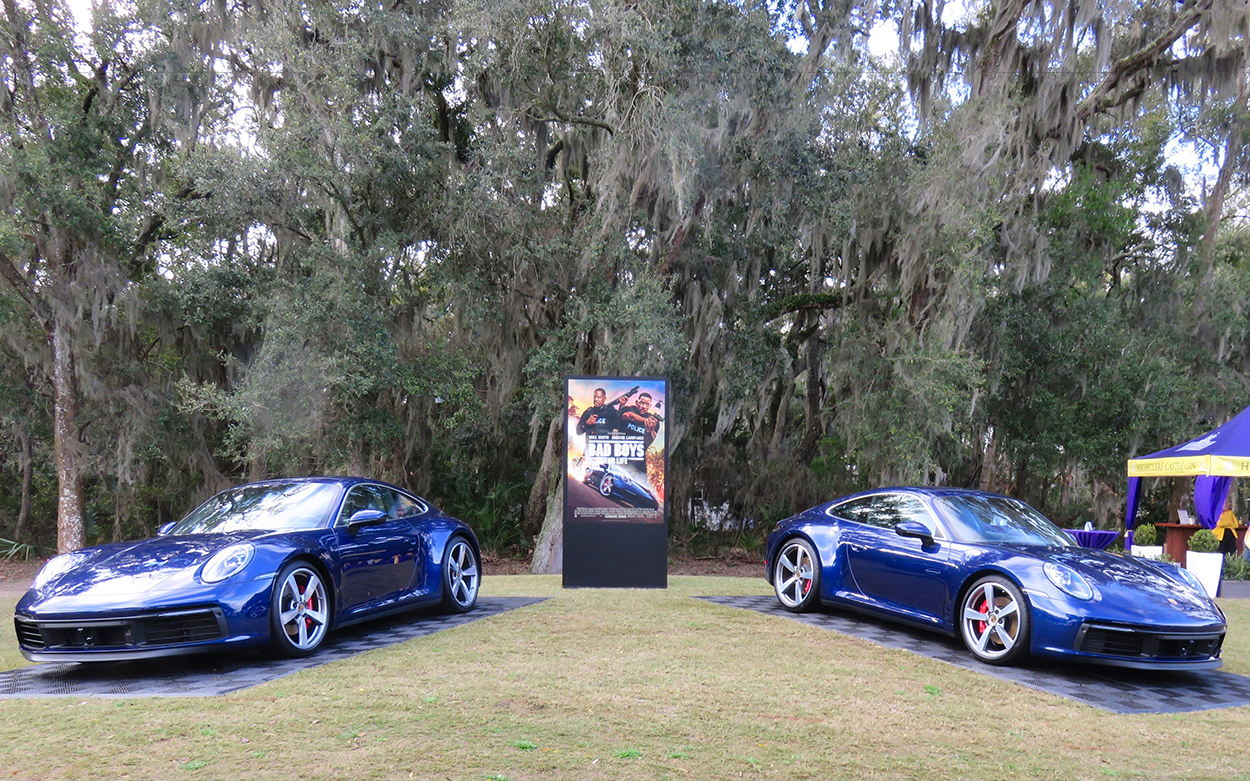 "This is our way of bringing new product out to the members and the public so they can get up close and personal," Harston continues. "We try to select the models we think members will enjoy seeing. With electrification coming into the picture this year, it was very important that we showcased the Taycan."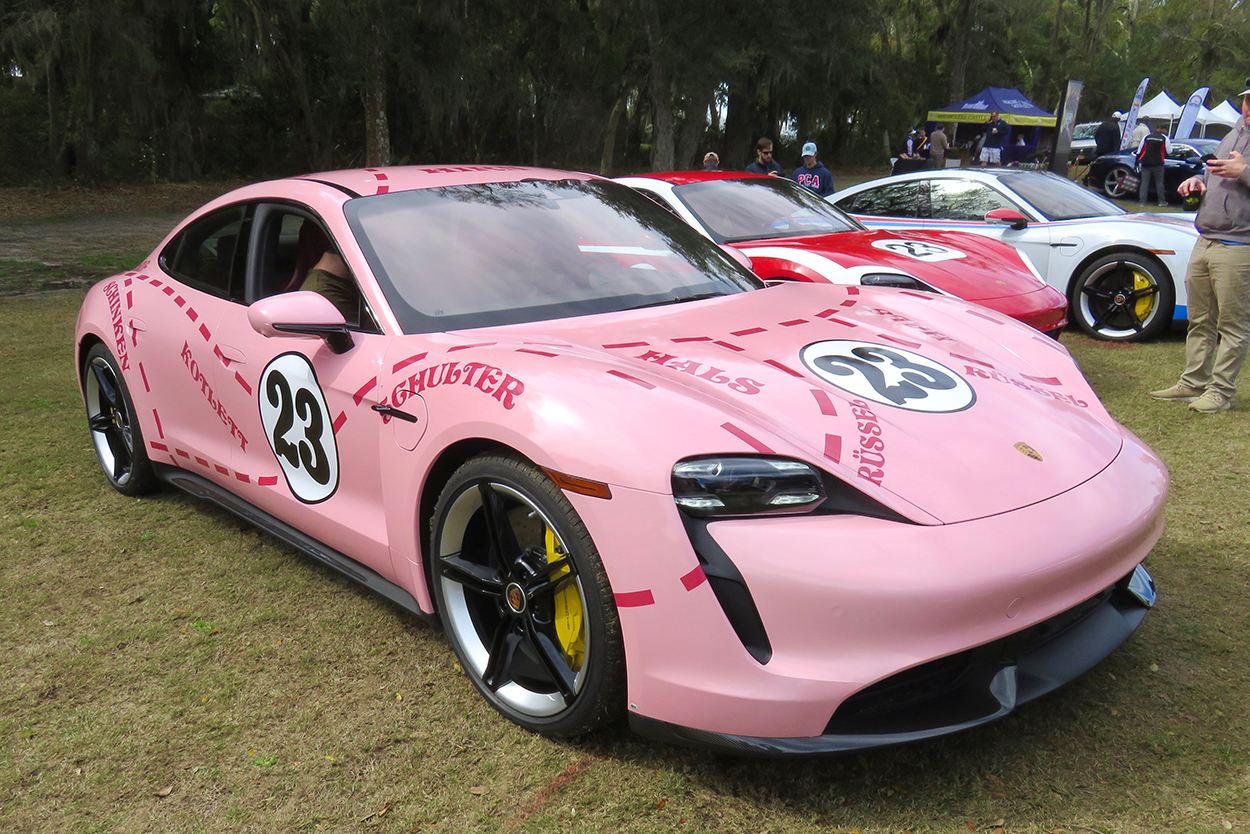 "We brought three special-livery Taycans," Zellmer said. He was referring to three vinyl-wrapped Taycans displayed with iconic 24 Hours of Le Mans paint designs. The red-and-white-striped Porsche Sazlburg-livery #23 Taycan showcased Porsche's first outright Le Mans victory in 1970. Also featured was the beloved "Pink Pig" design from 1971. Then right in the backyard of their home-base in Jacksonville, Florida, there was the #59 Brumos Porsche-livery Taycan, which was delivered from PCNA headquarters in Atlanta to Werks Reunion Amelia Island by legendary Porsche driver Hurley Haywood and racer, commercial director, and photographer Jeff Zwart.
Werks Reunion grows each year. Fortunately the very accommodating staff of Amelia River Golf Club and the facility itself lend themselves to a blossoming future, as the event can be scaled up here by allowing for more cars and attendees than ever before. All of this doesn't come easy though, as putting on an event like this is not without the grand effort on the part of a lot of people. This is where a PCA motto, "Fueled by Volunteers," guarantees that effort will continue to be met. PCA President Tom Gorsuch told the crowd, "I volunteer a lot of my time to this club, but why do I do that? Because I want to see people having fun, and look at this, people are having fun everywhere!"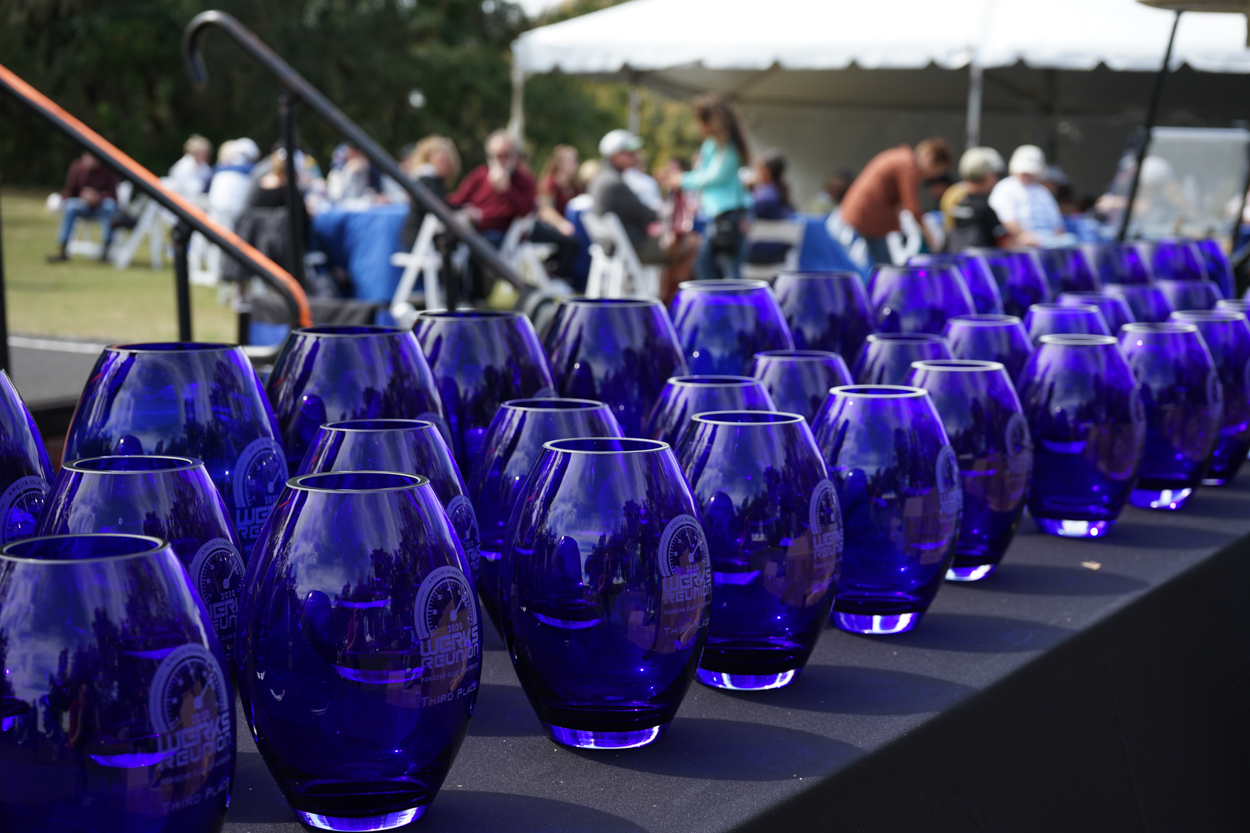 Above: Werks Reunion Amelia Island trophies. See the first-place award winners and their cars here!
If you attended the 2020 Werks Reunion as a member or not, the Porsche Club of America thanks you. If you missed this year's event, you missed a good one. But we look forward to seeing you at Monterey or right back here next year at the Amelia River Golf Club during the Amelia Island Concours d'Elegance weekend.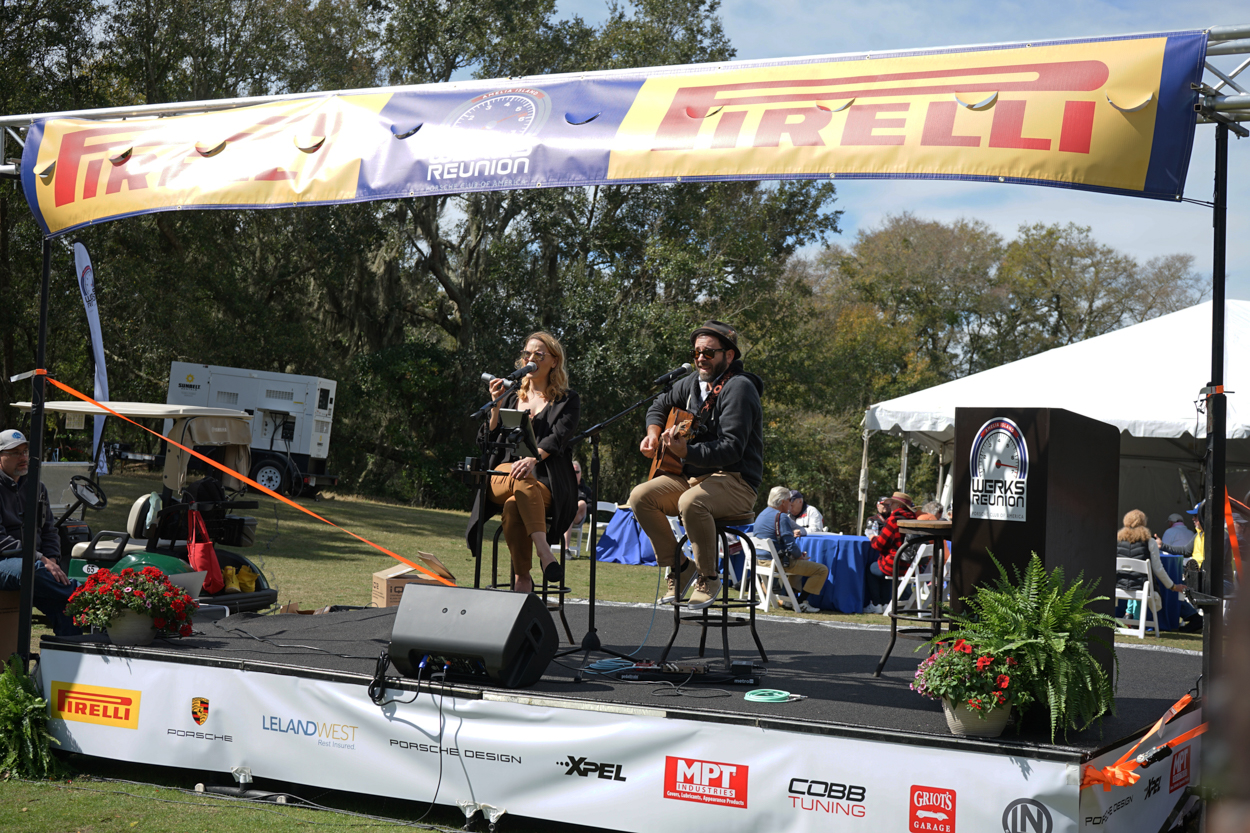 Above: Gilly and the Girl performed on stage for much of the day.
---
(P1) 356 — 1956 356 Speedster. Dave Jerome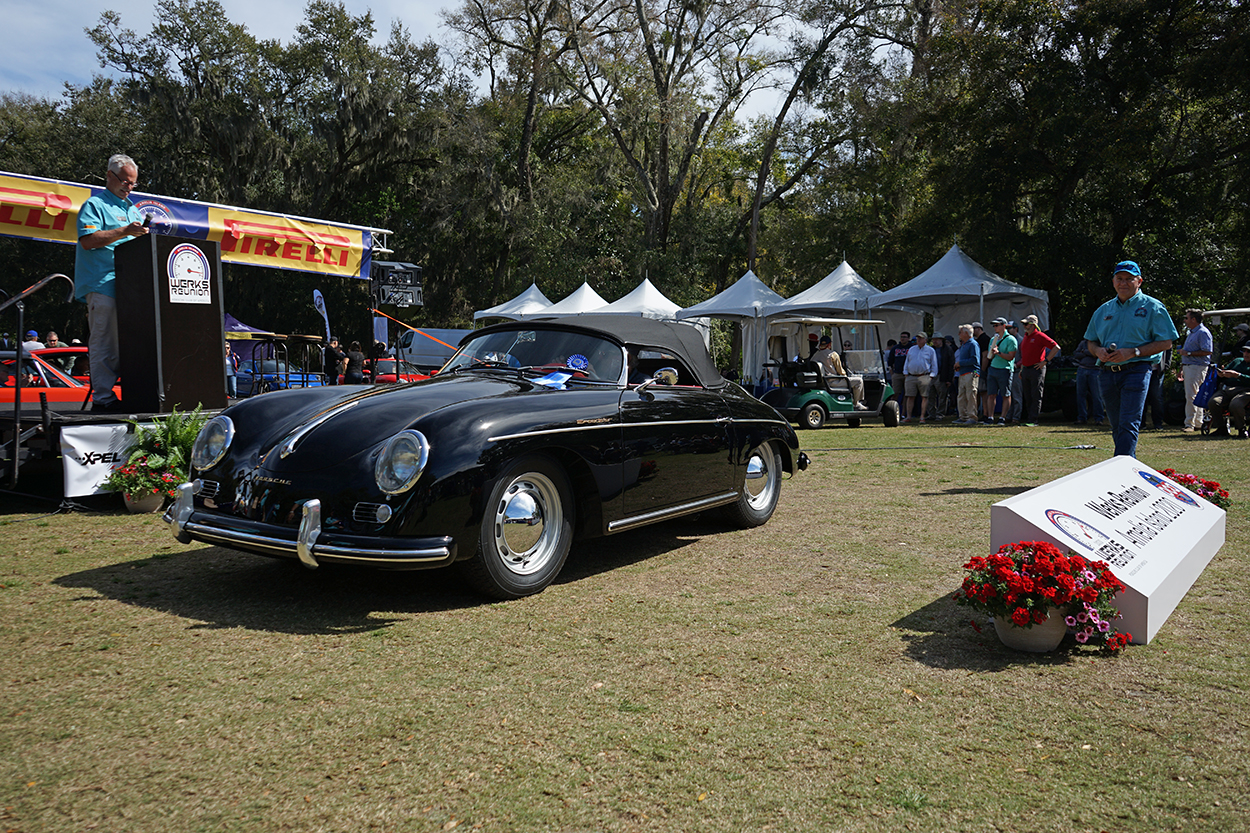 2nd — Peter Bartelli — 1963 356 Speedster Carrera 2000 GS Coupe
3rd — Gregg Blue — 1957 356 Carrera GT
---
(P3) 911/912 1965-1973 — 1971 911S. John Ashford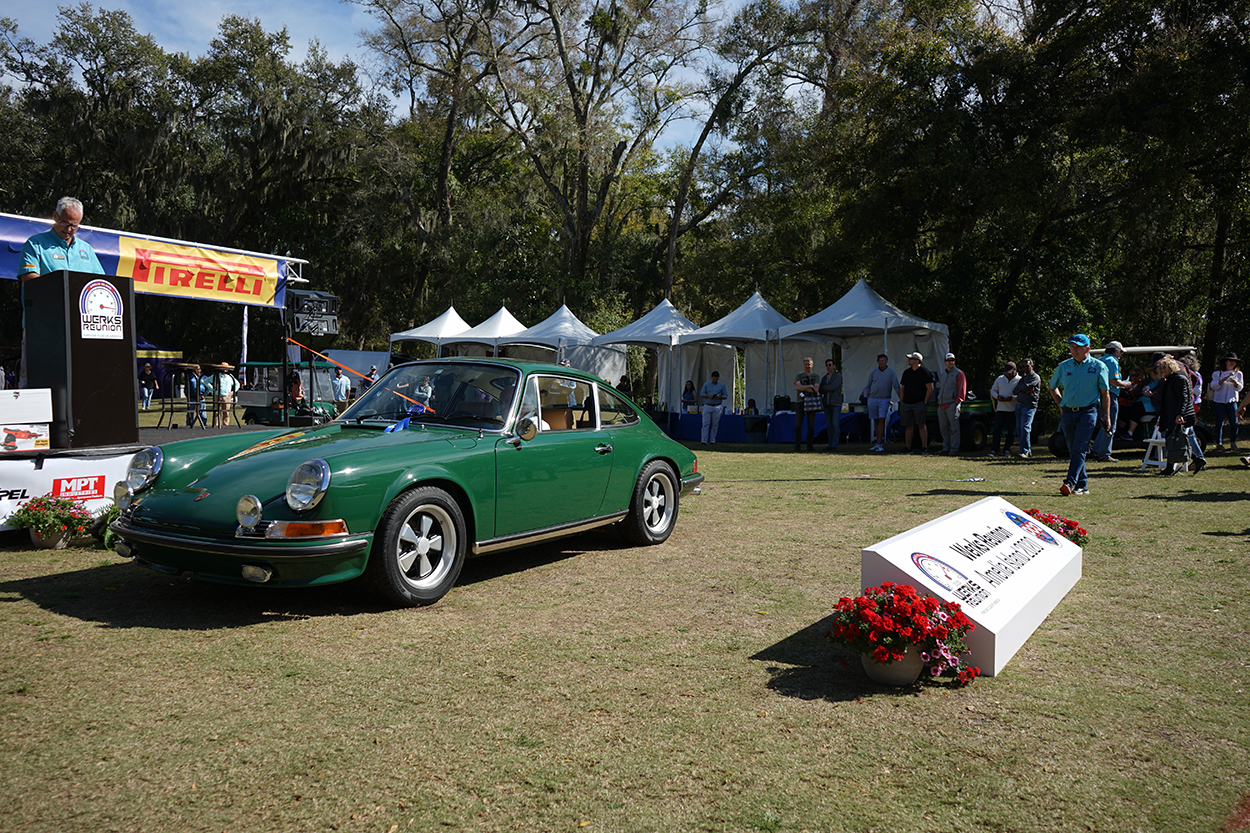 2nd — Jim Earlbeck — 1972 911E
3rd — Kevin Meony — 1969 912
---
(P4) 911/912 1974-1989 — 1976 911 Turbo. Kevin Weiss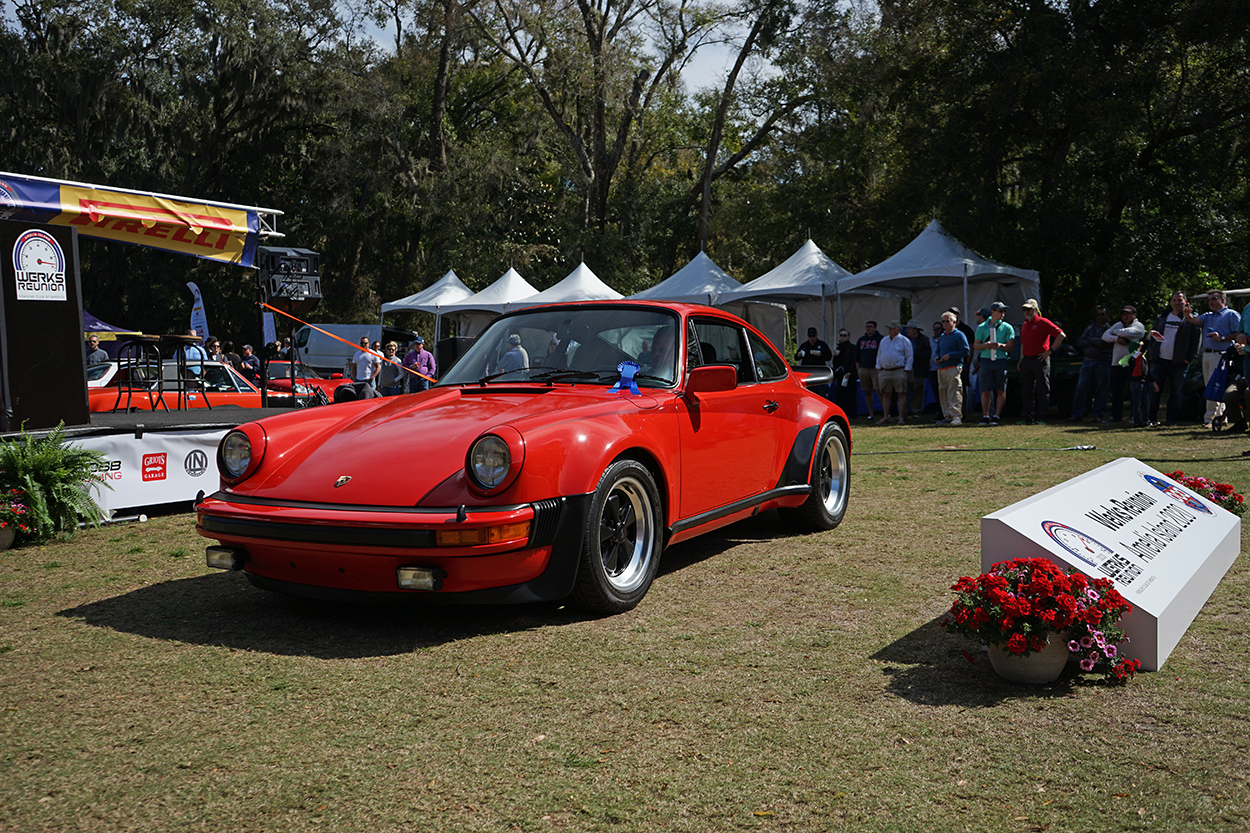 2nd — Bert Harris — 1974 911 Carrera
3rd — John Hans — 1979 911 Turbo
---
(P5) 964/993 1989-1998 — 1992 911 Carrera 2. Avery Wise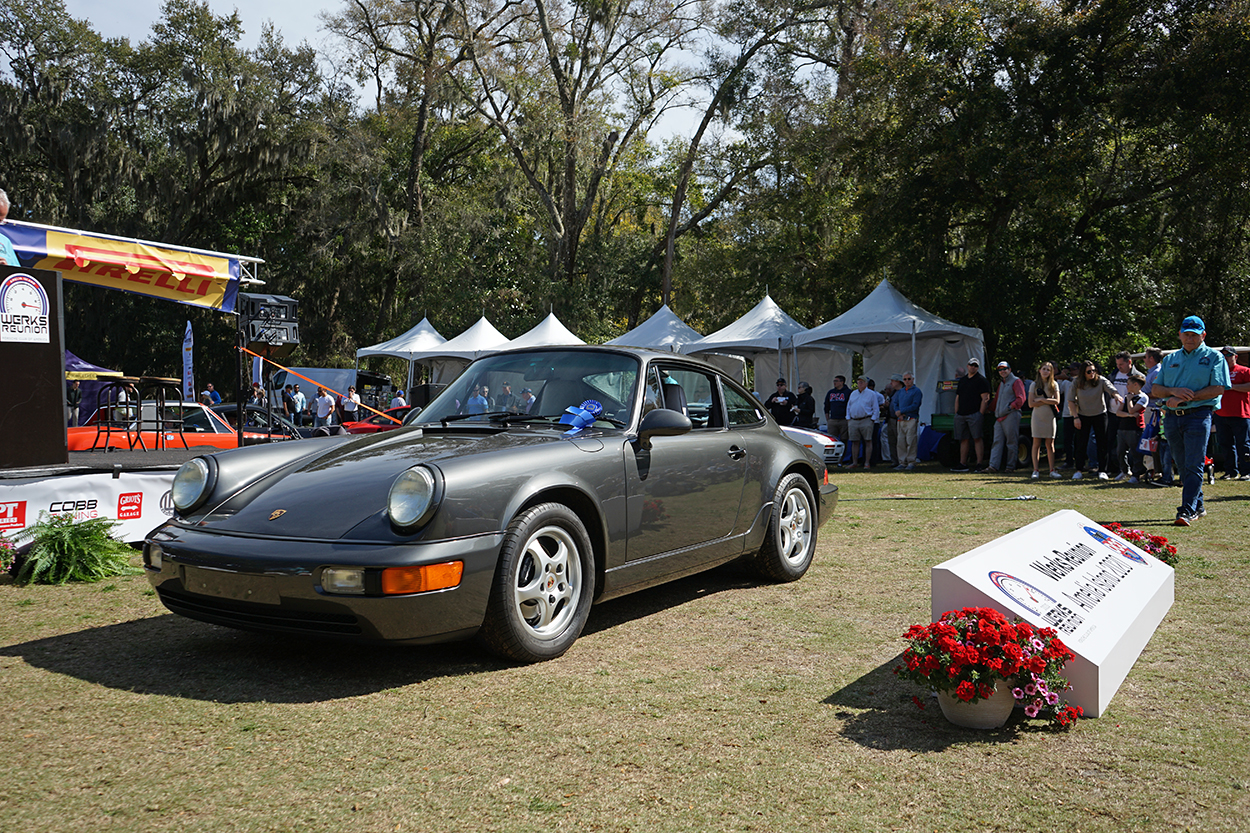 2nd — Robert Schneider — 1998 911 Carrera
3rd — Robert Sewell — 1997 911 Carrera S
---
(P6) 996/997 1999-2013 — 2002 911 Turbo. Joe Waunsch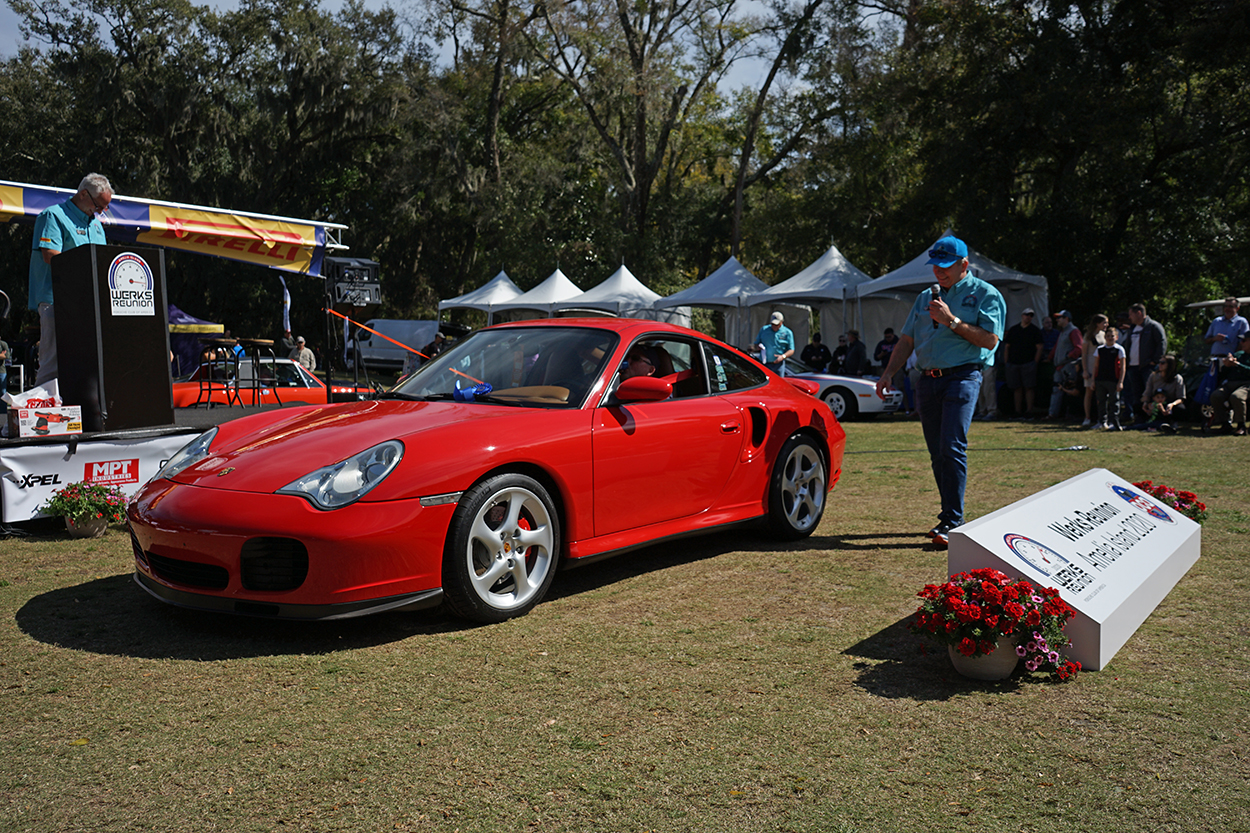 2nd — Joseph Lapinto — 2009 911
3rd — Paul Cory — 2004 911 Carrera 40th Anniversary
---
(P6A) 991/992 2013-present — Alex Llorente. 2016 911 GTS Club Coupe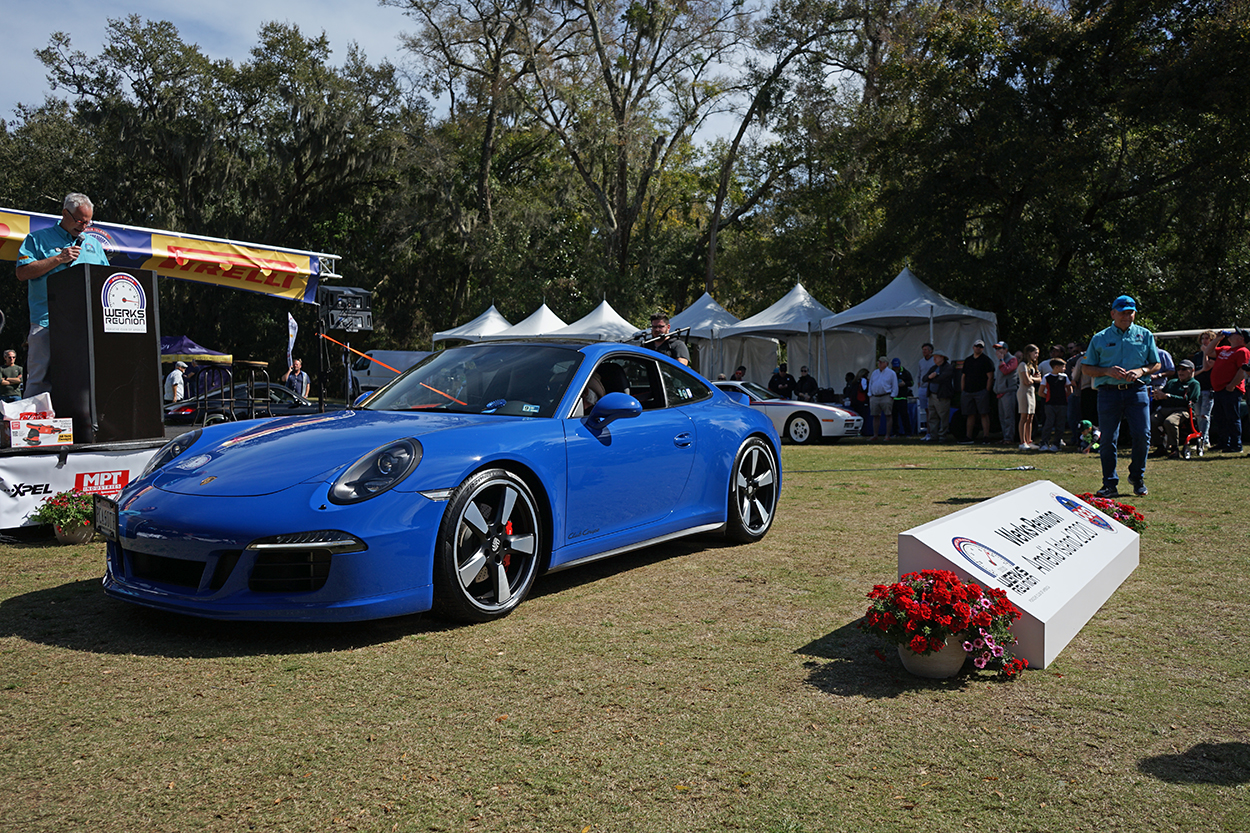 2nd — Mark Krekorian — 2014 911 Targa 4
3rd — Joseph Carastro — 2018 911 Carrera T
---
(P7) 914/914-6 1970-1976 — 1970 914-6. Randall Johnson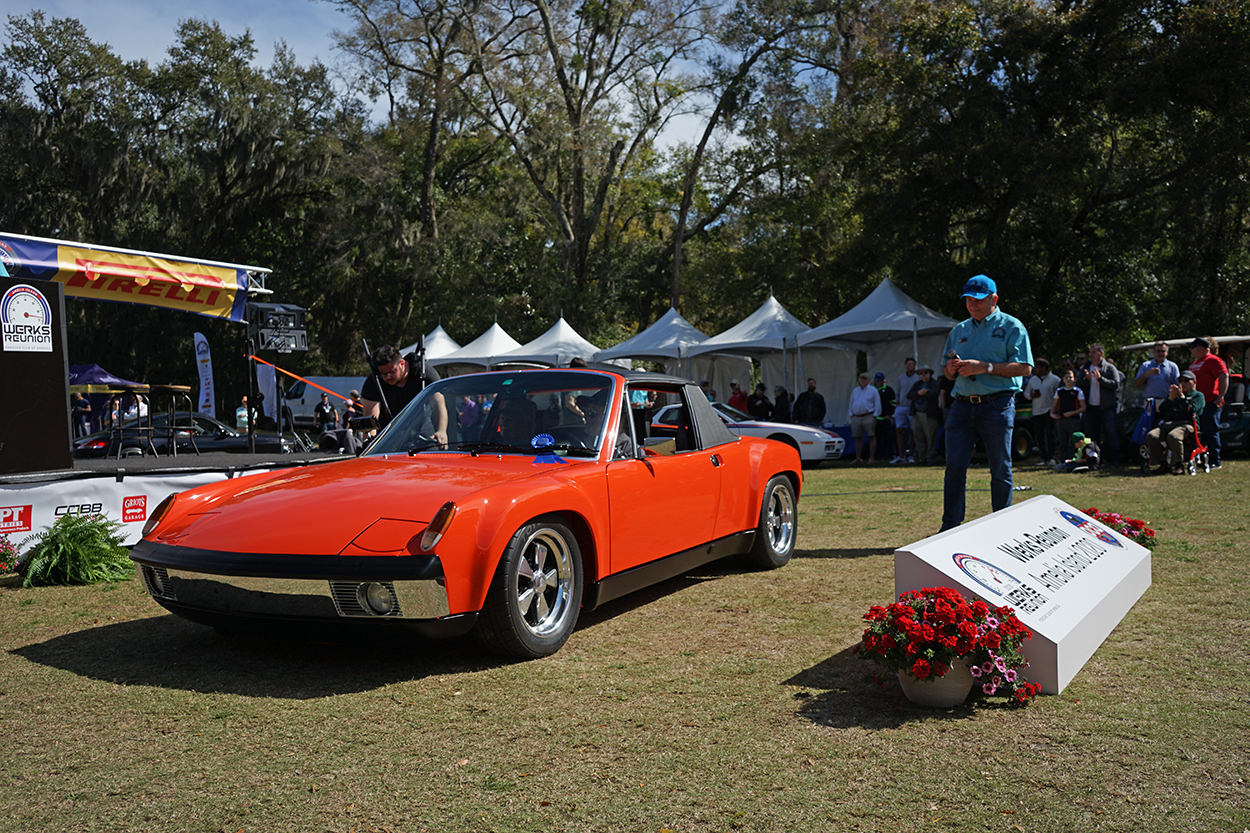 2nd — Timothy Regenold —1974 914 2.0
3rd — Tommy Williams — 1974 914 2.0 LE Can-Am
---
(P8) 924/944/968/928 1977-1995 — 1986 944 Turbo. Aimee Cardwell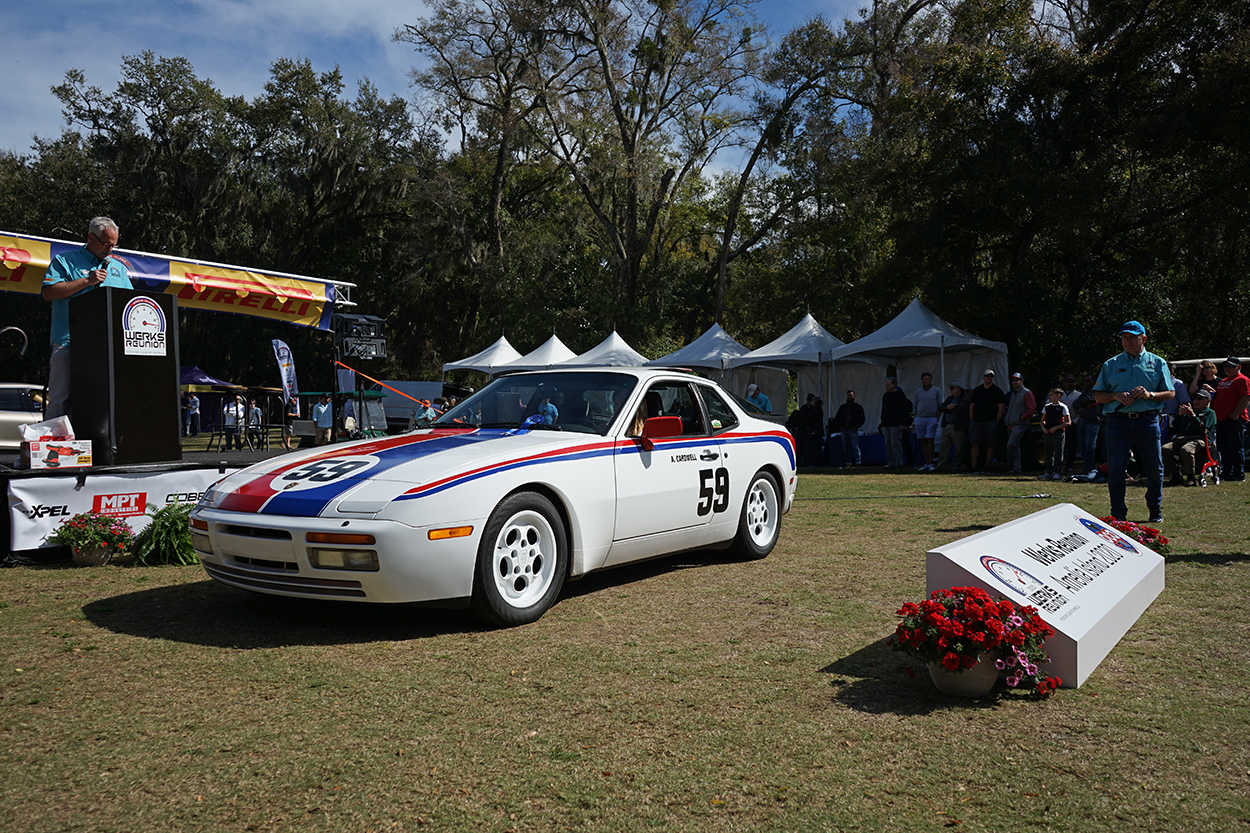 2nd — Vic Rola — 1987 944
3rd — Kevin Duffy — 1987 924S
---
(P9) Boxster/Cayman/718 1997-present — 2006 Cayman S. Wayne Zuege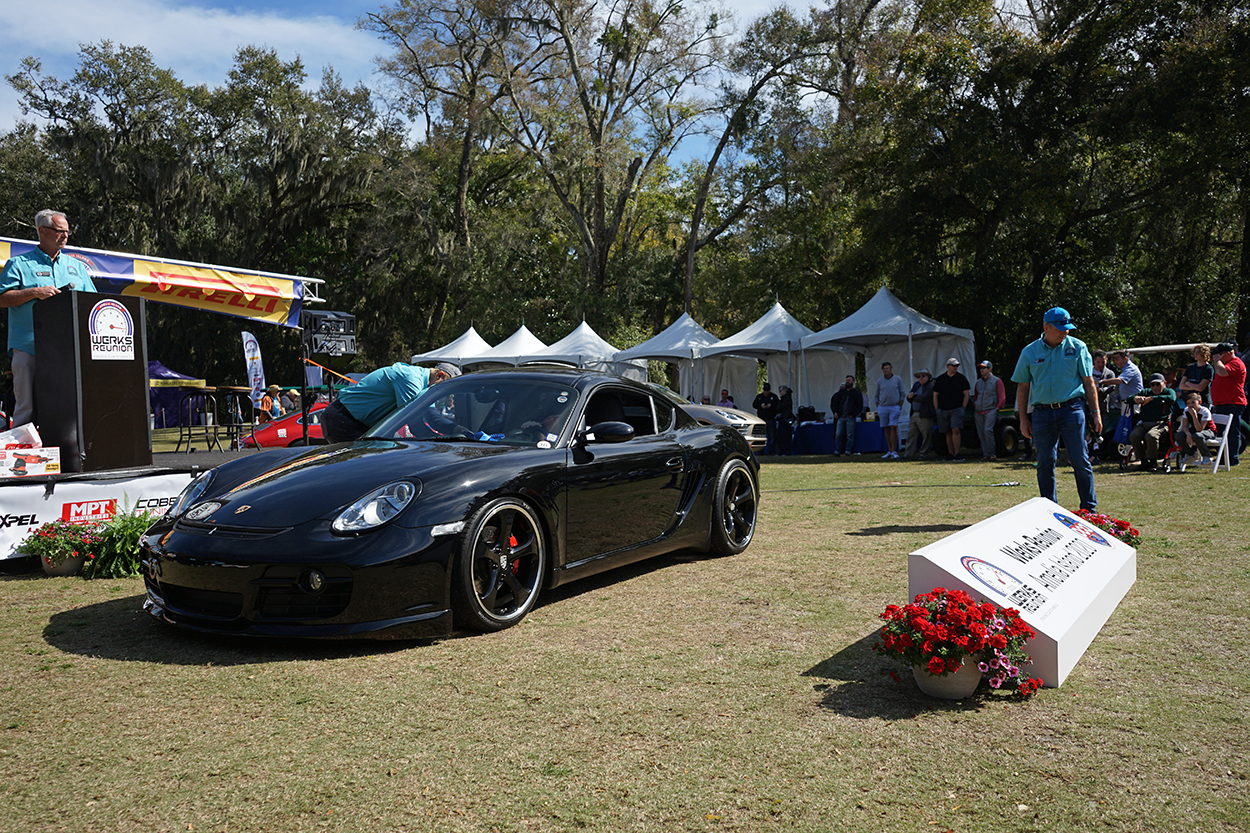 2nd — Jesus Caracoza — 2012 Cayman R
3rd — Howard Mintz — 2015 Cayman S
---
(P10) Cayenne/Macan/Panamera 2003-present — 2017 Macan S. Mark Steiger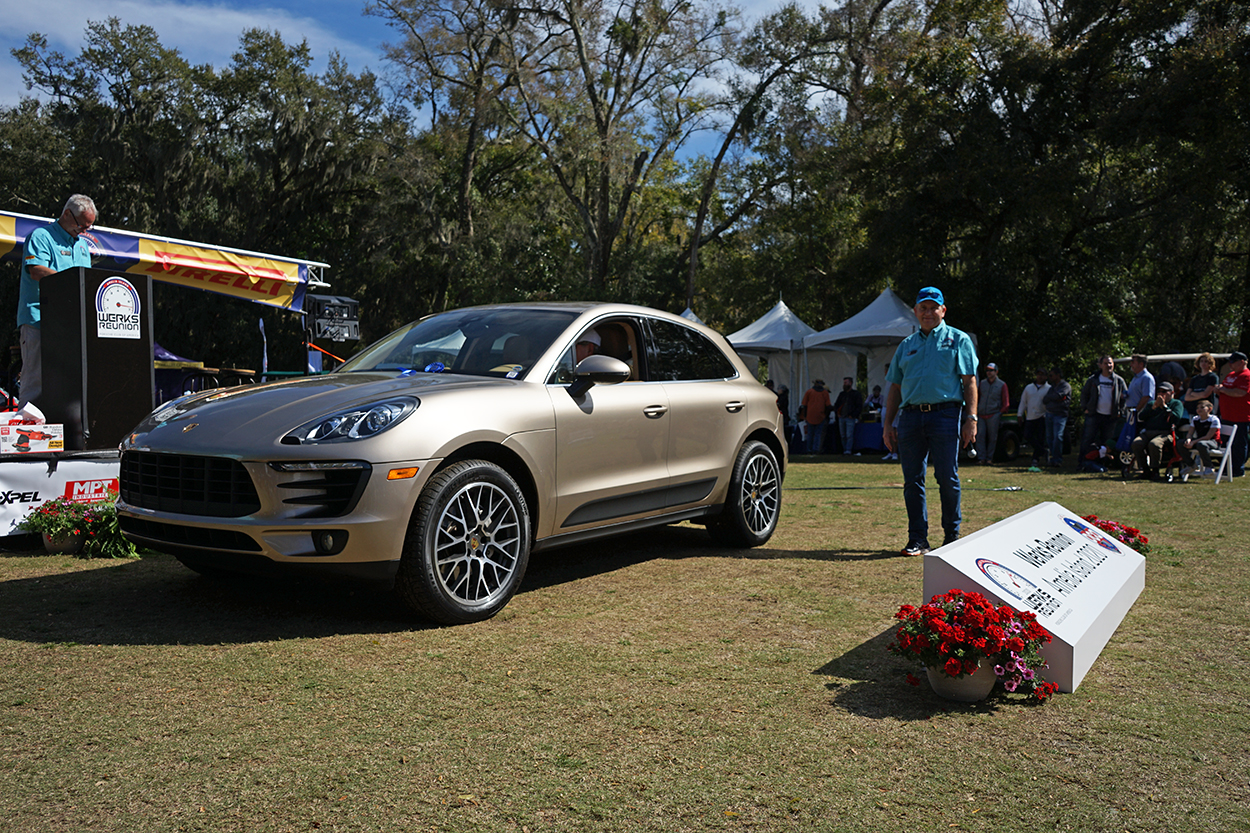 2nd — N/A
3rd — N/A
---
(P12) Competition/race — 1968 912 Swedish Rally. Christopher Turner
2nd — Mike Joyce — 1982 911 Kelly Moss Safari
3rd — Jim Goodlet — 1978 911 Turbo Rally Car
---
(P13) Sport Purpose — 1986 911 Turbo. Chandler Mays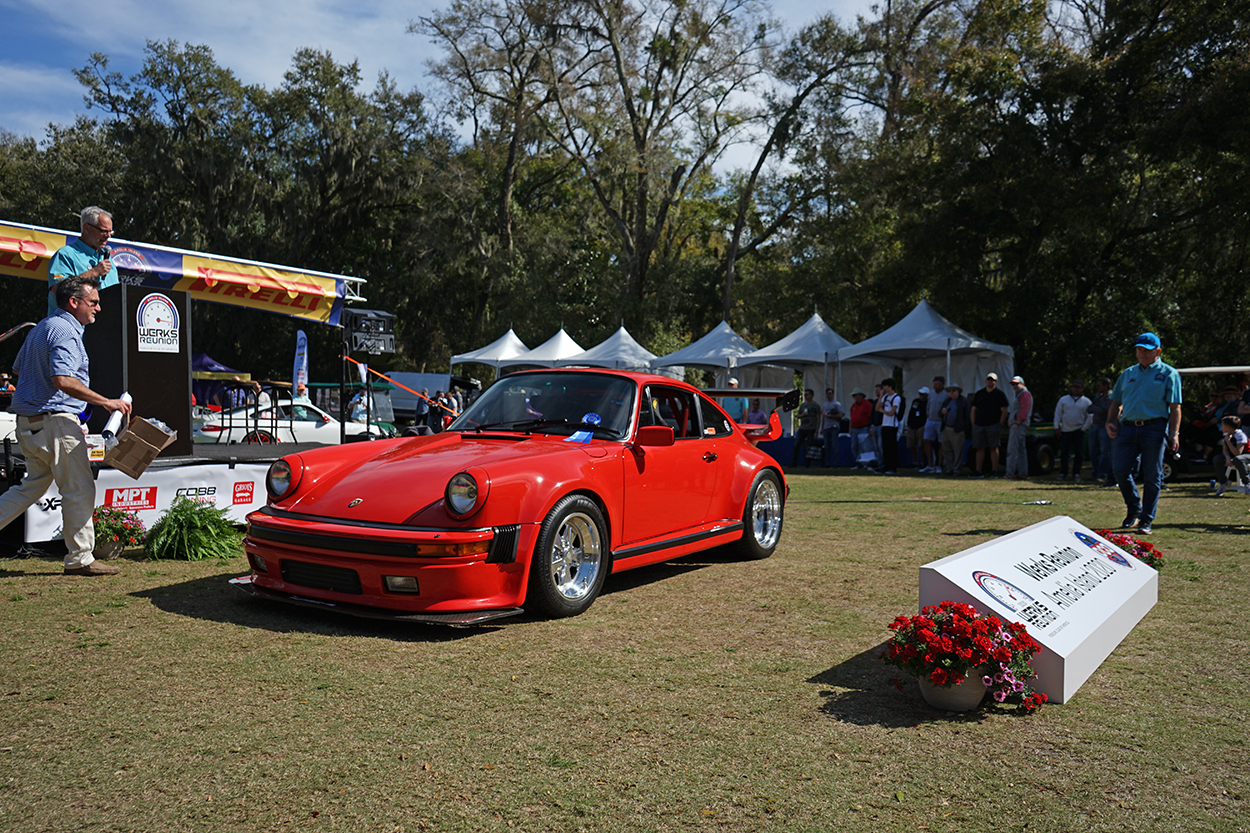 2nd — Jim Comer — 1978 911 RSR
3rd — Andy Furmen — 911 Outlaw
---
(P13A) Sport Purpose 914 — 1971 914-6. Christopher Turner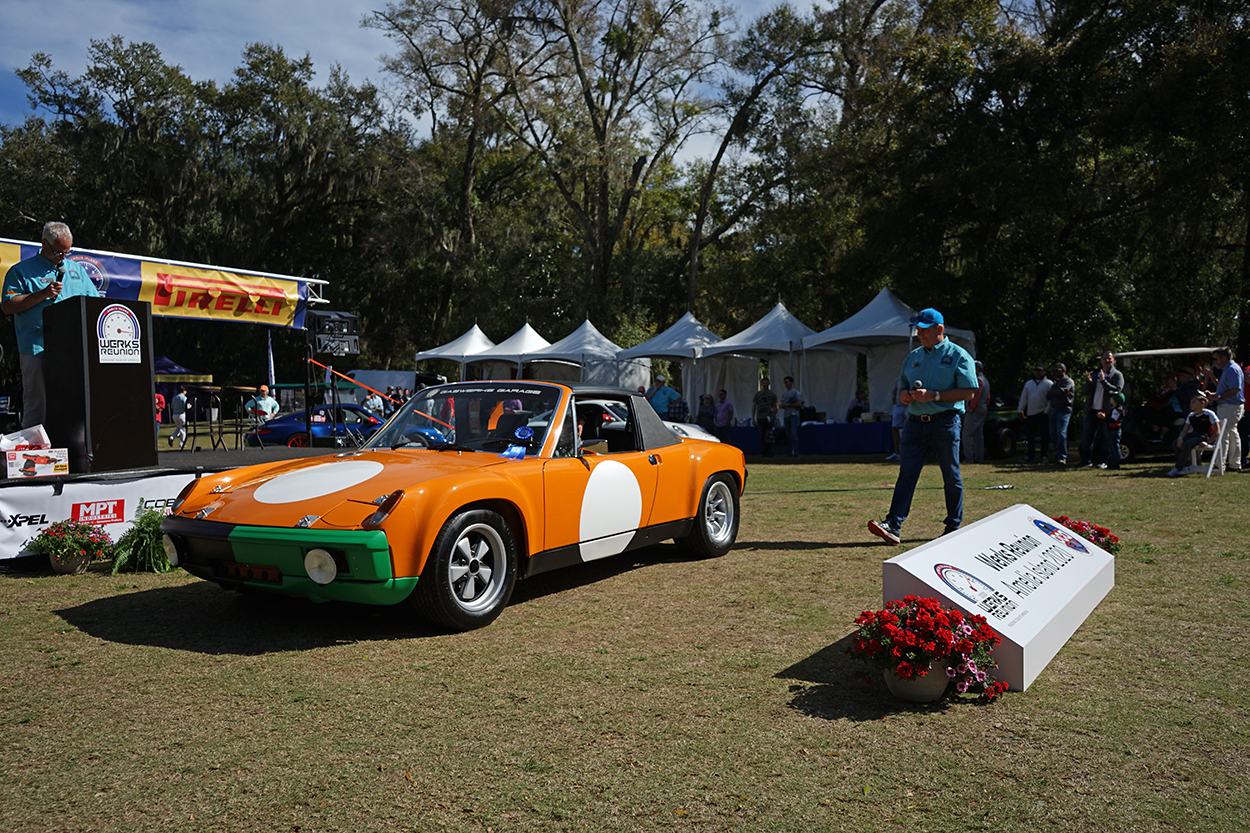 2nd — David Mathews — 1974 914-6
3rd — Christopher Heimonowski — 1971 914-6
---
(P14) GT2/GT3/GT4 2004-present — 2009 911 GT3 RS - Christien Hortinger. 2009 911 GT3 RS - Ortrun Horniger. (tie)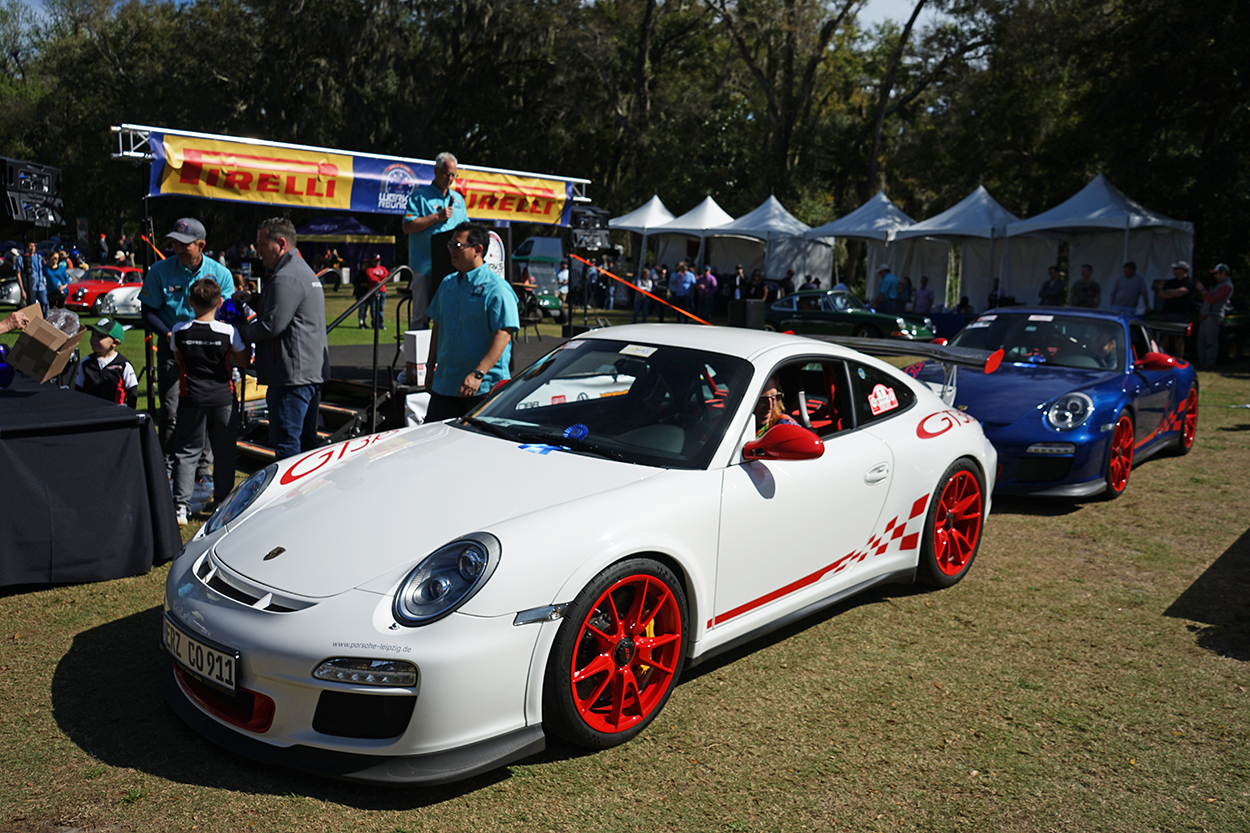 2nd — Alen Thomas — 2009 911 GT2
3rd — James Serafino — 2018 911 GT2 RS