Deadpan DIY: Rust has no humor for 1972 Porsche 911 front pan
Kris Clewell owns a 1972 Porsche 911 that he drives everywhere at almost any time of the year. It's seen what his home state of Minnesota has to offer plus several trips out to the West Coast over the years. That includes rain, salty air, snow, and snow treatment on the roads — a fast track to a rusty front pan. As he's done with most of the work on his 911, he decided to get rid of the rust and replace the front pan himself, learning along the way and documenting the job in this blog series.
---
Article by Kris Clewell
Photos by Kris Clewell unless noted
Lead image: Kris's 911 at a California beach.
The trip to Luftgekült last year was planned well in advance. I pushed hard to have the RS rear flares put on my 911 along with fresh paint everywhere else. I'd drive out from Minnesota to Los Angeles for the fourth or fifth time in the last few years. The guys at Luft were kind enough to give me a spot in the show, but I knew I had to get out there either way. Prepping the car for a long trip has gotten easier, half of the stuff just stays in the frunk, but I wanted to go through everything and make sure I was prepared.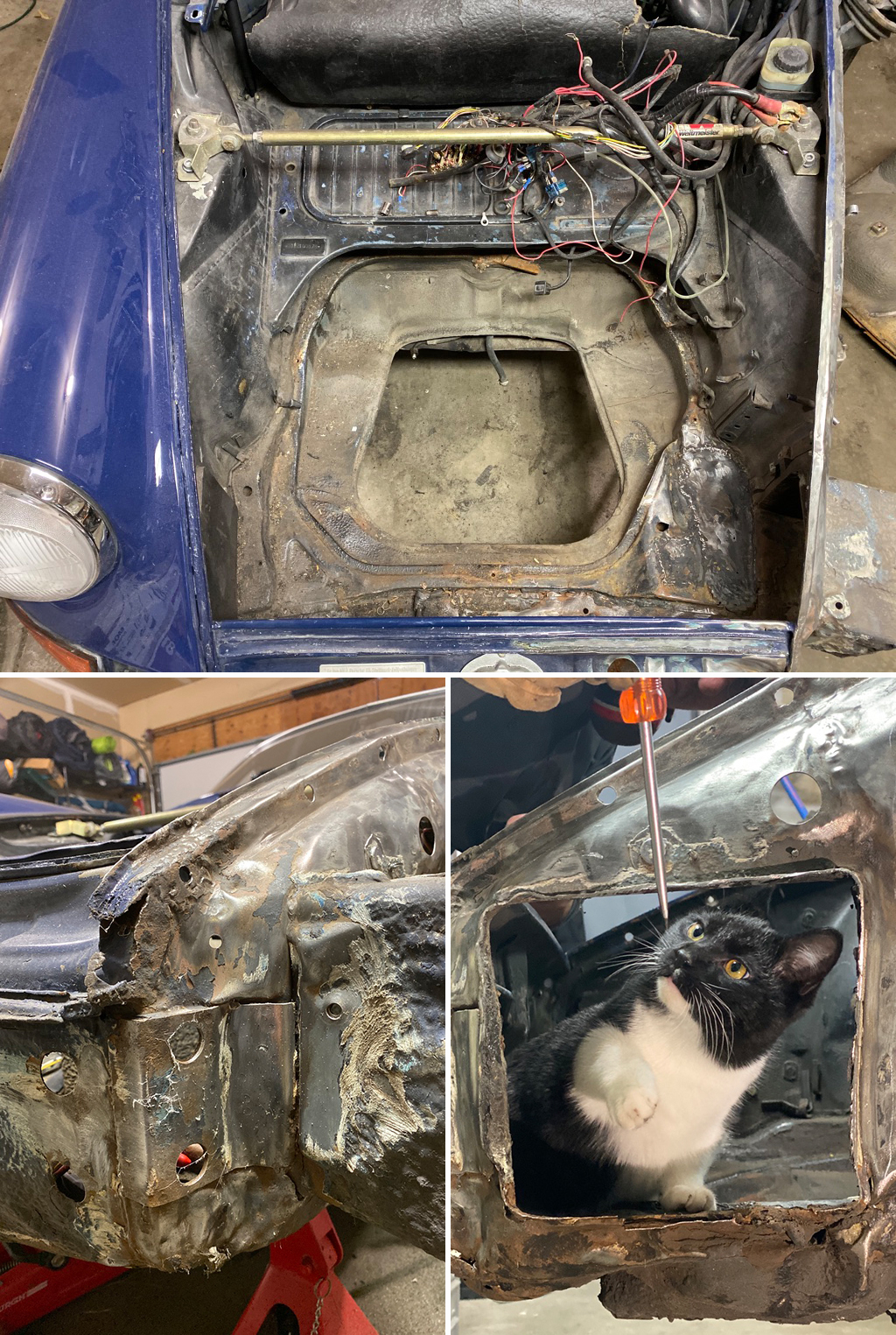 Counterclockwise from top: Front pan was showing some rust before taking the fenders off. After the fenders were removed, the battery box was showing even more signs of the tin worm. After cutting out the battery box poking holes through the corroded metal with a screwdriver (no animals were hurt during disassembly), it was easy to see that a lot of work lies ahead.
I yanked the spare tire, shined a flashlight into the void, and came to terms with what had been slowly progressing since I'd bought the car seven years earlier. With the spare tire out, I poked around with a screwdriver, stabbing through the metal repeatedly, making swiss cheese out of my front pan. Rust. A lot of it. I welded a metal bar across the pan to hold things together for the trip out to Los Angeles but knew my work was cut out for me that coming winter.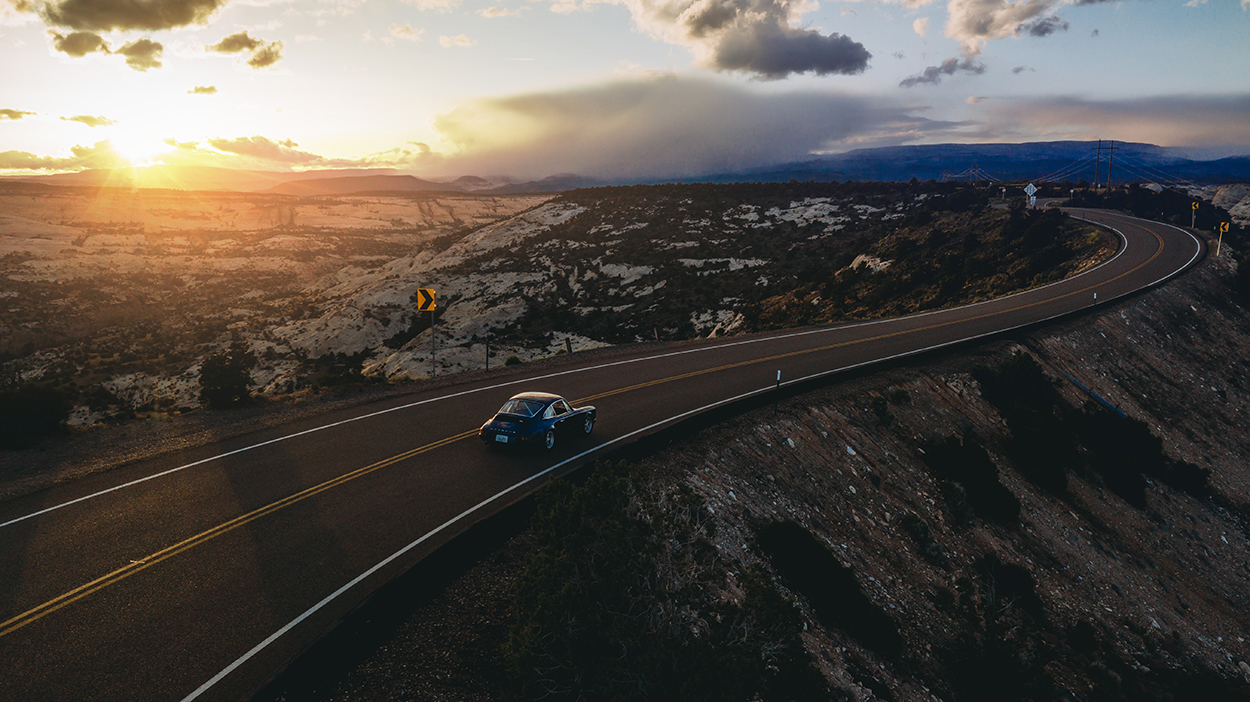 Above: The trip to California went smoothly, though just to be sure the car held up, a metal bar was welded across the pan.
Nearly every old 911 out there needs a front pan, which is the front structural element that holds the control arms that house the torsion bars, gas tank support, and, a bit farther back, connects to the steering rack. The battery sits passenger side in my car but is on both sides on some early 911s. Over time, they leak, and battery acid seeps past the tank support into the forward mounting points for the control arms. This, as well as trapped moisture, causes the front pan to become a casualty of the elements. I spot welded the bottom of the inner fender, left and right longitudinals (frame rails), and front latch panel.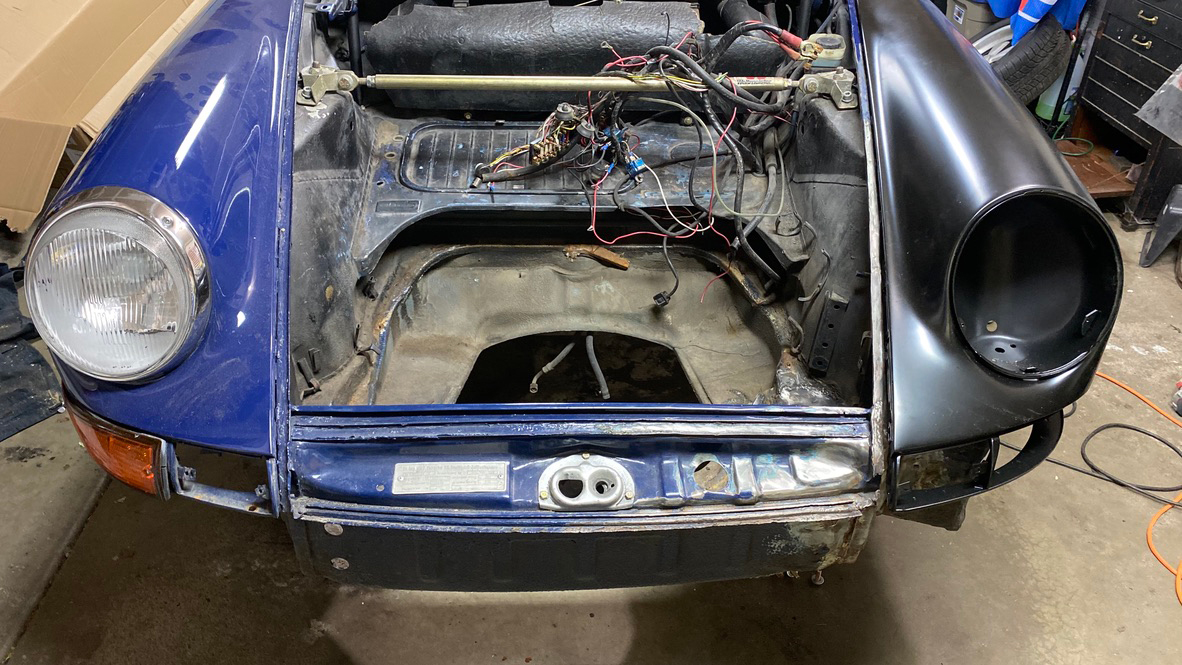 Above: With the driver side front fender removed, a new factory piece from Porsche is being used as a guide.
In addition to the front pan, I'd never been happy with how my front fender fit. My car had been hit in the front and repaired by someone who couldn't possibly be defined as passionate about Porsche. The welds looked like a lava flow frozen in time. The inner fender had been straightened poorly, and everything was a bit off. Spray foam insulation had been used to fill gaps in-between the pan and the tank support, probably to "prevent" more rust.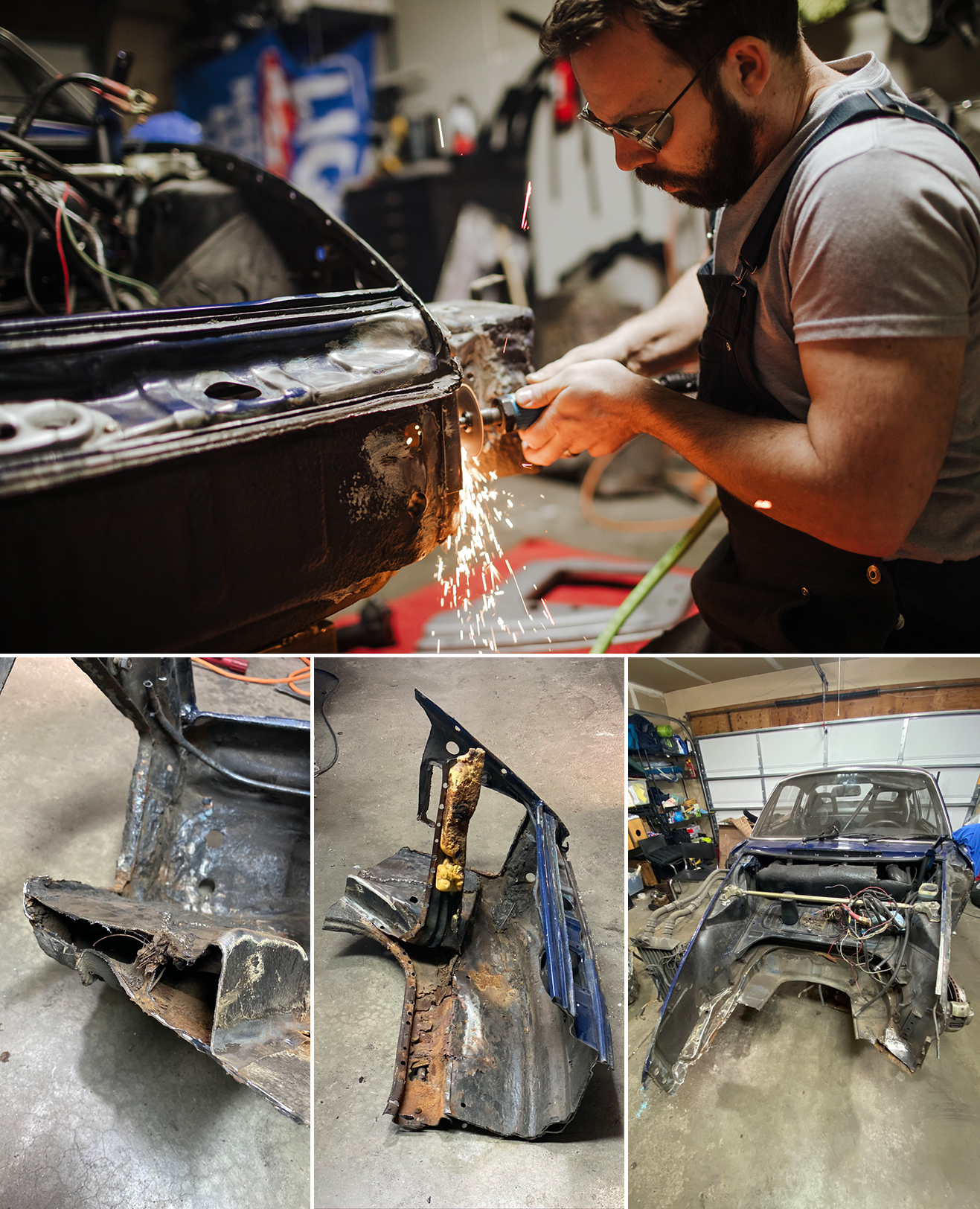 Counterclockwise from top: Kris grinding away at the rust; pretty soon grinding would become cutting (Photo by Jessie Clewell). After cutting away the front pan, it's easy to see the shoddy repair work done during the previous owner's care — and lot's of rust! Note the foam, even more rust, and shoddy welding with the pan laying on the floor. And with the front pan off, this is just about ground zero to start putting it all back together.
As with the rest of the repairs I've done on the 911, including the entire engine rebuild, I couldn't afford to pay someone else to do the work. Taking things apart is easy, but in this case, cutting apart a car I absolutely couldn't afford to replace gave me pause. I've never done any kind of metalwork before, and the last thing I welded was a downpipe for a VW Rabbit Pickup truck 10 years ago. Still, my grandfather always used to say: "You can screw up three times before you break even paying someone else to do it — plus you'll learn something." At current Porsche labor rates, he's probably right. Taking things apart is easy. At 5 years old I disassembled and scattered the entire contents of my grandfather's computer in his office. It took very little effort to do so... Putting it back together was entirely different.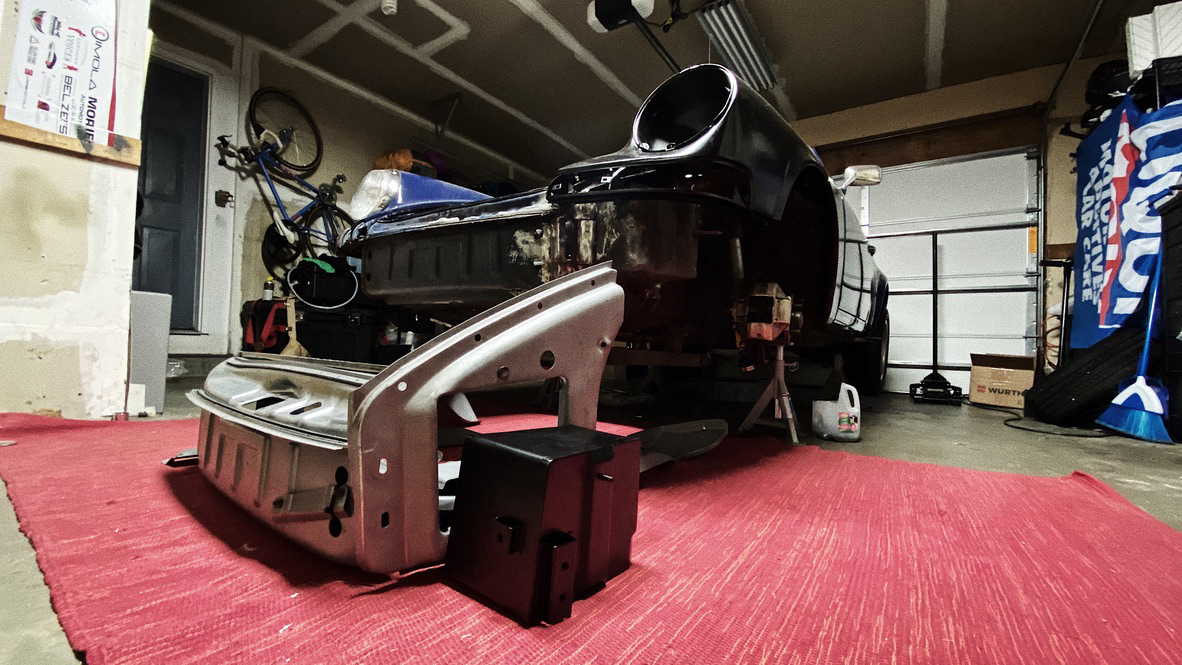 Above: The new front pan and battery box that will be welded onto the 911.
The hardest part of any project is getting started. I was intimidated by words from friends and professionals of the work that lie ahead. I knew it would be hard, but I didn't have a choice, so I started cutting and drilling. I would have to remove and replace half the driver's side inner fender, the entire damaged latch panel, and the front pan. In addition, I bought a factory Porsche fender. I wanted to make sure I had the closest to factory reference I could for welding the new inner fender and latch panel on. Once I cut everything out, I had to take a step back. It was all so much worse than I'd ever thought it would be.


Above: Having a factory Porsche repair manual (left and right) as well as a Bentley manual (center) to do metalwork is invaluable.