Back to the Future Barn Find: Telling a story by diorama
Article and photos by Tom Neel
Let's face it: barn finds are intriguing. There's a cast of characters and a story to be found in every one. After all, it's not just about finding a car, it's about finding its story of abandonment. But it's also a bit like opening a box of Cracker Jack, especially in the old days when the prizes were better. There's the box itself, or in this case our barn. Then there's a tasty treat and that cool prize inside.
When I was a young boy, I would endlessly build models and draw cars. It was my way of experiencing car ownership long before I could drive. I also loved visiting the Smithsonian Museums of Natural and American History in Washington, D.C. As a model builder it was there I could find amazing lifelike dioramas. I loved these historic scenes recreated in miniature.
Later in life as a working artist, I revamped my hobby of building car models once again. Soon I started building automotive dioramas, mostly, but not all, in large 1/12 scale where one inch equals one foot. One thing led to another and my models were being shipped all over the place. To be honest, I enjoyed it, but it was taking over my time as an artist. So I eventually stopped, but I haven't stopped missing it.
Fast forward to today and there are so many great pre-built models available in the popular 1/43 and 1/18 scales. You can pretty much find whatever you want, and for me, building the scene and telling a story were honestly always as important as building the car itself — perhaps more so. I love creating around a story concept, designing and executing it with realism and sometimes even as much whimsicalness as possible. Such is the case here.
So awhile back I spontaneously bought a Viper Green 1973 Porsche 911 Carrera RS in 1/18 scale by Welly Models. I did so for a couple of reasons. First, I love the car and its color, and I also happened to have graduated from high school in 1973. For its price, it was a pretty impressive model, but there it sat in its box and the wheels in my head started slowly turning as to what I should do with it. Then it came to me, and it was storytelling time!
The Story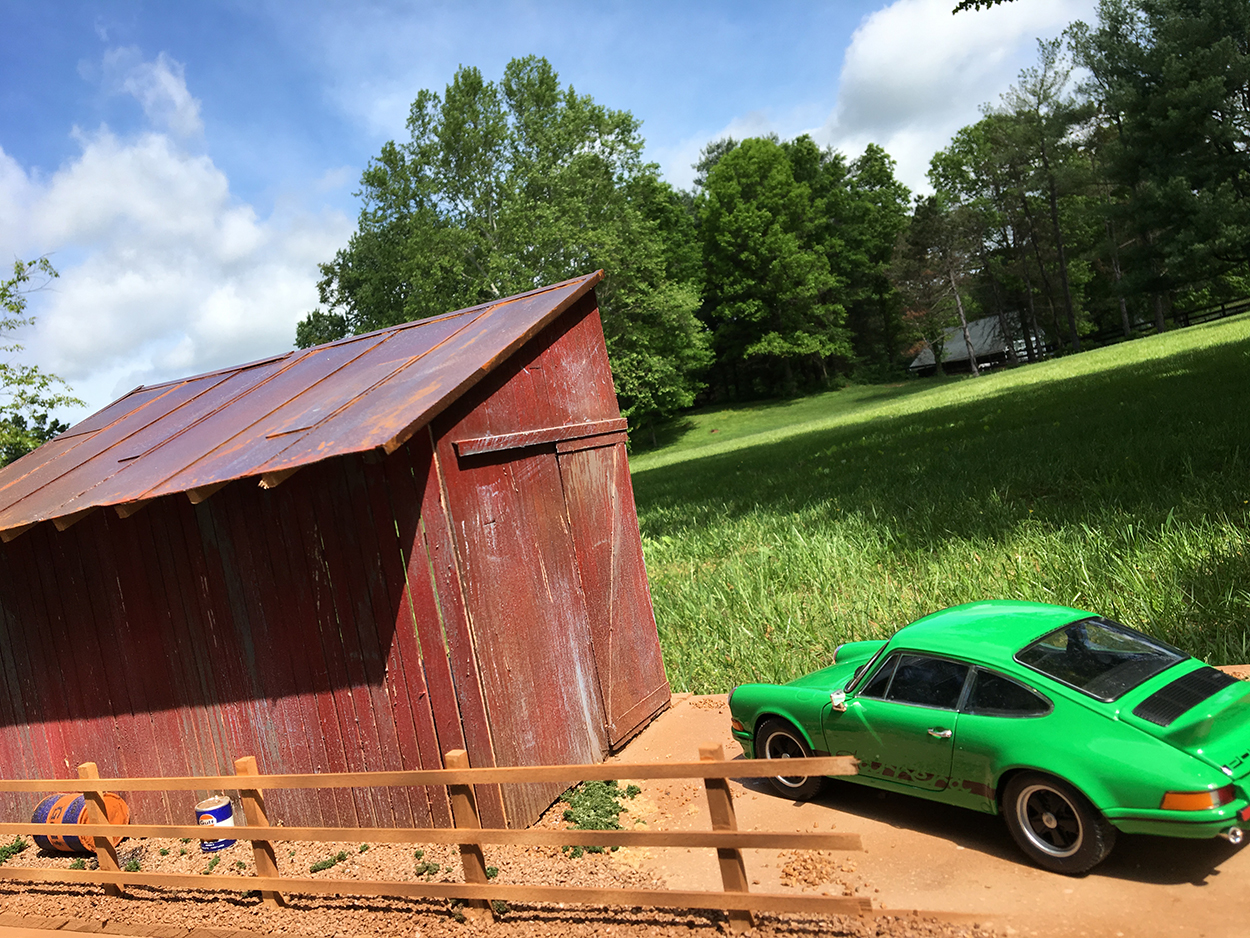 Cars have seemingly always been interestingly linked to time: development time, pastime, lap time, the fastest time, and even time travel. All of us can joyously recall Marty McFly and Doc Brown traveling through time in a modified DeLorean in the 1980s classic "Back to the Future." That was such a great story and a fun movie. So, what if I could put my own spin on the back to the future concept? Maybe even a Porsche Club of America spin on it, too? How cool would that be? Well, that's where we're going, and actually, I even think with a bit more believability. 
Let's say the year is 2045. The world went through its electric vehicle transformation, but some of us just wouldn't play along. The oil companies couldn't quite turn off all those pumps yet either. Rare petrol Porsches were still out there roaming the world, with their aging PCA member owners proudly combing the earth in search of those bygone days. The simplicity of the air-cooled cars, especially, meant no ECU and a lack of complete obsolescence. Just gas and go!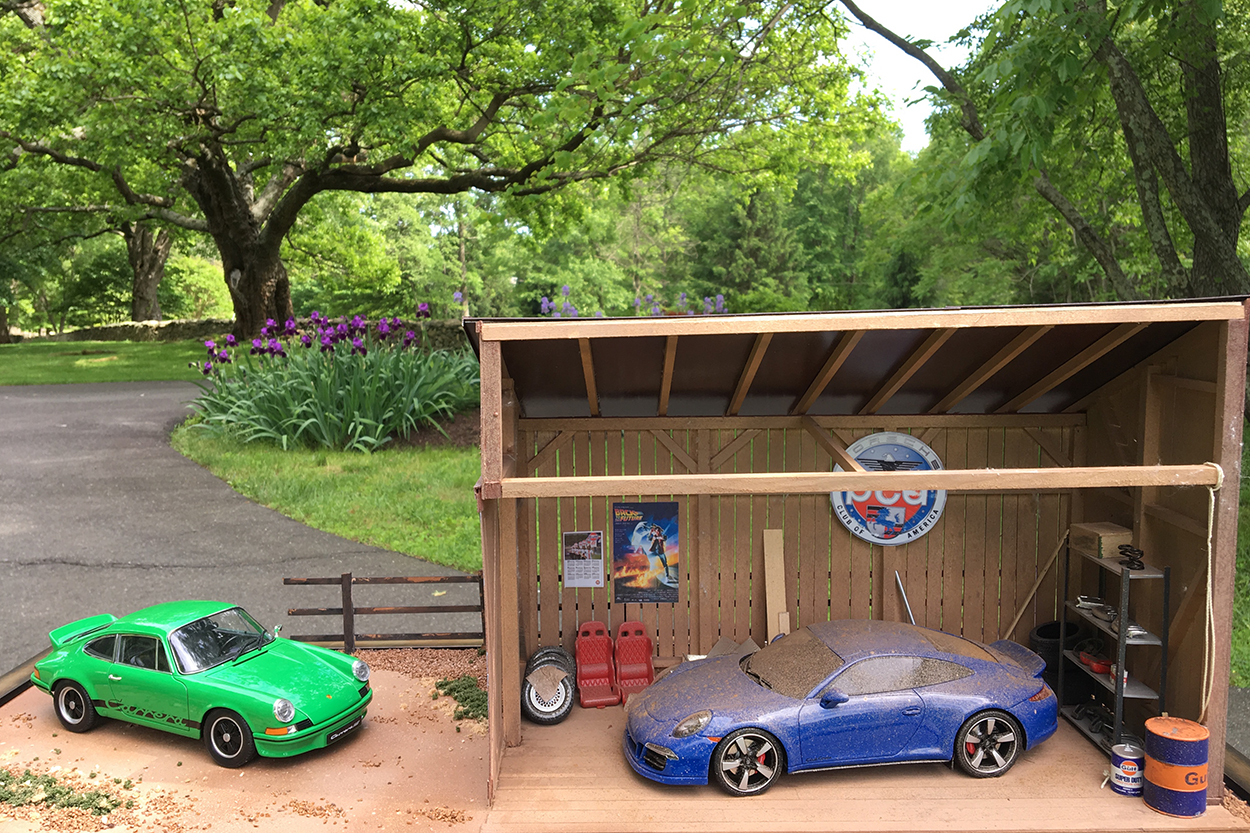 One day our roaming PCA'er heard a rumor about a possible barn find out on what was apparently part of old man Smith's farm. He recalled that Smith was a PCA member many years ago, back when he had a very profitable beef business. Old man Smith certainly would have been old enough to remember those Gulf livery-painted 917s back when they raced at Le Mans, and he actually did have several Porsches right up until his last in 2015. But as the days passed and the EV evolution grew, the vegan diet grew with it. Now people were being chauffeured around in characterless autonomous vehicles, feasting on fruits, nuts, and veggies. Smith grew tired and poor. No one wanted what he was selling, and, little by little, his beef business was going bust. Old man Smith tried to hang on, but his stress led to depression and the bottle. He fumbled around the farm, never wanting to sell his prized possession, a 2015 Porsche GTS Club Coupe. Cars like this, ones representing true character, were now considered taboo.
Alas, Smith climbed in his Porsche and went for one last ride. He drove through the countryside, his left hand stuck out in the wind, flying like a plane in the breeze. He rounded curves and listened to the Porsche's wonderful naturally aspirated boxer sing to him. He loved its beautiful Club Blau color and watching reflections dance across its hood. A few hours passed and, while happy at first, he became saddened. Smith drove the car back to his farm, went down the narrow dirt road across his property to an old barn he had. Years back it had been where he used to work on his old Porsches and talk for hours with his buddies. It wasn't where the Club Coupe normally resided, but his house, which was on another parcel of land, was now owned by the bank and up for auction. It was only a matter of time before this piece would meet a similar fate. He backed it into the barn, let the sweet sound of its engine die, took one more look at it before sliding the barn door shut, and walked away. Later that day, Mr. Smith grabbed his chest, dropped to his knees and went to the big Porsche-fest in the sky. That was 2022. It was sad, but sadder still, the GTS sat there as the years rolled by. Some twenty-three to be exact.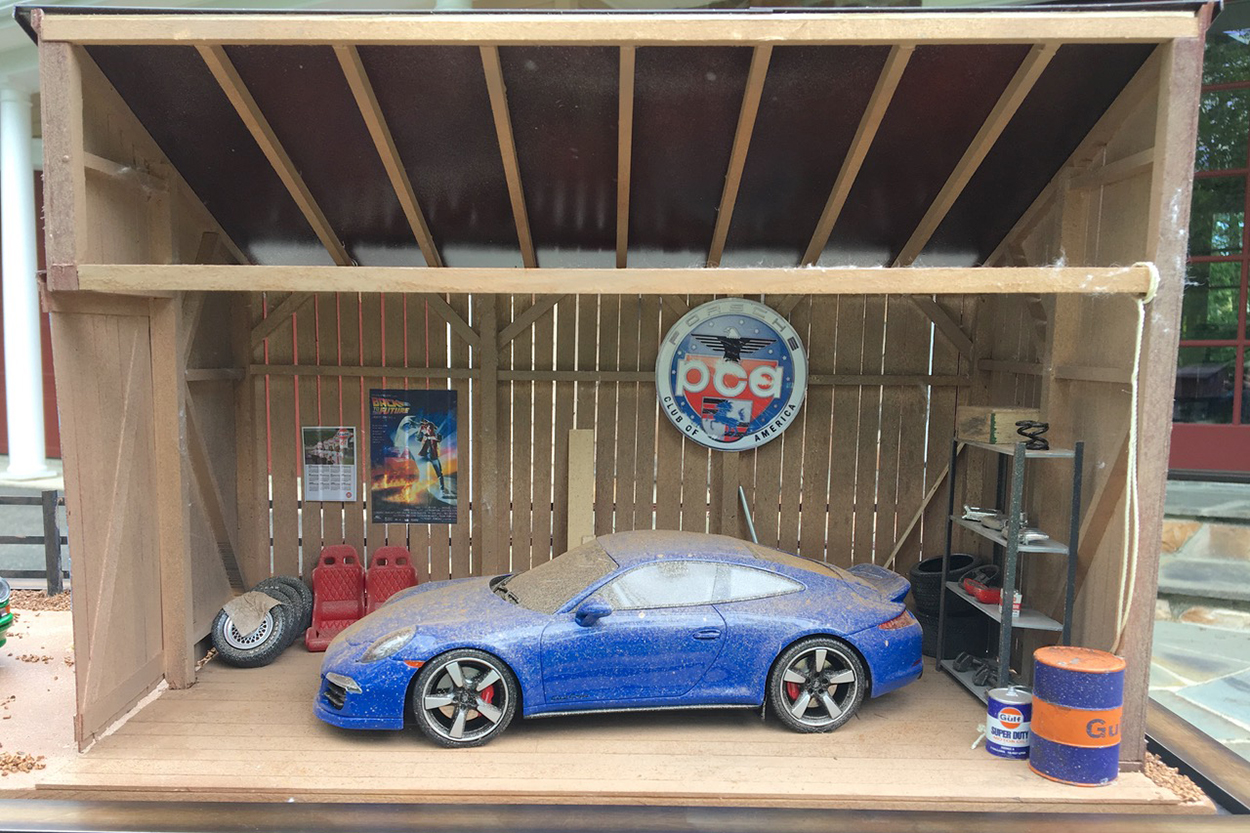 The dust had settled and the old barn, much like old man Smith himself, had been forgotten. In time a subdivision cropped up nearby, and one day, kids being kids, they found the barn but were afraid to venture in. Over breakfast, one of the kids, Lash, told his father about it. That he had peeked through a crack in the barn boards and saw something that looked like a spaceship! His father smiled and told his son to stay away, but maybe he would go have a look. The young man's father, being just 38 himself, wasn't a car guy, but he had a friend, Camrun, whose grandfather father truly was. From time to time everyone would see Camrun's grandfather Steve, driving around in his bright green antique Porsche that actually ran on gasoline! Because of his grandfather's passion and stories, Camrun, who never truly learned how to drive himself, had purchased a new 2044 Porsche Taycan. It was the epitome of an autonomous electric vehicle, but a Porsche nonetheless. To Camrun, rides with his grandfather in the old Porsche were a bit unnerving. The fact that his 87-year-old grandfather father still knew how to steer a car was amazing enough, but that he could even work its transmission by hand with its metal lever while depressing its many pedals was just crazy! 
But word got back to Steve, and he said two words that most had never heard: "Barn find!" To a car guy, it's the search for the Holy Grail, and you can just hear that RS's engine come to life as the search was on. One must remember, at 87, Steve wasn't so far off from the age of old man Smith when he departed this world. As the barn door slid open, Steve looked inside, his eyes became wider, and the ends of his wrinkled mouth extended upward. Could it be? Yes, it was one of the rare GTS Club Coupes, now considered an antique itself, and with that ladies and gentleman, we've gone back to the future!
The Model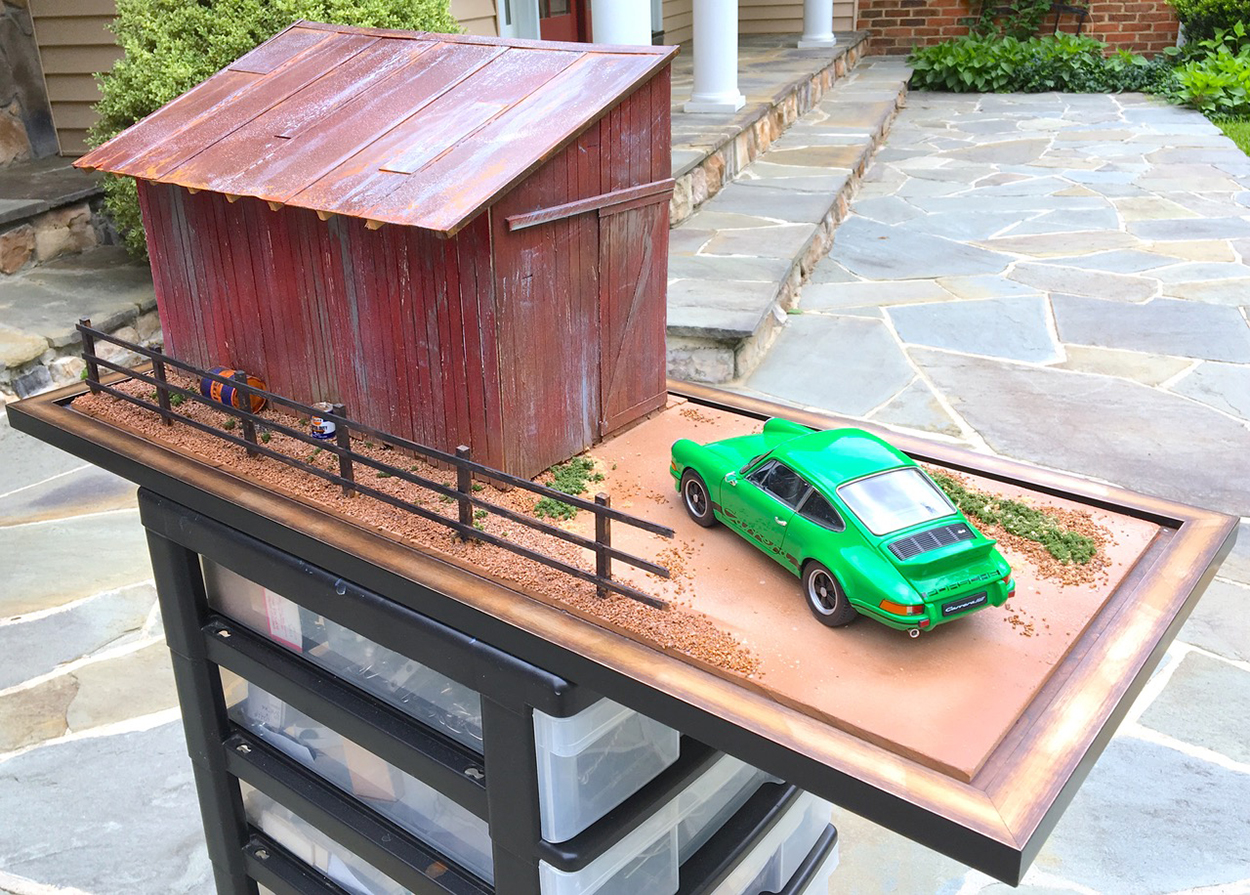 Fine-scale model building is not about realism as much as is about creating the perception of realism to scale. After all, the model and materials are themselves real. What the model builder is trying to achieve, then, is something that is real in feel to its scale. There're also a few simple rules of thumb I've found over the years. First up, the larger the scale, the more detail is needed to support the perception of realism. I've built highly detailed models in 1/43 scale and you can quickly overpower the scale with too much detail if you are not careful. In the much larger 1/12 scale, you can also find a lack of proper details will fall short of the mind wanting to completely go along with believing what you've presented.
With 1/18 scale, there is a nice balance. While I didn't build the cars themselves for this diorama, it was most important to treat them like actors in a movie, with me becoming the director and set designer for our little production. Even when someone sees the diorama but doesn't know the story, the story still helps the builder not just put stuff in a box. There becomes a method to the madness. So being the director allows you to think about how to tell your story and where you want viewers' eyes to go, and what they should discover first. Being the set designer then facilitates your wishes and supports the story overall. Otherwise, they are just cars in a box.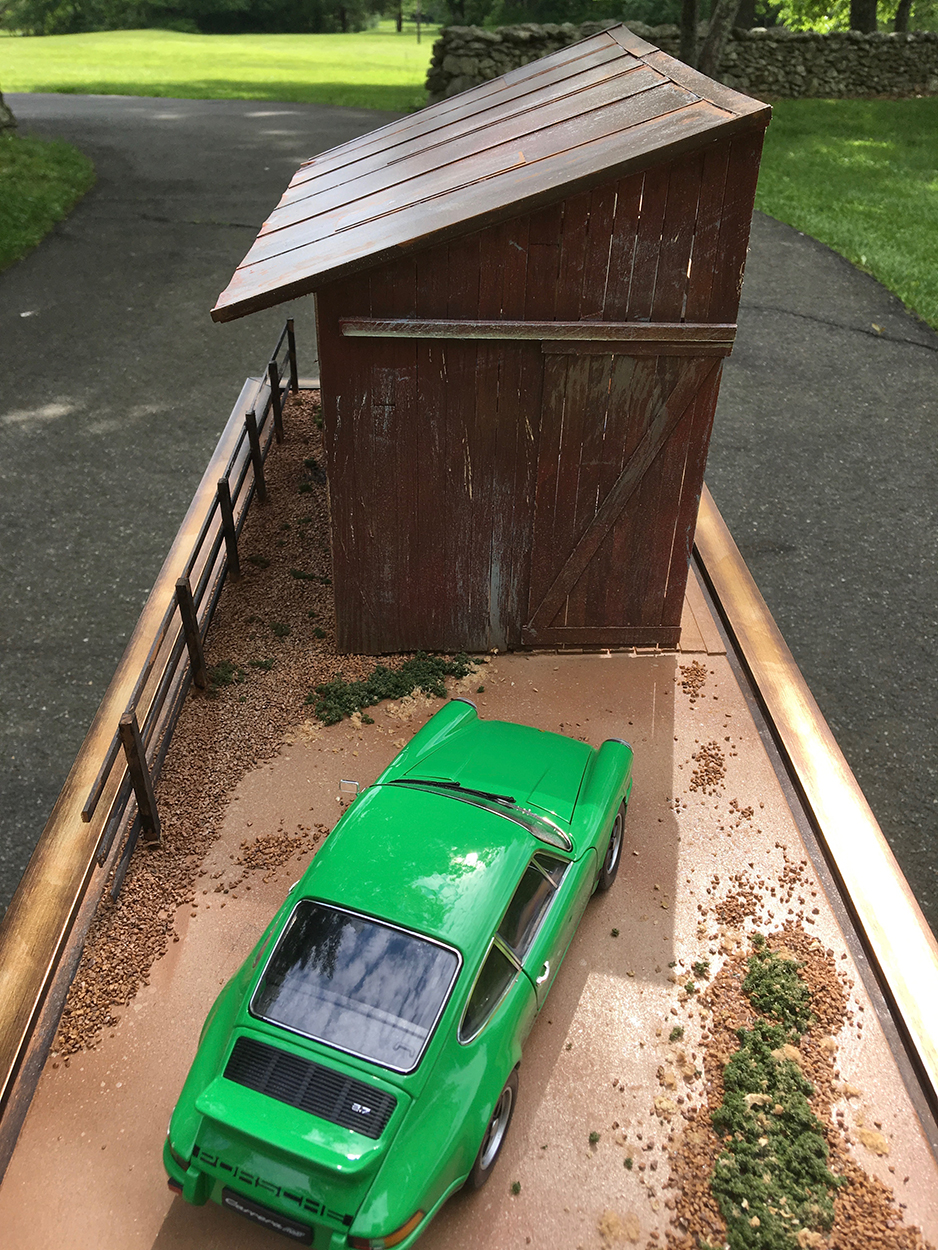 All of the construction materials are basic in the sense that the barn itself is nothing more than scale lumber and styrene plastic found at a hobby store. Having built a fair amount of life-size things, it was natural to look at old barns in my area for my design and go from there. For this barn and story, the most important aspect for viewing was presenting only half of the barn itself. It is as though the barn has been cut in half lengthwise, right down the middle. In fact, if I put a mirror up to the other half, you would see the whole barn from the front. But for the eye, I wanted to create a 360° experience whereby you could start outside from near the back, walk counter-clockwise around to the front, see the green RS outside, and come around to experience entering the barn and finding what was inside find for yourself.
This brings me to one of the other rules of thumb I've found: Discovery is everything. With this diorama, there is no question the first-time viewer should always be outside first. The next rule is, make the barn believable and the cars will visually be way more powerful than they are sitting in a typical presentation display. To be honest, I thrived on building the barn, and with this whole model, I could have kept on going further and further. But I knew I was in the ballpark when I showed the completed roof to my wife and she asked, "Where did you get the metal for it?" I told her it was all made of plastic and I knew I had achieved my goal.
I think scale models add to our enjoyment overall of being Porsche owners. Collecting and displaying models is part of the fun and enthusiasm for the brand. Things in miniature are cool anyway and fun to collect. But dioramas are the ultimate form of model-collecting cool.
And another thing: This diorama lives at the PCA National Office, so when the current covid-19 pandemic ends and life hits its stride again, be sure to keep an eye out for it if you ever visit. It will be on display during the PCA National Office Open House, currently scheduled for September 12.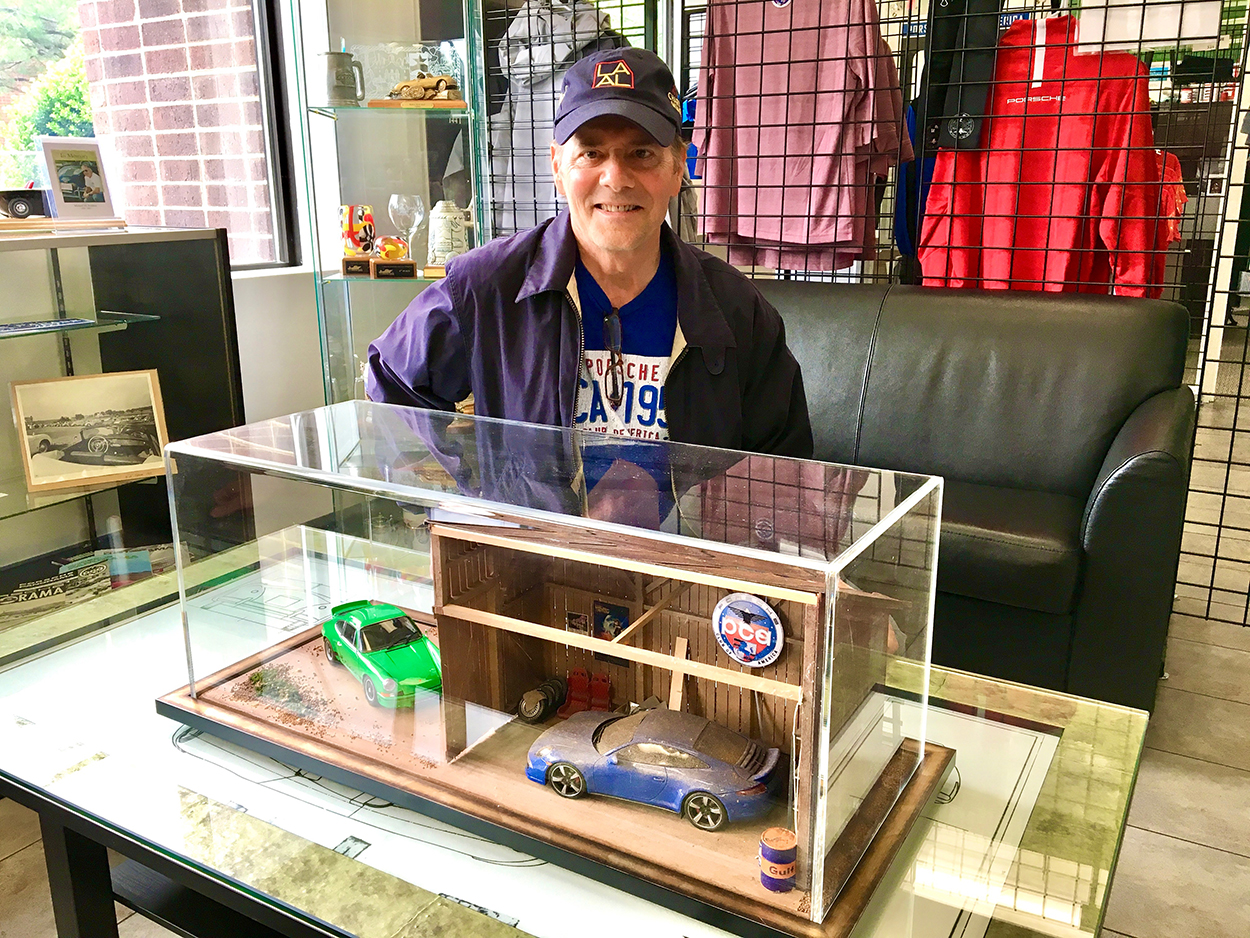 Above: Author and diorama creator Tom Neel at the PCA National Office.