Driveway to Raceway: Robbie Wilson
Article by Ryan Carignan
Photos courtesy Robbie Wilson
This edition of PCA Club Racing's Driveway to Raceway features Robbie Wilson. Robbie has raced with PCA since he was legally allowed to do so, but he started much younger than that. He hasn't only been racing; he's been winning. Robbie has won his class in the 944 Cup National Championship twice, the PCA National Championship Points Series once, and finished in third overall another year. With two of those series championships in 2019, he shows no sign of letting the competition off any time soon. 
How did you first get interested in cars?
My Dad, he always had cool cars when I was growing up. I can remember riding around in his 1970 Mustang Boss 302 as a little kid. I couldn't even see over the dashboard, but we would go to cruises and car shows; I loved looking at all the old cars. I've been hooked ever since. If it weren't for my Dad, this life I live now would not be possible.

Above: Robbie, top, is about to make a pass on his dad at Watkins Glen.
What drew you to Porsche?
I think it has a lot to do with the fact that I was around them most of my childhood. Learning all the different models and the intricacies that they have. The more I learned about Porsches, the more I was fascinated by them, and my passion for Porsches was born.
What Porsche's do you own or have owned?
I have my 1986 944 race car, and I also have a 1987 944 that is my autocross/fun car. Both cars are naturally aspirated. I love 944s, and I have touched just about every part and fastener on mine.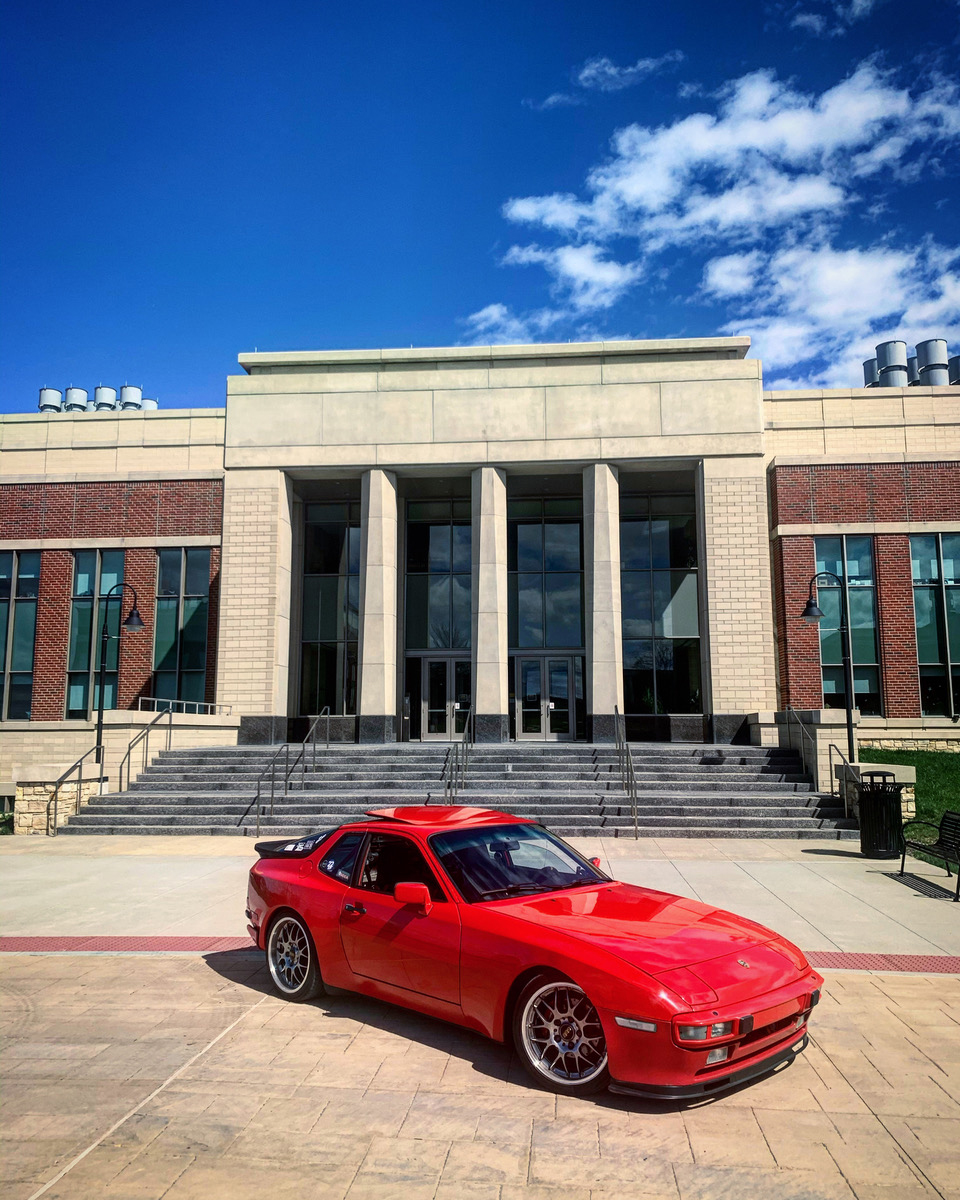 How did you get started racing?
I started racing when I was 12 years old by participating in a rental youth go-kart league at Summit Point Raceway. When I was 14, we acquired a car that is now my racecar. My Dad and I worked on it together, and after going over every nut and bolt on the car, I started doing local autocrosses. The first time I hit the track was during an SCCA Performance Driving Experience event when I was 17 (SCCA rules allow drivers under 18 to participate). Two weeks after that event, I went to the SCCA competition school to get my race license. Once I had my license, I competed in the Improved Touring Sport (ITS) class for the rest of the 2014 season. 
What or who led you into racing?
My Dad is absolutely responsible for my racing. He bought his '89 944 Turbo when I was eight years old. He started going to autocrosses, then HPDE's, and eventually club races. I would go with him, and I ultimately ended up being his crew/crew chief/radio guy, whatever I could do to be a part of it. Ever since I started hanging around the track, I knew I wanted to get into racing. In 2015, I was finally old enough to be a PCA member and participate in PCA Club Racing. I entered the New Jersey Motorsports Park (NJMP) race, having never driven at that track before and won the first sprint race! As they say, the rest is history. I've been hooked and have raced with PCA since that event.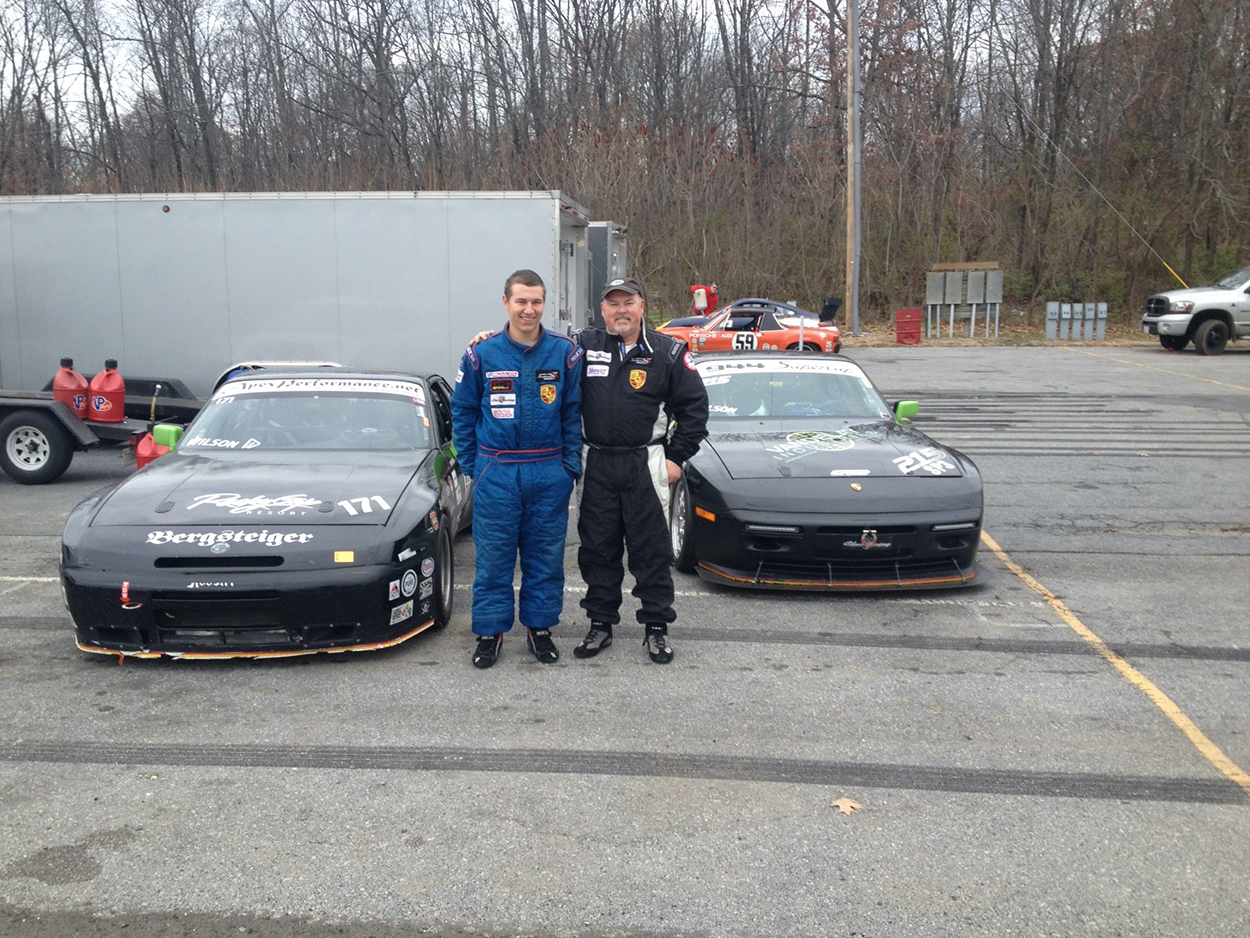 Above: Robbie, left, at his first race with his dad.
What do you enjoy most about PCA Club Racing?
The racing is clearly a big part of it, but I think it's mostly the people. Being around and talking with your friends, people who have a common interest and passion is always a great time. You end up having these friends that you may only see at the track. Whether it's been a week or a year, it's always fun to see everyone. The race weekend is such a great atmosphere. I enjoy hanging out with everyone and having a beer with friends when the track goes cold. 
What is your advice to those thinking about racing?
Always be willing to work with other drivers. It's just like they teach in HPDE; if a car caught up to you, they are faster, so give them a chance. Plus, you can learn a lot following a "slower" car for a few corners. In my experience, if you help that car pass you, it won't be long before they are far enough ahead that they won't hold you up on the straights; and they can potentially disappear in 2-3 laps.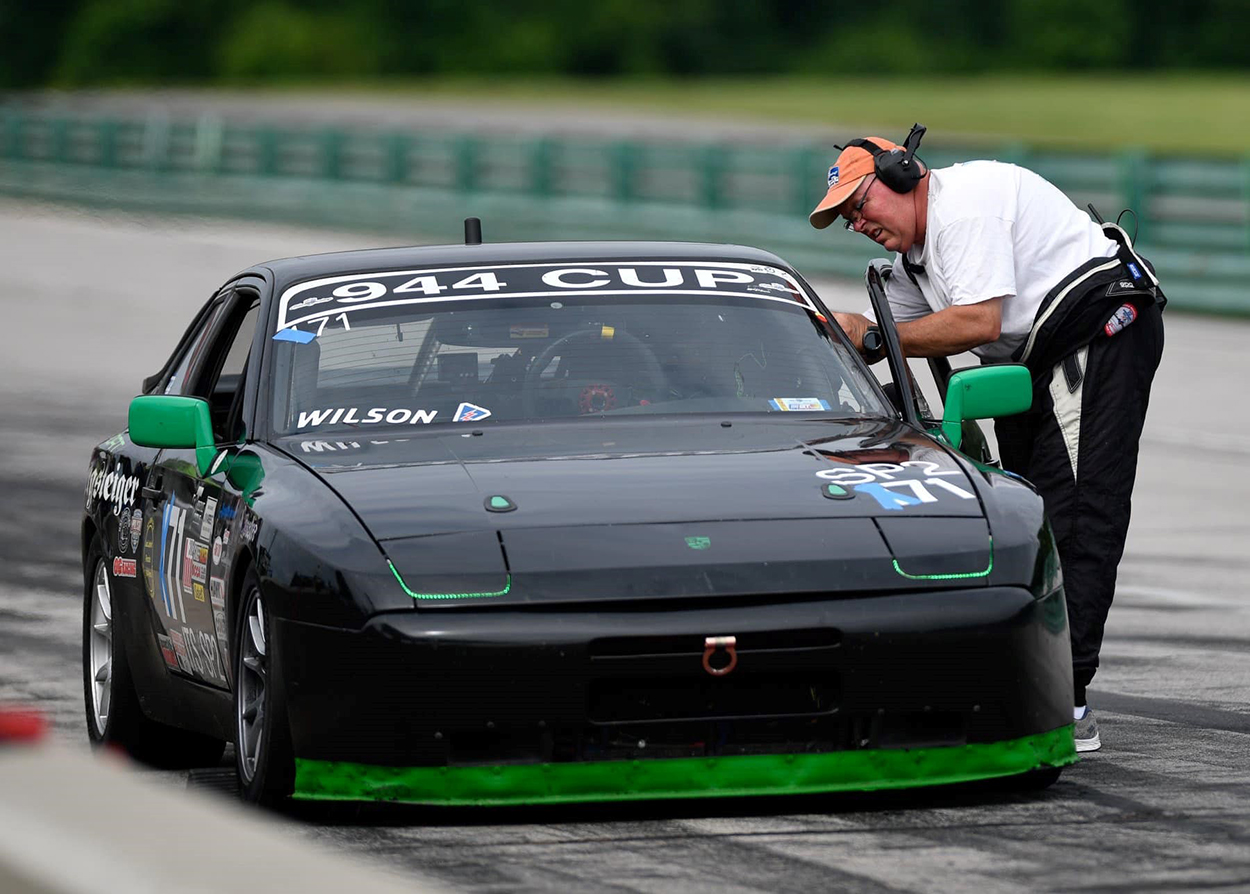 Above: Robbie's dad hands him a bottle of water during a pit stop at VIR.
I've learned two important things since I started racing. The first is to know who you're racing and only race cars that are in your class. You can ruin your race, and someone else's by trying to race a car that's not in your class, and no one wants to do that. Out-of-class racing can be extremely frustrating and, in some cases, could lead to an incident. The second is that you should start racing something slow. I didn't have a choice to get a faster car, which forced me to become a better driver if I wanted to go faster. I truly believe that experience made me the driver I am today.
Anything else you'd like to add?
I have to thank my Dad for everything he does for me. Because of him, I've had a chance to live a dream that a lot of kids don't get the opportunity to do. He has always been there for me, from starting my love of cars, to teaching me how to fix them. He helped me make the car faster and has been there to watch me succeed on the track. My Dad is always by my side to cheer me on, and for that, I can't thank him enough. He is the reason I will have these great memories of us forever.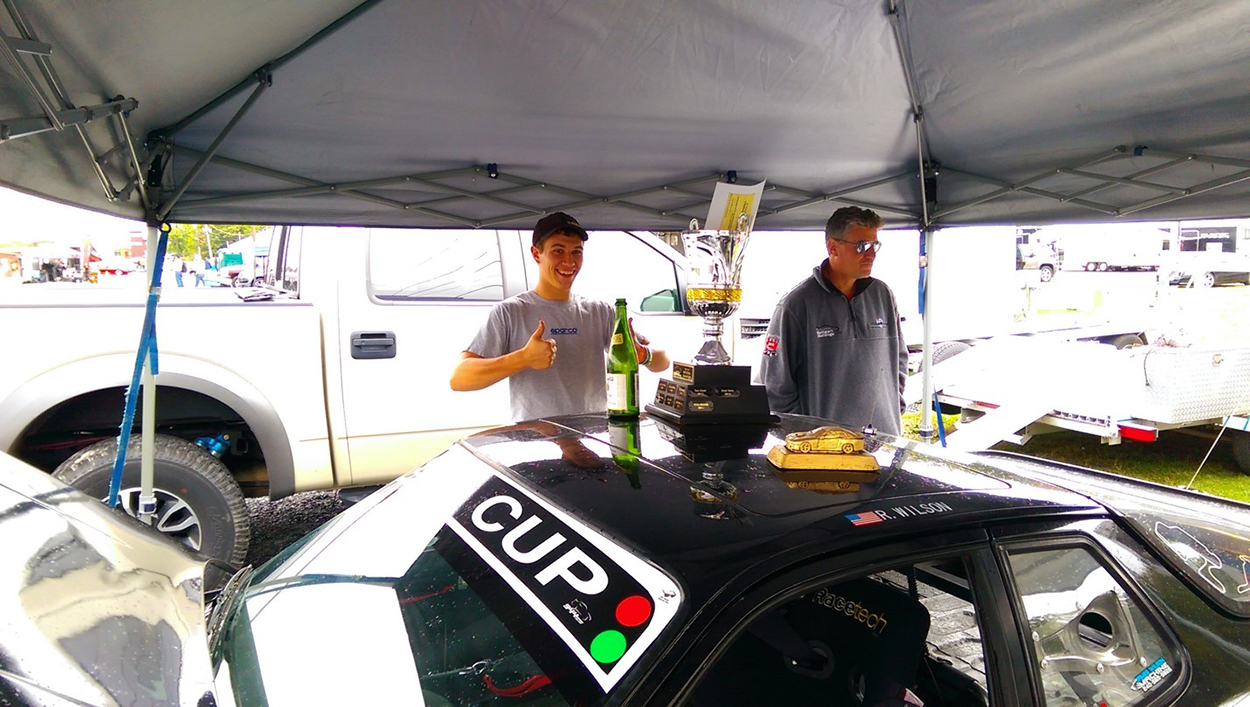 Above: Robbie poses next to his race car and the trophy for his first 944 Cup Championship.