Fish out of Water: Driving the Panamera Turbo S e-hybrid in Norway
Above: Oil-producing Norway prides itself in also leading in production of renewable energies. Over 99% of electric energy is produced by hydropower plants and multiple wind farms. Another reason electric cars are super popular there. 
Article by Axel Catton
Photos by Axel Catton
2020 is a year most of us never saw coming. A lot of things we took for granted we now put into question. We know things won't be the same anymore, but the time away from our cars, our hobby, from events and other friends allows us to contemplate what is important to us and possibly what changes we are going to make in the years ahead.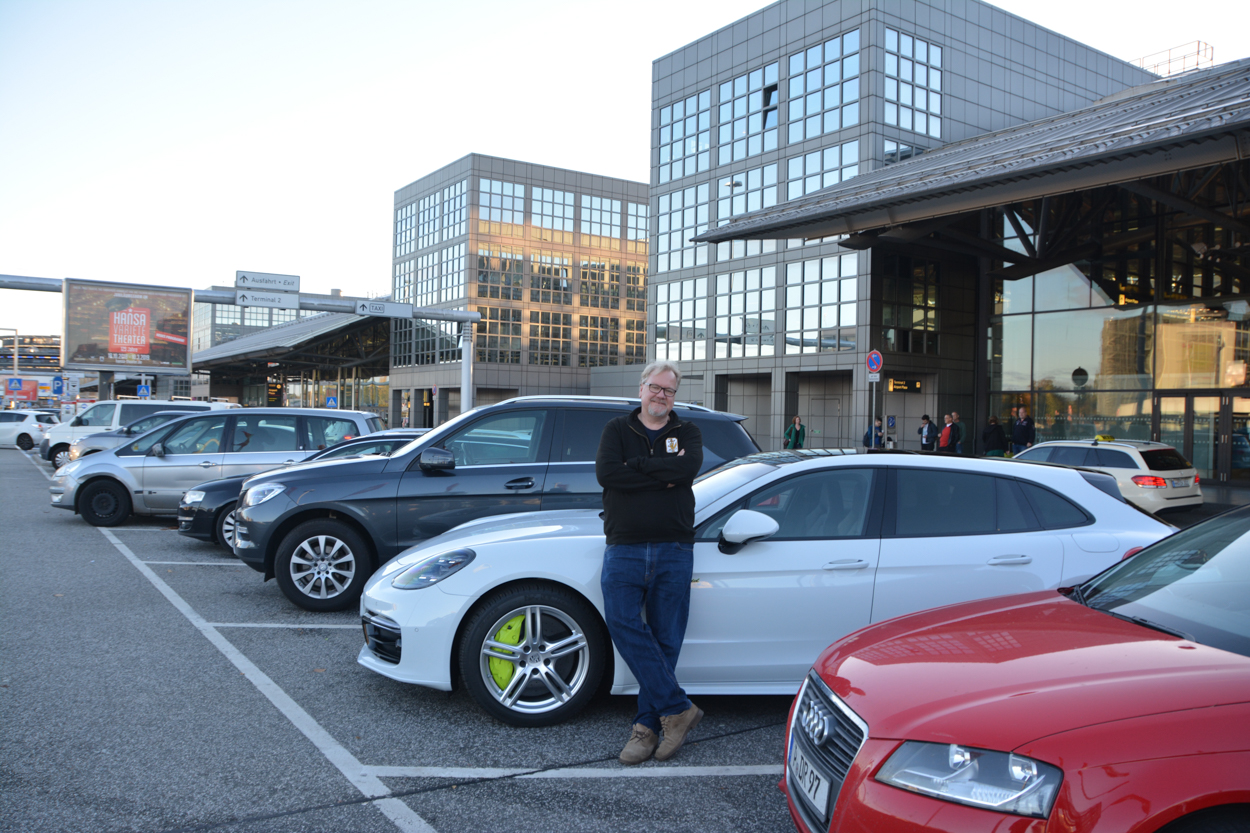 Above: Porsche's home in Stuttgart is way in the south of Germany, while our trip started at Germany's northernmost airport in Hamburg. The e-hybrid Panamera stands out in any line-up. 
A year ago, I went through a phase in my life that I had considered my darkest. I needed to refocus, reach out to friends, reset my compass. That's when I made a plan to write a story about Porsches outside of their usual environments. We had made an arrangement with Espen Olsen at Porsche Classic Center Son in Norway to test his new fantastic retrobuild, the Sooner. Having grown up very close to Scandinavia, Norway has always been a country close to my heart, an almost perfect destination of fantastic scenery, great roads — and a 50 miles-per-hour speed limit. I know what you're thinking, why on earth would someone own a Porsche in Norway? But bear with me.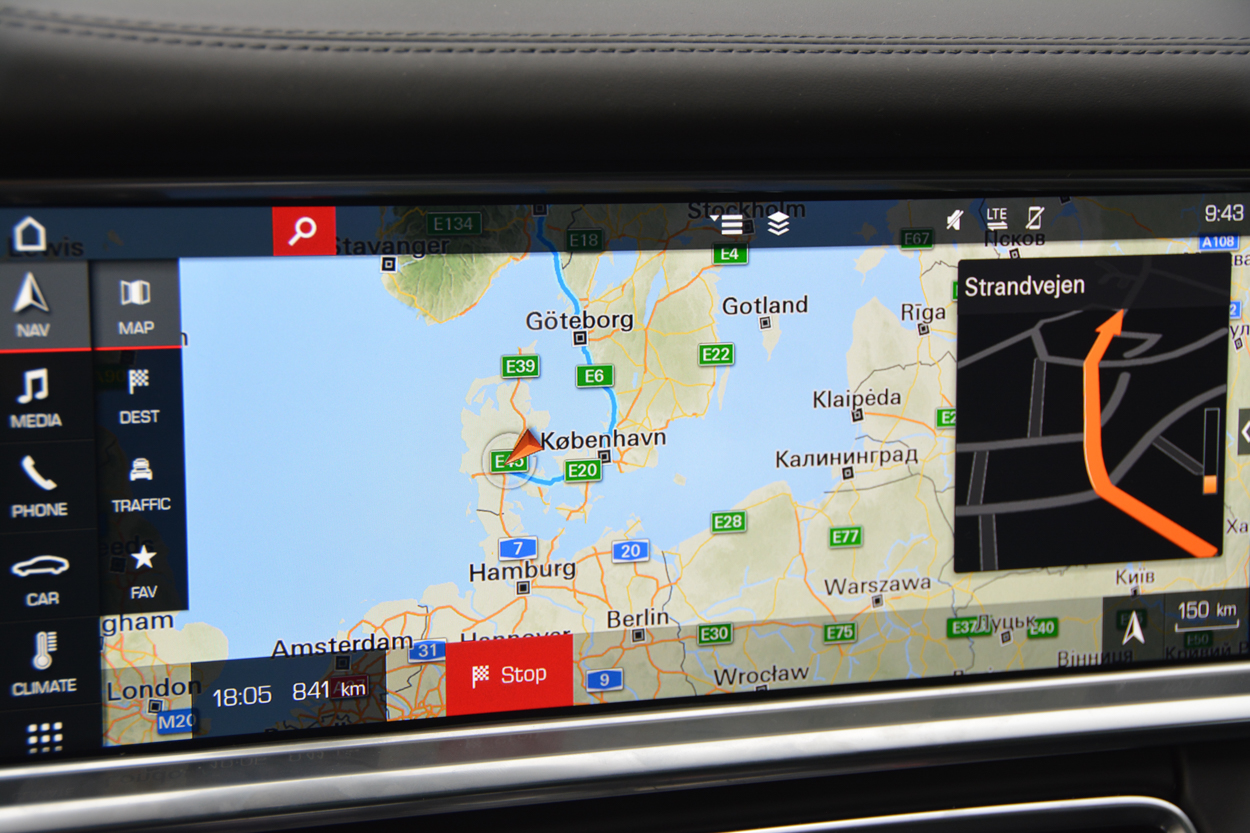 Above: There are multiple ways to reach one of the Scandinavian countries from Germany. Most are ferry connections to either Sweden or Norway, more romantic but slower than the bridge we chose.
Instead of just flying directly from my home in the UK, I decided to drive to that legendary place through four countries, starting in Germany. Porsche Stuttgart suggested I bring a car that would prove to be very popular in Norway, the Porsche Panamera turbo S e-hybrid Sport Turismo. Different to the Taycan Turbos since launched, the bigger Panamera combines a regular gas engine with an additional electric drive. The spec and tech list for this phenomenal car is even longer than its name, so I will concentrate on the essentials here. Five-door shooting brake, four-seater, 199 inches long, 4.0-liter turbocharged V8, one electric motor. Combined output: 500 kilowatts/680 horsepower, 850 newton meters/627 pound-feet of torque. Top speed 193 mph, 0-60 mph 3.2 seconds. Those figures alone would make every Norseman's knees wobble, but what topped it was the white paint with the bright neon accents around the script and the brake calipers that left no doubt this was the electric hybrid. In Norway this was an important statement to make, but we'll return to that later.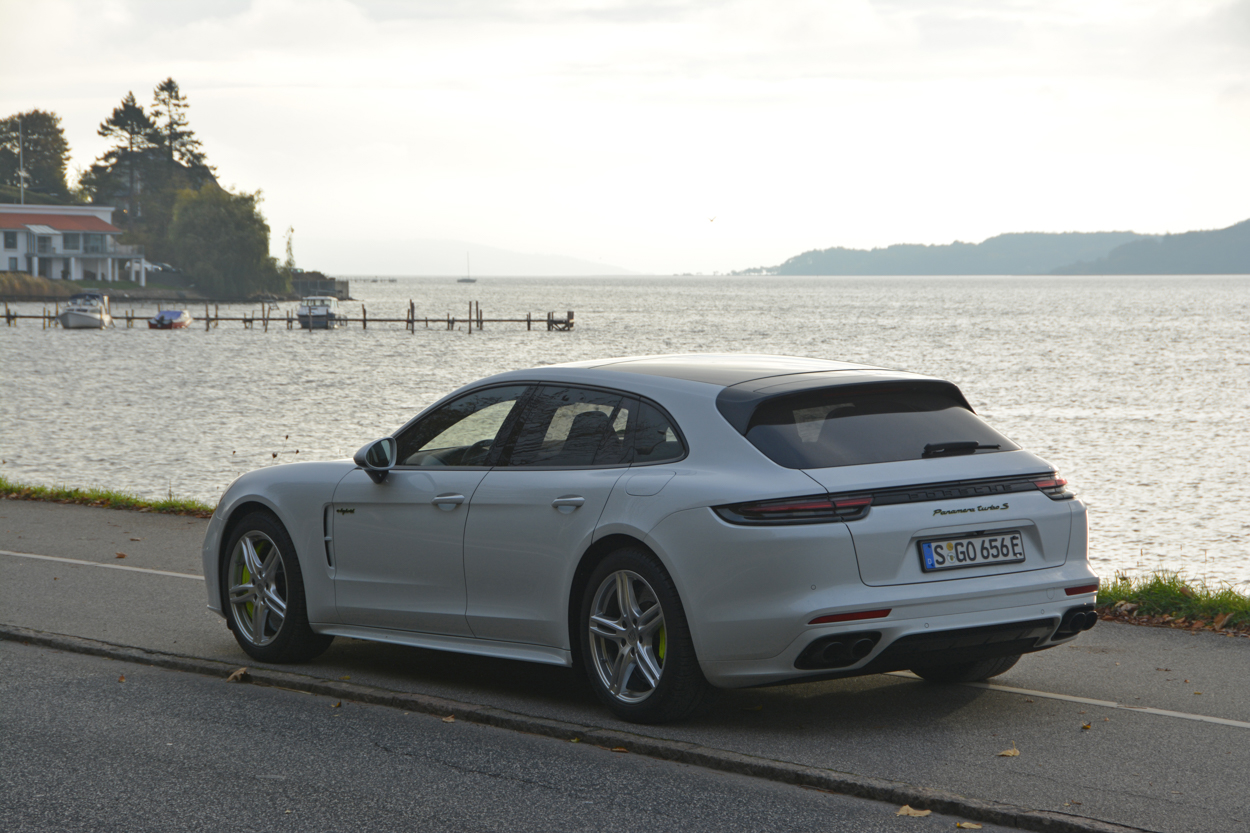 Above: The Sport Turismo body style gives the Panamera more purpose. Its white paint as well as the bright green brake callipers and scripts helped tell its story to everyone.
We took over the car at Hamburg airport, a convenient starting point to our trip as we had intended to cover four countries in one day: Germany, Denmark, Sweden, and Norway. Total trip length from Hamburg to Oslo is a good 600 miles. Our first leg brought us to Denmark, a country where luxury cars command a whopping 180% luxury tax. Therefore, the regular Turbo S V8 models cost more than $450,000, while the only e-hybrid to be had in Little Mermaid country is a V6 hybrid at a paltry $276,000.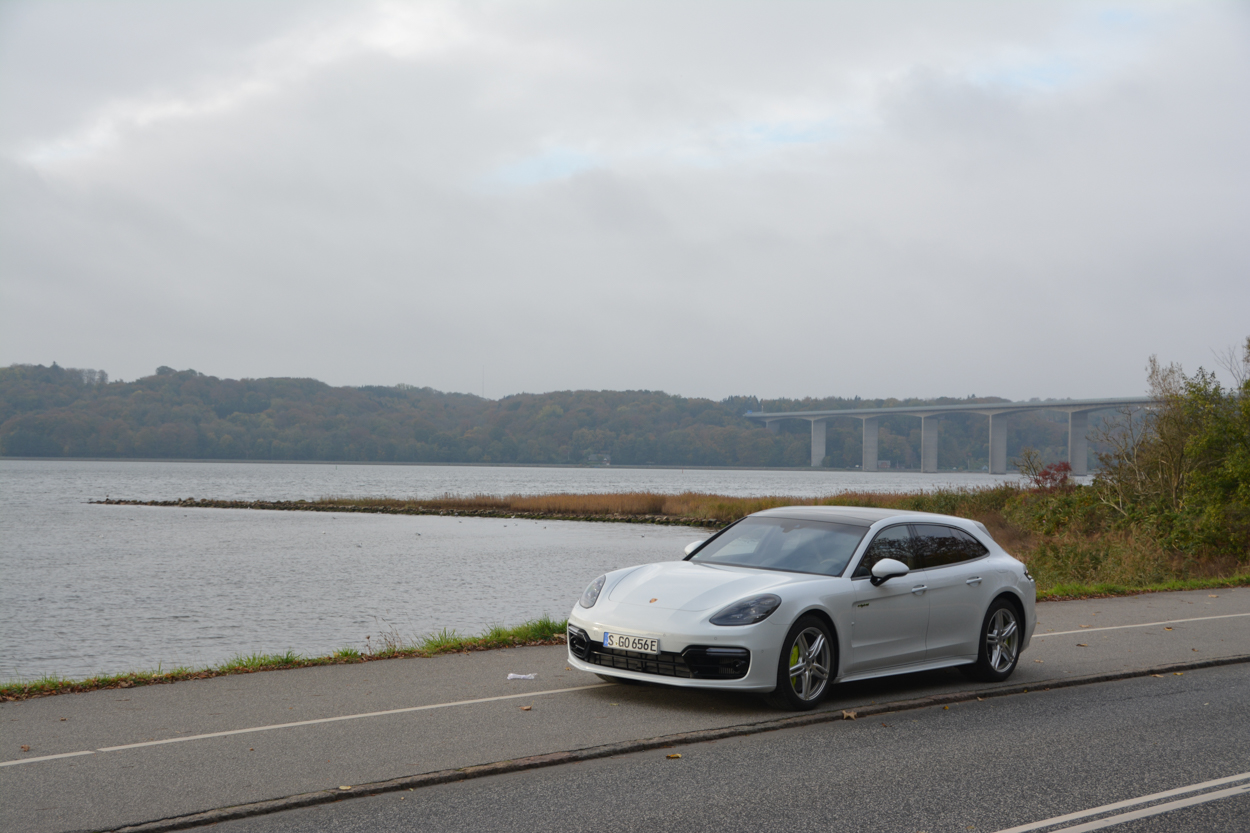 Above: On any scale, the Panamera Turbo S e-hybrid is a feat of engineering. 4.0-liter turbocharged V8 hybrid, 500 kW/680 horsepower, and an acceleration of 3.2 sec from 0 to 60 mph leave it with very few rivals.
I stopped for lunch with my friends Linda and Jørgen, partly because I hadn't seen them in ages, and partly because I wanted to see Jørgen's reaction to the car. Unlike any of my German friends or my brother who had seen the car before we set off, Jørgen wanted to know all about the electric capabilities. How fast in e-only mode, how far, how long the recharge, what is needed? Clearly Denmark was different territory for this most powerful of Panameras. After lunch the impressive bridge to Sweden brought us close to Malmö and then up to the Svinesund border between Sweden and Norway. With all the testing and accelerating going on with Jørgen and myself, I spent most of the day driving in gas mode, occasionally playing with recharging my battery while driving which is of course the least energy-friendly thing to do. Hybrid Panameras in Sweden start at a mere $100,000 for the six-cylinder setup, so not entirely out of line with most of Europe.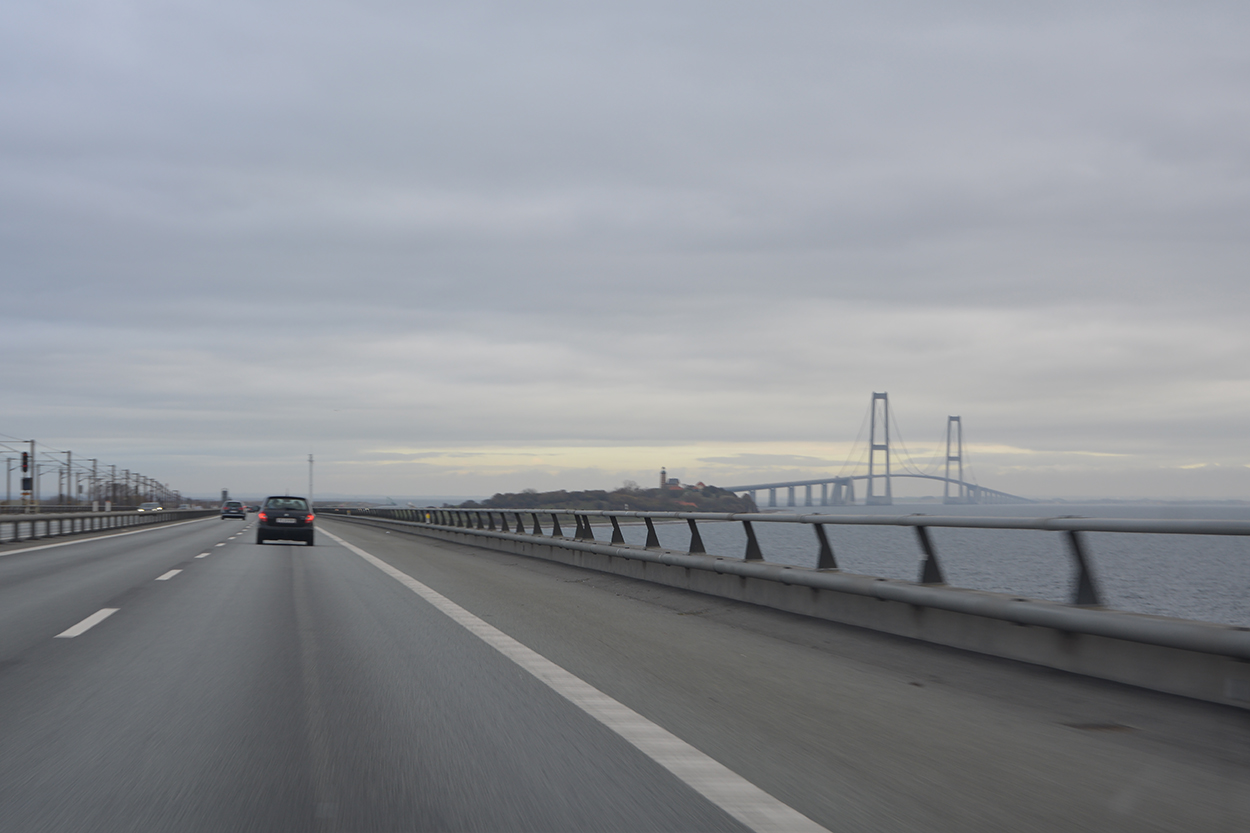 Above: Opened in the summer of 2000, the 4.9-mile long bridge over the Øresund was Europe's longest until last year. Together with the bridge over the Great Belt built ten years earlier, it completes road access to Sweden from the European mainland.
Norway, on the other hand, is a whole different kettle of fish. The tiny waterlocked nation sells only 160,000 cars of all brands annually, but a whopping 30% of them are fully-electric, which makes the country of 5.4 million inhabitants Europe's largest market for electric vehicles, with Tesla being the unlikely market leader in frugal Norway. Like Denmark, Norway commands a huge tax for luxury cars like Porsches, lifting the gas-powered V8 Panamera's pricetag to $240,000. However, and here comes the trick, many years ago, the oil producing nation decided to push renewable energies by waiving the exorbitant tax on electrics. While the government must have had cars like the Nissan Leaf, the Toyota Prius, and the Norwegian-built Think minicar in mind, this market niche was quickly filled with fully equipped Teslas of all sorts – and hybrid Porsches.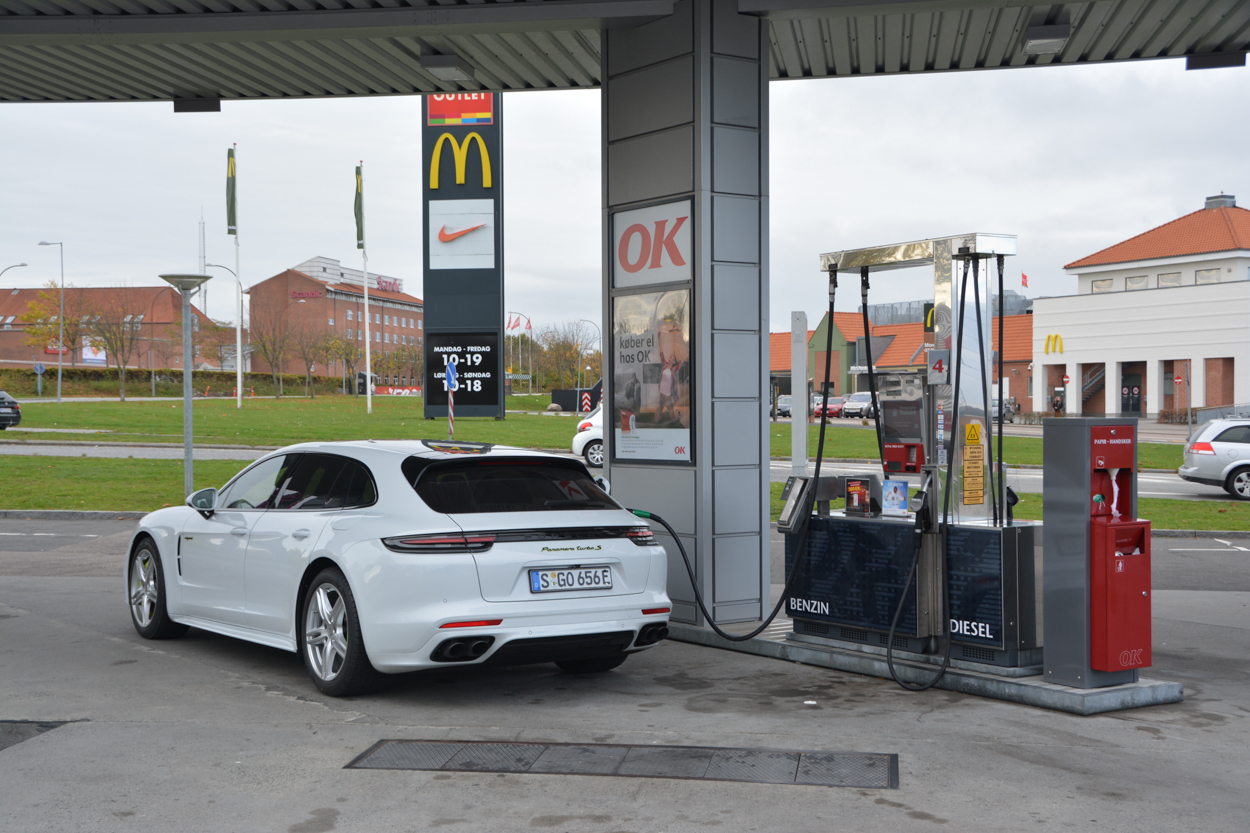 Above: Of the three Scandinavian countries, Sweden has the cheapest fuel. Both Denmark and Norway want about $5.50 a gallon of gas ("Benzin"), while Sweden was asking for a dollar less. We timed it well to fill up there right before we entered Norway.
Porsche Norway admitted selling almost no regular V8 models, while people wait in line for the significantly cheaper hybrids, starting at a mere $140,000. At a hundred grand reduction, wouldn't you choose a hybrid? Our 500 kW/680-hp V8 hybrid isn't on offer anywhere in Scandinavia, and it makes sense if you think about it. Norway has very few north-south highways allowing speeds of 68 mph, while most of the network is country roads with a 50-mph limit. Now, who drives a car like this in Norway? Turns out quite a number of them as our first stop in Oslo shows. We visited the Porsche Center in Son, south of Oslo, where Espen Olsen and his partner Egil Haugen started selling used Porsches almost 30 years ago. Today, the two affable Vikings sell about 120 new cars a year – almost 20% of the Porsche total of 700 cars annually.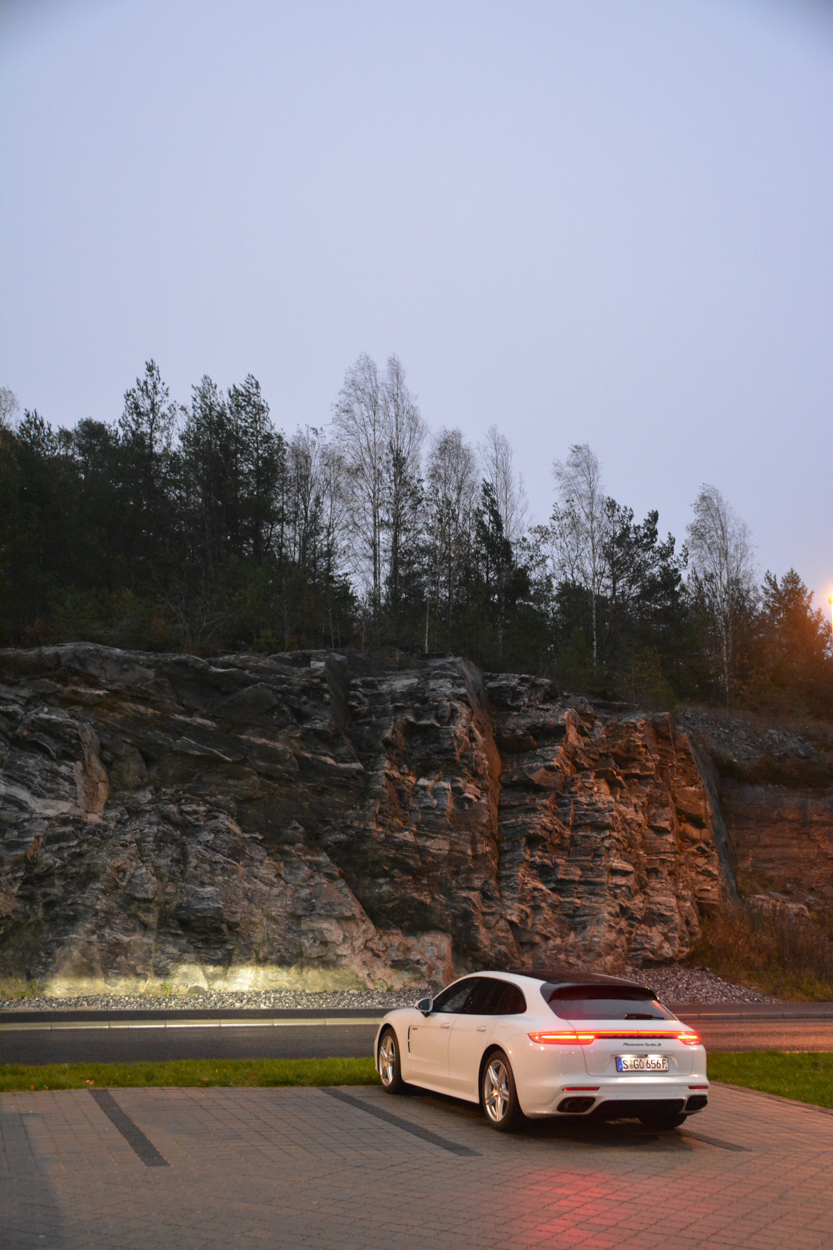 Above: That's us arrived in Norway. The various stops on the way made us come in after the sun had gone down, so mood lighting was on the cards. 
While staying in the capital Oslo for our shoot we realized that our car and its bright green insignia caused quite a stir with people rolling the window down to hear it – or not – and to photograph it at stops. Starting with a full battery in the morning, we realized we were developing an odd behavior in a Porsche – hypermiling. Off the gas (?) early, avoid breaking, use momentum. No matter how hard we tried, our type of driving still meant that over the course of ten miles we lost about 11-12 miles of the 30-odd mile electric range. All of this in itself isn't worth the immense technical effort, but it makes a statement, it pays into the attempts to keep emissions in this beautiful country to a minimum. Charging stations were everywhere, but mostly they were contracted to a Norwegian energy supplier, so we managed to fill up overnight just a few times. Whenever we handed the keys to any of our Norwegian friends, the questions were again the same: how much range, how long the recharge, how expensive? Norway clearly is a different planet.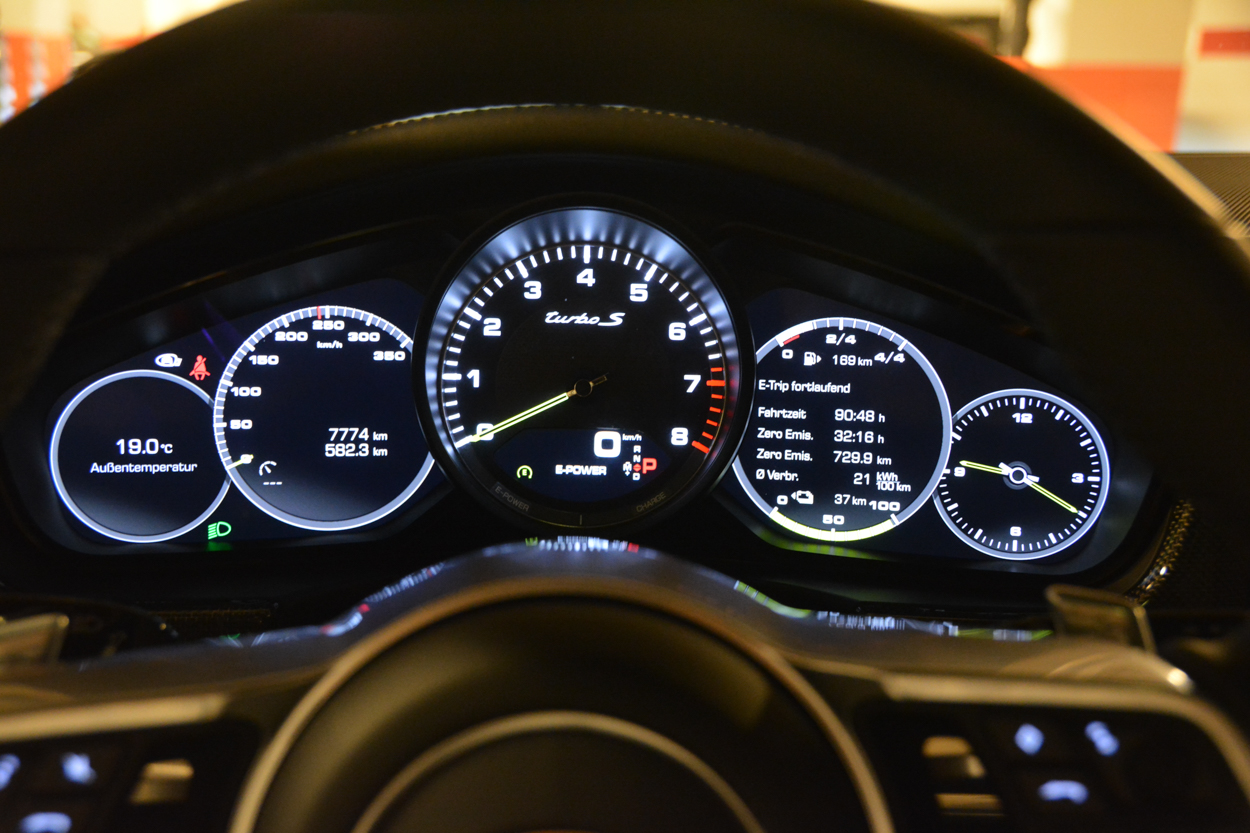 Above: What the car tells us: a third of the 90 hours in the car (or about 450 miles) were spent with zero local emissions. Power consumption was 21kW per 62 miles.
Not so different, though, that Espen and his team weren't catering for the true enthusiast. To prove this, Espen handed me the key for his brand-new Porsche 718 Boxster GTS for a few days. I was scheduled to be a few hundred miles up north in Andalsnes to meet up with friends of mine for a classic car event. "Sun is out, we don't have that often here," smiled the Porsche boss. "Take the Boxster and enjoy our scenery." Who would say no to that? The GTS – while one of the more potent Boxster models – has a 2.5-liter flat four engine producing 365 hp, allowing for a 0-62 mph sprint in 4.3 seconds with the 7-speed PDK our car came equipped with.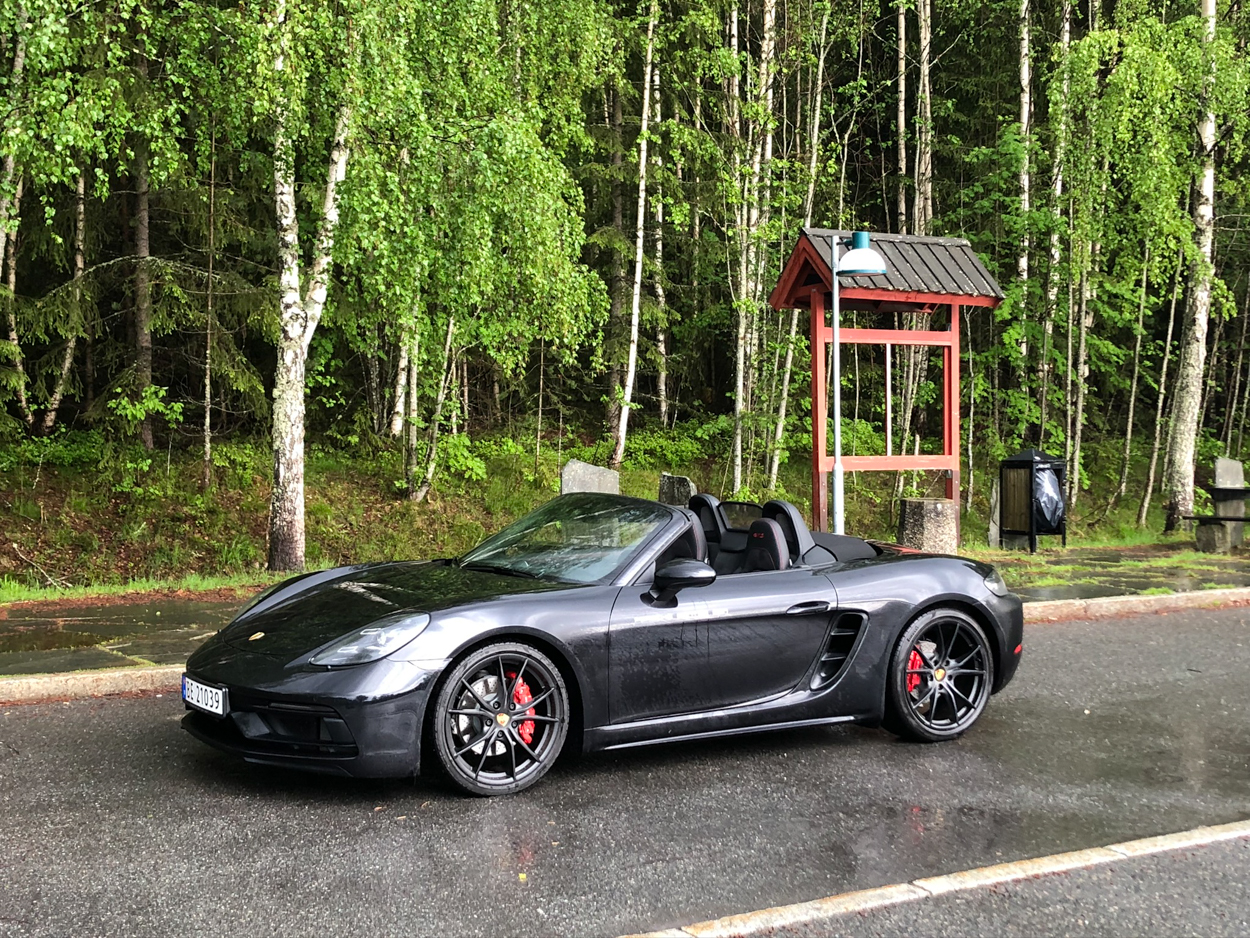 Above: The GTS' four-cylinder's clickety-clack was a wonderful soundtrack to the gigantic scenery the south of Norway had to offer. 
From Oslo we meandered northwest through lovely valleys, along lakes (which are only fjords when they're connected to the sea), and hilly areas. Around Beitostølen we entered the Jotunheimen glacier national park, which even in the height of summer still had plenty of snow to show. Top down, windbreak in, windows up, heat on, and Norwegian indigenous Sami music on Norway's National Radio. Those 400 miles will forever be in my memory as perhaps one of the best drives I've ever done. The beautiful scenery, the clickety-clackety sound of the powerful four-pot, and speeds of 50 mph. You'd think that isn't Porsche territory, but boy was it.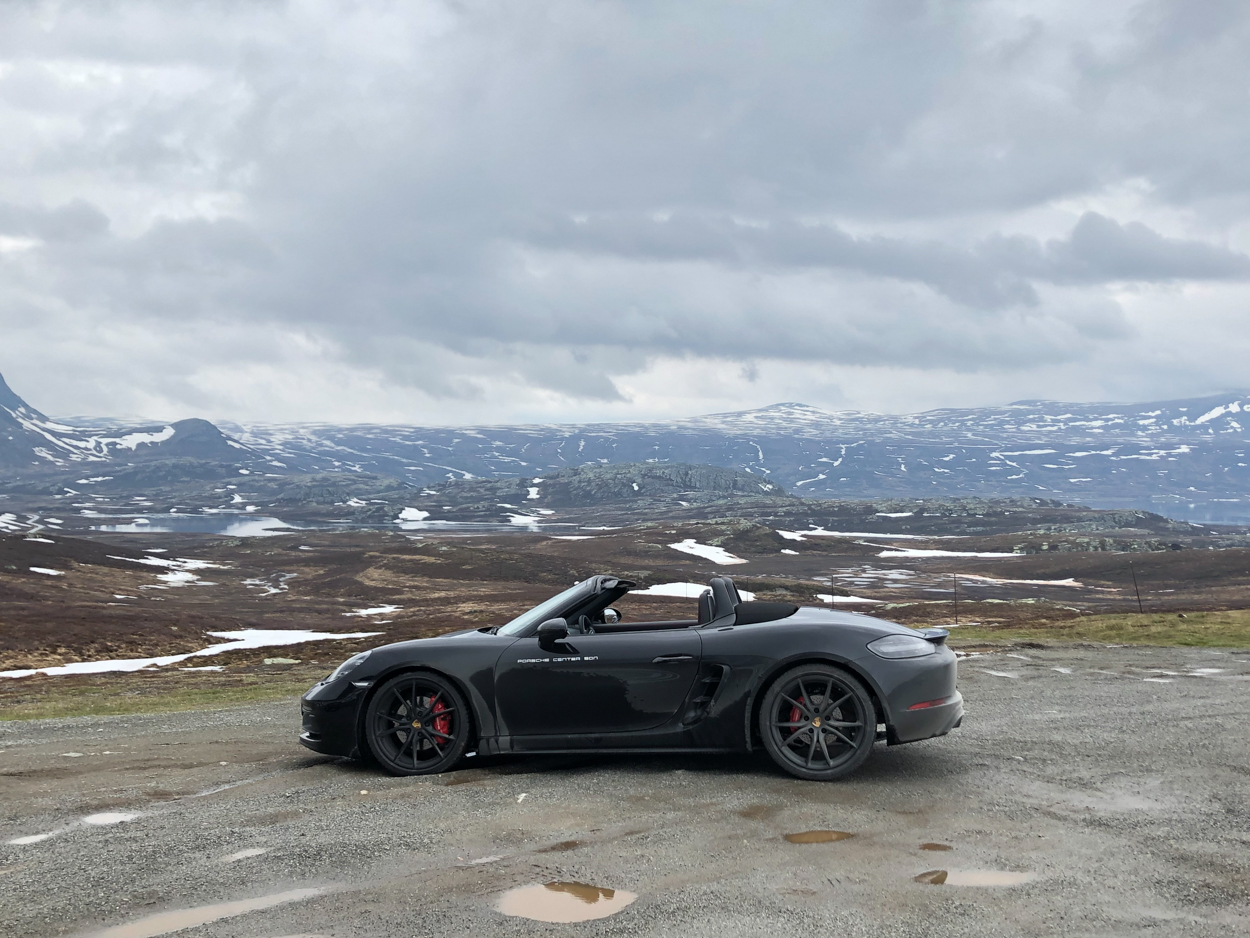 Above: Top down, windows up, heater on – no cold spell could diminish the comfortable Boxster experience.
Quickly we entered a phase of such fog that we had to check our way via the massive sticks either side of the road indicating in winter where the snow plough must go. While it felt a bit weird crossing a glacier area in fog with the top down, we quickly started our descent to the west coast. When we met up with our friends, it had started raining so we used the Boxster's capability to close and then open and then close the roof again in speeds up to 50 mph.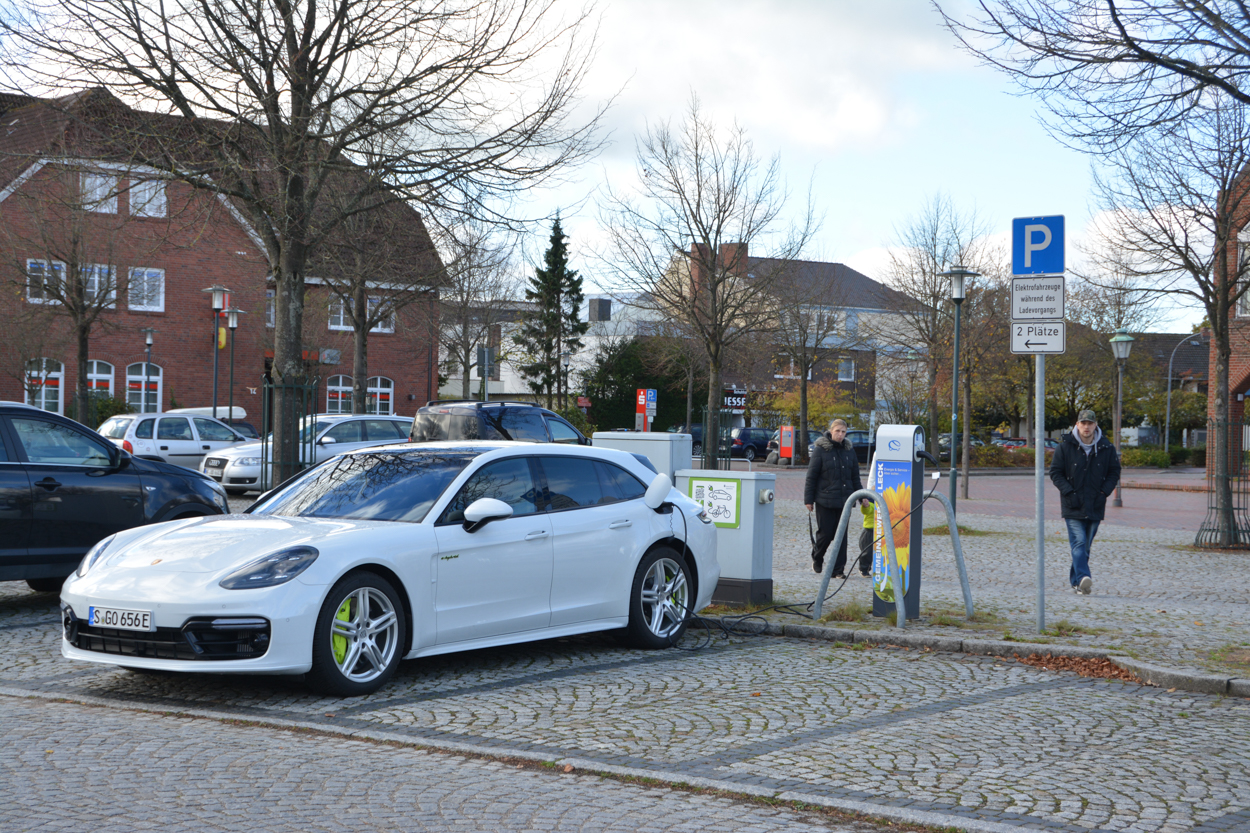 Above: Charging the battery along the way will be easy for an owner with a charging contract. As we only had the car for a week, we struggled to find enough places en route to let us "fill up" without an account.
When we returned the roadster to Espen and took back our Panamera, all washed, cleaned, and charged, we felt we had experienced the whole breadth of Porsche technology, from barebones open four-cylinder roadster to top-of-the-line 500 kW/680-hp shooting brake. What a variety. And yes, Norway is Porsche country. So much so that we promised Espen to be back this year. When everything is behind us. Until then, my pictures will help me evoke the most wonderful memories of fish out of water enjoying themselves.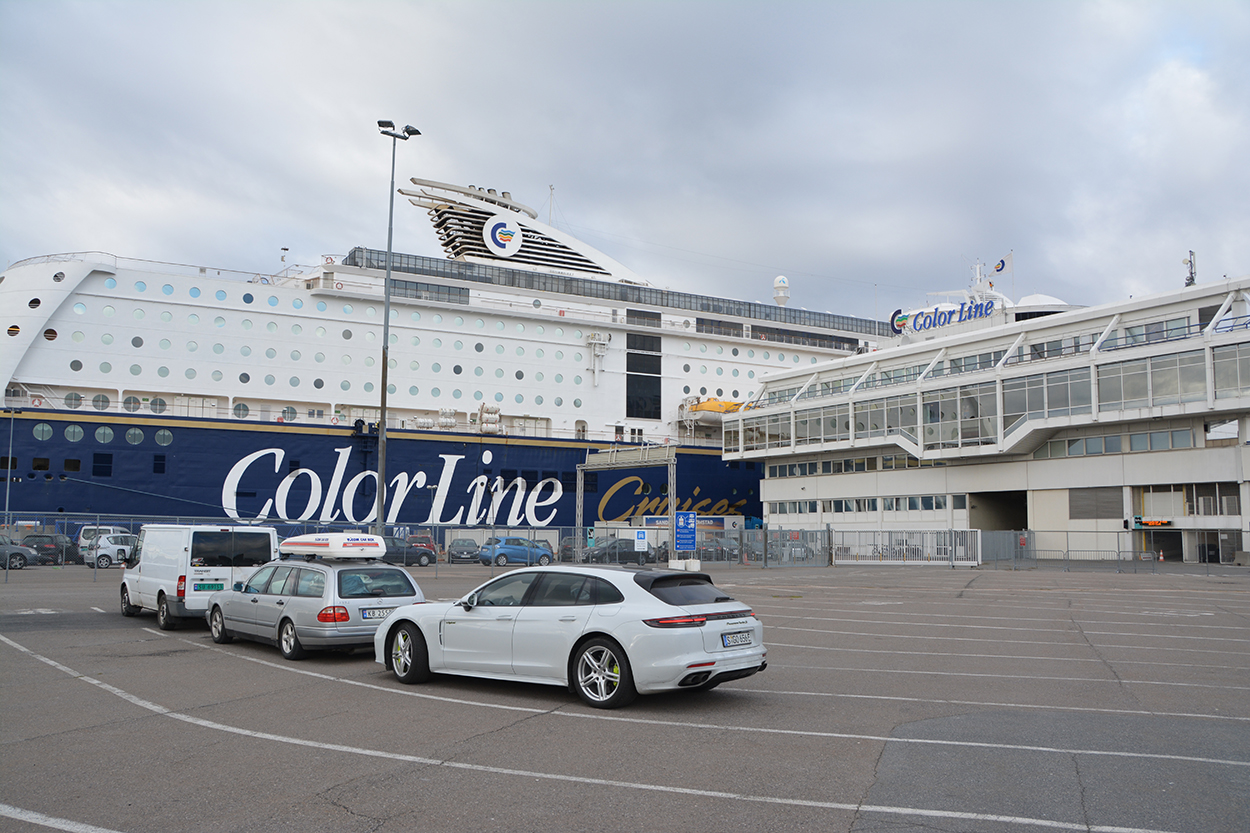 Above: While the trip up north was on-road only, the return was held in a much more luxurious fashion. Color Line operates the only direct overnight ferry link from Norway to Germany, leaving Oslo at night and arriving in Kiel the next morning.