Driveway to Raceway: Hunt McMahon and his journey to Spec Boxster
Above: McMahon, in the #611 Spec Boxster, leads the pack at Daytona International Speedway.
Article by Ryan Carignan
Photos courtesy Hunt McMahon
This edition of PCA Club Racing's "Driveway to Raceway" series features Hunt McMahon, a driver who has enjoyed success in one of the most competitive classes in Club Racing, Spec Boxster (SPB). As you will see, Hunt's love of cars started early, and his experience in racing is similar to many others: humbling, exciting, and rewarding. We hope you enjoy hearing from your fellow members and racers, and that their stories help you realize the path to racing may not be as difficult as you think. 
How did you first become interested in cars?
I was a car kid. When I was growing up, I was generally into machines of all kinds. But the thing that hooked me was Matchbox cars. I had a collection of Matchbox cars that I cherished, and I always had one with me everywhere I went. 
What drew you to Porsche specifically?
From an early age, I appreciated what Porsche could do with less. The legendary giant killers could go toe to toe with the Ferrari juggernaut and win. As an avid reader of Road & Track through the '80s, I was always amazed at Porsche's performance and reliability at a price point that was a fraction of their competition. I feel that it still largely holds today. Fast forward to the early 2000s, and I started to search for a 356. I intended to go the Concours route, but prices were rising quickly, so instead, I bought a 2001 Boxster. That turned out to be one of the better decisions I've ever made. 
What Porsche's have you had so far?
In 1986 I convinced my father to buy a 1984 911 Carrera Cabriolet; it was white with a black top. Then in 1988, he took it in for service, and on the showroom floor was a 911 Turbo Cabriolet. It was white with a black top, he bought it, thinking my mother wouldn't notice since the colors were the same. She did, but all was well, and that car now sits in my garage. My first Porsche was my 2001 Boxster, but when I decided to go racing, I bought a 1986 E Class 911 from a fellow Potomac Region member. I raced that for a few years and then sold it to another Potomac member and purchased my first Spec Boxster race car. Unfortunately, that car was involved in an incident at VIR in 2016. I found another SPB donor car and transferred a bunch of parts from the wrecked one into the new car, which I have raced since.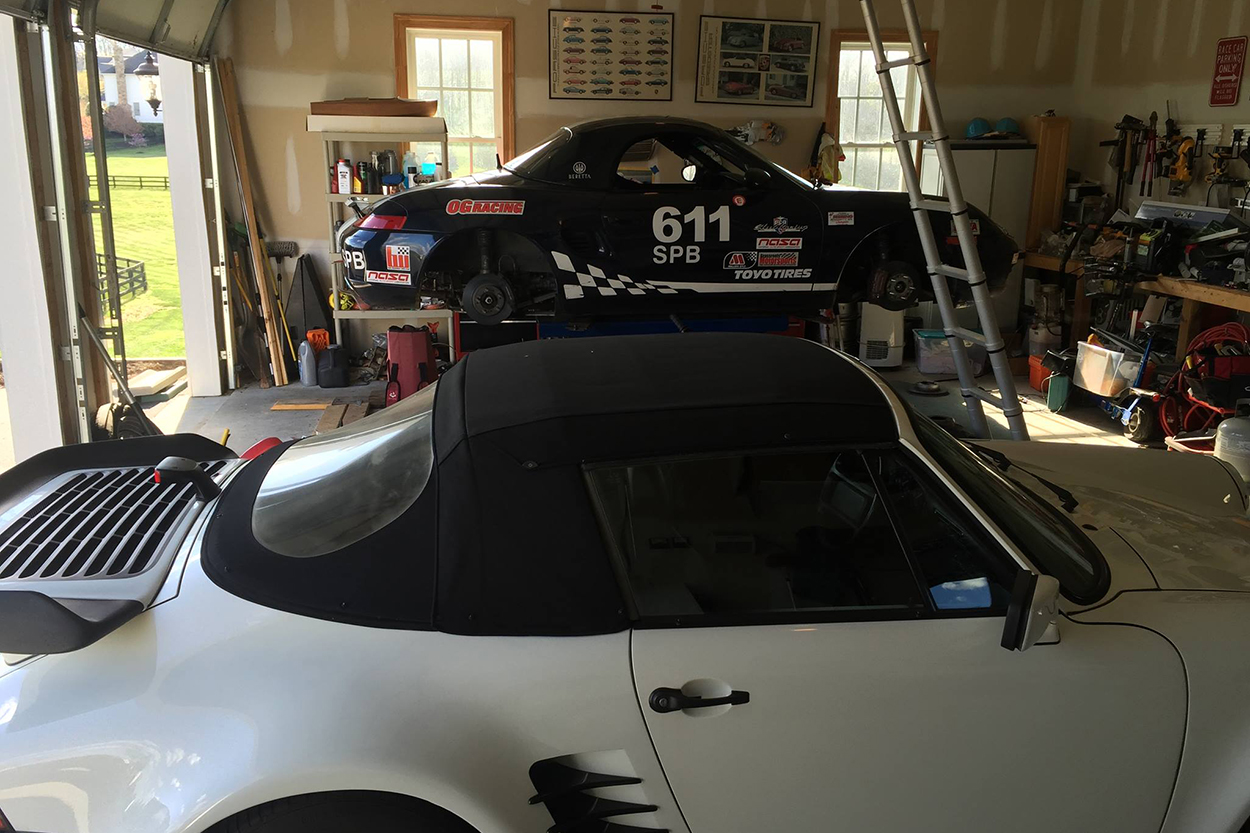 Above: McMahon's first SPB race car.
How did you get interested in performance driving and racing?
I began to autocross in 2005 with the PCA Potomac Region. What a rush that was! If all you have ever done is tootle around on the street (which I was guilty of), then autocross is incredibly intense and an absolute blast! After doing that for a while, I moved on to the DE program and started driving on the track. I then decided to take it up another level and did my first PCA Club Race at Summit Point in 2009. PCA makes the progression to racing very easy.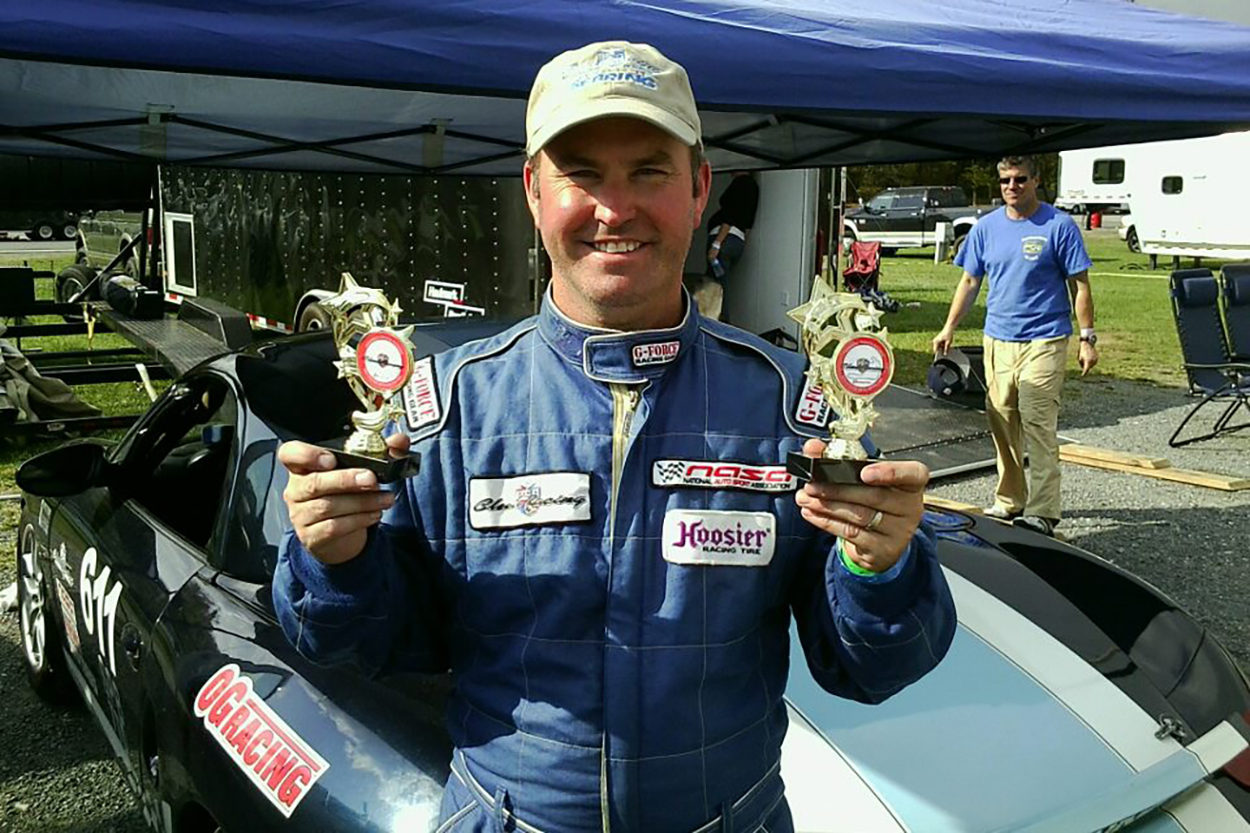 Above: McMahon and his first PCA Club Racing trophies.
What do you enjoy the most about PCA Club Racing?
That it exists! I'm still amazed there is an organization where I can race my Porsche all over the country. Getting into the SPB class was the beginning of some truly great racing experiences. The fields are huge, and the racing is very close. I only wish I hadn't waited until my mid-30s to begin. Even in the racing environment, it still comes down to the people. I can honestly say that I have met my best friends as a member of PCA.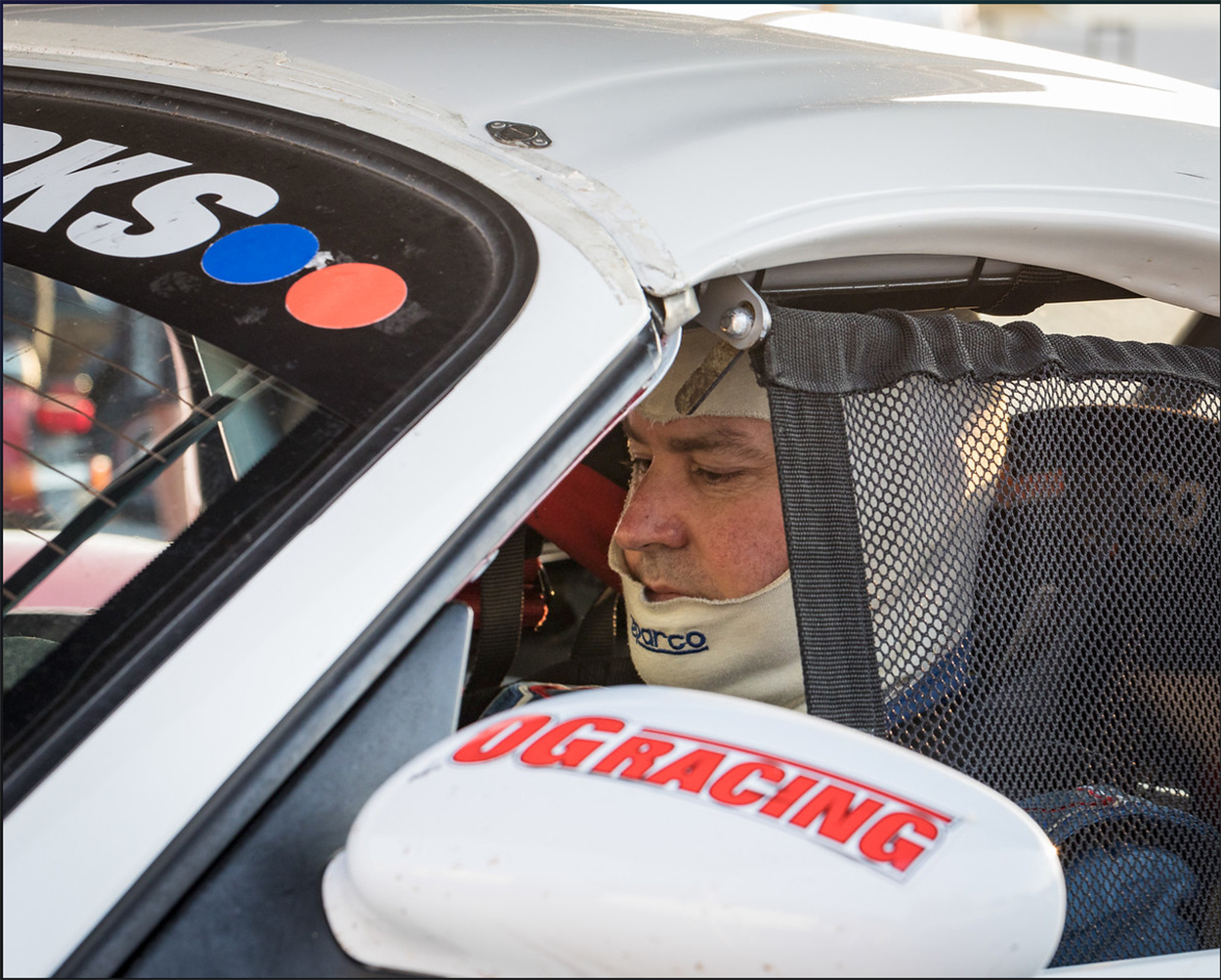 Above: McMahon gets ready to race.
What advice would you give to those considering getting involved in racing?
I can't think of anything I needed to know before I started because PCA makes the transition so easy. The steps are all right there; all you have to do is ask. I started in autocross, refined my car control and speed in DE, and then took it to the next level with PCA Club Racing.
As far as advice for those about to race, I have three major points. First: check your ego. Racing is an aggressive sport, and it naturally attracts confident people. Sometimes confidence can become over-confidence. PCA has a phenomenal instructor core; listen to them. I tell my DE students that I may focus on something different from their previous instructor, and the next one may have an entirely different focus. The totality of instruction helps mold you as a driver. Not everything may work for you, but you can take pieces of what each instructor teaches to make you better. Don't stop learning just because you graduate to an un-instructed, or solo group. Ask an instructor to ride with you at least once a weekend. If your goal is to be a PCA Club Racer, make sure the Chief Driving Instructor knows that and they will help you achieve your goal.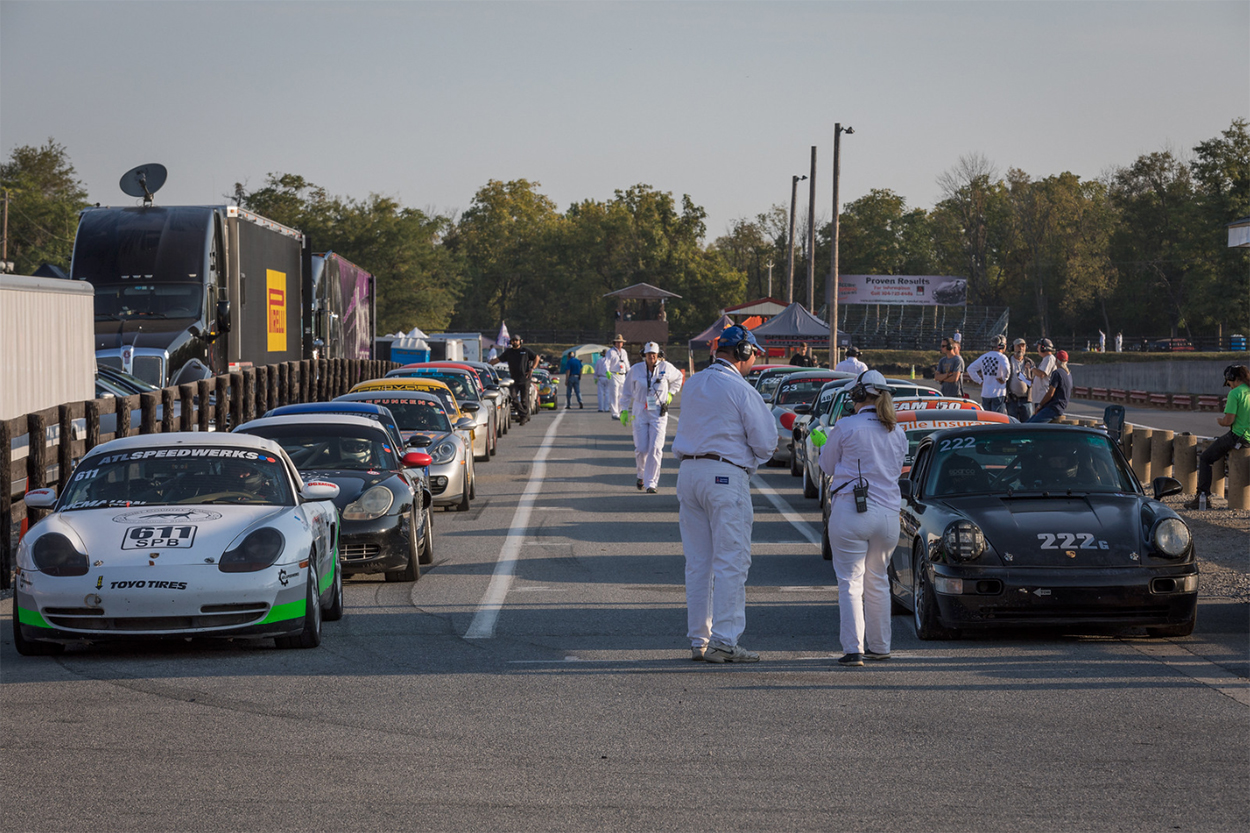 Above: McMahon, front left, on the starting grid at the 2019 Summit Point Motorsports Park race.
Second: check your ego! I distinctly remember my first race being a decidedly humbling experience. I thought I was super fast; I was wrong. I couldn't believe how much faster the front of the pack was. I couldn't believe how much faster the middle of the pack was, for that matter. I was positive they were all cheating, there could be no other explanation! It turns out that experience and racing make you faster. Once I got that realization through to my ego, I started paying attention and chasing the faster cars. The speed came with more seat time and more experience.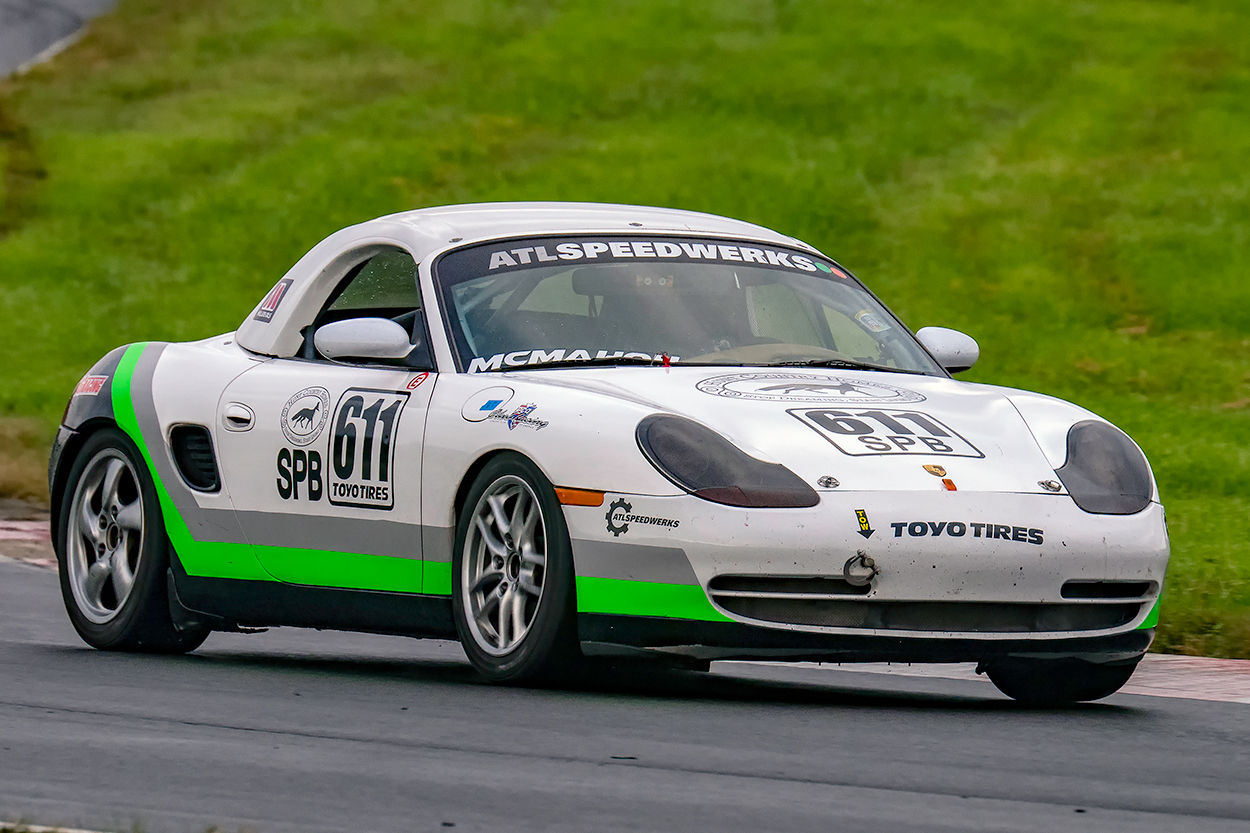 Above: McMahon drives his SPB Boxster at Summit Point.
Third: check your ego and start with something "slow." It may be "beneath" you to sit in a car with less than 400 horsepower, but you will learn more about driving and racecraft in a momentum car at first than in a Cup car. When selecting the class you want to race in, look at the car counts from past races by class. Pick a class that has a good number of competitors because you will learn a lot in a large class. You will be a much better driver if you work your way into a Cup car than if you start in one.