Farewell to the lightweight sports car?
Article by Rob Sass
Images by Lars Sältzer
My short list of the most engaging Porsches to drive would invariably include the 1967 911R, the 1970 914-6, the 1973 Carrera RS 2.7 Lightweight, the 968 Club Sport, the 2004 GT3, and the 2016 911R. I'm sure you can spot the theme here — each car on the list carries the bare minimum of extra weight, ranging from just 1,800 pounds for the original 911R to 3,000 pounds for the 2016 version. Alas, it seems very unlikely that Porsche will ever again offer a regular production car with a curb weight under 3,000 pounds. In 2020, the lightweight sports car is flat-lining everywhere else, too. When the Mazda MX-5/Fiat 124 is gone, we'll reluctantly bury the frisky, chuckable, lightweight sportster, seemingly for good.
Place the blame where you will — safety features, driver's aids, etc. — but even the new Boxster Spyder weighs in at over 3,200 pounds, compared to a svelte 2,700 pounds for the now super-desirable first-generation Spyder. We're not exactly blameless either. Whenever Porsche obliges us and offers a stripped-down, lightweight model, the dealers or the buyers invariably option the car back up to a more familiar curb weight.
It isn't as though the newest cars aren't supremely capable. Porsche does a remarkable job — via chassis tuning, rear-axle steering, and advanced electronics — of making you feel like a hero driver and making its sports cars feel nimble. Witness the impossibly tight turning radius of the new 911 Turbo S. But all it takes is a brief ride in a 996-gen 911 (2,904 pounds), a 986 Boxster (2,778 pounds), or even a 914 (2,200 pounds) to remind us that "nimble" isn't a quality that is easily baked into something. True nimbleness or "tossability" is the byproduct of light weight. Is it a sports car trait that we want to let go of with nary a second thought?
On that note, I might add that Porsche is really good at swan songs. It is never content to let great cars go quietly. In the Porsche world, they go off with the automotive equivalent of a Viking funeral. Witness the brutally perfected 928 GTS and the last of the four-cylinder transaxle cars, the brilliant 968. If we're about to let go of the lightweight sports car for good, let it not fade quietly into the automotive fossil record like the extinction of some obscure species of lungfish. I want Porsche to send it off in its inimitable fashion, producing one
final lightweight, analog sports car for the ages.
Traditionalists can probably stop reading at this point, because here's where things will really go off the rails for them — I don't think this can reasonably be done with any current rear or mid-engine Porsche platform. They've just grown too large. My ideal jumping-off point for the last lightweight, analog-feeling sports car is something like the 924 Carrera GT or the 968 Club Sport, and that can only be created by looking for a base platform elsewhere, outside of the VW Group and even outside of Germany.
Toyota recently tried platform shopping with the new automatic- only Supra/Z4 that was developed in cooperation with BMW. I was puzzled about why Toyota felt the need to go this route when it had an excellent rear-wheel-drive platform in-house with the 86 (introduced here as the Scion FR-S/Subaru BRZ). The 86 is a really good car that weighs in at around 2,800 pounds and has a weight distribution of 47/53, close to the ideal 50/50 of the 968 CS. I'd personally love to see what Porsche could do with the 86 platform.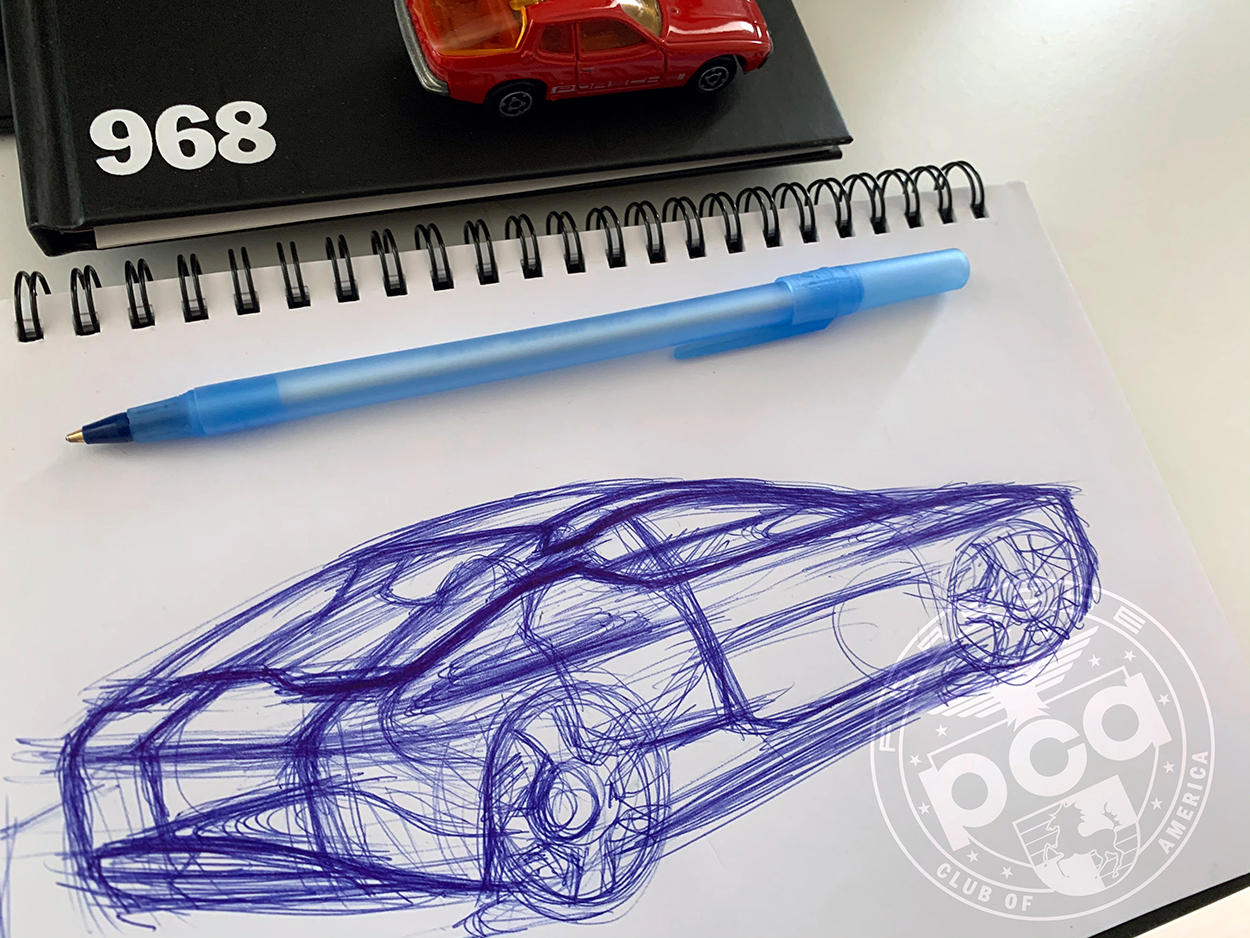 In my ideal world, with more use of composites, they'd cut a few more pounds from it, making it closer to 2,600 pounds. Interestingly, the 86 gets its low hood line by virtue of the fact that there is an honest-to-goodness boxer engine in it — a water-cooled, Subaru-derived flat four. My imaginary car would of course have a Porsche boxer engine, the base unit consisting of a naturally aspirated version of the 718 Boxster's 2.0-liter turbo four making about 250 hp, with an optional naturally aspirated version of the current 911's 3.0-liter flat six making perhaps 50-60 more horsepower. With the base engine making an additional 50 hp over an 86 and some Porsche-engineered weight saving, the 86's only glaring fault, a lack of real power, would be solved. The Toyota looks rather bland, too, but certainly that's something Michael Mauer and Porsche's talented design team could solve, as our illustrator Lars Sälzer imagines.
Balking at a potential Toyota connection? You shouldn't. In 2016, Toyota Gazoo Racing nearly handed the vaunted 919 its first defeat at Le Mans since its 2014 debut year. Only a bizarre final lap breakdown prevented that from happening. Toyota consultants, it might also be reminded, essentially saved Porsche in the mid-1990s by showing them how to build cars profitably by utilizing modern production methods and inventory control.
I personally think that Porsche's strategy of positioning itself as purely a luxury brand, and relying on a market boosted by lots of money from newer markets to push larger volumes of ever pricier cars, may eventually prove to be misguided. In the U.S., the monetary future for debt-saddled millennials and Gen Z-ers doesn't look all that rosy. So a sports car that might be priced at well under $50,000 and would appeal to a younger demographic might not be a terrible idea.
Car and Driver in its most recent test of the Toyota 86 concluded that, "It's a car that makes you a better driver." It's an interesting juxtaposition against my feelings about a car like the 991 GT2 RS, which I've said is a car that makes you think you're a better driver. There's a difference. And if we really are going to say goodbye to the true lightweight sports car, for purely selfish reasons, I want Porsche to have a hand in its final expression.