Liven up your home with Porsche posters from these online auctions
Tuesday, October 20, 2020
Article by Benjamin Shahrabani
With people spending more time at home, many are now actively looking to reinvent their living spaces both to distract from the spread of the coronavirus and improve their view. One way someone can easily add color and joy to their walls is with vintage Porsche posters, and as we (finally!) exit summer and turn the corner into Fall, online auctions hosted by Heritage Auctions and Gooding & Company in October feature a fine sampling of vintage Porsche racing and showroom posters, the majority of which hail from the 1960s-70s, a time-period generally considered by the cognoscenti as being the golden age of Porsche poster design. Recognized as collectable and valuable in their own right for some time, original Porsche posters can be easily worth hundreds or thousands of dollars, with the highest prices reserved for the most desirable, uncommon, and hard-to-find images.
Nick Dawes, Senior Vice President at Heritage Auctions, says, "Covid has brought a lot more people into the world of online auctions for several reasons beyond having more time available.  If you enjoy buying, there are no shows or shops to visit. More importantly, a greater percentage of the population, globally, is becoming comfortable and familiar with bidding at auction, which is now accessible to anyone with internet access and a credit card, and are homing in on the auction brands they can trust."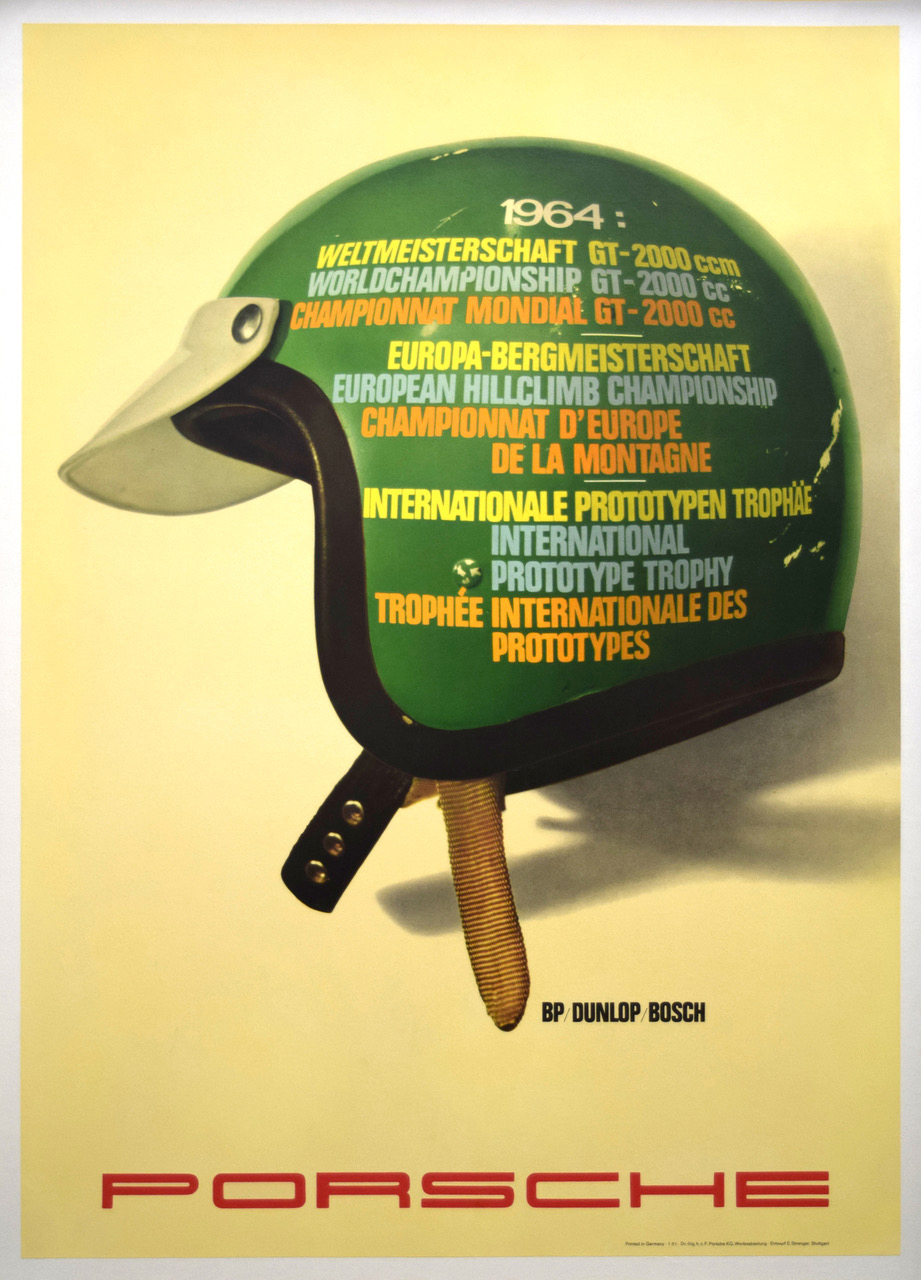 Notable examples being auctioned by Heritage at their October 23 Automobilia, Transport History and Mechanical Models Online Auction include the 1964 Weltmeisterschaft ("Worldchampionship") poster featuring a bold and iconic helmet image commemorating various victories and championships for that year.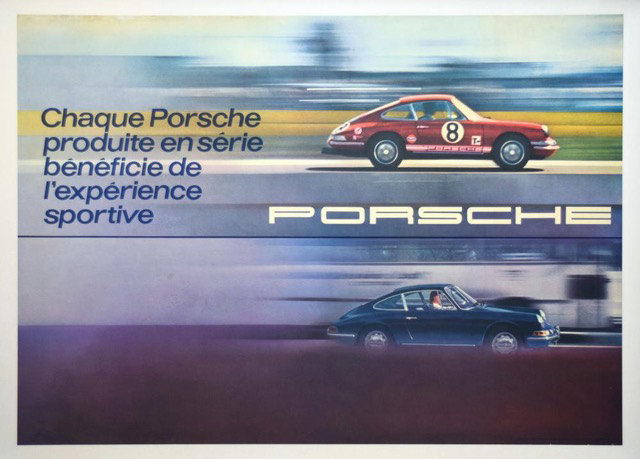 "Chaque Porsche produite en serie beneficie de l'experience sportive" (Every Porsche Produced Benefits the Sporting Experience), an uncommon French-language showroom poster conjured up by famed Porsche design maestro Erich Strenger, highlights the dual-nature and versatility of Porsche's 911 model.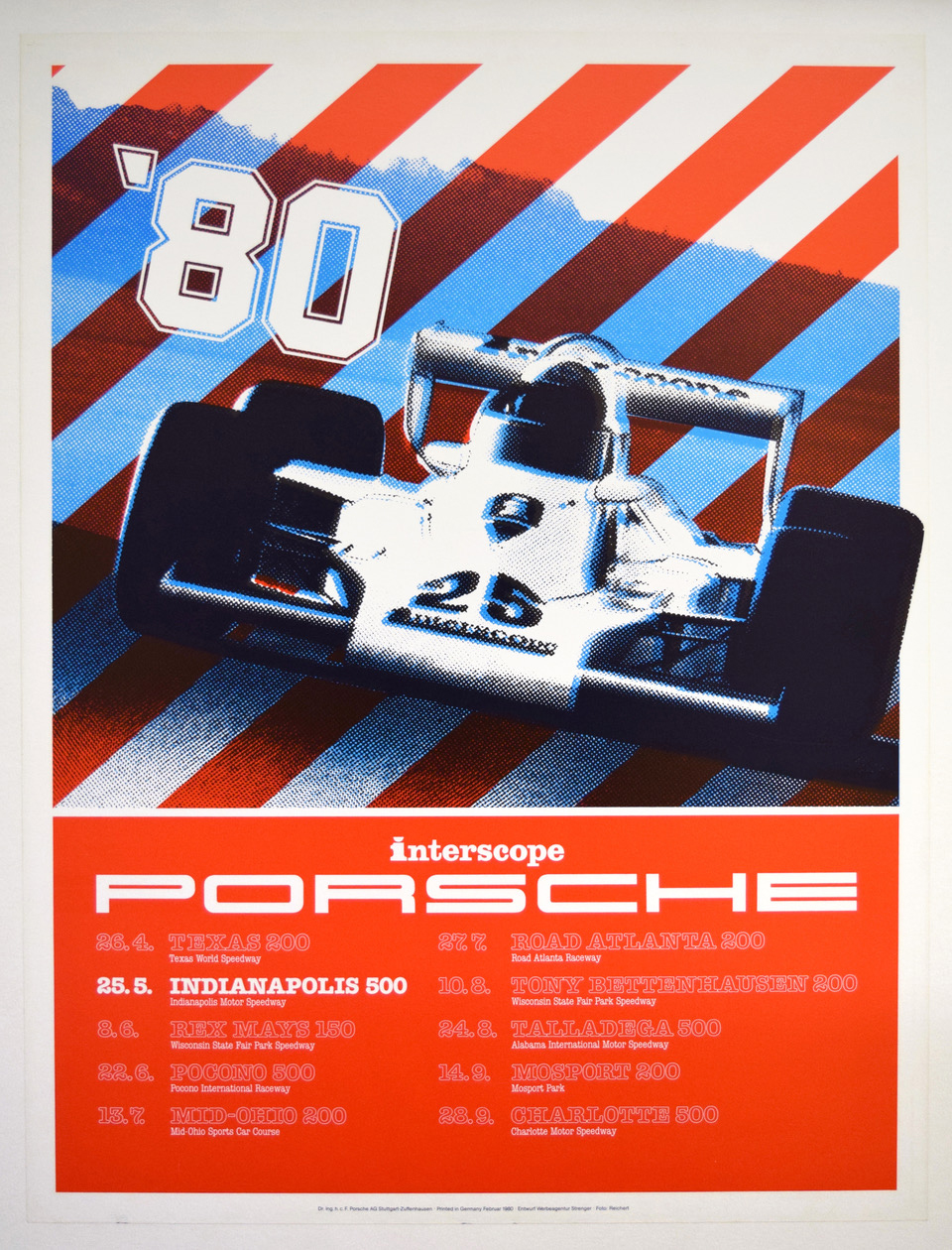 From the 1980s is a mint condition 1980 Porsche Interscope poster displaying the No. 25 Interscope race car and race schedule. As regulations changed before the season started, Porsche pulled out of the series, ordering all promotional materials destroyed. This poster is one of the survivors.
A more recent newcomer to the world of Automobilia, Gooding & Company's second "Geared Online" takes place October 26-30. David Brynan, the auction house's senior specialist, states, "Gooding & Company's Geared Online platform has provided a new opportunity to expand into other fields, and automobilia is a natural fit. Consistent with the way we consign cars and motorcycles, we will continue handling select pieces of automobilia in our online auctions, with a quality over quantity approach."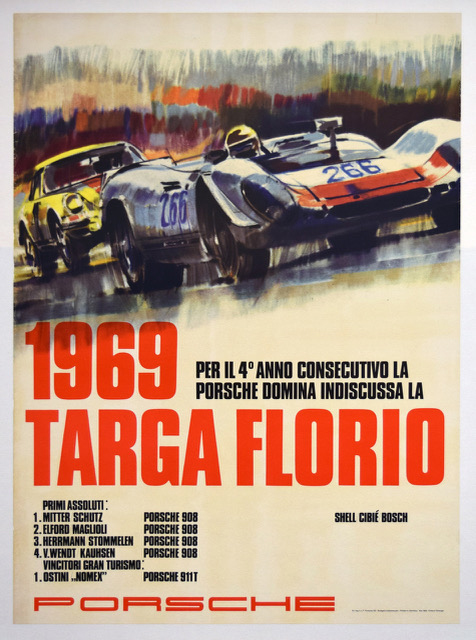 Amongst the offerings, one may find a wonderful 1969 "watercolor" artwork poster by Erich Strenger commemorating the 1-2-3-4 finish of the Porsche 908 with a 911T taking first in class at that year's Targa Florio race.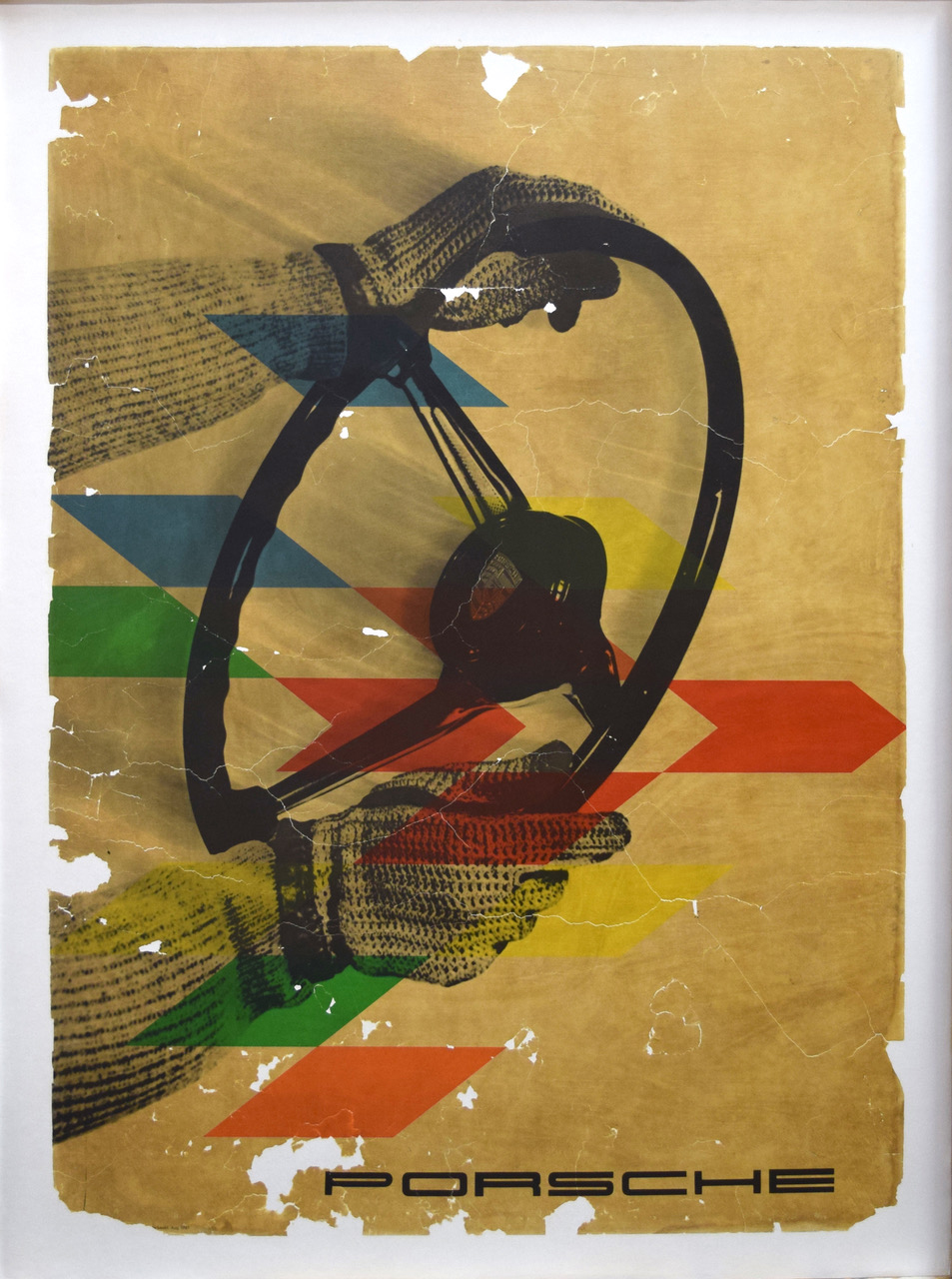 Perhaps more unusual and seldom seen is a 1961 Porsche B&C steering wheel poster. Displaying gloved hands tightly gripping a factory steering wheel juxtaposed with contrasting chevrons of color, this particular poster displays a rather large amount of patina with staining throughout and some missing areas of paper. Still, with prices for a nice, original specimen hovering in the $3,000-plus range, Gooding's example might provide someone with a more modest budget an opportunity to acquire this still-evocative image.
Thinking about bidding? Both auction houses charge a 25% buyer's premium on Automobilia lots, and you'll have to pay extra to ship your new acquisition — or acquisitions — home. It's not everyday that one stumbles across posters like these, so her's a great opportunity to pick a poster that'll look great in your home or office and also speaks to you in some way. We can think of worse ways to lighten the mood of the strange times we currently find ourselves in by purchasing vintage Porsche posters.