Porsche completes 2021 Panamera refresh with Turbo S e-hybrid, 4 e-hybrid, and 4S
Tuesday, October 20, 2020
Article by Damon Lowney
Photos courtesy Porsche
We've been wondering about the rest of the Panamera lineup after Porsche announced in August that a few model variants were getting their mid-cycle updates — plus the reintroduction of the non-hybrid Panamera Turbo S. A company spokesperson hinted that there was more to come, and yesterday that hint was made good with the announcement of the refreshed Panamera Turbo S e-hybrid, 4S, and 4 e-hybrid.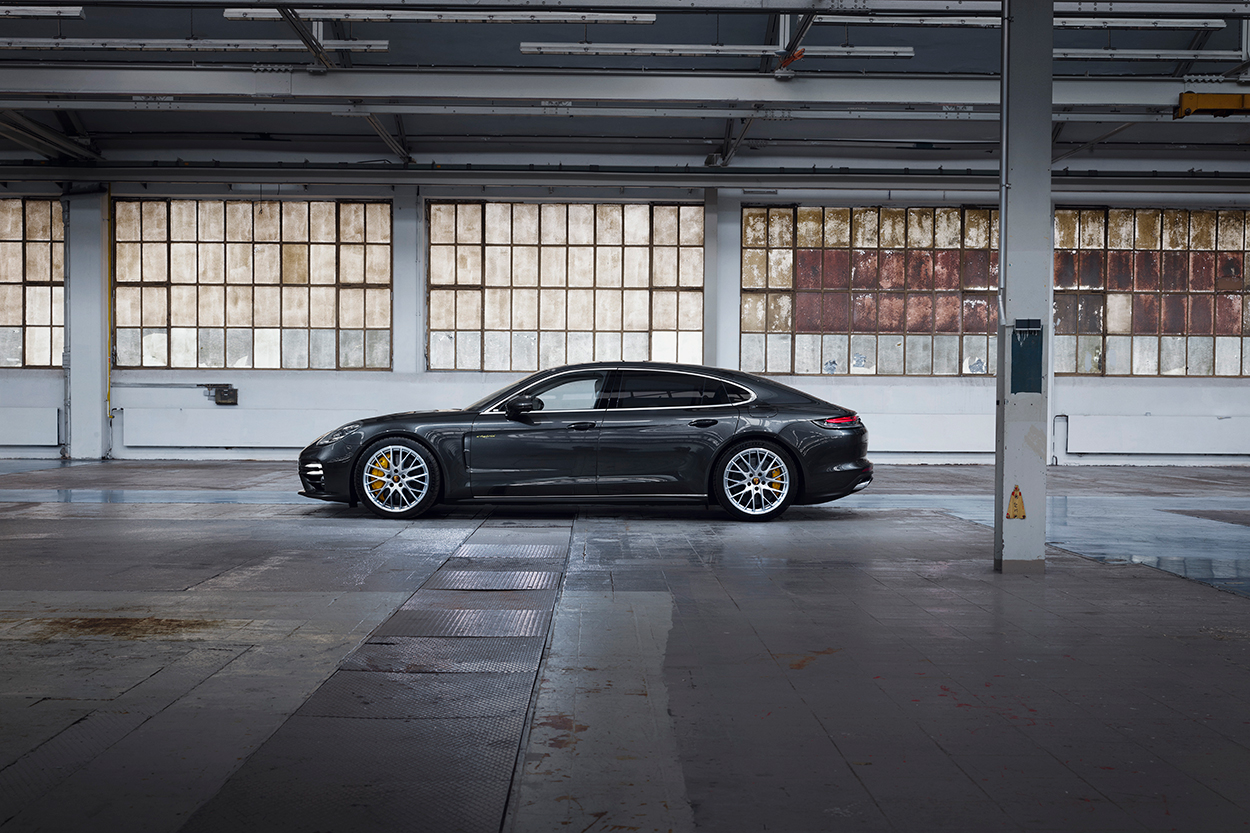 Above: The long-wheelbase Panamera Turbo S e-hybrid Executive.
The new Turbo S e-hybrid could be considered the top Panamera, with the most horsepower, the quickest acceleration, and luxurious accoutrements. The twin-turbo 4.0-liter V8 now makes 563 hp, 13 hp more than before, while the electric motor — standard across all Porsche hybrids — still makes the same 134 hp and 295 pound-feet of torque. That's good for a combined 689 hp and 642 lb-ft, just a bit more than the 680 hp and 626 lb-ft of the previous model that we tested in the November 2019 Porsche Panorama ("Quick and Easy," p. 84). More power and whatever other chassis-tuning voodoo Porsche has done gives it a 0.2-second edge from 0-60 miles per hour over the 2020 models. The sedan and Sport Turismo (wagon) body styles will do the run in 3.0 seconds, while the long-wheelbase Executive sedan takes 3.1 seconds. All go on to a top speed of 196 mph, 4 mph faster than before. Fun fact: The Turbo S e-hybrid Sport Turismo is the quickest-accelerating Panamera, period, blasting from 0-124 mph (0-200 kmh) in 10.9 seconds.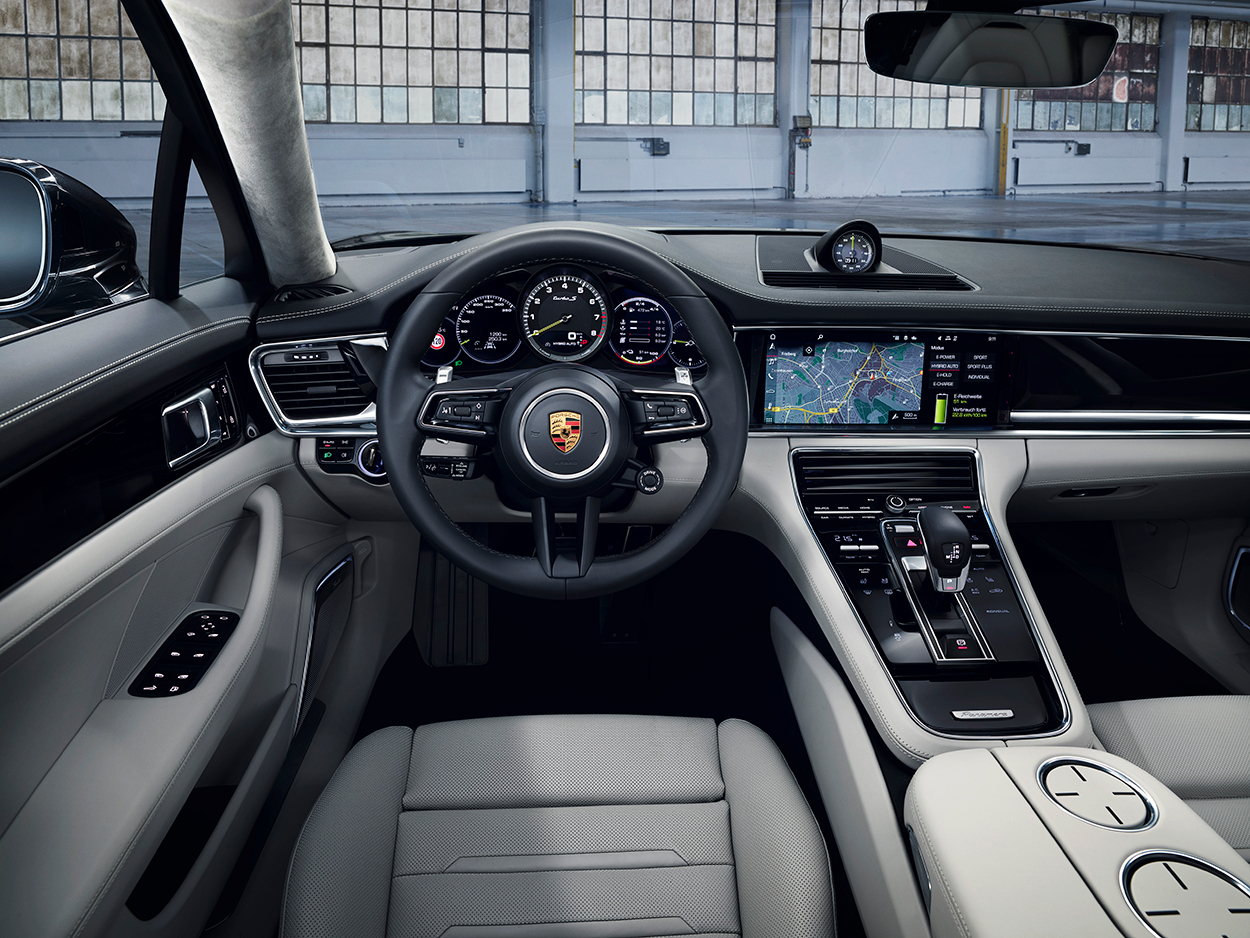 Above: Panamera Turbo S e-hybrid/Executive interior.
Of course, the Turbo S e-hybrid, as always, comes with every performance-enhancing option, which includes Porsche's active anti-roll-bar system (PDCC Plus) paired with torque vectoring (PTV Plus), rear-axle steering, Power Steering Plus, and ceramic composite brakes (PCCB).
We say the Turbo S e-hybrid could be considered the top model because, though it's the quickest-accelerating Panamera, it is heavier than the Turbo S and will not lap a race track such as the Nürburgring as quickly. We'll let you decide which one is king.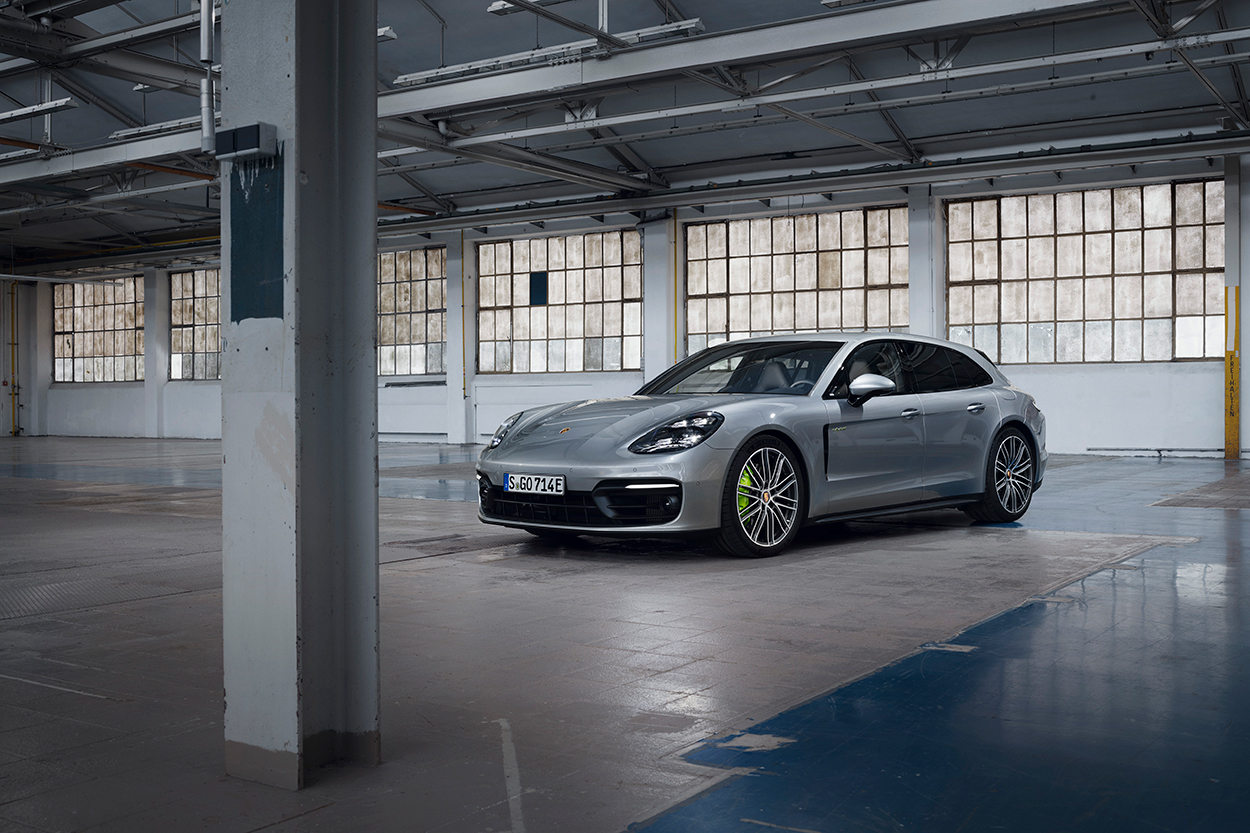 Above: Panamera 4 e-hybrid.
When Porsche introduced the refreshed Panamera, the 4 e-hybrid was conspicuously missing, seemingly replaced by the 4S e-hybrid. That's not the case, as it returns with just a bit less horsepower than the one we tested in the December 2018 issue of Porsche Panorama ("Rapid Transit," p. 78). The 2.9-liter twin-turbo V6, a detuned version of the 443 hp engine in the 4S and 4S e-hybrid, now makes 325 hp, down from 330. Combined gas-electric output is now 455 hp, 7 hp less than before. Still, Porsche says the 0-60-mph time has been reduced by 0.2 seconds to 4.2, and the car will go on to a 174-mph top speed, 2 mph faster than the previous model.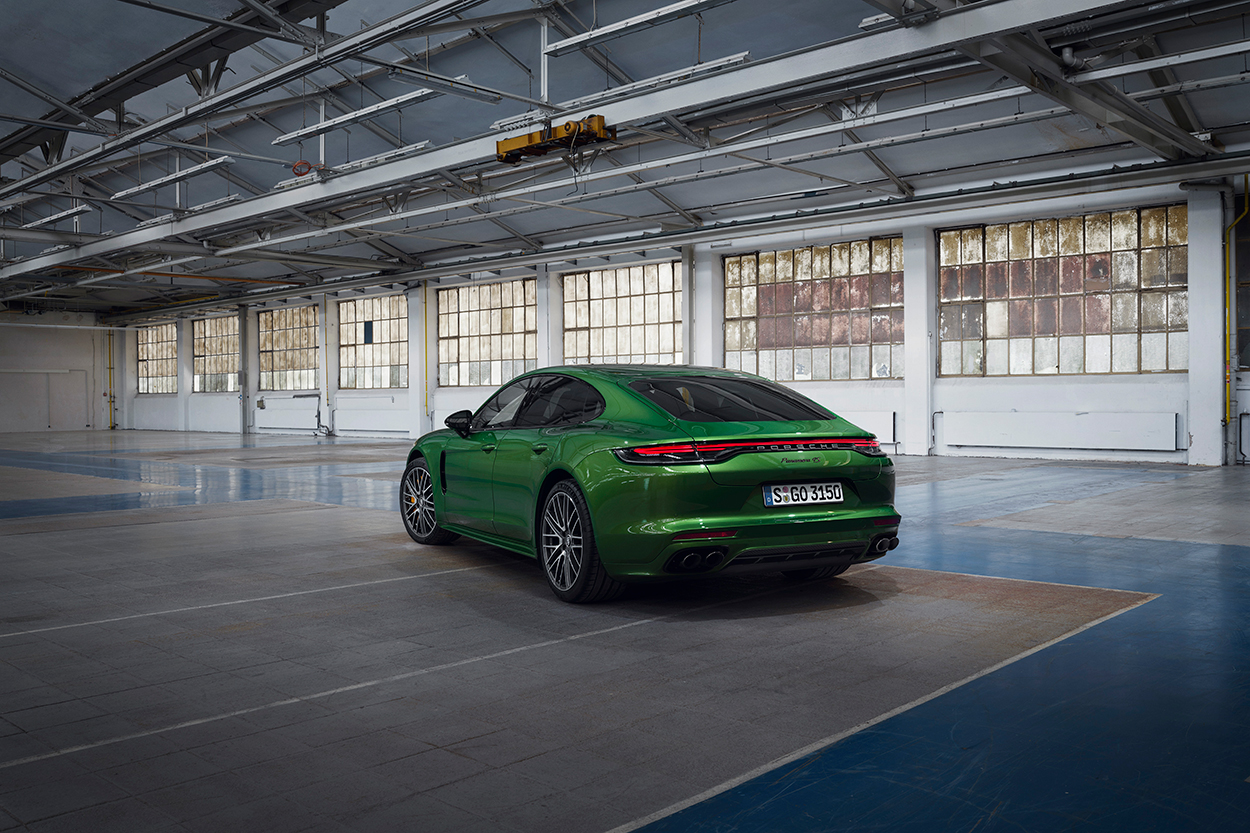 Above: Panamera 4S.
Let's call the new Panamera 4S the Goldilocks of the range. The 2.9-liter twin-turbo V6 produces a not-unsubstantial 443 hp (up from 440), and the car will do 0-60 mph in 3.9 seconds (0.1 seconds quicker) with the optional Sport Chrono package and go on to a 183-mph top speed, 4 mph faster than the previous 4S. Air suspension is now standard on the 4S, as well. And we're guessing that its price will slot between the 4 e-hybrid and 4S e-hybrid at around $110,000-$115,000 (pricing hasn't been announced).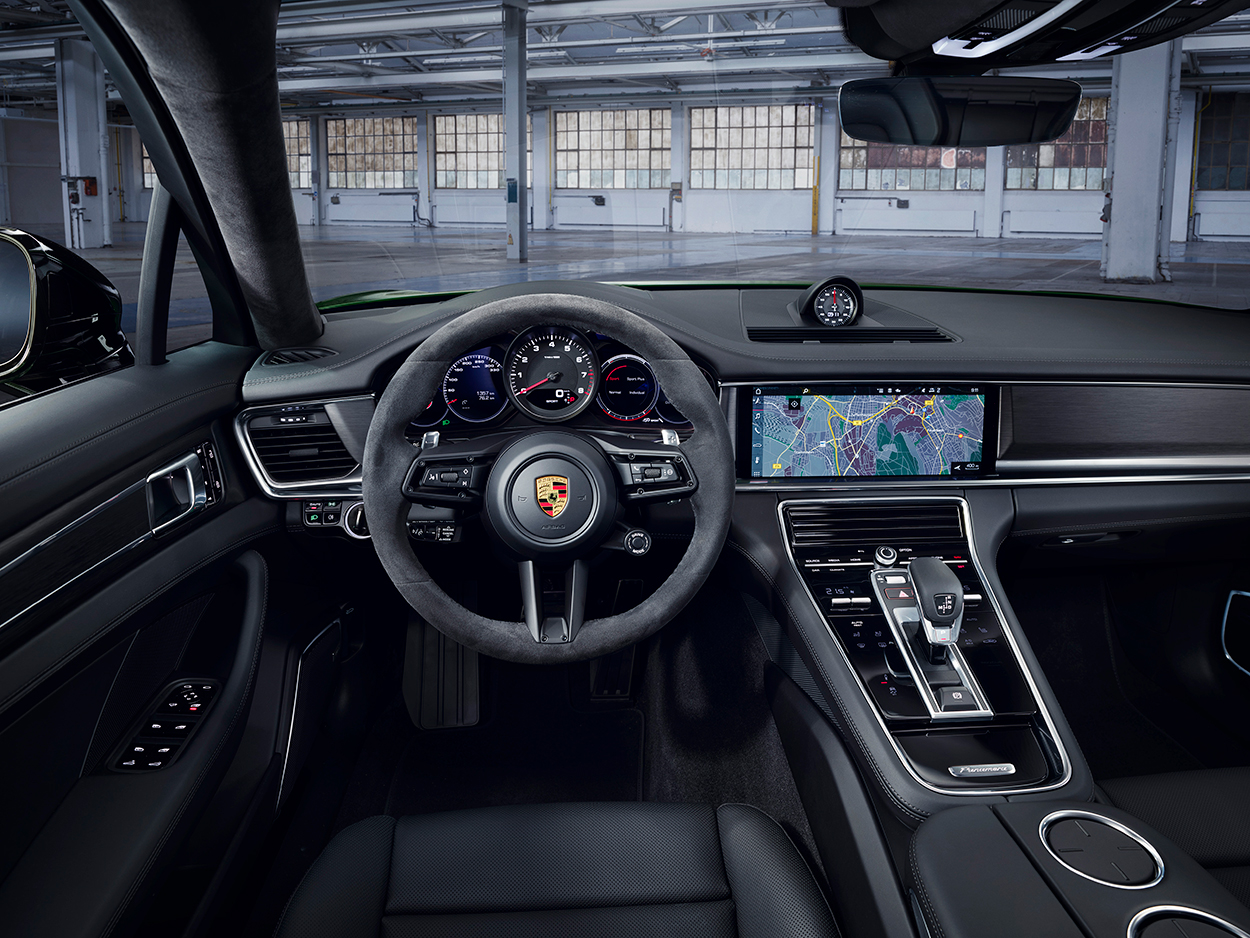 Above: Panamera 4S interior.
In other news, buyers can opt for two new exterior colors (Truffle Brown Metallic and Cherry Metallic), the interiors get higher-resolution displays, and the chassis have been fine-tuned for more comfort and better handling, depending on which drive mode is selected. Sure, the improvements seem modest, but taken together they add meaningful increases in performance and comfort that surely will be appreciated by new owners, though we'll have to wait until we drive them to find out for sure.
Porsche says the new Panameras will be available to order in early 2021, with deliveries expected to start in spring. Porsche has not yet announced pricing.
Source: Porsche