Porsche 992 Carrera 4 laughs off a winter storm
Tuesday, December 29, 2020
Article and photos by Rob Sass
While it might not be an issue for members in places like the Space Coast or Santa Barbara Regions, for a good chunk of the country it's about to get real as far as winter goes, and we have to make the decision to drive our cars or store them. We were recently able to spend some time in a new 992 Carrera 4 on winter tires (in Northern Lower Michigan no less), and we can report that it would be nothing less than criminal to make this car hibernate.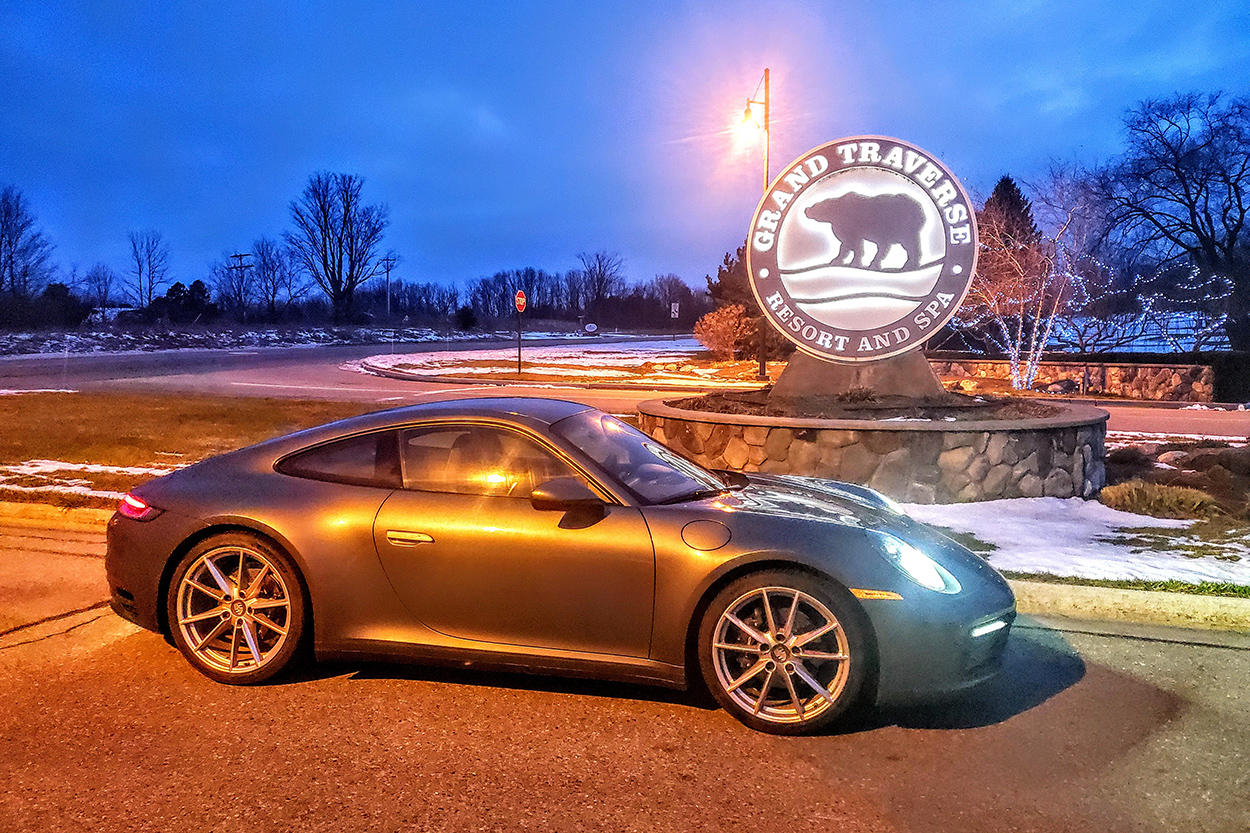 Above: The Grand Traverse Resort and Spa, home base for Porsche Parade in 2013.
Michigan is famously shaped like a mitten (the right one if your palm is facing your face). South of the thumb, the snow cycle is a normal upper Midwest snow/melt/snow/melt kind of thing. But by late December, when you get up to Cadillac/Houghton Lake/West Branch, there's a line of demarcation. Up north, it's rare to see brown ground in late December, or for that matter, through April. So that's where we decided to head with the new C4.
PCNA had the car shod with new Michelin Pilot Alpin 5s. According to Michelin, the tire has a "highly siped, directional tread pattern that features broad shoulder blocks and a wide central groove to blend stability and cornering grip on dry roads with hydroplaning resistance and traction in slush, snow and ice." Happily, Michigan accommodated our desire to experience pretty much all of the above.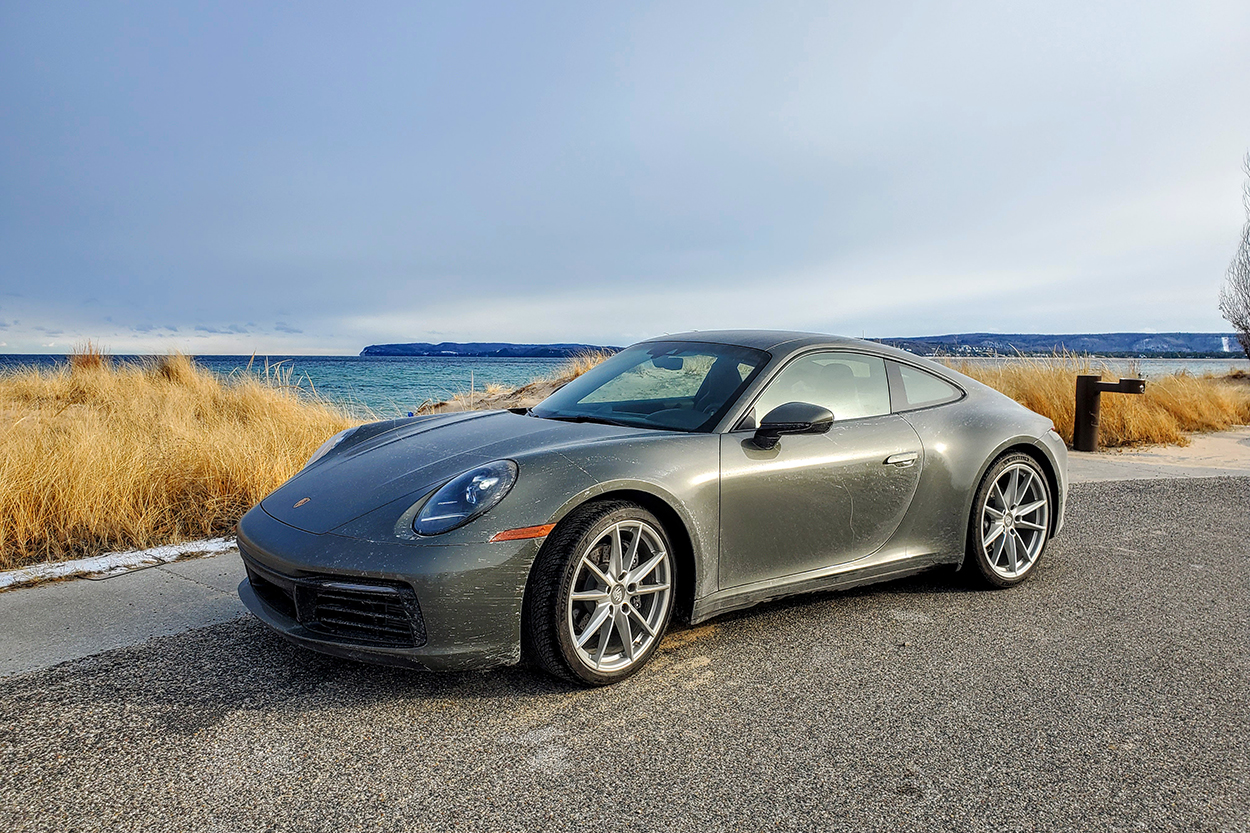 I've had a fair amount of experience driving 911s in miserable conditions, from my '72 911S blasting up Loveland Pass on tire chains, to driving a 996 Turbo to Winter Carnival in Quebec. In between, there have been several ice driving schools. I don't know how much (if any) input Porsche had with Michelin in designing the Pilot Alpin 5, but combined with the Carrera 4 and the 992's new Wet Mode, it made for hands down the most confident, best-performing Porsche sports car that I've driven in the wintertime on non-studded tires. The Carrera 4's 379 turbocharged horsepower from the twin-turbo 3.0-liter flat six is down from the C4S's 443 hp, but in this cold weather, it was more than enough. Ditto the 331 pound-feet of torque, which plateaus at 1,950 rpm and holds until 5,000 rpm.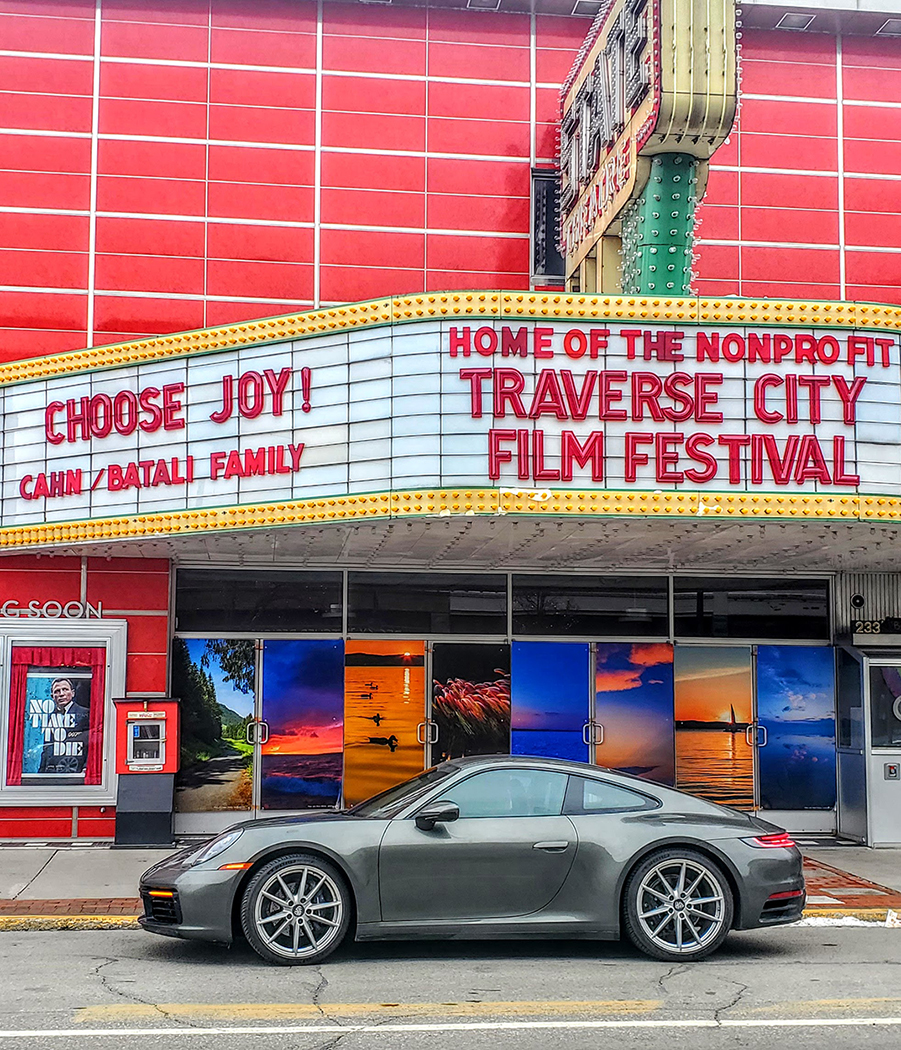 Traverse City, Michigan, the site of a memorable 2013 Porsche Parade, made for an ideal winter destination. Incredible scenery (rolling hills, miles of peninsula coastline) and no shortage of challenging (and sometimes snow-packed) roads. The first thing that you notice about the C4 on Pilot Alpin 5s is that it's still relatively quiet. While undoubtedly effective, the directional tread pattern doesn't appear all that blocky or aggressive, so road noise is minimal. We didn't have long to focus on cabin noise. What started out on I-75 as rain near Detroit turned into slush north of Flint, and the car's acoustic sensors located in the front wheel wells, detected the spray and prompted me to select the Wet Mode.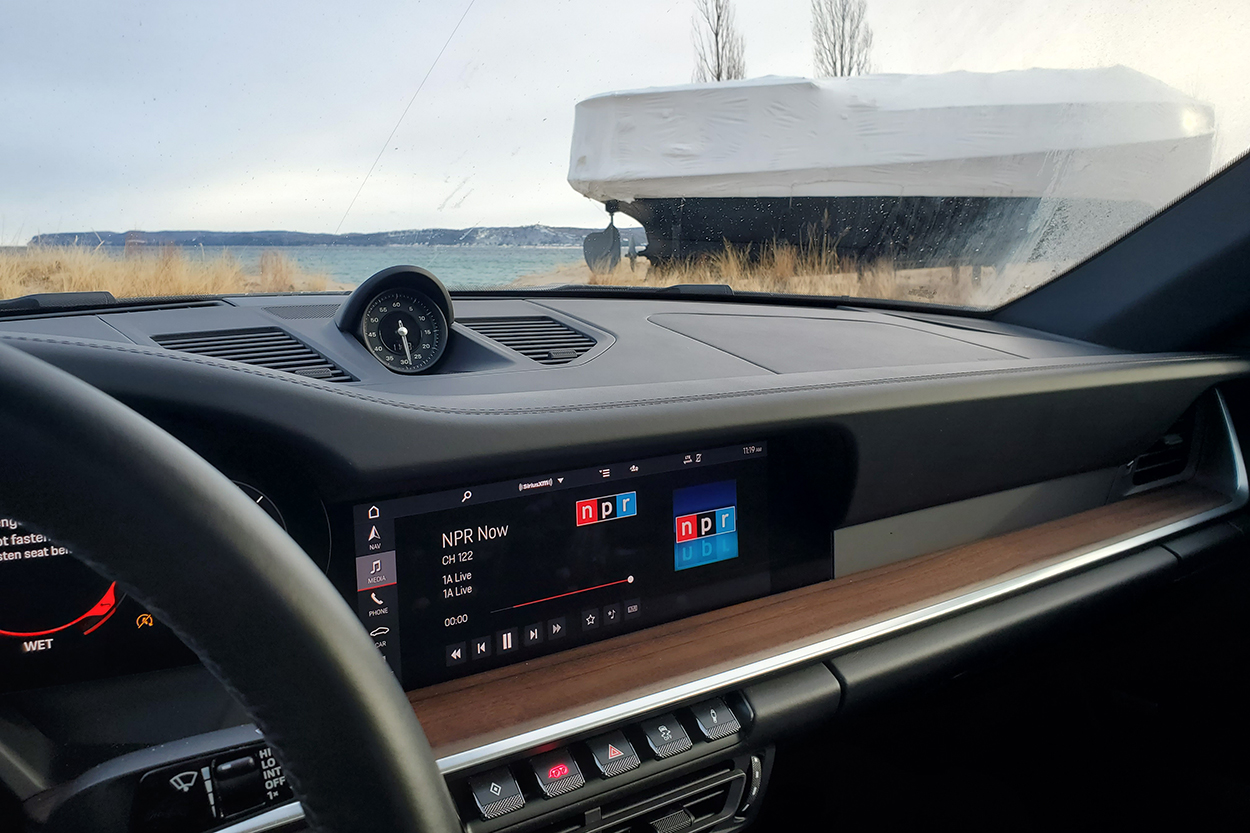 Wet Mode sets the Porsche Stability Management (PSM) and Porsche Traction Management (PTM) systems to intervene sooner and more aggressively when aquaplaning or some other loss of traction is detected. It works, really well. Obviously, it can't create traction where there's none to be had, but the directional tread of the Pilot Alpin 5s was very effective in plowing through standing slushy water and working in concert with the Wet Mode, transferring more drive power to the front axle and reducing the Locking ratios for the electronically controlled rear differential. The speed/suddenness at which you can feed in throttle is also limited in Wet Mode. With Wet Mode engaged, it's barely possible to make the rear end so much as wiggle, even when moving off on ice.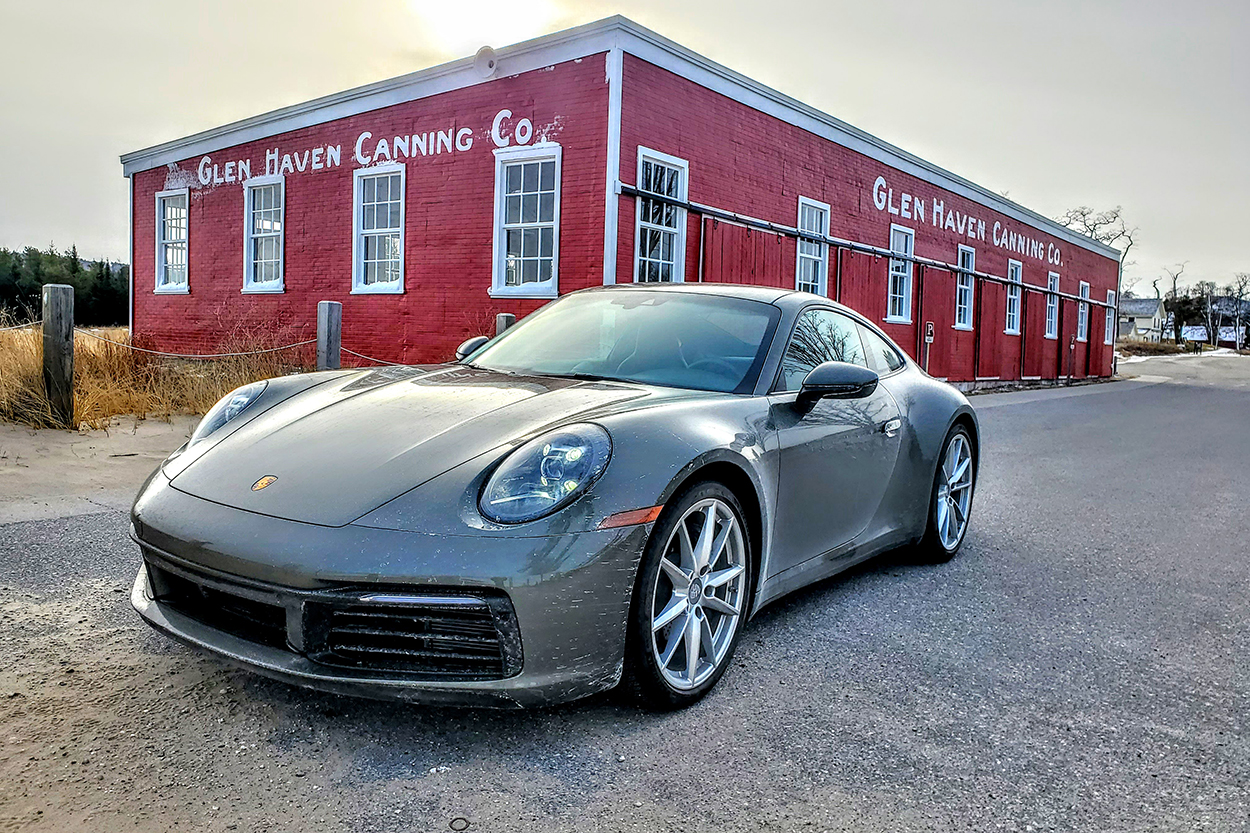 Of course, you don't have to activate the Wet Mode, and where it was safe, we had some fun exploring the car's behavior on slippery surfaces in the Normal mode. Just like the similar cars that the Porsche Ice Experience uses in Finland, even with the driver's aids turned off, the car was predictable and easy to put into a modest but highly controllable drift. On dry roads, the Pilot Alpin 5s were actually quite impressive. Grip was more than adequate, allowing you to keep a pace that, frankly, would be imprudent on summer rubber in below-freezing weather.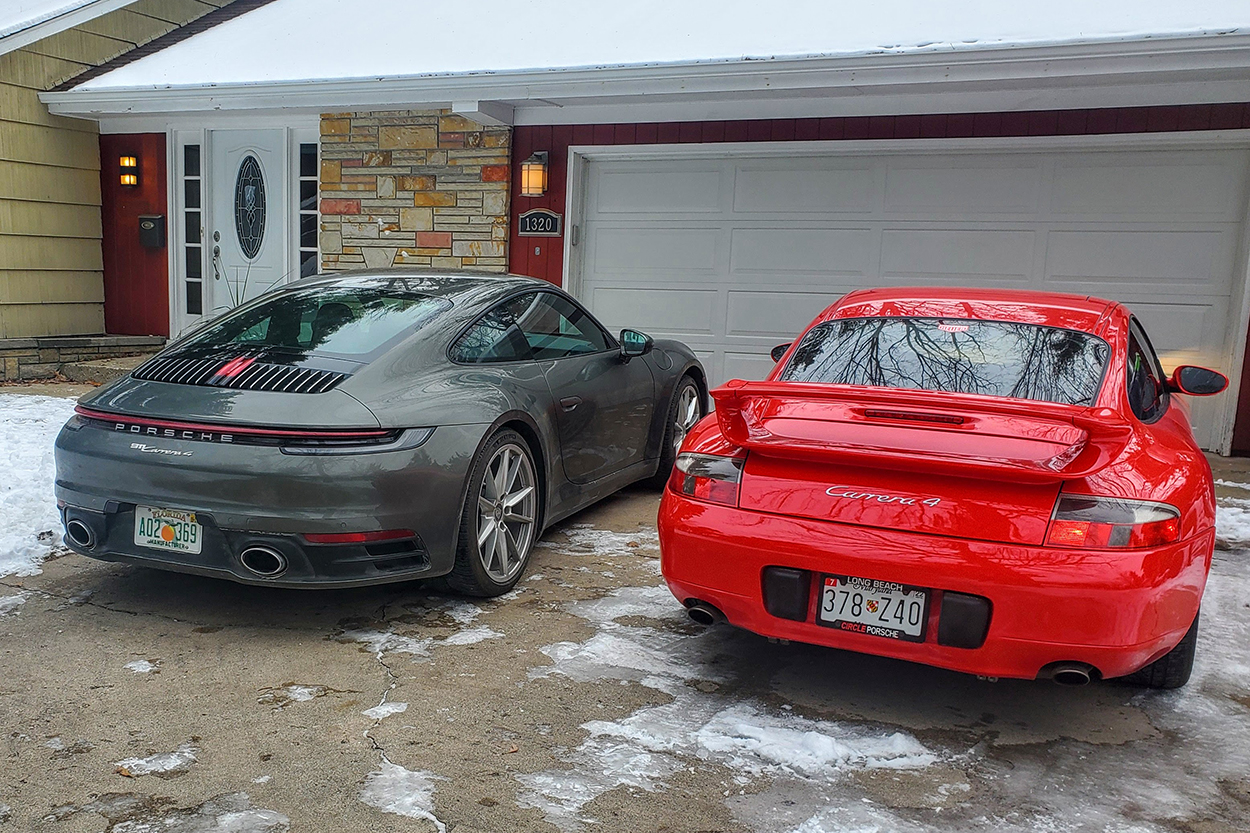 This particular C4 was also drop-dead gorgeous in the throwback color of Aventurine Green. A mid-nineties 993/968/928 color, it responds well to different lighting conditions, going from a muted greyish green to an almost jewel-tone. It also tends to mask winter dirt pretty well. While I might have gone a little more adventurous with the interior color (Truffle Brown or even Bordeaux Red), the black interior with a heated GT Sport wheel, sport seats, and some subtle open-grain wood accents was handsome, tasteful, and extremely comfortable.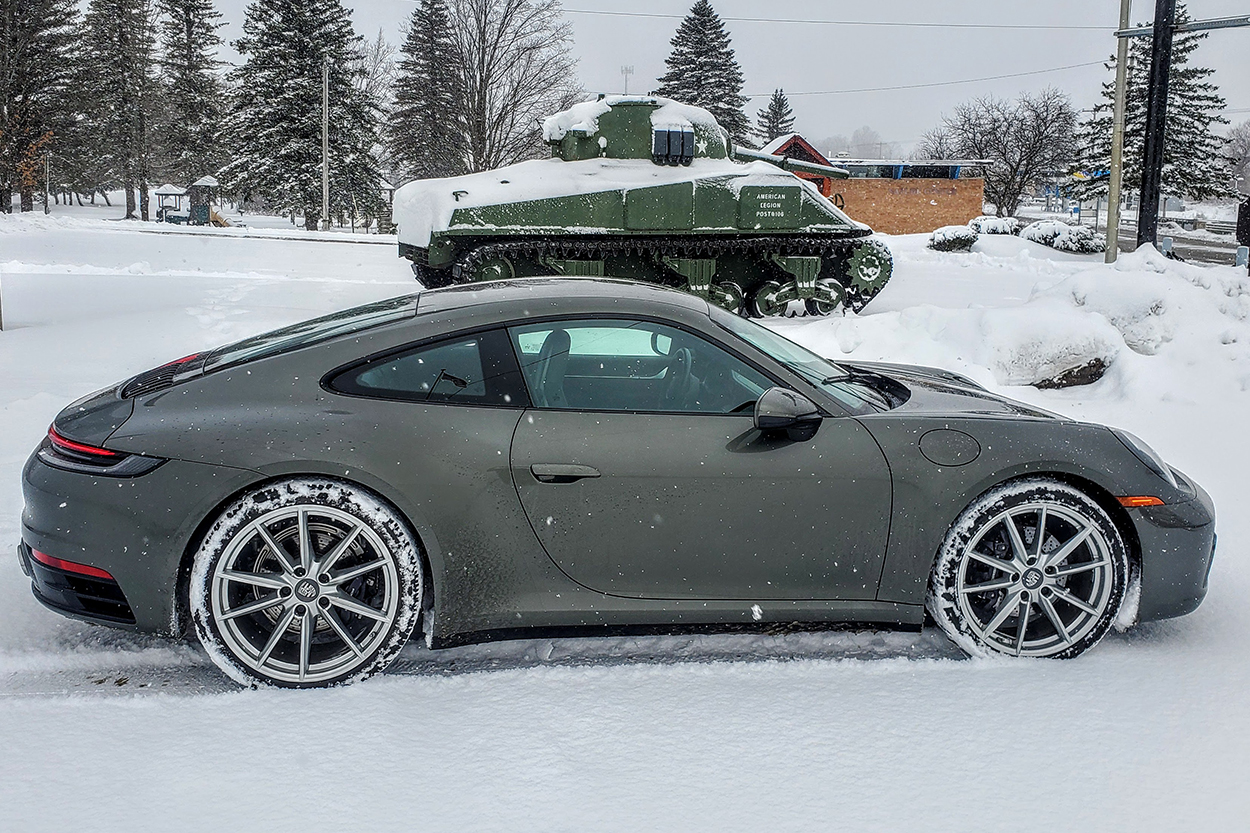 I had the opportunity to cycle in and out of a 996 Carrera 4 during the time that I had the 992, if for no other reason than to focus on the steering.  The old-school hydraulic rack of 996 is undeniably delicious, giving all of the communication of a 911 SC, minus the bump-steer. That said, I have no issues with the electric steering of the 992. The main difference for me is that the high-frequency sensations you feel from different road surfaces are dampened a little bit in the new car, and there is something I can't quite describe in the self-centering action that may be a caster-angle thing, but spending hours debating the merits of the Porsche electric vs. Porsche hydraulic steering seems like a lot of naval gazing at this point. The 992 Carrera 4 is clearly the best year-round sports car on the planet.