A positive development in the Year of the Pandemic: Tech Tactics Live
Tuesday, February 2, 2021
Article by Manny Alban, PCA National Past President
Most of us would be happy to write off 2020 and hope we never see the likes of it again. However, I submit that the pandemic and subsequent lockdowns did produce some positives. Tech Tactics Live wound up being the Post-It notes of PCA initiatives — it wasn't something we were looking to invent, but it became wildly popular in spite of being a back-burner initiative prior to 2020.
For those new to the club, Vu Nguyen is the longtime Executive Director of the Porsche Club of America. His office is at the club's headquarters in Columbia, Maryland. He oversees all the employees of the club who are there to assist the volunteers, including both national and regional leadership of the club. In short, he is key to keeping PCA running like a perfectly tuned and balanced flat-six.
When the pandemic hit, PCA's Executive Council accurately predicted that the cyclical series of annual PCA events would lurch to a standstill. Reality hit with the cancellation of the Spring Treffen, and Porsche Parade and Werks Reunion Monterey cancellations followed. Figuring out how to change gears and fulfill the mission of serving and continuing to entertain a membership of over 140,000 people during the pandemic became a priority.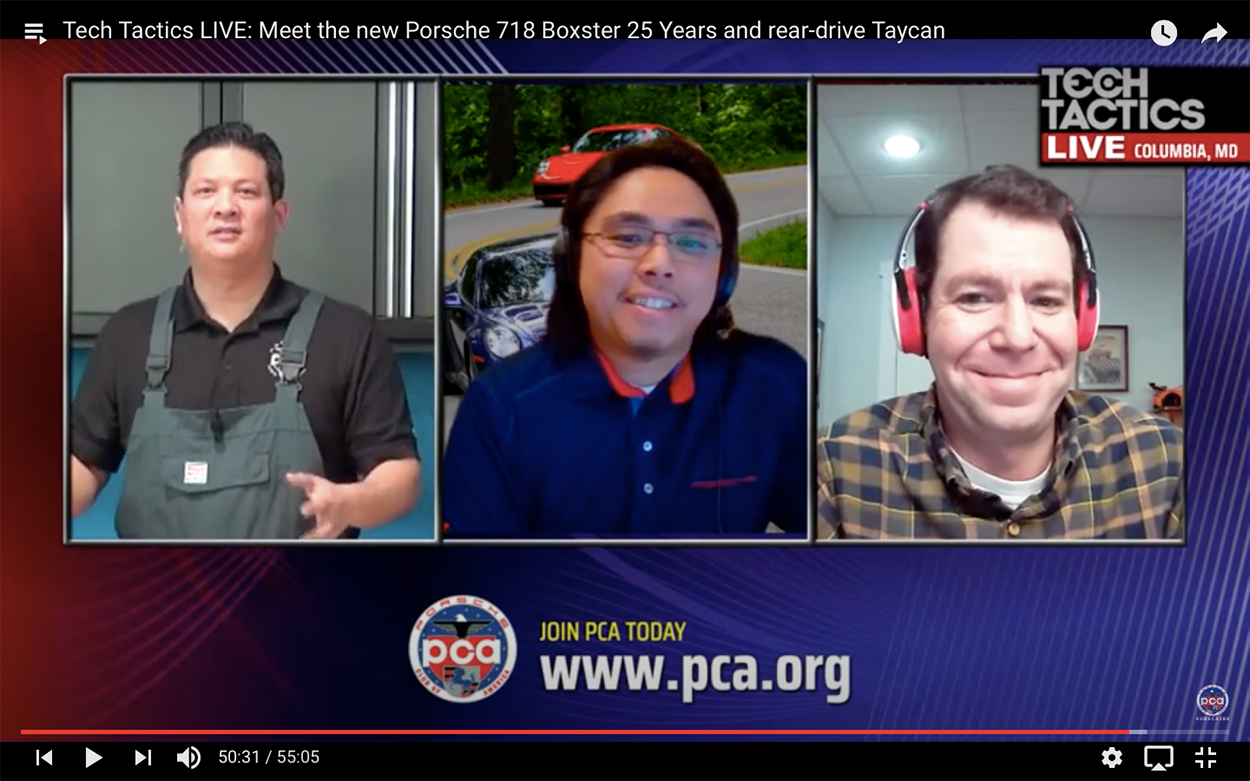 Above: A screenshot of the 21st episode, with Porsche Cars North America product spokespeople.
It's no secret that technical information and Porsche Panorama have been the top reasons why people join and stay in the Porsche Club of America. Getting technical information out to our members, in addition to its monthly magazine, has always been a challenge. Tech Tactics, a successful event that started over forty years ago in Zone 1 has now been an annual event on both the East and West Coasts. Under normal circumstances, with typically sold out events, they reached 400+ members annually.
During a PCA staff meeting focused on pandemic adjustments, it was at this juncture that peanut butter met jelly, or rather PCA saw the opportunity that a technical YouTube series could provide our members an interactive benefit while traditional events were on hold. Tech Tactics Live was born, bringing what people love about the Tech Tactics events to an online, bi-weekly format where each presentation lasts an hour. Just like the in-person Tech Tactics events, there would be guest speakers, a general topic, an opportunity for the audience to ask questions, and prize drawings. To be entered into the random giveaway, all viewers have to do is comment in the live chatbox with their PCA Region or viewing location — non-members are eligible to win, too.
If you've caught the episodes on YouTube as they're broadcast live, you may have overlooked the seamless transfer of information and glitch-free video. I would say only those who have tried something similar really appreciate the work that has gone into these episodes. Out of all the Tech Tactics, only two have had live guests. The rest, due to the pandemic and COVID-19 safety, have been remote. Remote broadcasting brings its own challenges. Speed of the guests' bandwidth, lighting, audio, etc. — and not to mention the differences between interacting with a guest who is in the same room, looking right across from you versus one that is looking at a laptop camera — are only seen behind the camera. Not to mention the pressure of not messing up while live.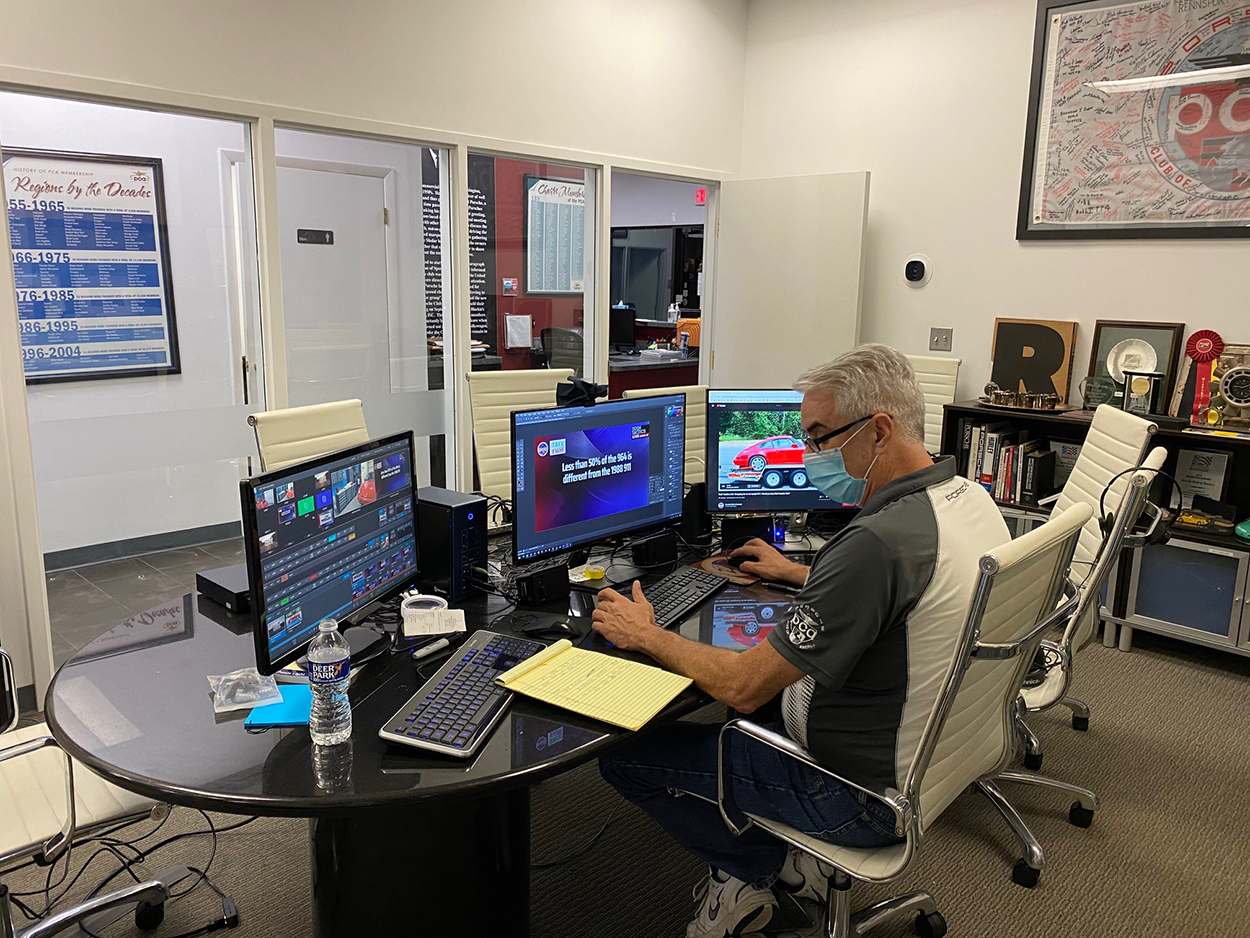 Above: Digital Architect Robert Forsyth operates the camera equipment and live stream from the office conference room.
So what goes on behind the scenes during the one hour that Tech Tactics goes live every other week? Well, it starts two weeks before when Vu proposes ideas and possible topics with PCA's National Technical Chair and PCA staff. Some topics are immediate winners, others require more research into the viability of the guests, and some are put aside to when the pandemic is over. Eventually a topic is agreed upon and then the real planning starts.
The show's one hour is carefully mapped to assure that things don't go off the rail while leaving some room for spontaneity. Questions are carefully constructed to stay on topic as well as inform the viewer as much as possible. Sprinkled in are giveaways normally provided by the guests or the PCA swag box. 
Since this is a 'live' show, Vu insisted there be a constantly running comments section. The live chatbox is where the viewers have an opportunity to ask questions, shout out where they are from, or simply give their viewpoints on how the show is going. Damon Lowney, PCA's Digital Media Coordinator, monitors the chat section for improper language, inflammatory comments or questions, and, of course, no politics. At 8:20 PM, he randomly selects prize winners from a list of those who have chimed in with their viewing location or PCA Region. PCA membership is not required to win.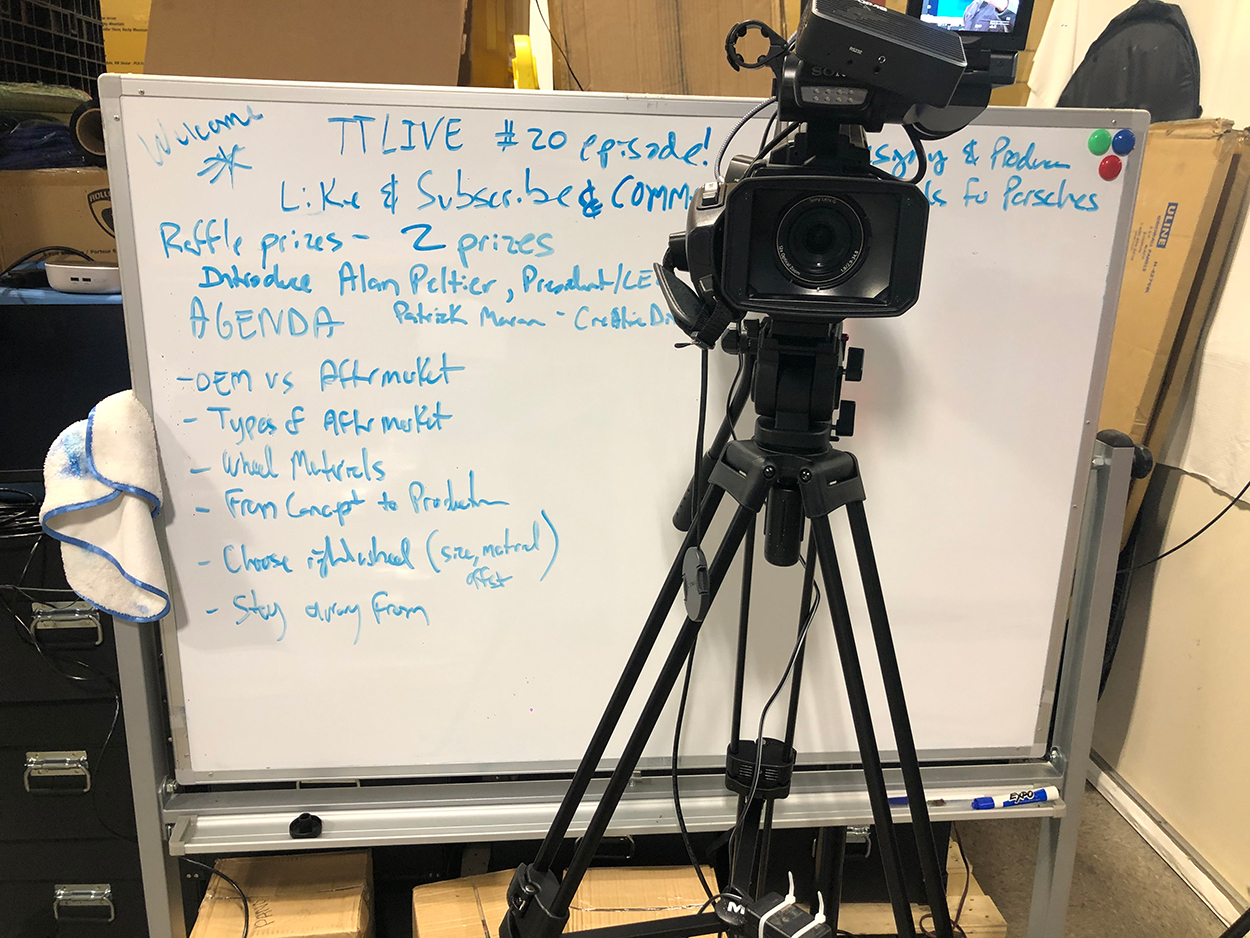 Above: One of two professional broadcast cameras used in the production of Tech Tactics Live, plus a whiteboard with show notes for Executive Director and show host Vu Nguyen.
Running the control room is PCA Digital Architect Robert Forsyth. Due to COVID-19 protocols, only he and Vu are at the National Office during Tech Tactics Live. The control room normally serves as the office's conference room. The studio/garage that you all see on YouTube was actually built with this exact intention when the club first moved into it. PCA has also used its garage to record numerous DIY and product videos, also archived on its YouTube channel.
Vu sets up slides, cue cards, a timer, and a reminder board to keep him on schedule and on track. Except for a YouTube glitch which postponed one show to a week later, Vu and his team have aired more than 20 episodes faithfully, every other Wednesday at 8 PM Eastern time. If you want to catch an episode live, just go to YouTube and search "Porsche Club of America" and you'll see the link for either the next Tech Tactics Live or the most recent ones amongst PCA's other videos. Episodes are also announced in e-Brake News, PCA's weekly e-newsletter. Yes, if you missed the live show you can view it later, including comments and questions, at your leisure. It truly is one of the best things from PCA to come out of this pandemic.
Be sure to give it a thumbs up, subscribe to the channel, and click the notification bell to be alerted to upcoming content.
Click here to visit the Tech Tactics Live playlist, which includes previous and upcoming shows.