A trip to the desert made me a Porsche Cayenne enthusiast
Thursday, February 11, 2021
Article and photos by Ilko Nechev
I'll start with a confession: I'm not an SUV person and have never lusted after one. Several years ago, when it was time for a bigger car to fit the growing family, I test-drove a first-generation Cayenne GTS. It left me underwhelmed and I decided I'd rather buy another wagon for transporting the kids and the dog, as well as hauling just about everything else. I didn't like the high center of gravity of SUVs, even in the most-sporting GTS trim. I also found the first-generation (E1) Cayenne interior too utilitarian and lacking the luxuries present in a similar vintage E-Class and A6.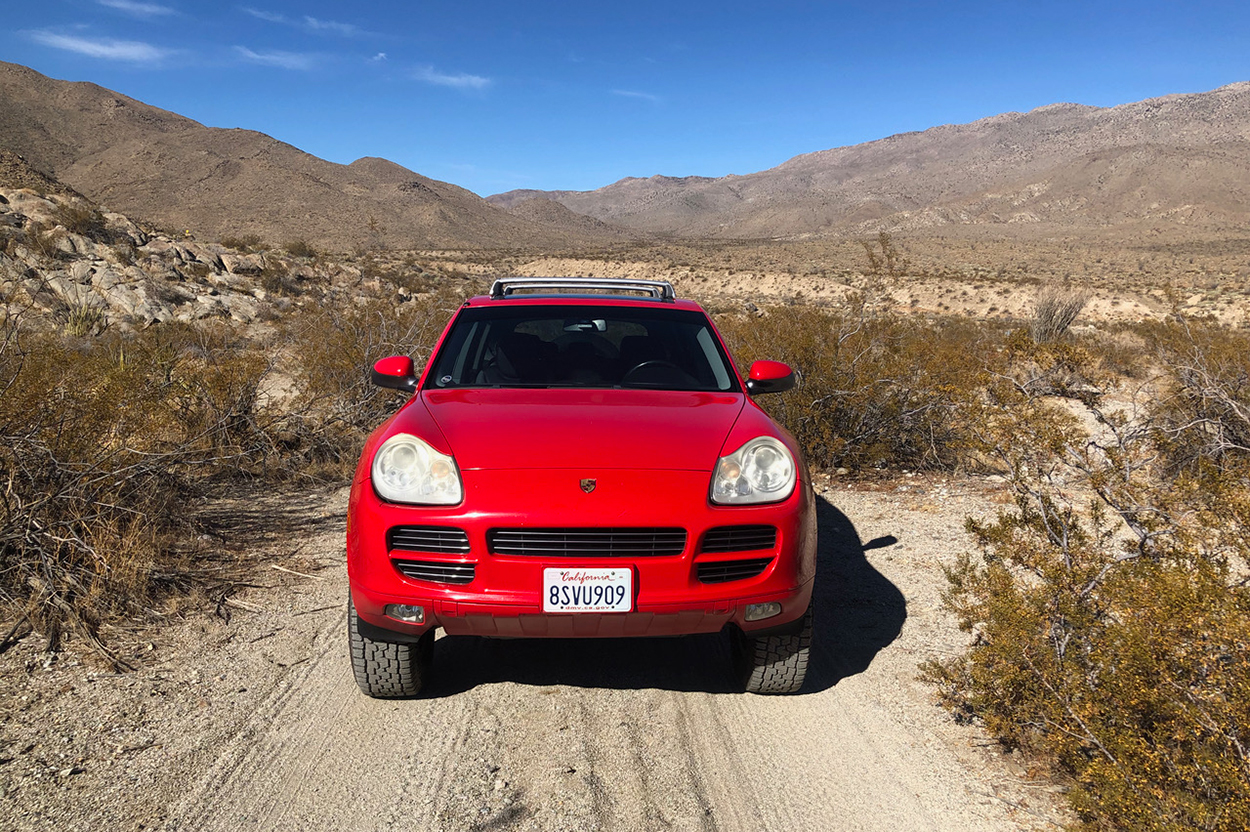 A recent move from New York City to San Diego has made me reevaluate my perception somewhat. The Anza Borrego desert is an hour away from my house and offers off-roading adventures one can't even imagine in the North East. With the limited travel we can do during the pandemic, day trips to the desert in the colder months have been a lot of fun for the whole family, yet somewhat limiting due to the low profile of our car. We even ended up getting towed home one day early last year because a rock cracked the transmission pan cover. That was an experience my kids won't let me forget...
So I started looking at E1 Cayennes again. Visually, they have aged well. Current market values have made them very attractive. They even have better off-roading capabilities than subsequent generations. 
My idea was to find a higher-mileage, well-maintained E1 to modify for the dirt trails. I didn't want a pristine example for the type of use I was planning.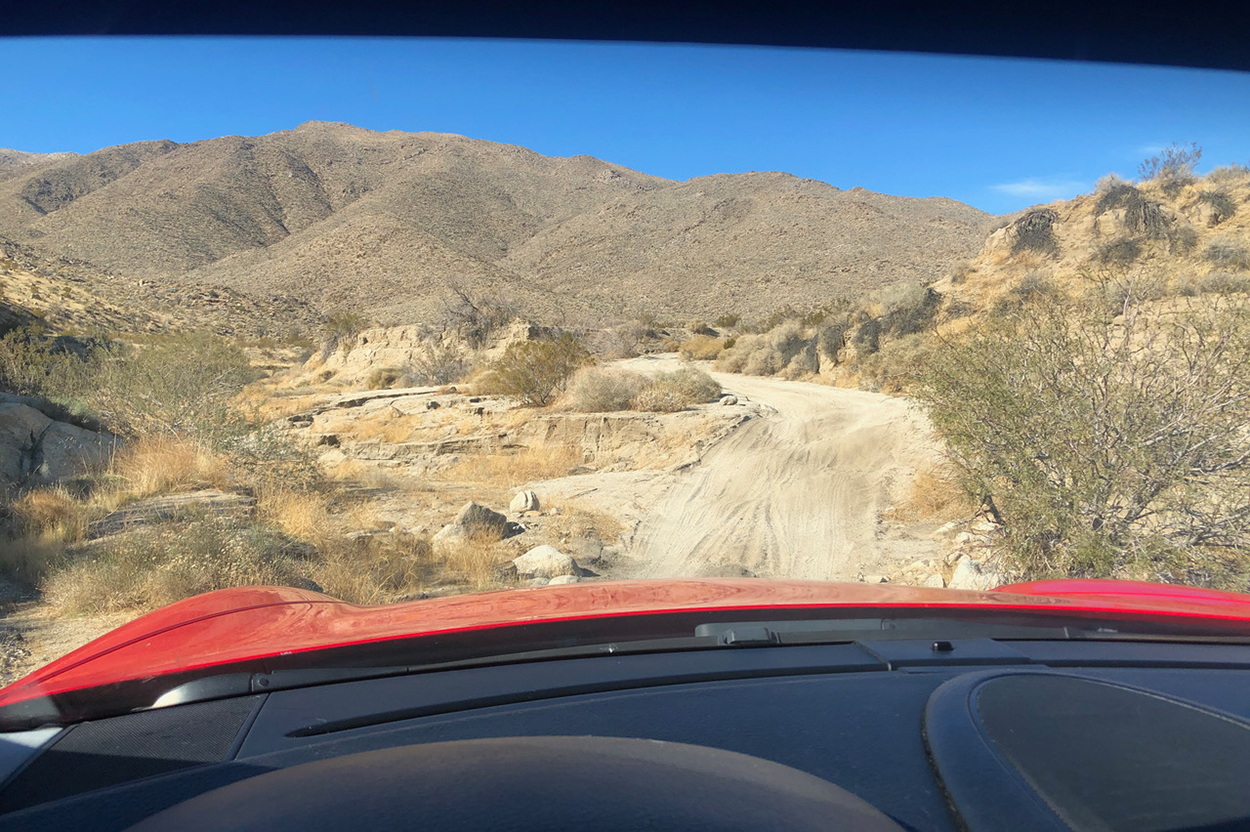 Over the holidays a 2006 Cayenne S Titanium Edition in Pure Red showed up on Rennlist. The seller, a fellow PCA member, was very knowledgeable about the car and shared a great deal of facts. The odometer was nearing the 200,000-mile mark, but it was a well-maintained vehicle. Option-wise, it was very close to what I was looking for, so I pulled the trigger.
From an aesthetic standpoint, Pure Red was a color only offered on the Cayenne S Titanium. It makes it really stand out among its monochromatic brethren. I also like the two-tone gray and black interior.
The car I bought came with oversized 31-inch Pirelli Scorpion All-Terrain tires (265/65/18) including a full-size spare on 18-inch factory wheels. This is important because for off-roading you want to fit the smallest diameter wheel possible that will clear the brakes coupled with the tallest sidewall tire that you can mount without rubbing. Since the Titanium Edition was originally delivered with 19" wheels from the factory, the 18" set and practically new tires was a big bonus gaining 2" of additional sidewall!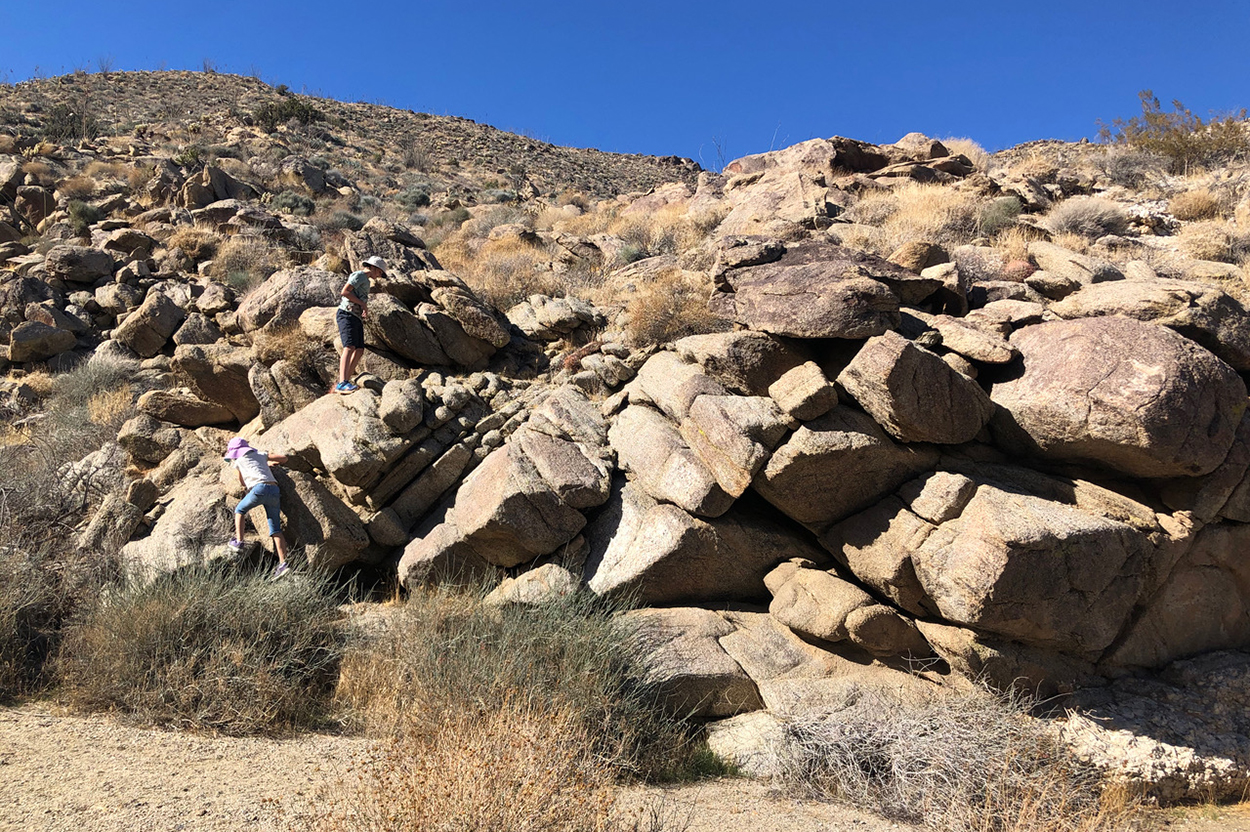 The downside to the bigger tires is that there is a significant weight penalty. The car will feel slower off the line and it will wear axles and bearings faster. I should also mention that in my case the speedometer is off by as much as 10 miles per hour at highway speeds. You may think you're cruising at 65, but you're actually in speeding ticket territory, so that's something to keep in mind!
The new-to-me Cayenne also came equipped with the optional air suspension, which I wanted for several reasons. The comfort/sport settings are great for an all-around driver. Ride height adjustment is very useful when off-roading. And finally, the on-board air tank allows you to (relatively) quickly air up your tires after some quality time on the trails.
A few short days after finalizing the deal the Cayenne made its way from Austin, TX to San Diego. We met the car carrier and my kids immediately fell in love with "Tomato," as they call it. Their first impression was how much better the visibility is from up high. They couldn't wait to go to the desert the following weekend.
As it was our first voyage, I didn't want to push the car up steep hills or climb over big rocks. We found a beautiful trail that led us into a canyon where we went for a hike and a picnic lunch. Anza Borrego is a geologist's dream, a place to enjoy the many different rock formations and climb up some pretty steep boulders. The whole family very much enjoyed the experience, the first time we've all been able to go on a trip in a Porsche together. That alone was worth the price of admission.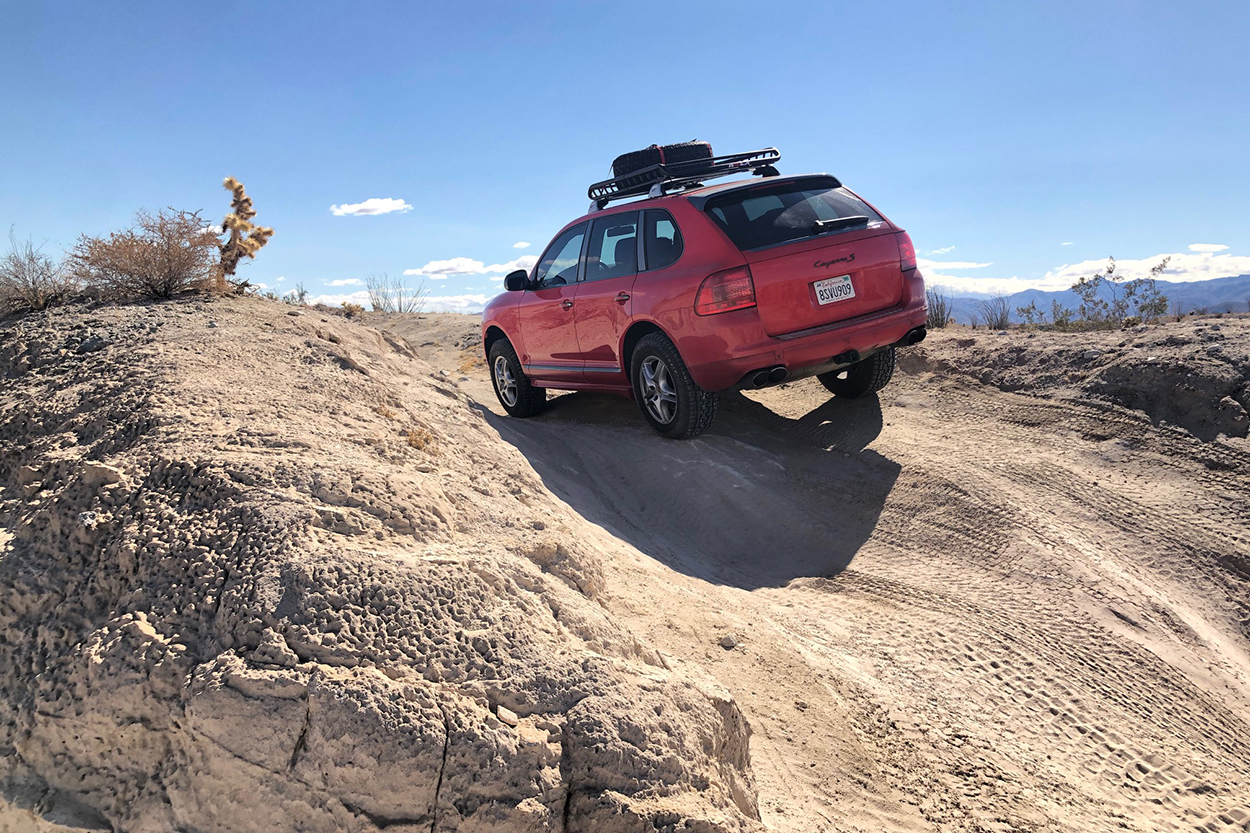 Above: The Cayenne on a subsequent desert trip, with a new roof rack and full-size spare on top. Read about it in a future installment!
More to come next month. We hit some real off-roading trails and play with a Jeep Rubicon AEV...