Mart Fresh: Any of these Porsche sports cars are ideal springtime toys
Tuesday, February 16, 2021
Photos by the sellers except where noted
A popular PCA member benefit is The Mart, the club's classifieds section online and in each issue of Porsche Panorama. Mart Fresh is a bi-weekly column in which PCA media staff and guest contributors pick what they think are the "freshest" Porsches currently available, and then attempt to explain their reasoning. Only PCA members and Test Drive program participants have access to seller contact information. Always invest in a pre-purchase inspection for any Porsche you may consider, as seller descriptions and pictures don't always tell the full story.
---
1977 Porsche 911 Turbo Carrera - $84,000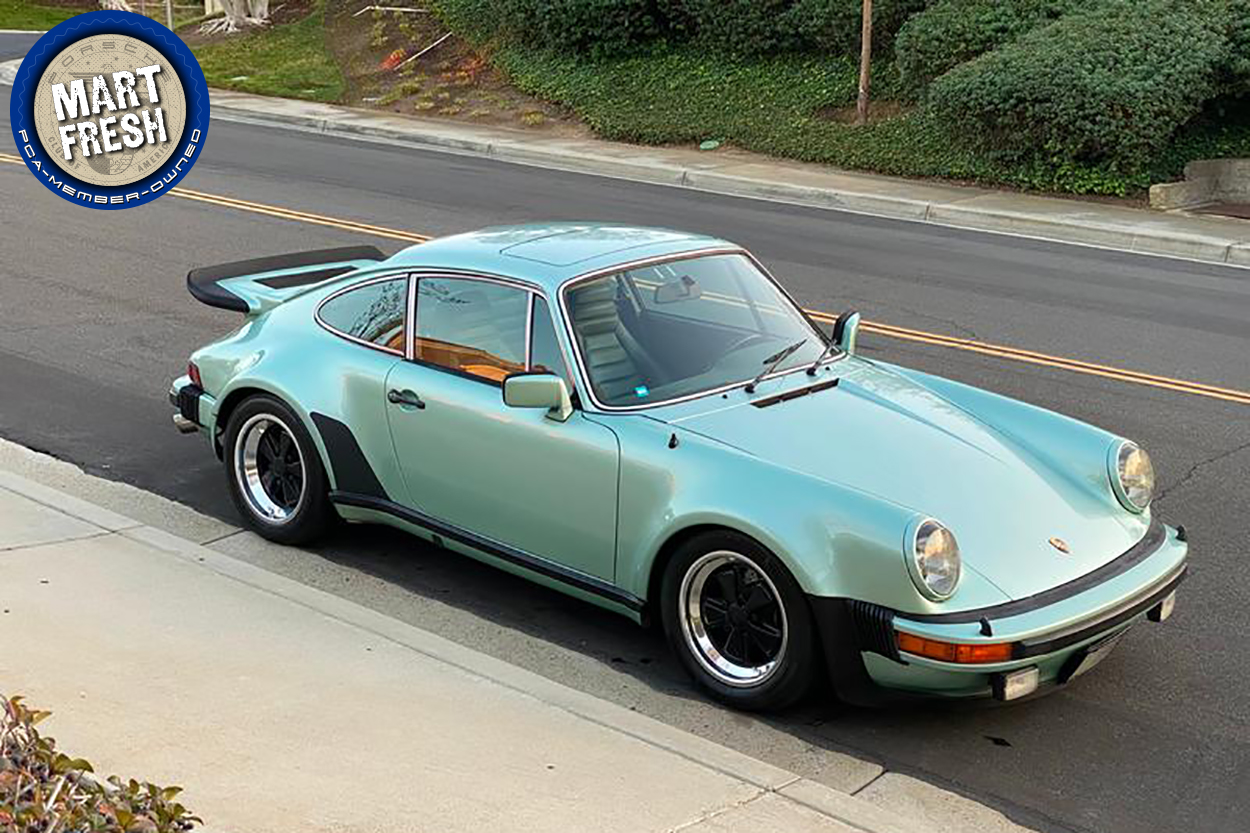 Okay, this one really has me doing the numbers, as this '77 911 Turbo Carrera has some big pros and cons. I love vintage Porsches in interesting colors, and this iconic 930 in Ice Green Metallic hits me squarely in the eyeballs. It's absolutely beautiful, a rare special order, and mostly original according to the seller. It's got a great history and has been regularly serviced. Then we get to the engine… I can't remember the last time I saw an early Turbo swapped to a naturally aspirated 3.6-liter flat six from a 964. Okay, maybe ever? But no matter — you can't argue that it's got more horsepower this way, and if you just want "the look" without that hilarious snap-boost-oversteer these were so famous for, okay, maybe that's a plus for a driver. The conversion seems like it was thought out and professionally done, but I have to admit I'd love this much more if that original motor — even if it had been blown to pieces on an overrev — was still with the car to retain its history. But it's not, and the current owner seems pretty aware of that, so let's just get to the money ask. The asking price (or trade value) is $84,000, which seems to be slightly less than the average between a #4 and a #3 car, so maybe that's not so far off? The buyer would really need to love the color, love the early look, and love the fact that it's also a modernized hot rod of sorts, making the field much smaller for a buyer and the seller to play on. I wish this seller good luck, and I hope we hear how this one comes out! — Brad Phillips, Business Development, Hagerty
Click here for PDF archival copy of ad
---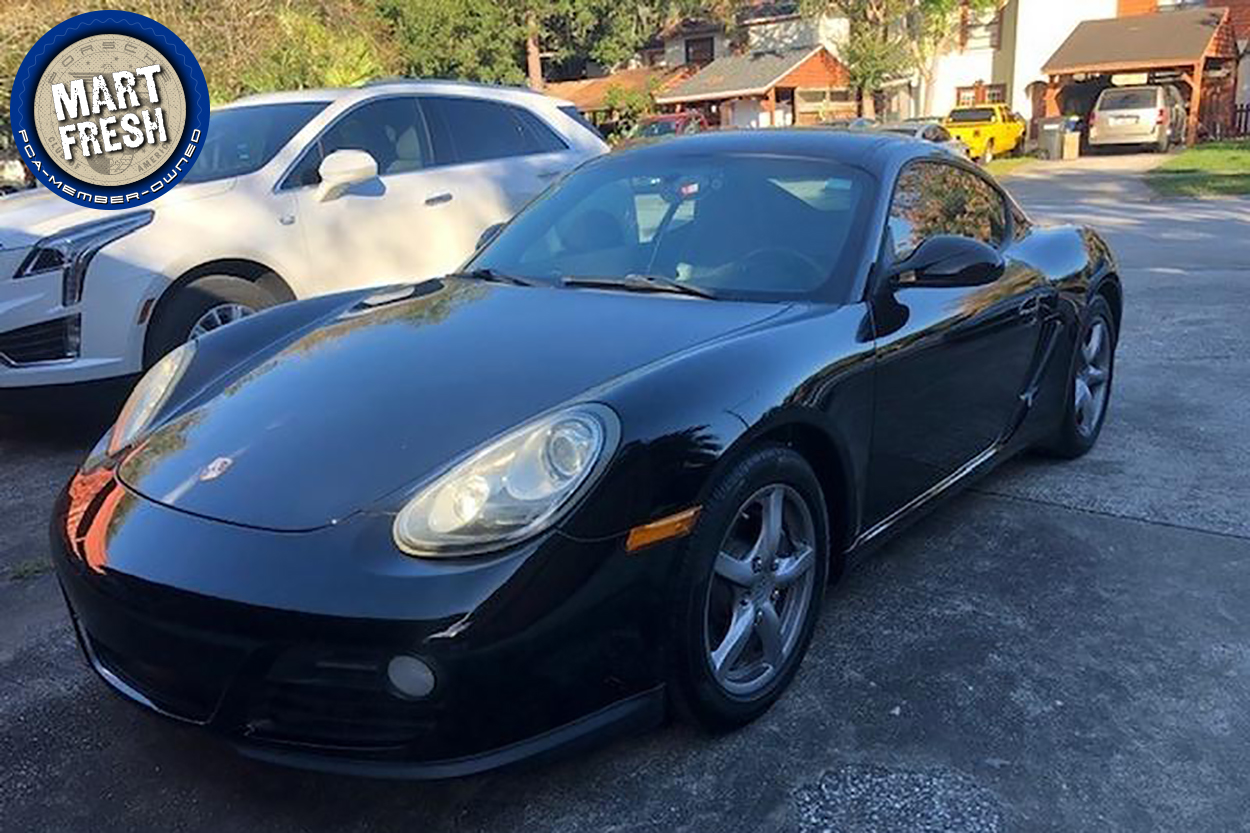 First-year 987.2 Caymans are tough to find. The worst global recession since the 1930s was just getting started, and not surprisingly, Porsche sales were way down. As with the 997.2, 2009 was the first model year that the Cayman and Boxster dispensed with intermediate shaft (IMS) bearings. And while the Cayman S and all 997s got Porsche's new direct fuel-injection system, base Caymans stuck with the tried and true port injection system, which did not cause the exhaust and top-end soot issues of the DFI system. 2009 was also notable for the introduction of Porsche's brilliant new PDK dual-clutch transmission with which this car is fitted. Anyone who knows me knows that I default to three pedals. They also know that I can't resist a bargain. This car fits squarely into that category. Well under 100,000 miles and a trouble-free, non-IMS, port-injected engine? All for under $22,000. This would be a tough car to pass up, particularly if you spend a lot of time on six-lane parking lots like the Capital Beltway or Interstate 405, where the PDK is a godsend. — Rob Sass, Editor in Chief and Director of Content, Porsche Panorama and PCA.org
Click here for PDF archival copy of ad
---
2004 Porsche 911 GT3 - $69,500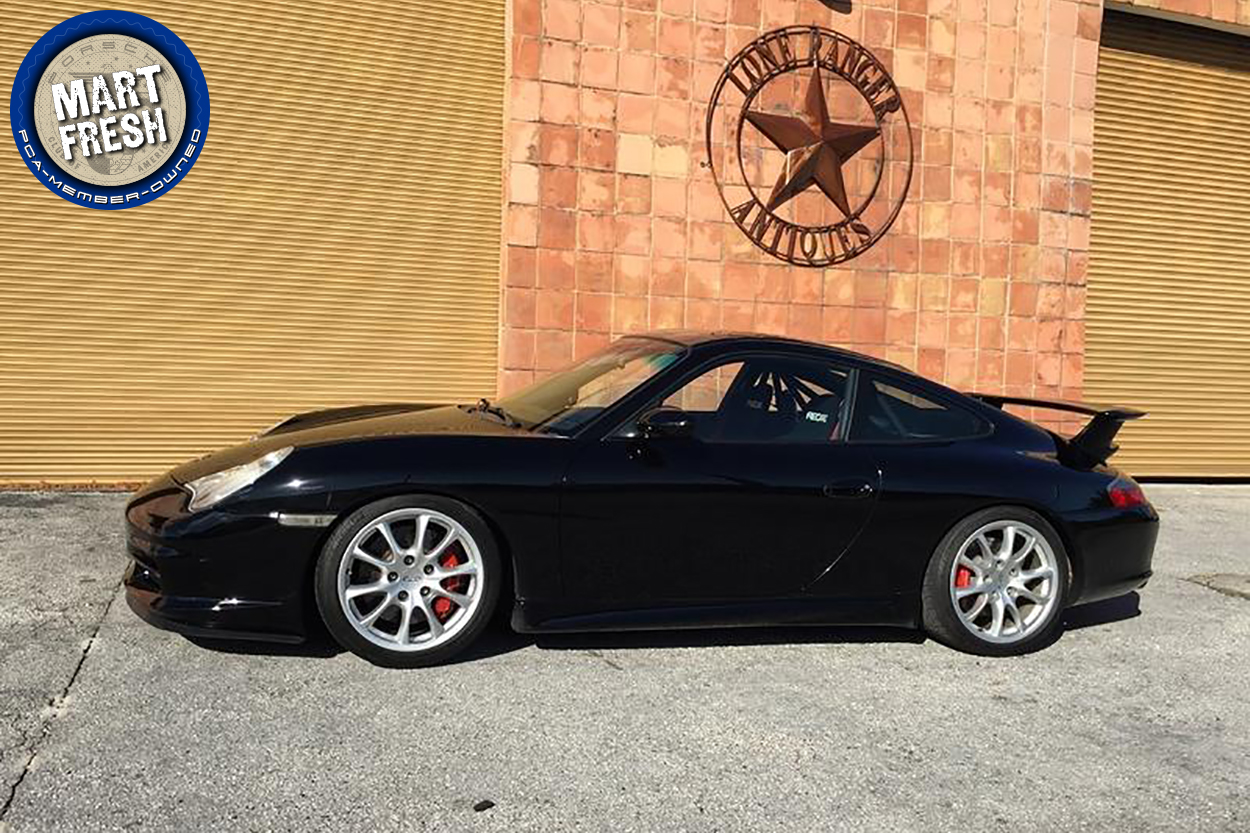 What my 996 aspires to be but never will be.
As much as I love my '99 911, the ultimate iteration of the 996 is the GT3. With today's introduction of the new GT3, I was reminded how the 996 GT3 ran a sub-8:00-minute lap at the 'Ring. It was and still is an amazing track tool. Some may say it's too brutal and/or uncivilized for the street. I, on the other hand, consider that part of the immersive experience that few cars offer. The 996 GT3 had very few electronic gizmos to keep you in line. It demands your respect, and if you don't give it, you may find yourself in a precarious situation.
This is black-on-black 57,000-mile example is nicely optioned and seems ready to enjoy. The owner mentions that the roof has some indents that I'm sure a paintless dent service can straighten out. Though it doesn't have its original seats, the Recaro Pole Positions that are in it fit the car perfectly.
The coolant lines have been welded, which is a common and recommended modification. A recent service included a water pump, thermostat, coils and plugs, belts, tensioners and pulleys, and more. The owner is up front about overrevs: The car experienced a stage 2 overrev at 319 hours.
Values on 996 GT3s continue to climb, and to find one below $70,000 these days is rare. Get a pre-purchase inspection and enjoy a future collectible today. — Vu Nguyen, Executive Director, Porsche Club of America
Click here for PDF archival copy of ad
---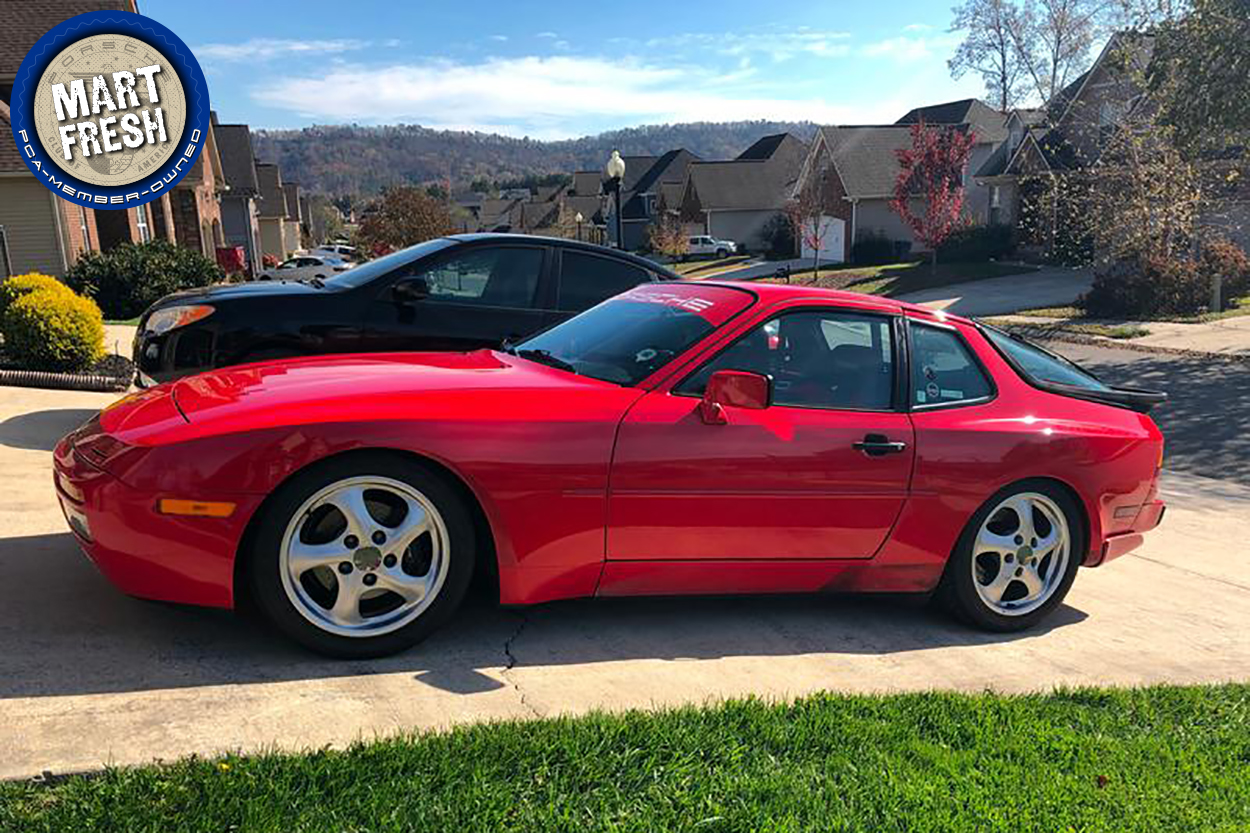 I keep coming back to an old favorite, the 944 S2, in Mart Fresh columns. In my opinion, it's the best of the front-engined rear-wheel-drive four-cylinder Porsches, because it has nearly the power and torque of a 944 Turbo without the fuss and expense of maintaining the turbocharger of said car. They're great cruisers, daily drivers, and track toys, and with its tasteful performance mods this one could be enjoyed for all three purposes. It's a Porsche ready for whatever you throw at it. It's had a lot of maintenance recently, including water pump, timing belts, clutch, and much more. It also has a Guard gear-type limited-slip differential, making it ideal for autocross and track days. The interior is still there and looks pretty good for its age. The seller also confirms that the engine is in good health. As always, get a pre-purchase inspection, but 944 S2s ready for the road or track — in this nice conditions — are getting quite rare at a price like. Plus, it comes with two sets of wheels, one of which is mounted with Bridgestone RE-71R tires, one of the best autocross and track tires out there. Buy it and you won't be disappointed. — Damon Lowney, Digital Media Coordinator, Porsche Club of America