What's up with the midyear Porsche 911 market?
Tuesday, February 23, 2021
Above: 1975 Porsche 911 Targa 2.7.
Article by Rob Sass
Photos courtesy Porsche 
Dave Kinney, publisher of The Hagerty Price Guide, coined a term he calls "The Principle of Substitution." Paraphrasing Dave, it goes something like this: We all eventually get priced out of the market for any given car. The minute that happens, a large swath of now disenfranchised buyers go out in search of the next best thing. For those priced out of the long-hood (1964-73) 911 market, that car is the 1974-77 "midyear" 911. They're appealing cars, but not without a downside, which can be quite dire if you're unlucky or unwise.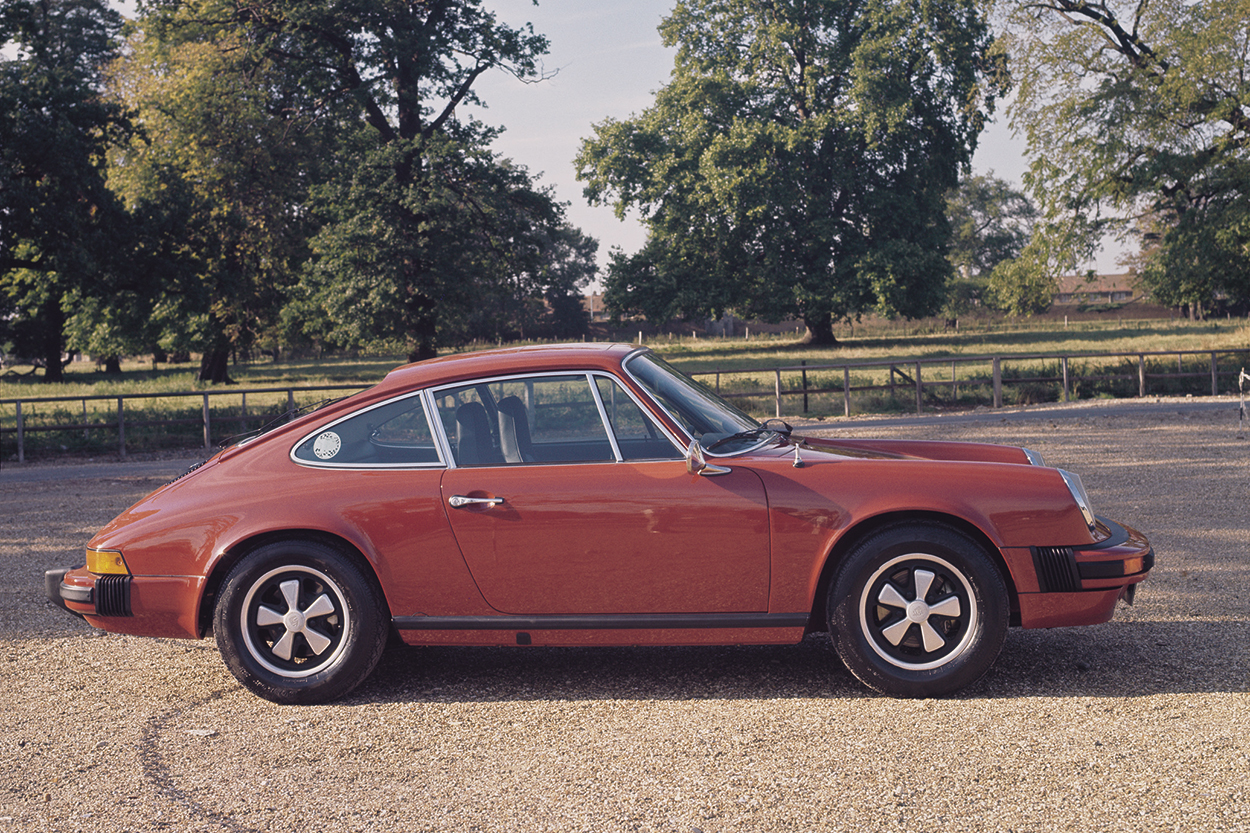 Above: 1974 Porsche 911 2.7.
911 fans like midyears because they bridge the gap between the long hood 1973 ½ CIS T, and the 1978 911SC. Bright colors and bright trim were common on midyears, while more somber colors (or Guards Red) plus black anodized trim were the rule on SCs. The narrow hips of the midyears appeal to some as well, as do the brushed stainless Targa bars. But the Achilles' heel of the North American-spec midyear 911 was its 2.7-liter engine, particularly in model years 1975-77.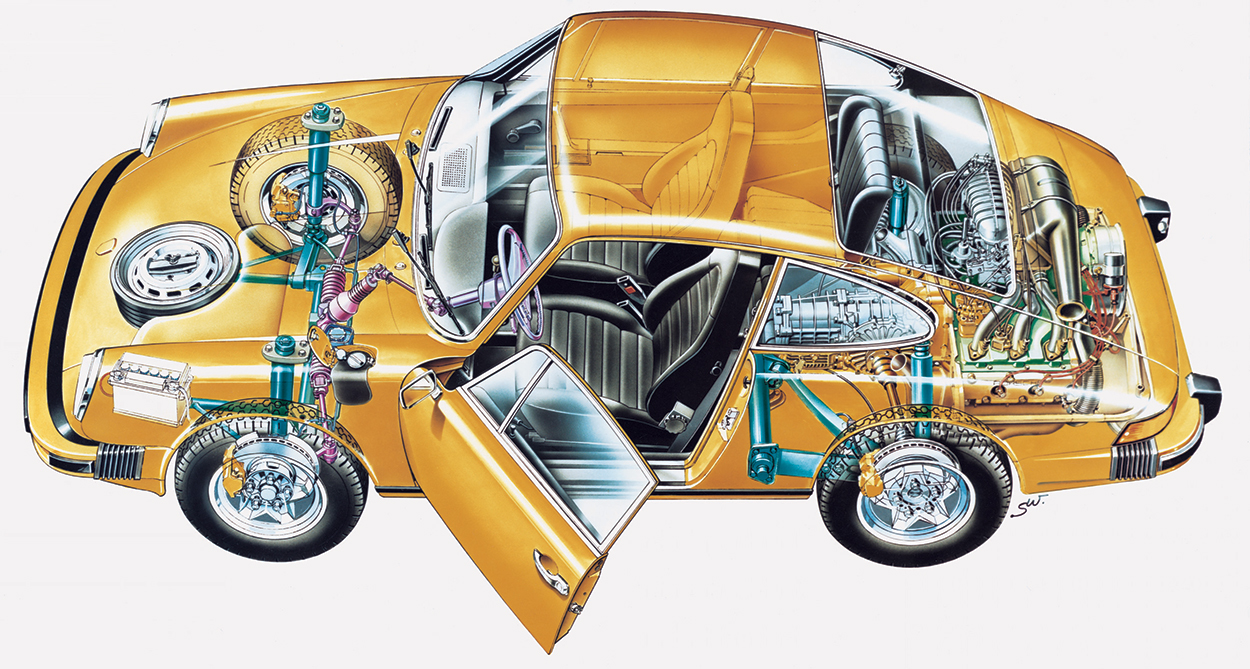 Above: 1974 Porsche 911 2.7 cutaway drawing.
Porsche's strategy for meeting ever-tightening emission controls was uncharacteristically crude. Their imperfect solution for dealing with unburned hydrocarbons was to try harder to burn them. Porsche employed a less efficient five-bladed engine fan and something called a thermal reactor in the exhaust stream, all of which was designed to raise temperatures. Adding insult to injury, the cars also lacked proper oil-coolers. High temperatures and the differential between the expansion/contraction rates of the metals used in the case, cylinders, and heads played havoc with engine longevity. Back in the day, it was exceedingly rare for an unmodified 2.7 to last more than 75,000 miles. Cars that lived in warmer climates grenaded much faster. It presaged the IMS bearing debacle by 25 years.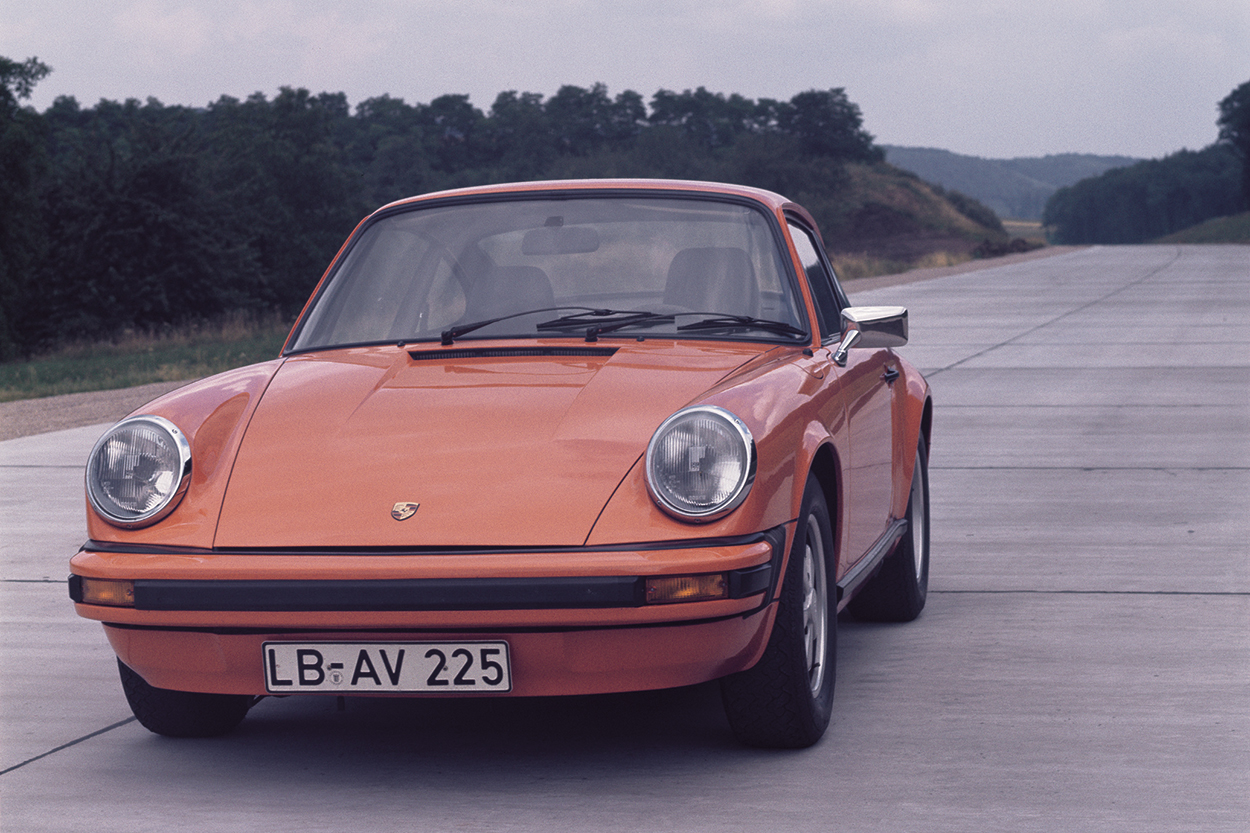 Above: 1974 Porsche 911 2.7.
Fortunately, 45 years down the road, most of the pins have already fallen out of their respective grenades. Since most 2.7s failed back when the cars were cheap, and replacement 3.0-liter SC engines could also be had for cheap, that's what a great many cars are running around with today. Visually, the engines are similar, with both running Bosch CIS fuel injection. The 3.0, while a bit less revvy, is more powerful. A proper 3.0 swap doesn't really seem to hurt the value of the desirability of the car.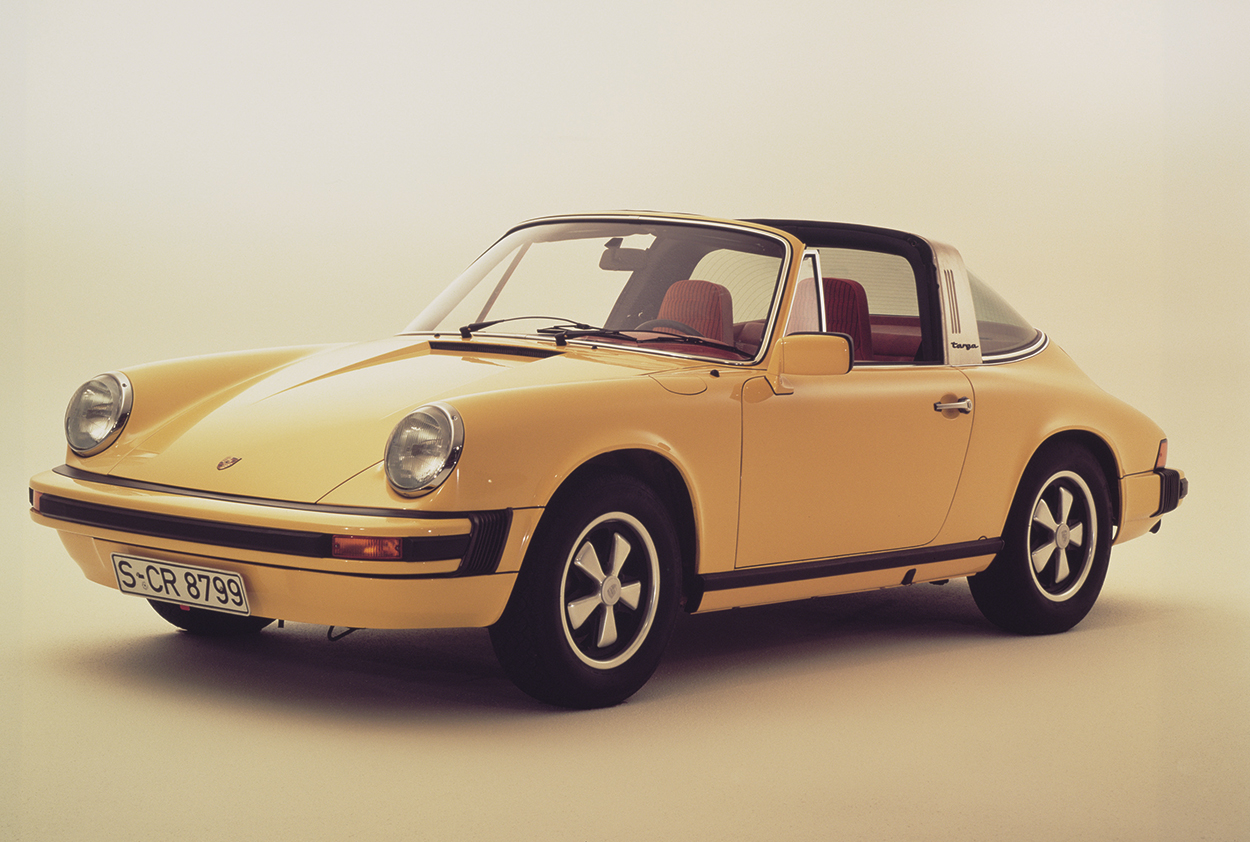 Above: 1977 Porsche 911 Targa 2.7.
But the currently hot impact-bumper 911 market seems to have flushed out more than a few midyears still running on their original 2.7s. How should we treat/value these cars? With a modicum of caution, I'd say. The passage of time hasn't made 2.7s any more robust. It's true removing the thermal reactors, fitting a proper oil cooler, and 11-bladed fan will help considerably, but you still won't achieve 3.0 SC levels of reliability by doing this. It might be enough to get a few more years out of a car that you may use for under 3,000 miles a year, or it may not. 2.7s cost about 20% more to rebuild, easily pushing costs over $20,000 to do the job properly. And that once abundant supply of plug-and-play 3.0 replacement engines? Cores now cost well over $10,000.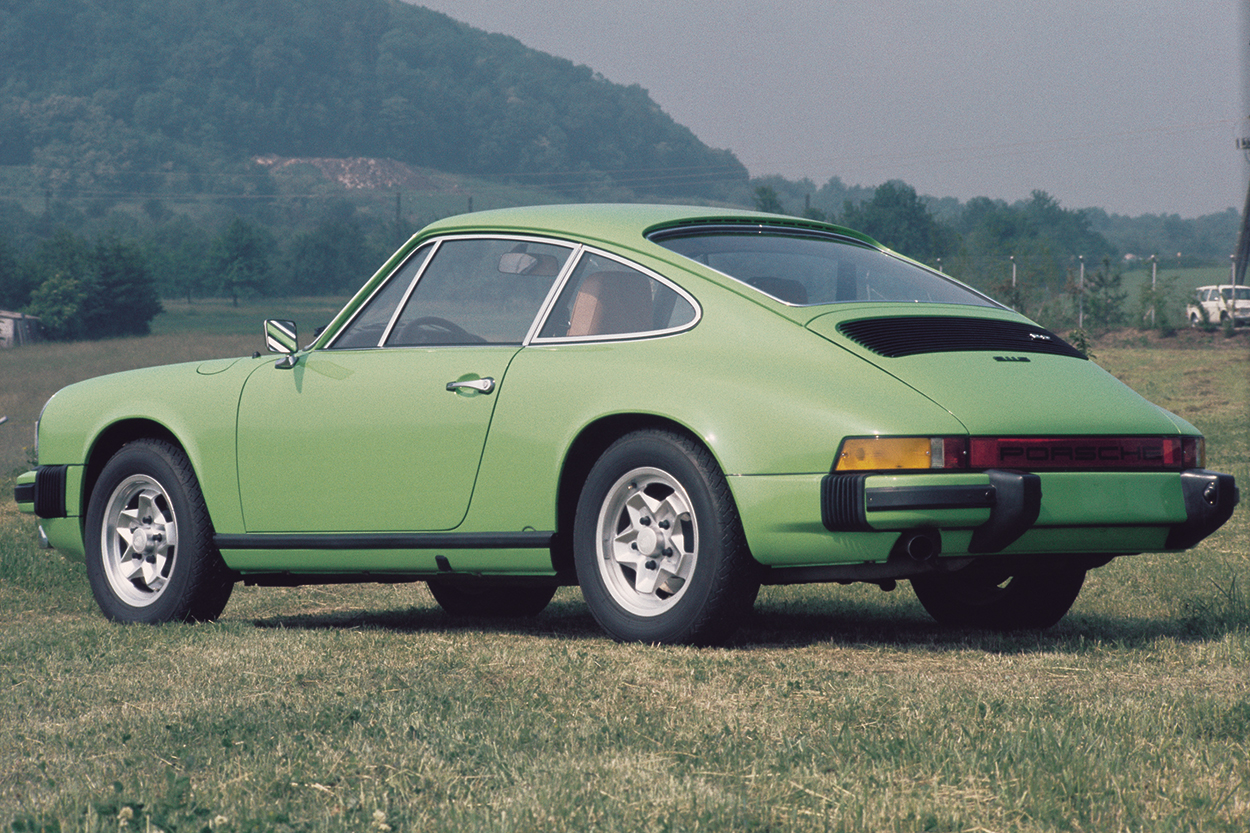 Above: 1974 Porsche 911S 2.7.
Caution should be the watchword here. By all means, buy that midyear in a great color — and it's okay to pay up for a bright color. A Continental Orange midyear will generally bring more than a Guards Red SC, even though the latter is a better car by most measures. But if you pay a premium for the vintage charm of a midyear, make sure you're buying a car with a documented rebuild by a trusted specialist, or one with an SC — or even a 3.2-liter Carrera — swap that has healthy leak down numbers.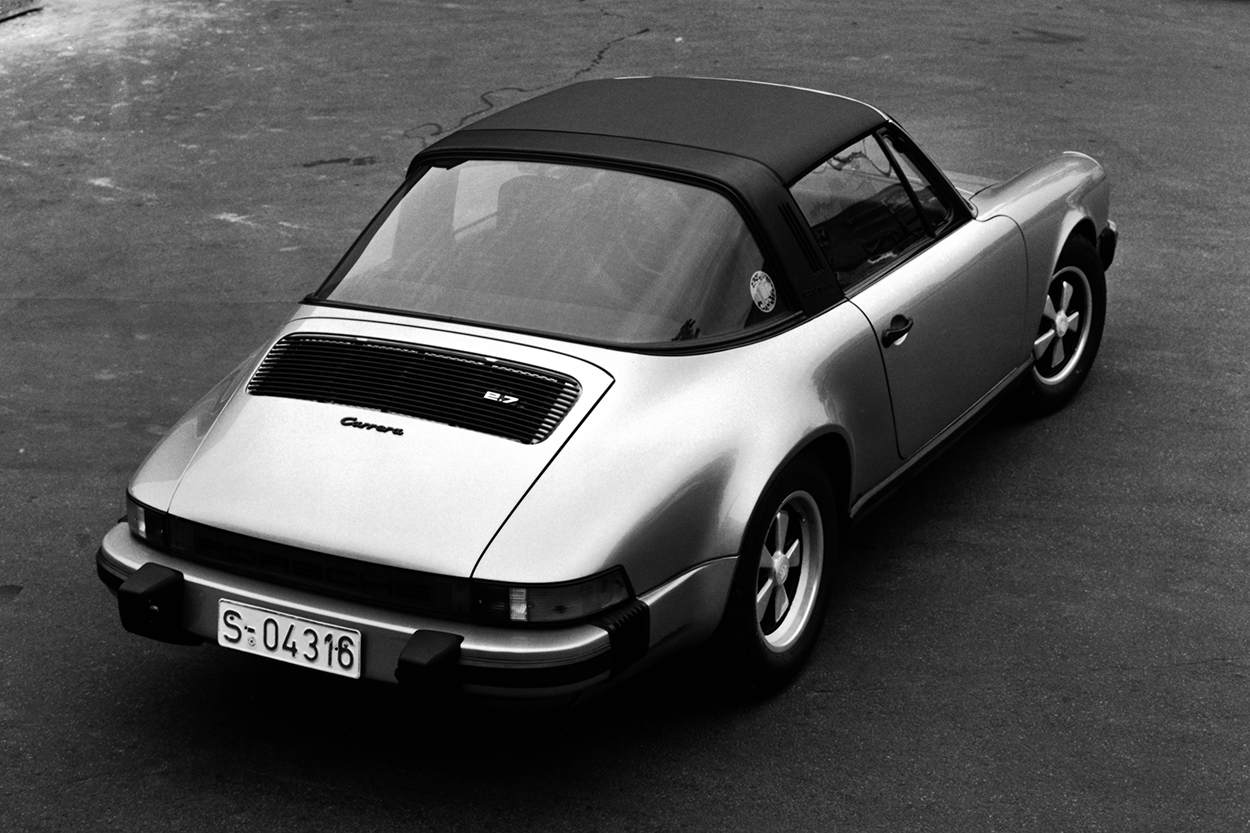 Above: 1974 Porsche 911 Carrera Targa 2.7.
Paying more-than-SC money for a 2.7 that's a question mark under the engine compartment lid is just asking for heartache down the road. Most sellers seem to understand this. I recently looked into buying a Light Yellow 1977 Targa with its original 2.7. The seller priced the car fairly, taking into account the fact that the engine would have to be dealt with at some point (he wound up keeping the car and taking it off the market). Others act like the problem doesn't exist, or even get offended by its mention — case in point the seller of a '77 Targa. When I balked at paying his rather aspirational asking price for a car with 70,000 miles on its untouched 2.7, he scoffed, and opined that I simply didn't deserve the car. Ironically, I agreed wholeheartedly with his sentiments.