Werks Reunion Amelia Island: First time's a charm [w/video]
Article by Rob Sass
Photos and video by Damon Lowney
After just three years in Monterey, Porsche Club of America's Werks Reunion has become a must-attend event for club members and Porsche enthusiasts during Monterey Car Week. In response to demand to replicate the show on the East Coast, PCA has taken its winning formula to Amelia Island, Florida.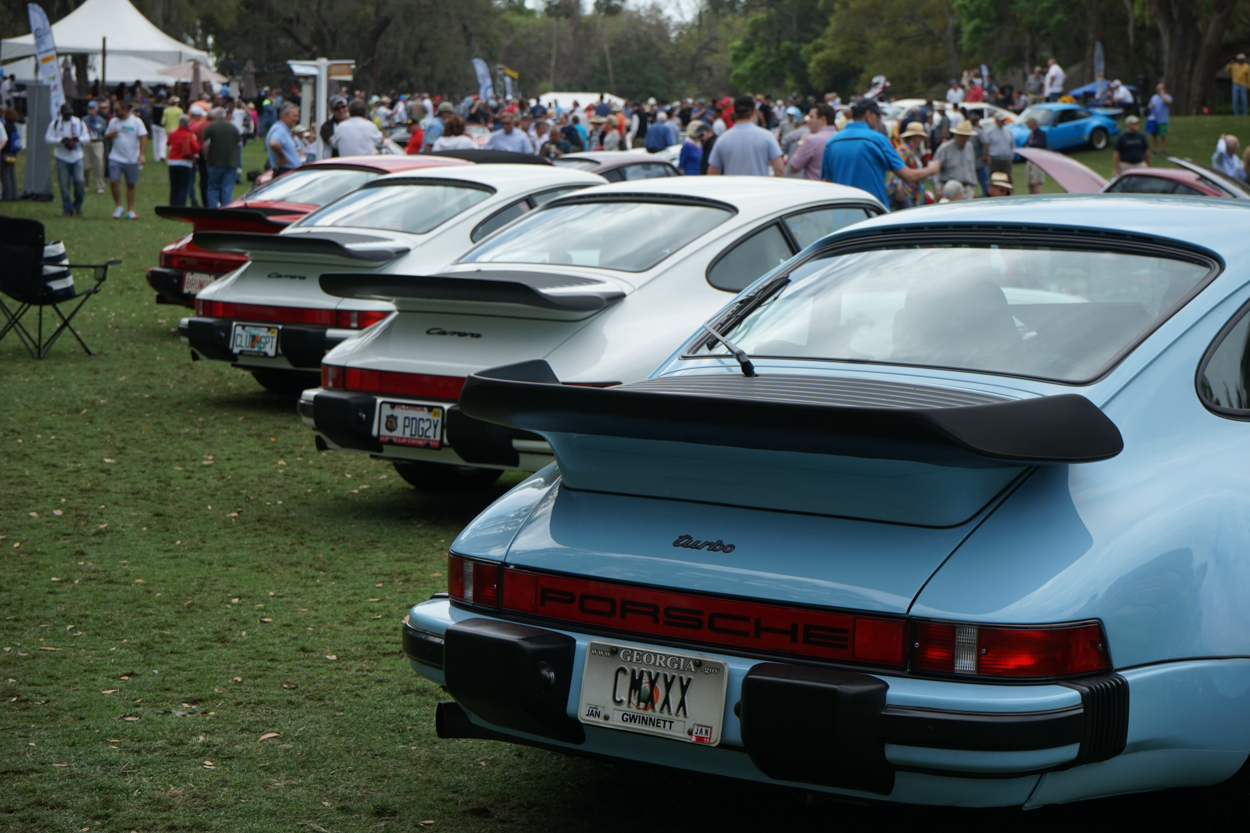 "Whale tail" spoilers adorn Turbos and Carreras alike.
On Friday March 10, 2017, Werks Reunion featured over 670 Porsche vehicles, 160 of which appeared in judged classes. Porsches came from 32 states plus Puerto Rico to celebrate the Porsche marque as well as the 20th anniversary of the popular Boxster two-seater sports car. Porsche Cars of North America and the Ingram Collection brought over 20 display cars, while Pirelli Tires made free espresso for attendees at their tent.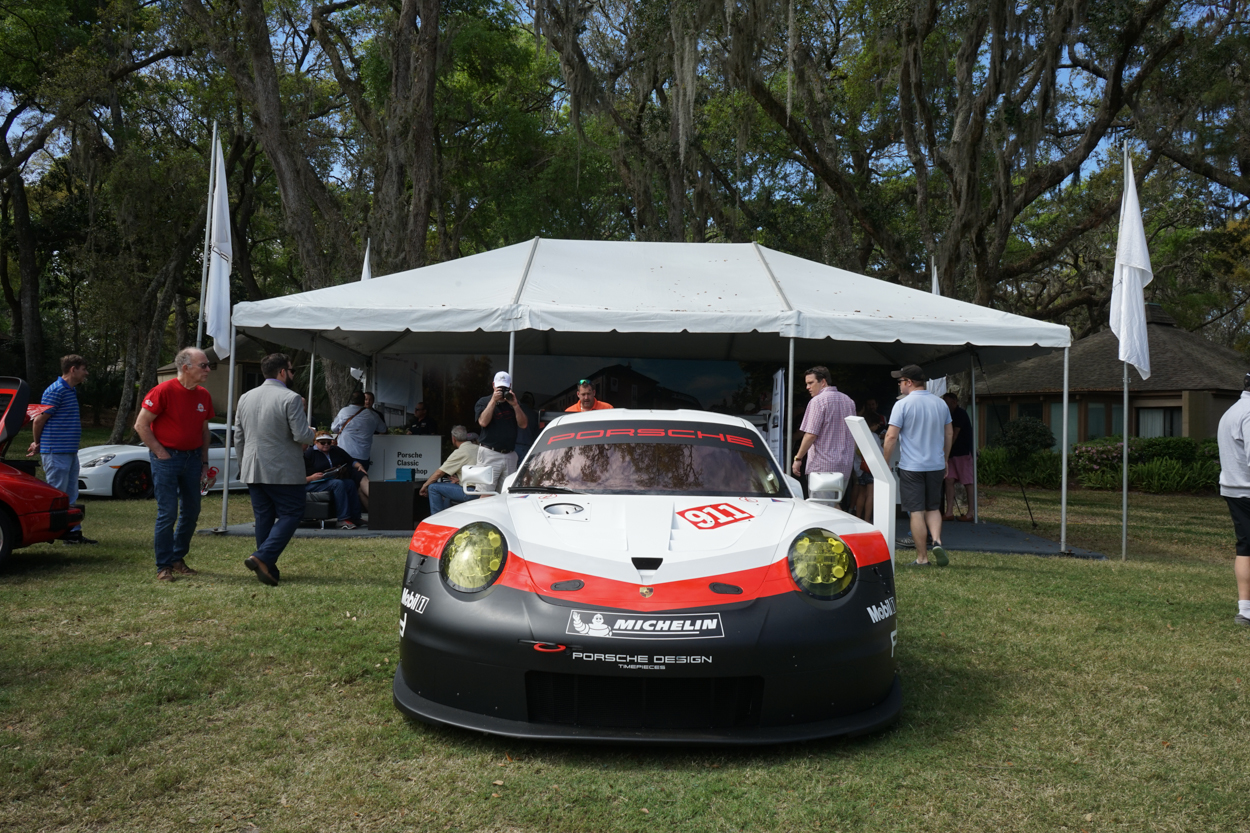 Mid-engined 911 RSR in front of Porsche Cars North America's booth.
"Registrations officially sold out over two weeks prior to the event," said Vu Nguyen, PCA's  Executive Director. "Even though spaces in the judged classes and the corral were sold out, Porsche fans still wanted to come and support the event. The general event parking was filled with Porsches as well. Our goal was to take what we've learned in Monterey and bring this great event to the East Coast to allow club members and Porsche fans on the other side of the country to participate," said Nguyen. Attendance was free for spectators.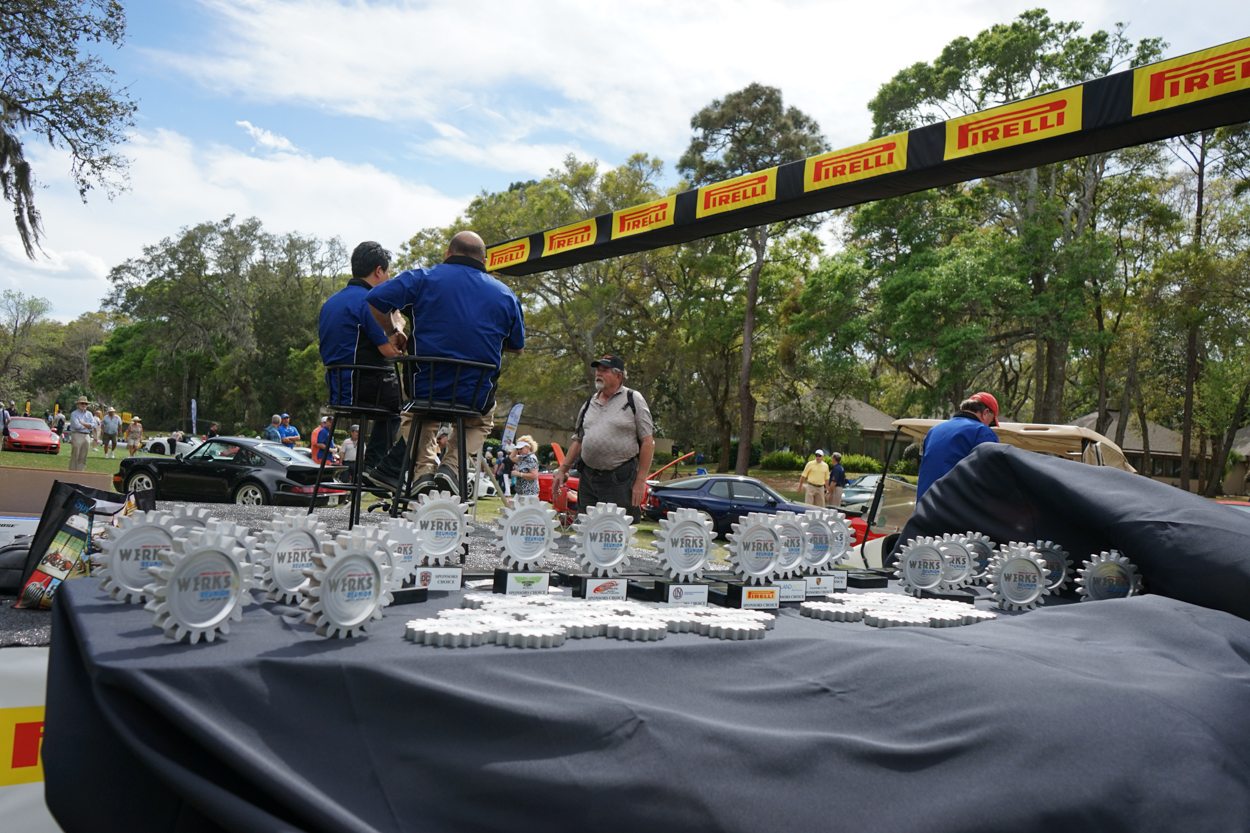 Werks Reunion Amelia Island concours and corporate award trophies.
Awards were given to winners in 15 different classes, plus eight corporate awards. Attendance was free. Presenting sponsors were Pirelli, Porsche Cars of North America, and Hollywood Wheels Auctions, which held a sale in conjunction with Werks Reunion.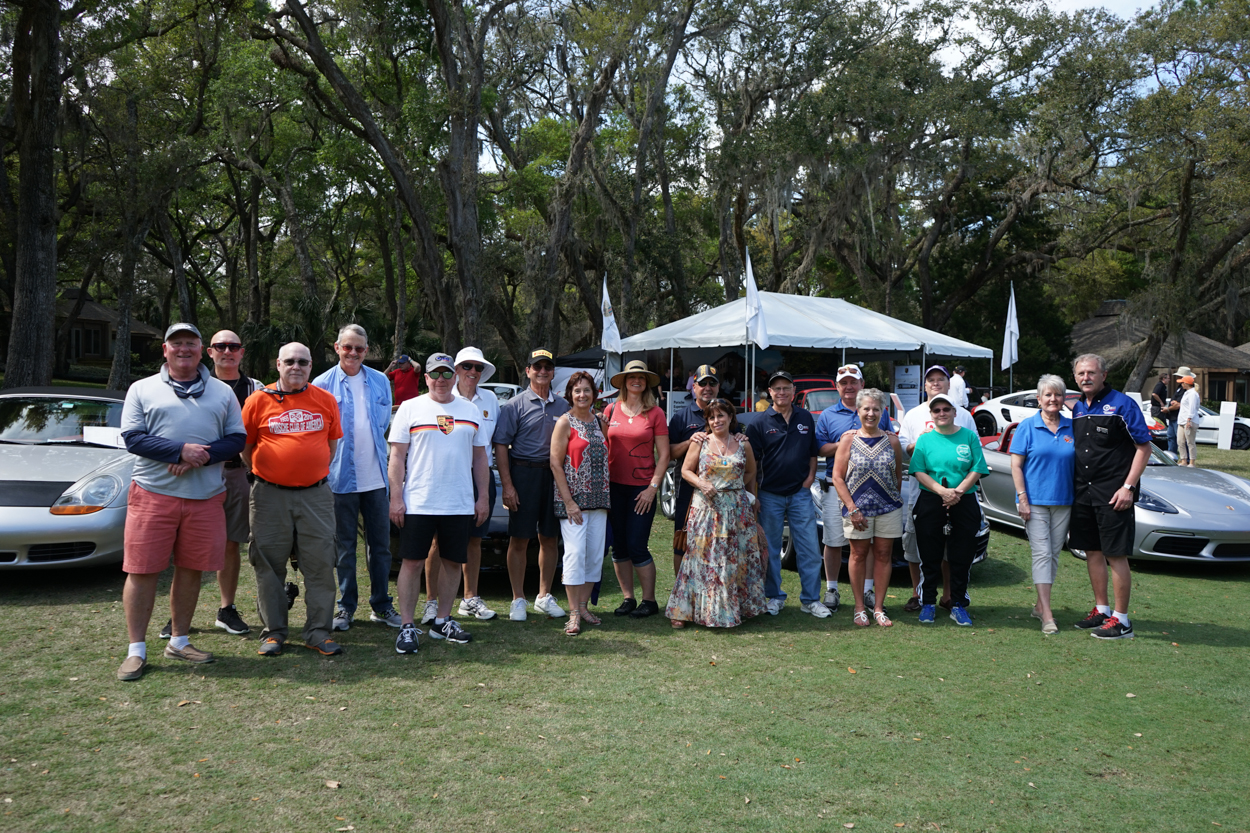 Members of the PCA Boxster Register pose for a photograph in front of the "20 Years of the Boxster" vehicle display.
Watch the video above for a glimpse of Werks Reunion Amelia Island, and also the full lineup of class winners, corporate award winners, and their Porsches. For an unfiltered view of the awards ceremony (about an hour long), check out the video below, which we streamed live on Facebook.

The top five Porsche sales from the Hollywood Wheels auction were as follows: 
1953 356 1500 Coupe — $302,400
1989 911 Carrera Speedster — $164,700
1961 356B Cabriolet — $143,100
1986 Porsche 911 Carrera Cabriolet — $94,500
1987 Porsche 911 Carrera Targa — $94,500
Werks Reunion returns to Monterey, California on August 18, 2017 at a new location to be announced in the spring.
---
Class Winners
| | | | |
| --- | --- | --- | --- |
| Class | Name | Model | State |
| 356 Closed | Steve Hoffman | 1964 356C Coupe | FL |
| 356 Open | Christian Carlson | 1965 356C Cabriolet | NC |
| 911/912 '65–'68 | Harry Covington | 1966 911 | OH |
| 911/912 '69–'73 | Bob Miller | 1973 911E | MD |
| 911/912 '74–'89 | Alan Boe | 1979 911 Turbo | GA |
| 964/993 | Michael Mulligan | 1994 911 Turbo 3.6 from "Bad Boys" | NJ |
| 996/997 | Harold Corbin | 2006 911 Club Coupe | GA |
| 991 | James Gibson | 2016 911 Carrera Cabriolet | NC |
| 914/914-6 | Kevin Meany | 1970 914-6 | SC |
| 924/944/968/928 | Daniel Tauriello | 1990 944 S2 | GA |
| Boxster | Joe Topinka | 2016 Boxster Spyder | FL |
| Cayman | Bob Lawrence | 2016 Cayman GT4 | NC |
| LTD Prod/Factory Race | Don Ahearn | 1968 911 Groupe 3 | NY |
| Special Interest/Modified | David Cleary | 2011 911 GT3 RS converted to RSR | FL |
| Outlaws/R-Gruppe/Tribute | Marc Woonter | 1962 356B | FL |
Corporate Awards
| | | | |
| --- | --- | --- | --- |
| Sponsor | Name | Model | State |
| Leland-West Insurance | Phil Bagley | 1967 911S | FL |
| DC Automotive | Road Scholars | 2008 Cayman "GTR" | NC |
| Reliable Carriers | Steve Palmer | 2007 911 Turbo | FL |
| MCK Engineering | Al Thomas | 2008 911 GT2 | FL |
| Hollywood Wheels Auctions | George Biskup | 1993 911 RS America | AZ |
| Porsch Cars North America | Bob Kuchenbecker | 1998 911 Carrera 2S | GA |
| Pirelli Tires | Rusty Russ | 1970 911S | GA |
| LN Engineering | Bryan Barker | 2016 Cayman GT4 | FL |