Model Guide: 911 SC — The beginning of another air-cooled golden era
Article by Chris Powell
Photos courtesy Porsche
Above: 1982 911 SC Targa.
In the US and Canada, 1978 marked the beginning of another golden era of the air-cooled Porsches. The 911 now came as one model, the 911 SC, for Super Carrera. The body, which featured rear flares, and engine were carried over from the European Carrera 3.0, introduced in 1976. In the transition from the 911 2.7 to the SC, the 3.0-liter flat six was given larger diameter 95 millimeter pistons, which helped it make 180 horsepower and provided a healthy boost in torque. More aggressive camshafts, larger valves, and a larger capacity CIS manifold and fuel distributor further enhanced the engine.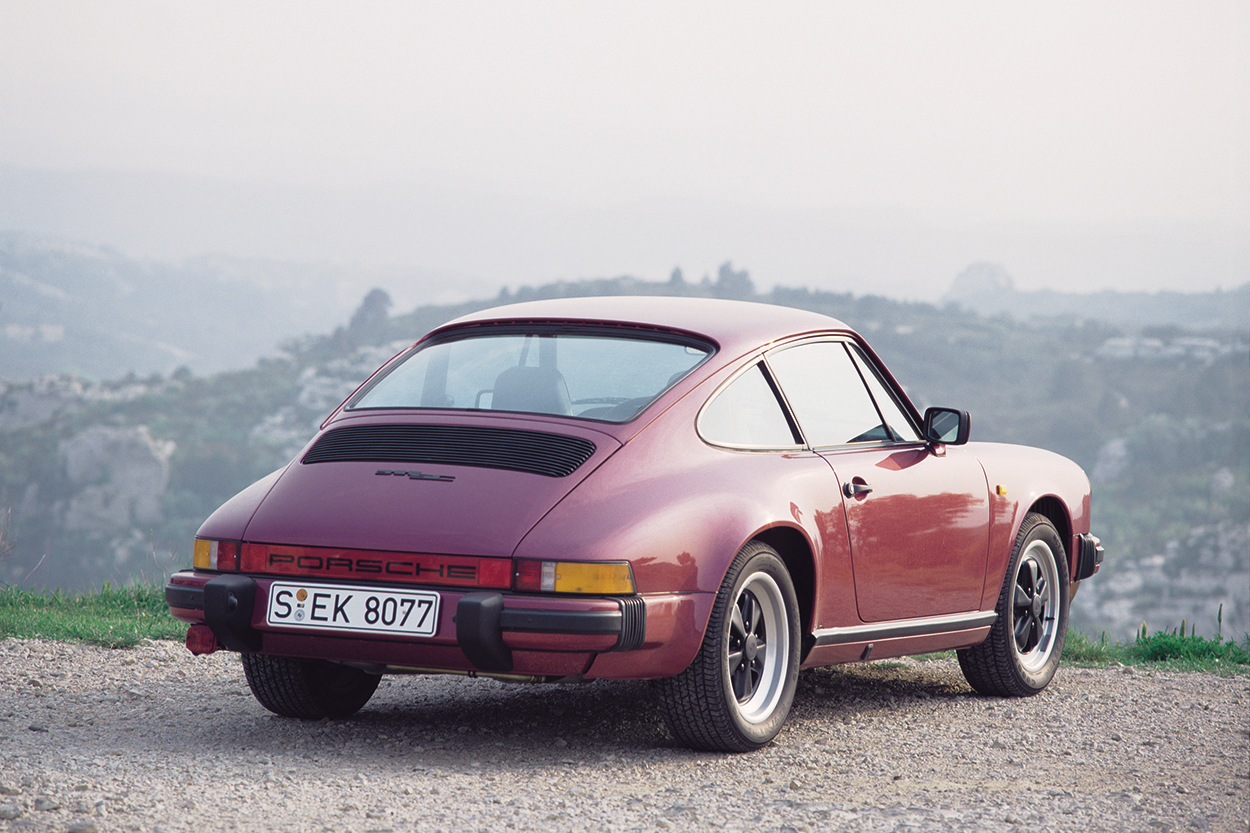 Above: 1982 911 SC.
In order to keep emissions in check, a catalytic converter made its debut on the 911, as well as an air pump to provide extra oxygen to rid the exhaust of unburned fuel. (There was a California edition with additional emission controls, as well.) To handle this power, the engine case was changed from magnesium to a stronger aluminum alloy. Other internal parts were improved, ignition points were replaced with a magnetic sensor, the 11-blade cooling fan reappeared, and a rubber-centered clutch was installed to eliminate transmission noise (more on this later).
Other improvements included larger anti-roll bars front and rear, and improved braking with a vacuum booster. The transmission case was also switched to aluminum alloy, and the differential was strengthened. The new model garnered rave reviews and sales were good, with about 5,000 cars, split between coupes and Targas, finding new owners in the US and Canada. The choices of wheels included 16-inch alloys, and there were about 20 colors to choose from along with various interior options.
No substantial changes were made in 1979, and an additional 4,000 911 SCs were sold.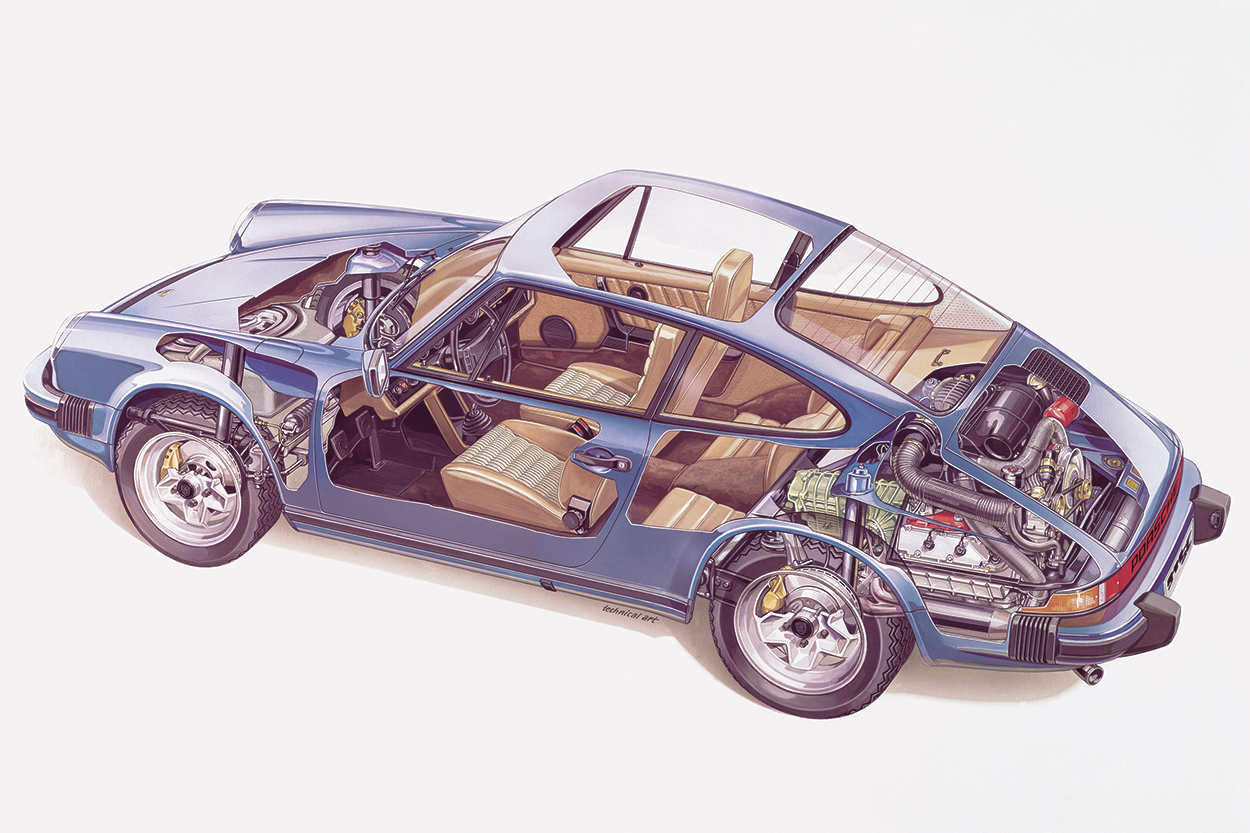 Above: 1979 911 SC.
1980 brought changes to the emission system so that the car was legal in all 50 states — no more California specials. This was brought about by the addition of a three-way catalyst and an oxygen sensor feedback system to more precisely control the fuel mixture. This is known as the lambda system, and it is still in use today — albeit in much more sophisticated forms. This represented the introduction of electronics to 911 engine control, although the main system was still the mechanically based CIS (Continuous Injection System). Compression ratios were raised, but power was lowered to 172 hp due to a new, constricted intake manifold and the additional emissions controls. The engine fan's diameter was also increased for better cooling.
The 911 SC now came standard with power windows, black exterior trim, a center console, and a three-spoke leather-covered steering wheel. An alarm system was offered as an option. Due to Federal standards, the short-lived 85-miles-per-hour speedometer was introduced. About 4,200 cars were sold for the 1980 model year.
There were only a few notable changes for 1981. Fuel lines were upgraded from plastic to steel tubing, an internal manifold was added to help prevent backfires, and the lambda system gained a separate control unit for acceleration enrichment during the warm-up period. The clutch disc was changed back to a spring-center type due to the massive number of failures of the rubber-centered unit. For the first time, the entire body was covered by a seven-year rust perforation guarantee. Sales were slim, however, with only 3,000 cars sold.
Again, for 1982, there were only a few changes. A higher output alternator with an internal regulator was fitted, and an improved oil breather system was installed. Sales climbed back to about 5,000 units.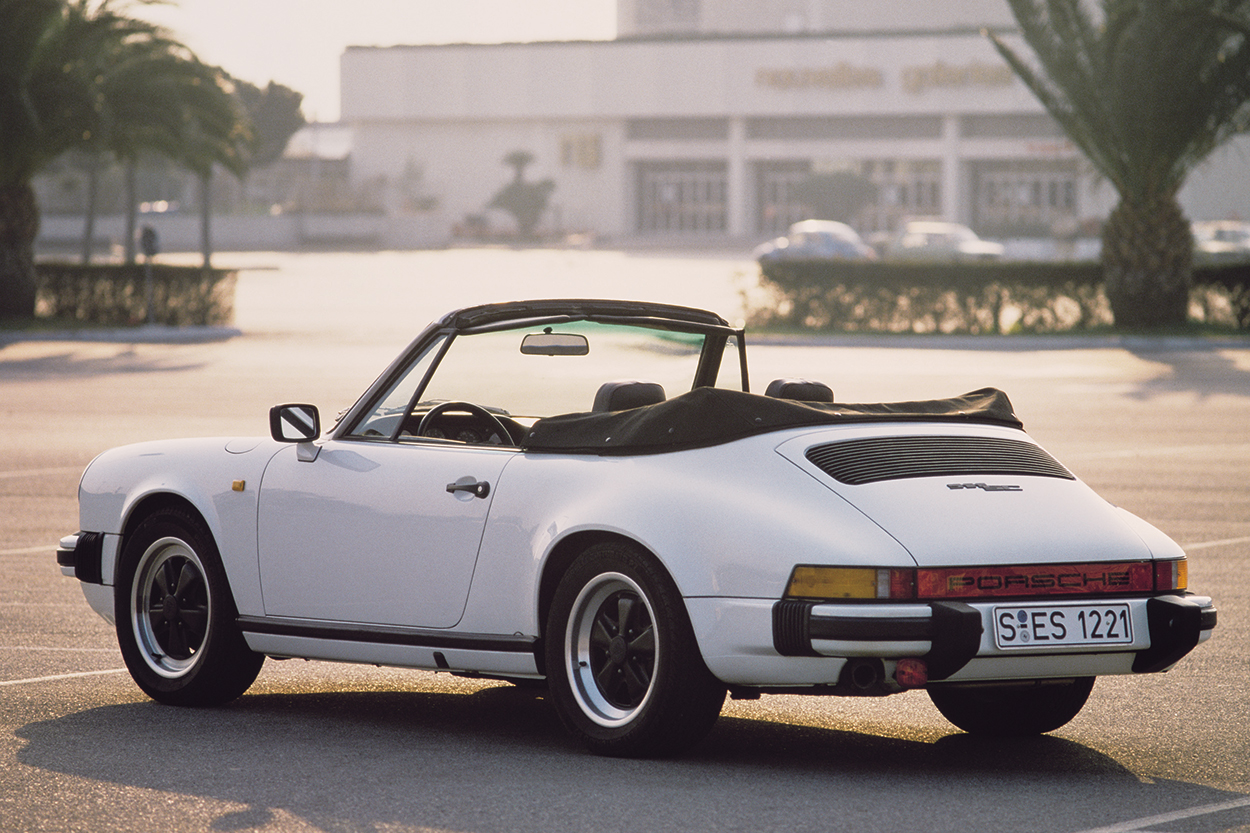 Above: 1983 911 SC Cabriolet.
As the SC run ended in 1983, the only significant mechanical update was changing the timing-chain tensioner idler arms to help prevent tensioner failure — a famous 911 problem since the beginning that was finally fixed in 1984 for the SC's successor, the 911 Carrera. The big news for 1983 was the introduction of the first 911 cabriolet. It became popular quickly, as 1,700 of the 5,800 cars sold in the US and Canada were convertibles. The manual top was somewhat clunky, but served its purpose.
A couple of special models should be noted. In 1980, the Weissach Edition was available. Featuring 15-inch wheels with painted centers and front and rear spoilers. Available in Platinum Grey Metallic or Black Metallic, they featured a Doric Grey interior with burgundy piping. Just 408 were produced.
In 1982, the Ferry Porsche Limited Edition was offered in Meteor Metallic with a burgundy interior. Crests were embossed on the seats, with 7-inch front and 8-inch rear wheels as standard. Only 200 were built.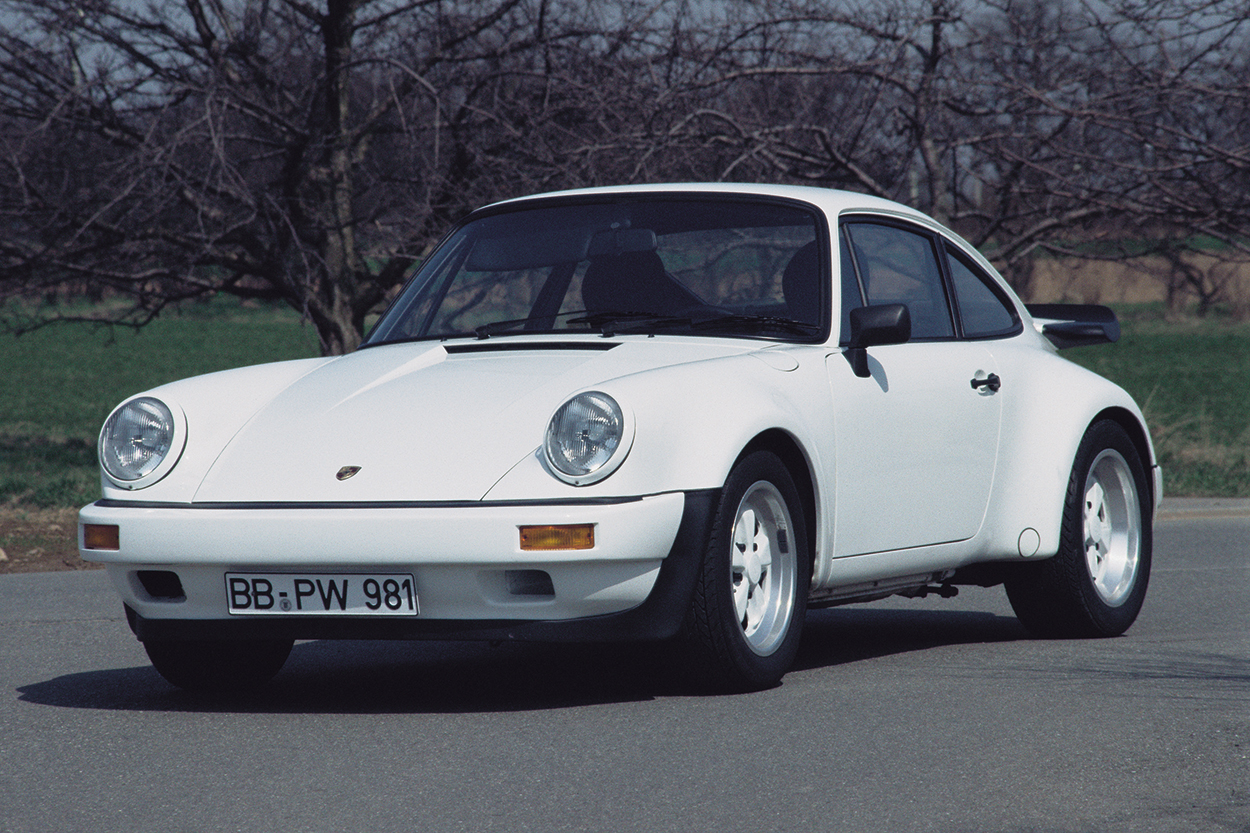 Above: 911 SC/RS.
In 1983, a special race/rally car was built for competition purposes. The 911 SC/RS was a formidable machine. Extensive use of aluminum and fiberglass for body parts and a spartan interior brought weight down to 2,330 pounds. A mechanically injected race engine provided 250 hp. This car was also the first "Turbo Look," as it had the wide fender flares, brakes, and suspension from the 911 Turbo paired with a naturally aspirated engine. Only 20 of these models were produced and are high on collectors' lists.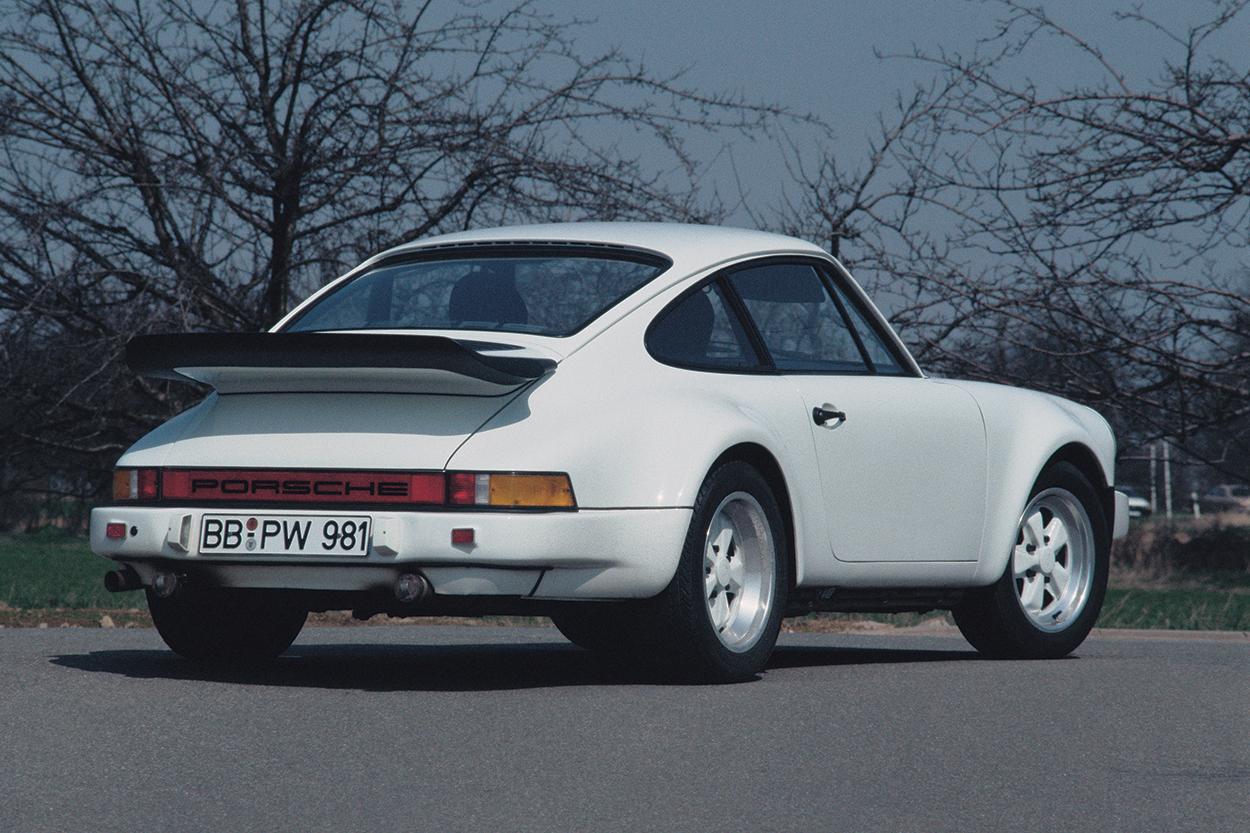 Above: 911 SC/RS.
The 911 SC is still a reliable car — they were well built and many are still on the road. There were few major problems with these cars — the most common were the early rubber-centered clutches, which tended to fail at about 45,000 miles, and exploding air boxes (due to backfires), which plagued all the CIS 911s. Fixes for both of these have been available for many years: replace the clutch with a later, spring-centered unit, and install a spring-loaded pop-off valve on the air box. As mentioned earlier, the chain-tensioner failures are eliminated if later, Carrera-style pressure-fed tensioners from 1984 and on are equipped. The majority of cars still on the road have been retrofitted with these fixes. Some of the CIS fuel injection parts are hard to find, but it is still possible to keep the system working; you'll want somebody experienced with CIS to sort out any problems.
The 911 SC can be a good entry-level car for the air-cooled enthusiast, combining good performance with reliability at a reasonable price. Think low- to mid-$20k for a good driver that's rough around the edges, and up to — and possibly beyond — $60k for the best, concours-ready examples. And remember, always have a pre-purchase inspection performed by a qualified technician experienced with Porsches before putting any money down.