Longtime PCA Club Racing Competitors Keep It All in the Family
Tuesday, December 19, 2017
Above: Anthony Llopiz in action. Photo by Neil MacDonald
Article by Kate Taylor
The Llopiz family has had a passion for racing for decades, and now a father and uncle have passed that passion down to Porsche Club of America (PCA) Club Racing competitor Anthony Llopiz. 
Brothers Lincoln and Rafael Llopiz got into racing in 1995 when they moved from Florida to New York. The Porsche enthusiasts own parking garages all over New York City - it was originally the largest privately-owned parking garage company in NYC with over 130 garages. But now, Lincoln opened a new parking company with his brother and son, Anthony.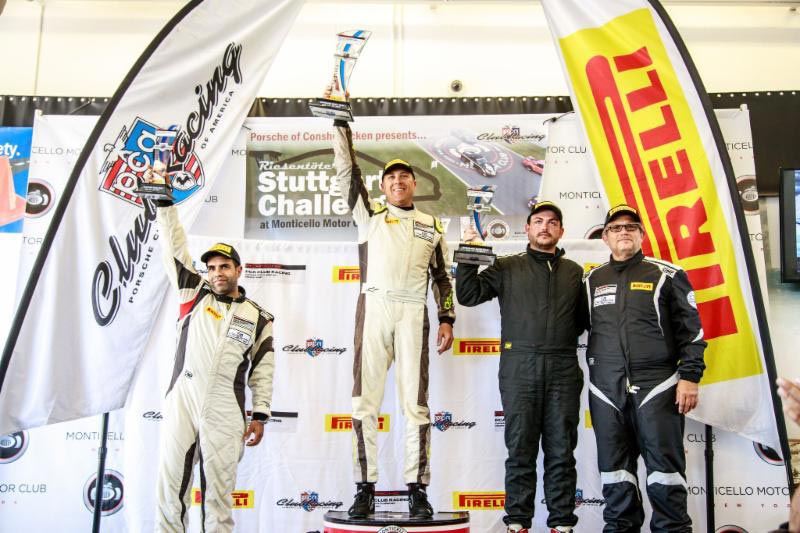 Above: Lincoln and Anthony (right) on podium at Monticello Motor Club
"It's less garages and headaches, and more time to go racing," Lincoln said. 
The Llopizs attend about five to six races per year with Watkins Glen International, Road America and Sebring International Raceway being some of their favorite tracks. 
Father and son duo Anthony and Lincoln teamed up to compete in several races in the PCA Club Racing Porsche Cayman GT4 Clubsport Trophy East Series this season, including Road America and Monticello Motor Club. The duo shares the No. 121 Dawes Motorsports Clubsport entry. 
"Anthony drives a lot faster than me, so I start the race and let Anthony finish it," Lincoln said.
Anthony, now 26, started racing go karts at 9 years old and joined PCA five years ago after he got his first Boxster. He raced that for two years then moved on to his GTC4 entry and shared Clubsport entry with his dad. 
"The Clubsport is much easier to drive - it has traction control, bigger tires and a bigger engine, whereas the GTC4 is more technical," Anthony said. "The GTC4 has less driver assist and more power, but I love both cars."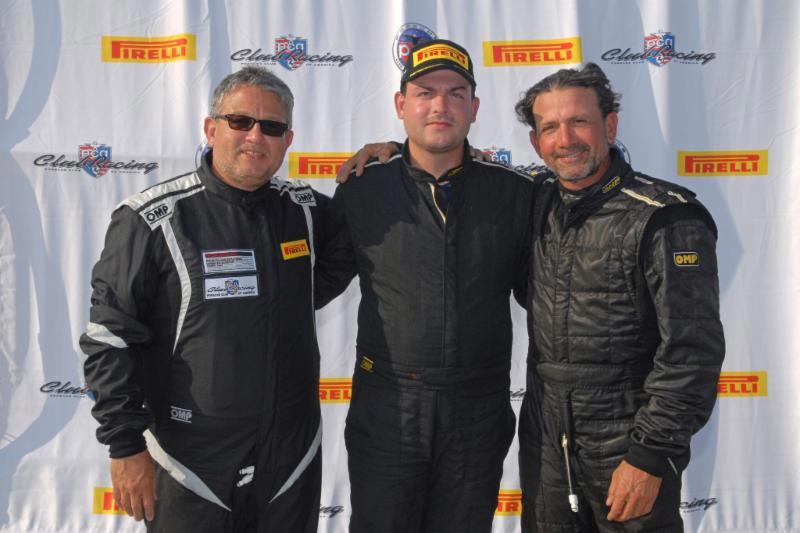 Above, from left to right: Lincoln, Anthony, and Rafael Llopiz at Road America. Photo by Neil MacDonald
"I've met a lot of good guys in my GTC4 class, and it makes it fun to race with guys you know and see them a few times a year to catch up," he said. "Racing isn't serious for my dad and I - we come out to the track to mess around and have fun with each other."
Lincoln says he values the time he is able to spend with his only child on these race weekends.
"We have traveled and road tripped a lot together," he said. "It's priceless - I wouldn't change it for anything in the world."
Lincoln's brother Rafael Llopiz joined PCA in 1995 after buying a brand-new Porsche 993. 
"PCA is fantastic because I get to spend time with my brother and my nephew," Rafael said. "Every race we improve and get better. The PCA staff is amazing - almost all of these people volunteer to put on these great events for us drivers.
"Even though PCA is considered amateur, people show up with professional drivers teaching them, expensive equipment and professional crews. We have so much fun competing against each other as a family and teasing each other if one of us wins over another."
Rafael has had quite the progression through his 22 years of racing - he's gone from the E class to the D class to the B class to driving GTC3, 4 and 5. He currently races a GTC6 and received triple podiums at Road America in September. 
"My favorite car at home is my 2005 Porsche Carrera GT," Rafael said. "I paid $300,000 for it and now they are trading anywhere between $650,000 and $700,000. We love Porsches - we keep it in the family."
About Porsche Club of America/PCA Club Racing
The Porsche Club of America (PCA) celebrates good friends, good conversation and a common passion for the world's finest automobile - Porsche. Since its founding in 1955, this close-knit community of Porsche owners has grown to 143 regions throughout the United States and Canada and is the largest single-marque club in the world. PCA activities include racing, rallies, autocrosses, tours, and shows, as well as driver education, Porsche restoration and technical sessions. The PCA continues to thrive around the unbridled joy provided by Porsche.
 
PCA Club Racing enters its 26th year by featuring more than 2,000 licensed racers and 32 sanctioned races per year, more than any other single-make racing organization in the world. PCA Club Racing was established around guiding principles that remain true today. In summary, they provide a class for all Porsche sports cars; fun, safe and clean racing; and uniform organization and operation.