Land of the Lighthouse: Nova Scotia in a Porsche [w/video]
Article and photos by Richard Viard
Above: A beautiful overlook on Cabot Trail, day four of the road trip.
A trip to Nova Scotia had been on my bucket list for a while. The idea was born after watching the Targa Newfoundland on TV (near, but not in, Nova Scotia), and when I realized I didn't have the time, the money, or the skills to participate, I thought the Canadian maritime province would be a nice road trip destination.
A co-worker of mine moved to Halifax a few years ago, another took a road trip there, and a biker friend told me he loved its scenic roadways. Nova Scotia just kept coming up in conversation.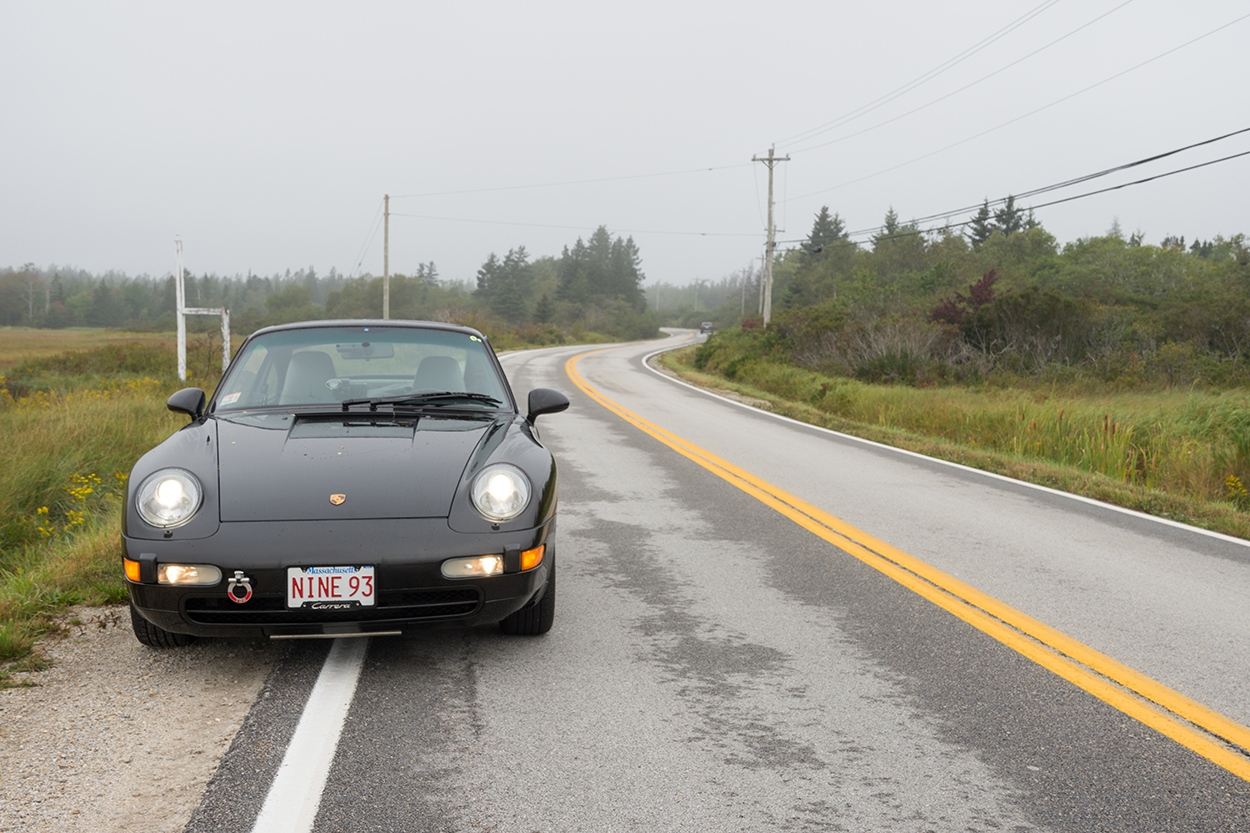 Above: Somewhere between Yarmouth and Lunenburg.
At first, I thought this would be a good, long weekend road trip for my wife and me, but after scoping out the island, the roads, and things to do, it quickly became clear that we needed more than a couple of days. So I took five days off from work and combined them with the weekend, which, by my calculations, would be enough time to drive all around the island.
I often do most of our trip planning. My wife Yvette is happy to tag along and improvise as needed. She knows I always overplan, and itineraries usually change anyway — so what's the point? We decided to travel along the coast counter-clockwise (closer to ocean side, easier for viewpoint stops) and booked our lodging along the way by roughly dividing the length of the trip into equal sections.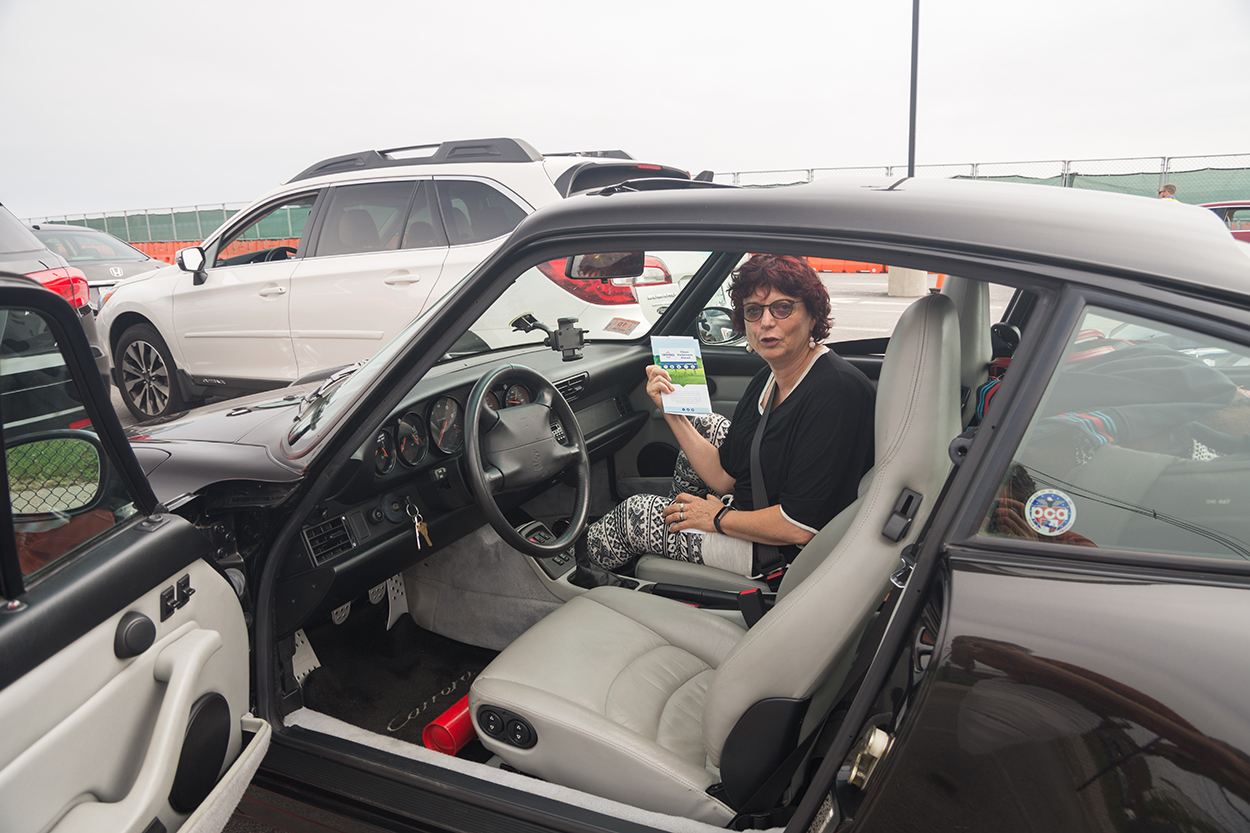 Above: Yvette, the author's wife, in the car waiting to board the ferry.
Going on a long road trip with a 22-year-old car can be a risky proposition, so I packed a few essentials while leaving room for our luggage. An extra DME relay, a window switch, fan and alternator belts, battery cables, basic tools including the triple square belt pulley tool, and, of course, duct tape were all stuffed in.
Day 1: Boston MA – Portland, ME – Yarmouth, NS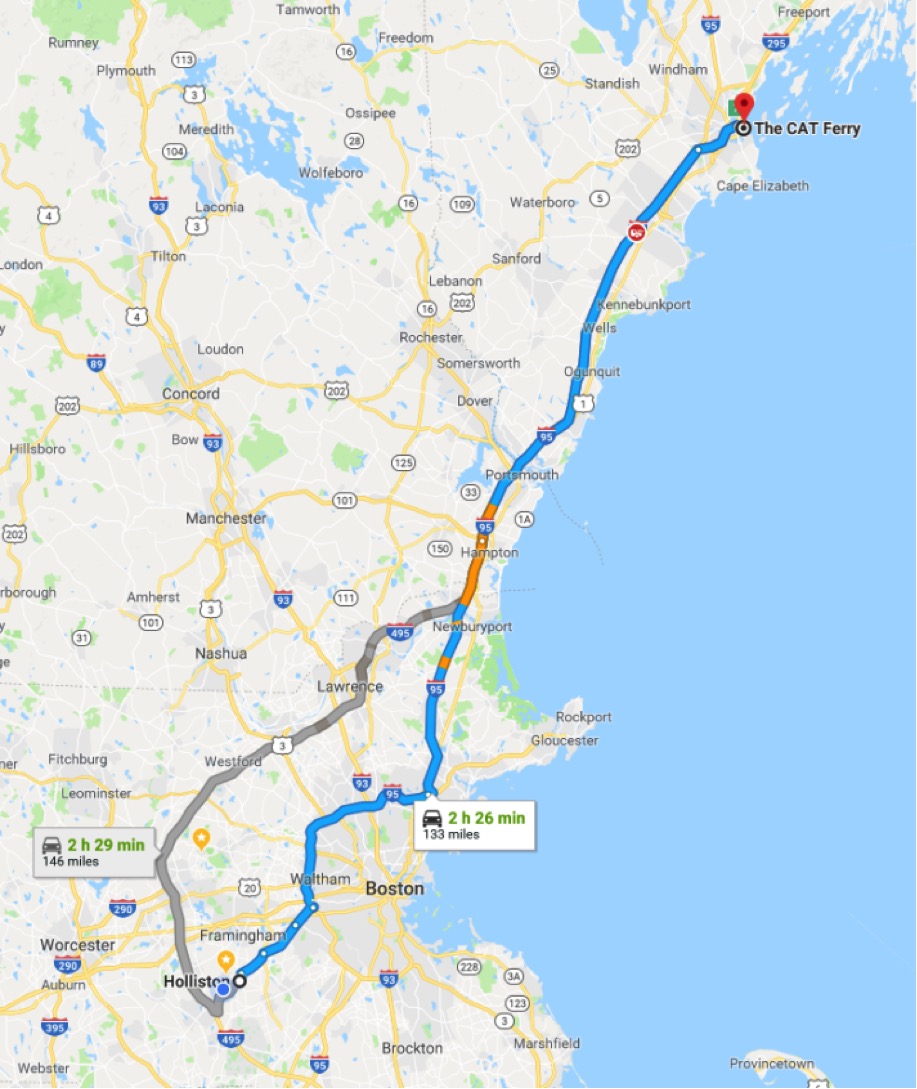 The drive from our house to Portland, Maine is about two hours via 495 North and 95 North. It was a beautiful day and we arrived in Portland around lunchtime, so we had a quick lunch and boarded the ferry early in the afternoon. The ferry crossing takes about six hours and there is also a one-hour time difference, which, despite all my research, I had completely overlooked. So we arrived quite late in Yarmouth, Nova Scotia. Luckily our AirBnB host had left us instructions to get into our room.
Watch the video of the author's trip below:
Nova Scotia Road Trip from Richard Viard on Vimeo.
Day 2: Yarmouth – Mahone Bay, Chester, Peggy's Cove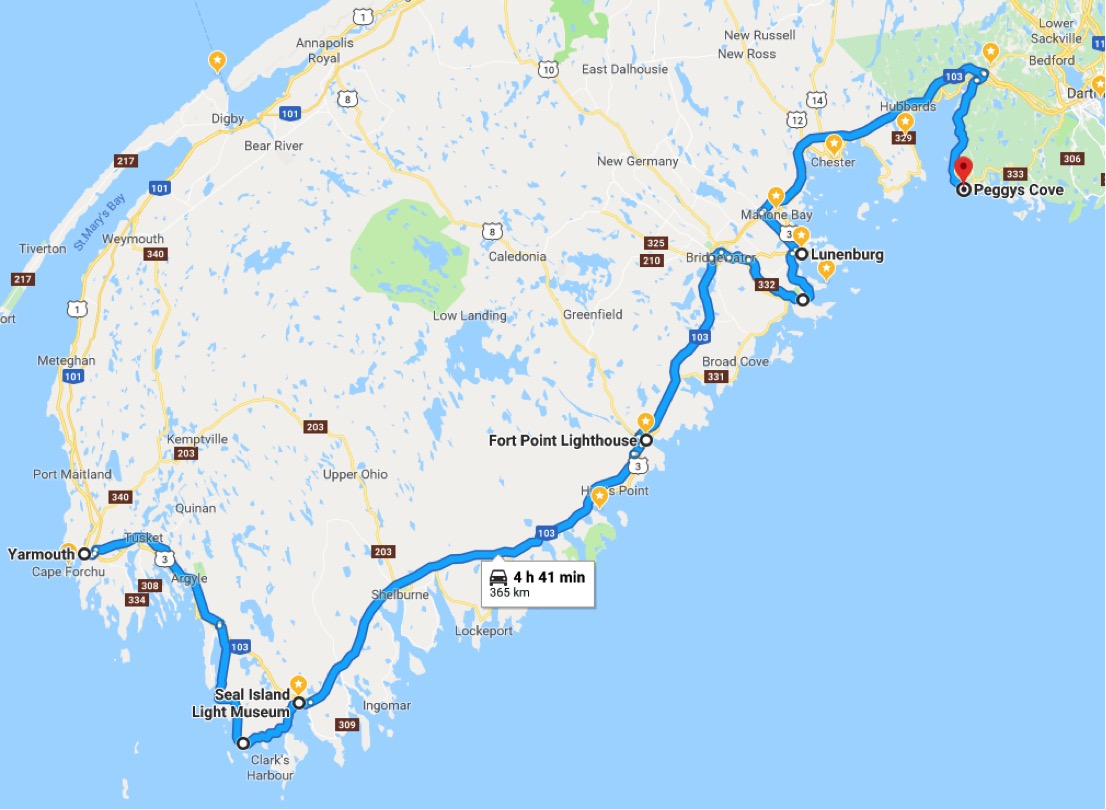 After a nice breakfast with our host, we hit the road on Route 3 towards the southern-most point of the island, in a thick fog that made the landscape both mysterious and intimate. Our first stop was the Seal Island Light Museum, a replica of the Seal Island Lighthouse where interesting items from the original could be observed, including photos, articles, various artifacts, and even an impressive old whale harpoon. The fog obscured the view from the top, but the glass magnification lens (made in France!) was pretty cool.


Above, from left: Visiting the Seal Island Lighthouse. The lens is of the Fresnel type, whose ridges reduce weight and size compared to a regular concave lens with no loss in magnification.
We made another stop at Fort Point Lighthouse. This one wasn't open for visits, but it was fun walking around the rocks and shooting some photos.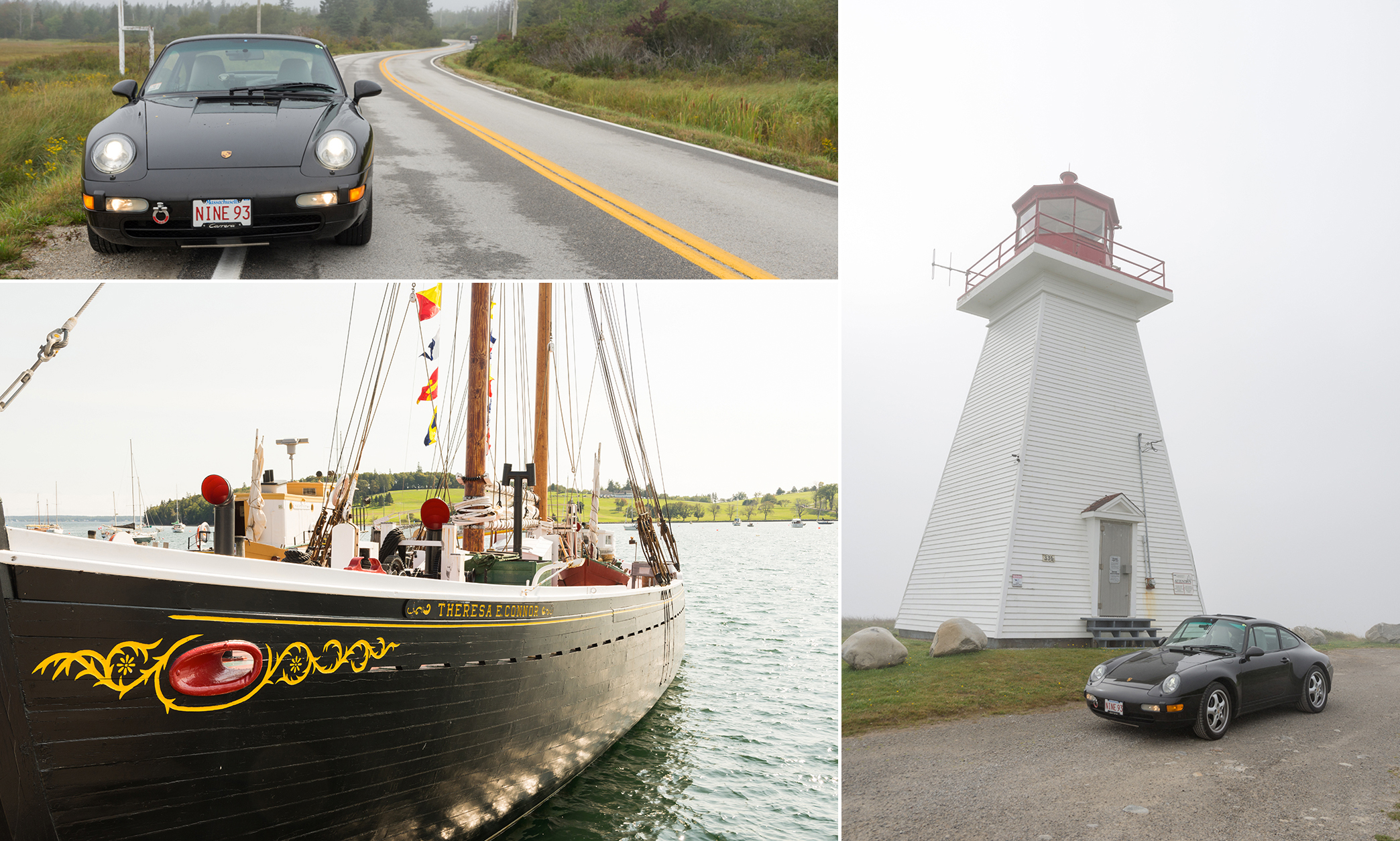 Above, clockwise from upper left: On a road between Yarmouth and Lunenburg. Visiting Fort Point Lighthouse. A boat called Bluenose in Lunenburg.
We arrived in Lunenburg around lunchtime, which was good timing due to the abundance of great seafood restaurants with outdoor seating and views of the historic harbor. Lunenburg is a UNESCO World Heritage Site and definitely worth a stop. We strolled the colorful streets after a huge plate of local seafood, and then hit the road again towards our B&B in Peggy's Cove.
We had planned to meet our friends who now live in Halifax at the Peggy's Cove Lighthouse for sunset. After checking in to Peggy's Cove B&B and admiring the view of the lighthouse from our room's balcony, we met our friends and enjoyed a beautiful sunset yielding many more photos, then had dinner in a nearby restaurant that offered farm-to-table fare.
Day 3: Peggy's Cove – Isle Madame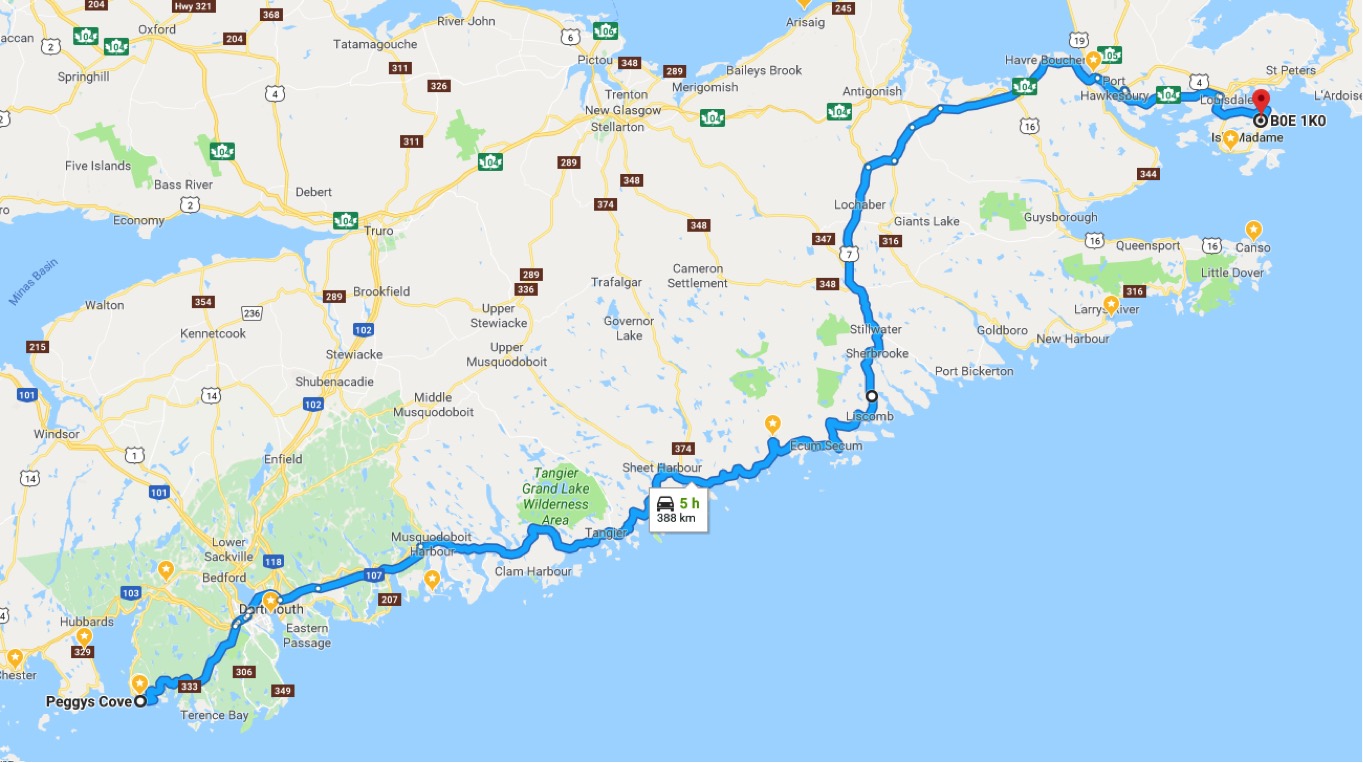 My plan to photograph the Peggy's Cove Lighthouse at sunrise was derailed by heavy fog, and that was just fine since that meant staying in bed a little longer. After a great homemade breakfast we hit the road again. Driving along the coast towards our next B&B, The Groundswell, on Isle Madame would have taken over six hours, so we drove the first half along the coast and took a faster route the rest of the way. We arrived just in time to check in, and then headed out to Cape Auget Lighthouse 20 minutes away  for — you guessed it — sunset. Unfortunately it was overcast and the sun was nowhere to be seen. The drive was truly amazing, however, especially along the coast. There were very few cars and the 993 felt in its element hugging the road that twisted along the ragged coastline.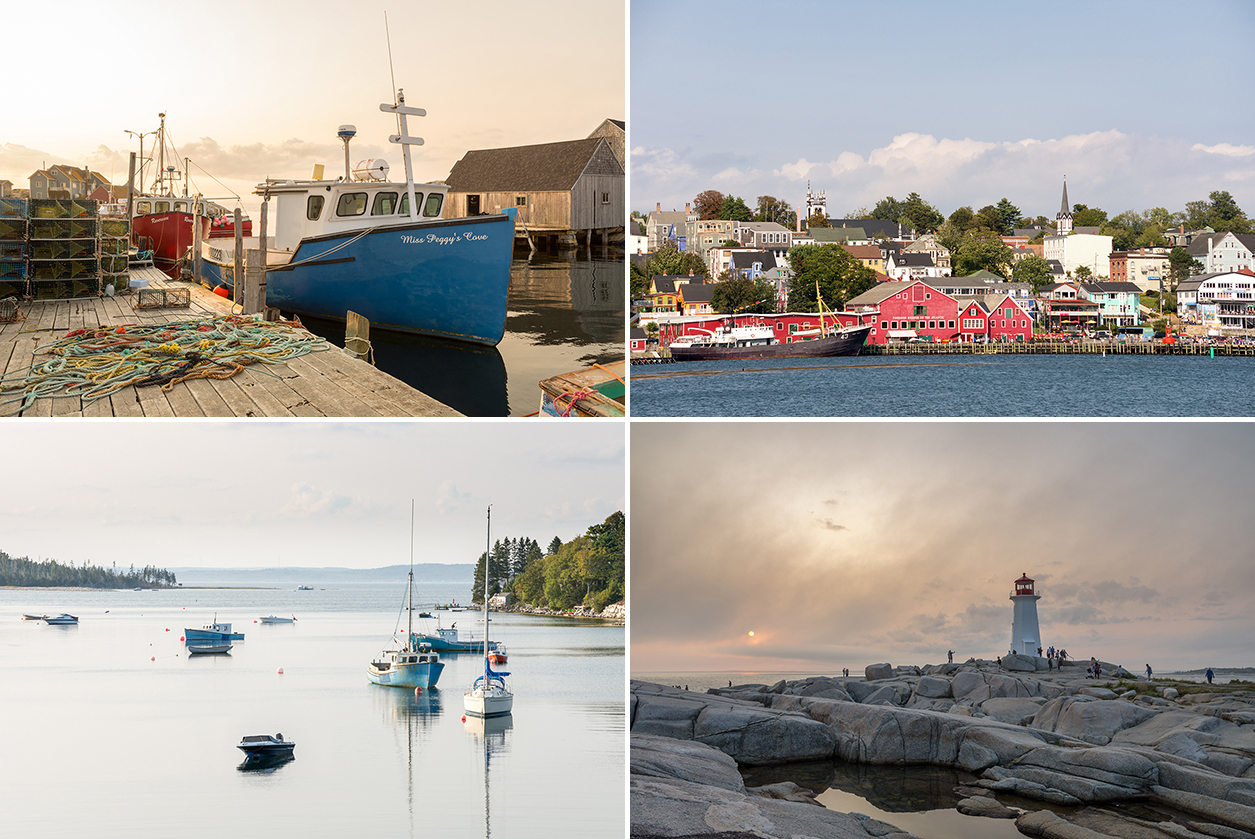 Above, clockwise from upper left: A boat moored in Peggy's Cove Harbor. A view of Lunenburg Harbor. Visitors at sunset at Peggy's Cove Lighthouse. Boasts sprinkle the harbor in Chester.
Our B&B doubled as a pub, and curried lobster was on the menu (and to die for). We stayed in the charming Paperback Writer's room, which, like all the rooms, was themed after a Beatles song.
Day 4: Isle Madame, Cape Breton, Cabot Trail, Chéticamp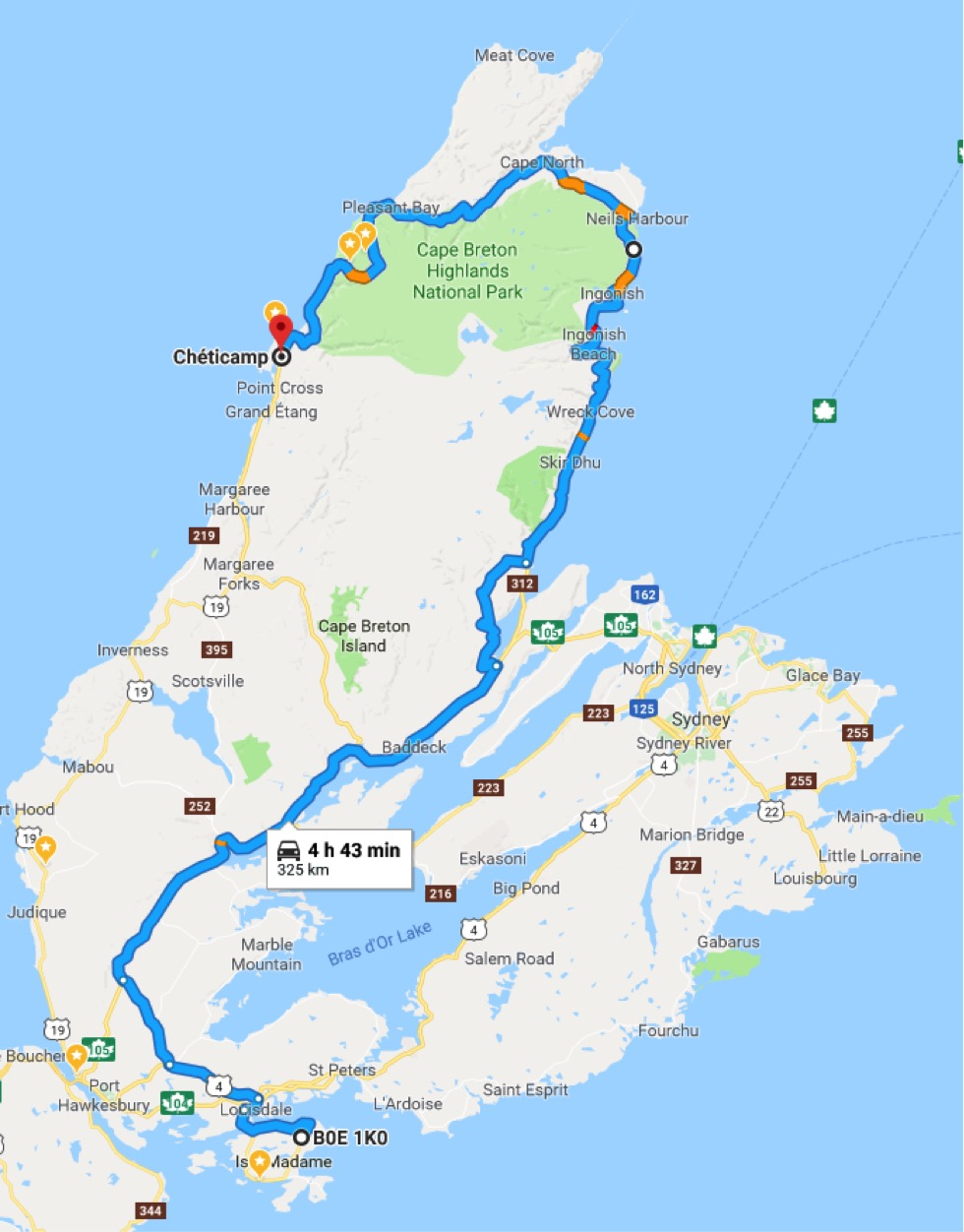 Cabot Trail was the part I was most excited about on this trip, and the main reason to drive this far around the island. It is one of the most scenic roads in North America with 187 miles of mountain and sea views. Unfortunately, it was raining that day, but we decided to make the best of it. The drive was fantastic, a real roller coaster with elevation changes, twisties, and always an unbelievable view of the ocean on one side and mountains on the other.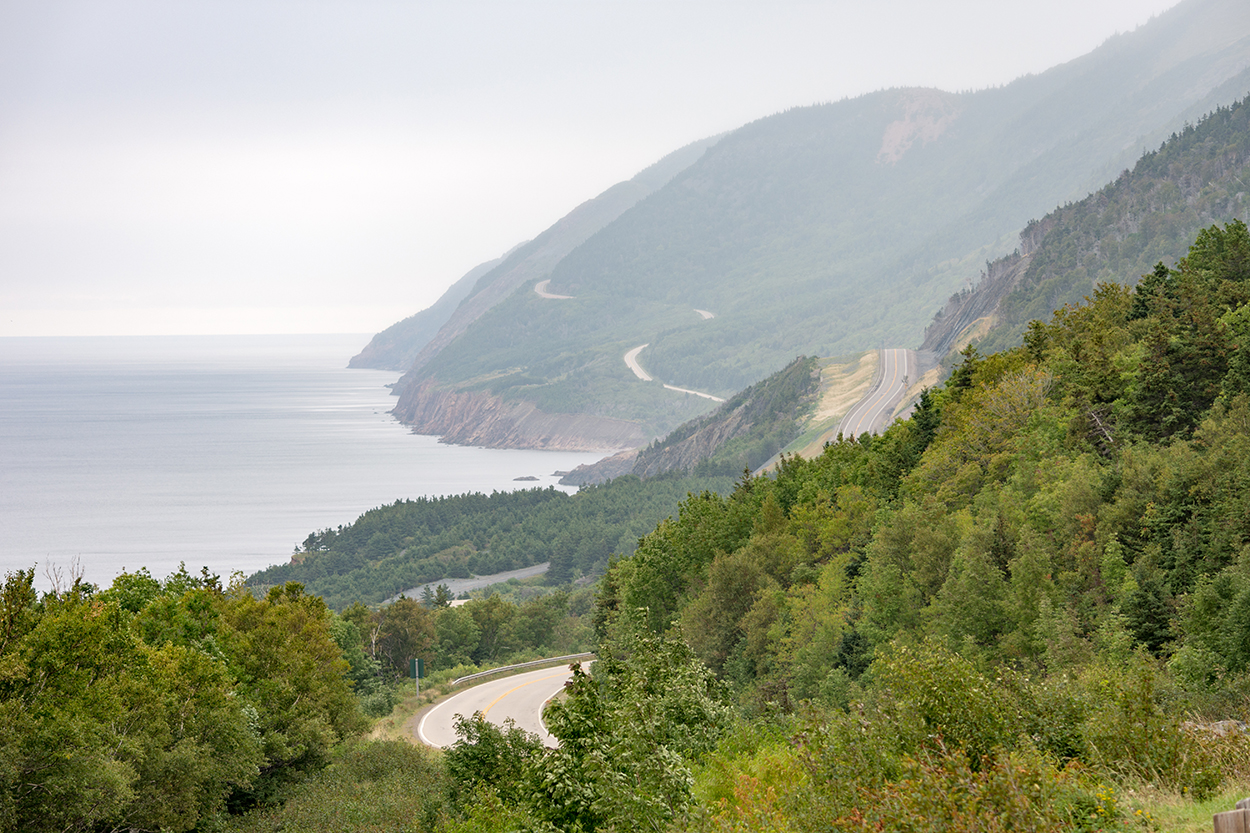 Above: Much of the Cabot Trail highway consists of a sinuous road along the coast. This photo was taken near Cape Breton. 
There were plenty of vista points to stop and take in the views and very few cars on the road, as this was late in the tourist season. We were able to drive many miles at a time without coming across traffic. Surprisingly, people would pull over to let us pass when they saw us in their rear view mirror, something I'm really not accustomed to in Massachusetts (or anywhere else for that matter). Some sections of the road were being re-paved, which provided mud and gravel stages.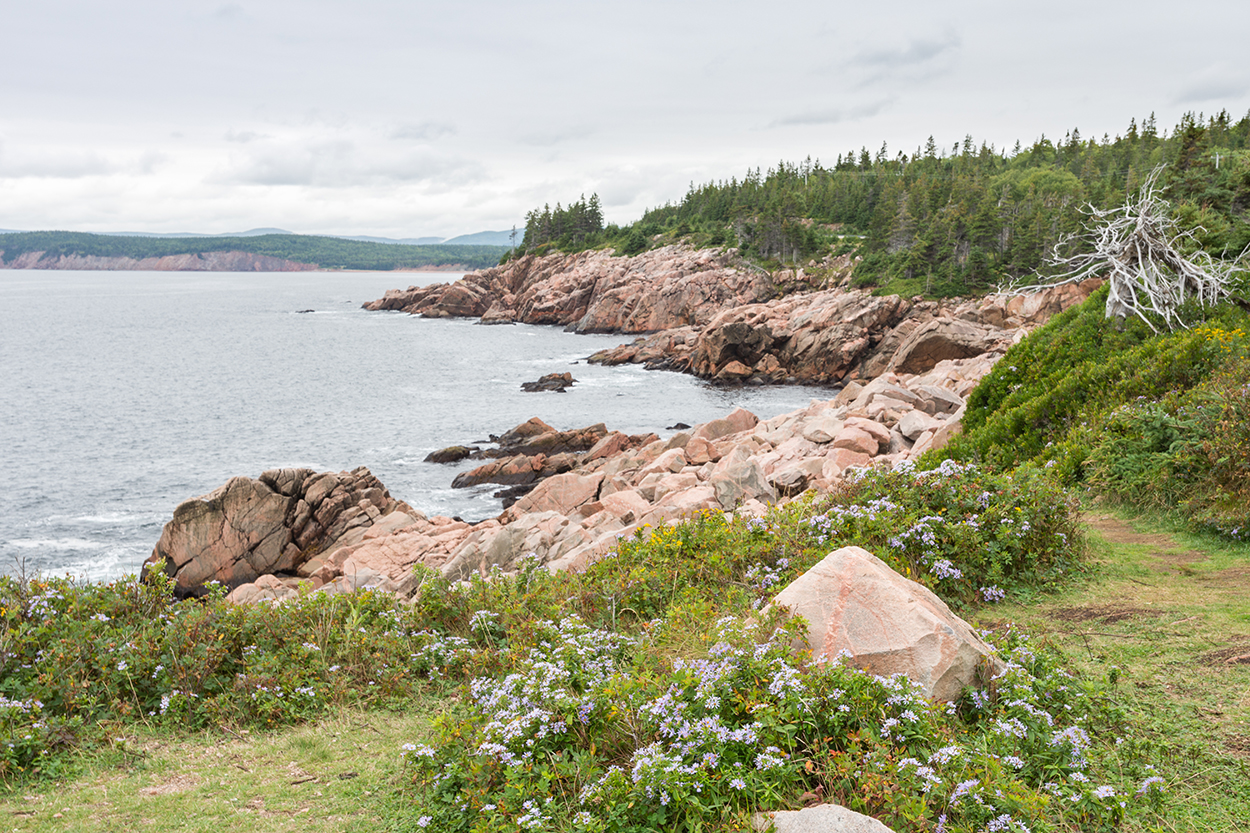 Above: A rocky beach along the coast of Cape Breton.
Although we had planned to hike the Sunset Trail, a 7-kilometer trail to the highlands with breathtaking views, we decided to skip it given the rain and fog, and opted to drive directly to our next AirBnB in Chéticamp.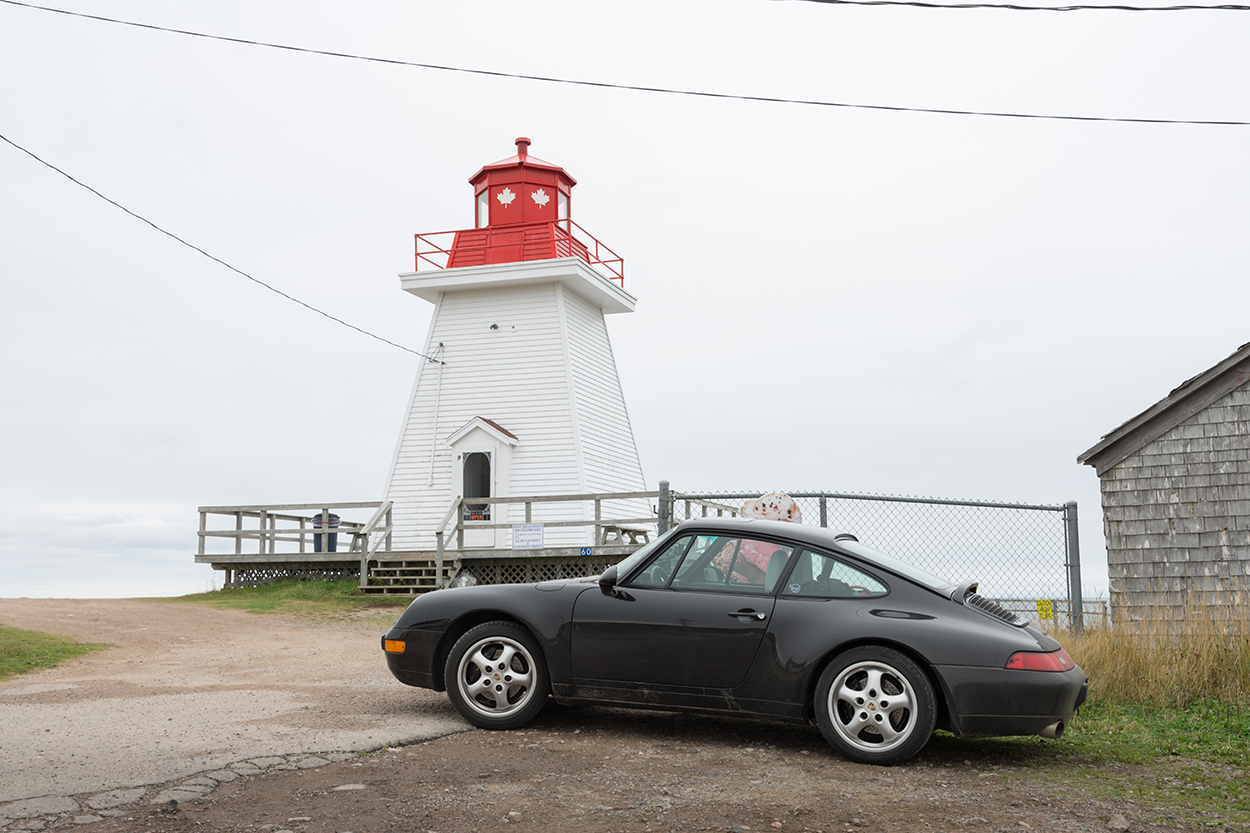 Above: Visiting Boccaro Point Lighthouse on day two.
Chéticamp is another fishing village on the west coast of Cape Breton. Our hosts had a beautiful property overlooking the mountains and the Chéticamp River. They had spent most of their lives in the arctic and had interesting stories of their time there. There were many restaurant choices in Chéticamp, and we were glad we trusted our hosts' recommendation. 
Day 5: Chéticamp – Avonport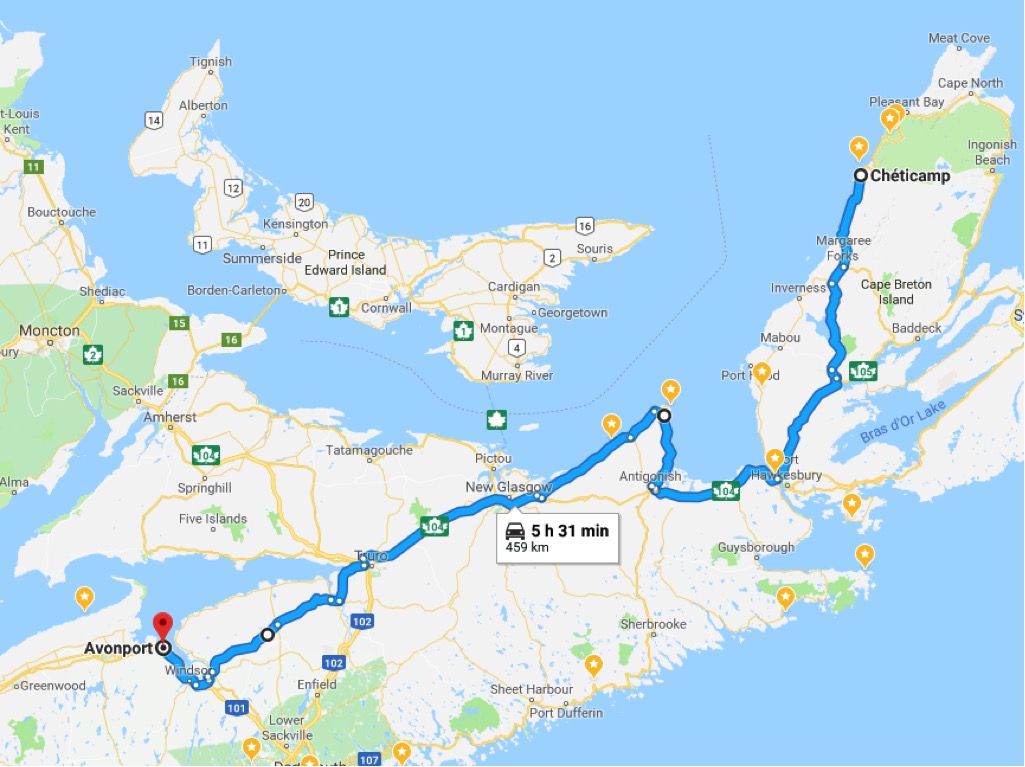 Following a copious breakfast with our hosts, we hit the road towards our next destination via Routes 19, 4, and 337, making a detour to follow the coast and stop at Balache Point Range, Cape George, and Arisaig lighthouses.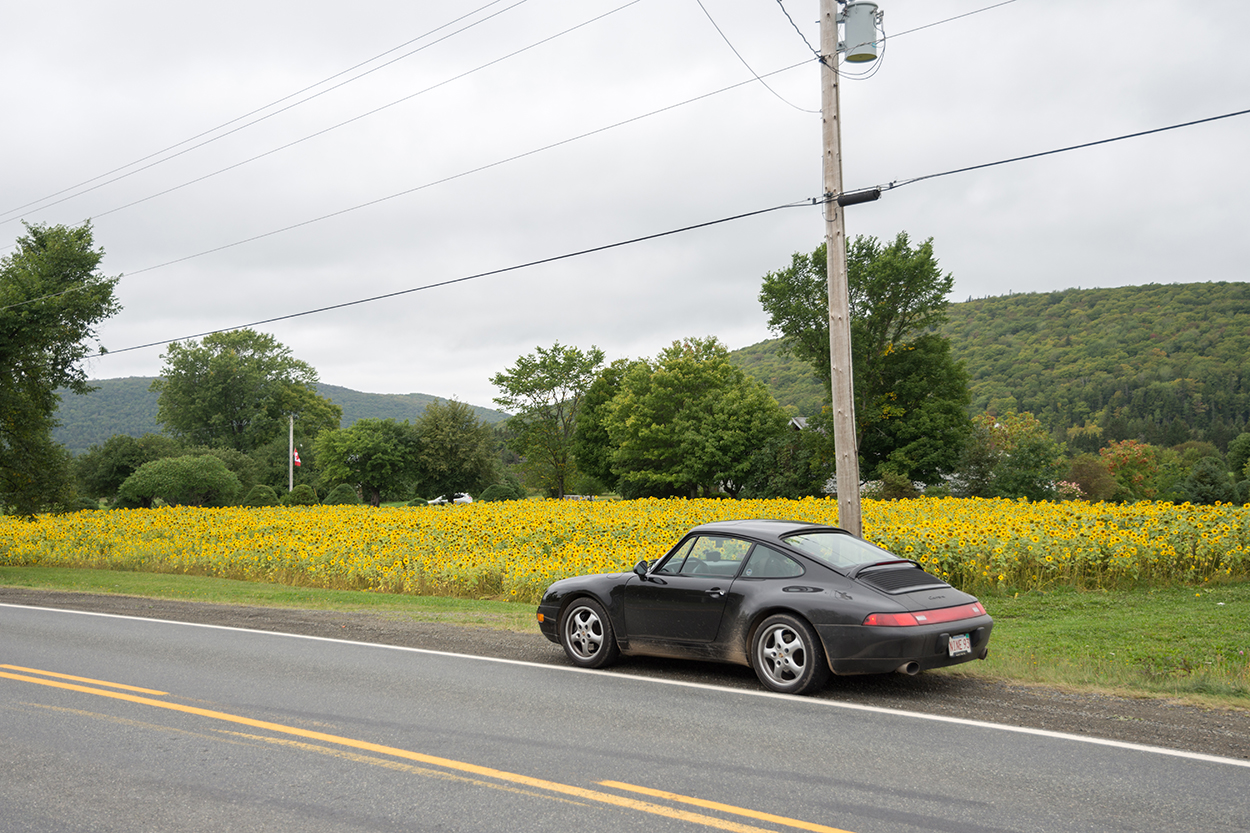 Above: Stopping to admire sunflowers on Route 226.
As we stopped at a small supermarket to refill on snacks and water, the cashier asked if our car was a Lamborghini. "No, just a Porsche," I replied.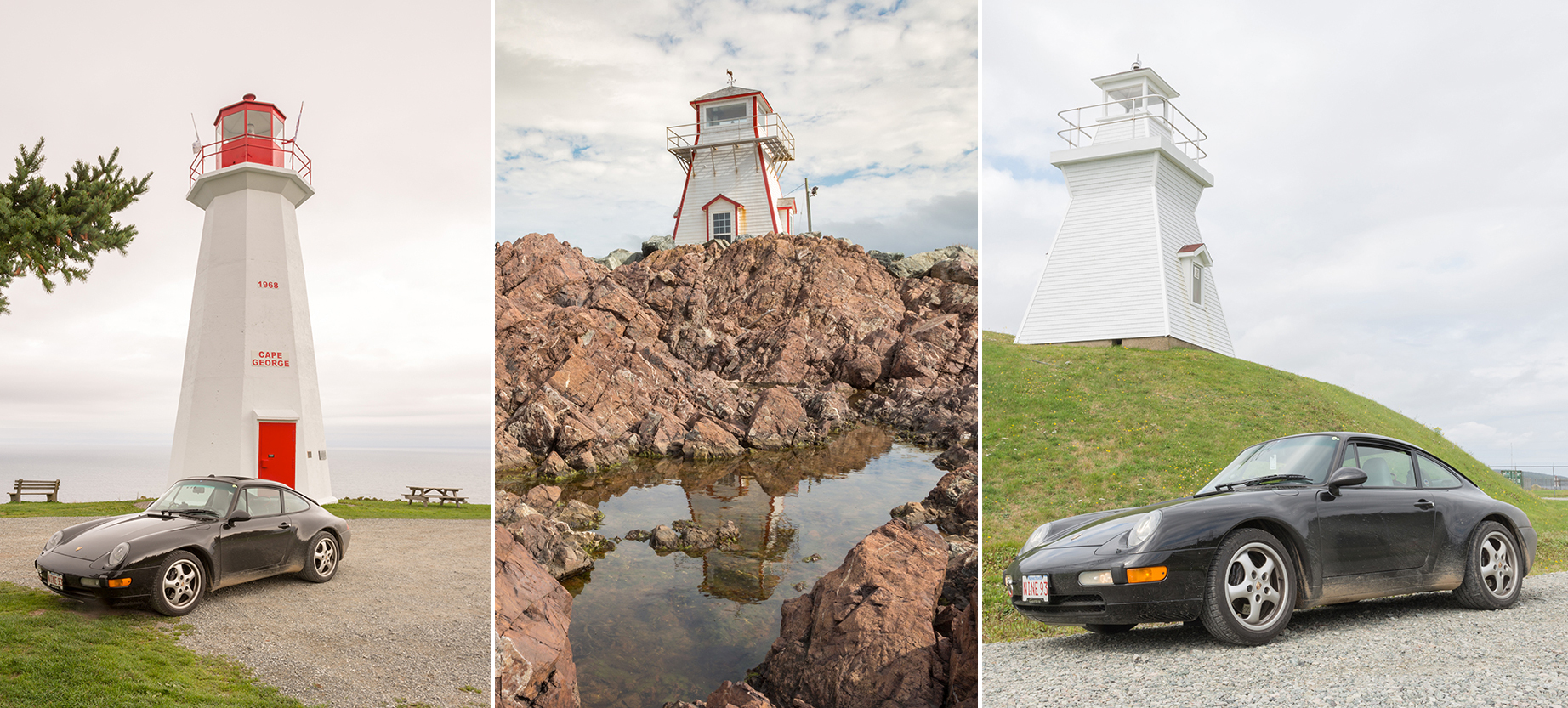 Above, from left: Visiting Cape George Lighthouse. Arisaig Lighthouse captured in a reflection in a tidepool. Visiting the Balache Point Range Lighthouse.
We then traveled the main road to make time towards our next destination, later opting for the shorter route via 226 rather than making the faster detour via Halifax, stopping from time to time to enjoy the views. Our AirBnB was at the end of a dirt road, adding an extra layer of mud to the lower panels of the 993.
This region of Nova Scotia is known for its wineries, and we found one with a nice restaurant nearby, where we enjoyed dinner.
Day 6: Avonport – Yarmouth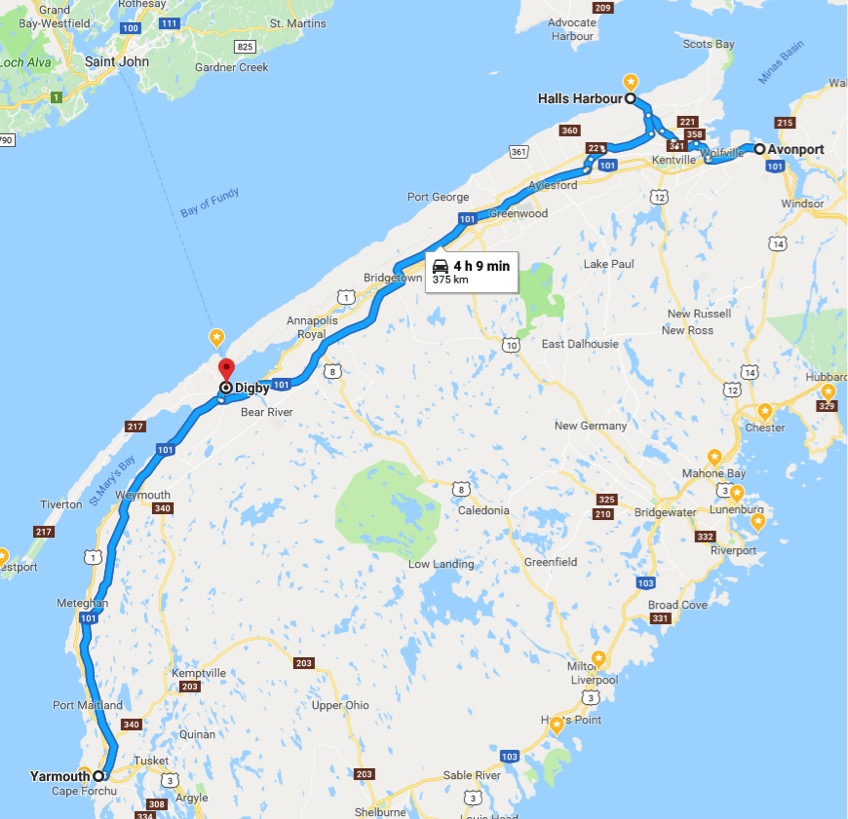 We left relatively early the next day. I had planned to hit a few landmarks on the northwest coast as we closed the loop back to our starting point. Our first stop was Halls Harbor, which as you might have guessed, is another small fishing village. Halls Harbor is situated in the Bay of Fundy, which is known to have the highest tidal range in the world. We didn't have the time to stay long enough to witness the tide, but Yvette discovered a little shop that specialized in cigar-box guitars. The owner, Darren Brown, has been building these amazing guitars for many years. Needless to say, we left with one of them.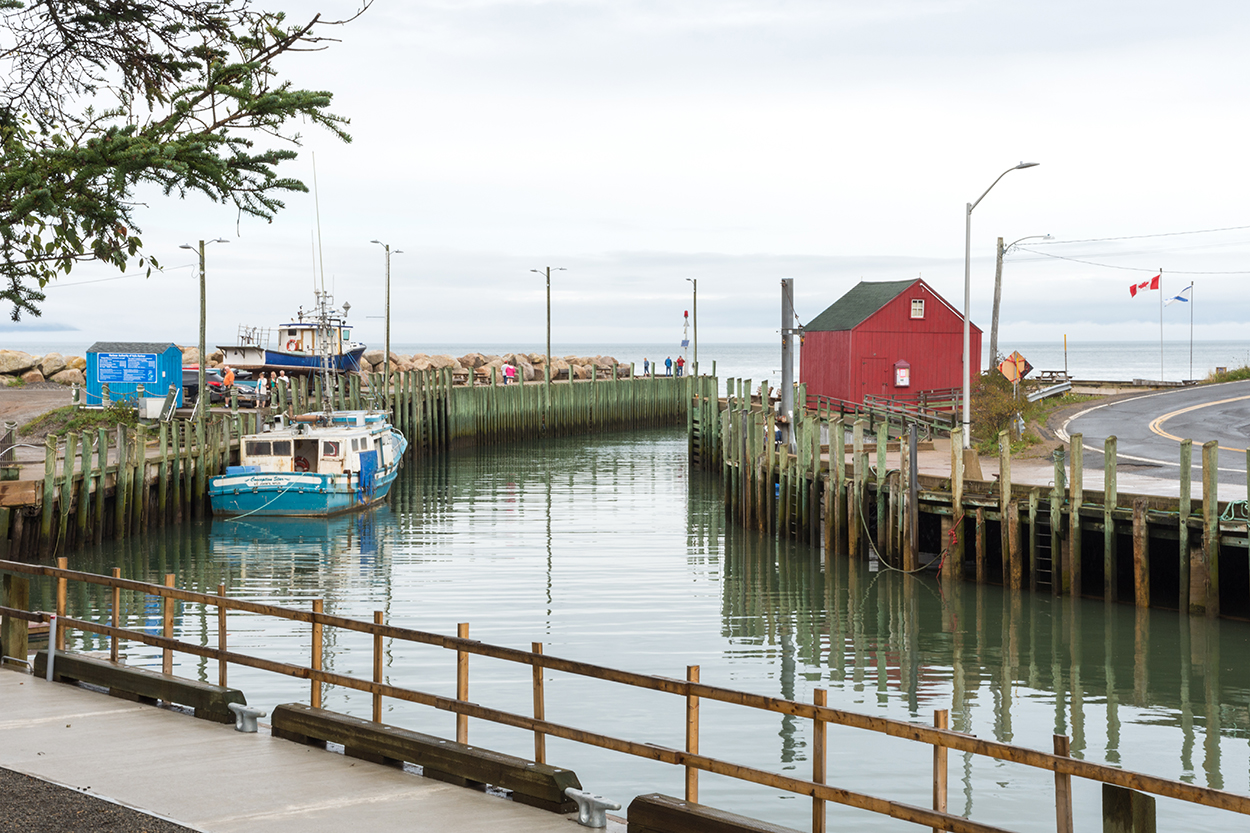 Above: Halls Harbor in the Bay of Fundy. The bay has the highest-recorded tidal range in the world. Every 12 hours, the bay — and Halls Harbor — fills up, as seen above, and then drains completely, leaving any boats present sitting on the bay floor.
We then followed Routes 221 and 201 to Digby — yes, another small fishing town — where we had lunch outside overlooking the harbor. Digby is reputed for its scallops, so that made for an easy lunch choice.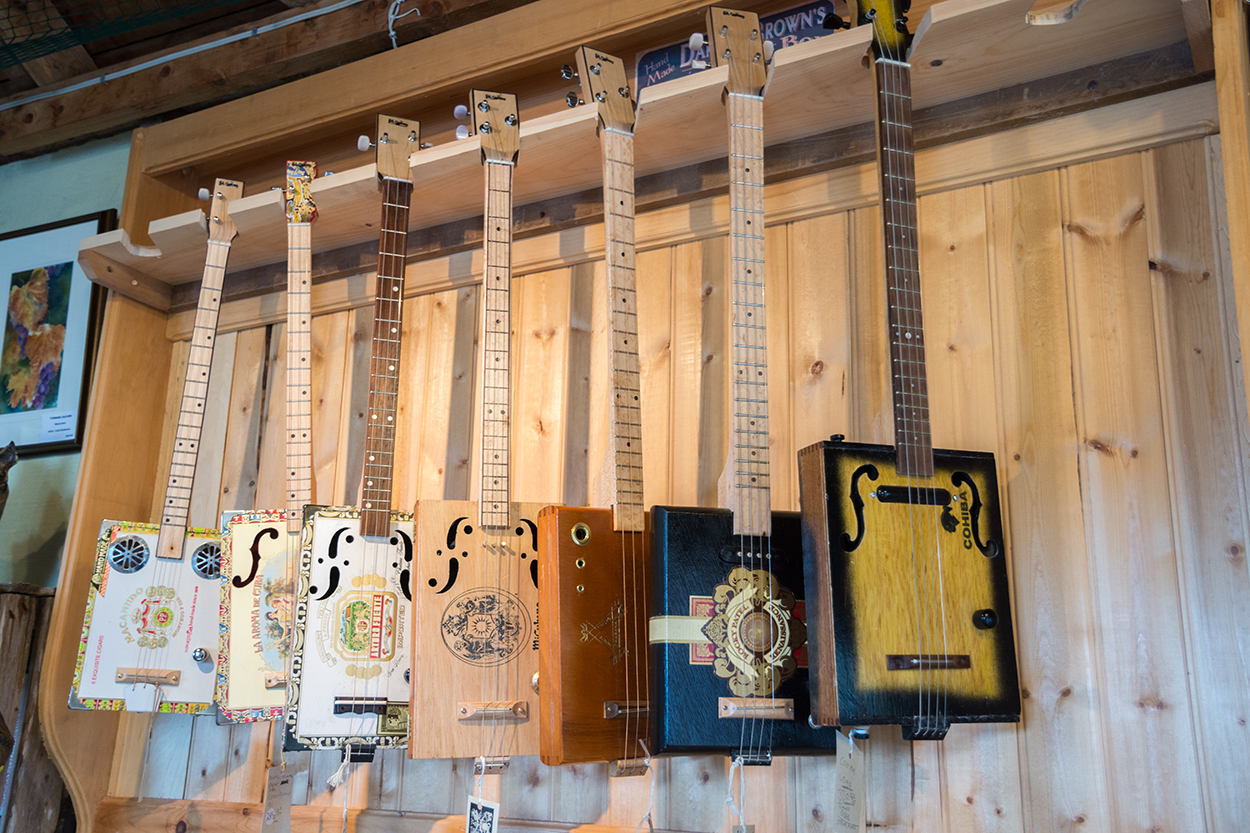 Above: At Halls Harbor, the author stumbled upon Darren Brown's Cigar Box Guitars.
As we started heading down Route 217 on the Long Island Peninsula towards Balancing Rock, a huge column of basalt that appears to be balancing, we realized that we wouldn't have the time to reach the trail parking area, hike the 45-minute trail, and then drive back and around to our next AirBnB in Yarmouth. Much to my disappointment, we turned around and headed towards Yarmouth in time to catch the sunset and dinner.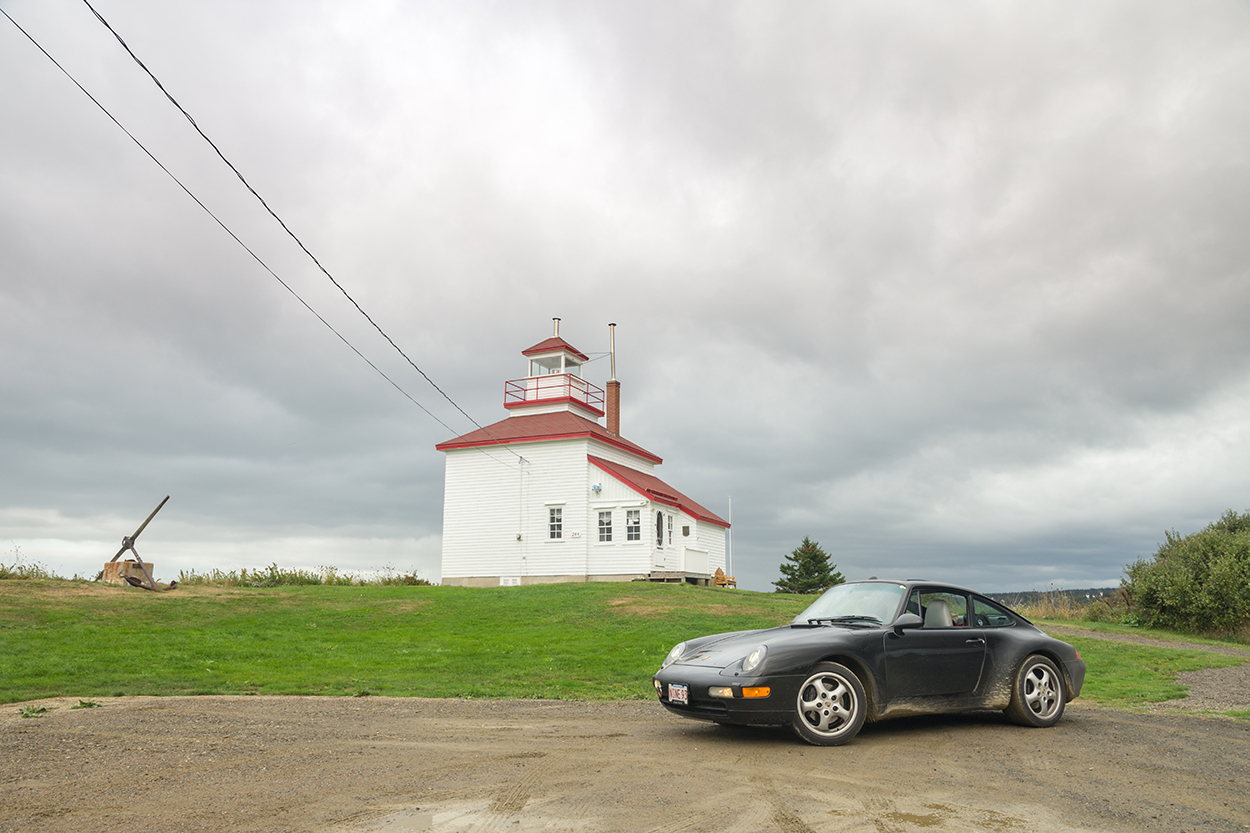 Above: Visiting the Digby County Lighthouse.
It was late afternoon when we reached our last AirBnB, a 1894 heritage home next to St. Ambrose Church and a few blocks from the ferry. That is when we received an email from the ferry authority letting us know that ferries for the next two days were cancelled because of Hurricane Harvey.
Days 7 and 8: Yarmouth — Massachussetts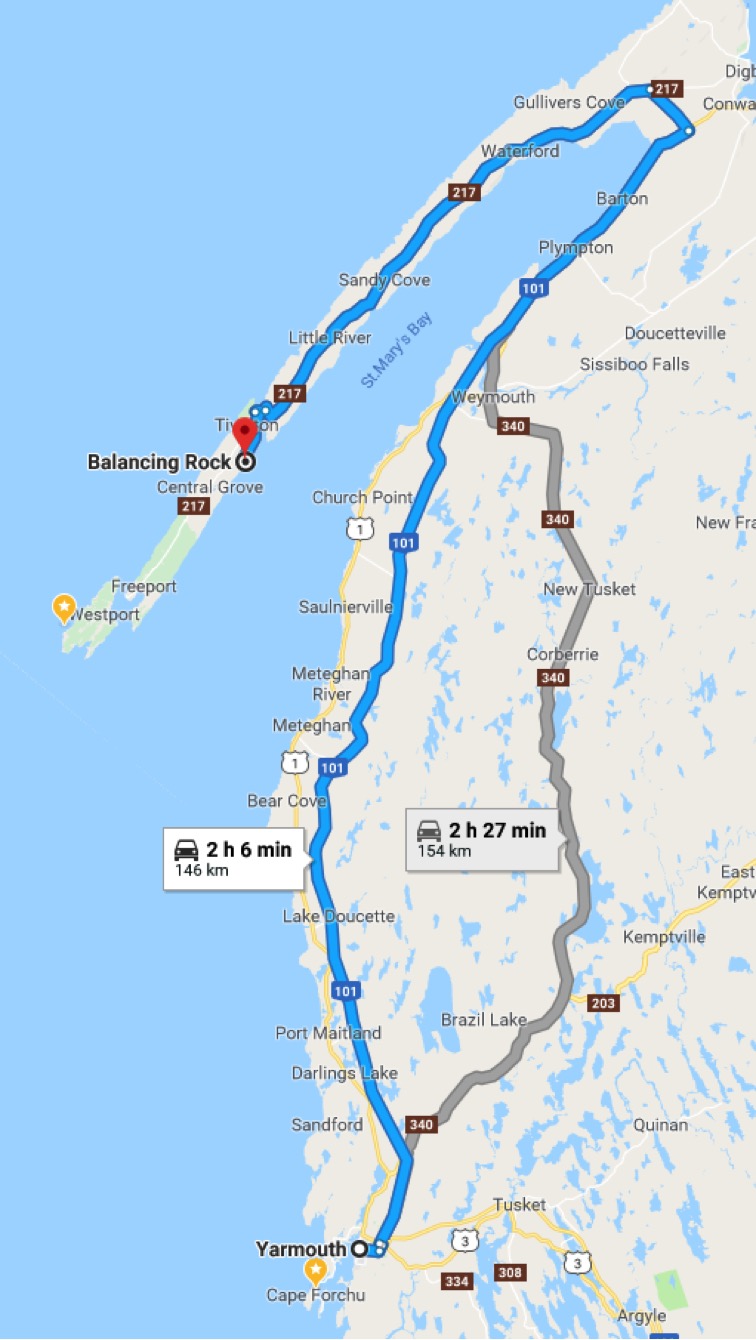 There are worse places to be stuck, so we just made the best of the extra two days in Yarmouth, seizing the opportunity to return to Balancing Rock, and then to visit the Cape Forchu Lighthouse. In all, it was a 200-mile excursion that included a small ferry ride.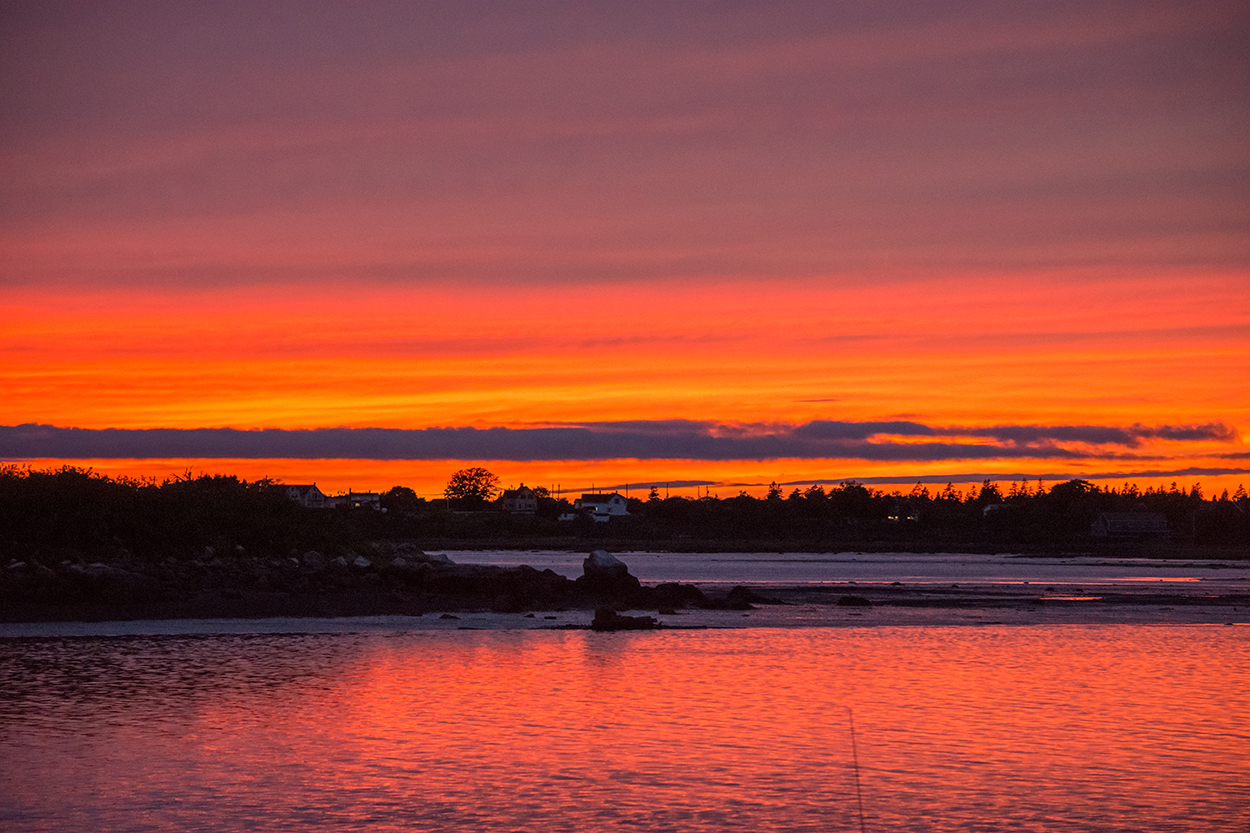 Above: Sunset in Yarmouth.
At this point, the cords of my Porsche's rear tires were starting to peek through, requiring a much more conservative drive all the way back home. Luckily they held up all the way as the trip counter turned to 1,800 miles just when we pulled into the driveway. I promptly gave the car a well-deserved wash, as pounds of dirt and mud had collected to provide a geological survey of Nova Scotia. The car performed flawlessly the whole trip, never getting hot or requiring oil, and turning heads everywhere we went.


Above, from left: The 993 photographed at sunset near Yarmouth. Balancing Rock, a column of basalt blancing on its end near Tiverton. Visiting Cape Fourchu Lighthouse.
Time to start planning the next road trip.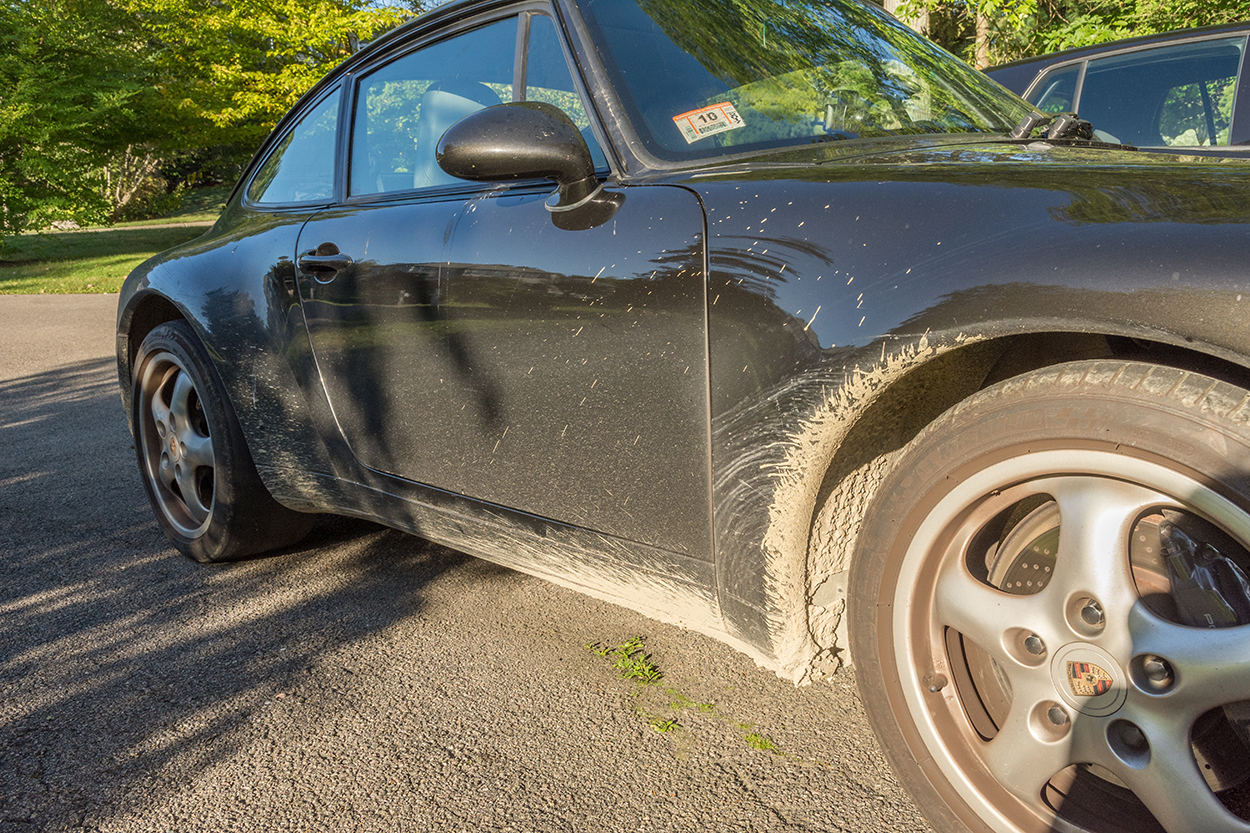 Above: The author's Porsche on the driveway at his home in Massachussetts, after the trip to Nova Scotia.