PCA Regions and members continue to support their communities during covid-19 pandemic

Visit the Members Making a Difference page
Article by Jim Hemig
Photos courtesy of each Region
Every year across Porsche Club of America, members are making a difference with many heartwarming and thoughtful acts of kindness. This week's edition of Members Making a Difference highlights a few more things PCA members are doing around the country to help others during the covid-19 pandemic.
---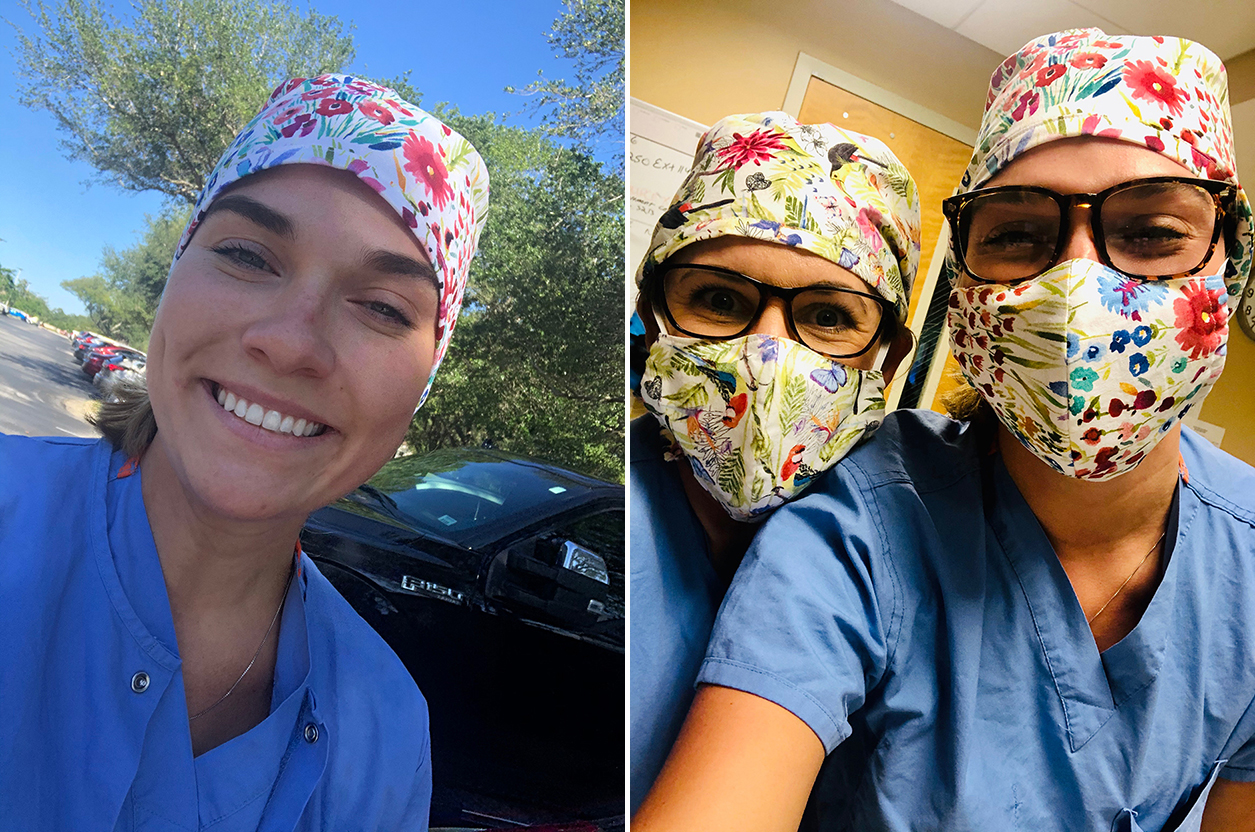 While most of us are sheltering in place, several of our members and member families are on the front-line providing health care services for those affected by the coronavirus. One such individual is Erin Murphy, the daughter of PCA's National Events Manager, Mariela Murphy. 
Erin is a nursing student working the COVID unit at her hospital in St. Augustine Florida. Last week, Erin sent a text asking if her mom knew anyone who could sew as her nursing team was short surgical caps. Mariela's first thought was Mary Lou Kugler. Mary Lou is a member of the Sierra Nevada Region and known for her expert sewing skills and her willingness to lend a hand wherever she can. She's been making masks for the Renown Hospital in Reno, NV but had not been asked for surgical caps. As soon as the ask came in for surgical caps, Mary Lou found a pattern and quickly made six sets to send out to Florida. 
"I am so happy to help your daughter," Mary Lou wrote, "My daughter who works for Renown Hospital in Reno is now working from home, but she got me the info and patterns for the masks and surgical caps. I made the patterns smaller for my granddaughters. The girls like to play doctor with their cat so I also made smaller caps for them to play in."
Erin received the surgical caps and matching masks within a week of the ask. Her team is now a little safer and fashionable while they care for patients thanks to their sewing fairy godmother.
---
The Milwaukee Region recently sent out a request to members to donate to the "Wisconsin Dairy Recovery Program". The Milwaukee Region watched the news that showed Wisconsin Dairy Farmers dumping out their milk due to school closings and that the Hunger Task Force of Milwaukee was going to purchase $1 million of the milk to be re-purposed to the community. The idea was the brainchild of PCA members Pat and Patty Murphy and resulted in the PCA Region coming up with $3,855 to support the cause. This was not the first time Milwaukee Region has supported the Hunger Task Force, last Fall the PCA Region held a Food Drive that ended up contributing thousands of pounds of food donations and cash donations to HTF. 
"We appreciate the Milwaukee Region Porsche Club for their support of the Wisconsin Dairy Recovery Program," said Sherrie Tussler, Executive Director of Hunger Task Force. "This program comes at a critical time when we can support local dairy farmers by purchasing their milk and support the hungry by distributing it to children, families and seniors throughout Wisconsin."
In addition to these comments, HTF displayed their thanks to the Milwaukee Region on their highway post board for the entire week! A large wall sticker of our region logo is also displayed along with logos all of the other corporate and organization donors inside their main distribution facility.
---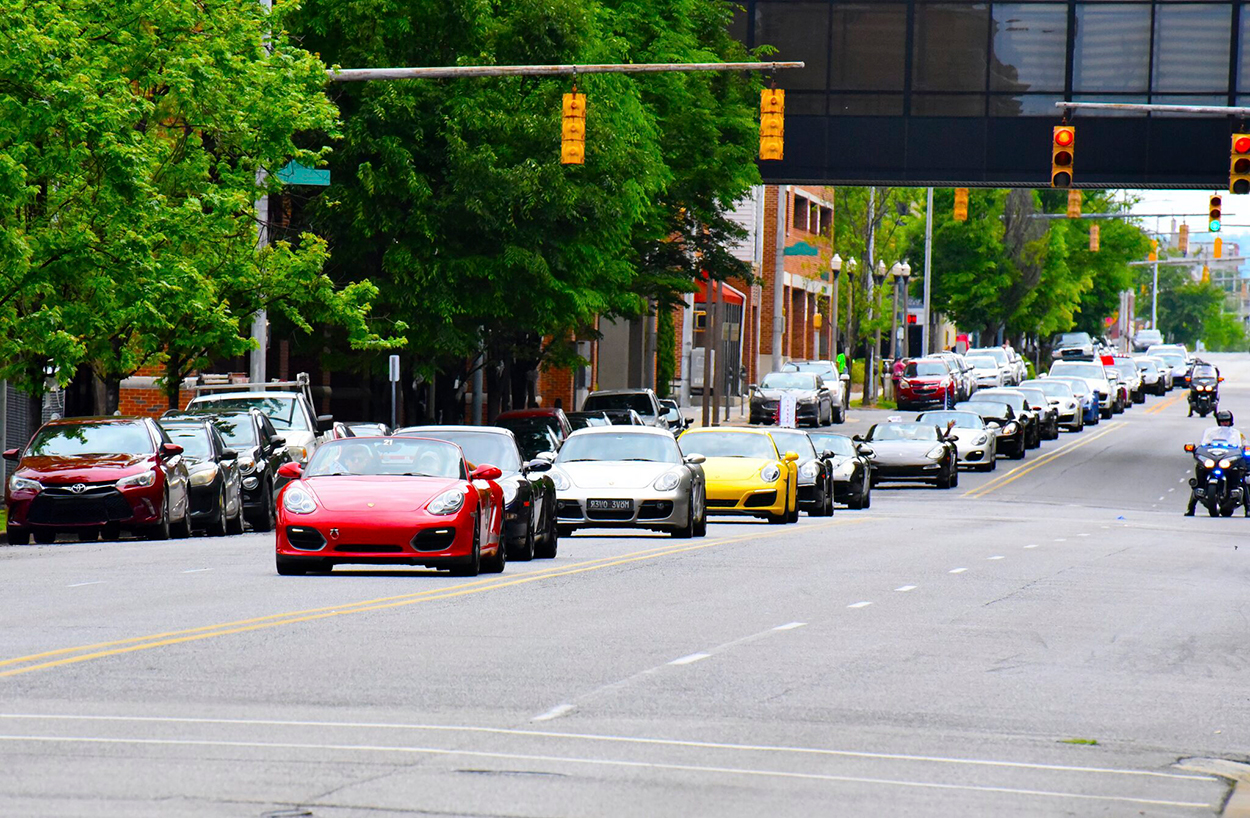 With great assistance from the Alabama Region's County Commissioner, local law enforcement, PCA Zone 3 Rep, Charlotte Chirinos, the PCA Executive Council, hospital administrators and region members, the Alabama Region pulled off a Thank You Drive for the three major hospitals in downtown Birmingham, AL. This included a law enforcement escort with low speed, pep-rally drive byes of the hospitals. To participate, each car was requested to make at least a $100 donation to one of two charities that provides meals for front line medical workers from local restaurants. The fundraiser collected between $4,000 and $5,000.
---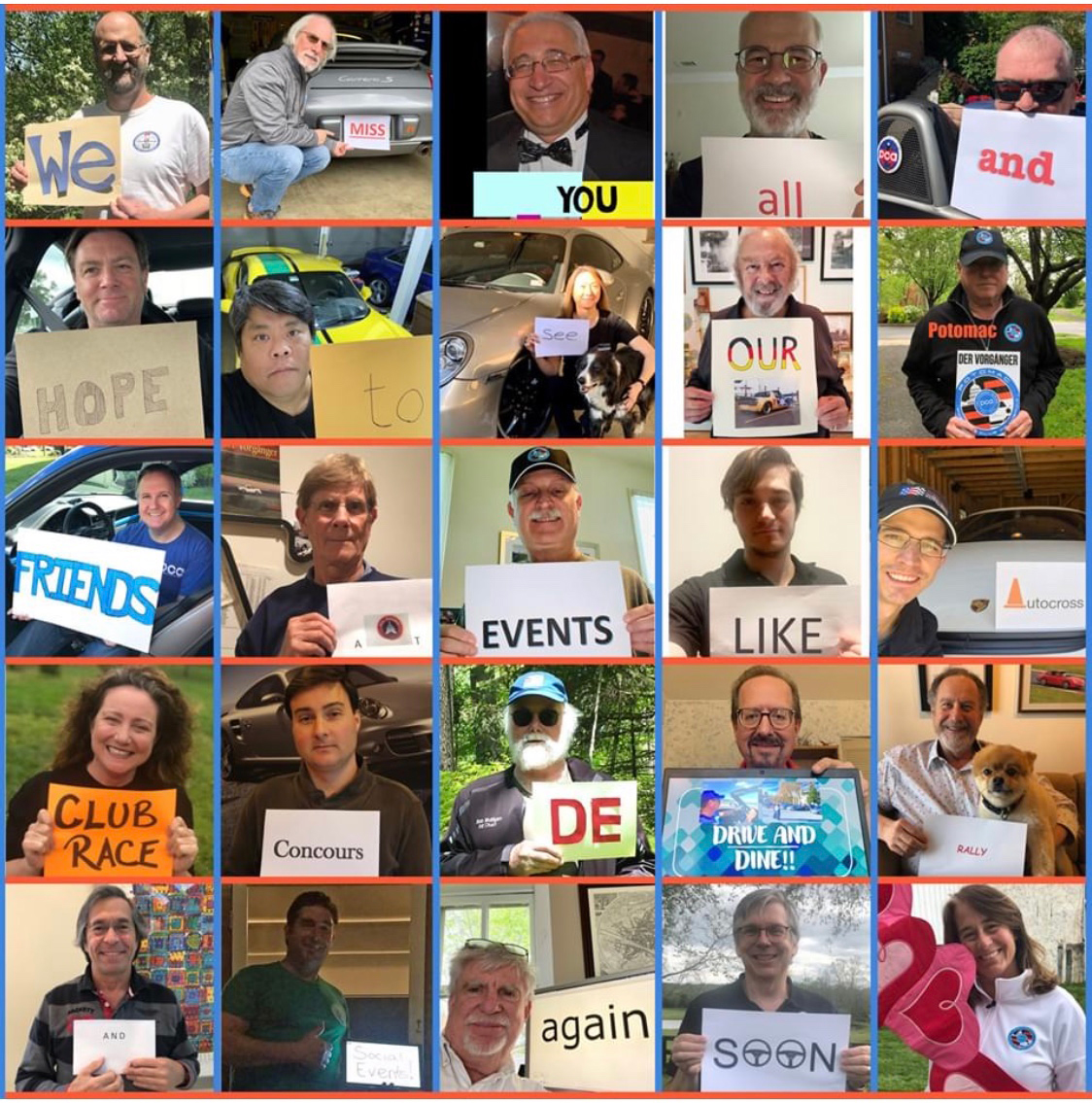 ---
Every year across Porsche Club of America, members are making a difference with many heartwarming and thoughtful acts of kindness. The above are a few of those community contributions. Be sure to check e-Brake News to read more about PCA Regions making a difference and visit the Members Making a Difference page for additional past articles. If your Region has a charitable activity or event that you would like to share, contact us to share the story.