Phil-a-Frunk Food Drive

Article by Jim Hemig
Photos courtesy Riesentöter Region
PCA members know a lot of stuff can fit in our Porsches. Even the front trunk, or "frunk," as Porsche enthusiasts call it, can hold quite a bit. The Riesentöter Region created a holiday charitable event playing off the name with the Phil-a-Frunk Food Drive.
The Phil-a-Frunk food drive was the brainchild of current Riesentöter Region president, Jeffrey Walton. Walton came up with the food drive idea five years ago while listening to WMMR's Preston and Steve's Camp Out for Hunger morning show that supports the local Philabundance food banks.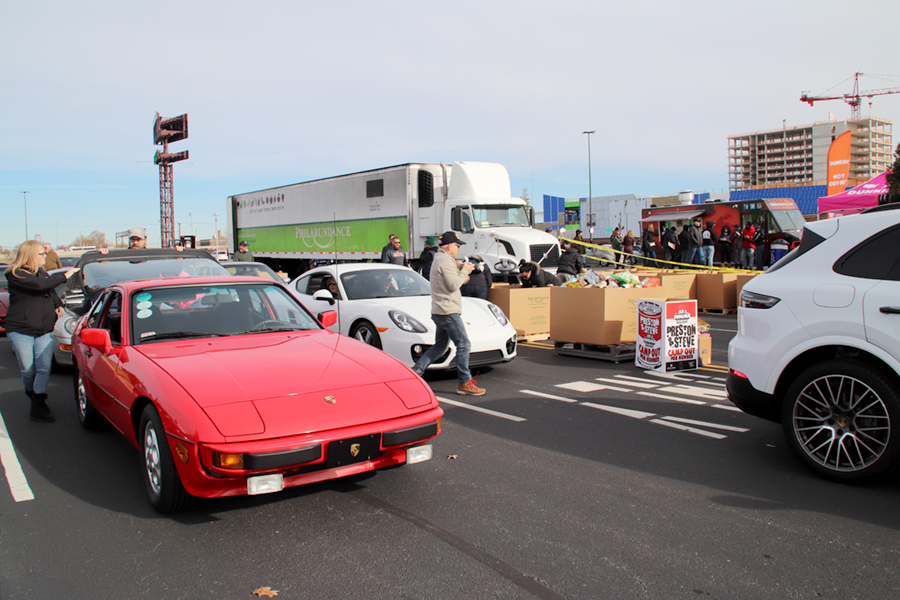 During the first food drive, the Riesentöter Region had a caravan of 58 cars and brought 7,400 pounds of nonperishable food items for neighbors in need. Last year that number rose to a whopping 126,989 pounds of food with a 177-Porsche caravan. The effort won second place for a business or organization bringing in the most food. This little car club beat the likes of national sponsors such as Campbell's and Comcast and won a WMMR radio broadcast. The broadcast was held at one of the Region HPDE events at New Jersey Motorsport Park.
This year the Riesentöter Region announced an even bigger effort including changing the name to Riesentöter Region presents Phil-a-Trunk, changed the date to a Saturday instead of in the middle of the week, and invited all area car clubs to participate in the event. WMMR radio decided to make the event the official kickoff for Camp Out for Hunger. The Riesentöter Region also found a premier sponsor in RDS Automotive Group that funded the parking lot rental, tent, audio system, and porta-potties. A few other vendors also provided support.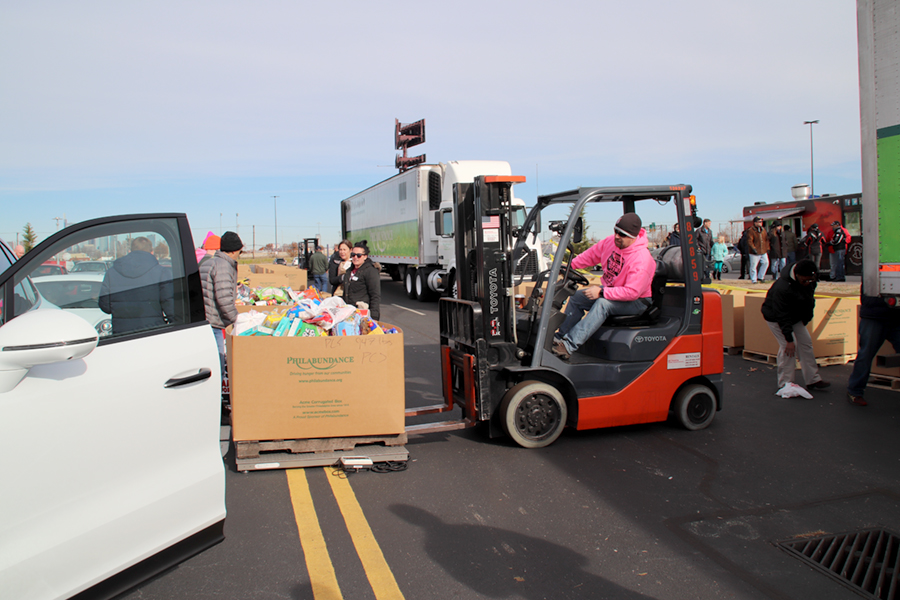 On Saturday, November 30, 2019 the first ever Riesentöter Region presents Phil-a-Trunk Food Drive was held. The Riesentöter Region led the way with a 203-Porsche three-and-a-half-mile caravan that drove 29 miles from King of Prussia, led by the Valley Forge Volunteer Fire Department. The Citizen Bank parking lot was filled with over 800 cars from 27 different car clubs throughout the Delaware Valley, including Porsches, Jeeps, Teslas, Corvettes, Ferraris, Hondas, and more. Volunteers at the tent sold T-shirts and raffle tickets. The festivities included a band, food trucks, and Dunkin Donuts supplied everyone with free coffee. 
One by one the car clubs rolled into the pit lane and emptied their frunks and trunks filled with nonperishable food items. Each club's donations were weighed right there on the spot by volunteers of Philabundance, then loaded into semi-trucks. 162,556 pounds of food was donated from all the car clubs. That's over 81 tons of food. In a matter of hours enough food was brought in to feed over 160,000 people!
Joyce Hunt, Riesentöter Region member, stated after the event, "Porsche owners are giving people and you have shown great leadership in bringing not only Porsches owners together but encouraging us all to help in a worthy cause."
Every year across Porsche Club of America, members are making a difference with many amazing, heartwarming, and thoughtful acts of kindness. The above is just one of those community contributions. Be sure to check e-Brake News to read more about PCA Regions making a difference and visit the Members Making a Difference page for additional past articles. If your Region has a charitable activity or event that you would like to share, contact us to share the story.